For as long as people have had them, pleasing the penis has always been, shall we say, a pretty high priority.
Whether they used their own two hands or various sundry devices, including today's next generation of amazingly smart and sophisticated sex toys, they have strived to discover new ways of doing precisely that.
Fortunately, those very same teledildonic devices show every sign of ushering in an exciting new era of enhanced masturbatory technology, which could very well be precisely what the penis-equipped have been waiting so many years for.
And they aren't alone, as these and other sex tech innovations have been proven to be invaluable for those furnished with them and to help their relationships as well.
Like how they enable couples in long-distance relationships to stay sexually intimate however many hundreds or thousands of miles are between them.
Not only that, but they can also be a source of tremendous erotic pleasure for those without partners, even to the extent that some have expressed total sexual satisfaction with them, as well as using them to delve into entirely new vistas of personal pleasure.
To lend a hand in helping you determine which of the many new male masturbators available today might suit your arousing needs, in addition to exploring what makes this technology so exciting, here are our recommendations for the "Top 12+ Best Male Masturbators for High-Tech Solo Fun."
We sincerely hope to inspire you to try them out for yourself and experience firsthand why we truly live in an era of teledildonic wonders.
Kiiroo Onyx+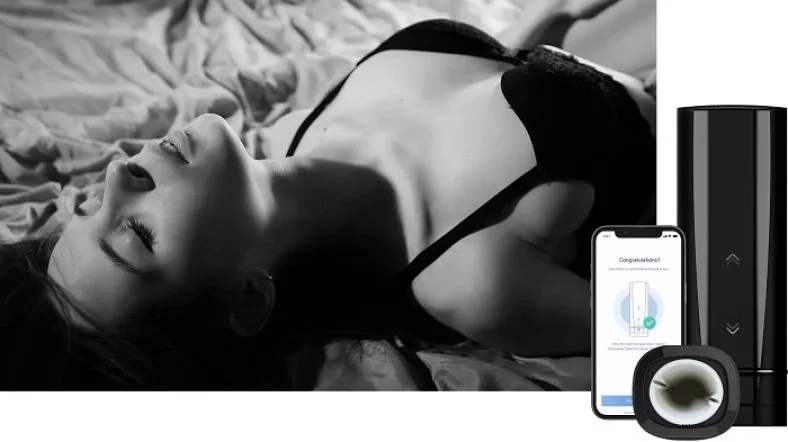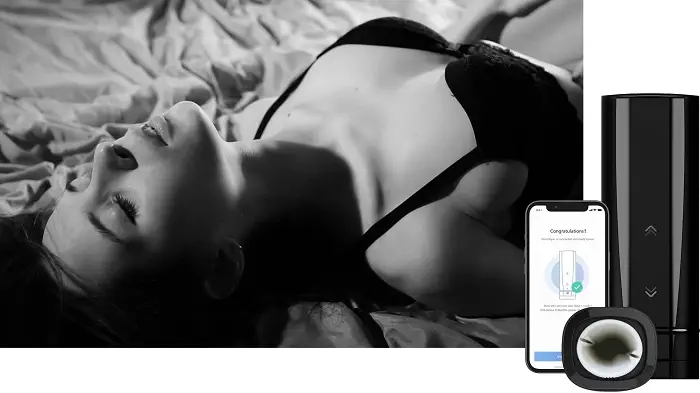 With the newest in their long line of state-of-the-art masturbators, the Onyx+, Kiiroo took everything they've learned and created what very well could be the pinnacle of sex tech design.
Amazingly lightweight for everything, it can sexually deliver; it's pleasurable at home or as an exciting travel companion.
Equipped with a sturdy and superly engineered motor, it can reach a maximum of 140 strokes per minute; practically guaranteeing whatever you like in a male masturbator, the Onyx+ will give you what you want and more.
You also can remove its provided lifelike sleeve and swap it out for others, allowing you to now and again spice things up a bit or replace your favorite if it starts to wear out.
And since it's from Kiiroo, you can use their Feel Connect 3 Android or Apple smartphone app to connect it with any other suitable toy for long-distance, fully interactive, fun with a partner or someone nearby or halfway around the world you want to erotically engage with.
Since Feel Connect 3 is the adult entertainment industry's most supported app, you can also use it to link your Onyx+ to thousands of 2D and virtual reality porn videos, live performance cam sites, explicit video games, and more sexual media than you can shake an interactive stroker at.
The Onyx+ has a Lithium-ion Polymer battery that requires four hours to fully charge, after which it's good for an hour or so of use.
It's packaged with a single regular fit sleeve, a USB charging cable, Quick Setup Manual, and Kiiroo's standard Authenticity and Warranty Card.
Together, everything weighs 1.3 kg. To clean up after use, remove the interior sleeve, wash it with a small amount of sex toy cleaner or antibacterial soap, and finish with a thorough drying.
Check the Price of the Kiiroo Onyx +
Lovense Max 2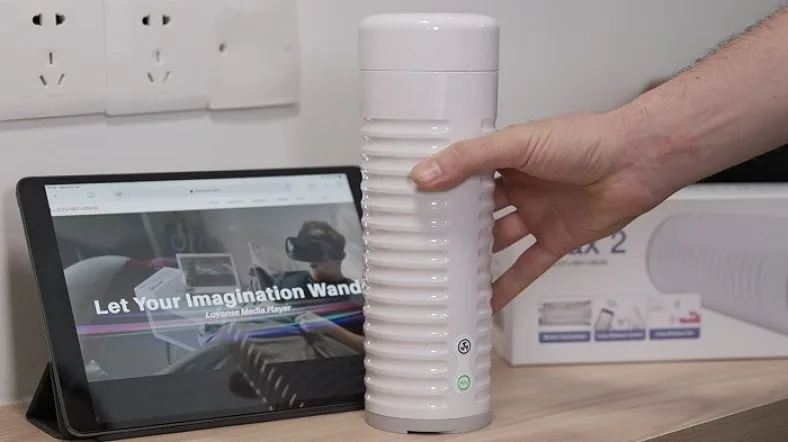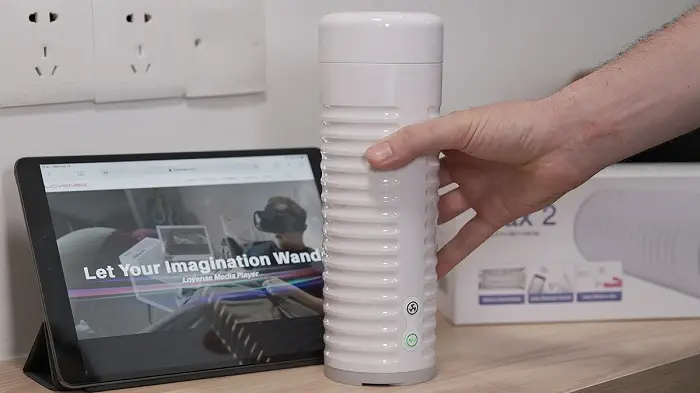 Neck and neck with Kiiroo in the ongoing teledildonic sex toy arms race, Lovense's male masturbator entry is the Max 2, the newest iteration of their popular Max stroker.
One that brings a lot, and we mean a lot, to the party. Like how the Max 2's powerful motor provides 360-degree contractions to its multiple sensation sleeve, creating an ultra-realistic and absolutely pleasurable experience.
It is made better by its easily adjustable suction, controllable via its own, Lovense Remote smartphone app, or a small valve located on the toy's base.
Let that sink in for a moment, as this option to have a toy that sucks as well as vibrates is why we consider Lovense's Max 2 not just a rival but in more than a few ways it exceeds the Onyx+ when it comes to providing the most sexual pleasure.
For example, the Lovense Remote app can be used to link the Max 2 to all of Lovense's other Bluetooth-enabled sex toys for teledildonic experiences, including their Gush glans massager, Lush 3 g-spot stimulator, Hush teledildonic butt plug, or their classic Nora rabbit vibrator, to name just a few.
They're also rapidly gaining ground in the number of adult sites where their app can be used compared with Feel Connect 3.
SexLikeReal, for instance, has recently partnered with them, so a good percentage of their videos can be used for all sorts of interactive and thoroughly sexy entertainment.
Lovense has even made some unexpected and, dare we say, exciting progress, like creating their own interactive erotic games such as Mirror Life and the upcoming sci-fi, open-world, role-playing game Wild Life.
The Lovense Remote app comes in a desktop version for Macintosh or PC computers, along with their Media Player, which allows you to create your own interactive scripts for any video you may have on your computer's hard drive.
Whichever version you're using, setting up the app is a piece of proverbial cake. Start by turning on your Max 2, opening the app, placing the toy in Bluetooth standby mode, and asking the Lovense Remote app to find it.
A few years ago, this would have been problematic at best, a frustrating nightmare at worst. But thanks to some serious work on Lovense's part, what once was a pain-in-the-posterior is now smooth as silk.
Once your computer or smartphone finds your Max 2, it's ready, willing, and able to do whatever you want.
Charging the Max 2 takes 2 hours for one and a half hours' usage time.
Cleaning up afterward is a snap, beginning with carefully removing its inner sleeve and then rinsing it with water without soap; otherwise, it'll likely be damaged. Then just dry with a lint-free cloth, and you're done.
The Max 2 ships with its USB charging cable and a user's manual.
Check the Price of the Lovense Max 2
Hot Octopuss Pulse Interactive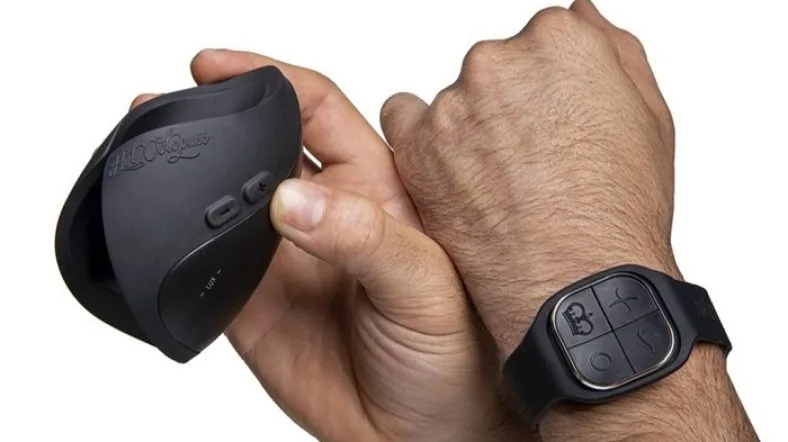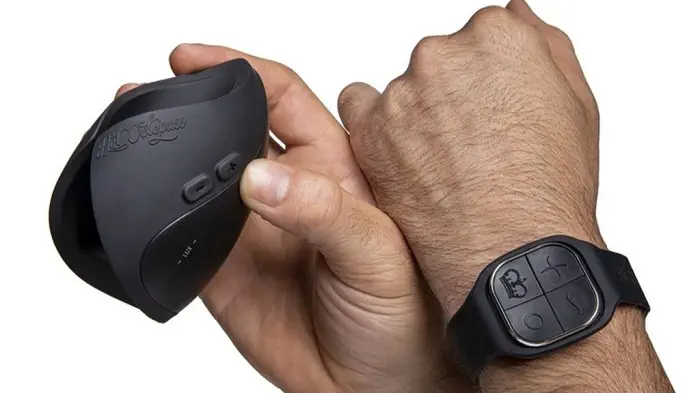 Read the full Pulse Interactive review
Another emergent company in high tech pleasure devices, Hot Octopuss, has become rapidly known and respected for their finely-made, superbly designed, and universally enjoyable products.
But what their toys have so far lacked is Bluetooth interactivity. Until they recently released their Pulse Solo Interactive: built with Kiiroo's electronics under the hood, this glans massager can now hold its own with other smart masturbators.
Suppose you have an Onyx+ or anything else that can work with the Feel Connect 3 smartphone app. In that case, you can connect it to a Pulse Interactive, so that what happens to it will be mirrored by the Hot Octopuss toy.
Making it what couples in long-distance relationships could have been waiting for, it has a novel method for adding a different toy or two for their pleasurable yet separated erotic encounters.
But even without its smarts, the Pulse, as well as others in its impressive line of glans massagers like the Pulse Solo Lux, which comes with a remote control and a watch band to mount it to, or the Pulse Solo Essential, the same but without the controller, are thoroughly exciting toys to play with.
For long-distance lovers, there's even the Pulse Solo Interactive Dual Penis Pack, More than merely a two-fer deal, Hot Octopuss will ship one to you and one to your lover, wherever they are, so you both can get right to rocking your mutual, high-tech, and arousing together-yet-apart lovemaking.
More than that, we're big fans of every Pulse due to its innovative design, which enables it to be used with or without the user needing to be erect.
This is why we recommend it to anyone concerned about or maybe even struggling with erectile issues, as they and everyone else have the right to experience sexual pleasure.
It's ideal for people like those trying to cope with mobility restrictions, age-related issues, joint pain diseases like arthritis, various other conditions, and when it's challenging to get and stay hard, or when you want to try and feel something different.
Coupled with the Feel Connect 3 app, it's possible to have a totally hands-free masturbator session with a Pulse Interactive.
If not, an excessive amount of moving around is not necessary as controlling it usually only requires a finger or two.
The Pulse Interactive is chargeable in less than three hours and is usable for one. It's 100% waterproof, so cleaning up requires only some warm, not excessively hot water with a dash of sex toy cleaner or antibacterial soap followed by careful drying.
It comes with a nice travel pouch to keep it in, its magnetic charging cable, and an instruction booklet.
Check the Price of the Hot Octopuss Pulse Solo Interactive
Kiiroo Keon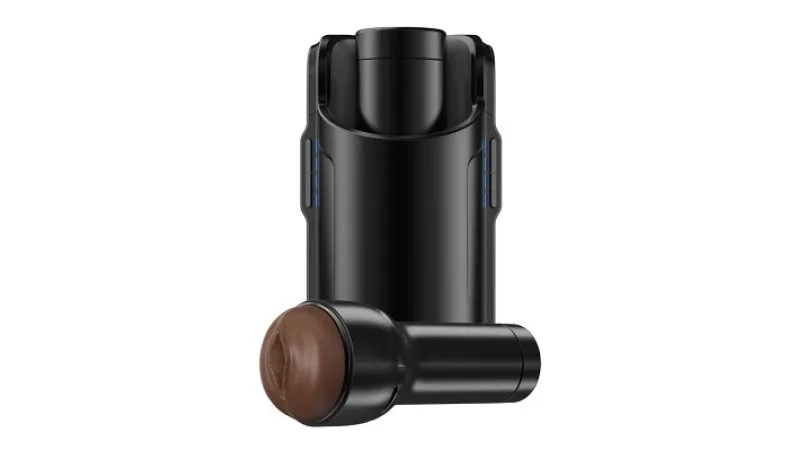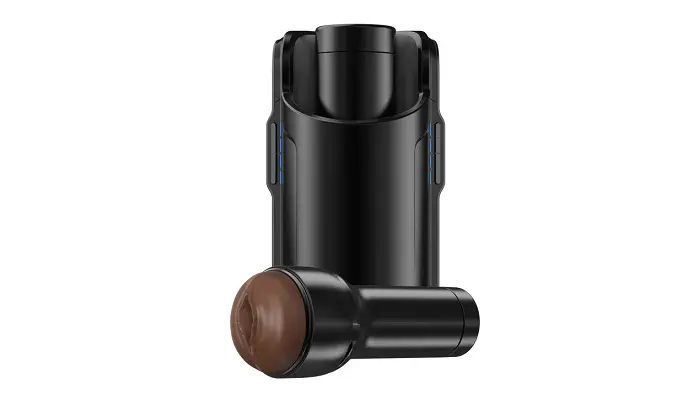 Another amazing toy from the equally amazing people at Kiiroo, their Keon, takes a different approach to male masturbators.
There's more of an external motor that delivers the strokes and less of the more traditional everything-in-one type of design.
The result is the Keon, an extremely powerful unit able to provide heft and pleasantly rapid strokes to any Feel Stroker sleeve.
But the fun doesn't stop there, as the new Keon is also fully compatible with Kiiroo's Feel Connect 3 app.
So if it's interactive adult video experiences you're after, or if you want to have teledildonic playtime with your long-distance lover, then the Keon can handle all of that, plus a lot more.
If this arrangement has a downside, it's that the Keon's weight clocks in at over a kilogram. Nearly two and a quarter pounds for us here in the United States.
But even so, while the Keon isn't the best for taking on a trip, its potency coupled with its modular design—and therefore unending flexibility—results in a toy with an incredible number of sexual tricks up its high-tech sleeve.
Speaking of sleeves, Kiiroo's impressive line includes lots of inspired-by-many of the hottest adult video stars in the business, like Molly Stewart, Romi Chase, and Britney Amber, to name just a few.
After a four-hour charge, the Keon can be used anywhere from thirty minutes to two hours, depending on how vigorously you want it to stroke or how many of its many features you activate.
As the Keon's main body is separate, you only need to wipe it down with a moist cloth when you're finished.
Whatever Feel Stroker sleeve you used, all you need to do is rinse it out with some warm water, apply antibacterial soap or sex toy cleaner, rinse, and give it a good dry.
The Keon comes with a Feel Stroker sleeve and the unit's USB charging cable.
Check the Price of the Kiiroo Keon
The Handy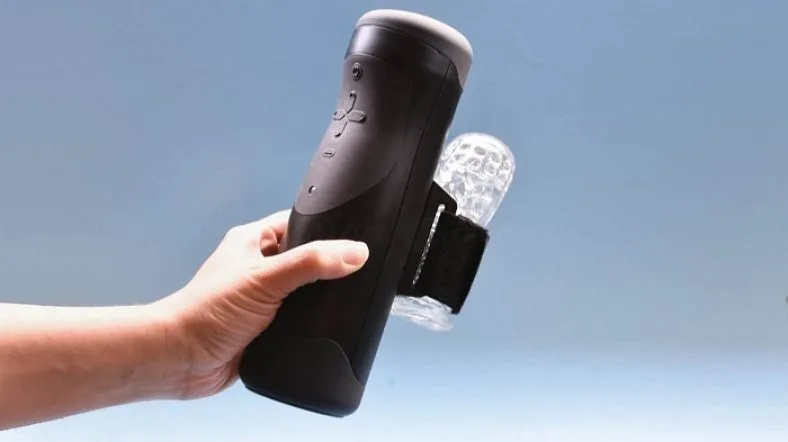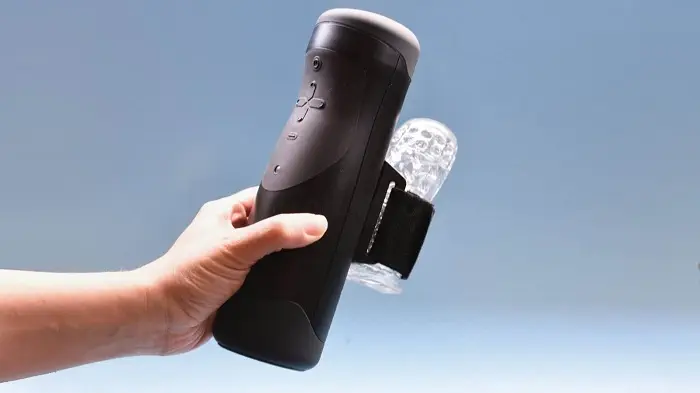 Like the Keon, The Handy is a stand-alone unit onto which various sleeves can be attached.
Unlike the Keon, the Handy boasts it holds the world record for the fastest strokes of any sextoy, clocking in at 10 per second.
The length of these strokes, be they fast or slow, is adjustable to anywhere between a dead stop and a full 110mm, or 4.3 inches.
Though the Keon works with any of Kiiroo's sleeves, you can attach any sleeve to it using the toy's Velcro mount.
So if you don't like using one of their models, you have the option to pick up any of the hundred or so sleeves available today and use it with your Handy.
Now you've got stroking speed and power and can use a huge assortment of sleeves with it, so what could be next?
How about interactivity? But here, too, the Handy differs from other sex tech companies in that you can use Bluetooth or Wifi to connect it.
In either case, you'll need to download their iOS or Android smartphone app. From there, it's a matter of connecting your Handy to it and then to any of their growing number of interactive adult entertainment partners.
The same can be used for long-distance play, as the Handy app allows someone else to remote control it. In all honesty, its dependence on being simultaneously connected to Wifi and Bluetooth can too frequently be difficult to set up.
Suppose you run into these or other problems using it… In that case, the Handy's site is home to a series of helpful guides, tutorials, and other informative resources.
You should also be aware that the Handy doesn't have a built-in battery, so whatever you want to use it for, you must have a power source nearby. This is understandable considering its strong motor but at the cost of its portability.
Cleaning the Handy is far from difficult. For the unit itself, a moist cloth does fine. Occasionally, you might need to lubricate it.
Fortunately, the Handy site explains how to carefully disassemble and oil it should the need arise.
Before cleaning the sleeve, it's always smart to consult the manufacturer for what they recommend, as what works for one brand might ruin another's.
The Handy comes with the unit, AC power supply, sleeve, and instruction manual.
Virtual Mate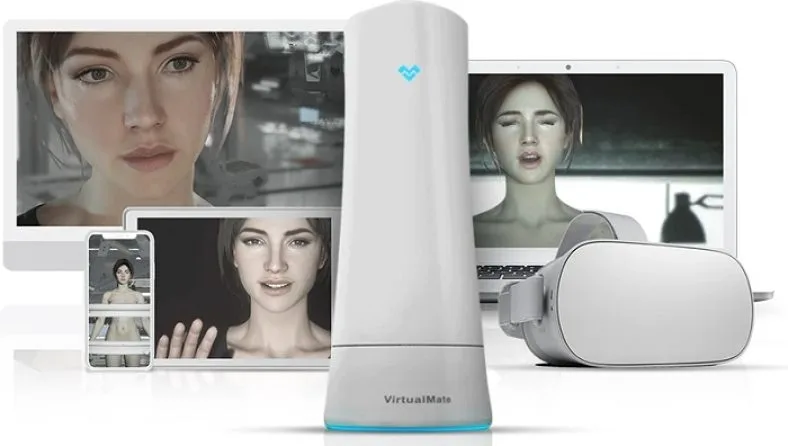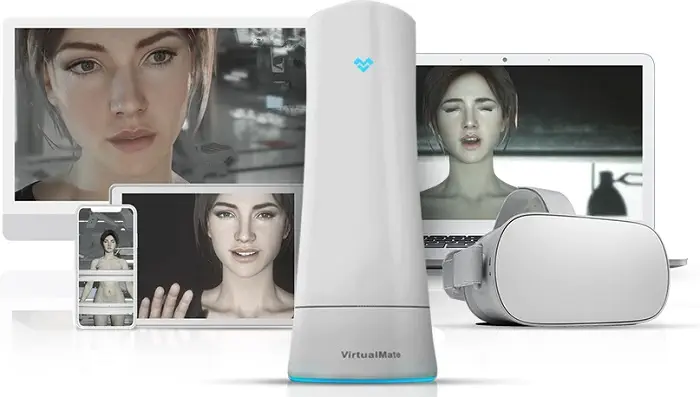 Read the full Virtual Mate review
This uniquely innovative sex toy was created with a special goal: to help penis-equipped persons improve their intimacy skills.
How Virtual Mate strives to accomplish this is similarly unusual. Rather than being a stand-alone device, it's designed to work in conjunction with a specially created, extremely realistic video game.
Think of Virtual Mate as two systems in one. Where what you do with the masturbator, like stroke speed and length, is Bluetooth transmitted to your PC computer, smartphone, or table and thus to the game, causing the digital character to respond.
So if you're a good lover, you'll get equally good results. If not, you can work on your approach until you get a nice and notably sexy reward.
But that's not all it can do, as Virtual Mate has a Fast Mode, which gets you right into the action, the aforementioned Story Mode to enhance your intimacy skills, or a Virtual Reality version for next-level immersion.
Graphically, Virtual Mate's accompanying game is pleasantly impressive.
Its character models are realistic without appearing as disturbingly creepy with the right amount of exaggerated expressiveness while not appearing overly cartoonish.
That said, there are far more natural-looking and sexually animated games out there. However, since it was designed to work with the Virtual Mate system from scratch, we're more than willing to give it a break.
For a comfortably hot time, the core unit is equipped with a quick start button that automatically warms the unit. So you'll never have the unpleasant shock that can come from inserting yourself into a chilly sex toy.
Though innovative, it's worth remembering its interactivity is strictly one-way.
While the game's digitized adult entertainer knows what you're doing, the Virtual Mate's sleeve doesn't stroke or vibrate, so you won't feel their responses.
Because it has no moving parts, the core unit can be charged in a few minutes and go for an hour or more.
When it comes to cleaning, the sleeve should be carefully removed and rinsed with the usual gentle soap and warm water. However, you should prevent moisture from getting into the core itself as it's not waterproof.
The Virtual Mate comes with its core, special charging base, and a Bluetooth dongle if your computer isn't already equipped with it.
Check the Price of the Virtual Mate
Lovense Calor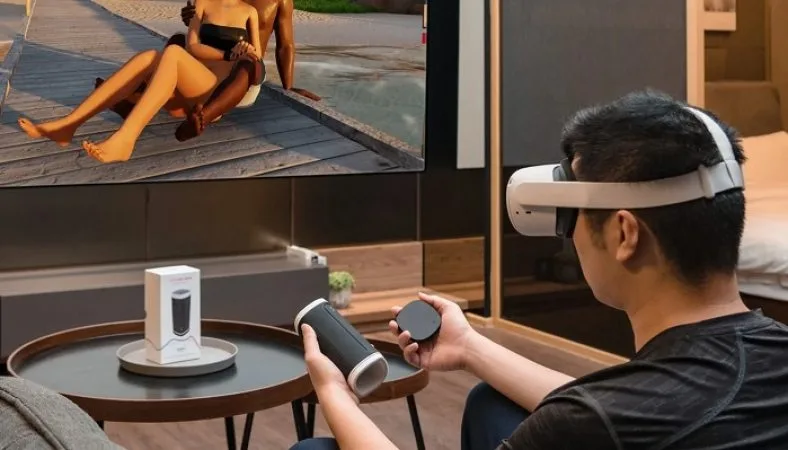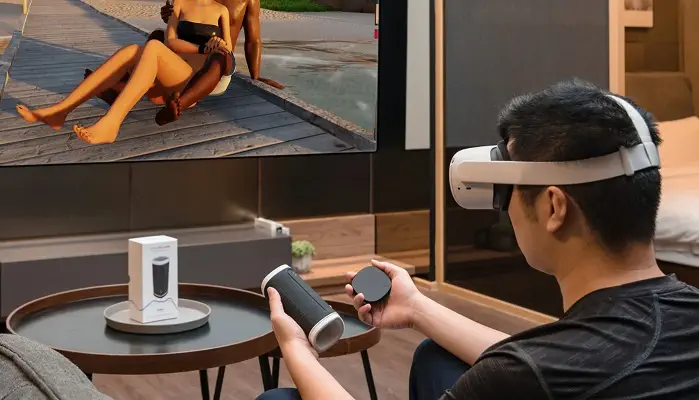 Back at it again with yet another fantastic masturbator, Lovense's Calor is portable, heatable, and, best of all, wonderfully responsive.
Portable, as it's only six and a quarter inches long, making it just the thing to stick into your luggage without worrying you won't be able to fit anything else in it.
Heatable, as when it's connected to a USB power source, a single button press can make its internal temperature rise to satisfyingly lifelike levels.
Responsive, as the Calor is equipped with an array of sensors to monitor your stroke length as well as speed and, in response, will automatically increase or decrease its vibrations.
It's a system we wish other manufacturers would adopt, eliminating as it does mood-breaking fumbling at a sex toy's built-in controls or attempting to deal with a non-intuitive smartphone app.
Merely activate the Calor, begin stroking, and let it do all the work. Seriously, it's a feature that makes it worth buying one.
What? You want more? How about this? Because it is, after all, from Lovense, it can be networked to every one of their Bluetooth-equipped toys for two-way, fully interactive, long-distance play.
Or, if you want a solo experience, you can use it with the growing number of adult sites that support Lovense products.
Don't forget Lovense's own interactive projects. Mirror Life, for instance, is a sort of erotic video game test-bed for combining smart sex toys with lifelike character models.
And it's free. As is their Media Player, a PC exclusive program for adding interactivity to videos.
Wild Life, a partnership between Lovense and a premier game designer, isn't currently available.
Yet, both companies are hard at work on it. Guaranteeing when released that it'll be the top sex-with-aliens, free-roaming, role-playing, dating sim, sex toy compatible game ever.
All compliments of the Lovense Remote smartphone or computer app, which we feel is the best of the best for ease of use and available features.
Like creating and sharing your own vibration playlists, and making your toy respond to ambient noises or your favorite songs, and more.
The Calor comes with a bag to store it in, a charging cable, and its user's manual.
On a one and a half-hour charge, the Calor is good for as little as the same amount of time or, if you play your cards right and limit its features, as much as two hours.
Completely waterproof, cleaning the Calor is as easy as one, sex toy cleaner or antibacterial soap, two, a thorough rinse, and three, a good dry.
Check the Price of the Lovense Calor
Svakom Alex Neo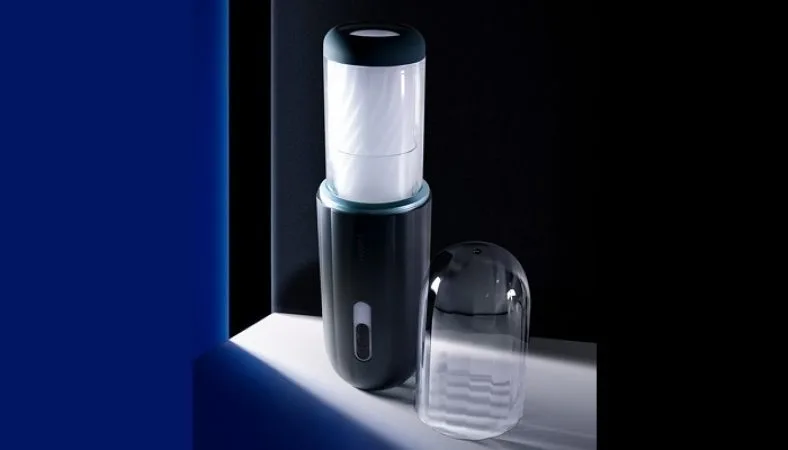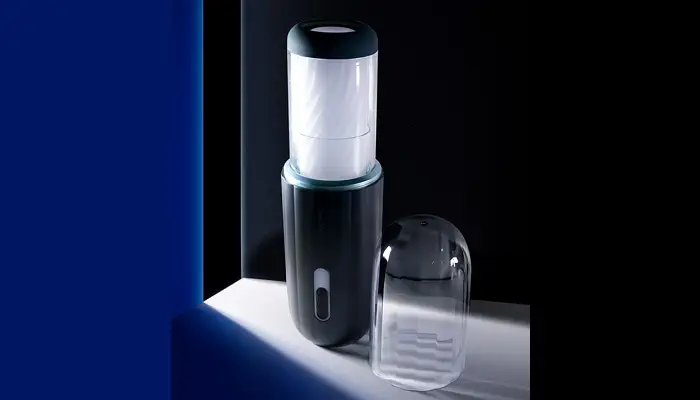 While a newcomer to our list, Svakom is rapidly becoming a sex tech company to watch out for.
Not least of which is due to their recent Alex Neo masturbator, an ultra-smart, ultra-powerful, ultra-interactive toy with a unique transparent outer shell so you can see what it's doing.
Even without its clear section, the Alex Neo has a lot going on.
For instance, though Svakom's Apple or Android smartphone app has many of the same features as Feel Connect 3 or Lovense Remote, they offer five different scenarios like Wild, Beach, Airplane, Office, and Classroom to bolster your erotic imagination.
The toy itself is equal parts intense and sensual. The first is due to its well-engineered design and powerful motor. The second is because its sleeve was created to be as anatomically pleasing as possible.
The Alex Neo has seven pre-set thrusting patterns, but you can create as many as you want when used with the app. Or have the Alex Neo respond to any nearby sounds or whatever music you have stored on your smartphone.
Teledildonic-wise, the Alex Neo is perfect for long-distance play. Its app easily allows someone to take control of it or set up any other Svakom toy for mutual sexual interactions.
Doing so is a bit different from other sex toy apps, but never is the process particularly frustrating.
The Alex Neo requires five hours to completely charge for a single hour of use. It comes with a charging cable and three different sets of documents: an App Guide, an Instruction Manual, and directions on how to care for your Alex Neo.
When you're done using the Alex Neo, cleaning it only requires removing its inner sleeve and rinsing it with lukewarm water and soap or sex toy cleaner.
Check the Price of the Svakom Alex Neo
Kiiroo Titan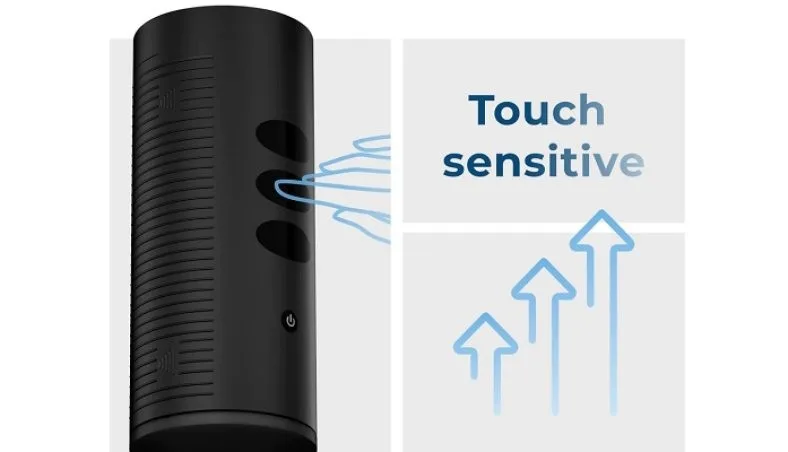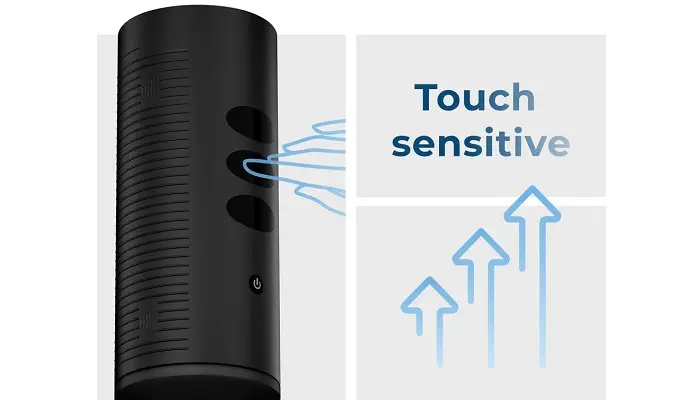 Back with us yet again, but this time Kiiroo has given us their Titan, a self-contained and thoroughly interactive stroker that's more than able to get the job done when it comes to sexually satisfying its user.
Case in point, the Titan, doesn't have one, two, or three motors but nine of them. Plus, its bullet vibrators are configured in such a way to deliver an extremely full range of vibrational excitement.
So they're likely to be more than anyone, anywhere, would ever need. Still, once you try the Titan for yourself, it's likely you'll immediately understand why they're here on our best masturbators list.
As it's from Kiiroo, it and their Feel Connect 3 smartphone app are a perfect match, allowing you to seamlessly connect the Titan to it.
Once that's done, you can use it solo, where the app can fine-tune how the masturbator feels, like tweaking how intense it feels and sampling its built-in vibration patterns.
You can equally take advantage of all those 2D and virtual reality adult videos and fully explicit erotic games that support the Feel Connect 3 so you can feel right along with whatever's happening in them.
Or you can link your Titan to your partner's Kiiroo toy for some short or long-distance share-and-share-alike teledildonic fun.
After three to three and a half hours, your Titan will be fully charged and good for thirty to forty-five minutes of play.
It weighs around 857 grams, so it perfectly walks the line between small enough to easily hold and large enough to feel arousingly powerful.
Along with the toy itself, the Titan comes with its charging cable, a Quick Start Manual, and a Kiiroo warranty card.
Care and feeding of the Titan aren't difficult. After you've had fun with it, carefully extract its sleeve and wash it with warm water and a tiny amount of mild antibacterial soap or sex toy solution, then rinse and dry.
Check the Price of the Kiiroo Titan
Lovense Gush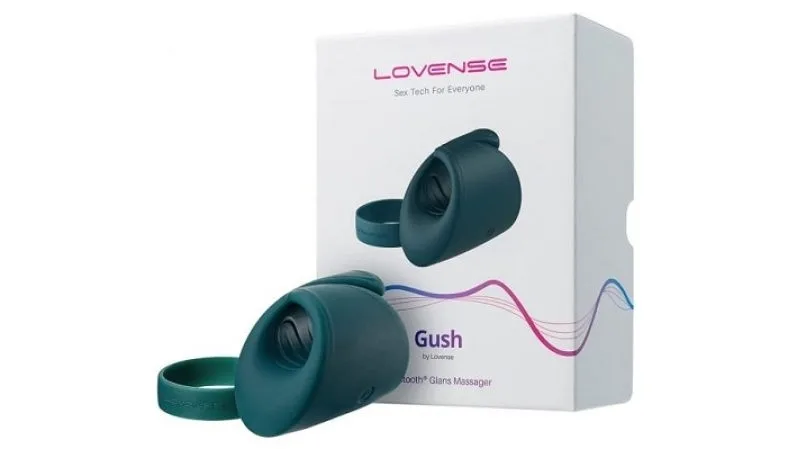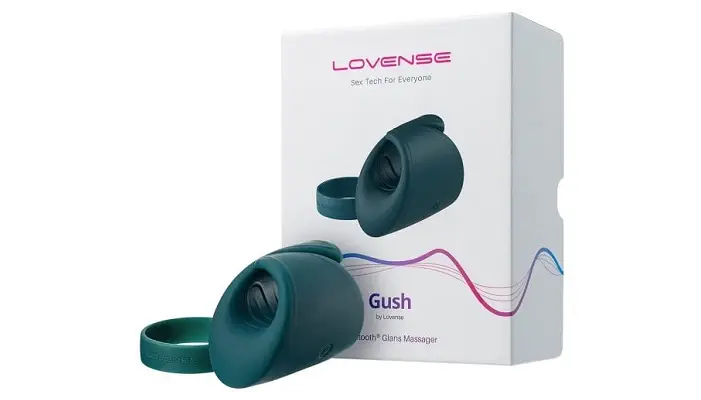 Another member of our sex toy hall of fame, Lovense, is back with one more perfectly designed and absolutely exciting new male masturbator.
It's a male masturbator with a noticeable twist. And, no, we aren't just referring to the Gush's somewhat unusual appearance but to how like the Hot Octopuss Pulse Interactive, you don't need to be erect to enjoy it.
Though you certainly enjoy if you have an erection. The Gush is a rarity among sex toys in the impressive number of ways it can be used.
Want to lie back and allow it to vibe you to sexual satisfaction? The Gush has you covered.
What if you like a tighter grip? The Gush comes with an elastic band which, when placed around it, will definitely do the trick.
Need a toy to enhance your manual masturbator sessions? You can move the Gush as much or as little as you like, even placing it back near your testicles so they can get in on the fun as well.
Part of Lovense's diverse line of Bluetooth-enabled toys is, what you can do with any of them, you can also do with the Gush. Its pleasurable benefits go on and on.
We haven't even touched on the interactive aspect of the Gush's long list of exciting possibilities.
Features such as connecting it to every one of their toys for close-by or far-away teledildonic sex.
The Lovense Remote app also lets you set the Gush to vibrate along to music or ambient sounds, make and share your own vibe playlists, and last but not least, join in on your favorite adult entertainer's erotic escapades.
The Gush is another candidate for our Hands-Off Hall Of Fame, equally ideal for those with or without an erection.
Additionally, operating the Gush via the Lovense Remote app can really be done with very little effort, such as setting it up to respond to music or nearby noises.
So it should be possible to arrange it to vibrate when you tell it to or at least when you make loud noises.
It's all the better for people with pain or mobility concerns as its tightening band can be used to prevent the Gush from inadvertently moving around no matter what happens to the penis it's slipped over.
Sixty-five minutes are necessary to charge the Gush, after which it's good to go for an hour to an hour and a half.
One hundred percent waterproof, the only thing needed to clean the Gush is gentle antibacterial soap, warm water, and a good dry.
With the Gush, you get a bag to store it in, the toy's elastic band for tightening its grip, a magnetic charging cable, and a user's manual.
Check the Price of the Lovense Gush
Svakom Sam Neo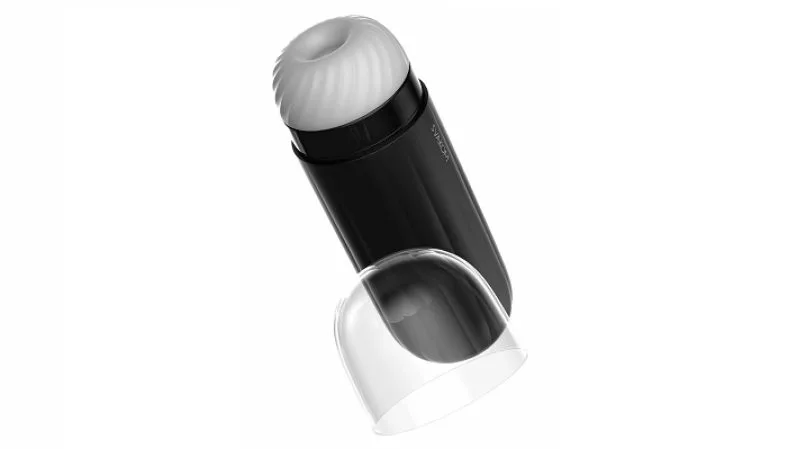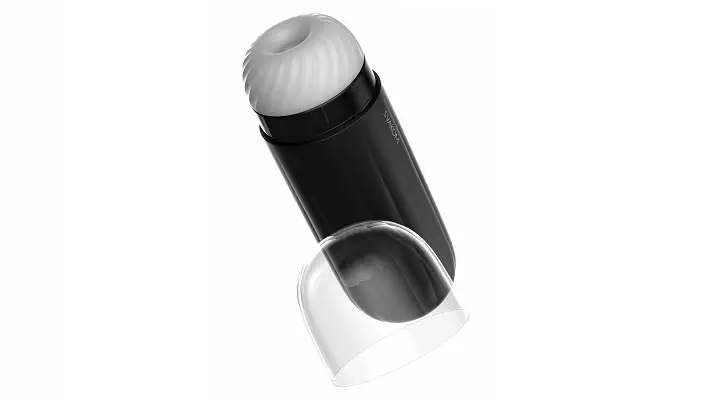 Nearing the end of our "Top 12+ Best Male Masturbators for High-Tech Solo Fun" list is an additional exciting toy from Svakom.
While their Neo was unquestionably a sexual experience to beat the band, their Sam Neo quite frankly sucks- but in an exceptionally good way.
Svakom engineered it to do what very few other masturbators can- it uses suction to provide arousingly unique sexual sensations.
Or, rather more than a few sensations, the Sam Neo comes equipped with five pre-set patterns and multiple vibration modes for you to play with.
The Sam Neo is also an especially attractive sex toy, combining technofetishistic minimalism and elegant simplicity that wouldn't look out of place sitting on your bedside table.
A member of the Svakom sex toy family, the Sam Neo naturally plays well with its so-very-smart kin for every manner of teledildonic or interactive activities.
Not least of which is using the Svakom Apple or Android smartphone to do those very things for every sort of long-distance play you can imagine.
Likewise, the Svakom app works extremely well in conjunction with its supported adult entertainment sites and sexually explicit games.
For a list of these and other places that the Sam Neo works with, consult the Svakom site, which is constantly updating as more and more join in on the fun.
Plug in the Sam Neo for at least three hours to fully charge it. This will give it more than enough juice to last for a full hour of use.
In addition to the porn sites supporting it, Svakom has a comprehensive breakdown of ways to use and clean all of its products.
Svakom raises the important point that with their toys, or toys from any other manufacturer, you should avoid exposing them to petroleum, alcohol, or acetone, often found in facial cleansers and the like, which causes their silicone sleeve to degrade.
Included with the Sam Neo are its charging cable, user's manual, and other documents on using and maintaining the toy.
Check the Price of the Sam Neo
Fleshlight Universal Launch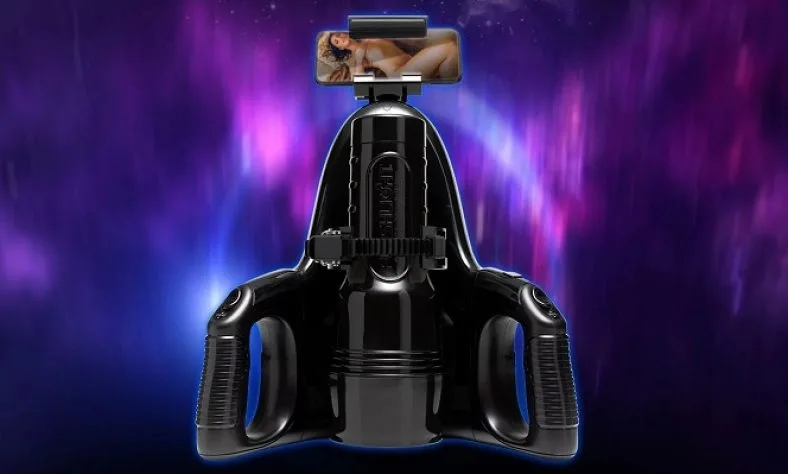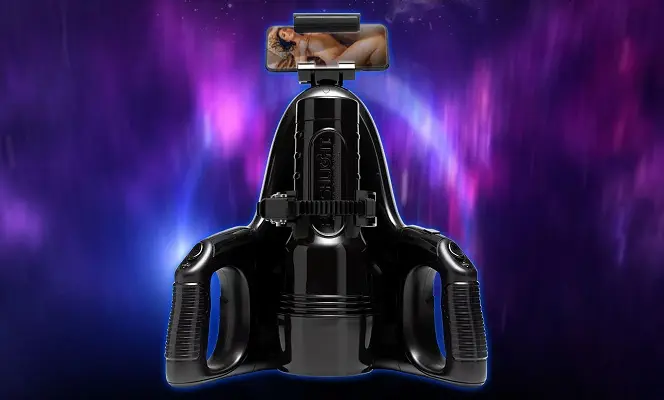 Read the full Universal Launch review
What better way to conclude our list of top-notch male masturbators than one from the company known far and wide for them.
So much so, it's a safe bet you've already heard of the legendary fleshlight sleeves as they arguably started this particular branch of the industry and remains one of its leading manufacturers to this day.
And their entry to our list has to be something to behold, right? Trust us, it absolutely is, as their Universal Launch hands-own is the biggest, baddest, and boldest masturbator ever.
How big? A whopping great 3.3 pounds.
How bad? This puppy can deliver 250 strokes per minute.
How bold? The Universal Launch is built to accommodate an impressive number of Fleshlight sleeves, from the Fleshlight Go all the way to the Fleshlight Vibro—with stops along the way to their Stamina Training Unit and Sex in a Can.
Just use the Universal Launch's easy-to-use ratching mechanism to attach any of these onto it. Then, once your sleeve is secured, fire it up and hang on.
Compliments of the main unit's twin handles it is remarkably easy to do.
Regarding its power supply, you have the choice of the Universal Launch's own built-in battery, which takes an hour and a half to charge and then will be good for an hour or so of use, or plug it directly into the wall and never have to worry about it stopping unexpectedly.
Though the Universal Launch isn't a smart sex toy per se, it does come with an optional smartphone mount so you can watch your favorite videos while using it.
Due to its considerable weight and size, it'll take a bit of practice before eventually finding an effective and comfortable way to use it.
In our experience, pillows help a great deal, as does propping yourself up against a bed's backboard or sitting on the floor with your back against a wall.
Maintaining the Universal Launch is far from difficult, typically only requiring a wipe-down with a moist cloth before and after use.
Depending on which sleeve you use, cleaning normally only needs warm and never hot or boiling water with a small amount of very mild soap or the same amount of your preferred variety of silicone-friendly sex toy cleaner.
Check the Price of the Fleshlight Universal Launch
Other Male Masturbators to Consider
Satisfyer for Men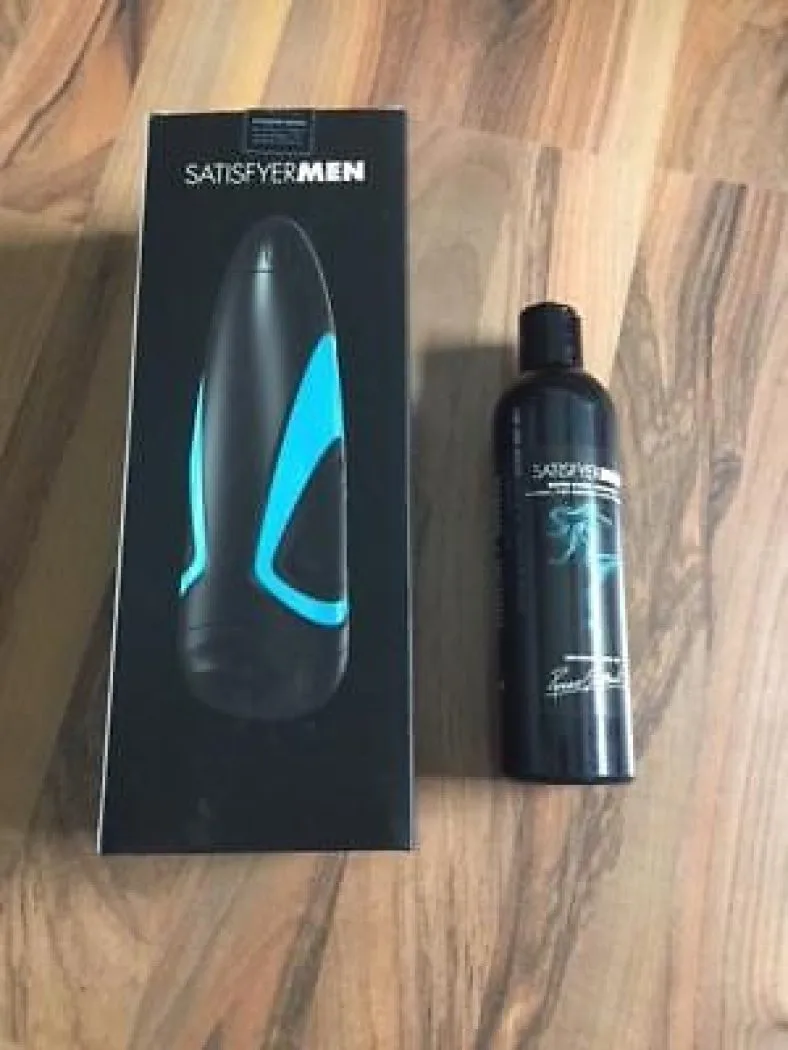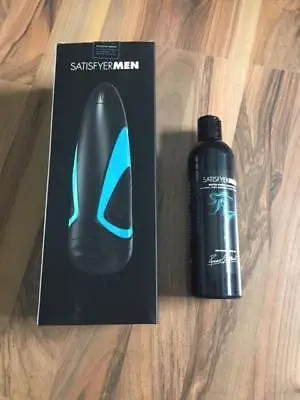 This Satisfyer masturbator is a modern sex toy for modern men.
It has a length of about 10 inches and a width of 4.5 inches. The case is made from a very nice textured silicone material.
The inner part of the device is made from really soft and squishy cyber skin, which gives the user a textural sensation every time it is used.
At the top of the Satisfyer Men, there is a vent which twists open to allow pressure to escape from the channel inside. This affects the tightness of the device and just at the side, there are two panels which can be squeezed during use, this gives it a pump effect.
The Satisfiyer for men pack comes with their brand of water-based lube. Water-based lubes are highly recommended to be used with most sex toys, in order to cause less harm to one's self and to the device.
After use, the toy should be cleaned by washing it in hot soapy water and the sleeve should be allowed to dry fully before returning it back to its case.
Fun Factory Cobra Libre II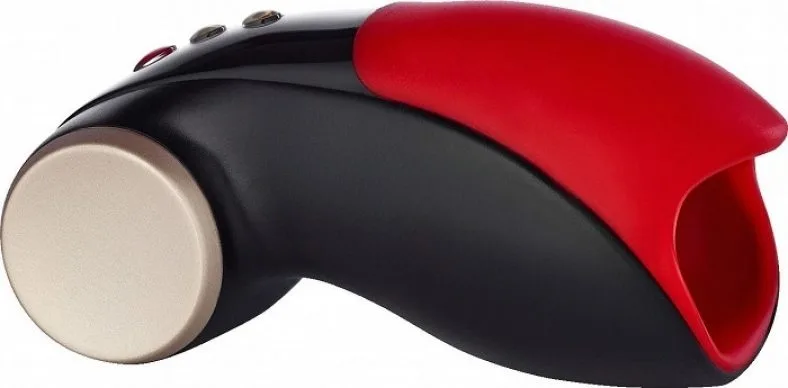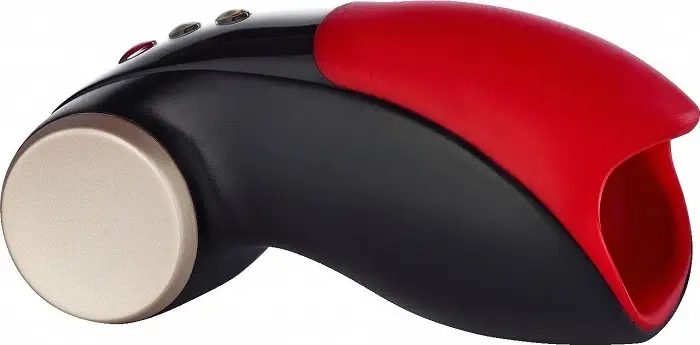 The Cobra Libre II is a handheld, vibrating male masturbator with various customizable pleasure settings. It comes in red and black in color.
It's made from smooth materials to reduce friction and is designed primarily to stimulate the head of the penis.
These materials are made from medical silicone and a blend of waterproof, skin-safe plastic. It has an internal size of 3.5 inches and a canal diameter of 2 inches, which makes it suitable for almost any penis size.
A new Cobra Libre II sex toy comes with the FUN to Play button for 3 seconds until it buzzes and it has an ergonomic design makes it easy to hold and operate.
Unlike other sex toys available in the market, the Cobra Libre II concentrates on just the head of the penis and the sweet spot rather than the entire shaft.
The device's pack comes with a magnetic USB charger that is about 8 inches long and with an instruction manual.
It is a discreet toy and makes very little noise when in use, it also makes use of long-lasting eco-friendly batteries.
The open-mouth design allows the user to move around at different angles to experience a variety of sensations.
It is a completely safe toy, being that things that might cause harm to the skin were not used in the production, e.g.; phthalates or latex.
Blewit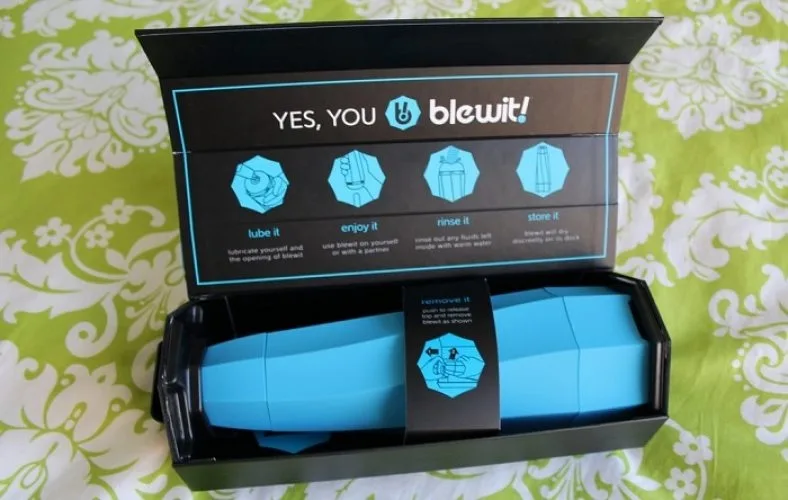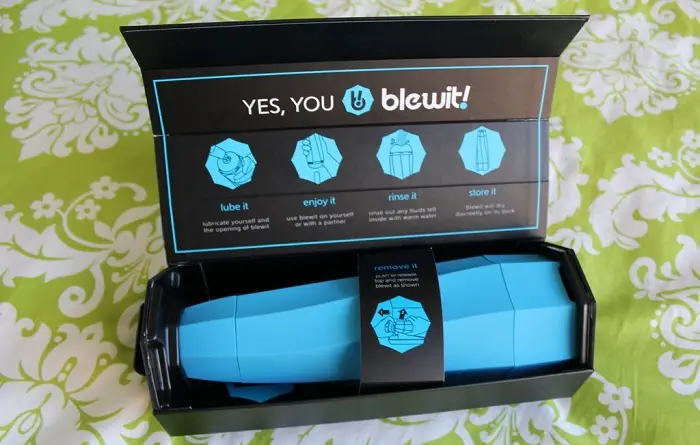 The BLEWIT Pleasure Trainer is a male masturbator that is designed in a way that mimics the sensations of sexual intercourse.
This sex toy can be used both for pleasure and as a training tool to improve sexual performance.
The Blewit has nice features such as a drying dock for easier cleaning and quick dry ventilation, and an up-leveled suction system that creates a one-way vacuum suction stroke.
This pleasure device is highly known for its ability to provide great pleasure when used and it was given the award of the Male Sex Toy of the Year 2017 by the Cosmopolitan magazine.
The Blewit comes in a discreet shape which makes it hard for just anybody to identify what it is or what it does.
It also possesses a rubberized texture that doesn't allow it slip out of the hands during use, this could be very frustrating especially at the edge of a climax but the Blewit sex toy has been able to curb this.
As a result of the ventilation system, the device possesses as well as its removable sleeve, cleaning after use is made easy as just the cap is removed and the rest of the device can be rinsed thoroughly with running water.
After rinsing, air drying is advisable to make it okay to use the next time.
With this toy, you do not have to worry about being silent. The sex toy is well suited for use in all places, and it makes a perfect travel companion.
Sensemax Sensetube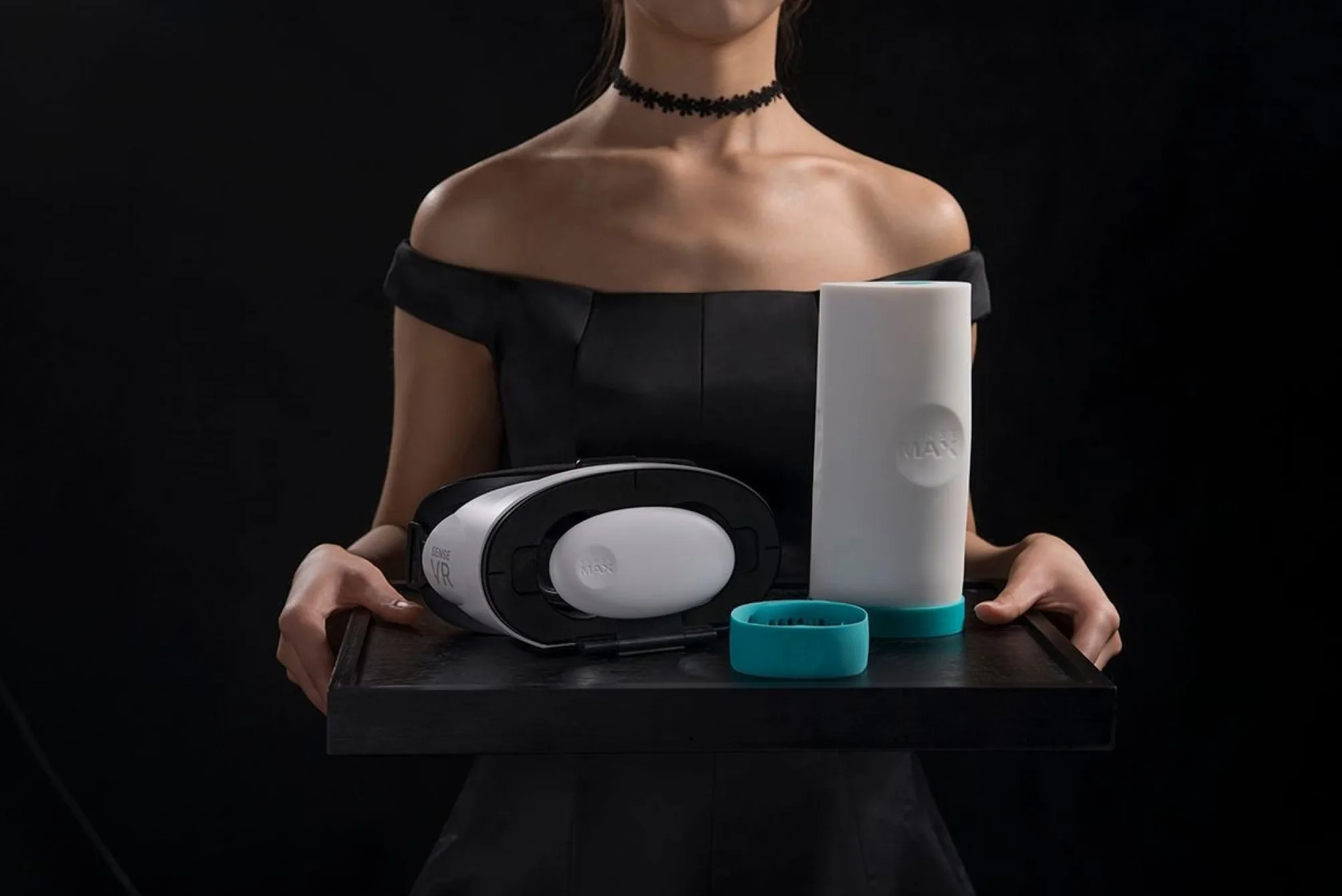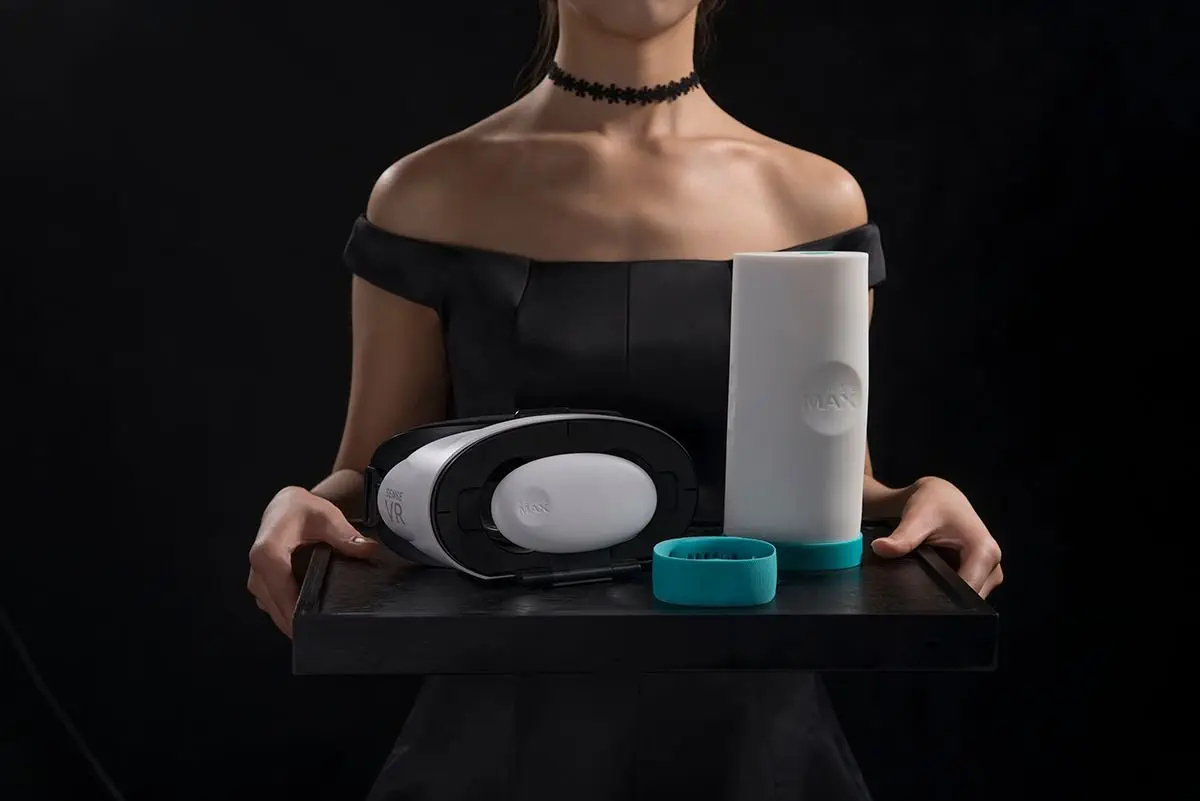 The Sensemax is a high sex tech that comes in a very discreet shape that makes it look like an audio player rather than a sex toy. In the Sensemax box, we can find the SenseTube and a magnetic USB charging cable.
The SenseTube exterior is made with a really soft silicone that allows squeezing of the sides in order to control the tightness.
The device possesses a removable sleeve that is made from TPE. The base of the toy is used for both charging and drying and it is made from ABS plastic.
The SenseTube is waterproof and is charged with a magnetic USB cable.
When charged for about 2 hours 30 minutes, it could be used for about 2 hours. It also comes with five different vibratory settings that could be controlled using the +/- button on it.
The Sensemax Sensetube is a teledildonic sex toy that can be used with a mobile app and connected to the partner.
The device could also be used alone in the comfort of your bed or anywhere else. It requires the use of a water based lube in order to reduce friction and make the device easy to slip into.
The SenseTube is completely waterproof, and the sleeve has to be removed for easy cleaning.
The outside case can be rinsed or wiped over with a damp cloth but the sleeve can be thoroughly rinsed and turned inside out to allow for proper fluid removal.
When it comes to drying, the plastic base that acts as a charging stand also doubles up as a dryer since it has tiny holes at the bottom and the internal tube is also hollow, allowing air to circulate.
Conclusion
We hope you enjoyed our list of "Top 12+ Best Male Masturbators for High-Tech Solo Fun" and that we may have inspired you to try these and other sex tech wonders for yourself.
For whether you want an addition to your regular self-loving sessions, are seeking arousing ways to keep you and your partner's sexual passions burning when you can't be physically together, or are looking for new ways to turn yourself on, you can't go wrong with a well-made and state-of-the-art male masturbator.
Not only that, but the best, as the old saying goes, is yet to come as the sex tech industry is always on the move, constantly exploring new manufacturing techniques, engineering concepts, and sexually-inspired design ideas and pushing ever further the joys sex tech can bring.
And for staying well-informed about what's available to buy, what's coming soon, and what's in the not-too-distant future, look no further than us here at Teledildonics for this and more sextech news.
Whatever toys you enjoy, be they ultra-sophisticated marvels of modern science or the classic one-handed method, we all have the right to experience sexual pleasure when and how we want to do it.
Thankfully, this right to pleasure is embraced and even celebrated by companies like the ones we've noted here, giving us hope that, however, sex tech might evolve in the future, at its core, it'll always help us explore the myriad joys of self-pleasuring.