Good is the thousands of engaging, alluring, and wondrously explicitly sex games currently available for you to try out.
Great are the millions, and ten times that currently in production, of arousing, titillating, and exuberantly erotic videos waiting to enjoy.
But fantastic is, through the futuristic gadgetry of Bluetooth, WiFi, computer and smartphone apps, and super-smart sexual devices, the ability to plug ourselves into all those sex games and erotic videos to ride along with all of their sexually stimulating goodness.
Welcome one and all to the brave new world of interactive sex toys: where you can fully immerse yourself in games, videos, as well as other types of adult entertainment.
Except how do you know which of the many brands and types are the interactive and immersive best?
Well, sit back, have a nice beverage handy, and hang on tight as we cover the top eight smart sex toys, in descending order: to educate, entertain, and guide you towards the one that'll fulfill your "Sex Toys For Adult Games And Movies" desires.
But First Some Words Of Technical Wisdom
Before getting to our top pick, it's essential to take a minute or two to share some realities about setting up and using this new breed of interactive sextech.
Since you're probably going to be new to this kind of technology, you'll no doubt going to experience a few hardware or software headaches until you eventually suss it out.
So when it comes time to unbox your new plaything and set it up, take a few calming breaths and repeat to yourself, "the manual is my friend"—including the how-to guides and online support offered by many games and video sites.
You'll also need to familiarize yourself with your computer or smartphone's capabilities, like your current operative system, how new or old everything is, and what you'll have to do to bring everything up to a game or site's recommended specs.
Because of all this, one of the most immediate things to think about when checking out any of these sextoys, or any others you may be also be considering, isn't so much what you hope it'll do but whether or not your hardware can handle it.
Still, knowledge is never wasted, and, as we said, there are resources available if you hit a wall. So even if you find yourself banging your head against the aforementioned vertical surface, remember to reach out for help, consult an expert, contact your toy's manufacturer or the minds behind whatever game or video site you want to use your toy with and, now smarter than you were going in, it should be smooth sailing.
1: Kiiroo Onyx+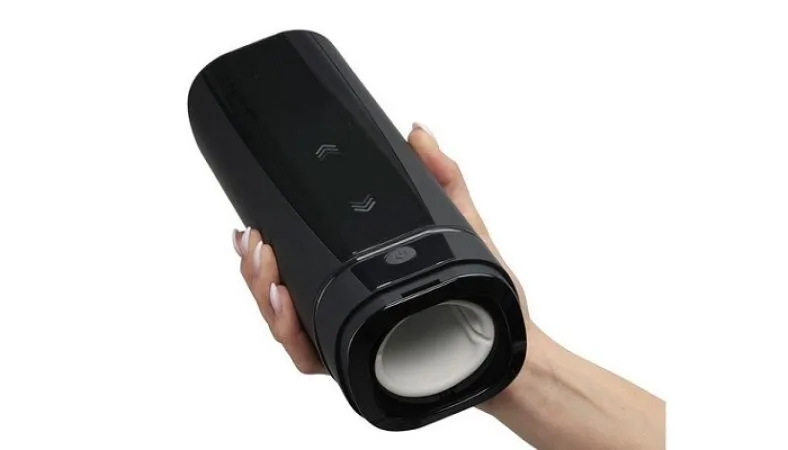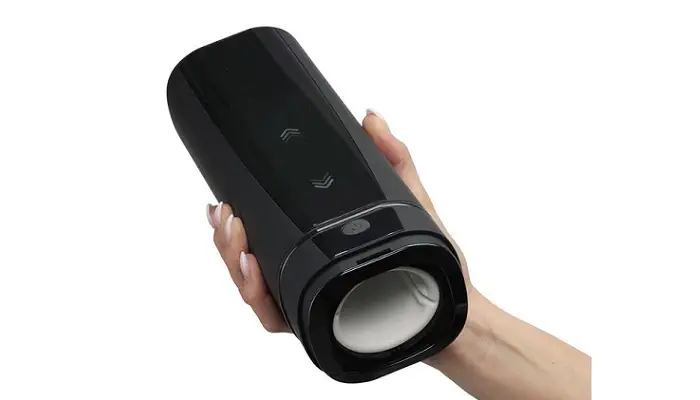 For our well-deserved number one position, here's an erotic fantasy made real sextoy guaranteed to please any penis-equipped person—and is top-notch when it comes to providing a blow-by-blow feeling to any erotic game or explicit video that supports it.
As lightweight as it is powerful, courtesy of its powerful yet quiet motor and innovative engineering, Kiiroo's Onyx+ is the sleeve-type masturbator all other sleeve-type masturbators should be measured against.
It's also amazingly comfortable, which may sound like an odd thing to say about something designed to be sexually arousing. But it's a big reason for its pretty much universal appeal, as the one thing you'll never think about when using one is that it's a machine.
A sensation quadrupled when you put the Onyx+'s smarter-than-smart technology to good use on any, and we mean any, site that works with Kiiroo's Android or iPhone FeelConnect app. Including places like Feelme, which offers interactive sextoy chats, virtual reality videos, live cams, and lots more.
Pros:
Extremely well made
Comfortable to use
Sensations are very arousing
FeelConnet app supported by a large number of sites and games
Cons:
May not appeal to people without penises
Somewhat on the larger side
2: Virtual Blowbot Turbo Stroker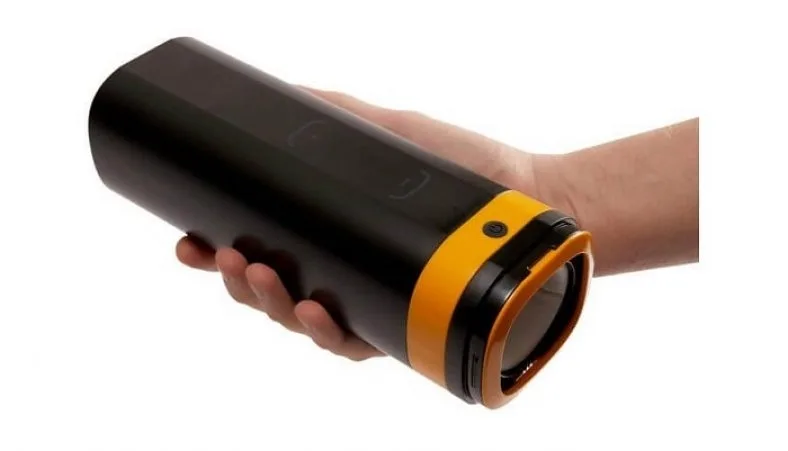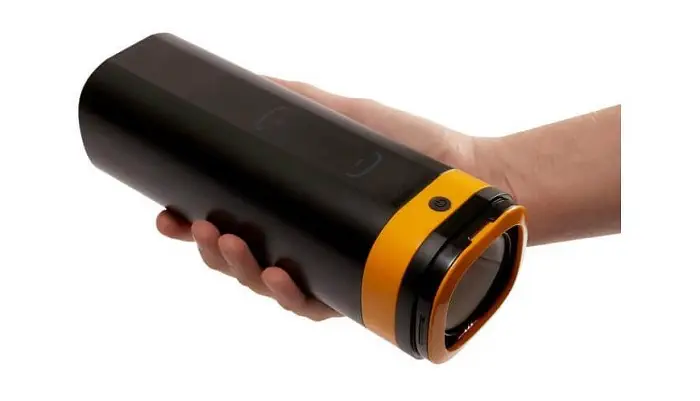 Here's another male-stroker-type toy for our number two position, but with a particularly unique pedigree: while Kiiroo provides its internal mechanisms and overall engineering, it was produced by the adult emporium, Ann Summers, to work with the legendary PornHub's interactive videos.
So right out of the box, you know, setting up and using the Virtual Blowbot Turbo Stroker will be a far easier experience than it may be with other interactive sex toys.
Not only that, but as we talked about with the Onyx+, Kiiroo is rightly seen as a top tier sextoy manufacturer: highly regarded for both the quality of their hardware and on the software side of things.
For PornHub enjoyment, connecting it up is as easy as using your FeelConnect equipped smartphone to snap a picture of the barcode attached to whatever interactive video you want to use, and voila, you're ready to rock!
Pros:
Built by Kiiroo in partnership with Ann Summers and PornHub
Superb male masturbator toy
Excellent integration with FeelConnect app
Takes full advantage of PornHub interactive content
FeelConnet app supported by a large number of sites and games
Cons:
May not appeal to people without penises
Branding may not appear to certain users
3: Kiiroo Keon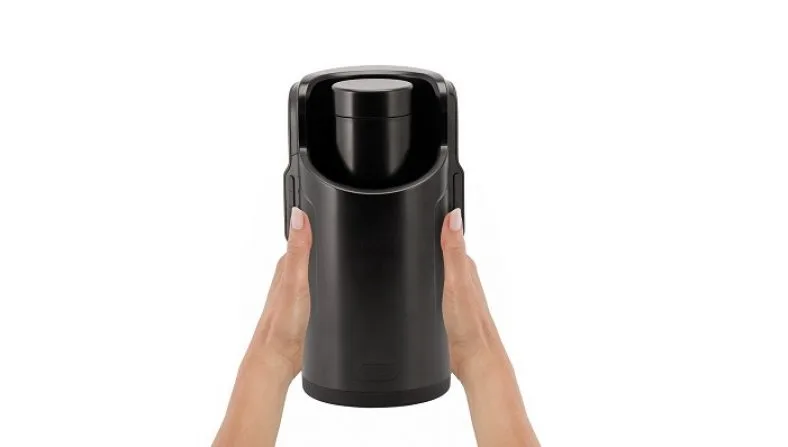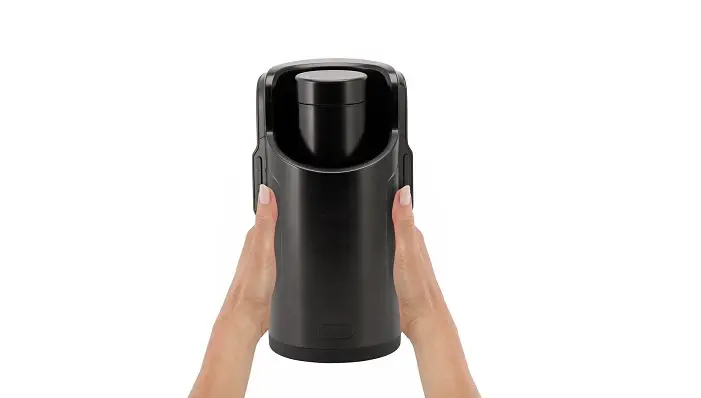 Staying with Kiiroo, we have another male masturbator, except their Keon approaches the concept of stroker differently by separating the sleeve component from the motor.
So what you have with the Keon is a kind of mechanical add-on to which any of Kiiroo's unpowered sleeves can be easily attached. The positive side to this design is if you don't particularly enjoy the feel of one sleeve, you can simply swap it out for another—making it one of the most versatile male masturbators on the market today.
In addition, the Keon works with any toy from any manufacture able to fit into it, allowing you to use your favorite for interactive fun times whenever you want.
Because, as with many of Kiiroo sex toys, the Keon is just as smart: so you can fire up the FeelConnect, sync it up to whatever video or game is coded to work with it, and the rest is pure pleasure.
The only negative is, due to its different overall design, the Keon is a downright hefty piece of technology. If you're looking for an interactive sextoy that's light and maneuverable, you may find yourself struggling with its considerable size and weight.
Pros:
Able to work with practically any sleeve
Designed to work with FeelConnect app
More powerful than many self-contained masturbators
Cons:
May not appeal to people without penises
Bigger and heavier than most penis masturbators
4: Kiiroo Pearl 2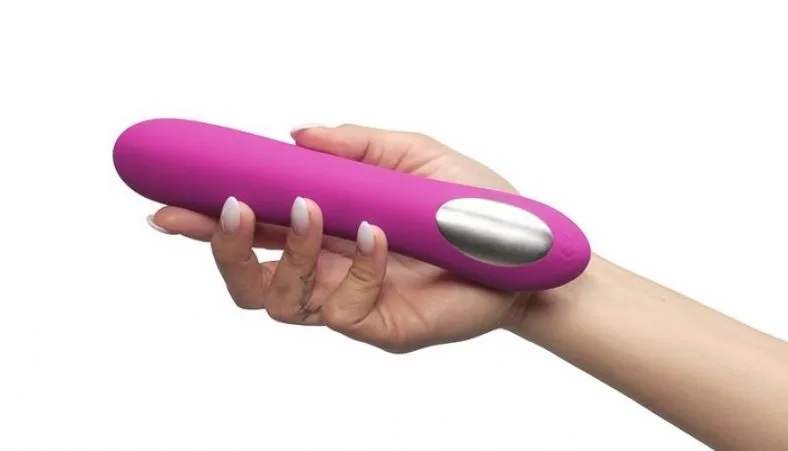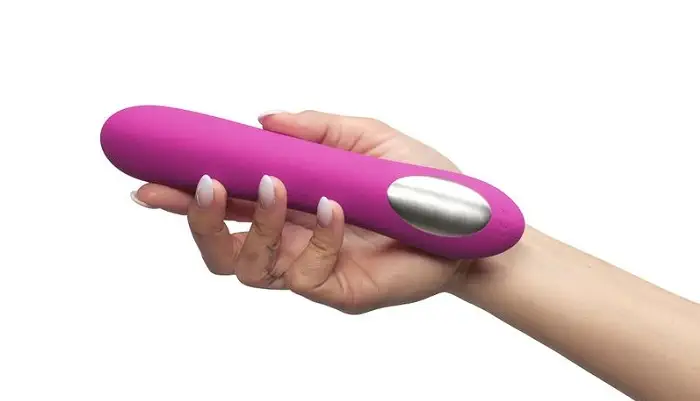 Knowing a good thing when we see it, remaining with the industry leader that's Kiiroo, for number four, we're proud to present their Pearl 2: a brilliantly made sextoy though this time for anyone out there with a vagina who finds G-spot stimulation arousing.
Taking their knowledge to a whole new genital configuration, with the Pearl 2, Kiiroo has given us an arousing plaything that hits all the right points when it comes to delivering close-to-perfect pleasuring.
And behind the Pearl 2's fine engineering is the capability of seamlessly integrate it with the FeelConnect app—and from there to any game of video supporting it.
Meaning, all those interactive experiences aren't exclusively for penis-equipped persons: with a Pearl 2, everyone else can get in on the immersive and exciting action.
Pros:
Supports the FeelConnect app
Built for vagina owners
Excellently engineered
Cons:
May not appeal to people with penises
Not as many interactive videos available when compared with sleeve-type masturbators
5: OhMiBod Fuse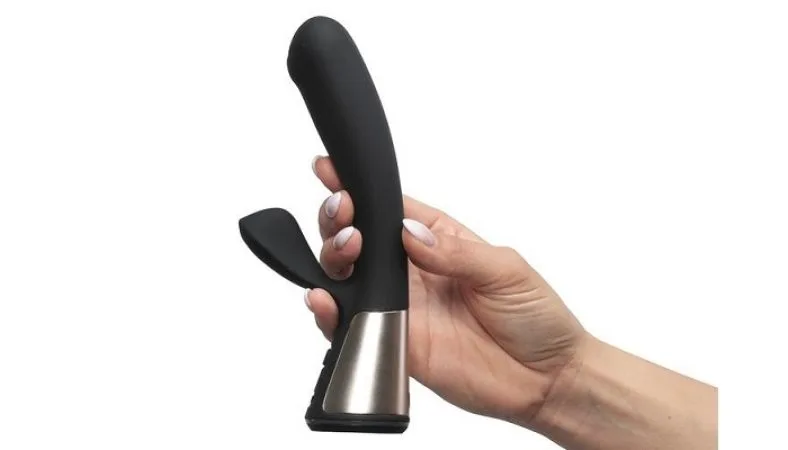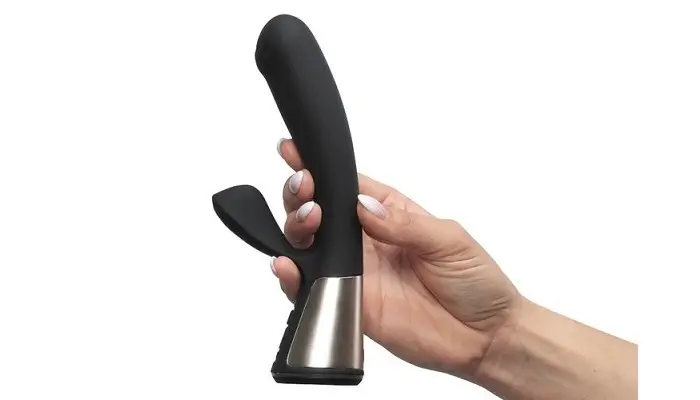 Lest you think we're playing favorites, considering the number of Kiiroo toys we're listed so far, for number five, we have the Fuse from OhMiBod.
Except … well, the Fuse's inner workings are from Kiiroo: making it the result of a partnership between the two companies.
And it most assuredly is a fantastic arrangement, as the Fuse is a double-purpose vaginal toy: designed for equal parts internal stimulation and of the clitoral variety—giving it a slight leg-up over the Pearl 2, which merely stimulates the G-spot.
With its Kiiroo brains, it also connects superbly with their FeelConnect app, therefore able to do whatever the Pearl 2 can while reaching out and forward to put its vibrating goodness in contact with the user's clit.
Pros:
Dual pleasuring sextoy for the vagina equipped
Works extraordinarily well with the FeelConnect app
Product of two leading sextoy manufacturers
Cons:
Perhaps not ideal for penis-equipped persons
Fewer interactive videos than those for sleeve-type masturbators
6: Fleshlight Universal Launch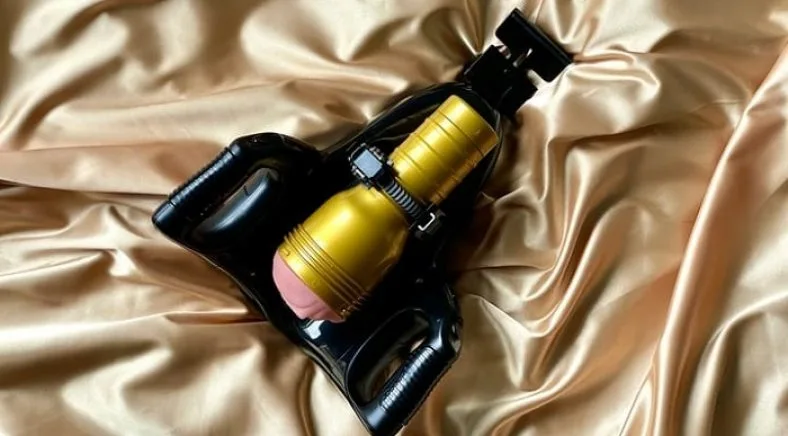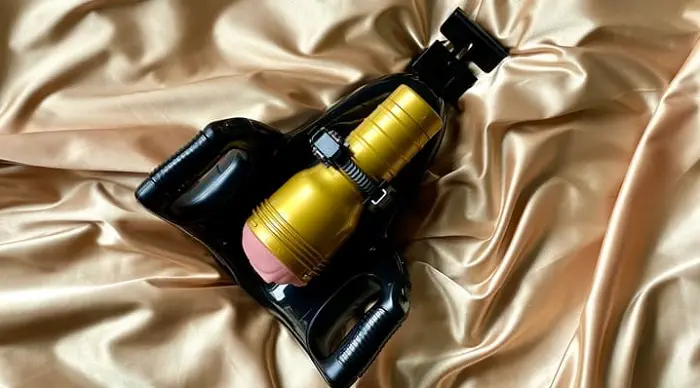 If you thought the Keon was on the beefy side, take a gander at a different sort of male masturbator, assisted motorized system: the Universal Launch from Fleshlight.
Launch is right, as this is a sextoy that'll conjure images of getting strapped in for a blast into outer space.
With the same design philosophy behind it as the Keon, the Universal Launch is a high-powered unit attachable to your preferred choice of sleeve-vibrator—and afterward, you can connect up the Launch's hefty motorized mechanism to use it along with all sorts of interactive videos and games.
The reason for its place here at number six is the Universal Launch isn't as widely supported as, say, sites or games welcoming to FeelConnect enabled sex toys.
Pros:
If you want a powerful stroker-type sextoy, then this is it
Attachable to almost practically every kind of sleeve
Interactable with many games and video sites
Cons:
Not precisely light or portable
Few places support it for interactivity
7: Virtual Mate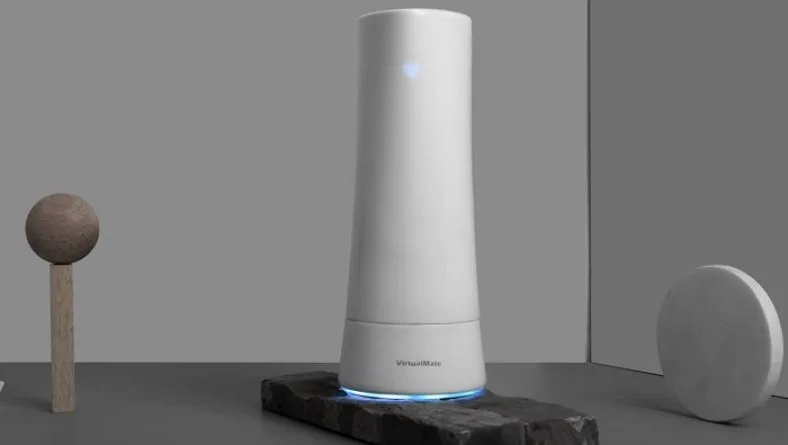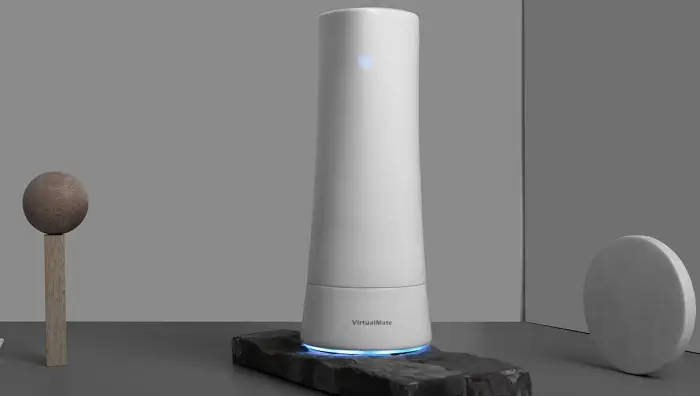 Nearly at the end of our list of Best Interactive Sex Toys For Adult Games And Movies comes, out of quite a few unique devices, one that comes close to out, unique-ing them all.
On the surface, Virtual Mate looks like your average, nothing-to-write-home-about sleeve-style masturbator—and you'd be right.
Or rather, half-right as the Virtual Mate's core is an unpowered, though automatically heated, sleeve. What differentiates it from others of its type is it's filled with an impressive amount of internal sensors designed to keep track of its position, the number of strokes going in and coming out of it, and so forth.
The data from which is wirelessly transmitted to the other side of the Virtual Mate system: a fully interactive, extraordinarily detailed, and realistic sex game built to respond to whatever the user of the core stroker is doing.
Due to this novel engineering, you might say Virtual Mate is a premier interactive sextoy experience.
But only in one direction, the reason it's where it is on our ranking is that though the sleeve transmits to the game, it's not reciprocated since the core doesn't have any motors or mechanisms to provide tactile feedback.
Pros:
Two-part system designed for sexual interactivity
Core is comfortable and self-warming
Game is incredibly well made and responds to the sleeve
Cons:
Core can't be used with other interactive websites
Game doesn't support interactive sex toys
Core is unpowered
8: Lovense Max 2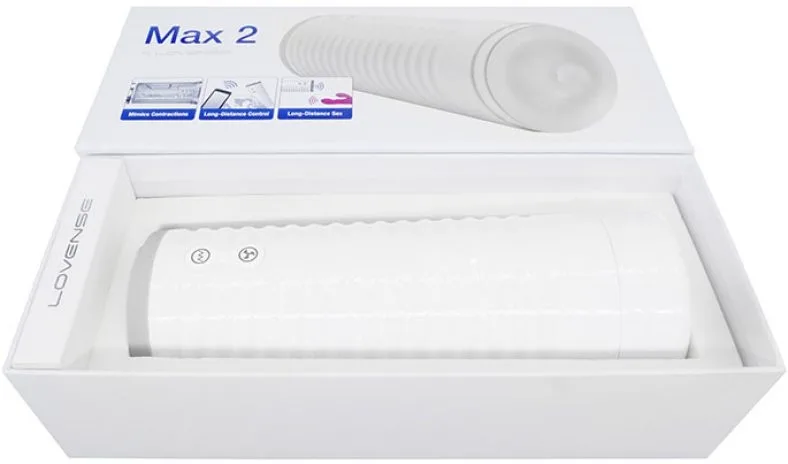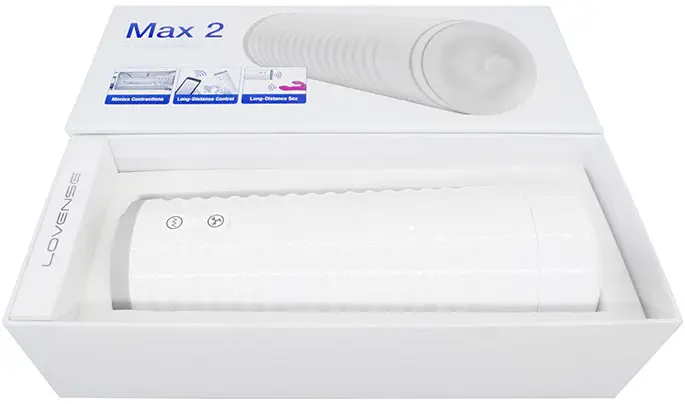 In our final position is a fan favorite interactive sextoy from a company often thought of as equal to or in some ways even has a leg over its competition.
In our opinion, Lovense more than deserves this sentiment, and their Max 2 stroker vibrator is an excellent demonstration of how good they are when it comes to delivering power, sensuality, and—what we're all here for—interactability.
Finely-made doesn't come close to Lovense's dedication to quality, attention to which they used to make the Max 2 a distinctly erotic sensation.
The Max 2 isn't higher on our list because it doesn't measure up to toys like those from Kiiroo regarding quality, but when working with adult games or explicit video sites, Lovense isn't as supported.
Though if it's playing with other Lovense toys—or places that do support interactivity with it—their Lovense Remote Android or iPhone app, along with the PC and Macintosh desktop versions, can't be beaten.
Pros:
Excellent person-with-penis masturbator
Well made and exceptionally designed sextoy
Lovense Remote is state of the art
Perfect for teledildonic play with other Lovense toys
Cons:
Lovense Remote rarely supported by interactive game or video sites
The verdict
As we mentioned, though the field of interactive adult entertainment is on the rise, with more explicit games and hotter-than-hot sexy video sites appearing every day, it's a field not without its fair share of bugs to be worked out.
Not this should deter you from trying what's available, not to mention the potential of what's looming on the horizon.
As the old saying goes, there's no place to go but up. And while the smoke is yet to clear on the interactive sex industry, what's out there now is more than exciting—and well worth taking time to explore.