The ways we can enjoy adult entertainment have grown like never before. From porn sites, camgirl platforms to virtual reality experiences, it looks very much like we've entered a time when if you can dream it, erotically or otherwise, there's bound to be someone out there making it a reality.
And this expanding erotic wonderland most definitely includes virtual sex games: offering literally exciting new opportunities to immerse yourself in all sorts of alluring adventures.
But it can be tough to narrow all these new choices down. This is where we come in with our selection of eight Best Virtual Sex Games you can play right this very minute.
If that is, you have a computer or smartphone capable of running them. So whenever possible, we've also included information on each game's hardware requirements—and whatever else you'll need to know to get in on their oh-so-very sexual action.
1: SinVR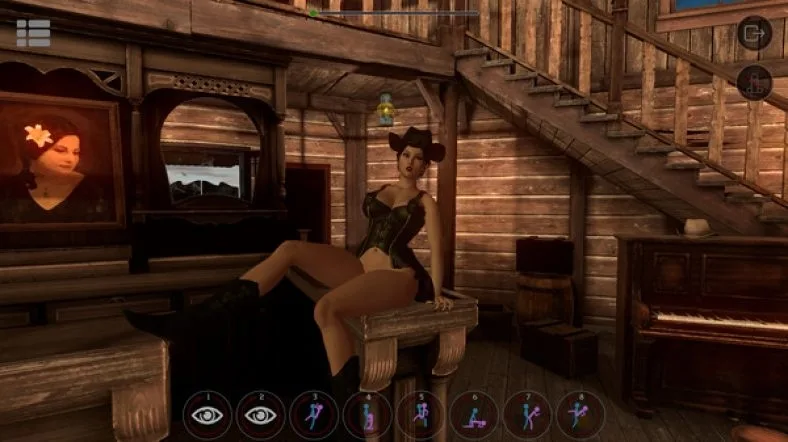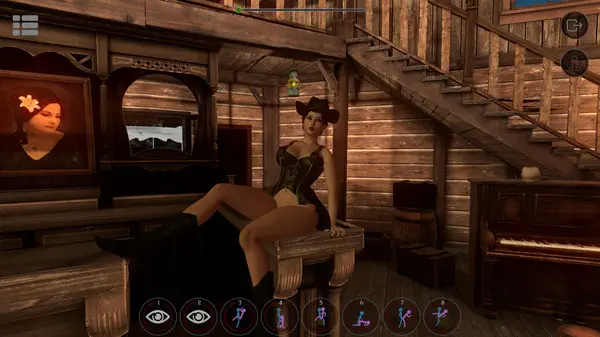 To get things rolling, we have at our number one spot SinVR: an episodic virtual reality game offering artificially intelligent playmates able to be put into all sorts of hot positions.
For those of you out there who like their erotic games with a good spanking of kink, then SinVR has content that may be right up your BDSM alley. For instance, in "Spank Me Harder," you can put Delia Fangs, a feisty submissive vampire, through her bondage paces.
If older women are more to your liking, perhaps the "Dragon Milf" episode will wet your sex and Game of Thrones whistle.
Plus, there are five other episodes to try as well: each more explicit and enjoyable than the last.
And as this is a list of virtual games, SinVR supports computer-based virtual reality rigs like the Valve Index, HTC Vive, Oculus Rift, and Windows Mixed Reality.
Sorry smartphone and Apple people, but it doesn't work with any other virtual reality system or Macintosh computers.
Pros:
Episode content so has something for just about everyone
Realistic graphics
Large number of positions available
Free sample is available, with additional episodes available at an additional cost
Can be played with or without VR
Cons:
Only available for high-end virtual reality rigs
PC only
➡️ Click here to check the price of SinVR
2: Holodexxx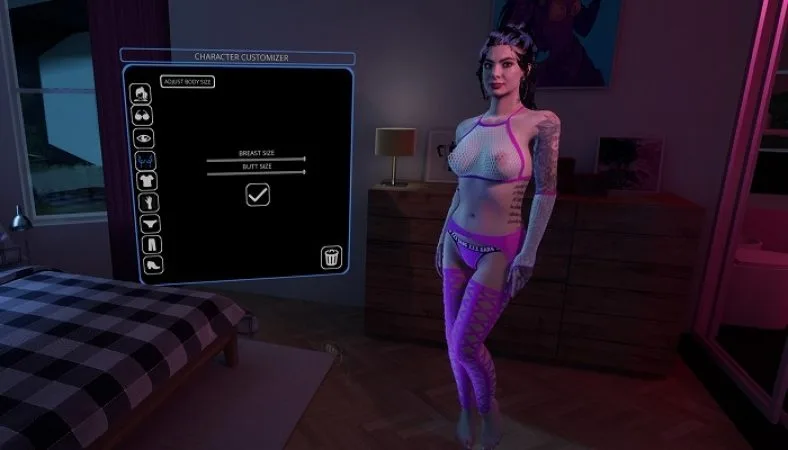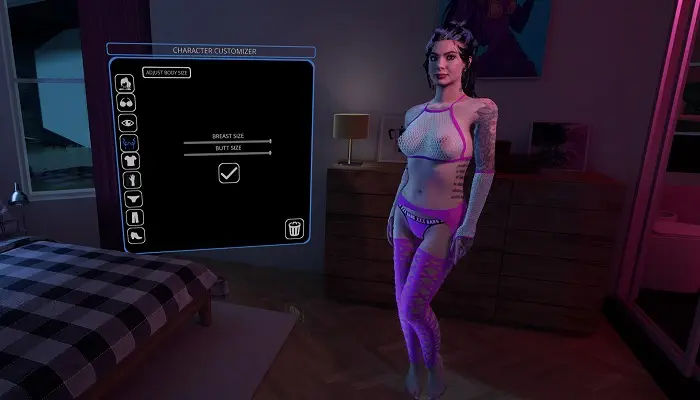 While other games are building their character models from scratch, the developers working on Holodexxx have opted instead for an ultra-realistic approach by scanning actual, real-life adult entertainers.
While it remains in development, their work looks like it will pay off—and then some. If you have a PC you can even try three examples of their current beta build, which features Riley Reid, Marley, or Galley—or check out their models-to-come section, where you can see their work creating representations of other adult performers like Skin Diamond, Jynx Maze, Mia Malkova, Lexi Belle, Dani Jensen, and others.
To see what the fuss is about, you first need to download the Itch Launcher, an online game platform, and from there fire up any of their demos.
If you have a Quest VR headset, you can experience their work that way or via an Android phone which you can use to see everything they're developing courtesy of their augmented reality app.
As Holodexxx is an ongoing process and the team behind it needs all the support they can get, you can do your part by contributing to their Patreon, which also gets you excellent incentives such as access to the game's current build and engage in chats with the everyone working on it.
Pros:
Uses scans of real-life adult performers
Extremely realistic models
Enthusiastic developers dedicated to releasing a good product
Cons:
PC only
Doesn't support a wide range of VR headsets
Still in early stages of development
3: 3DXChat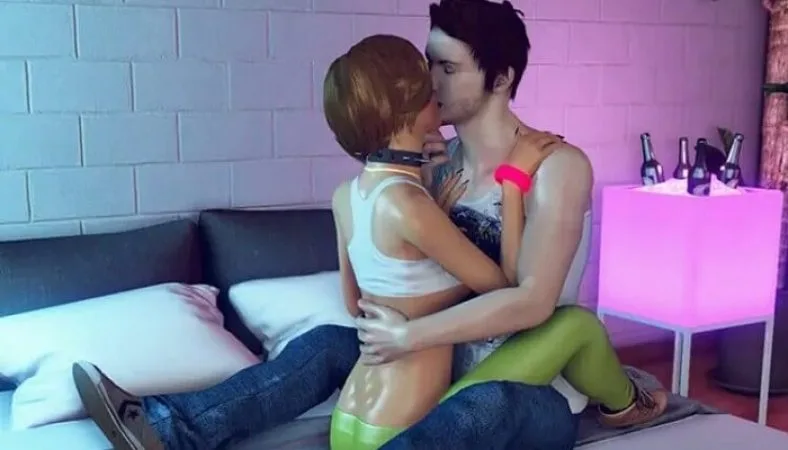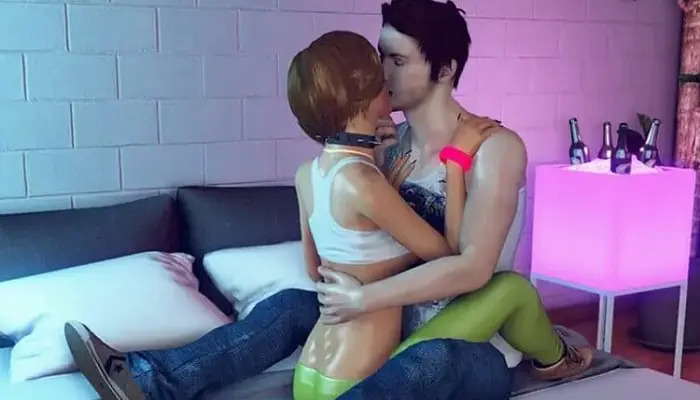 If interacting with artificially intelligent playmates doesn't sound particularly arousing, our number three entry could be what you've been waiting for.
Using a more cartoonish, slightly-Hentai-inspired look, 3DXChat is based on people interacting with other people in a virtual environment. Once you register, choose your gender, orientation, and basic appearance—along with signing up for the game's monthly fee—you're let loose in a colorful fantasy world to flirt, hook up, and potentially erotically engage with other users.
For virtual reality excitement, 3DXChat is built with the Oculus Rift CV1 in mind, so if you have one, you could have the unique and erotically stimulating experience of being right there when things get hot and steamy.
More is yet to come, as the 3DXChat says they've partnered with the great minds over at Lovense so that premier sextoy manufacturer's smart sextech will be able to interact with whatever's happening in the game.
If there's a downside to 3DXChat, the current build is PC and doesn't work with other VR set-ups. That and it requires a monthly fee to play instead of other games where you outright own them, so you're able to enjoy those whenever you want at no additional charge.
Pros:
Focused on users playing with other users
All sorts of methods to fully customize your avatar
Lots of unique environments
Users have and decorate their virtual playspace
Supports the Oculus Rift CV1 VR rig
Works with Lovense smart sextoys
Cons:
Requires a monthly membership
Positions, clothing, and other amenities cost extra
Doesn't work with other VR systems
PC only
➡️ Click here to check the price of 3DX Chat!
4: XStoryPlayer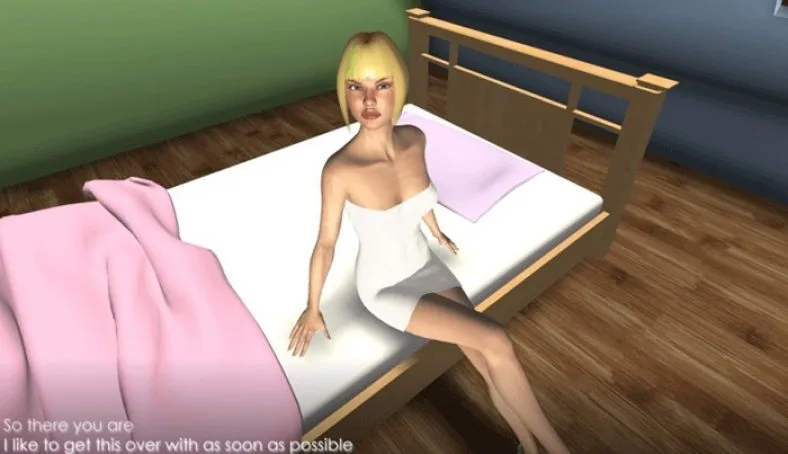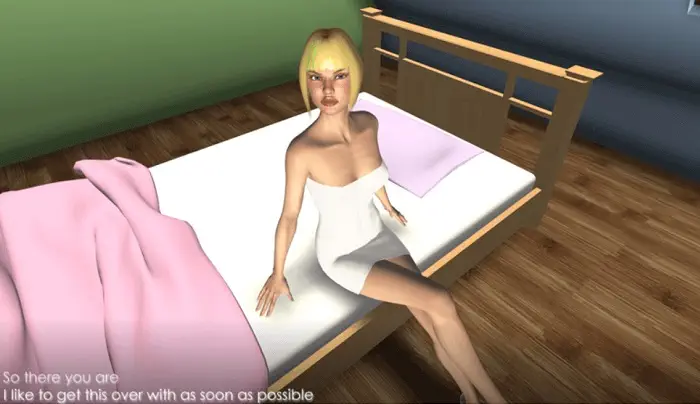 From X Moon Productions comes another immersive sexual game, but here they're shooting to make theirs as realistic as possible.
Play-wise, XStoryPlayer is all about establishing a relationship with a character before getting to the whole sex enchilada: players starting by dating followed by a series of decisions made in various virtual settings—and if all goes well leading up to hot, spicy playtimes.
The whole game is about five to seven hours long, though if you want to sample it, a demo is available. And as the game remains playable even after you "win" the girl, it's concluded you can keep having fun with it (and her) for as long as you want.
Not only that, but XStoryPlayer is not a frozen-in-place game, so that you can tweak or customize the characters in it however and whenever you like.
For a virtually real time, XStoryPlayer runs well on an Oculus Rift—though right now, that's the only VR system it supports.
Pros:
Extremely realistic graphics
Five to seven hours of game time
All about establishing a relationship with the female character
Works with Oculus Rift
Demo available
Cons:
Not great for those wanting to get right to the action
Doesn't run on other VR rigs
PC only
5: VRLove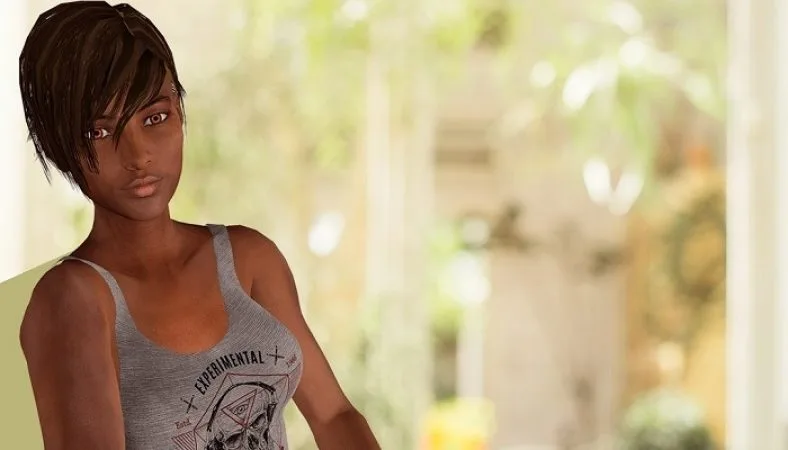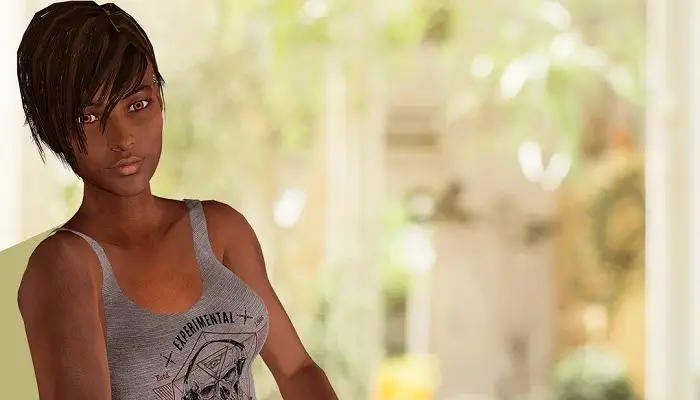 Sponsored by the virtual reality giant, Virtual Real Porn, while VRLove is still being worked on, you can try out its current build—where you'll hopefully feel like we do that despite it having a long way yet to go the game demonstrates a great deal of potential towards becoming one of the best virtual reality sex games, ever.
For example, the developers have opted for a rather illustrative approach towards their character designs, which were often built up from initial scans taken of adult performers to provide VRLove with its distinct visual style.
Resulting in a game that pleasantly avoids the uncanny valley: that weird situation where a computerized person ends up looking less lifelike and more … creepy.
This technique also allows the developers to provide us with a game that should immediately appeal to players into the fantasy side of erotic games.
While it may not be as appealing as titles more about offering more-real-than-real character models, for folx looking for something as pretty-gosh-darned-close to looking like it came from a wickedly demanded manga artist, then VRLove's gonna be their cup of hot sake.
More than that, VRLove didn't merely stick VR compatibility onto an already existing game but was created with virtual reality in mind from day one. So when you download, install, and run it on an Oculus Rift or HTC Vive, it's like you're really and truly there.
Good for PC users, and anyone who owns either of those two VR rigs or a Macintosh computer, but less so for everyone else as VRLove is purely a PC game—and only on those particular virtual reality systems.
Back to VRLove as a from-the-get-go VR game, we'd like to take a moment to say why this is such a good thing. To be effective and therefore enjoyable, Virtual Reality can't be an afterthought as a quality experience largely depends on video quality and, more than that, how it interacts and responds to a game of video.
When everything's going well, VR is amazingly immersive. So much so that after playing a game like Valve's Half-Life: Alyx—considered to be the best VR game, period—users may have the briefest brief moment of disorientation because that digital domain and the real world were that close to feeling identical.
However, when things don't go well, VR can be, at the risk of being overly dramatic, visual torture: bad graphics, poor motion tracking, and other programming slip-ups combining to produce instant nausea.
So when a game like VRLove, programmed precisely for virtual reality, lands on the scene, it's a pretty safe bet it will be a comfortable and, therefore, pleasantly immersive experience.
An extra ray of sunshine is the developers of VRLove also recognize sextoy interactivity is the future—and so are working with Lovense so their Max and Nora smart sextoys can be used with the game.
Pros:
Interesting graphics approach
Customizable characters
Good variety of models and sexual positions
Built for virtual reality
Works with Lovense sextoys
Cons:
Still in development, so a little rough around the edges
Art style may not be for everyone
Fairly limited when compared with other virtual sex games
Doesn't support other VR systems
PC only
➡️ Click here to check the price of VR Love!
6: Virtual Lust 3D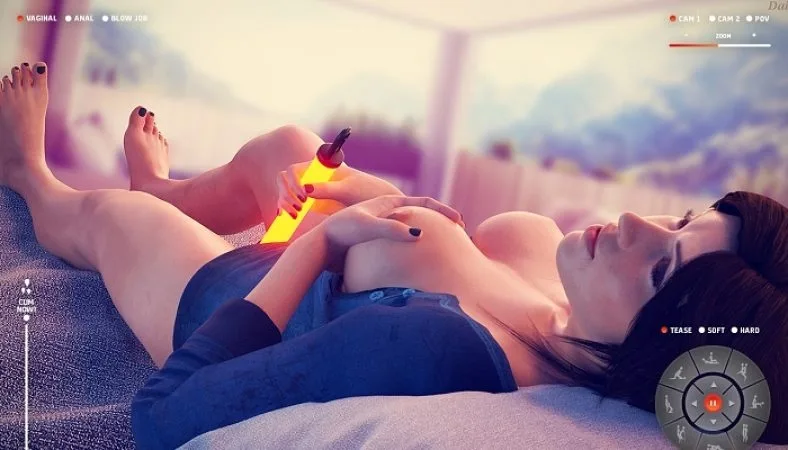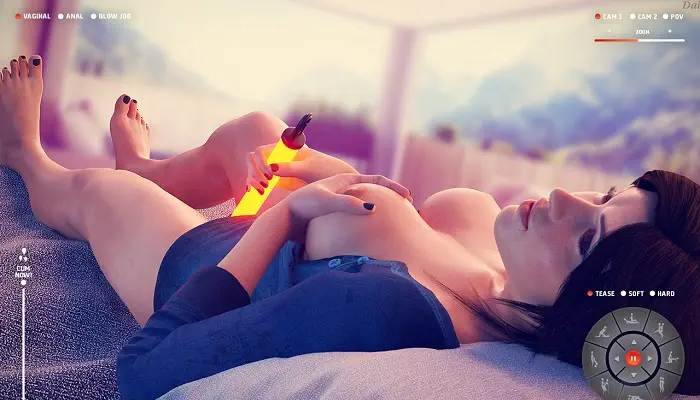 Say what you want about the company giving us Virtual Lust 3D, but you sure can't call them shy about promoting their virtual sex game.
As right there on the game's homepage, and boldly in front of your face, is their big, bold proclamation that here is "the most explicit 3D sex simulation ever."
Surprisingly, they may very well be right as Virtual Lust 3D isn't shy about the sex part in sex game. Not only that, but you can also make the game your courtesy of its vast number of customization options—as in how the characters look and what they'll do to you, the player.
And what you see will be pretty mind-boggling as Virtual Lust 3D is all about detail and resolution: insane amounts of for the former, 4K resolution in regards to the latter. It's not for nothing that practically every review we consulted said Virtual Lust 3D was like watching real people engaged with real sex.
We'll even go so far as to say, after comparing it to other games we're tried—except for our final entry, Temptation Towers—that Virtual Lust 3D's bravado could be accurate, as it somehow manages to capture and replicate nearly every little detail about real-life sex.
Up to and including various physical textures and all the intricacies of fluid dynamics—and, no, we're not just talking about sweat but the other wet delights of gloriously hot sex, as well.
Perhaps too good to be true, despite its name, Virtual Lust 3D isn't a virtual reality game. But that doesn't mean it won't someday be. Until that day comes, we've decided to add it to our list as despite not being able to use a VR rig to get into the action, the game's high resolution and dedication to detail makes it nearly that immersive.
Pros:
Phenomenally lifelike and realistic graphics
Plays can customize practically everything in the game
Offers weekly content updates
Cons:
No direct VR support
PC only
Not as affordable as other games
➡️ Click here to check the price of Virtual Lust 3D!
7: City of Sin 3D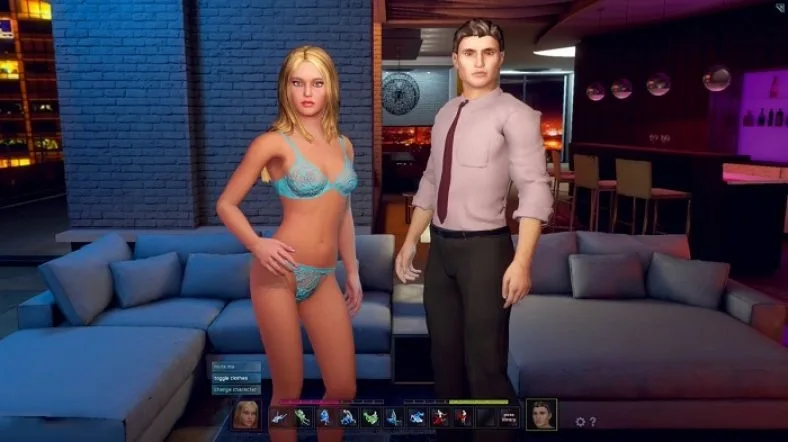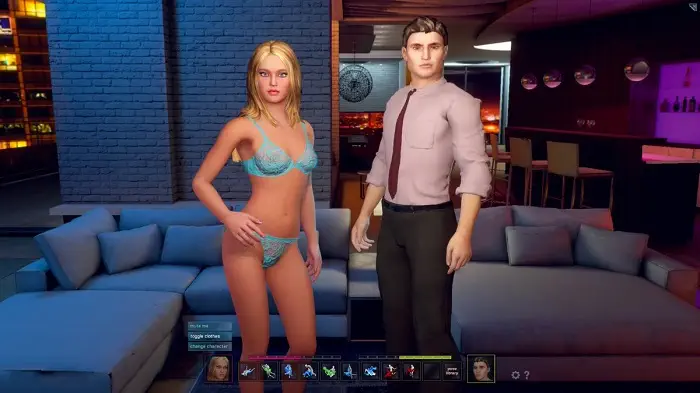 Getting towards the end of our list of the Best Virtual Sex Games is another title that's all about giving players an erotic sandbox to create any character and sexual situations they desire.
For City of Sin 3D, this is reflected in how the game can be tweaked, adjusted, or modified—which is a helluva lot (and some). This can be a simple as minor adjustments to a hairstyle or having the characters perform every single position in the Kama Sutra.
If creativity's not your bag, City of Sin 3D also comes with a passel of pre-made characters ready, willing, and more than able to do your sexual bidding. While perhaps not the most original of sexual icons, they can certainly do in a pinch.
Like our previous entry, City of Sin 3D is a very three-dimensional game, with modeling that manages to look somewhat artificial though with the right amount of realism to be a remarkably lifelike experience.
Speaking of lifelike, if you have Fleshlight's Launch or Vstroker, you can set them up to respond to the sexy activities of your virtual avatar.
Pros:
Impressive amount of character customization
Very lifelike models and animations
Works with Fleshlight sextoys
Cons:
No direct VR support
PC only
Monthly free required
8: Temptation Towers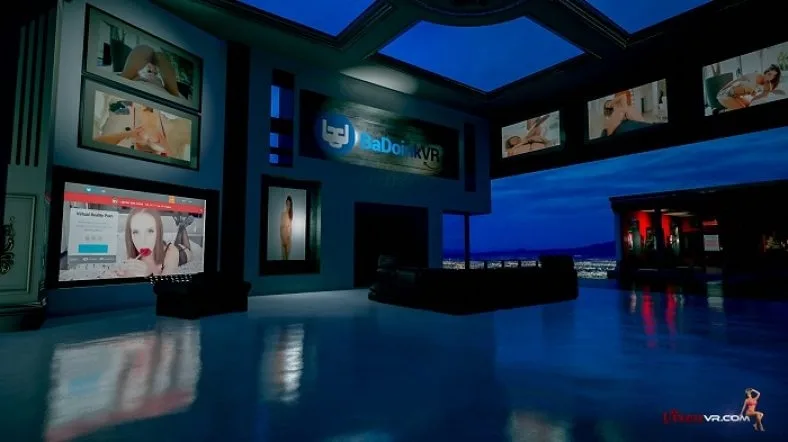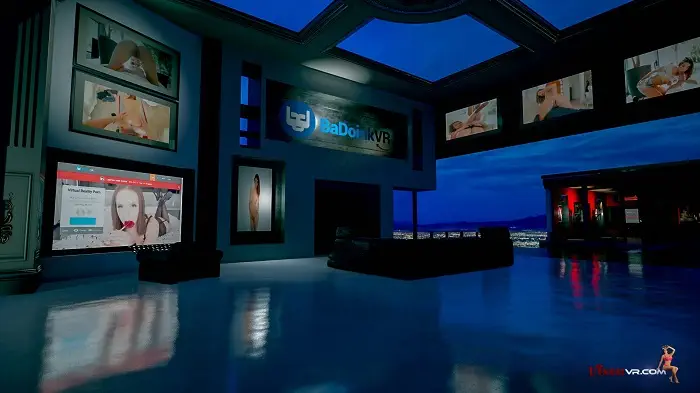 In gaming, there's a type known as full-motion video. Despite it not being as common as other techniques, it's not without its fans.
Without getting into the technical side of things, full-motion video uses pre-recorded scenes that players trigger by performing various built-in actions, giving an illusion the player is interacting with the characters.
So when you're playing a game with this system, you might approach a room, click to open it, causing one of these scenes to play—with or without a choice here or there that changes the outcome of the overall story.
The gaming-mechanics sidenote is because our final entry of Best Virtual Sex Games employs this technique. However, with VixenVR's Temptation Towers, you're not saving a princess from space pirates but exploring a building full of extremely willing sexual playmates.
This particular virtual reality game is also an ongoing process, with the team behind it regularly updating it with new content.
Admittedly, if you're used to having complete control over what happens in a game versus activating video sequences, Temptation Towers may feel a bit jarring and considerably less immersive than other games on our list.
Despite this, as it uses motion capture, Temptation Towers remains the only game on our list we can accurately say is the most realistic virtual sex game out there right now.
Right now, the game is PC exclusive or can be played on high-end VR rigs like the Oculus Rift, HTC Vive, or on any system able to run Open Source Virtual Reality software.
Though you'll need to download a small-ish program to run it, Temptation Towers is a screamingly fun game. The reason we're mentioning its online software requirement is the quality of your time with the game depends on your PC's computing power and the quality and speed of your Internet.
Pros:
Unusual approach to virtual reality gaming
Real performers engaged in actual sex acts
Streaming, so requires little hard drive space
An ongoing title, with regular updates and tweaks
Cons:
No real control over what happens in the game
Runs on only higher-end VR rigs, no smartphone support
PC only
How To Pick A Good Virtual Sex Game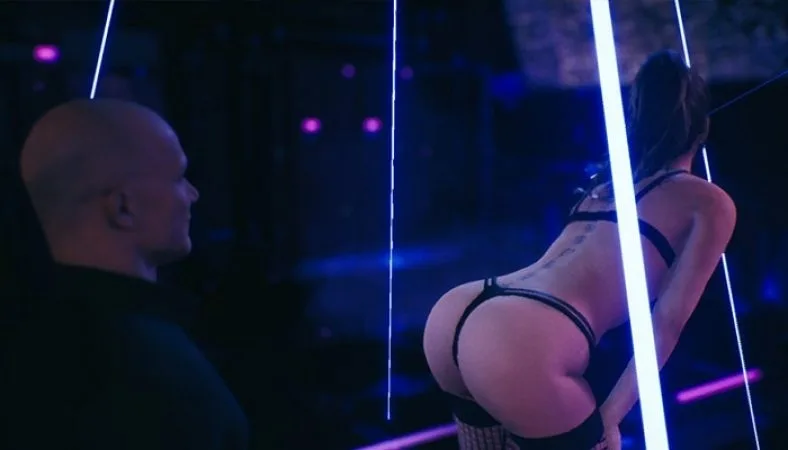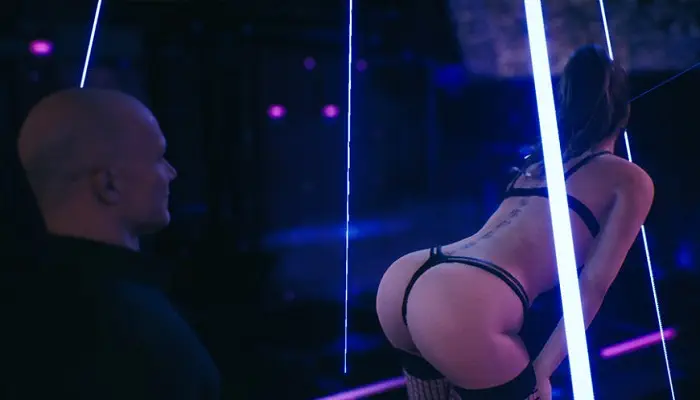 There's a lot to digest when choosing one virtual sex game over another or even narrowing the field down to a few select titles.
Leading the charge is trying to define what virtual means to you, as some games use the word very specifically—as in you can use a virtual reality rig to get into the game's action—or rather loosely as they don't support that technology but provide an ultra-realistic and lifelike experience.
You might say it all hinges on what you have, hardware-wise. If, for instance, you have anything from a Value Index to an Oculus Rift, you probably want to gravitate towards games such as SinVR, Holodexxx, 3DXChat, or the others on our list similar to them as you'll no doubt want to have the whole feeling of right there in the middle of all that sexy goodness.
Conversely, if you don't have one of these rigs though many of the games we listed work on a regular old, 2D monitor, it'd be like trying to enjoy the thrill of driving a Ferrari while confined to a parking lot.
In that's where you are, it'd probably be better to try games like Virtual Lust 3D, City of Sin 3D, or Temptation Towers that plays perfectly well sans VR.
Or you could just wait, as there are too many VR sex games in development to count—with ten times that number we haven't yet heard about.
And who knows what these new games will bring to the immersive erotic party? Perhaps this next-gen will surprise us with ultra-ultra-ultra realistic graphics, capable of seamlessly interfacing with smart sextoys or running butter smooth on every VR rig and not just a few.
We may even see games that'll really push the genre forward, titles that, for now at least, remain in the dreams of passionate software developers.
The verdict
In no way is the porn of today like it was a year or so ago, let alone decades past. In what feels like a few months, we've gone from low-rez clips that take half an hour or more to download to fully voiced and animated, virtual reality, sextoy interactive games where anyone can live out their most outrageous erotic fantasy.
And as we noted, it's anyone's guess what new technology is waiting in the wings. Until they step onto the erotic entertainment stage, we have games like the ones we featured here in Best Virtual Sex Games: titles that are looking towards the future by maximizing the technology and computer power of the present.
A couple of the games we mentioned may be unfinished, yet to be fully released, or don't quite live up to their potential, but each remains at least worth considering for your sexual gaming interests.
So, if you can, spend some time—or money if you can afford it—with each: sample what they have to offer if you agree or disagree with our opinions of them, or Temptation Towers use them to help develop your wants and needs when it comes to virtual sex games.
Then, armed with that self-knowledge, explore a bit on your own since we may very well have missed one of two. And if we did, feel free to share the comments so we can check them out.
Otherwise, stay safe, and in games, sex, as well as in life itself, always strive to have fun!