The worst part about living away from your partner is missing their touch and physical affection.
Everything is planned and scheduled until the hard work of staying in touch begins to eat into your time together.
Even sex over the phone or Skype begins to lose its appeal when you're always the one to provide the stimulation for yourself.
And that's where Lovense comes in with their innovative bi-directional sex toys, Max and Nora. Let's review them!
To ensure you don't get counterfeit or defective products, NEVER purchase any sex toy from Amazon or Ebay. I strongly recommend that you order only from trusted and authorized dealers or official stores, like the ones mentioned in this post. Stay safe and have fun! 😀

>> Click here to check the price of the Lovense Max & Nora Set now!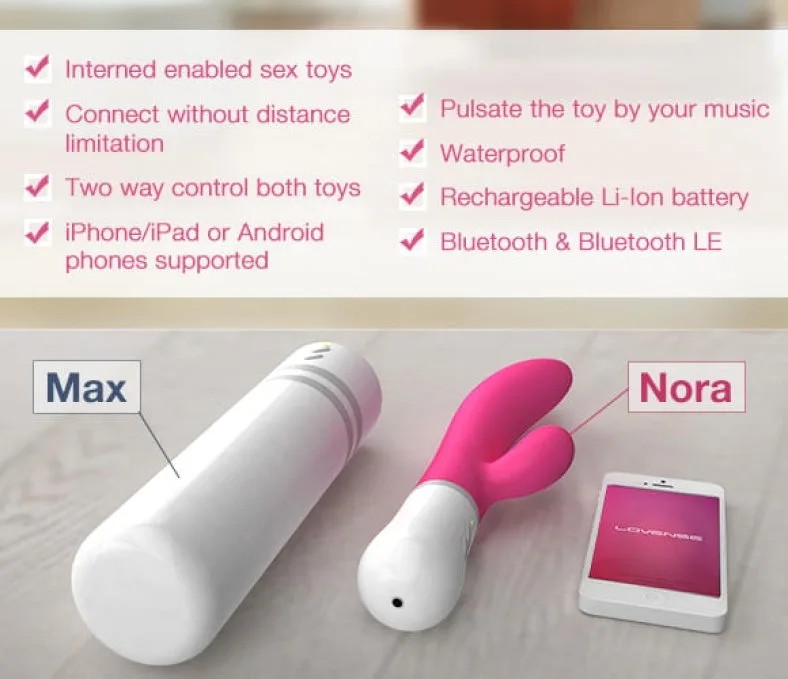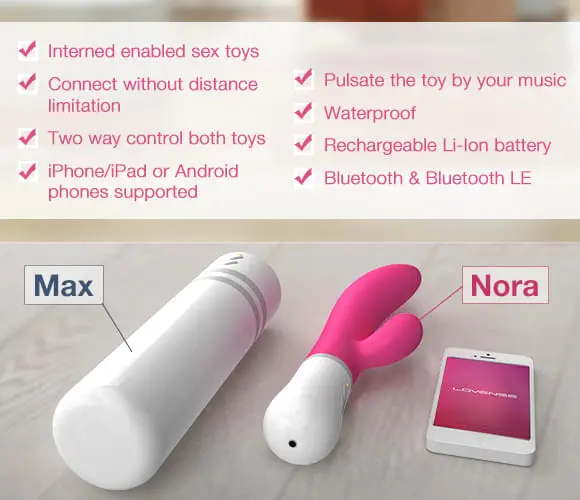 Instead of merely being "his and her" toys that you can use while staying connected through a video chat, these synchronized devices allow you the option of really letting your partner participate in your pleasure.
When I got my hands on these, I was intrigued by the idea of what they promised but not overly optimistic.
Aside from Kiiroo's, there are no other toys in the market that do exactly what Max and Nora do, but there are quite a few that allow your partner to control the vibrations of your dildo or clitoral stimulator remotely.
Some are quite good, and it's an excellent way for your partner to show you his love directly. But what Max and Nora were offering was a step closer to actual sex. And this didn't seem possible.
***  UPDATE – Best place to buy your Lovense toy online today ***
Before we start, you should really check out the available promotions on the official Lovense site.  I'm not sure how long the promotions will last so if you're considering buying one toy or more now would be a great time to purchase.
How Exactly Do Max and Nora Work?
The idea behind Max and Nora is that they work in tandem, absorbing your real movements and translating them into pumps and vibrations in your partner's device and vice versa.
Even if you are separated by continents, you'll be responding to your lover's stimulation.
Introducing the Lovense Max


Max is a masturbatory sleeve for men. It vibrates and pumps around a man's penis to simulate the feeling of being inside a vagina.
The best thing about Max is that it combines air-pump technology and vibrations to try and mimic the real contractions of a woman's vagina.
With the help of the accompanying Lovense app called "Body Chat" (iOS, Android, PC/Mac), you can set these two types of stimulations at different levels, playing and combining the two to find the perfect feel for your man.
The toy comes equipped with a Bluetooth chip that connects it to a phone app. This allows him several options.
Once Max is paired with his phone, he can use the app to control the mechanics of his toy, he can automate the process by choosing a vibration pattern, or he can let you and Nora take control.
The 'inner walls' of this device are built from an exceptionally soft material called TPE that looks and feels a lot like real skin.
This flexible sleeve is then surrounded by plastic and the mechanisms that allow Max to pulse and vibrate across the male limb.
Full specs:
Materials: Skin-Like TPE and ABS plastic (phthalates free)
Total length: 23.2 cm
External diameter: 7.4 cm
Length of the penetration channel: 14 cm
Diameter of the penetration channel: 1.5 cm (stretchy)
Weight: 580 g
Power supply: Internal rechargeable battery (magnetic USB cable supplied)
Battery life: 2 hours
Charging time: 2 hours
Colour: White and grey
Introducing the Lovense Nora


Nora starts out looking like a typical rabbit vibrator made of body safe silicone, with a rotating head that stimulates the G-spot while the rabbit "ears" work on your clitoral mound.
Once I started using it, I realized that even in solo play Nora is an improvement over other vibrators with similar features.
Its design is particularly suitable for enhancing the internal stimulation, with the rounded head stimulating my G-spot beautifully. Its clitoral vibrator has adequate power and worked quite well for me.
The toy is regular sized and perfect for most women. It doesn't go in too deep, but that isn't the purpose of Nora. It's meant to provide stimulation through focused attention on your most erogenous zones.
The patterns of rotation and vibration can be modulated, and there is a lot of scope for experimentation as you play alone or while video chatting with your partner with Body Chat app.
This is amazing, but not the best part. Just like Max, Nora allows its functions to be controlled by your partner through the app or by syncing with the movements of your partner's device. And this is where Nora indeed becomes interesting.
Full specs:
Materials: Silicone and ABS plastic (phthalates free)
Total length: 24.4 cm
Insertable length: 12.4 cm
Insertable diameter: 2.7 to 3.8 cm
External appendage length: 6.5 cm
External appendage diameter: 2.5 cm
Weight: 285 g
Power supply: Internal rechargeable battery (magnetic USB cable supplied)
Battery life: 1.5 to 2 hours
Charging time: 2 hours
Colour: Pink and white
Bringing Max and Nora Together
I enrolled the help of my partner in trying out these toys, and what we found out was pretty impressive. When we connected the gadget to the Lovense app individually, we could control our own devices, as well as each other.
We spent hours experimenting with the speed and intensity of the vibrations, air-pumps, and rotations to find out exactly what the other liked.
There are buttons on the toys that can be used directly to play with the controls, but it's a lot more fun to use the app, where sliding your finger across the screen can increase or decrease the stimulation your partner receives from their toy.
Solo or together, you can choose to go handsfree by selecting a pattern of vibration from the app or connecting Nora and Max to a playlist on your phone.
The app will convert the rhythm of the songs into vibration patterns that are then translated into the movements of the toys.
Of course, the real fun begins when Nora and Max are synced together.
Using Wifi and Bluetooth, the Lovense app keep the toys perfectly in tandem, picking up his movements and stimulating you through Nora, and translating your own motions into pumps and vibrations through Max.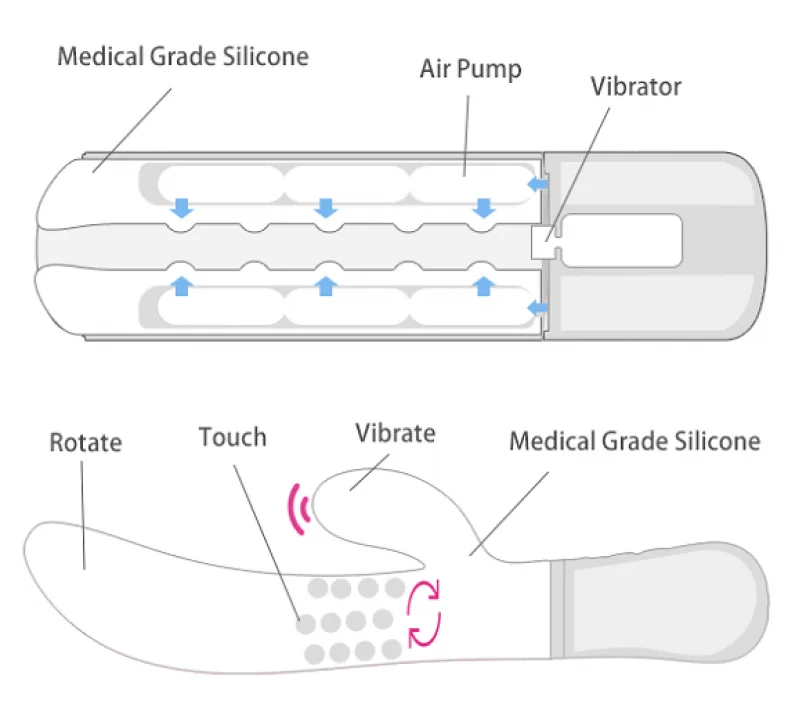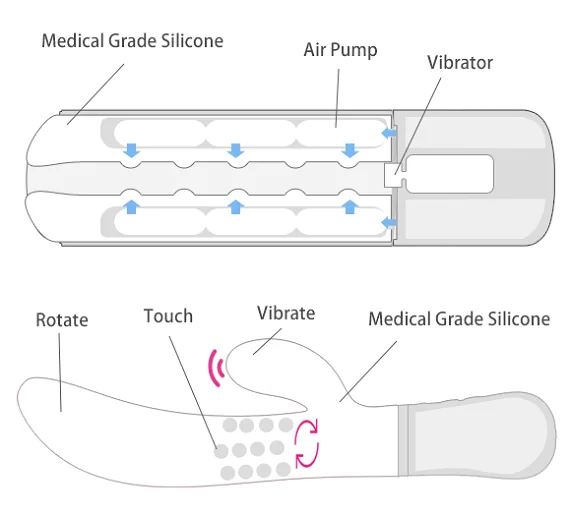 Pros: What Works with these Lovense Toys
While the Lovense Max and Nora can't truly replicate the sensations of real sex, we discovered that it's infinitely arousing to know that your partner's movements are directly giving you pleasure through this technology.
You can enable the feature that allows the Lovense app to send you an alert if your man has started using his Lovense Max. If you have the time, you can join him for some fun.
The app is extremely versatile, and the Bluetooth connectivity never drops off in the middle of a session.
Both Max and Nora have rechargeable Lithium-ion batteries, and their power lasts quite a while. Nora doesn't fade for two hours, and Max can keep going for three.
The toys can also be used by same-sex couples. Max can synchronize with another Max, while Nora works with another Nora.
The Lovense toys have been carefully made from materials that are easy to clean and safe for your body. Nora is entirely waterproof, and Max is water resistant. So, neither device will be damaged by bodily fluids, and they are pretty easy to clean.
Cons: What Needs Some Work
My partner did have some complaints about the look and feel of Max. He found it much too clinical to use for solo play. There are better masturbatory sleeves available for lone sessions.
He also found that the sleeve was a tight fit, and it wasn't until we figured out how to release some of the air pressure that he could fit inside correctly. Even then he needed a lot of lube.
And finally, a pet peeve. Max and Nora don't have very powerful vibrations. In Nora's case, the rotating head was more potent, and with Max, the synchronized air pumps did a lot more for my partner than the vibrations.
Conclusion
As a new way to connect with your beloved over immense distances, this pair of sex toys gets all our love.
Yes, there are some problems, but we had some fantastic time with Max and Nora, and I can wholeheartedly recommend long-distance partners to avail of its creative simulation of sex.
We've found that the team behind Lovense is excellent at providing support and enthusiastic about receiving feedback on their innovations.
So, I feel confident that the lastest versions of Max and Nora address the few flaws we found (the products are regularly updated) and make Lovense an ever better brand for pleasure.