Look up "male stroker" in the Sextech Dictionary—and, yes, I know it doesn't exist but roll with me here—and there's a high probability that you'll get an image of a cylinder into which the aforementioned person should insert their appropriate appendage.
This makes The Handy stand wonderfully out from its brethren as while it does the same thing how it does, it is a welcome breath of fresh air—all while delivering some remarkably stimulating sexual pleasures.
But is this unique approach enough for you to put shell out your hard-earned currency? Well, to hopefully answer these and other questions about The Handy, here are my thoughts, criticisms, and then my final verdict on this new toy.
Is this the future of male masturbators?
Again, unlike traditional strokers, the Handy is much more transparent about what it does, both literally and figuratively, as the sleeve is made of clear-ish plastic Velcroed to an exposed motorized unit.
This sleeve is nicely balanced between needing to be firm enough so won't deform or collapse when strapped to the powered part yet still be soft and, therefore, sexually pleasant. This part of the Handy continues its unique design aesthetic by being slightly shorter than other strokers, but never so much that there's a concern of discomfort.
Back to the Velcro band that attaches it to the motor, it plays double-duty by allowing users to loosen or tight the sleeve's grip. A feature I wish other sleeve-type manufacturers would adapt as there's nothing worse than buying something that's either too tight or not tight enough.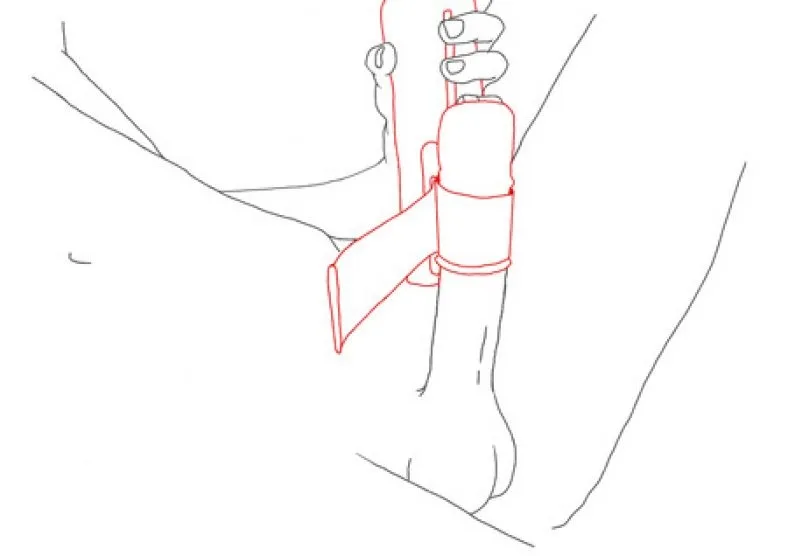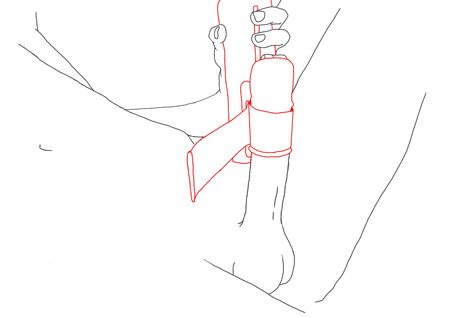 The hardware is also well designed, sporting a high torque brushless-motor housed in an ergonomically comfortable plastic housing. On top of this, the Handy has ten built-in sensors—like infrared, temperature, to name just two—to make sure it mechanically stays true to its purpose.
On the unit, too, are the manual controls for power, speed, and stroke length—which can be as fast as an impressive ten per second. But under the hood is a bigger and honestly mind-blowing surprise as the Handy uses both the old sextech standby of Bluetooth connectivity but can also be networked via Wifi.
Regarding the software side of things, the Handy yet again takes a different approach as they forgo a dedicated app and instead link the wireless controls and experience-sharing options to a dedicated website. The setup and operation of which I'll be touching on shortly.
Many of The Handy's great features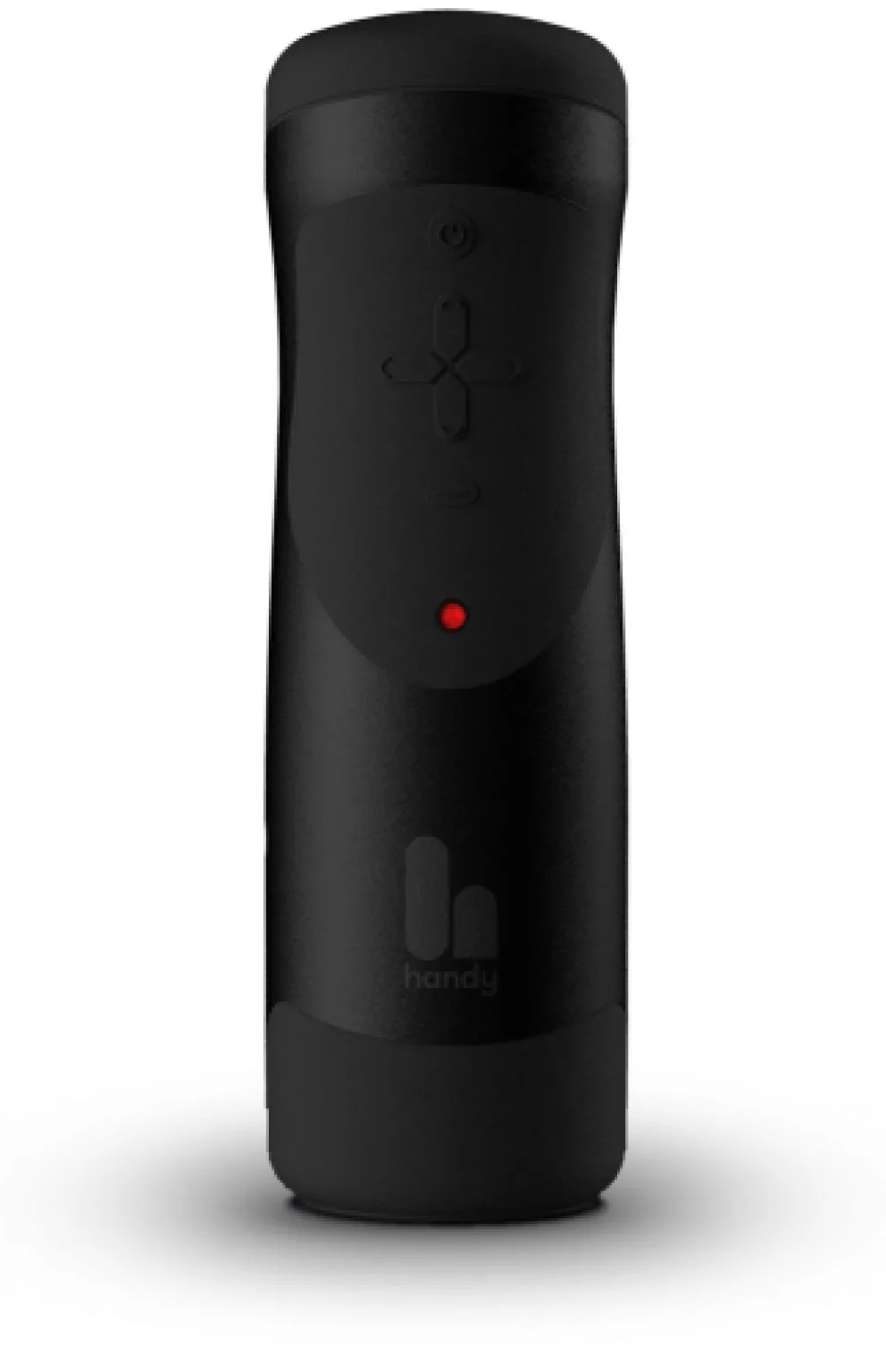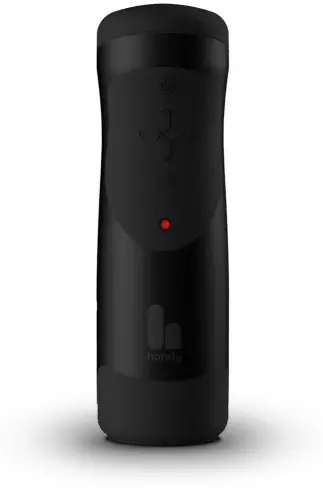 The Handy's positive features are about as clear as its included sleeve. For example, and hopefully not being uncomfortably open about my own experiences with similar devices, I've found the fully-encapsulated style of stroker to be, while effective, made me feel like of cut off from my own appendage. By that, I mean I couldn't see what was happening or make physical contact with myself.
The Handy, though, gives you a nice view of things with the added bonus of allowing a degree of self-stimulation. For example, if you like cock rings or likewise constructive type toys, you can use them in conjunction with the Handy, unlike many cylindrical-type strokers.
And what's absolutely delightful is that rather than being needlessly territorial about their product, the Handy's developers actually suggest that, if the Velcro's able to handle it, any manual stroker can be used with it as well. This is great (and then some) news as if the sleeve that comes with the Handy isn't to your liking, you can swap it out for one you do—or shop around for new options.
For having only two controls, the Handy is remarkably versatile, producing a great selection of mixes and matches: more than enough for most penis-equipped persons to have a good time with it.
I also can't praise the developers enough for their approach to wireless control. Not to dish the competition, but there's an inherent problem with using stand-alone apps, starting with how they usually depend on users having a pretty-high-end smartphone, and then if the developers want to make even the smallest change, or stamp out a bug or two, they have to upgrade the entire app—hoping all the while their users remember to check if new versions are available.
Not with The Handy. Here everything is web-based through Handyfeeling, so as long as your phone can pull up a browser—they do recommend the newest Chrome one, by the way—you can connect to the toy. Here, too, I want to reiterate how utterly cool the developers are because if you don't have Bluetooth, you can still link up via Wifi.
Being browser-based also means you can do your Handy controlling with your computer as well. And if interactive adult videos are your thing, then give me a big, bright smile as The Handy site has a good selection of totally free videos for you to try.
Everything you ever wanted to know about setting up your Handy
On top of all this, The Handy arrives with a lovely selection of extra-stuff—as well as the unit and its various parts—like the sleeve, the Velcro band, and the motorized unit.
The best of which is, again shaking my head at other sextoy makers, the power supply for once is not USB, and the manufacturer going above and beyond by providing a suitable plug for your country's outlets. That's not all, as they provide a printed manual and, thoughtfully, a sample of lube as well.
It's funny that, along with other things, this section's called "software installation and set up" because when it comes to The Handy, there's nothing to do.
Well, not much at any rate. To get the interactive ball rolling, all you need to do is charge it, which doesn't take very long, and put it into Wifi setup mode by pushing its dedicated button. Next, go into your Wifi settings and select "Handy Setup Network," and you'll be all done. You can change your connection key here as well, though security is another one of the maker's selling points. But it's still nice to know that's always an option.
With The Handy all connected up on the site, you can enjoy those interactive videos and wirelessly control stroke, length, and so forth.
Though I wasn't able to see any options for long-distance play, linking The Handy to other toys or even other Handys, for moderately tech-savers users, they do offer a way to connect your toy to what happening in your favorite porn videos by uploading it to their site along with a previously created fun script. If this makes your head ache, relax as they provide an excellent tutorial on how to do this kind of simple coding.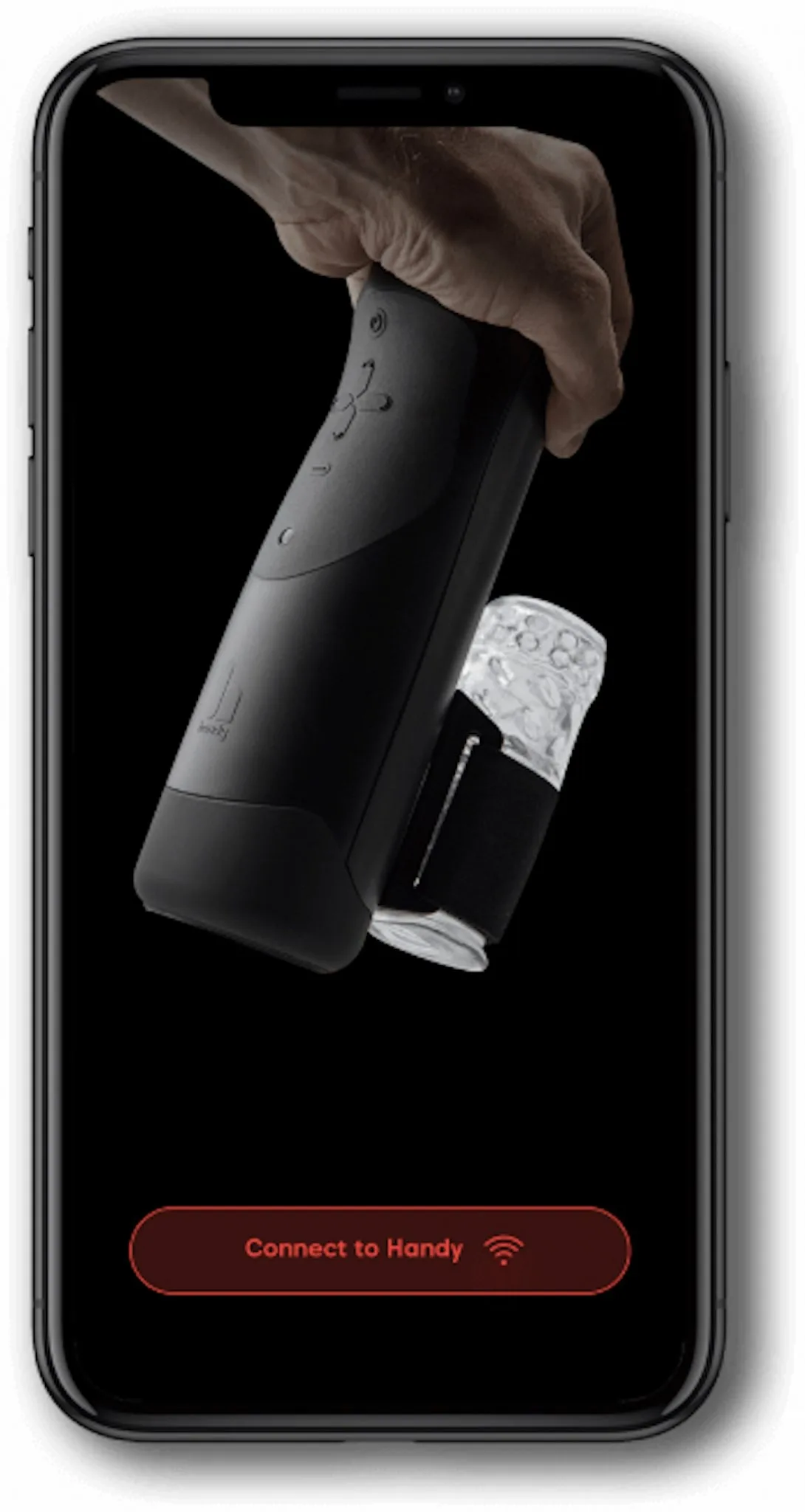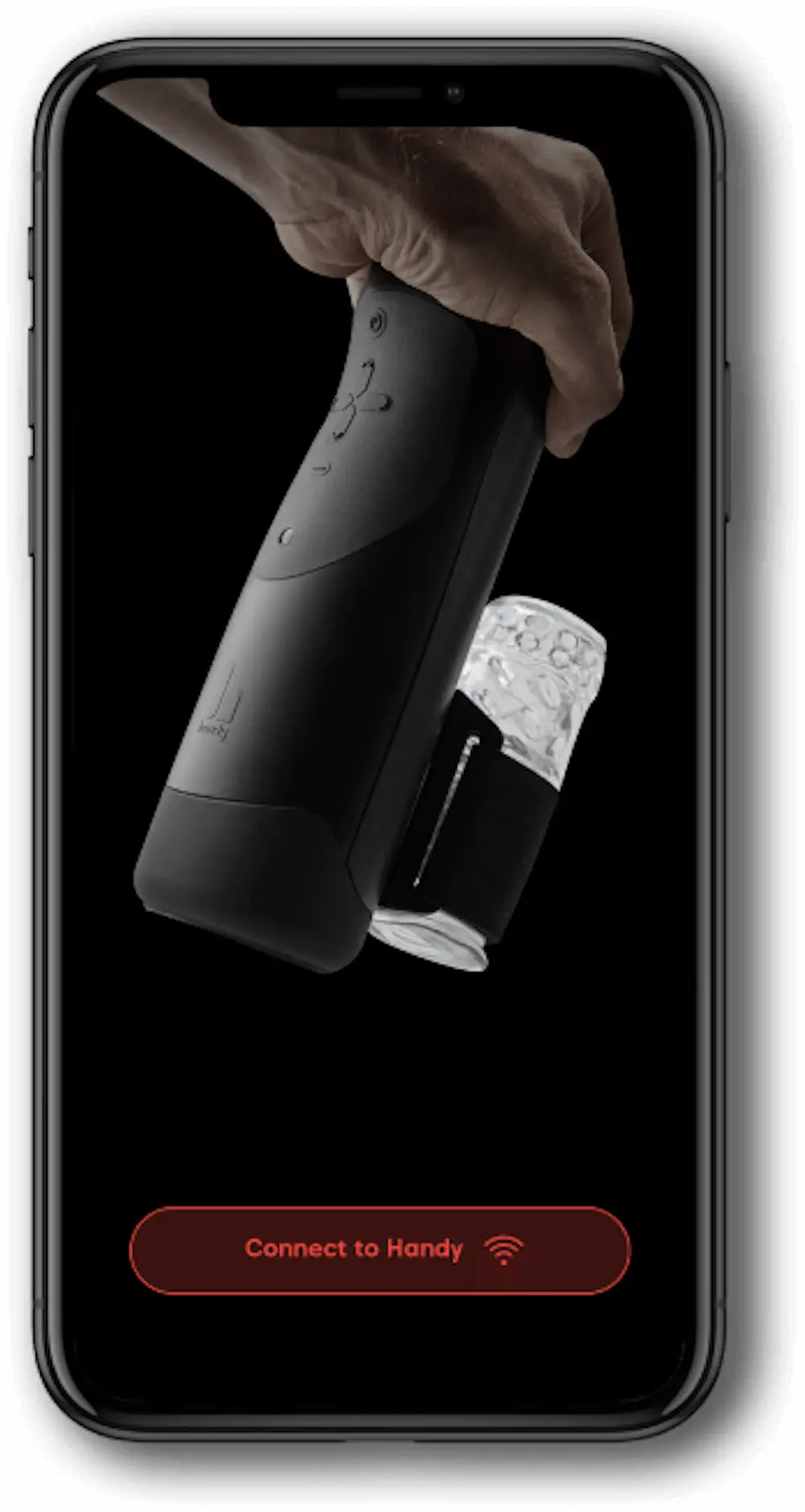 Pros
The Handy certainly has a lot going for it. The innovative design, while perhaps requiring some getting used to—especially for pens-equipped persons used to immersive sleeve-type toys—allows extra physical sensation, along with a rather exciting thrill in watching what's going on.
And in the unlikely but possible situation where the provided sleeve doesn't get your motor revving, you can use a preferred sleeve as long as it's not too big. If it's a flexible type, like the one that comes with The Handy, you can also use this attachment to fiddle with the sleeve's tightness.
The built-in controls, and the overall design and manufacture of the motorized part, are comfortable and effective to use: meaning far less clumsy fumbling to operate. The motor, too, is quiet and delivers a remarkably extensive range of stroke length and speed options.
The wireless controls, meanwhile, are insanely easy to set up, and though Bluetooth is always an option, it means that if your computer or phone doesn't have this capability, Wifi's there to do the job.
It's also a welcome addition that The Handy Feeling site has interactive videos to try out, along with the possibility of adding sextoy actions to your own, downloaded content.
Cons
There aren't many negatives to picking up a Handy, though there are a few … shall we say, shortcomings worth mentioning. The predominant one that the powered unit is no-way, no-how waterproof, so put those fantasies of using it in the shower out of your head.
The online controls, too, are minimal, with apparently no way to link two Handy's together, or any other wireless sextoy, for long-distance enjoyment. You also can't easily create a playlist of actions. Unless that is, you already happen to already be a whizz at fun script.
The verdict
After weighing these scant minuses against the triple-digit pluses The Handy, the total is that if you have a penis, like sleeve-type masturbators, then do not walk but run to get ahold of this toy.
And though its somewhat disappointing, wireless control option might appear to be a big, bad dealbreaker, my opinion is still resolutely firm because The Handy's developers, the dedicated Norwegians that they are, are explicit that this is all in Beta: so it's a safe bet that these and other features will be coming soon-ish.
As they put it on their product page, this isn't so much a sextoy, but a labor of love as "Handy has been created and built by Norwegian engineers, who are uncompromising and passionate about their work."