In the annals of sextoy-hood, few companies are as legendary as Fleshlight, who pretty much single-handedly lifted penis-focused devices from a rarely-spoken-of, obscure corner of pleasure-tech to where they now: a proud member of classic toys like vibrators and butt-plugs.
Not one to rest on their laurels, Fleshlight continues working on perfecting not only their products but set new standards for these and other types of toys.
And their Fleshlight Universal, which I'll be looking at here, could very well be one of their shining lights in the current wave of next-generation sextech.
"Could be" as while it offers a great deal, the Fleshlight Universal may not be what you're looking for when it comes to making you, and your penis, happy campers.
Check the Price of the Fleshlight Universal Launch
Strap in and hold on with Fleshlight's Universal Launch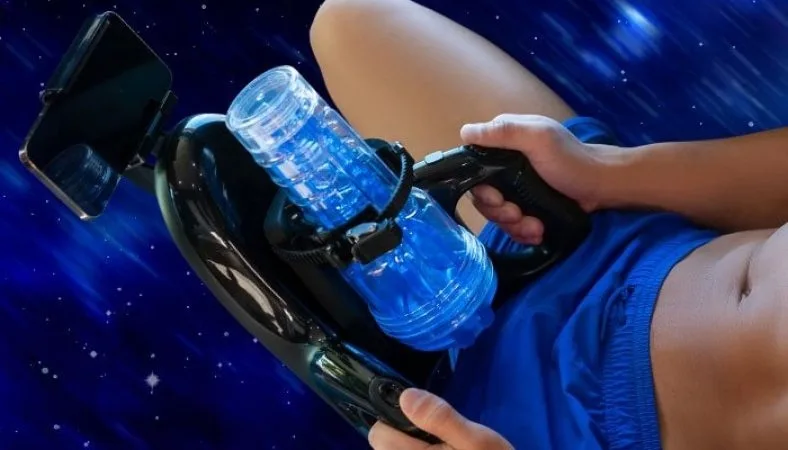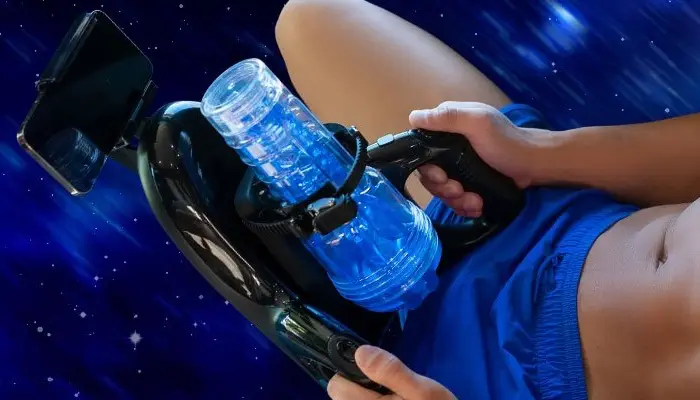 No one would ever call the Universal Launch petite—or subtle for that matter. I mean, look at how Fleshlight describes it: none of your usual polite-ish terms like arousing, stimulating, or even lifelike.
Instead, right up there at the top of their product page, in big, bold letters are "Strap In And Hold On." But, you know what, this isn't merely marketing hyperbole as the Universal Launch is one helluva enormous apparatus that packs a whopping amount of power.
As the Universal Launch, unlike other stroker toys, is more of a motorized accessory for your favorite Fleshlight, including everything from their range of colored models to unique ones like the Sex in a Can, the Vibro, and the Turbo.
Size matters with Fleshlight's Universal Launch
Overall, the Universal Launch looks like a miniature jackhammer. That same power tool, as well, is similar to how it operates. After strapping your preferred Fleshlight stroker into it via the Universal Launch's specialty-designed ratcheting system and inserting yourself into it that same stroker, it's all a matter of holding on with both hands for the ride of your life.
While this might sound off-putting, especially considering how other powered strokers typically require just one hand to operate, keep in mind that their motors and the like are usually built into that unit, as opposed to the Universal Launch that attaches onto a sleeve and then proceeds to move up and down.
This design also allows the Universal Launch to deliver what those toys can't: power. Restrained by trying to keep their products as small as possible, other sextoy manufacturers were forced to cut back on horsepower. However, with their Universal Launch, Fleshlight can up the stroking ante by utilizing hardware with a far greater deal amount of oomph!
Which, to be honest, can be somewhat off-putting as this is one helluva loud, proud, and steak-eating piece of sextech, and using one, or merely having it around, screams that you're brash and bold and assured about how you get off.
The Universal Launch's impressive horsepower
Those motors also provide the Universal Launch with enough power to deliver an impressive 250 strokes per minute.
But you don't have to start with that kind of a bang, as users can also reduce the Universal Launch speed or shorten its strokes.
In regards to extra sensations then, sorry, that's about it. Again, due to how the Universal Launch is built, there's no way you'll get more out of it. So if you like having the option to do things like increase or decrease a stroker's grip, or stimulate specific parts of your anatomy, then the Universal Launch probably won't be as enjoyable as similar devices.
The Universal Launch Extra features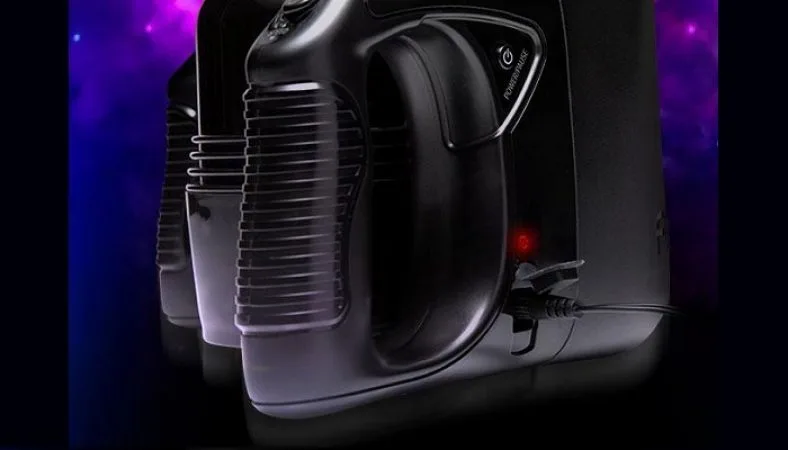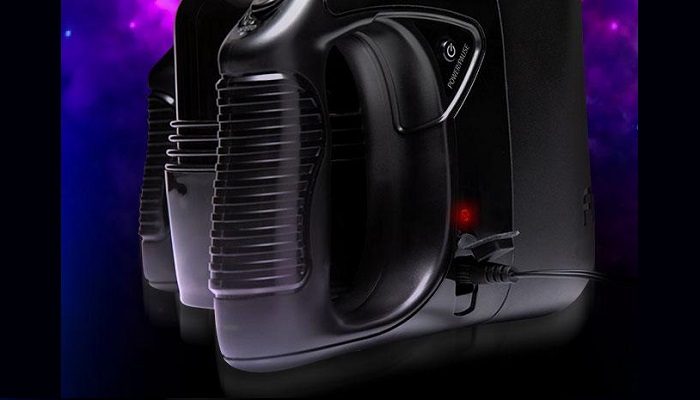 One thing I thought was a real (ahem) "stroke of genius" is that Fleshlight equipped their Universal Launch with a built-in smartphone holder so users can watch whatever they want while getting stimulated.
Though adding this kind of feature to different sextoys would be problematic, harkening back to that the Universal Launch can pull this off due to its large size, I still wish this could be part of other sextech devices as using one while trying to also fumble with your phone is the very definition of un-sexy.
In addition to the smartphone holder, the Universal Launch has something else I want to make part of as many sextoys as possible: the ability to operate while plugged in!
Oh, to be free of the monumental headache of getting all randy at the thought of spending quality time with your favorite sextech device, only to find that you hadn't charged it up! Not with the Universal Launch, as though it can do its stroking thing on a full battery you if you want, you can plug it into the nearest outlet and get right to pleasuring yourself.
How big is the Universal Launch?
I wasn't exaggerating when I said the Universal Launch is a size-queen among male-strokers, as from base to the tip of its smartphone attachment, it comes in at fifteen and one-quarter inches in length—or perhaps a better way to visualize it would be to think of it as three inches shy of a foot.
In width, it's a little less than that foot at eleven and a half inches, and its depth measures out to seven and a half.
Along with its size, it's impressive when it comes to weight as well, with it clocking in at slightly over three pounds.
How do you control Fleshlight's Universal Launch stroker?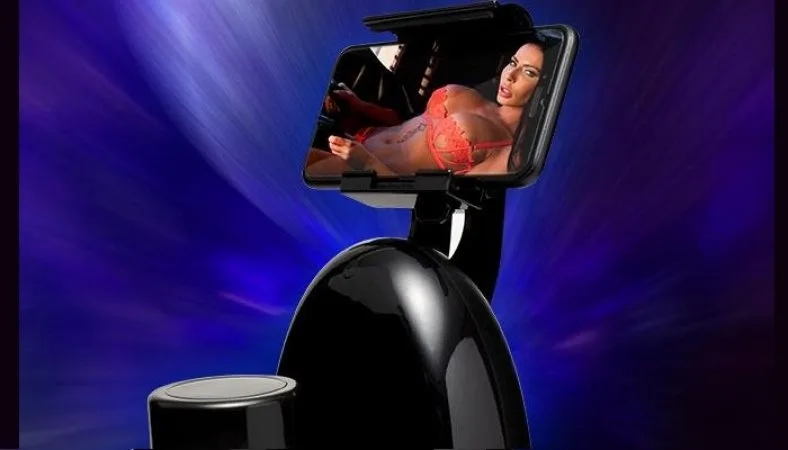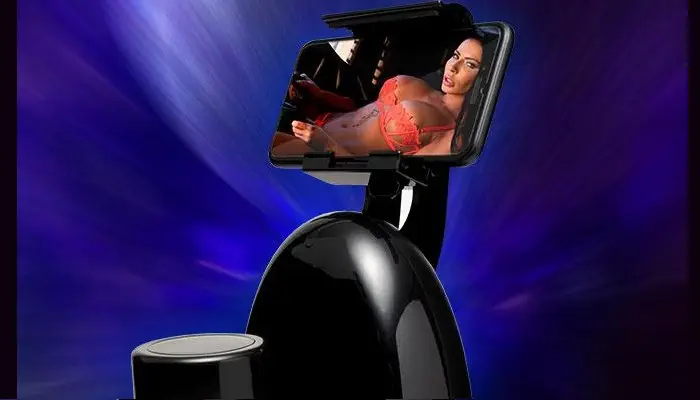 Exactly where you'd want them to be, set into the tops of the toy's right and left handles are its twin controls.
The one on the right speeds up or slows down the speed of its strokes, while its opposite number increases or decreases the length.
Directly under the right rocker switch is another button that turns the unit on or off, and on the left, there's one that can position the length of its stroke: pressing it will make sure the Launch won't go any farther with this action than you like.
And, as I said, that's it as the Universal Launch doesn't provide anything aside from these three variables. In addition, it's not a smart toy, which seriously limits its use as a teledildonic plaything.
That said, despite that lack of interactivity, its nifty smartphone holder at its top could be used to gaze into a remote partner's eyes while enjoying it.
Charging the Universal Launch and battery life
Located at the toy's base is where you connect its included power cord. With a complete charge, the Universal Launch will do its thing for about an hour: quite a respectful amount considering the power under its hood and great size.
Though that's when running on the internal battery, as I mentioned previously, if you have an extension cord at the ready and don't mind having to keep the Fleshlight Universal Launch plugged in while you use it, the thing can last as long as you can.
Getting the Universal Launch up and running
Since there's no smart tech to deal with, out of its box—after charging it up, of course—getting into the Universal Launch is a remarkably straightforward procedure.
Beginning by sliding your preferred Fleshlight into it, and after you have it where you think it'll do the most good, ratchet it firmly in place. Don't worry if your chosen stroker seems to be too big, as Fleshlight provides an optional, larger rachet for precisely this contingency.
Then it's all a matter of applying suitable lubrication, using or not using the toy's smartphone mount, and you're ready to blast off.
How easy is it to clean a Universal Launch?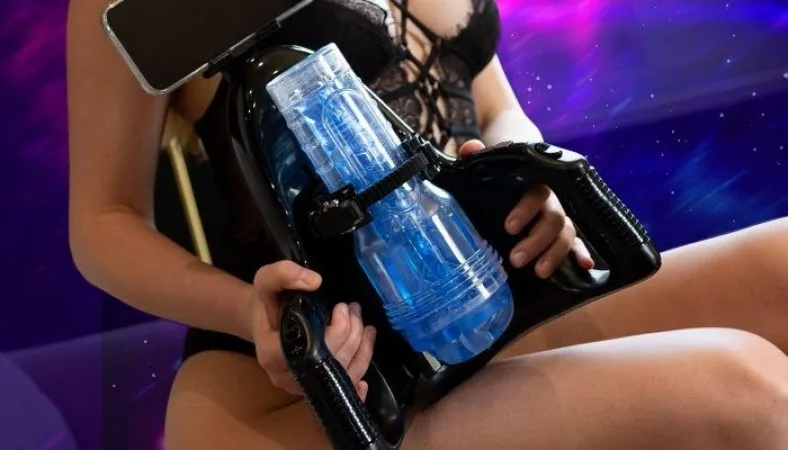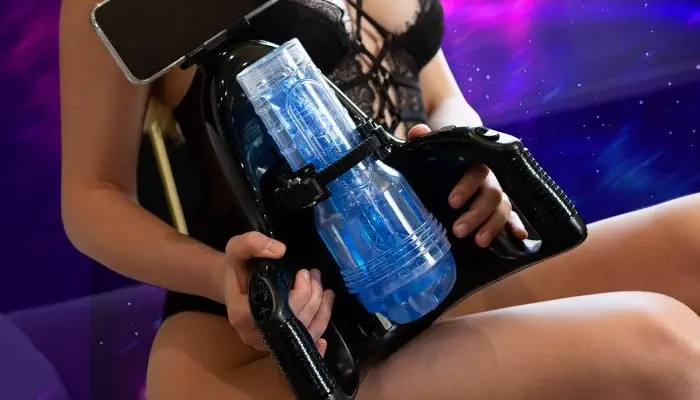 After use, cleaning the Universal Launch depends on what you used. By this, I'm talking about since the Universal Launch acts as an exterior motor for Fleshlight toys, you usually only need to wash whatever stroker you used.
Fleshlight is quite clear that cleaning any of their strokers should only require a miserly amount of mild soap and water followed by a spritz or two of anti-bacterial spray—or using their own branded cleaning solution.
For the Universal Launch, don't forget that it's not a water-friendly device. So if it happens to get a little nasty, don't submerge it in the kitchen sink. Instead, a washcloth with a minimal amount of water should be able to handle all of your cleaning duties.
What you get with the Universal Launch
Customers get a few nice extras with their purchase of a Universal Launch, not including the power cable. Top of which is that already-mentioned longer-length strap for larger Fleshlight strokers, as well the unit's detachable smartphone mount.
To learn all you need to do about your Universal Launch, Fleshlight provides their customers with a Quick Start Guide and a far more comprehensive Instruction Manual. Both are also available as PDFs from Fleshlight's site.
Pros
Works with practically every Flashlight stroker
Delivers a righteous amount of power
Ability to change the length, speed, and position of its strokes
Can operate while plugged in
Optional smartphone mount
Cons
Considerable size and weight
Other strokers offer a greater range of sensations
Lack of smart technology, so no interactivity
The verdict
Where the rubber meets the road with Fleshlight's Universal Launch boils down its size.
The Good: its considerable weight and somewhat overwhelming dimensions are there for an excellent reason, as they allow Fleshlight to give their users a thunderously vroom-vroom amount of power.
So if this is something you've felt was lacking in the other stroker toys you've encountered, then today's your lucky day because here's a system that'll undoubtedly knock your socks off—and do god-knows-what to the pleasure center of your brain.
The Bad: this ain't your ordinary run-of-the-mill, low-key stroker. Kidding aside, the Universal Launcher is a pretty intimidating piece of technology, so much so that many people won't be able to physically or emotionally handle it.
Like I said, subtle this thing is not: so if you prefer toys that deliver a fuller range of sensations, and don't want to feel like you're humping an outboard motor, can travel with you or be used for teledildonic play with a long-distance partner then you should look elsewhere.
Personally, I very much like the idea of the Universal Launch: here's a way to use whatever sleeve you have on hand in an exciting new way.
It additionally diminishes the headache of paying for an expensive stroker to then find out the interior sleeve fit isn't pleasurable since, with the Universal Launch, you can use any sleeve you want. Not only that, but it gives you the option to try a new sexual sensation by picking up new strokers without spending a fortune.
It's that this is an unapologetically colossal sextoy. Though if you can get past that and its various limitations, then Fleshlight's Universal Launch is an outrageously wild ride!
Check the Price of the Fleshlight Universal Launch