When it comes to selecting the best masturbator, the choice is difficult to make.
Not because we do not have an excellent piece of technology that can milk your mind off, but because all of them are so good that it is hard for anyone to select JUST one.
The decision-making becomes even more difficult when you think of selecting the best Fleshlight product.
All their products are nothing less than a piece of art.
All of them bring different things to the table and trust me, all of these things are delicious.
So, in the middle of all the sex toy jargon and marketing hoo-hah, how do you pick the best Fleshlight for yourself? I decided to help my readers with this situation and pick 5 Fleshlights that are champions at what they do.
These five products fulfill the promise they make and more than that, they offer amazing first-HAND experience. So, let's get started!
https://www.youtube.com/watch?v=BFvTH4-NULA
1. Fleshlight Stamina Training Unit (STU)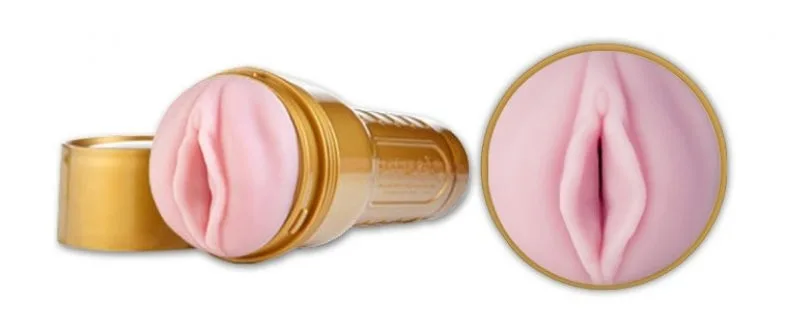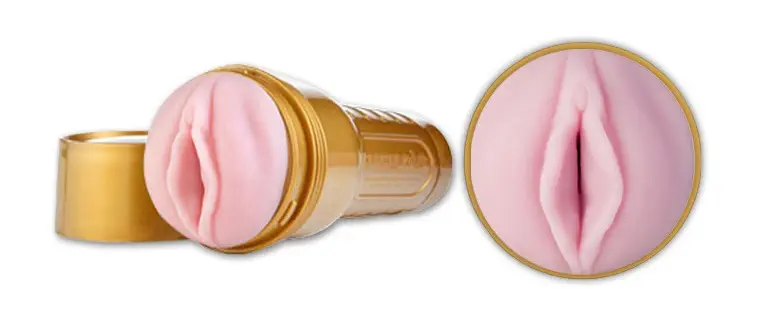 Perfect for men who are looking for ways to train themselves to last longer in bed and satisfy their ladies.
Stamina Training Unit or as everyone loves to call it STU is a sex toy that forces you to last long and delay your ejaculation.
All this builds up a high tension around your balls and delivers an ultimate orgasm.
It enhances your sex game with a partner or self and helps you have a certain amount of control over your dick fluid.
Coming to the toy, at first, it looks like a usual masturbator with a sexy body. However, once you enter it, you will realize the difference.
Your manhood will be treated with a forest of dense textures, fantastic suction effects, and reinforced stimulation.
The sleeve will feel as real as it can, and the lube around your thing will give you the softest experience you have been trying to find in a masturbator.
The design and build quality of the STU are remarkable. The material outside is a hard case that protects the soft inner lining and texture.
Also, the outer case looks premium giving you a more majestic feel as you use it.
However, the inside of the tube is what matters the most. And it won't disappoint you either.
The texture inside, as stated above is marvelous and entirely as per what you need to rub your dick against.
Since the primary motive of the STU is to help you train to last longer, what it offers is slightly different from the other Fleshlight products around us.
One of the most important features of this product is the little bumps you will feel once you enter it. A little research and we found out that these bumps are the reason why they call it a training unit.
These structures help you with training to last long in the bed and control your ejaculation.
To use it, you need first to lubricate the inner walls of the training unit and also your shaft. To enhance the fun part, apply a generous amount of lube so that the friction is minimized.
Now, simply enter it and start stroking your dick. Go fast, slow, twist, do whatever you want and whatever turns you on.
You will realize that this unit helps you last longer even while masturbating.
Eventually, you will be having better sex with women because there would not be a problem of early ejaculation after some rigorous training.
Cleaning the STU is a little time-consuming job thanks to its weird texture.
Do not hurry with the cleaning and focus on cleaning every part of the frame and the inside tube to make sure that you do not damage any lining or texture inside.
Use a paper towel for faster cleaning but never leave any residue.
Click here to Order Yours Now (Special Price) or Learn More About It!
2. Fleshlight Turbo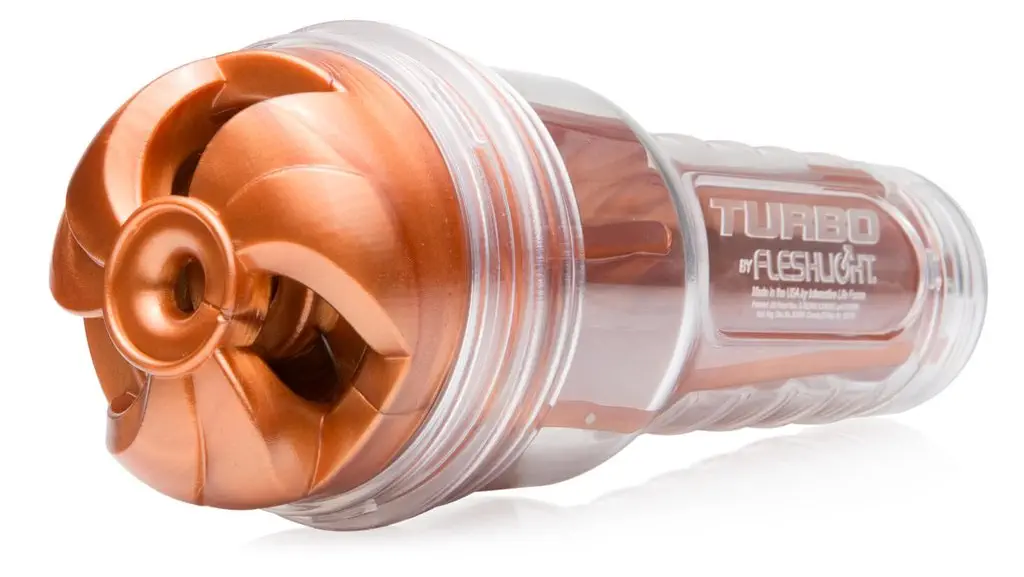 If you are looking for a masturbator that can closely resemble the feeling of a blowjob, the Fleshlight Turbo is what you need.
It has a structure, design, concept, and texture which closely mimics the behavior and mouth of a woman.
Combine this with the immense pleasure that Fleshlight promises, ·and you will have a product that is a total blowing machine.
The Turbo is a transparent case which has the renowned skin fitted inside it and a cap on the top which can be used to control the suction.
The simplicity of the design and the ease of use is what makes this product a wonder male masturbator.
While we are still talking about the design, I would like to focus on the skin like material that this product holds in itself.
The SuperSkin by Fleshlight is the closest thing to the real human skin available in the sex toys worldwide.
Any man who has ever pushed a SuperSkin on his penis will tell you that it is the most realistic feeling ever with a sex toy.
The skin can be seen through the transparent casing, and any action you do inside it is visible making the view even better; perfect if you are into voyeurism.
Begin by applying a lot of lubrication inside the skin and on your thing. This skin supports water-based lubricant and should never be used with an oil-based lubricant.
When you buy the toy, it comes with a sample of the water-based lubricant which works best with this toy.
Once the toy is generously lubricated, loosen the cap on the top and push your penis inside the tube.
Now slowly, start closing the lid on the top, and you will notice how pressure change occurs giving you the feel of a real blowjob.
Start moving your hand up and down and satisfy your hunger for good masturbation.
Cleaning this device is pretty simple and quick. All you need to do is put it under running warm water and dry in a shady place.
Quick tip: Remove the sleeve from the casing before use and warm it up by putting it in a bowl of lukewarm water. Do not boil or microwave the sleeve.
Click here to Order Yours Now (Special Price) or Learn More About It!
3. Fleshlight Go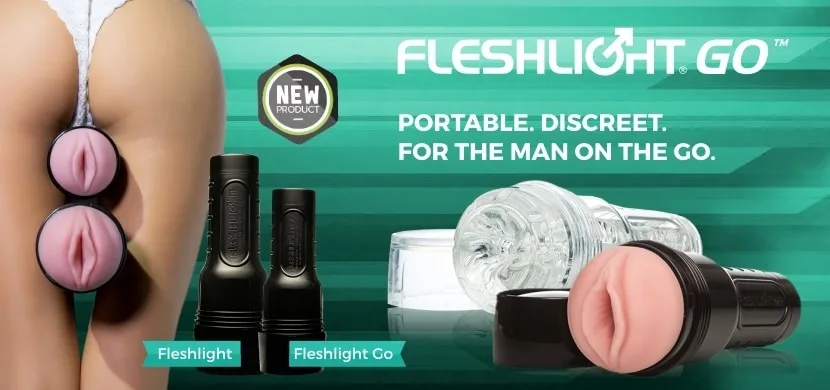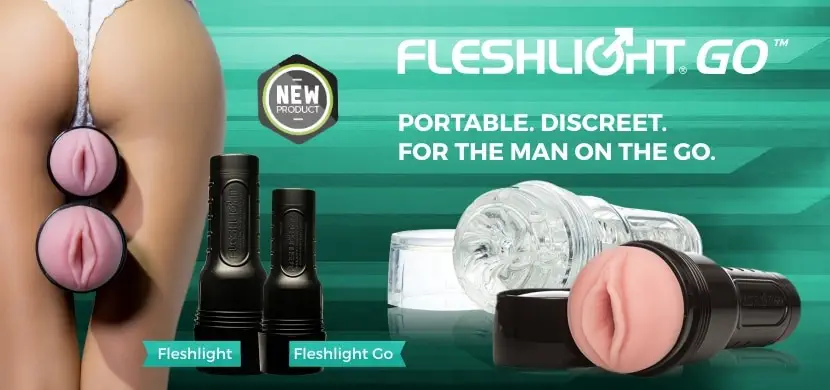 This is your best friend when you are traveling and need to take your masturbator along with you. It is a smaller version of the real Fleshlight and comes in different configurations. Different? How?
It has a little less length, a little less weight and costs a little less.
Although this seems like a good idea since most of the guys do not have a 10-inch dick and thus do not need a 10-inch masturbator, the GO lacks the texture and patterns and entry options available as compared to the big Fleshlight toys.
The Go is available in two configurations – Pink Lady and Ice which are again, the minimized versions of the bigger Fleshlight products – Pink Lady and Ice respectively.
Although the Fleshlight has minimized its main product into a handy and more portable masturbator, they have not compromised with the quality.
These masturbators are as good as their counterparts and can blow your mind with their servitude.
All you need to do is fill out the inner sleeve which again happens to be the original SuperSkin by Fleshlight with a lot of water-based lube.
Once done, you may now put your meat in it and start working out your hands on your dick.
With every movement up and with every moment down, you will realize the meaning of heaven, and you will be amazed by the quality of pleasure delivered by this little yet powerful device.
Click here to Order Yours Now (Special Price) or Learn More About It!
4. Fleshlight Ice
We were just now discussing how Fleshlight minimized their big gun into a smaller one and called it the Go. Now, it's time to focus on the bigger guy, the one that inspired the Go. This guy is called Fleshlight Ice.
The Ice is for the men and the couples who are looking for sex toys to include in the play.
The ICE too has a see-through body and lets you enjoy the action as you do it.
Many men have been admiring the ice for its SuperSkin which has been a game changer for the sex toy industry and the Fleshlight at large.
The transparent design combined with the patented sleeve enables you to see your dick entering the unit, as you stroke yourself and even lets you look at your semen flowing out and being consumed by the toy.
People who are turned on by voyeurism are going to love every sight and wish they had found it earlier.
The inside of the sleeve feels like a thousand tiny mini pleasure devices that have been linked together to stroke your dick.
This becomes even more evident as soon as you start moving the device up and down your manhood.
The complete skin can be divided into regions with various patterns. As soon as you enter, you will feel small and intense brushstrokes.
This will be followed by a grooved layer which enhances the sensations further.
Next is a spherical chamber which although decreases the tension but increases the pleasure of making the whole experience unique.
Fleshlight Ice has the reputation for satisfying sizes as large as 8.5 inches without a problem, and that is why it is regarded as one of the best sex toys in the male masturbation category.
That being said, the men with smaller penises are unable to enjoy the Ice fully (but that is why the Go was created, you can read its review above).
Coming to the openings, the Ice provides three options here, and all of them have a specialty of their own.
The first one is called the Lady, and it resembles a vagina. Second is a Butt, resembling a butt hole and the third is called Pure which is nothing but a simple hole providing vanilla masturbation experience.
To keep your Ice clean, it is recommended that you wash it after every single use.
Keep it under a stream of running water, hot water if possible and thoroughly rinse it. Do it both ways, and that is it. Now shake off the water and let the toy dry before you put it back in its place.
Click here to Order Yours Now (Special Price) or Learn More About It!
5. Fleshlight Launch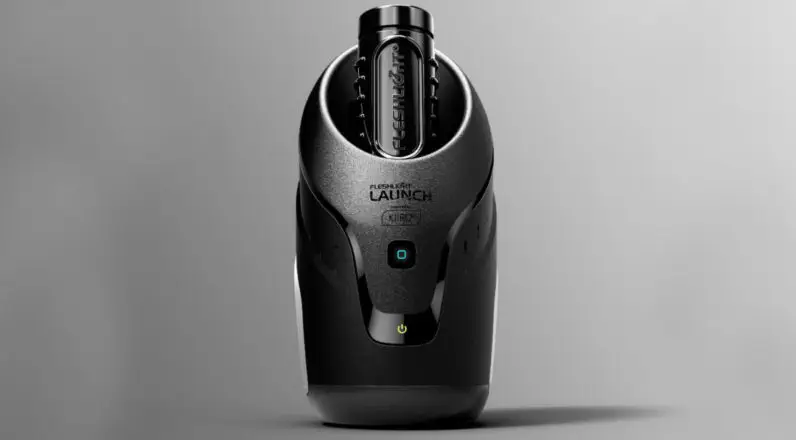 Update
Sadly
the Fleshlight Launch designed by Kiiroo is no longer available
. No idea what happened between the 2 companies, but it seems that they don't plan on selling this product in the future ever again.
The good news is that they are many strong alternatives on the market such as the Kiiroo Onyx + (our review), the Kiiroo Titan (our review) and the Lovense Max 2 (our review).
These 3 products are amazing high-tech masturbators that have mostly the same features as the Launch did.
The Launch is Fleshlight's flagship product. It is a game changer and a work of art. It is a machine that runs on its own and requires little effort from you.
It is a big equipment, probably the size of a football and packs in things that you have never imagined.
Think of this masturbator as a slave. You return from work, all exhausted. You sit down, put on some porn but you do not have the energy to start jerking off, and this is where Launch comes in.
You just put a lot of water-based lubrication in it, sync it with the porn you are watching (yes, it syncs with the porn and lets you feel every thud and stroke happening in the video), and you just lay back and relax while the Launch launches your cum and eats it too.
Apart from sync setup, you can also control the intensity and length of the stroke the launch is capable of producing using a small set of felt buttons on either side of the device.
These buttons let you customize your launch entirely as per your taste and milk you in the best way possible; sometimes better than your ex.
However, when a device is this complex, it demands a lot of care. You just cannot go mad and crazy with it out of pleasure.
You have to handle it with care, wash it with even more and be careful while storing it too. So, for an average person, this can be too much care.
Other than that, if you have the money and the will, there is nothing better than the Launch available on the market at the moment.
Click here to Order Yours Now (Special Price) or Learn More About It!