By M.Christian
By now, we are all pretty much well aware of how fantastic Lovense smart sex toys are.
From their superbly intelligent designs to their incredible engineering, not to mention the Lovense Remote remaining the top Bluetooth sextoy control app, what's not to love—or maybe it would be better to say lust?
But that's not all they can do.
Joining the likes of other smart sextoy manufacturers, more and more adult entertainment sites are now supporting every one of their Bluetooth-enabled products.
A technological leap forward that allows you to pick up your Nora, Max 2, or everything else Lovense makes, link it to your preferred porn site and feel each bump, grind, and orgasm like you are right there in the middle of the action.
Leaving the question of which of the many and growing number of these Lovense-supportive sites are the best?
Lucky you, for after spending quite a considerable amount of time "researching" them all—and, yes, we know how tough our jobs so often are—we have assembled this, our guide to which Lovense-compatible porn sites are worth visiting.
What are Lovense-compatible interactive porn sites, and what makes them interesting?
When you think of it, a site that supports Lovense smart sextoy integration isn't particularly complicated.
After all, the basic technology is already there in the highly respected Lovense Remote app: a skillfully-coded program package designed to use your smartphone or Bluetooth-equipped computer to wirelessly link up to any of their sex toys.
Once this connection has been set up, which is a further testament to how good the Lovense Remote is, it is always remarkably easy; you can adjust your preferred toy as much or as little as you want.
In addition to doing other cool things like making and playing back your own, customized vibration patterns, set your toy to respond to nearby sounds or your favorite tunes, and more.
So it shouldn't come as a shock that someone figured out a way to use this same wireless system, along with some uniquely coded adult videos, to make the age-old dream of interactive teledildonic porn a reality.
Made even better, if that were possible, by how some of the sites on our list also combine the jaw-dropping immersiveness of virtual reality to their Lovense smart sextoy integration.
The result of this can be a mind-blowingly erotic experience, one which could appropriately be described as the next best thing to being there.
But not all Lovense-compatible interactive porn sites are created equal.
Aside from how much they cost and the number of supportive videos they have, there's how challenging or not they are to set up and use.
Because while the Lovense Remote app is the pinnacle of sextoy interactivity, there still might be issues with how well it works with this or that site.
Which we took into account when putting this list together, giving you our opinion of how fun they are and which are the most headache-free when it comes to getting your Lovense toy to interact with their content.
1. SexLikeReal


Back when it was looking like Lovense would, unfortunately, be the left out of the smart sextoy race, with products from other manufacturers being far more supported in regards to interactive adult videos, it was a wonderfully exciting surprise that SexLikeReal, a massively popular site known for its huge range of pre-recorded and livestreamed titles, a large amount of which are also in virtual reality, partnered with Lovense—which helped rocket our favorite smart sextoy manufacturer to the forefront of the interactive porn world.
The old adage of having "something for everyone" is a great way to describe SexLikeReal as it doesn't just have your average, run-of-the-mill adult videos but dozens and dozens, and still more dozens, of unique categories filled with titles from a range of well-respected production companies.
But SexLikeReal isn't just a home for videos from those other studios. Not at all, because it also makes plenty of its own.
Elevating it even further, it is where you'll find not dozens but hundreds of livestreamed shows.
A respectable number of them feature adult stars who make Lovense share-and-share-like interactively a key part of their performances.
Livestreams which are also completely free, including the Lovense-integrating ones. Speaking of cost, SexLikeReal has two different membership plans.
The first is your normal, run-of-the-mill monthly, yearly, and lifetime rate to watch or download as many titles as you like and with some other rather nice perks.
But it is the second you will probably want to know about, as it has all of that plus access to the scripts you'll need to connect your Lovense toy to its interactive videos.
We are happy to say it is smooth-as-silk, even when you want to go for that amazingly immersive, virtual reality porn-watching experience.
Though it may take a small amount of twiddling as SexLikeReal uses their own Android or Apple smartphone app for VR and then the Lovense Remote app for all that interactivity goodness.
Pros:
Huge selection of live and pre-recorded videos
SexLikeReal also produces its own content
Most, if not all, of its titles, are in virtual reality
Easy to set up and use Lovense smart sextoy integration
Livestreamed shows are free
Separate membership plans, one with and one without interactive scripts
Cons:
Tends to be more expensive than other Lovense-supporting sites
Using the SLR app along with the Lovense Remote app can be a little fiddly sometimes
Content lacks diversity
2. Adult Time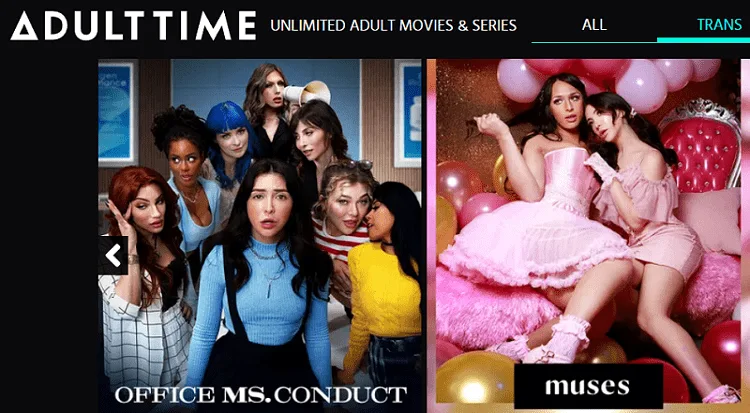 Calling our next entry unique would be a serious understatement because, as far as we are aware, Adult Time is the only Lovense supporting site that, rather than taking the usual route of hosting purely bumpy-grindy videos instead, is all about creating far more story and character-driven explicit movies and quite a few of series as well.
Yes, you heard that right: while Adult Time is most definitely all about sexual pleasure, especially when it includes Lovense smart sextoy interactivity, it also understands how extra-exciting it can be when it isn't just watching two or more bodies slamming together.
Here you'll find comedies, dramas, romances, and plenty of other, even spicier titles—and most filmed and performed as well as any other non-porn movie or TV show.
With 250 channels and 55,000 episodes, Adult Time will keep you erotically entertained for a long, long time.
That and as a respectable chunk of them also work with your choice of Lovense toy, your viewing will be an even more arousing experience.
Pros:
Difference approach to adult videos with its focus on story and characters
Huge catalog of movies and shows
Fantastically effective Lovense smart sextoy integration
Impressive variety of activities and performers
Cons:
It may not appeal to people used to more "traditional" porn videos
Acting and production values vary
Not all of its titles support Lovense products
3. VirtualRealPorn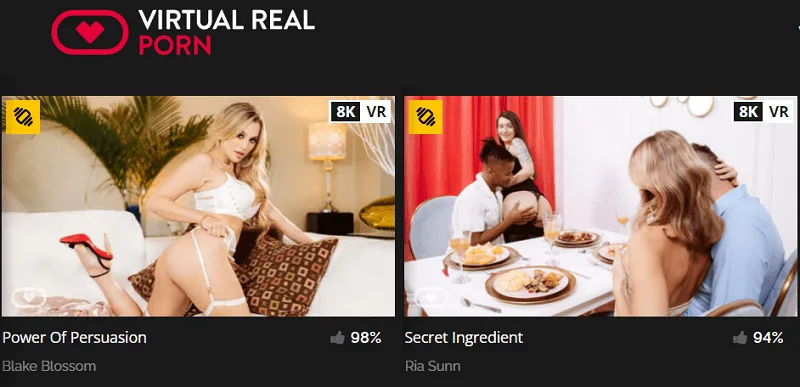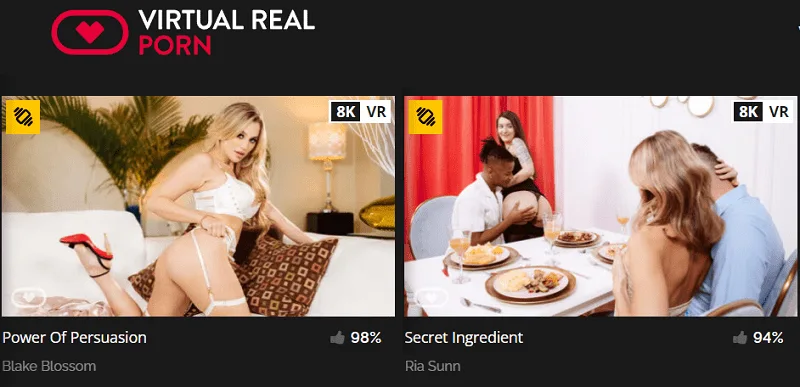 For our number three spot, we had to go with a virtual reality and interactive porn video site known for its wide-ranging content.
Though getting your Max 2 or Nora to work with VirtualRealPorn may take some doing, as it has a kind of does or does not interact relationship with Lovense products.
VirtualRealPorn is one of those particularly expansive adult entertainment sites that knows what its customers want.
Which is plenty of high-resolution VR videos with top-tier porn stars enjoying an arousing variety of sexual activities—with the added bonus that an impressive number of their titles also work with interactive sex toys.
To get in on the fun, you will need to download and install the FeelConnect iOS or Android smartphone app.
Designed primarily for toys like those made by Kiiroo, it does not play well with ones from Lovense.
However, that does not necessarily mean you are out of luck when it comes to using your Lovense toys with VirtualRealPorn.
It is just that you will likely need to research some work-arounds before you can see and feel what the site has to offer.
There's also the chance that, like how VirtualRealPorn used to be more open about supporting Lovense's vibrators, strokers, and masturbators, the site may step up again by making it easier for our favorite sextoy manufacturer's brand of interactive playthings to work with it.
Pros:
Good selection of star performers
Quality VR videos
Works with most virtual reality headsets
Uses FeelConnect smartphone app for interactive sex toys
Cons:
Used to openly support Lovense toys, but uncertain if they still do
Can watch site's videos without VR, though they are far better with it
4. Chaturbate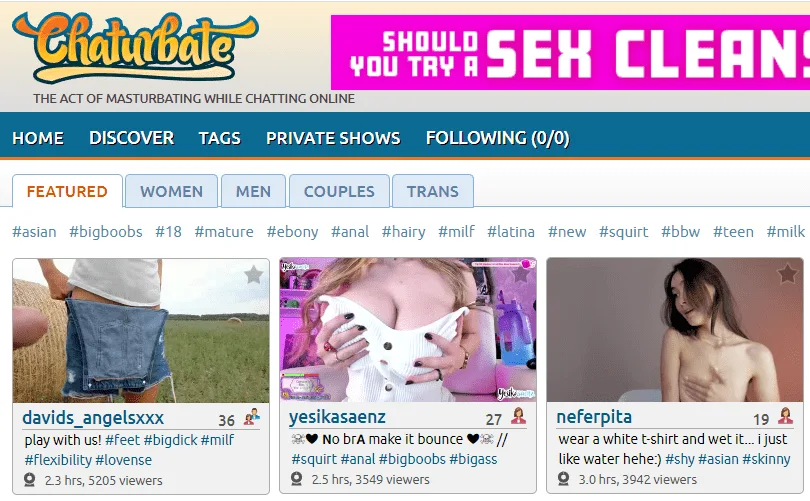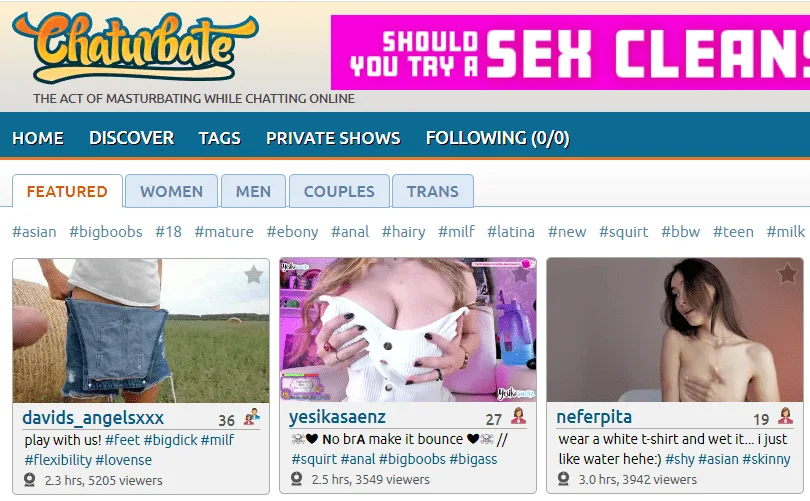 In all honesty, we could have listed any livestreaming site, as a growing majority of them now feature shows that take full advantage of Lovense interactivity to allow their audiences to share in their sexual performances.
Whether it is using Lovense toys to make their shows really, really, really hot or offering high-tipping customers the opportunity to link theirs-at-home with the performer's own for any manner of interactive fun—not forgetting all the other imaginative and wildly erotic ways performers are using Lovense products, one thing is for sure: camshows and livestreams will never be the same.
But why, you may be asking yourself, are we talking about Chaturbate for this sort of sexual interactivity?
The answer is that the brilliant minds over at Lovense have taken the already amazing sex tech and livestreaming revolution and made it a million times better.
We are referring to Lovense's new VibeMate smartphone app.
Available for Android or Apple, a fairly accurate description of it would be that it's an enhanced browser—but with the extra added bonus of seamless interactive sextoy integration in addition to a bushel full of other innovative features.
All that's necessary is to fire up the app, select your favorite camsite, then pick and choose as many performers as you want.
The first of its fascinating options is that you can filter each site for shows where Lovense toys are used.
So you do not need to search and search again. Rather a world of different sex tech possibilities is a mere selection-button away.
For instance, if you pick Chaturbate and then screen for Lovense toy shows, you do not only see all those potentially steamy interactive shows, but using your Max 2 or any other of their Bluetooth-enabled sex toys with it is way easier.
All due to how well VibeMate meshes with the Lovense Remote app.
So you won't have to waste time using a site's app and then another, and maybe even another and another, to groove along with a camsite performer.
Instead, Lovense integration is barely a single click away.
Then there's how VibeMate also includes a one-stop way of following, engaging, and tipping your favorite performers.
Seriously, Chaturbate is great and all, but after using it with the VibeMate app, you will have your socks and probably your shoes, as well as the rest of your clothes, blown clean off.
Pros:
Amazing selection of livestreamed shows
With the VibeMate smartphone app can easily interact with Lovense using performers
VibeMate simplifies following, subscribing, and tipping
More and more camgirls are using Lovense toys
Cons:
Like all camsites, the number of performers with Lovense products can vary from hour to hour or day to day
As each is an independent producer, there is no standard for how and when they integrate Lovense toys into their shows
How to pick the perfect Lovense-compatible interactive porn site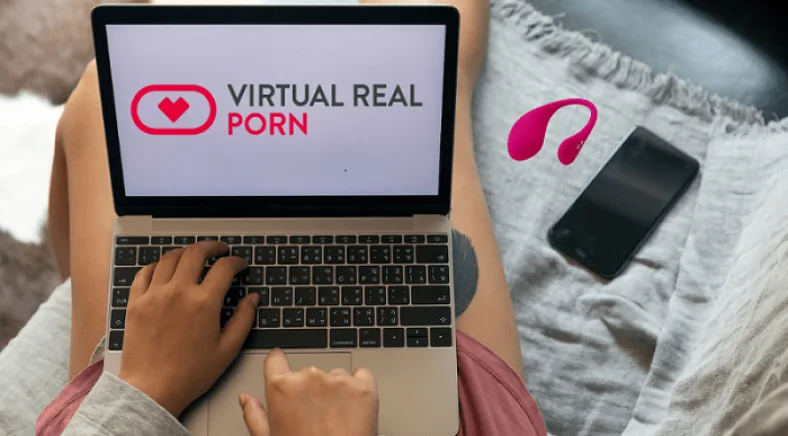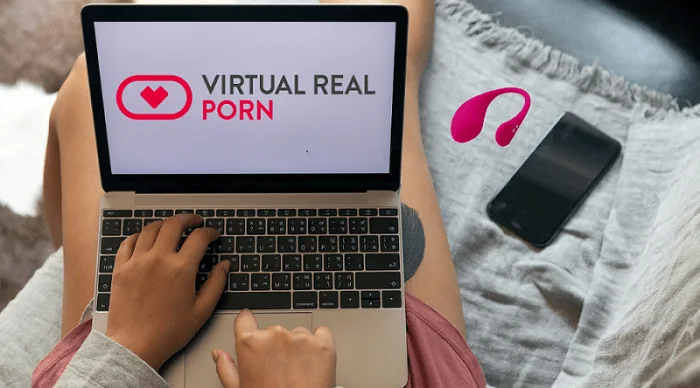 When you get right down to it, the most crucial thing to consider about selecting your ideal Lovense-supporting adult entertainment site is if it gives you what you want.
Of course, this likely wildly varies from person to person.
For some, it could mean whether or not a site has a good selection of Lovense interactive videos. For others, it might mean that one is more or less difficult to use.
Then there are those who prefer quality over quantity, or if a site has content that scratches as many of their particular sexual itches as they possibly can.
Narrowing this down a bit, it is probably a good idea to begin by examining how much of a commitment a site has in regard to working with Lovense and its products.
Case in point, while VirtualRealPorn used to be previously enthusiastic about playing well with Lovense toys, right now it seems like their passion has waned—to where now it is tough to find out if the site is or isn't compatible.
But, as we said, that could change—particularly as Lovense has become a serious contender for the most popular interactive sextoy manufacturer.
Then compare this with Adult Time and SexLikeReal, a pair of platforms that are practically standing on their corporate rooftops and proudly screaming how thrilled they are to be partnered with Lovense.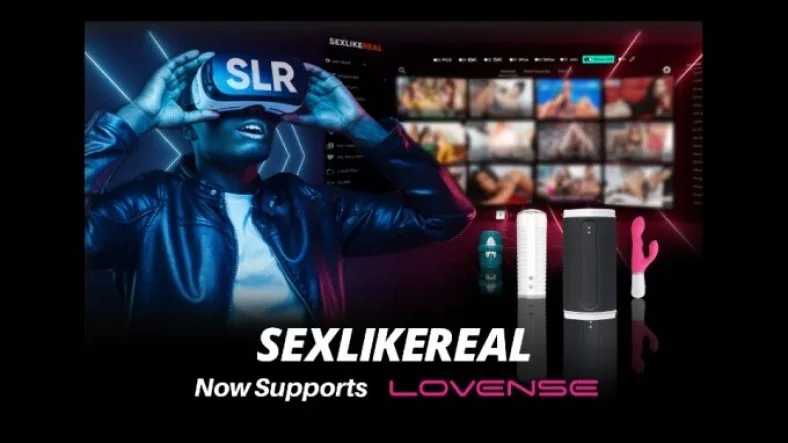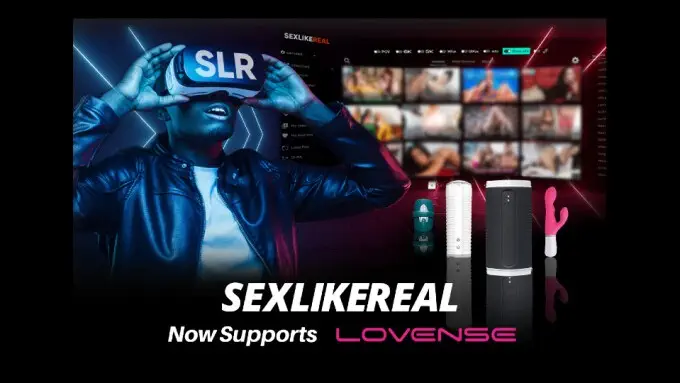 This is further echoed by Lovense itself, evidenced by how it has specially-dedicated pages for each company explaining not only why working with them is fantastic for their customers but even how to set up their smart toys to interact with Adult Time or SexLikeReal's videos.
Onto the porn side of what to think about when picking an interactive site, in many ways, this combo of SexLikeReal and Adult Time, not discounting what platforms like VirtualRealPorn and Chaturbate—as well as all the other livestreaming sites the VibeMate app improves upon—is perfectly ideal for anyone into interactive sexy videos.
On one side, you have SexLikeReal and its copious performers, sexy and kinky activities, more VR than you can shake a headset at, and that every single one of its streaming shows is totally free.
Then there's Adult Time, with its completely new take on explicit entertainment, where it's more about engaging plots and characters—with more than enough Lovense interactive movies and series to satisfy anyone.
Or everyone, as it's continually expanding its roster of shows.
Whatever your criteria, whether it's what you want to watch, how you want to watch it, or how well and much a site supports Lovense toys, there's also how fast the world of sex tech interactivity is expanding.
So much so that it's gotten to a point, it is not a question of if but when some new technological development will utterly transform the adult entertainment industry.
This is our way of saying that if you still cannot decide which Lovense-supporting site to sign up with, just remind yourself that if you don't like what you see, come back in a few months or as little as a week or two.
Because there is a high probability that the Lovense-interactive site, if your dreams, or more accurately, your fantasies, may have appeared between now and then.
The verdict
Not discounting the appeal of VirtualRealPorn or Chaturbate and its fellow livestreaming platforms, we feel right now that recommending our preferred choice of Lovense-compatible porn sites comes down to SexLikeReal versus Adult Time.
And it sure is a tough, to put it mildly, call to make.
On the one hand, there's the adult entertainment wonderland of SexLikeReal: known far and wide for its nearly-immeasurably huge catalog and how passionately it has embraced cutting-edge erotic technologies like virtual reality and, naturally, Lovense-interactivity.
It's just that despite all of its different categories, performers, high or super high-resolution videos, or that it works with nearly every VR headset on the market when you come down to it, SexLikeReal is very much a porn site.
Not that there's anything wrong with that.
We feel its videos are very much like the ones you will find on every other adult entertainment site the only thing that sets it apart is its focus, as mentioned earlier, on sextech and VR.
Meanwhile, Adult Time has been practically reinventing porn, and not only for how well it supports all of Lovense's smart sex toys.
Here is a company that has looked at adult entertainment and made the bold move to give their customers bona fide movies and serialized stories with actual characters in real-ish situations—as we are, after all, still talking about porn.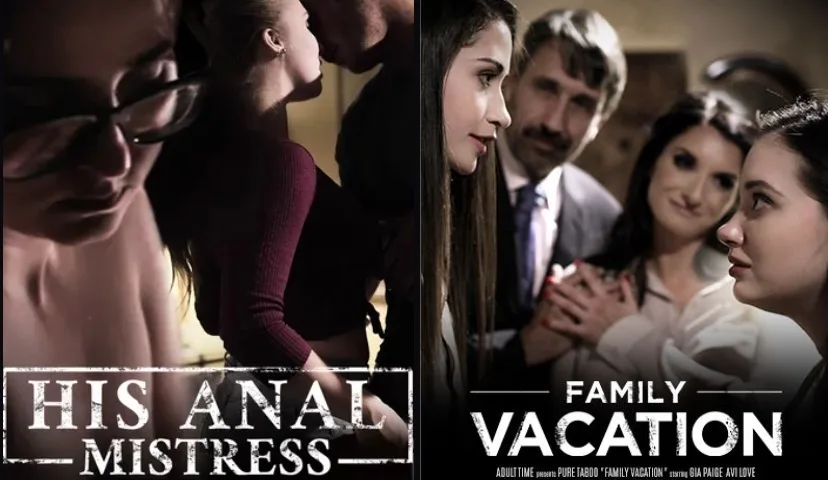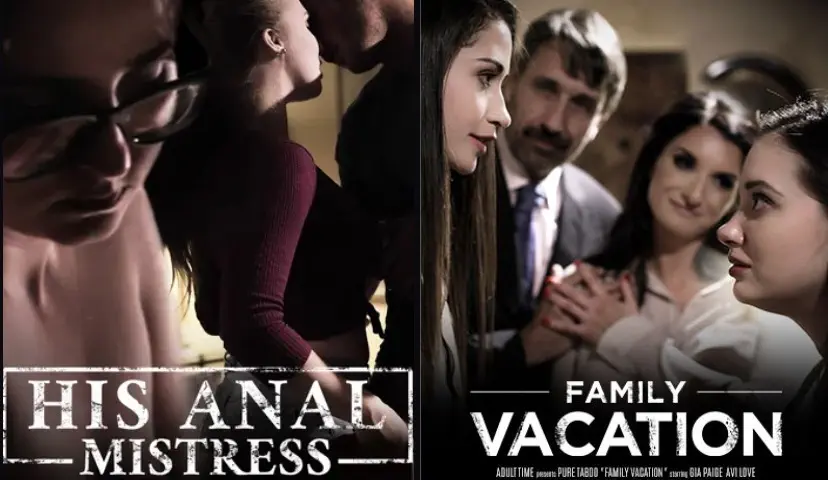 We just think sites like Adult Time deserve some much-needed attention.
Agreed, it may not be the adult entertainment you are used to—especially if you have grown used to videos that are less about less-explicit engagement and more into getting to the in-and-out point.
But as adult entertainment is in a state of technological flux, we also think the same outside-the-box thinking should be applied to what the industry produces.
Made all the better by using cutting-edge sexual stuff like virtual reality and smart sextoy integration along with it.
That, in an admittedly roundabout, has led us to our recommendation for the best Lovense-compatible porn site.
Though SexLikeReal ticked more than a few of the right boxes, we are giving to Adult Time.
One, for its wildly new approach to adult entertainment, is made all the more remarkable by how no other site has even considered producing full-length movies and numerous serialized shows.
Two, because of how passionately dedicated Adult Time is to making everything as high-quality as possible.
This is evidenced by how challenging productions are to tell from other non-porn shows or movies. Not that most of what's out there right now was all that well-made, to begin with.
Three, to do all that and made the bold step of adding the delights of Lovense-interactivity to some of their titles.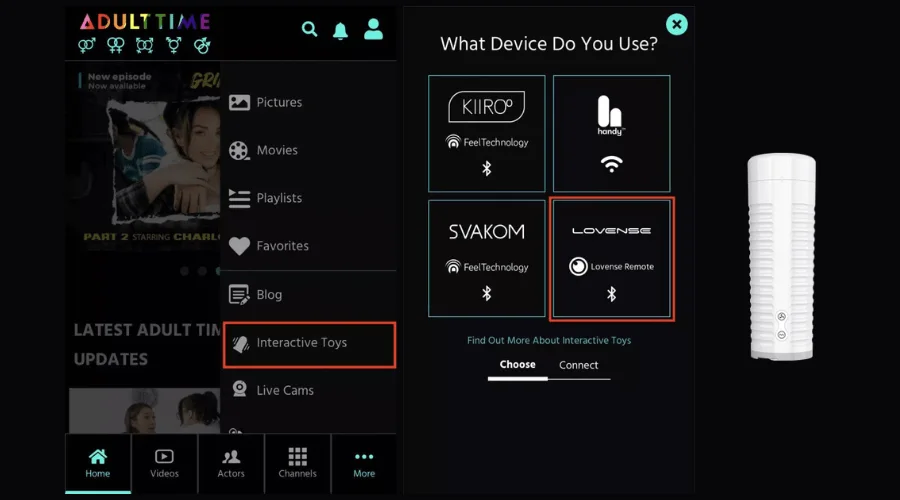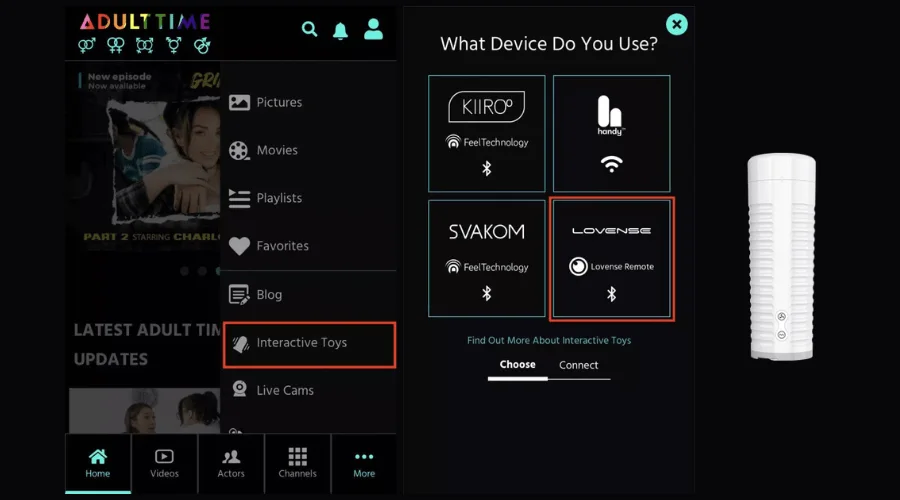 All we need now is for all of them to work with your Max 2, Nora, or all of their other amazing Bluetooth-enabled smart sex toys.
Virtual reality, with all its amazingly-immerse, eye-poppingly vivid visuals, would not hurt, either.
But again, as VR is right up there with sex tech as a rapidly growing porn phenomenon, it is merely a matter of time before Adult Time offers it as well.
As times change, what turns us on evolves, and newer and more exciting sexual technologies emerge, it is a safe bet that porn sites with Lovense-supporting sites will steadily become the norm.
If we play our cards right, Lovense could possibly even surpass its competition in the interactive sextoy game.
But until that day comes, we hope that SexLikeReal, Adult Time, and the other site on our list of the best Lovense-compatible porn sites will give you lots of fun and sexy places to explore.