In the last half decade there's been a brave new world of sex toys introduced for the orgasmic pleasure of the public, and we want you to be in on it.
These nine amazing contenders are all PornHub-compatible, luxury-tier sex toys that can bring you to the highest pleasure you can imagine.
If you want to look, you can find some of the best, capable of interacting with the internet's largest repository of smut, PornHub.
Many of the most popular toys that interface directly with PornHub are from Kiiroo – this should hardly be a surprise, since Kiiroo's FeelMe AI interactive porn system, which can interact with all of Kiiroo's toys, carries PornHub's branding in its interface, and can directly pull up videos from PH.
So, if you're looking for the best interactivity with PornHub content, many of the best options are going to be branded through Kiiroo, as you can see in this list.
Kiiroo Keon: A Top Option with Some Issues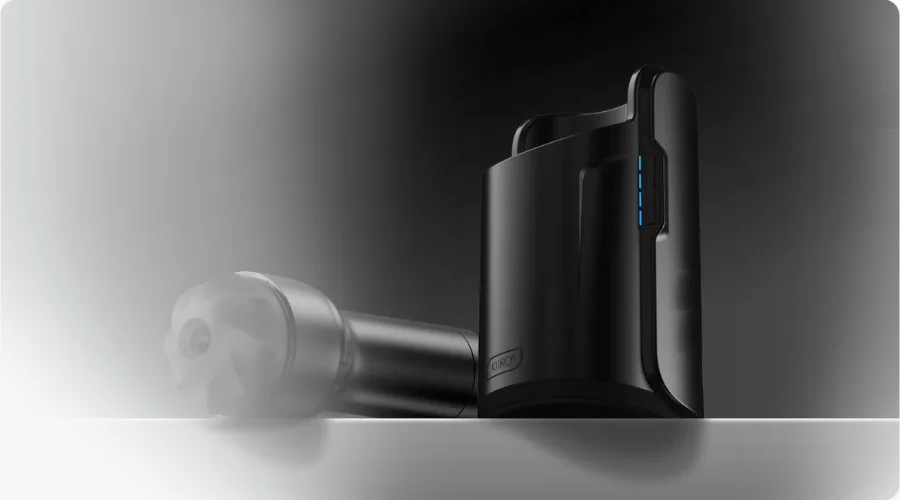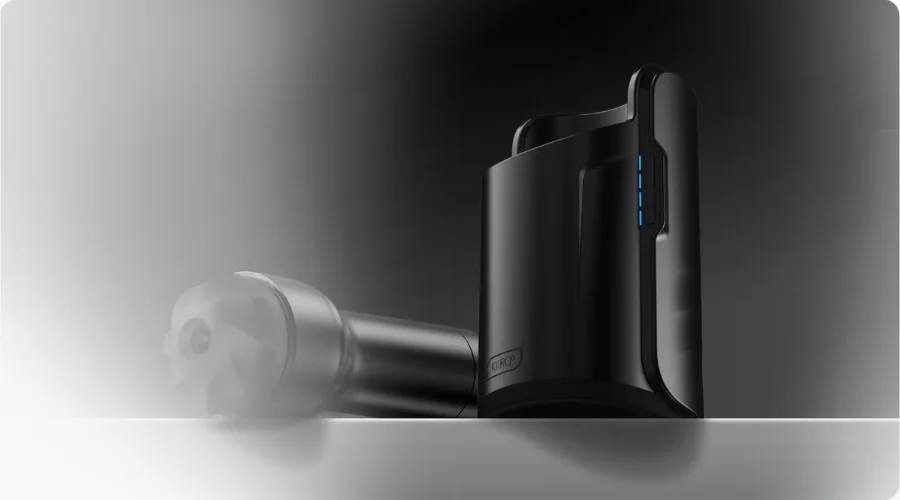 Kiiroo Keon is unquestionably one of the top masturbators on the market.
With AI-driven interactivity features and powerful robotics giving the Keon the heft and thrust (literally when you add the dildo adapter) to move into the top tier of interactive sex toys for men and women.
With the addition of a FeelStroker – and the optional PowerBlow blowjob simulator – it's just one of the best interactive masturbators on the market, especially for the money.
A sex machine with the same feature set that's built for penetration only can cost up to a couple hundred dollars more.
While the device itself is powerful and easy to clean and stays in place pretty well with only minimal hand interference (and not even that if you add its optional furniture clamp), Keon's power output is inversely related to its remaining battery life.
Keon also can't be used while plugged in. The software doesn't let it run while connected by its Micro-USB connection to an outlet.
Despite the fact that Keon was released in 2020, it still uses the older, more fragile connection technology.
This makes it harder to power on a 5V connection, and ultimately limits it in ways that USB-C would not. Even worse, because of the Micro-USB connection, Keon's charge time is a painful four hours.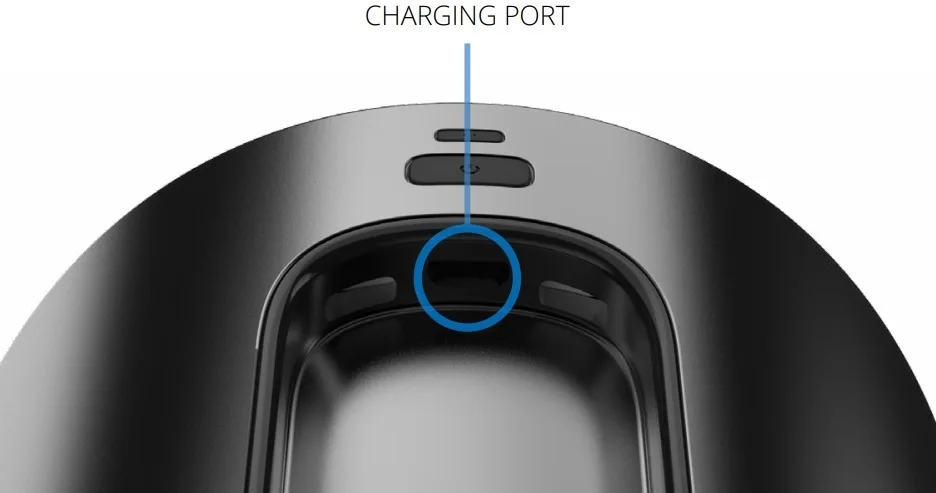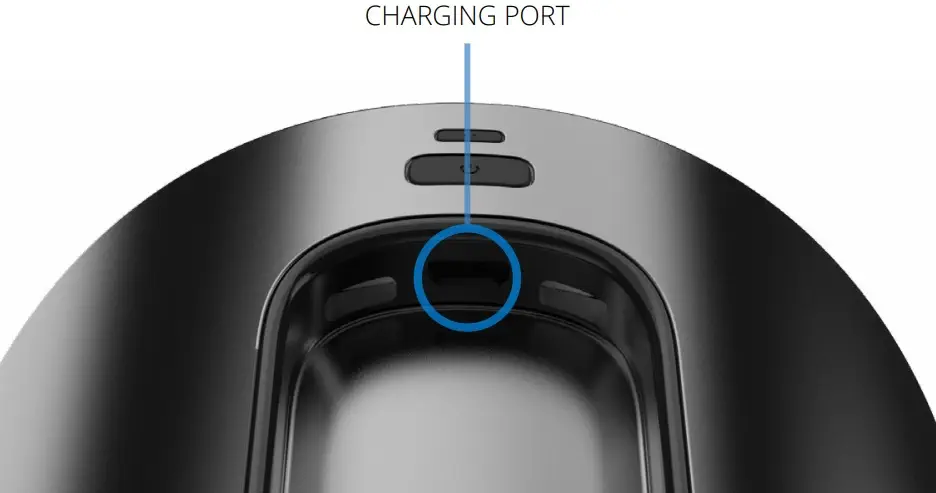 Despite these quibbles – and ultimately, they are quibbles for a toy with the quality of Keon – Keon is a very successful use of interactive technology to create a complete masturbation experience that wouldn't have been even possible just a decade prior.
So, we celebrate Kiiroo Keon, and look forward to the release of a Keon 2.0 that will correct the device's problems. Because they are really minor compared to the massive potential that Keon represents.
Pros:
Powerful, rapid oscillations
Compatible with some of the best toys out there.
Cons:
Battery life is not what it could be.
Outdated charging setup.
Kiiroo PowerBlow + FeelStroker is a Killer App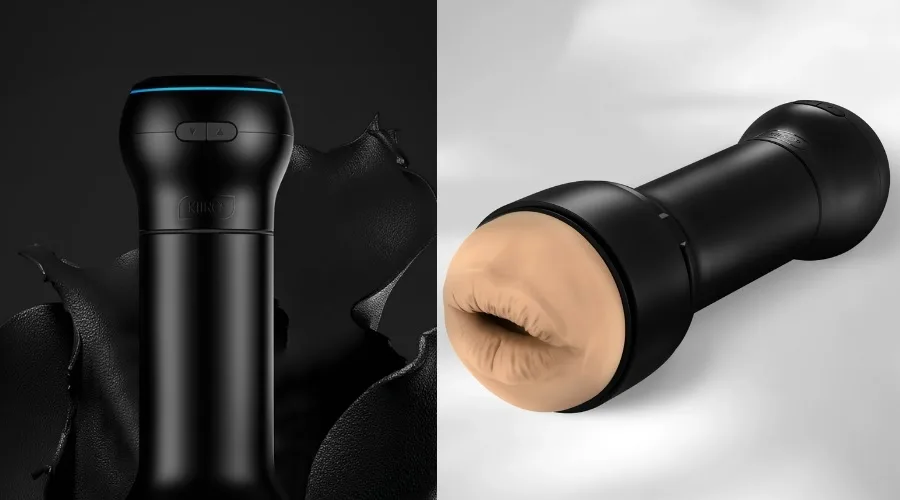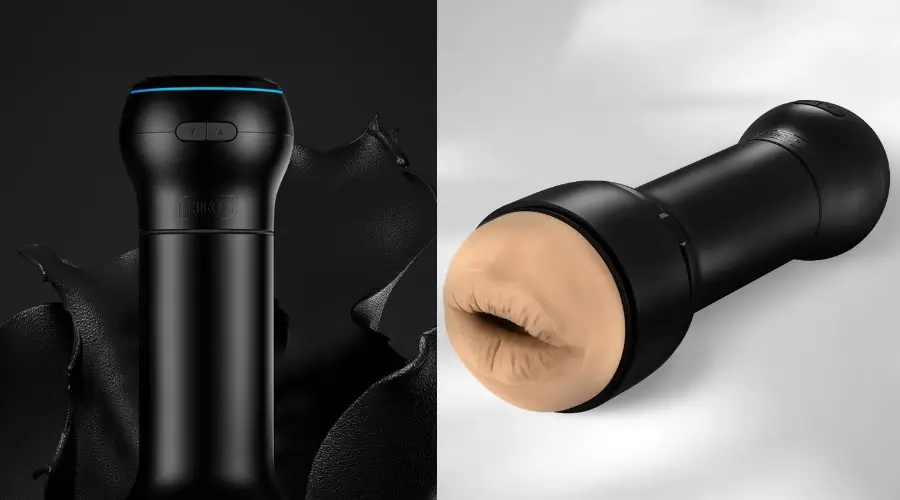 Billed as a "blowjob simulator," and compatible with Keon, Kiiroo PowerBlow fits on top of most FeelStroker and FeelStars strokers, giving some additional realism to the FeelVictoria mouth stroker and adding tightness to the vagina and anus strokers that Kiiroo's Feel line specializes in.'
If this sounds great – it is. PowerBlow interacts with both the FeelConnect interface and FeelMe AI's sex toy interaction software, giving you some serious options.
PowerBlow itself is nothing more than an oddball hockey puck device with no obvious way to interact with it.
But when you add it to the FeelStars and FeelStrokers, its seductive suction comes to the forefront and gives you the ride of your life.
If this sounds appealing, and there's absolutely no reason it shouldn't, it's because PowerBlow is the most useful add-on to any stroker toy that we've ever seen.
It makes FeelStroker feel complete and alive in a way that you wouldn't expect a pocket pussy to feel, and honestly, it's kind of surprising that competitor Fleshlight hasn't come up with a similar device to top their own strokes.
Perhaps intellectual property law holding back the originators of the realistic men's sex toy market? But for whatever reason, the interactivity of the PowerBlow sucker is an incredible feature.
Pros:
Incredible blowjob-like feel
Simple modification to Kiiroo products.
Cons:
Battery life a bit short.
Kiiroo Onyx +: In Theory There Is No Difference Between Theory and Practice, but…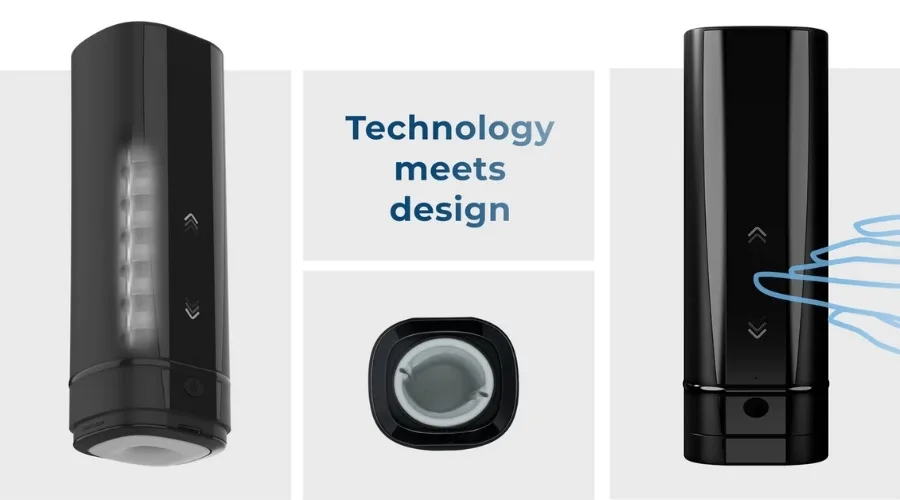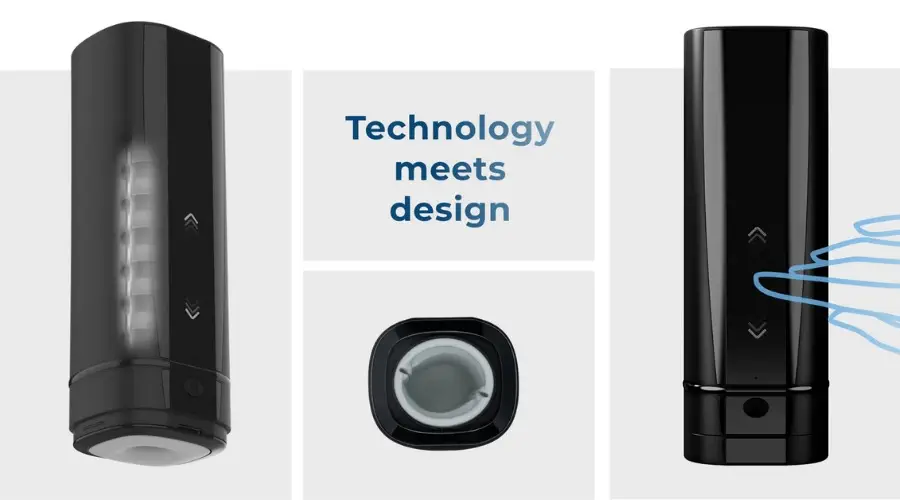 Kiiroo Onyx + is a toy that is great in theory, but competing with that is the fact that in practice the Onyx + is something that's a little bit lacking.
Its Bluetooth connection is more than a little flaky, creating a problem for the user who suddenly finds their masturbator going silent at a peak moment of their favorite video.
If you're seeing yourself in that bit of text, unfortunately Kiiroo's Onyx is not going to help you.
Onyx + just doesn't make the grade compared to the rock-solid Bluetooth connection of both its competitor devices from Lovense or even those of Kiiroo stablemates PowerBlow and Keon.
It's a real shame because the compact interactive sleeve masturbator market is looking for some serious competition for Lovense's venerable Max 2, the undisputed leader in this market segment.
If you're looking for a great wank experience with a portable, discreet men's toy, then we must unfortunately inform you that Onyx + is not a match for its older competitor.
Pros:
Portable and powerful
Great Interactivity with PornHub
Cons:
Like many Keon toys, battery life is an issue.
Flaky Bluetooth
Hot Octopuss Pulse Solo Interactive is a Promise but Nothing More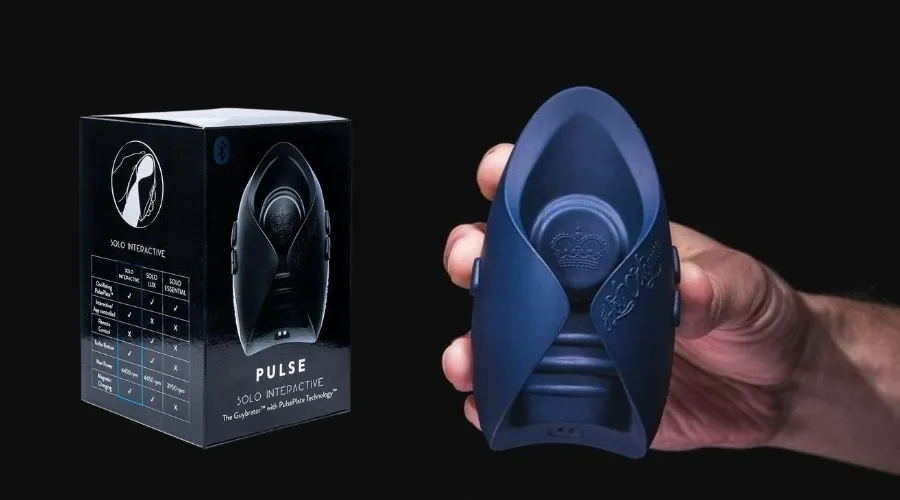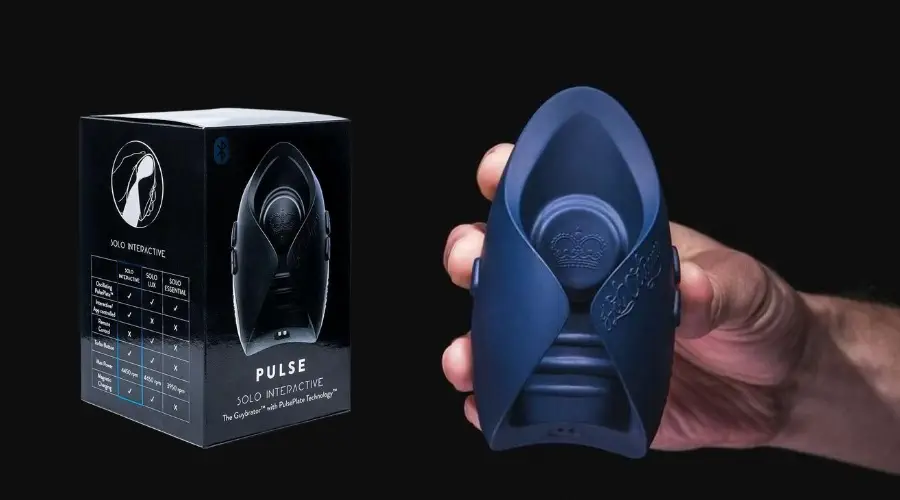 Another difficult recommendation.
While Hot Octopuss is a promising possibility, its reviews, and our experience of it is littered with problems, all related to its utterly problematic and disappointing connectivity issues and uninspiring, buzzy vibrations.
Hot Octopuss promises that Pulse Solo will return a satisfying masturbation experience even for those with difficulties or impossibilities in getting hard, like men with erectile dysfunction or trans men with metoidioplasty or other forms of bottom surgery that don't include erectile options.
Unfortunately, what it delivers is a lossy, difficult to maintain Bluetooth connection.
The vibrator, as we said in the last paragraph, is also mediocre, delivering a buzzy experience rather than the more optimal rumble of higher-end vibrators, which you would expect out of something marketed the way Pulse Solo is. Its vibrator is just not that satisfying.
If you're not a fan of "buzz," and let's be honest, few people are (if people liked buzzing, the vibrate function of modern phones would get a lot more play than it does), then Pulse Solo is just not going to satisfy you.
There are, simply, better options if you're playing around with the erectile dysfunction use case that Pulse Solo appears to be made for.
Of the toys we've reviewed here, this one is by far the hardest to recommend.
Pros:
Works whether you can get erect or not.
Cons:
Buzzy vibration rather than rumbly
Function effectively duplicated by magic wands that are much less expensive
Kiiroo Titan: Aww. Flex Limpshaft.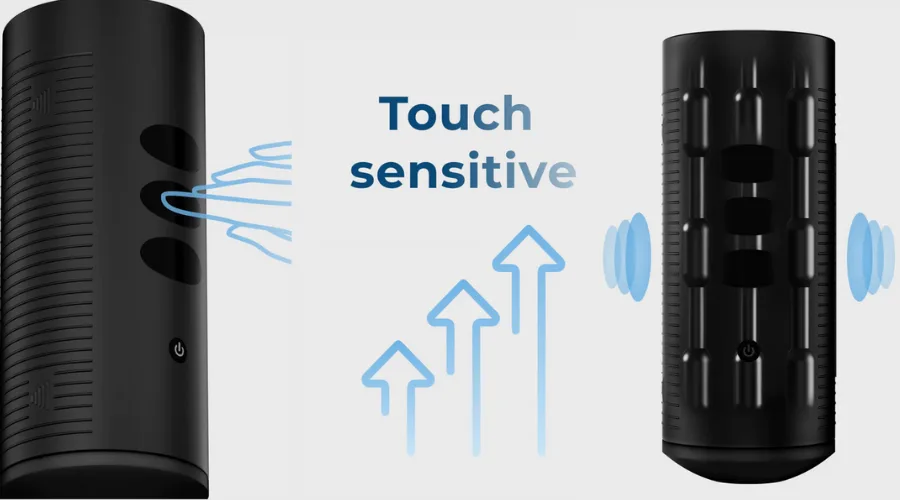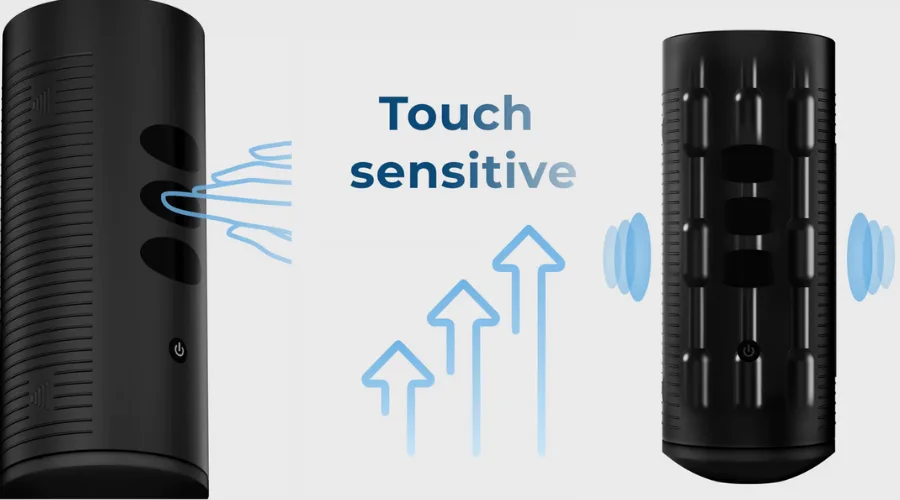 The Kiiroo Titan is another full-length masturbator sleeve in the vein of Lovense's preeminent Max 2 toy. With an established leader in the segment, Kiiroo's intentions are clear between this and the Onyx +.
Unfortunately, just like with Onyx +, Kiiroo simply falls short of their intentions for this device.
It's an ironic statement on the company that their simplest powered toy – the vacuum-creating PowerBlow blowjob simulator – is a much better PornHub interactive sex toy than these more deluxe options.
Kiiroo Titan does boast nine vibrators along its length to carefully time its masturbation pulses with whatever pornography you're viewing on PornHub (or any other online porn site).
Unfortunately, this is pretty much all we can say that it truthfully boasts of, since the nine vibrators are relatively weak, no different from a common bullet vibrator.
It is, simply, a synced male Flesh light, and for my money, you could get better results by sliding a bullet vibrator into the case of a Fleshlight and switching it on and off in sync with the porn you're watching.
Of all the toys we tested out with PornHub interaction features, Titan is by far the least compelling.
Without any form of stroking functionality and only bullet vibrators to make its shaft buzz your shaft, Kiiroo Titan just doesn't stand up to the top toys in Kiiroo's stable and compared to the comprehensive engineering of toys like the Keon, it feels like a little bit of a letdown.
We can recommend it only to men who are really, really fond of vibrators. If not, you're not going to find much here that you can't get from a standard pocket pussy.
Pros:
Cons:
Vibrators are only bullet types.
Just not that interesting.
Svakom Sam Neo Sucks in a Good Way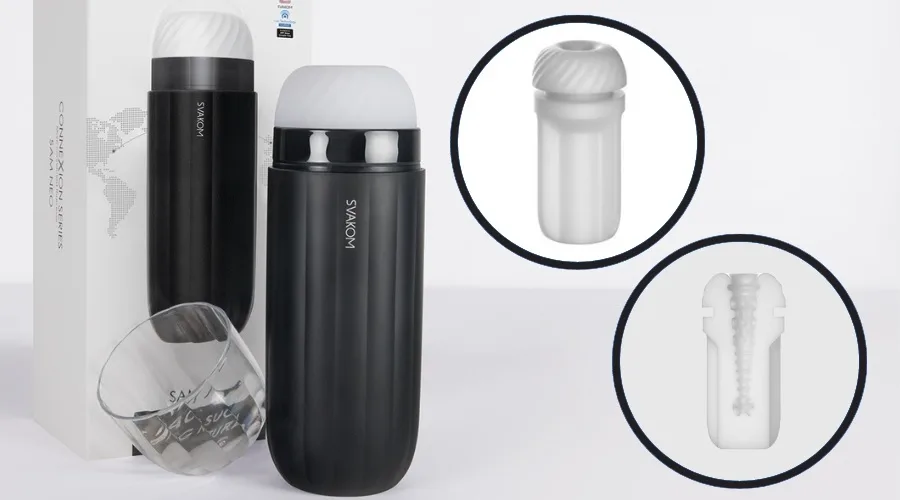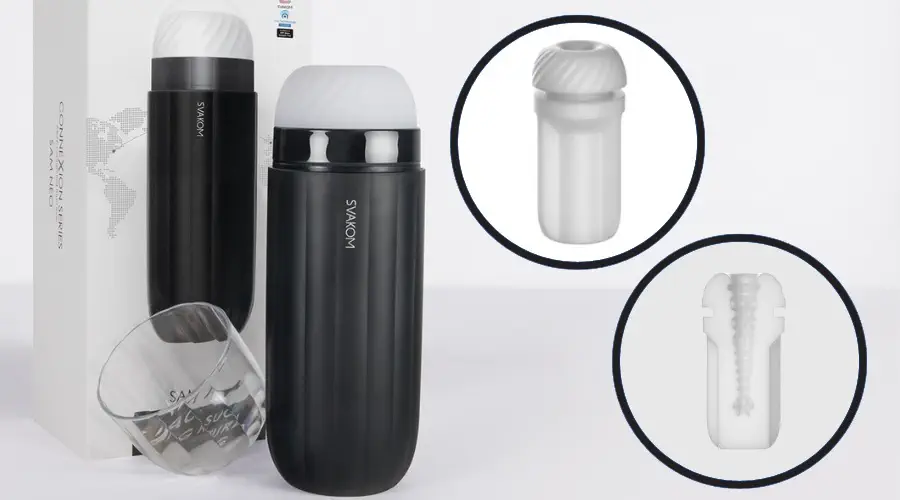 Not too many men's sex toys remember that powered suction just plain feels good, which feels strangely hilarious with the proliferation of clit suckers in the women's sex toy segment.
With that in mind, Svakom Sam Neo goes to work in that segment, delivering a built-in vacuum experience to mimic the sensations of a classic blowjob.
While it's not the most sophisticated device out there, it's just a great option that more men should have in their toy box, because the way it delivers on its promise is really exciting.
Svakom Sam Neo actually delivers in the vacuum department, bringing some impressive suction to a toy party that's mostly dominated by Kiiroo's PowerBlow attachment.
If this sounds exciting to you, let us assure you: It is.
This single-unit sucker attaches eagerly to your glans and at 9.29 inches, it's actually long enough to engage the full length of almost every man.
With a medical-grade silicone removable masturbation cup, cleaning Sam Neo is a breeze, too, giving you a break in that regard.
The removable cup slots into an ABS plastic holder, making the whole combined device reassuringly sturdy and weighty in the hand, because you're going to want to know that if you lose your grip on this thing, it's not going to break apart from you.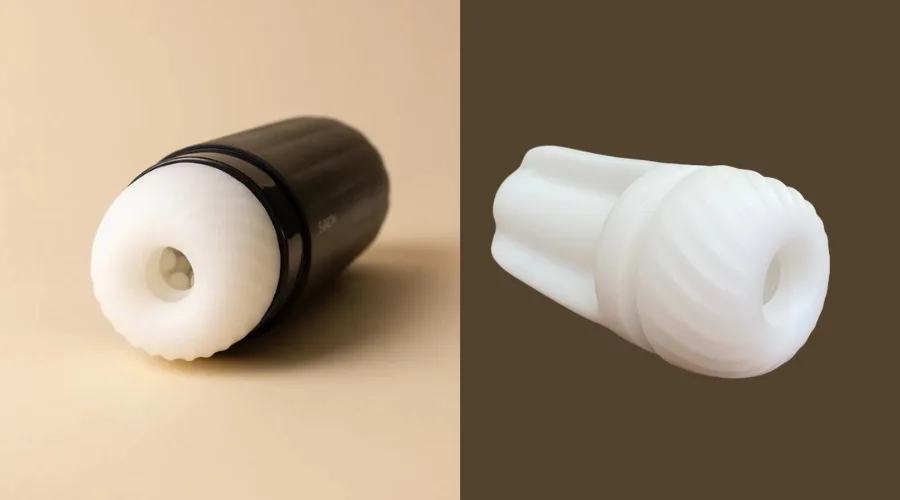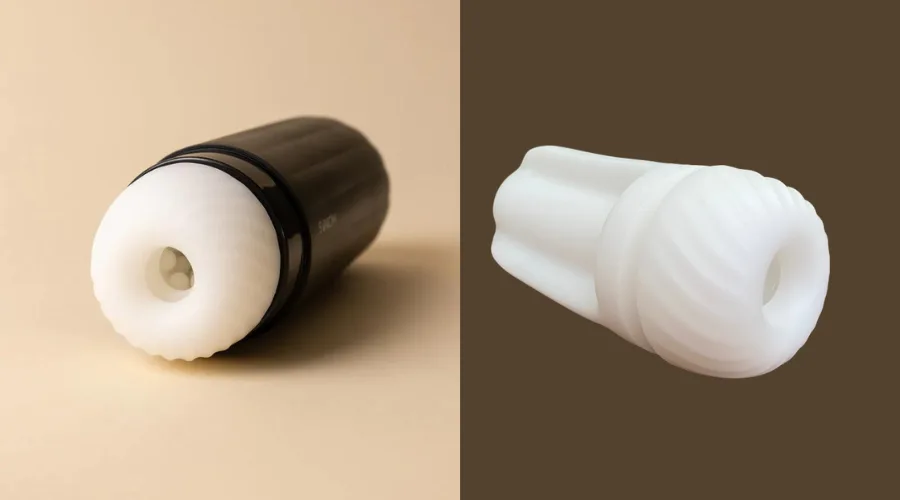 Fortunately, you will be satisfied in that regard.
Sam Neo's interactivity features also don't just end with PornHub – it's also connective with both long-distance partners and webcamming websites, letting your long-distance girlfriend or a performer give you a virtual blowjob whenever you and they wish.
Overall, Sam Neo is an incredibly competitive package that stands up very well to everything that Kiiroo is offering and sometimes exceeds it on its own.
Compared to the potent PowerBlow + FeelStroker combination, Sam Neo has a pretty significant advantage in that it's only one device with two parts to keep track of.
PowerBlow + FeelStroker is two and four parts, which doesn't sound like a big improvement, but it certainly can be.
Giving men the clit sucker experience in a form that's adapted to male anatomy is one of the best things we've heard of coming out of the suction vibe segment and we're happy to add Sam Neo to our toybox.
Whatever you expect out of it, expect more.
Pros:
Fantastic blowjob simulator in a compact form factor
One masturbator to keep track of.
Cons:
Only one available cup limits variety.
Svakom Alex Neo Thrusts Hard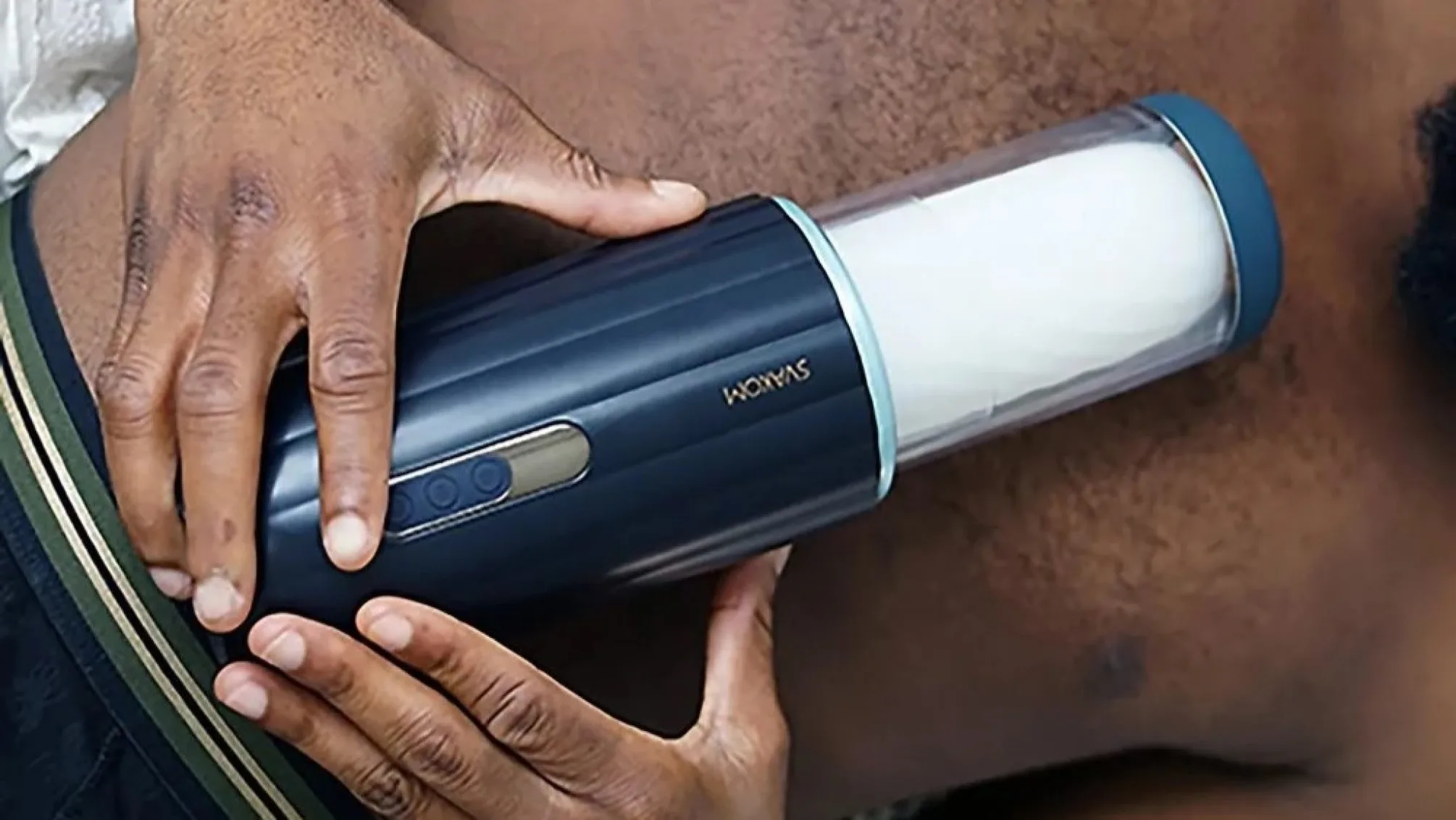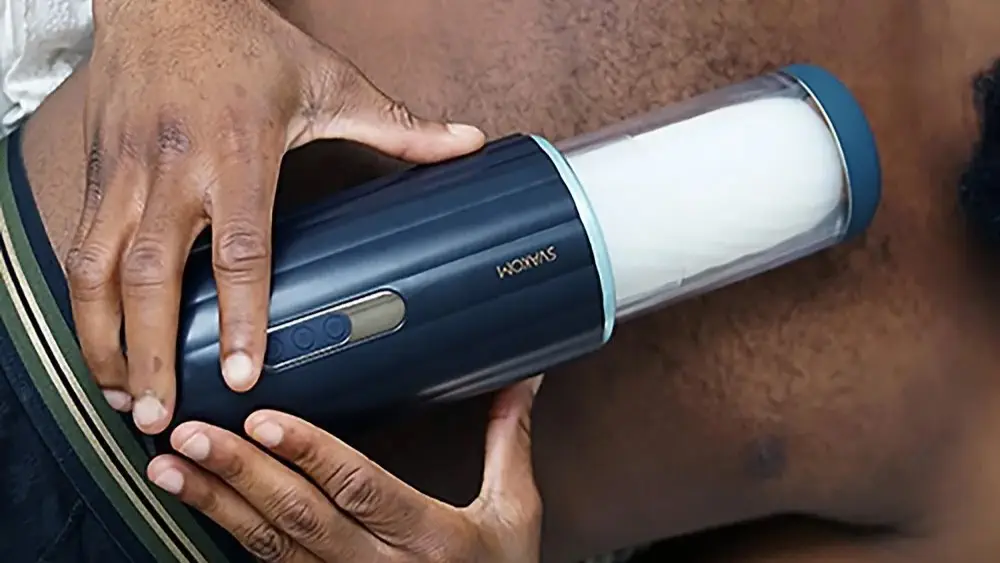 Compared to Sam Neo, which focuses on replicating the blowjob experience, Alex Neo gives you the opposite experience, giving you the experience of thrusting into a partner and feeling the hot scenarios that are offered you by PornHub take over your fantasies.
If this sounds too good to be true, don't worry, it actually isn't.
Svakom Alex Neo is another great toy from the award-winning Hong Kong adult toy manufacturer, and it delivers on the promise of its fantasy.
With many thrusting modes before you even get into the interactivity component, Alex Neo is a landmark men's vibrator and masturbator.
You'll be in the best hands – or other parts – of this toy, with some amazing feelings that make its masturbation options from video sync to music sync to long-distance partner control feel completely natural and naturalistically engaged.
Svakom just came up with a great men's masturbation experience option that might actually compete with the venerable Lovense Max series.
Pros:
Thrusting action adds something different in a compact toy
Cons:
Only the one cup available.
Kiiroo Pearl 3 Redeems Kiiroo's Position in the Toy Market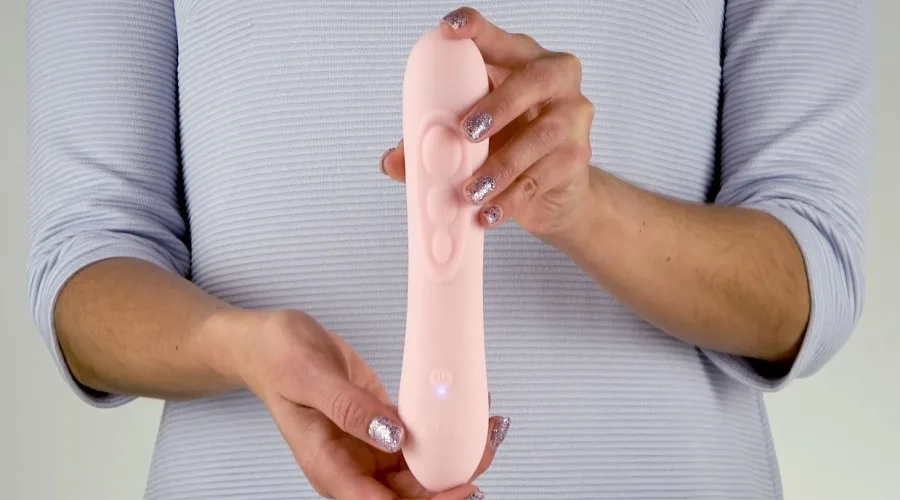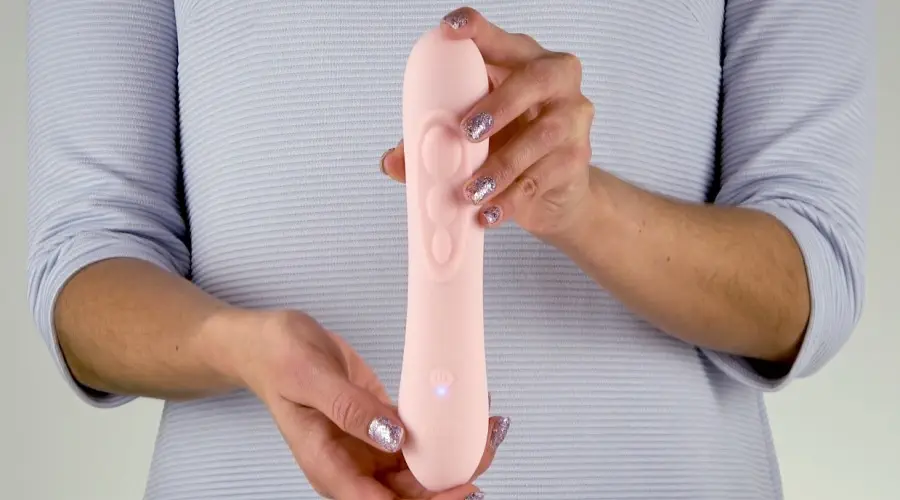 Look, we've already reviewed a few duds from Kiiroo. This isn't one of them.
Pearl 3 takes one of the simplest concepts in women's interactive vibrators – an intense g-spot vibrator – and really addresses all the potential issues with the concept.
Pearl 3 is a huge competitor in a somewhat saturated market for traditional penetration toys for women, with a design that concentrates vibrations toward the tip, unlike a lot of women's dildo/vibrator toys that has the vibrating motor closer to the handle end, a move that preserves the integrity of the motor but makes it easy for the structure of the toy to damp out some of the vibrations by the time they get to the place where they'll actually do some good.
Pearl 3 is absolutely focused on the g-spot experience, making sure that it has vibrating magic all the way along its inside.
Because the g-spot is a greedy little point inside, the more vibrations you can deliver direct to it, the happier it is, and Pearl 3 is capable of making it very happy indeed.
If you've complained about an insertable vibrator lacking power all the way to its tip while being rumbly in the fingertips, this little gem will spice up your solo sex sessions, letting you understand what pleasure really is when it's pleasure for one.
To the extent that there are any warnings for Pearl 3, it's that it's not a toy for beginners, nor is it one for women who need the kind of power that a magic-wand vibrator brings with it.
Pearl 3 is in the market for women who are looking for a powerful experience, but one with some subtlety to its spark. If that's not you, look down the line for a proper wand.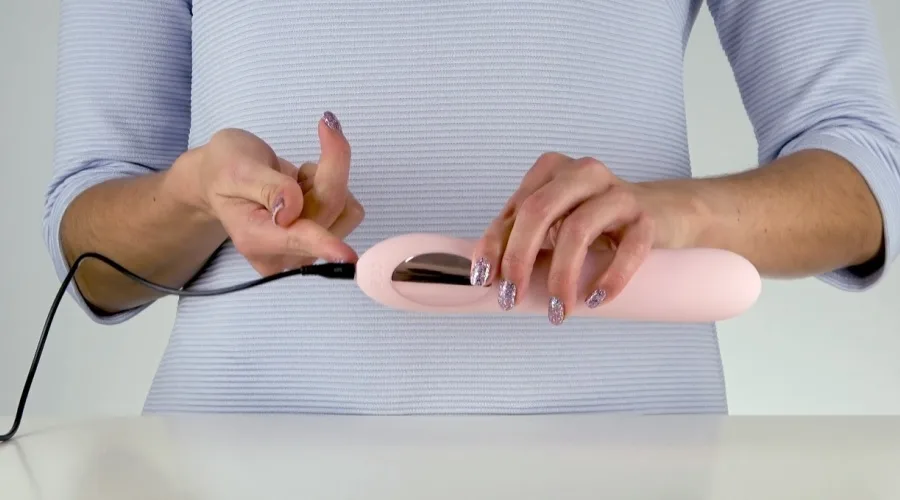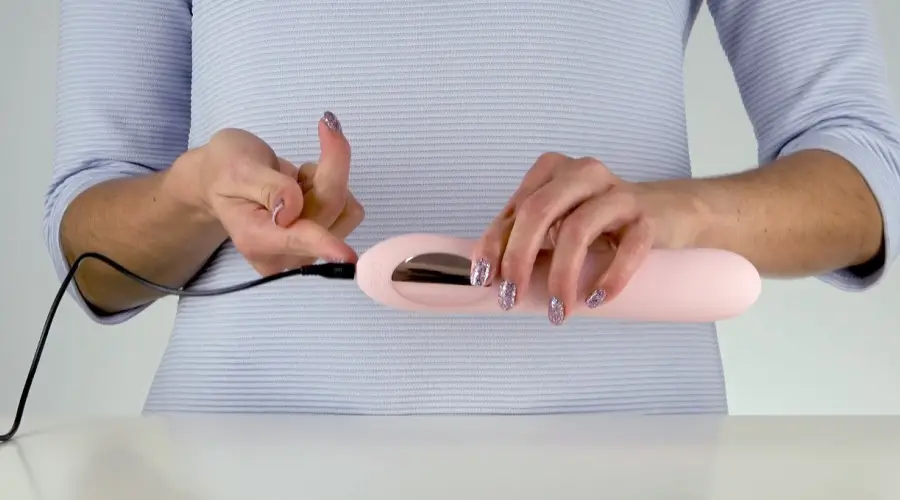 Charging is through a USB 2.5mm spike charger cable, which can feel a little disappointing for a high-tech sex toy; surely Kiiroo could have invested in a magnetic charging solution, similar to rival Lovense.
But this quibble aside, Pearl 3 is a highly functional sex toy that will be incredibly rewarding to users who are seduced by its wicked charms delivered straight to the g-spot.
If this sounds like what you want, take the plunge with us.
Pros:
G-spot stimulation where you actually need it!
Vibration motors get all the way down to the end, which is the part that actually gets the g-spot
Cons:
OhMiBod Fuse is Loud and Amazing.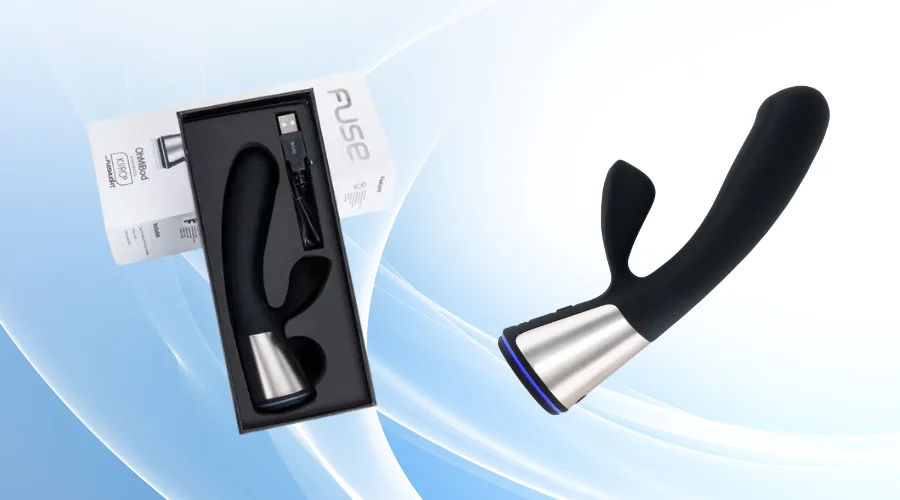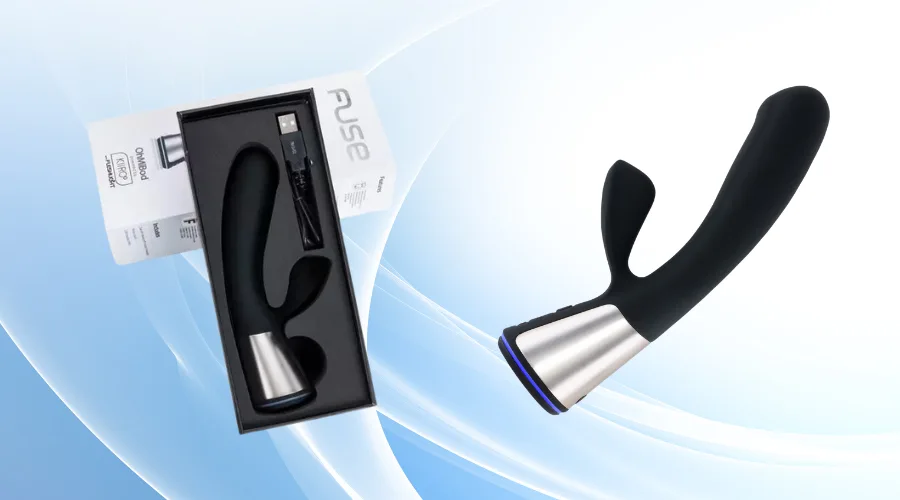 Let's get this out of the way: The OhMiBod Fuse is a very loud device. You can throw subtlety out the window.
Its chunky, thick body pairs up American design house OhMiBod with Dutch teledildonics brand Kiiroo to give you a noisy, body-safe, great-feeling design of orgasmic joy.
If you're someone with a vagina, and you love to feed it powerful vibrations, there's just no reason not to get this little gem of a device.
OhMiBod's design combined with Kiiroo's teledildonics expertise create a unique two-way teledildonic toy that can connect you to either porn or a partner, and either option is going to be an incredibly stimulating and satisfying choice.
The aesthetically pleasing black and brushed-metal appearance also breaks from the obviously phallic designs of other rabbit-type vibrators.
Oh, let's not kid here, any time you have this on display, anyone's going to clock you for the pervert you are. But it's not immediately a dick.
It's compatible either with 2D material or VR, as well, giving you lots of choice in how you want to approach not just your toy but also your porn.
This is a highly recommended option, creating lots of choices for women.
Pros:
Great design
Rabbit vibe is a classic for a reason
Cons:
It is not subtle in ANY WAY.
Kiiroo Lumen Flexes a Great Alliance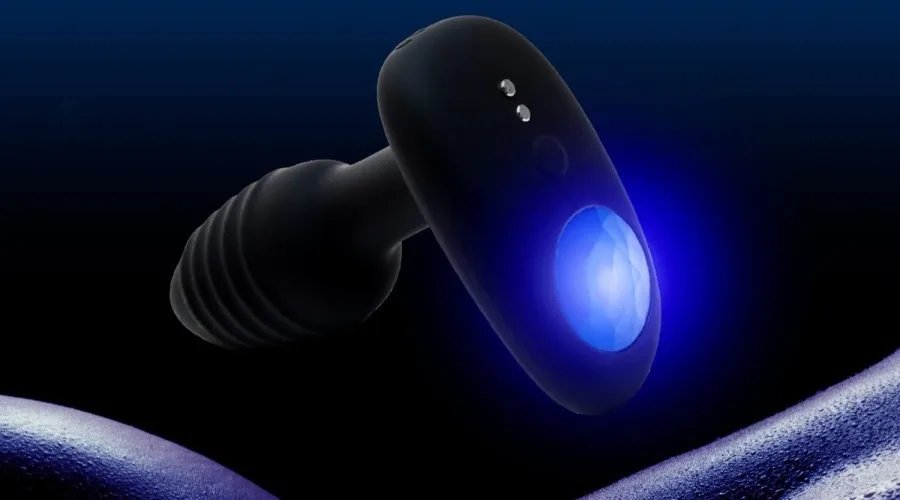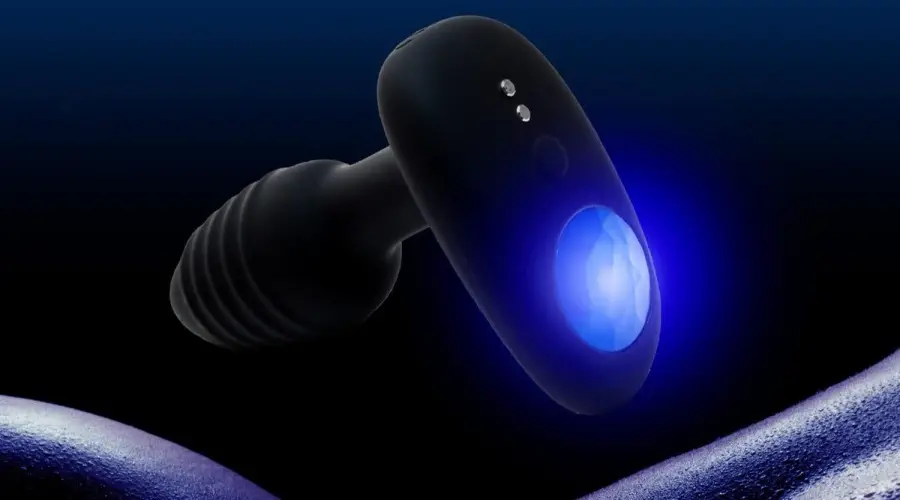 Another collab between American sextech company OhMiBod and Dutch teledildonics firm Kiiroo, the Lumen is a remarkably comfortable and creative butt plug that gives you some great options wrapped up in ribbed silicone, letting you enjoy some amazing anal stimulation.
Its squishy shape and soft tip create a very comfortable insertion scenario (and if you want to know, I've experienced some plugs that are not comfortable to insert).
The neck and base also make it comfortable if you're into wearing it for a while.
Unlike many toys, Lumen doesn't mess with much of this pattern nonsense. Kiiroo and OhMiBod figured out that sex toys don't really like them.
Even though the vibe is more buzzy than rumbly, it's not as much of a disability for an anal toy as it is for a clitoral toy.
Pros:
It's a superb butt plug
Soft-touch material makes insertion easier than other plugs
Cons:
Being positioned between the cheeks can block wireless signals some of the time.
How They Stack Up
The clear winners are the high-end Kiiroo Keon, the impressive OhMiBod/Kiiroo Fuse and readily affordable OMB/Kiiroo Lumen.
The app controls of all three combined with their easy insertability and options make them walking-away winners with strong options for all levels of sexual interactivity.
If you want a sex toy that interacts with either PornHub or VR porn, you really can't go wrong with one of these three toys.
The unfortunate also-rans are also by Kiiroo. Titan and Onyx + have interactivity features that just don't help the fact that they overpromise and under-deliver.
What We Think About All of These
Wow, that's a lot. Sex toys have a history of overpromising, and certainly toys that are compatible with a major website like PornHub are no exception.
But when we sorted through the toys we got for this test, there were far more hits and misses, with some genuine standouts.
Keon, Fuse, and Lumen are worthy additions to your toybox, along with Sam and Alex if you're a penis-haver.
In any case, we love most of these toys and would definitely give them another stay on our Island of Misfit Toys.