Though, every relationship has its ups and downs and requires efforts and commitment; a long distance relationship needs special efforts and extra commitment from both sides to make things happen.
A long distance relationship is the one, in which, both partners are not present in the same location; so it has its share of ups and downs which can be overcome through trust and mutual understanding.
It may happen that in a long distance relationship, you can't meet your partner for months or even years in some cases.
You can talk and share photographs with each other effortlessly; thanks to social media applications which have made the world a small place.
But what to do when nature calls for sexual pleasure? Video calls are not always satisfactory as you can't feel your partner moves. You can't feel your lover!
Hence, people, in a long distance relationship, since it is easy to cheat, are more inclined towards infidelity when they give in to somebody, physically close to them, for sexual pleasure.
Here comes into the picture, long distance sex toys, through which you can actually feel your partner's moves, no matter the distance whatsoever.
Long distance sex toys enable you to enjoy sex with your partner, even though you are not in the same bedroom.
We wrote this post to share with you the 7 best sex toys for long distance relationships right now to keep the passion and the sensual heat of love-making alive across borders.
To ensure you don't get counterfeit or defective products, NEVER purchase any sex toy from Amazon or Ebay. I strongly recommend that you order only from trusted and authorized dealers or official stores, like the ones mentioned in this post. Stay safe and have fun! 😀

1. The Kiiroo Couple Set (Pearl2 & Onyx2)


Don't want to miss your lover's intimate touch when you are staying separate from him/her? Go for the Kiiroo's Couple Set including Pearl2- the vibrator for her and Onyx2- the masturbator for him.
It might be a little more expensive, as compared to other long distance sex toys, but its ultimate performance is definitely worth the cost.
With its own video calling app along with, the Kiiroo Couple Set will definitely make your long distance sex session steamy and full of pleasure.
All you need to do is close your eyes, and feel the give and take sensation as if you are right there with your partner in the same bed.
Also, you get carry cases and even access to limited edition porn content with these. Plus, Kiiroo also supplies sets for female-same-sex as well as male-same-sex couples.
Pros:
Aesthetically designed
Made up of good quality soft material
Cons:
Emits bright red light
Sound from Onyx2 is loud as compared to other similar sex toys
Click here to read the full Kiiroo review
>> Check the Price of the Kiiroo Couple Set
2. Lovense Max and Nora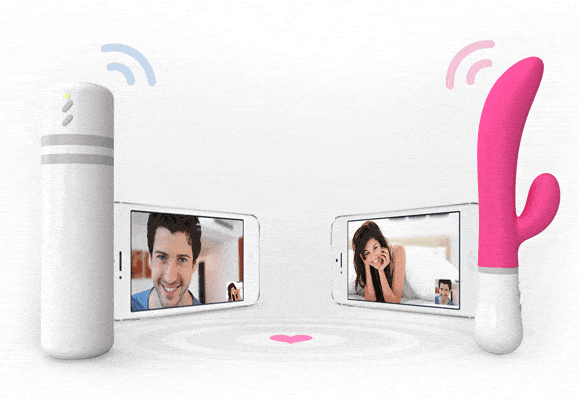 The Lovense Max and Nora are other popular options on the list of the best sex toys for LDRs.
Max for him and Nora for her are designed to make your long distance sex life spicy and full of sensual excitement.
Nora's vibrating as well as rotating arm are designed to give you that ultimate orgasm as if your partner is right there with you in the same room. Moreover, if you like to have sex in the shower, Nora is waterproof to give you that extended pleasure.
Max, made up of premium material, feels realistically skin-like and brings you the pleasure of vibration and contraction together as if your tool was really penetrating the love hole of your partner.
Pros:
Quick response time
Comes with a native video chat application
The platform for video and audio chat is encrypted, and your chats are private
You can record moves and audios for each session
It is compact and can fully be controlled via your smartphone
Cons:
Vibrations for Nora are not that strong
The chat application is not that good, but you can connect with Skype too
Max might seem too tight for some men
Click here to read the full Lovense review
>> Check the Price of the Lovense Couple Set
3. Lovense Lush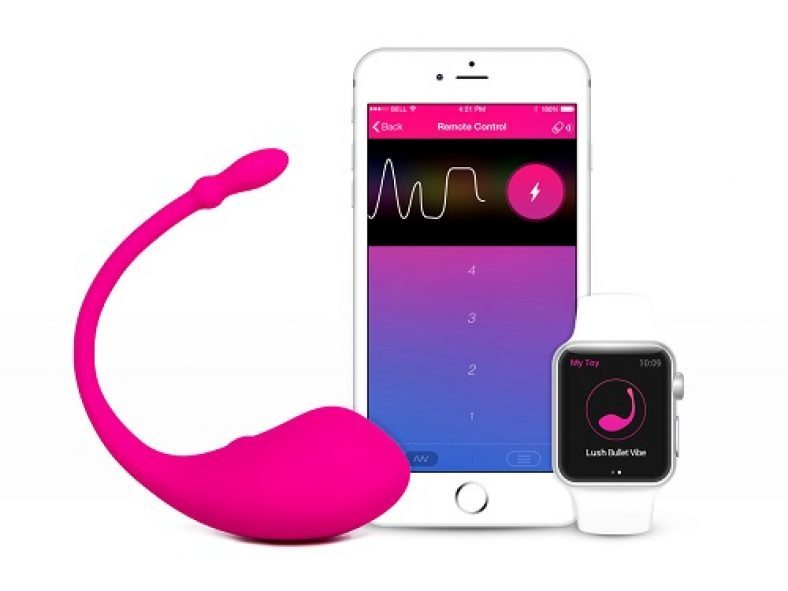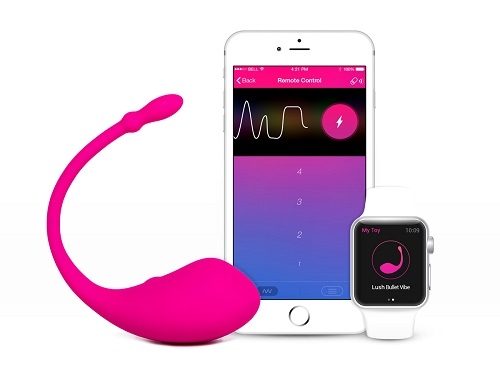 Lush from Lovense is a great tool for females to enjoy their act solo or get the toy controlled by their partner.
The best thing about Lush is that it is an internal vibrator and you don't have to put it through your panties.
If you see the device; it is curved which makes it hit your G-Spot with powerful vibrations that will arouse you to the maximum possible content. Moreover, Lush is not at all loud.
Being an internal vibrator, it is close to silent, so nobody will be able to hear it. But don't expect the same if you moan loudly as realistic sexual pleasure is guaranteed.
Pros:
The vibrations are very powerful : you won't need any other sex toy, after this, for achieving that ultimate orgasm
The material is safe, of high quality and is super comfortable.
Cons:
You might face some connectivity issues while using it paired to your phone
Click here to read the full Lush review
>> Check the Price of the Lovense Lush
4. Lovense Hush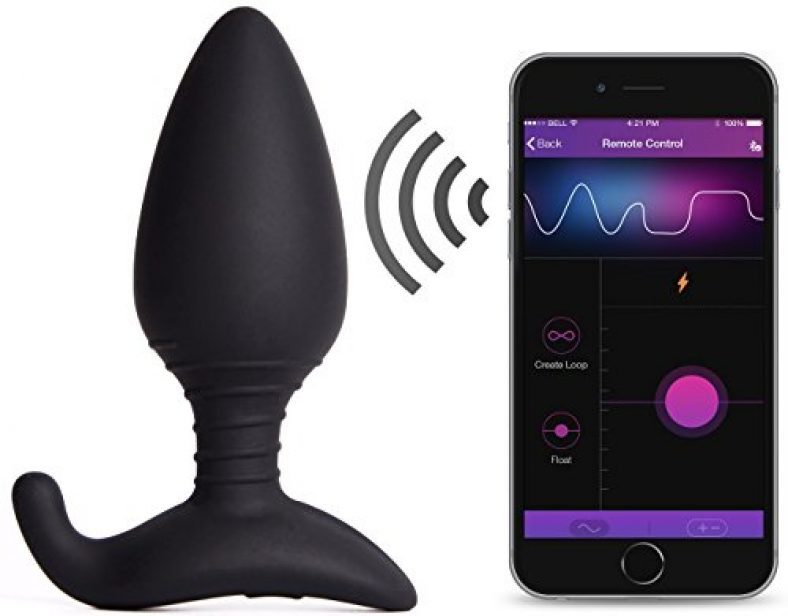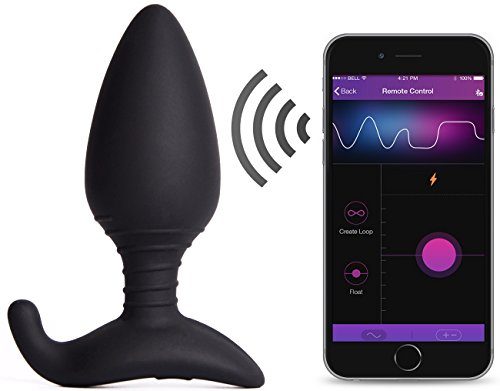 If you and your partner enjoy some butt sessions, then Hush is the best device for both of you.
The device plugs into your butt and can be remotely controlled by your partner to get that sense of pleasurable touch in your butt.
It comes with the size options of 1.5 inches or 1.75 inches. Both are available at the same price, so you need to select the one which suits you best.
Luckily, when you purchase two together, one for you and another one for your partner, you get a discount.
Pros:
One of the best sex toys for remotely controlled butt session
Good quality, convenient and comfortable material
Cons:
You might face some connectivity issues
Click here to read the full Hush review
>> Check the Price of the Lovense Hush
5. Fleshlight Launch


Update
Sadly
the Fleshlight Launch designed by Kiiroo is no longer available
. No idea what happened between the 2 companies, but it seems that they don't plan on selling this product in the future ever again.
The good news is that they are many strong alternatives on the market such as the Kiiroo Onyx + (our review), the Kiiroo Titan (our review) and the Lovense Max 2 (our review).
These 3 products are amazing high-tech masturbators that have mostly the same features as the Launch did.
Fleshlight Launch, compatible with Pearl2 and Fuse, is an automatic masturbator for men. It comes with specially encoded VR content and gives you up to 180 strokes per minute.
Fleshlight Launch is compatible with Pearl2 and Ohmibod Fuse so you can have a remote, real-time sex session with your partner which mimics real-life intercourse.
All of you guys out there who are in a long distance relationship, the experience of vaginal intercourse which you get with Fleshlight Launch is incomparable with other sex toys.
The autopilot mode along with premium VR porn is even capable of mimicking the experience of a real-life blowjob as well as oral sex.
It provides you with two modes: manual and interactive.
In manual mode, the Launch can perform up to 180 strokes per minute
In interactive mode, the strokes are automatic and synchronized with content on FeelYourLover, FeelVideos, FeelVirtualReality, FeelWebcams, FeelGames
Pros:
Fully immersive experience mimicking real-life intercourse, oral sex or blowjob
Lots of high-end immersive content available along with
Compatible with all third-party interactive content
Cons:
Click here to read the full Launch review
>> Check the Price of the Fleshlight Launch
6. Vibease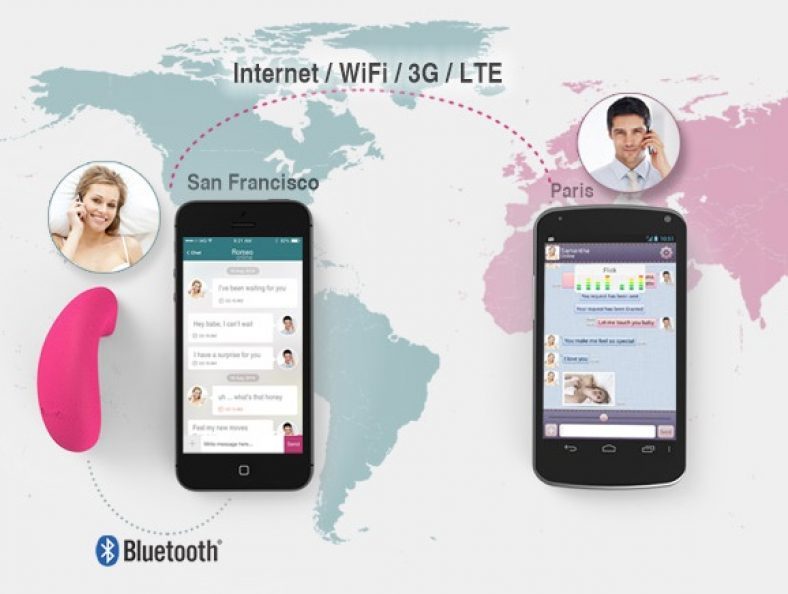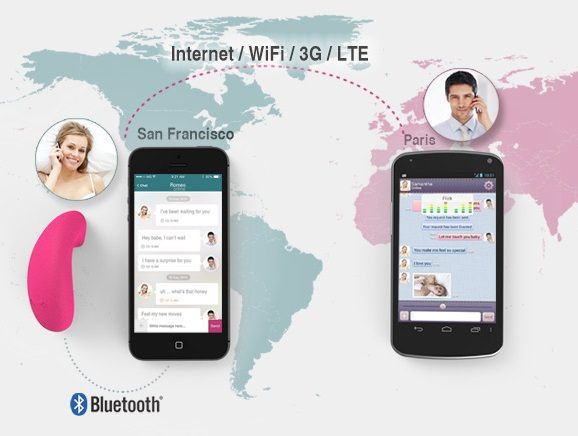 This long distance sex toy is great for females who are looking to try out sex toys for the first time.
You can comfortably wear the Vibease inside your panties. It is controlled by an application so the distance between you and your partner really doesn't matter. You can even use it solo.
You can also choose an erotic story from Vibease Fantasy Store according to your preferences, and all vibrations of Vibease will get synced with the story providing you with erotic vibrations in your vagina just as it is being told in the fantasy story.
Pros:
The price falls within, almost, every budget
The device fits well in panties and is completely silent, so you can even try it out in public and have loads of fun
Made up of good quality material
Cons:
Might not be comfortable while walking or moving
You might face some connectivity issues while using it
Click here to read the full Vibease review
7. We-Vibe Sync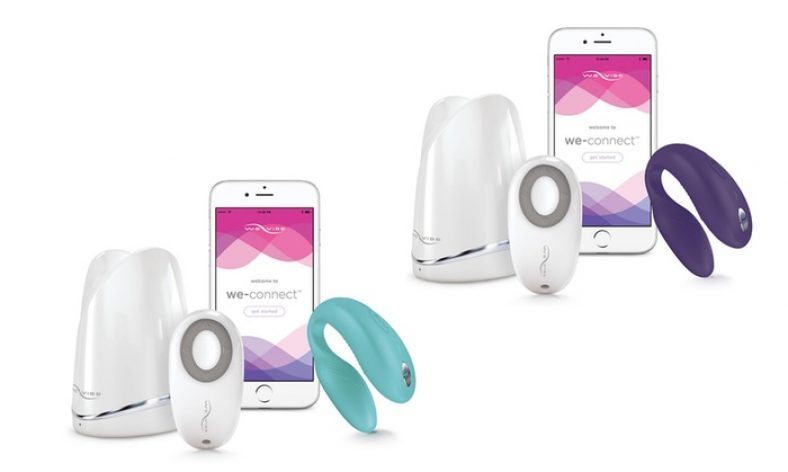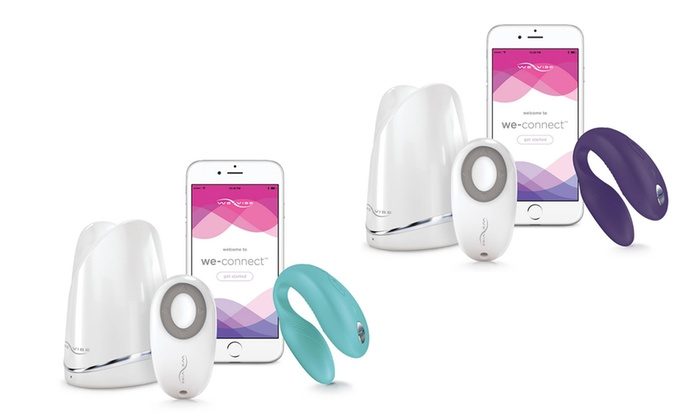 Just like the Lovense Lush, We-Vibe Sync is shaped to stimulate your G-Spot perfectly.
What is the best thing about We-Vibe? It is designed to stimulate, both, your clitoris as well as G-Spot together to give you that ultimate orgasm that will satisfy all your senses.
Most female sex toys which provide both internal as well as external stimulation simultaneously don't provide sufficient amount of pleasure to your clitoris.
However, this is not the case with We-Vibe, as the external arm is big enough to rub your clitoris in a satisfying way.
There are 10 vibration modes to choose from. You can even mix up different vibration modes to give your vagina a great sexual surprise.
You can control the device yourself or let your partner control it. If your partner is physically present; you and him and can enjoy it together during your sex session to add more spice to it. Share the vibe!
Pros:
Can stimulate your G-Spot and clitoris with equal intensity at the same time
10 vibration modes to choose from
You can even prepare a custom playlist for yourself and sync the device to your music
Can be used during penetrative sex with your lover to share the vibrations
Cons:
You might not find it comfortable during your initial tries. It will take time to get used to it.
The application for We-Vibe is reported to crash a lot many times in between disturbing the entire experience
>> Check the Price of the We-Vibe Sync
Conclusion
We have reached the end of this post about the 7 best sex toys for LDRs currently on the market.
So, go ahead and choose whatever long distance sex toy which suits you and adds the much needed sexual spice in your long distance relationship.
What is my personal favorite though? Definitely the Lovense Lush 😉