Pornhub gets over 80 million daily visits. It is the number one porn site in the world, so when it comes to sex, they know their stuff.
Their official Pornhub sex toy collection is designed to take your sexual satisfaction to the next level. They have a wide range of toys designed for men, women, and couples.
All these toys have been seamlessly integrated with the latest in advanced technology and virtual reality, to create an experience that will literally blow your mind.
If you are a fan of Pornhub's toys, then you will really love this one. The Virtual Blowbot Stroker is another amazing adult toy from Pornhub.
It is guaranteed to make you lose your mind and make you orgasm like you never have before.
Out of stock?
If the Virtual Blowbot Stroker is out of stock,
don't panic
!
Just go for the exact same masturbator, minus the PornHub branding. Indeed, the Kiiroo Titan is the same product with the same features made by the same company (Kiiroo) but under a different name.
Read our review of the Kiiroo Titan or access the official store.
>> Click here to check the price of the Blowbot Stroker now
What It The PornHub Stroker?
The Virtual Blowbot Stroker is the ultimate sex toy built to make you have the most intense orgasm. It was produced by sex toy retailer Ann Summers using KIIROO technology for Pornhub.
It is a virtual sex toy that synchronizes its vibrations with a porn video on Pornhub or a remotely controlled sex toy that has been paired to it.
This means it mimics the movements and motions of either a remote device or the video you are watching.
It can also be used offline as a manual solo device, where you control the intensity of the vibrations yourself using the buttons on the touch selection area.
It has been specially designed with realistic ridges on the inside texture, which will compound and intensify every sensation. It is the perfect toy for anyone who has been looking for the most life-like experience from a sex toy.
Main Features
The Virtual Blowbot Stroker is a long black and yellow box that comes in a black matte finish with a gloss finger-touch selection area. It has a cap on one side that opens up to reveal the hole.
The opposite side has a fancy Pornhub logo. Right above the hole on the outside of the stroker is the USB port which is used to charge the device.
Weighing a comfortable 150 grams, it has a three-inch wide stretchable hole that is 16.5cm deep, so any man can comfortably fit inside.
It uses a lithium-ion polymer 1000mAh battery that fully charges in 4-6 hours. You can use the stroker for up to one hour of continuous play time.
Inside, it has a soft stimulation sleeve that has been designed with realistically textured ridges.
This makes for the most intense world shattering orgasms you have ever had. It utilizes a combination of intense stimulation and virtual experiences through advanced technological design to make you lose your mind as you orgasm like you never have before.
It is USB rechargeable, coming with its own specialized cable. It is also Bluetooth compatible and it comes with a Pornhub warranty.
The Bluetooth compatibility makes it function over short distances, such as when both you and your partner are in the same room. To function over long distances, it uses internet connectivity linked through the app.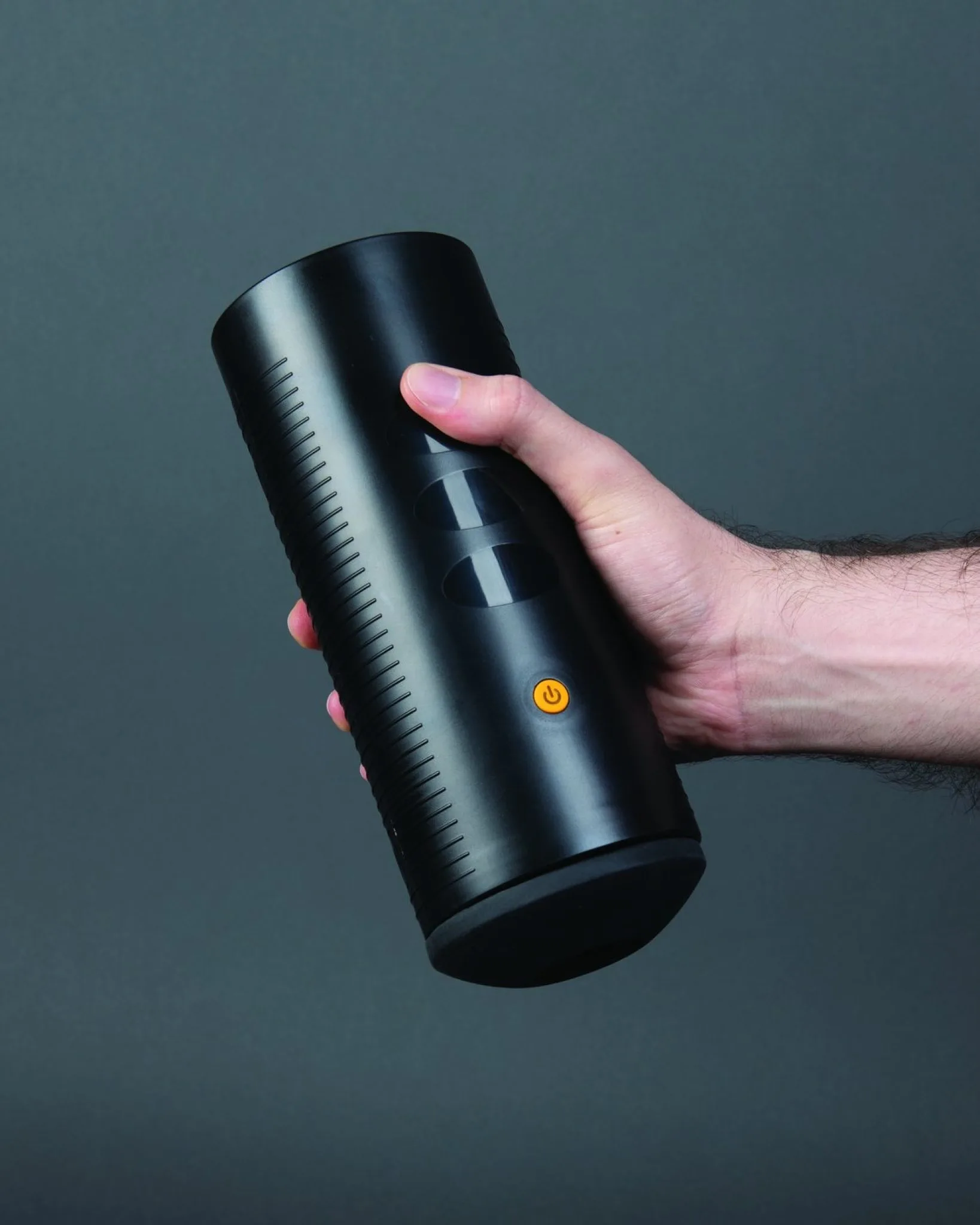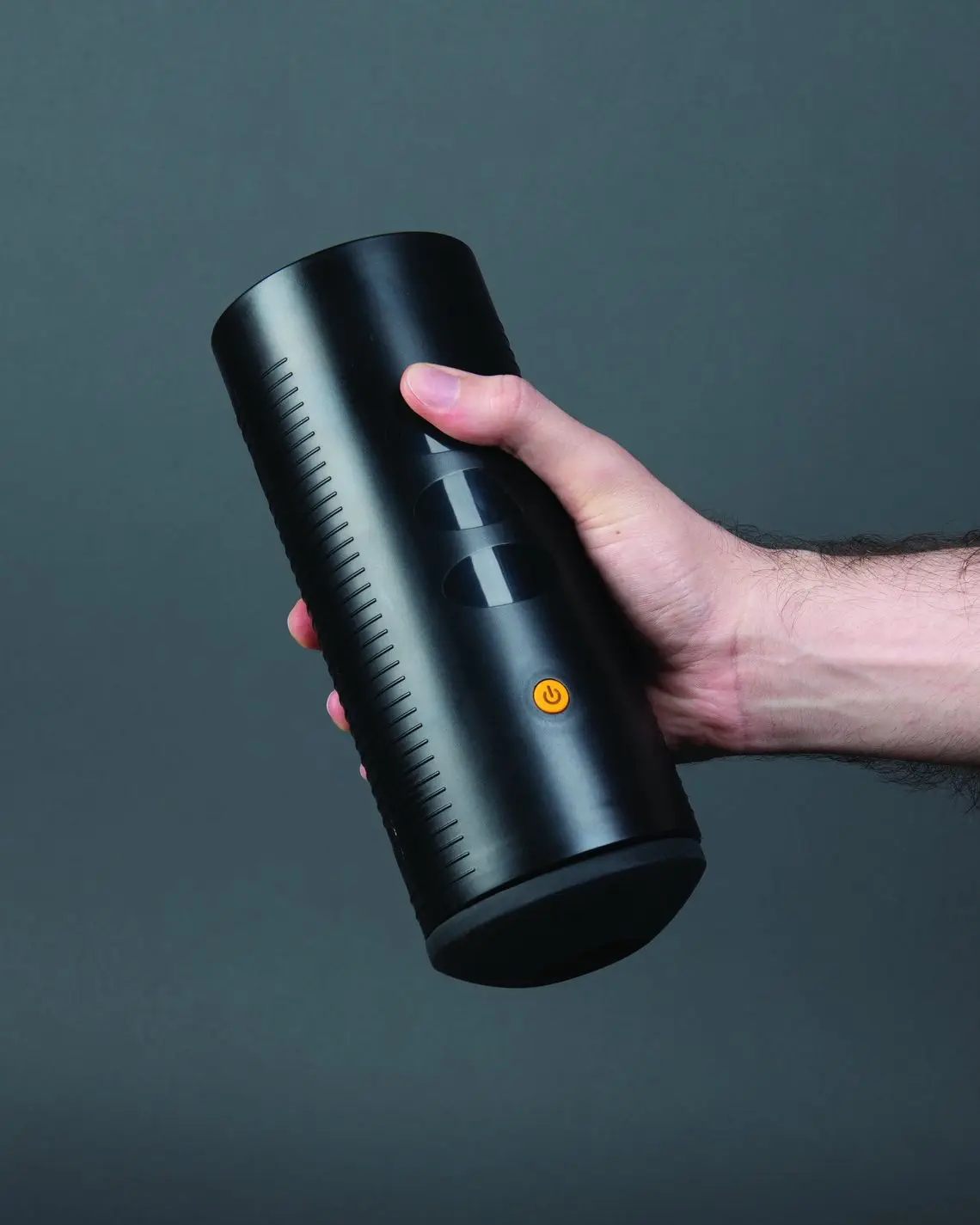 It is a very versatile toy because you can personalize how you want to use it. It can be used in three main ways:
1. You can choose to connect it with compatible interactive Pornhub videos or webcams. This means as you watch the video, the Virtual Blowbot Stroker will mimic the motions and movements as they happen on screen. You will get to feel the motions first hand and get totally immersed into what is going on on the screen.
2. You can also choose to be nice and share the fun with your partner, or partners, using the Blowbot Stroker. Using the Feel Connect app, synch the stroker with any other Pornhub interactive toy of your choice. This will make you feel your partner's movements so that you can enjoy the experience together, no matter how far away you are from each other. The Feel Connect App is available for free download in all major app stores.
3. You can finally choose to play solo. Switch to manual mode and let your Virtual Blowbot Stroker take you to heaven. Be in control by using the touch sensor to increase or decrease the speed of the stroker for an even more intense experience.
The Blowbot Stroker has seven different vibration modes to cater to whatever mood you are in during your play time. You can increase or reduce the intensity of the vibrations using the control buttons on the touch selection area.
It is also very easy to clean because the inside sleeve is removable. It is good practice to clean you Blowbot Stroker after every use. Use anti-bacterial sex toy cleaners on the sleeve to do this.
If you do not have these cleaners at hand, use a little warm water and mild baby soap. Make sure you clean the outer part of the sleeve, turn it inside out and clean the inside too.
Rinse it with warm water and let it naturally dry for a few hours or use an air drier.
Using strong detergents or alcohol-based disinfectants will damage the material of the sleeve, causing cracking, drying or general degradation.
Also, do not put the sleeve back into the stroker while it is still wet. The moisture will cause the growth of bacteria and fungi, ruining your expensive stroker.
Finally, be sure to use a good quality water based lubricant when using the Blowbot stroker. There are special sex toy lubricants that will be perfect to use with it. This will ensure you have the most comfortable and satisfying experience.
Contents Of The Box
The Virtual Blowbot Stroker comes in a fancy black box with light transparent water resistant plastic wrapping. The box highlights the main features and functionalities of the stroker.
To unbox it, you first have to tear away the plastic wrapping. The box is delightfully packed and contains one virtual Blowbot stroker, an extra sleeve in a plastic wrapper, and a USB cable for charging the device.
It also comes with a 1-year warranty card and a product manual.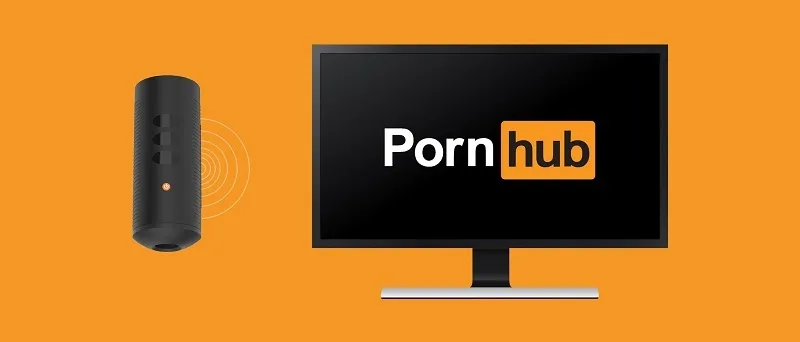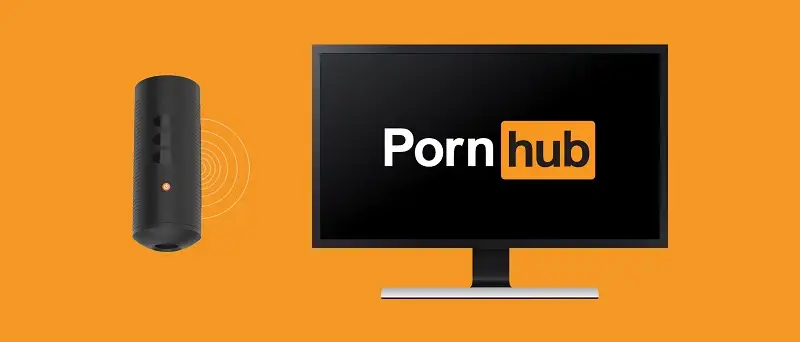 How Does it Work?
The Virtual Blowbot Stroker works by synchronizing its vibrations with Pornhub videos or with other compatible sex toys with KIIROO technology.
KIIROO is one of the leading makers and retailers of virtual sex software and toys in the world, so it is fitting that a Pornhub-KIIROO partnership happened.
Syncing is done by Bluetooth over shorter distances, or by internet if the other partner device is further away. Alternatively, it can be switched to the manual mode where it has 7 vibration modes.
The Blowbot stroker stands out because it stimulates the entirety of the shaft because it has a structured stimulation sleeve. This further intensifies the orgasm, because the stimulations reach all the pleasure points along the shaft of the penis.
No matter what your size is, the stroker will definitely get you to wherever you want to get to.
When you buy it, be sure to charge it for at least 6 hours before the first use. To turn it on, long press the + button for a few seconds. Once the stroker lights up, you will be able to find it when you search for nearby Bluetooth devices on your phone.
You can then scan a QR code that you will get on the Pornhub website to link your stroker to the video you want to watch.
When using it, it syncs with the Pornhub interactive video you are watching and mimics the movements on screen. This can make you feel immersed into the moment, intensifying the orgasm.
You can make your experience even more immersive by using a VR headset to watch Pornhub's interactive VR videos.
Through the wonders of virtual reality, you can see and almost feel what the pornstar in the video is feeling. This will guarantee the most earth-shattering orgasm you have ever had.
Another way in which the stroker works is by creating shared sexual experiences.
When you connect it with other compatible toys, you get to spread the joy and share the experience with your partner by controlling each other's toys remotely.
Whether you are in the same room or across the world from each other, this is the perfect way for you to feel more intimate and closer to each other.
You can even go a step further and connect it with multiple partners, guaranteeing an amazing and unique experience for everyone.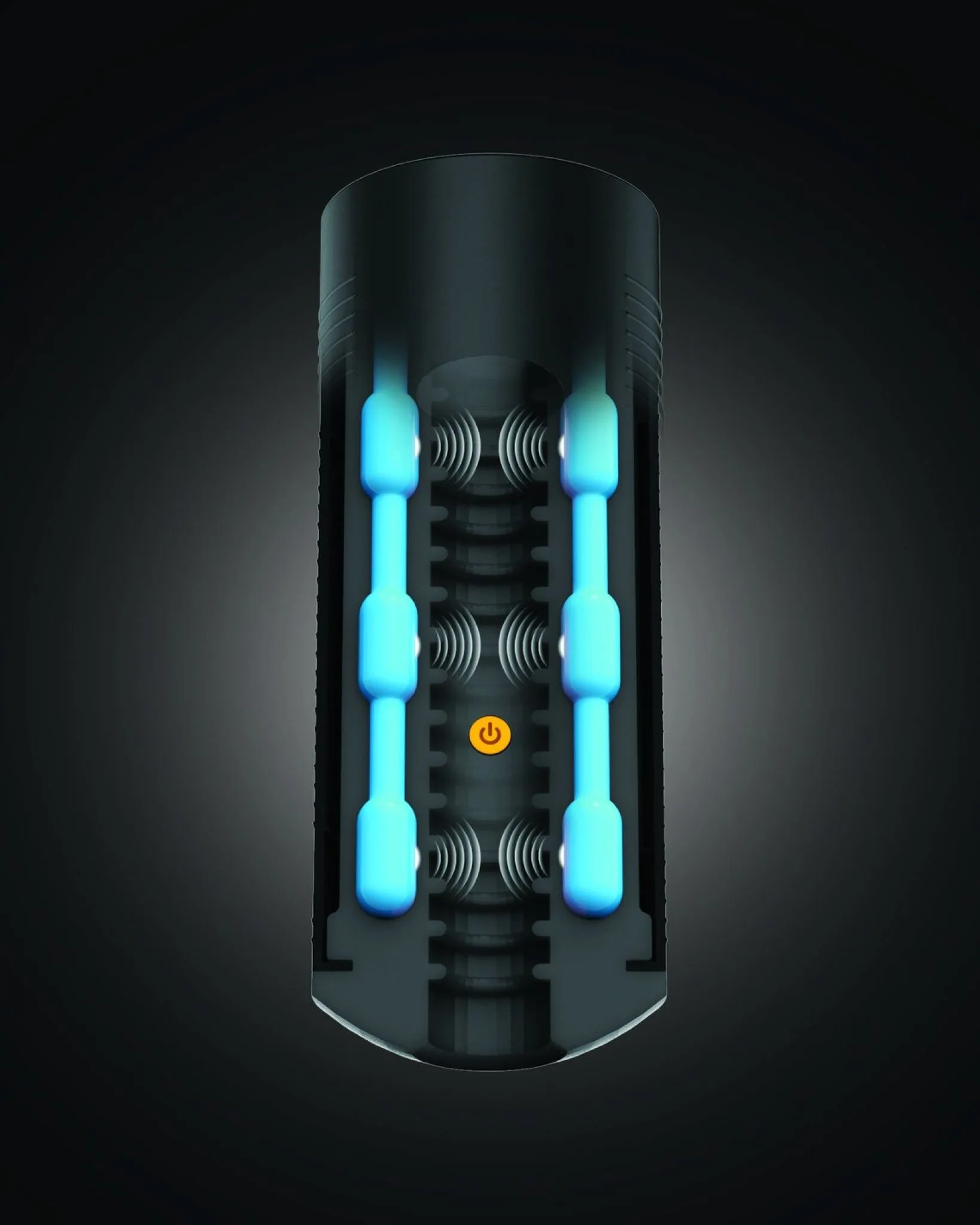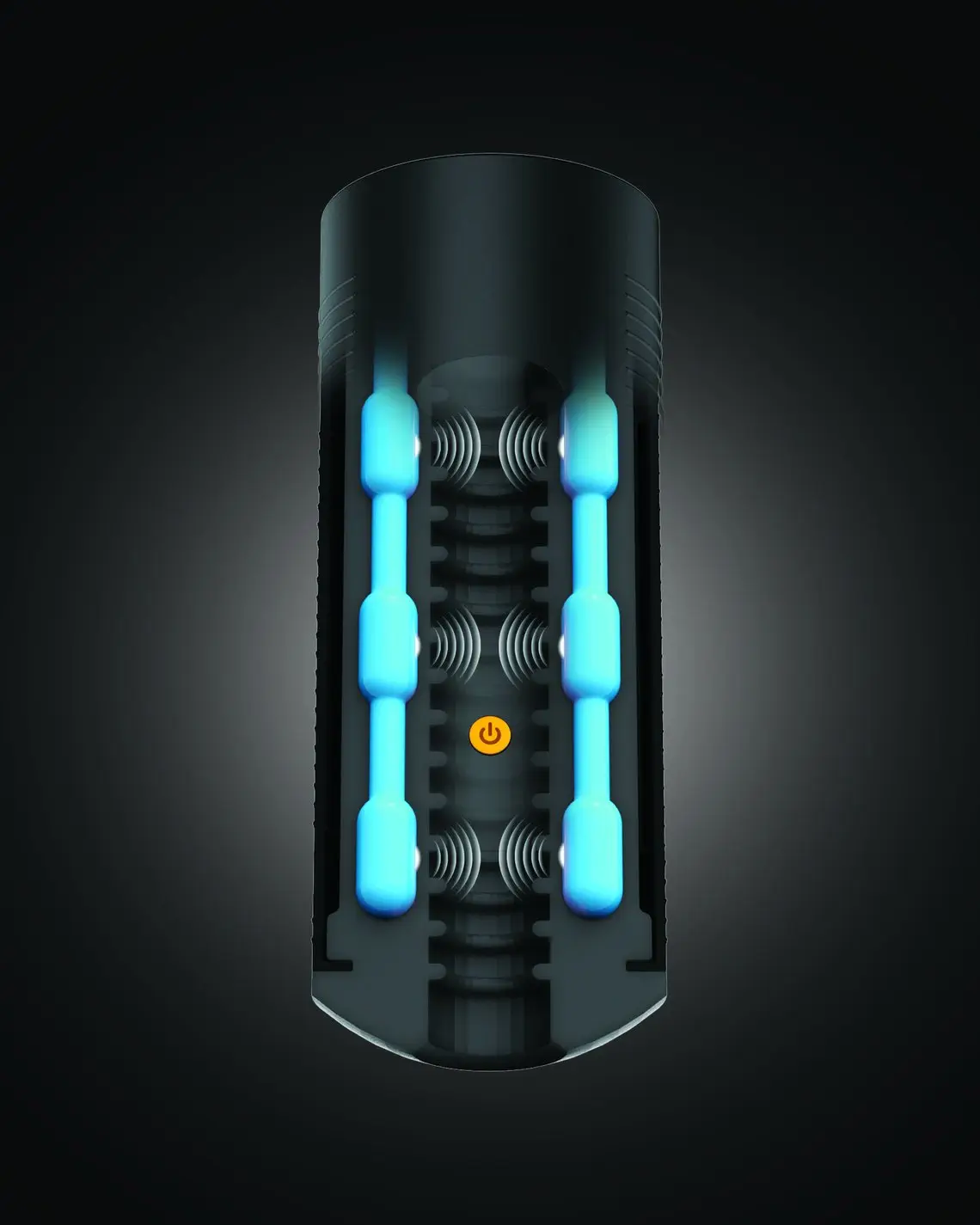 How Does It Feel?
The Virtual Blowbot Stroker feels almost like the real thing when you use it. The inside walls expand and contract around your penis, tightening and releasing their grip around it in tune with the motions of the video you are watching or the vibration setting you are on.
This is because the inside has been specially designed with realistic ridges to mimic exactly what you would expect to feel when having real sexual intercourse.
These ridges, coupled with the intense stimulation and the virtual experiences from Pornhub, creates an irresistible recipe for the most toe-curling, spasm-inducing orgasm you will ever get from a sex toy.
How does it feel? It feels so indescribably amazing you will lose your mind!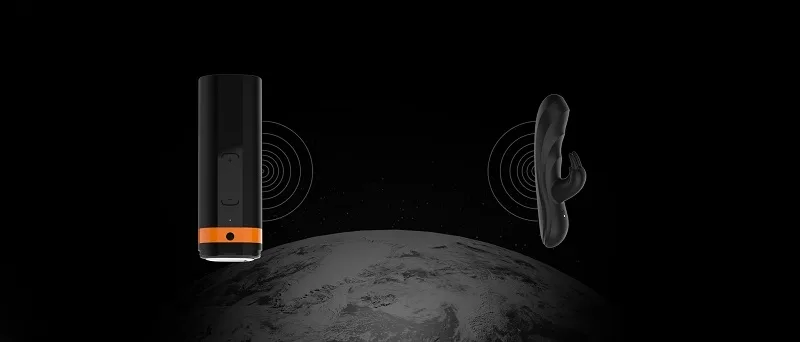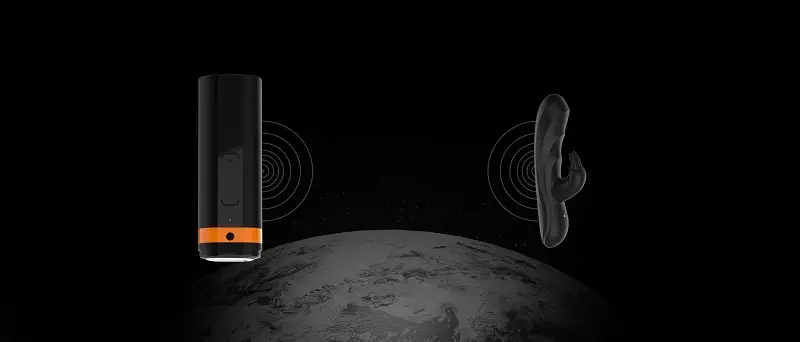 Pros
The Virtual Blowbot Stroker has many pros. Here are just a few of them:
You can use it in a variety of ways. It allows for the kind of flexibility that most toys do not. You can use it as a normal fleshlight with or without the seven vibrator settings. You can also use to spice up your video or webcam watching experience, by utilizing Pornhub's interactive videos. Finally, you can use it as a way to connect with your partner sexually, no matter how far you are from each other.
It can be used to stimulate multiple partners at the same time.
It takes advantage of innovative technologies to give every user an unforgettable orgasmic experience.
Cons
It can be quite expensive like most high-end sex toys tend to be. This can be a turn off for most people since not many people would be willing to spend so much on something they will probably not be using every day. However, depending on who you are and your masturbation habits, it could actually be a good investment.
There is a limited variety of interactive Pornhub videos to get off too on the site. With just under 1500 videos available at the time of this review, it is easy to miss what you are looking for. However, Pornhub promised to be adding 5 interactive videos per day at the product launch, and so far they have kept their word.
The Virtual Blowbot Stroker looks a little blocky for a sex toy. Although the design makes sense from a branding point of view, complete with the yellow and black, as a sex toy it lacks the appeal that most other toys have. However, you definitely will not be thinking about the design of the toy when you use it, will you?
It can take quite a bit of time to set up and sync it with the video you want. You might have lost the urge by the time the sync works. However, on the plus side, the convenient manual mode is perfect for those situations when you want instant satisfaction, perhaps after getting turned on by something you just saw.
Verdict – Who Is It For and Why?
This toy is perfect for any adventurous man who is not afraid to express himself sexually. It allows you to experience sex from a different angle.
Being a market leader and innovator, Pornhub has made sure that its toys offer the kind of versatility and functionality that is still hard to get in the industry because the technology is still in its infancy.
This means you get to experience sex the way it will be in the future, which only adds to the excitement.
The Virtual Blowbot Stroker is also perfect for you if you are in a long distance relationship but you still want to spice things up.
By using it with other compatible Pornhub toys, you and your partner can still share and experience each other, no matter what the distance between you is.
>> Click here to check the price of the Virtual Blowbot Stroker now