Most of us are all too familiar with the traditional non-VR porn industry.
We are no strangers to the grainy video qualities, weird or undesirable angles, and boring cinematography.
What if you could have control over the way you viewed your content, adjusting angles and resolutions to suit your every desire?
Imagine what it would be like if you could watch porn that is so realistic, and with such high definition, that it actually felt like you were there in the room with your fantasies.
This experience pales its non-VR predecessors and brings a level of intimacy that is as close to the real thing as one can get with technology.
The old ways and days of traditional porn that can leave you feeling a bit like an outsider and on looking creeper are coming to an end.
Welcome to the newest wave of technology and the world of virtual reality porn.
Say goodbye to the old and boring spank bank, and say hello to an experience that is so lifelike that you will wonder if it counts as cheating.
Beginning with roots in the video game world, virtual reality has been a thing for a little while now.
So, it was naturally only a matter of time before human sexuality mixed with this amazing technology and the porn industry got a hold of it.
They then did humanity an immense favor took the VR experience to an entirely new and unprecedented level.
Being the new kids on the VR block, it is best to keep in mind that all of these sites are still somewhat in the fledgling stages and are sure to keep moving forward with improvements in their volume, resolution, and viewing options.
Everyone has a preference for what genre of adult entertainment they like, and I can promise that there's something here on this list for everyone.
So, break out your toys, the lube, and your VR sets, because here we come! (Quite literally.)
#1 VIRTUAL REAL PORN


The runner-up in this competition, and only so because of the fact that this site lacks the Virtual Theater Mode that BaDoinkVR provides, has much more to offer, specifically speaking in terms of sheer available content volume, than many of the other competing sites.
It is a breeze to navigate and is updated weekly, giving you fresh new content to view on the regular.
The system of Virtual Real Porn (read our review) is one of the only sites that support teledildonics and even has adult games to play, which is fun for gamers and those really wanting to switch things up and a major plus.
Like its previously mentioned rival, you have the option of streaming or downloading material, and the price is still reasonable, especially when we consider the amount of content that is made available and kept fresh.
Sounds awesome, right? It is. The only fault that I can see with this particular site is that it doesn't allow for the convenience of a bundle subscription.
Maybe they'll read this and work on that. One can hope.
➡️ Click here to learn more about Virtual Real Porn!
#2 NAUGHTY AMERICA VR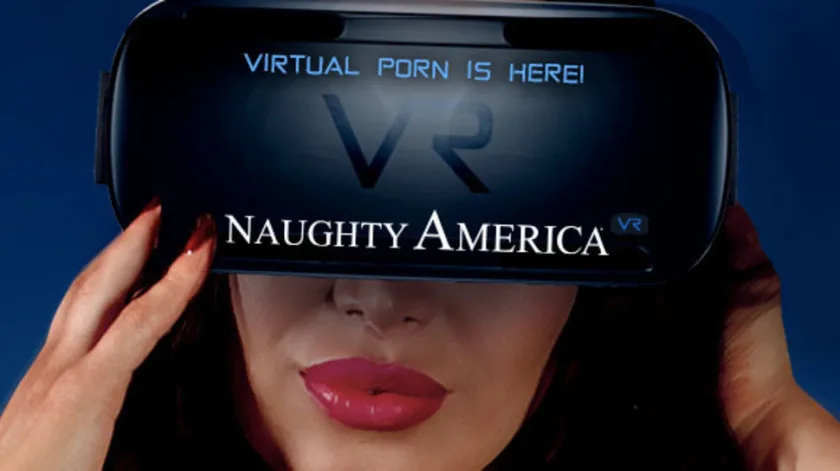 The bronze medal goes to this worthy site, NAUGHTY AMERICA VR,  and it sits in the #3 spot rightfully.
Part of the reason it's here is because when you subscribe to it, you get full access to all of the Naughty America brands (over 70 other products, including both VR and non-VR content), and that's a lot of material!
Like most of the competitors, it offers downloads and streaming, and the site updates once a week.
The subscriptions offer more quality bang for your buck, but beware that the VR content is scarce during the trial periods, so don't judge this book by its cover.
The site also offers non-VR content, which is a plus for those that like things a little old school or prefer to view their videos in this form of media.
They even offer a handful of interactive FeelMe scenes for those that like things more personalized, something no other site that I've visited can boast.
➡️ Click here to learn more about Naughty America VR!
#3 WANKZ VR


Perhaps the best and most enticing thing about Wankz VR is that it gives you access to other sister sites, such as MilfVR, ultimately giving you virtually unlimited and endless possible content.
Like the other competitors, it also offers both downloading and streaming, as well as a healthy selection of non-VR scenes and videos to enjoy.
The subscription isn't unrealistically pricey and they provide themed scene options that many competitors don't, as well as much lengthier video options than most of their competitors.
The site has fewer videos than some rivals and isn't teledildonics compatible, but if you're just venturing into the world of VR adult entertainment, this might just be the perfect place to start your adventure.
Over 220 scenes and 190 performers can be viewed and enjoyed here, over and over again.
➡️ Click here to get unlimited access to Wankz VR!
#4 CZECH VR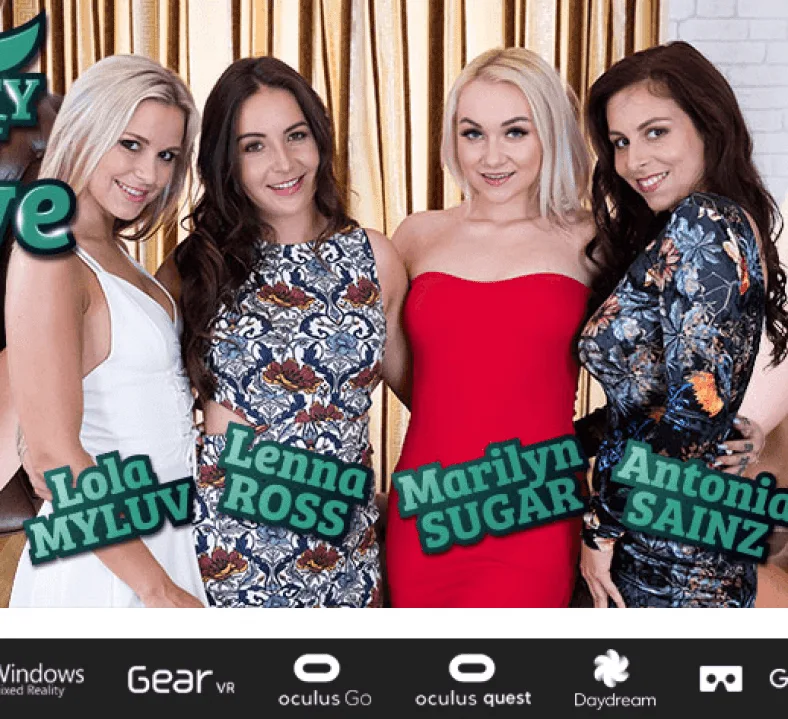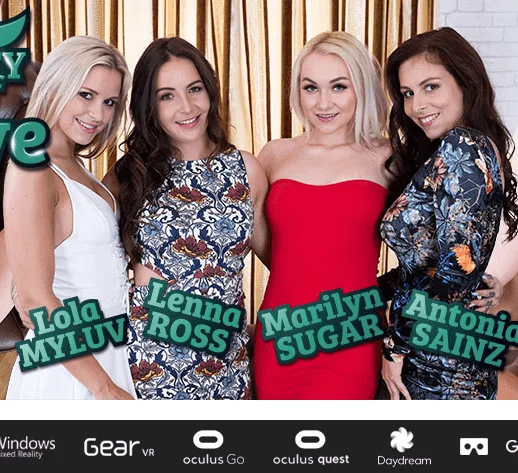 Ah, our first Czech fetish site has made the list!
Those of us that are familiar with such sites can generally imagine the type of content that can be found in full VR here.
Czech VR boasts over 400 scenes, including both VR and non-VR content, with almost 200 performers.
The subscription gives you access to other additional sister sites, so you're sure to find something you like unless you are the kind of person that can neither be pleased nor impressed.
With regular updates, streaming, and downloads as additional perks, the site runs on cutting-edge technology.
If you prefer, you can even watch everything available in the 2D viewing option from the privacy and convenience of your browser.
The site doesn't support teledildonics, is costlier than other competitors' sites, and some of the scenes are much shorter than average, but that can be a plus if you're looking for some quickie content.
The cons of this particular site aren't extensive, nor are they that noteworthy nor problematic, making it a great option to explore the world of VR porn.
➡️ Click here to get instant access to Czech VR and download FREE trailers!
#5 VR BANGERS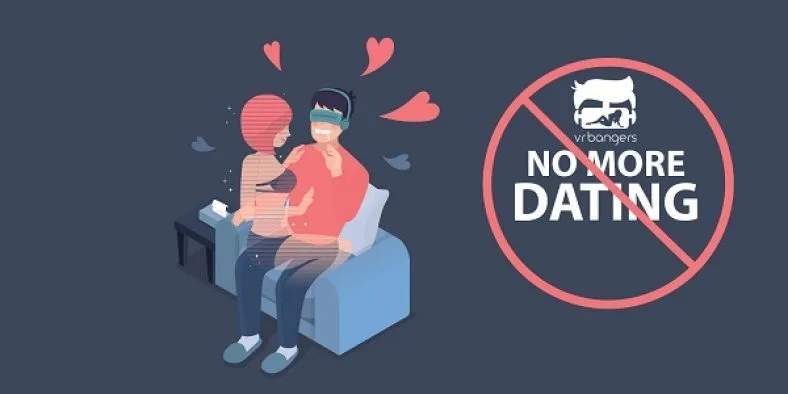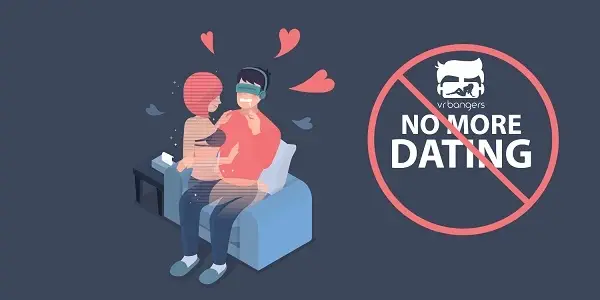 With over 170 videos that are available to you for your personal pleasure, and at multiple viewing angles, with over 125 performers, this site is a strong contender for the top 5.
On VR Bangers, you can find several VR porn games, something few sites can say at this time that they can offer, as well as the harder to find M-F-F scenes, multiple-device compatible VR Player Apps, and Female POV videos galore.
Streaming and downloads are available, but unfortunately, there's no support at this time for those that enjoy exploring the unique possibilities within the realm of teledildonics, and the App is only compatible with some smartphones, so beware of that before purchase.
This isn't a huge deal because, thankfully, the VR industry is still in its beginning stages and is sure to progress leaps and bounds with each technological advancement.
Even still, this is a great and diverse site. It's just not the best out there, in my opinion. Not just yet.
➡️ Click here to learn more about VR Bangers or join now!
#6 HOLOGIRLS VR
This award-winning site has over 215 scenes, 117 performers, and easy navigation due to the user-friendly design of the site. Like all that are listed before, streaming and downloads are available.
What sets this site apart the most is perhaps the 'Best Viewed' option, allowing you to choose the most realistic and preferred angle for each of your VR experiences.
They offer a wide variety of genres, including the beloved girl-on-girl scenes we all occasionally crave.
The subscription is of good value, but they, like many others, don't yet support teledildonics-compatible material, and all of the videos are VR, so there isn't any 2D video content available here, which may not even be a real issue for most VR enthusiasts.
If you want 2D, there are plenty of other sites available to you for that.
#7 REALITY LOVERS


With a large catalog of viewable material, over 300 videos, and over 120 performers, Reality Lovers is also in the running for making the top 5, and it sits in the top 10 for good reason.
This site may not have non-VR materials, streaming, 'Best-Viewed' Indicator, and it isn't teledildonics compatible, but it has some things the other sites don't have.
Here, you have the option to purchase scenes individually or in a subscription, and that is a nice alternative to the options that the competition can deliver.
Multiple angles are available, including POV and Voyeur, and the site hosts an active forum, which is nice for giving your two cents regarding possible improvements, as well as chatting about content and technical support issues.
It has an excellent support team and is the perfect alternative option for those that like to test drive a site's content, without requiring a trial, before subscribing monthly or quarterly.
➡️ Click here to learn more about Reality Lovers and Get a Special Discount!
#8 VRCOSPLAYX
The ComiCon Gods have spoken, and the adult content VR world has answered! Although this site has fewer videos and performers than other sites, it can hardly be compared to them due to the fact that this is a niche site, and there aren't too many of them out there, especially ones like this.
The site doesn't yet support teledildonics, and they don't offer bundles, but the performer variety is great, and the streaming and downloads are lightning fast.
The scenes available are of an impressive variety, especially for a niche site, and a new scene is added each week.
For this site, the annual subscription is the way to go in order to get the most value, and they even have non-VR material. If cosplay is your thing, look no further!
#9 VIRTUAL TABOO


Boasting over 170 scenes and 110 performers that are both professional, famous, and/or amateur, Virtual Taboo offers a few perks that the others just don't, earning itself the final seat in the top 10.
Perhaps the most outstanding attribute is the large selection of girl-on-girl action and the wide variety of up-and-coming performers.
Yes, they have famous people here, but the copious amount of new faces helps keep the material that is available exciting and new.
They update weekly, offer fast downloads, and even have 5k resolution videos for the ultimate VR experience.
The pricing is comparable, though slightly more expensive and they do not host non-VR material, though they may be the perfect option for those that like a specific genre or higher resolutions.
➡️ Click here to learn more about Virtual Taboo and Get 73% Discount!
#10 BaDoinkVR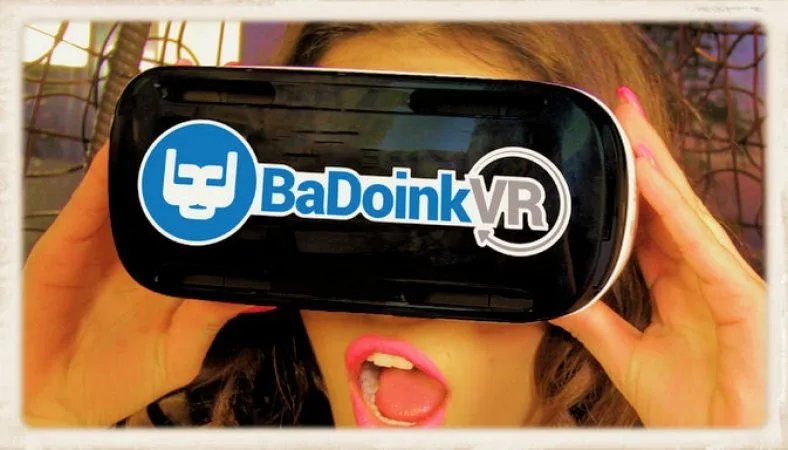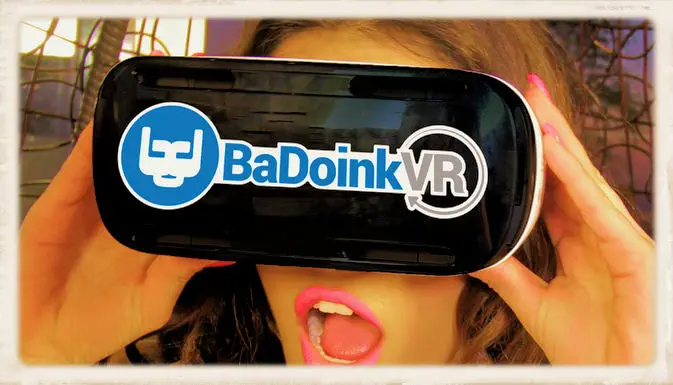 This site is among the highest rated in its class, despite the downfall of it having fewer scenes and performers available, rightfully earning it the throne for the number one spot on this compiled list of sexual VR excellence.
Major and notable perks are that the media is compatible with almost any headset, has an out-of-this-world Virtual Theater Mode, possesses great filters and streaming, offers downloadable options for favorites, and the pricing is more than fair and isn't ridiculous.
It has over 190 videos and over 150 performers, as well as a healthy selection of catalog genres.
On the downside, the number of videos to view is not as expansive as some of the competition and the teledildonics videos are difficult to find on this site, although they are available.
The overall quality of their selection is top-notch and extremely competitive, almost nullifying the negative aspects (few as they are) of the website.
It is very user-friendly and quite easy to navigate, and the content has a such a variety that is sure to please even the pickiest of porn enthusiasts.
Boner Bonus: Top 2 Gay VR sites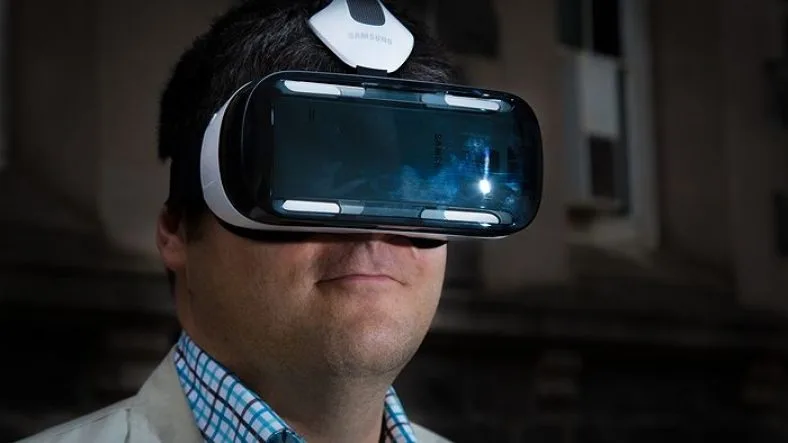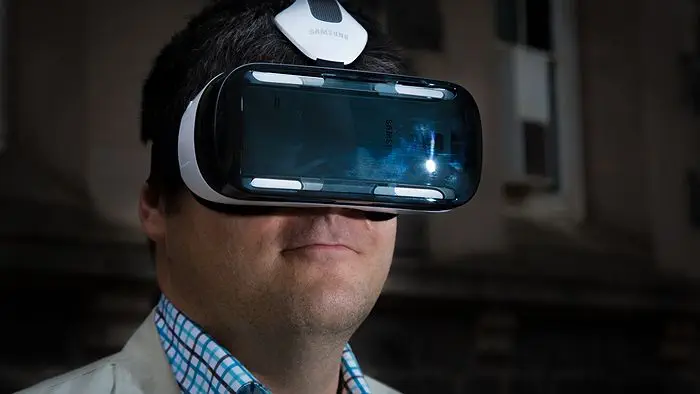 #1 VIRTUAL REAL GAY
Offering over 60 VR videos with great filters, this is the perfect site when looking for male-on-male action.
Virtual Real Gay is easy to use and navigate and is one of the only sites reviewed that support teledildonics, regardless of sexual preferences.
The content is high-quality, but the diversity of the performers needs some attention, and there is considerably less content than the above-mentioned straight sites.
Subscription membership options are more customizable, allowing you to personalize and get exactly what you want from your subscription for a set price, per option.
➡️ Click here to learn more about Virtual Real Gay!
#2 VRB GAY
A somewhat newer competitor with a ton of potential, VRB Gay offers enticing options such as 360-degree movie-viewing and high-resolution 4k scenes.
The catalog is considerably smaller in volume than other sites (something like 20 scenes are available at this time), but that will likely change very soon with each technological advancement and the rising demand for the availability of more gay VR porn.
They don't offer teledildonics support just yet, but all VR movies and scenes can be viewed in 2D, and the subscriptions are reasonably priced.
➡️ Click here to learn more about VRB Gay or join now!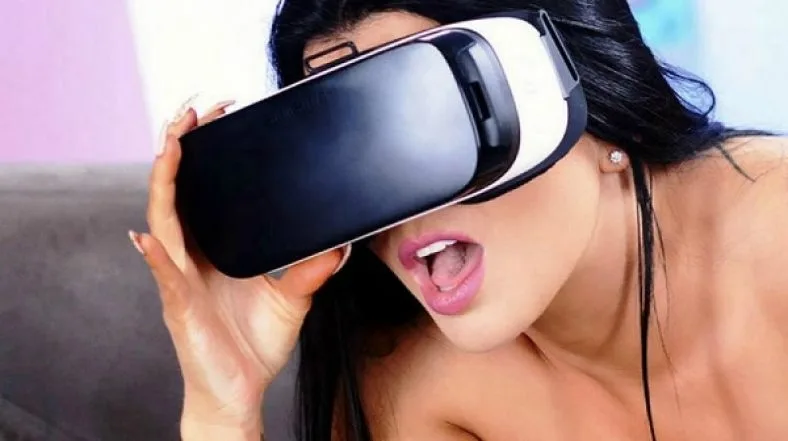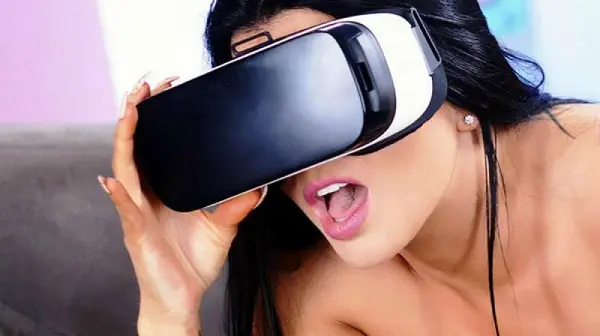 Conclusion
I must mention that there were several noteworthy sites that didn't make this list, including 18VR and RealTeensVR (both specializing in teen porn), YanksVR, BabeVR, RealVR, KinkVR, Sex Like Real, VirtualRealPassion, STASYQ, Metaversexxx, and LEZVR (which caters primarily to our lesbian audience, the curious, and those that are into girl-on-girl action).
My list was compiled based on my personal opinions, along with the help of other reviewer's opinions, but that doesn't generally discount the greatness of these sites.
So, after you've plowed through my top 10 list, drop by these other sites and decide for yourself which is the leading site. Call it homework if you like. Call it a personal mission. Call it anything you like, just do it.
Life has its regrets, but none of these sites will be one of them.
We live in an amazing technologically advanced era that affords us VR luxuries that your grandparents could only dream about.
About a decade ago, this technology didn't even exist, or was still so in the beginning stages that no one really knew about it, so I think it is safe to say that these sites and this technology are only going to get better, with more content, higher resolution, greater diversity in sexual preferences and genres, and exhibit vast improvements in the overall virtual reality experience.
Thrilling advancements in robotics and other excellent technological accessories are also getting better with each new breakthrough, and these things, paired with the virtual reality experience, are going to literally change the world and the way we view porn and cybersex.
Now that's exciting news!
I highly recommend sharing this experience with your partner or partners. It can elevate the experience as a whole to a level that is unlike anything you have ever experienced, even in your wettest of dreams.
Still not completely sold on the idea or virtual reality technology?
My advice to you would be to give it a try. It's possible that you just don't know what you're missing!  It's also possible that VR isn't for you, and that's fine too.
I just felt a certain ethical responsibility to share these sites with you because a year ago, I myself wasn't aware of the existence of this kind of Oh-My-God-sent technology.
Let me tell you, I had no idea what I was missing out on, and now that I know what is out there, I simply cannot regress and go back to my (now dull) old ways of jerking off.
You owe it to yourself to lock the doors, dim the lights, and give it a try. I would be willing to be my left tit that you won't regret it.
➡️ Click here to learn more about Virtual Real Porn!
➡️ Click here to learn more about Naughty America VR!