Fire, the bow and arrow, moveable type, the internal combustion motor, alternating current, transistors, the Internet, Hot Pockets … human history is rife with brilliant moments of scientific insight, groundbreaking discoveries, and technological innovation.
Not least of which is striving to create the ultimate robotic blowjob machine. Hey, who said our priorities are out of whack?
And if you or someone you really like has a penis, then the 21st century is a kick-ass time to be alive, as there are copious new makes, models, and flavors of these machines to choose from.
To lend a … hand in helping you decide which might be the penile version of Cinderella's glass slipper, here's our carefully, thoughtfully, and, most of all, pleasurably researched Best Robotic Blowjob Machines list.
1: Lovense Max 2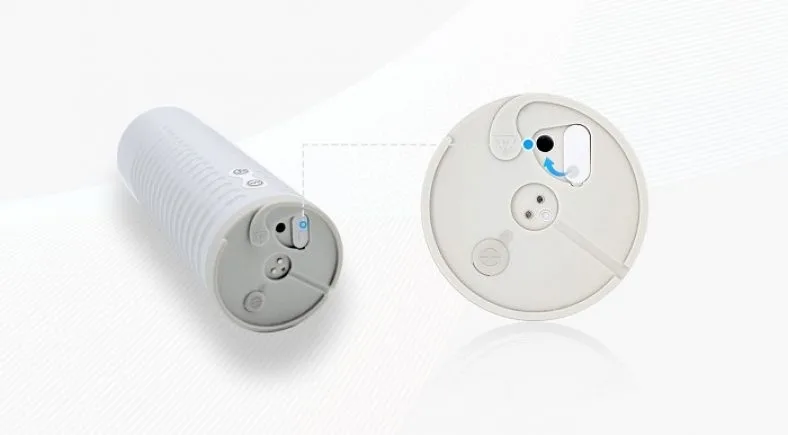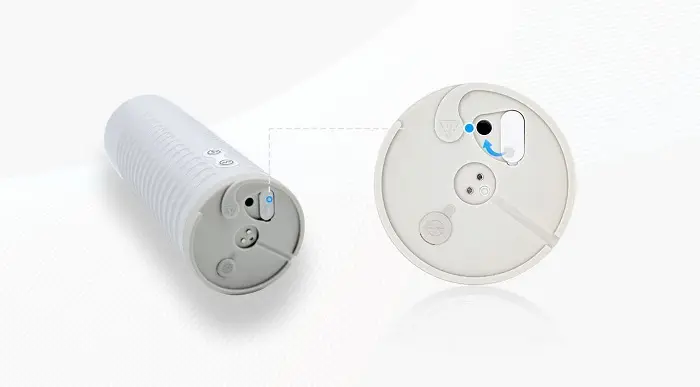 Starting with an excellent sleeve-type masturbator from an equally amazing sextoy manufacturer. Now excellent? Do a brief web search, and it's a safe bet that Lovense will be at or near the top regarding quality, bar-raising sexual technology, and, in general, being a fabtabulous company.
Yes, that's a real word: look it up.
And Lovense has outdone themselves with their Max 2: a motorized, customizable, and smarter-than-Einstein (or just about) toy that'll put a smile on your face—and take a long time to get rid of.
In its motorized department, where other sleeve masturbators are about power, power, and more power, the Max 2 instead uses what it's got to provide a pretty-gosh-darned impression of a flesh and blood blowjob.
Made better as the Max 2's inner sleeve can be swapped out, so you'll never get bored by how it feels. It also comes with a nifty air vent system, so you can adjust how much of a vacuum you'll experience while using it.
Regarding its smarts, the Max 2 takes full advantage of Lovense's brilliant wireless control technology. All you need to get started is to download the Lovense Remote app on your Android or iPhone, Windows, or Macintosh computer, then via Bluetooth, connect your Max 2 to it, and hang on for a teledildonic good time!
Including controlling it with your phone or desktop machine of choice, creating a perfect set of vibration patterns you can use over and over again, syncing it up to respond to what's happening in specialty-coded adult movies and sex games, handing control of it to another person (a great treat for anyone in a long-distance relationship), or link up another Lovense toy for some mutual pleasuring.
But wait, there's more! Want to experience that feel-as-well-as-see fun, but your favorite video doesn't support it? Then download Lovense's Media Player (PC only, I'm afraid) and do it yourself.
Or check out Lovense's own, specially-made erotic game, Mirror Life, to feel the oral ministrations of its high-resolution animated playmates.
Pros:
Great blowjob simulator
Customizable inner sleeve
Adjustable air vent
Interacts with porn videos, erotic games, and other Lovense sex toys
Cons:
Lovense toys supported by fewer adult sites than its competition
2: Kiiroo KEON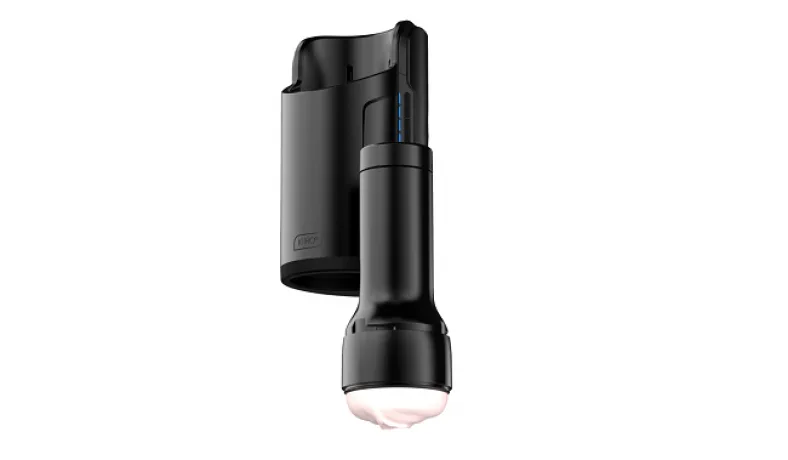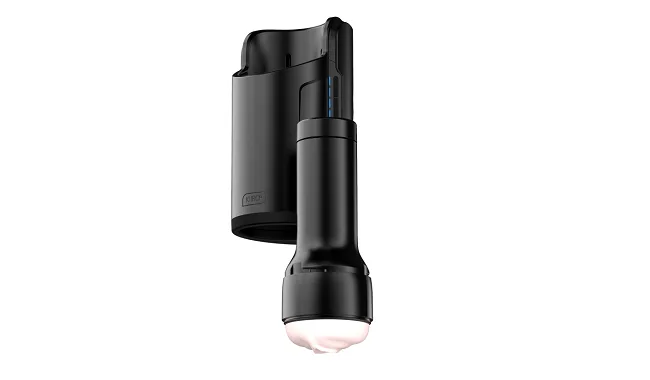 And when you do that Internet search of highly praised sextoy companies, another one that appears at the tippy top is Kiiroo: who have brought us some spectacularly arousing products over the years, not least of which is their magical blowjob simulator, the KEON.
Man-oh-man, is this thing a trip! First off, Kiiroo took an entirely new approach to blowjob toys by opting for a modular system versus trying to cram everything into a single unit.
The good side of this is if muscular motors and pure sexual power are your thing, the Keon has that and more. As Homer Simpson said, this is something where you "Strap yourself in and feel the G's!"
Modular also means you pick any Feel Stroker sleeve and easy-as-pie connect it up to the KEON, allowing you to fine-tune your oral pleasuring however you want.
Not only that, but the KEON is all about Kiiroo's Feel Connect app: simple to set up, smooth to use, and is supported by a vast number of porn sites and explicit games so your KEON will perform right along with the action—whatever it is.
Their Android or iPhone app has other cool features as well, like the ability to sync with additional smart sex toys, have the KEON operated from anywhere in the world, create and share customized vibration playlists, and a bunch of other fun features.
Pros:
Finely crafted, excellently engineered sextoy
Powerful motors provide intense sensations
Feel Connect app allows for a great variety of long-distance and interactive fun
Cons:
Unit is quite large, so tricky to use
May be too intense for some users
3: Kiiroo Onyx+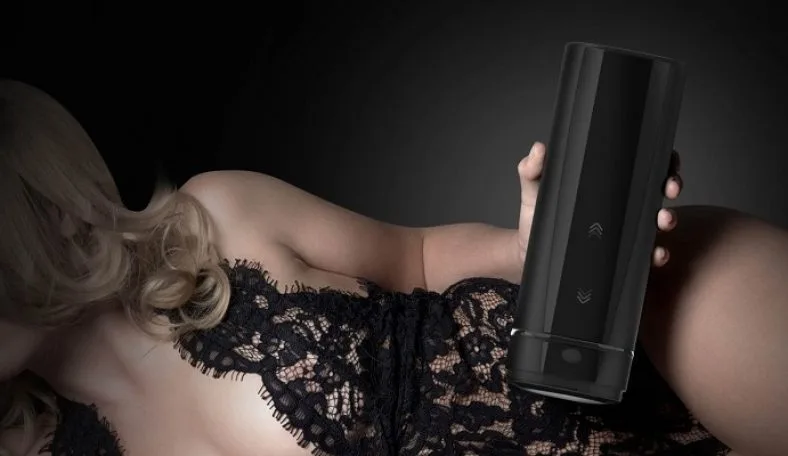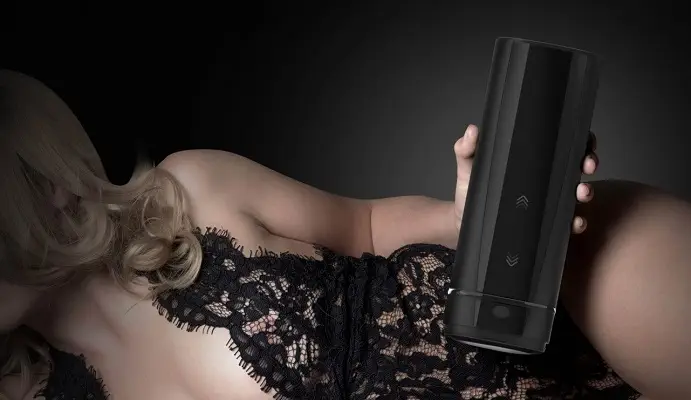 Also from Kiiroo comes our number three pick: a perfect choice for those of you out there who feel somewhat … intimidated by the bigness of the KEON but want to get off on all that luscious Kiiroo sextech goodness.
But it'd be wrong to think of the Onyx+ as somehow less than the KEON as what it lacks in size; it more than makes up with oral gratification simulation—and lots of other features.
Like its portability, which, when coupled with its whisper-quiet operation, makes it an ideal go-to sextoy for anyone who likes to travel.
And it shares its larger brethren's intelligence as well, so whatever smart sextoy tricks the KEON can do, the Onyx+ does as well—quite astounding considering how light and compact it is.
Speaking of, this is what also makes it such a great blowjob simulator as you can quickly get it to where you want it, as in angle or rotation to give yourself that incredible just-like-the-real-thing feeling.
Pros:
Light yet powerful sextoy
Whisper quiet
Does everything Kiiroo smart sex toys do
Easy to use and position
Cons:
Not ideal for those into sturdier machines
4: Virtual Mate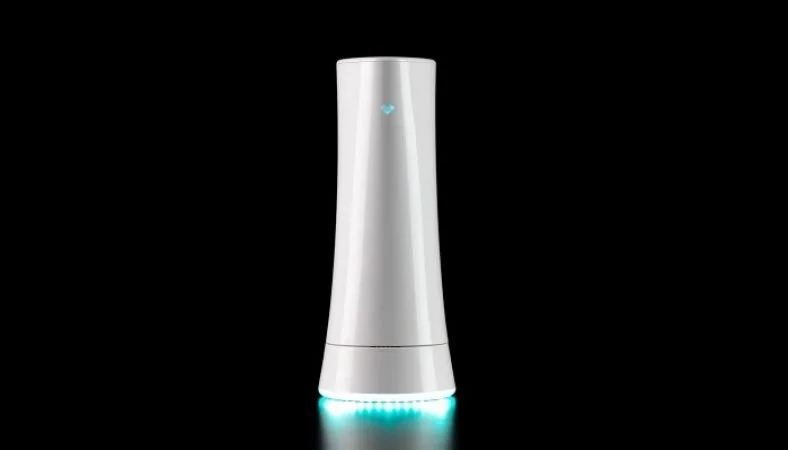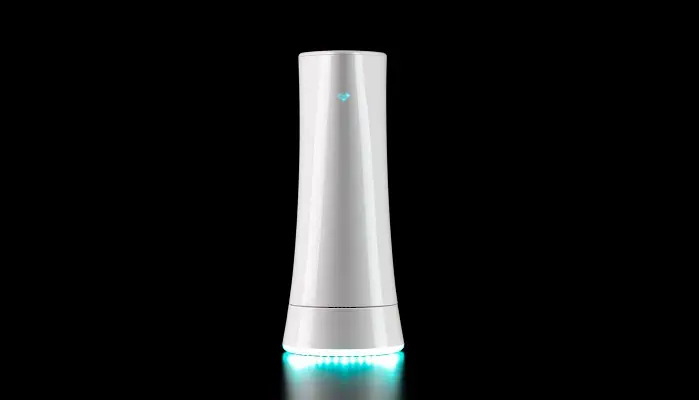 In the big and getting bigger by the day world of innovative sex toys, companies are willing to step far from what you could call "mainstream" designs.
A poster child of this approach is Virtual Mate. Calling itself "the world's first virtual intimacy system," it's a high-quality, interactive sex game and a self-heating sleeve-type masturbator in one.
The difference goes further as the sleeve is built with an impressive array of specialty-designed sensors to monitor how the toy is used and then transmits this information to your PC computer so the game's character will respond accordingly.
If this sounds wild, then you're right, as Virtual Mate is one ferociously unique ride. Especially as the game wasn't a rushed-out-the-door, slap-dash, last-minute thing but the product of a lot of artistic and programming skill—and its masturbator component goes the extra mile to capture all the pressures and textures of a real-life blowjob, as well.
Virtual Mate isn't higher on our list because while the girl in the game is aroused by what's going on, the sleeve itself isn't powered. As in, as not at all. Though, as we mentioned, it is equipped with a nice self-heating unit, so there's that.
Pros:
Off-the-wall yet arousing new take on sextoy interactivity
Game and stroker are well made
Focuses on pleasing your digital partner
Easy to set up and use
Sleeve is heated
Cons:
Masturbator is unmotorized
PC only
Novel approach may not be to everyone's liking
5: Fleshlight Universal Launch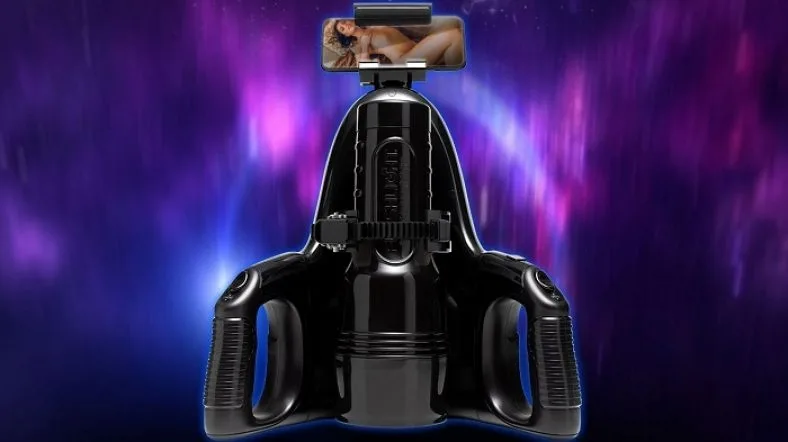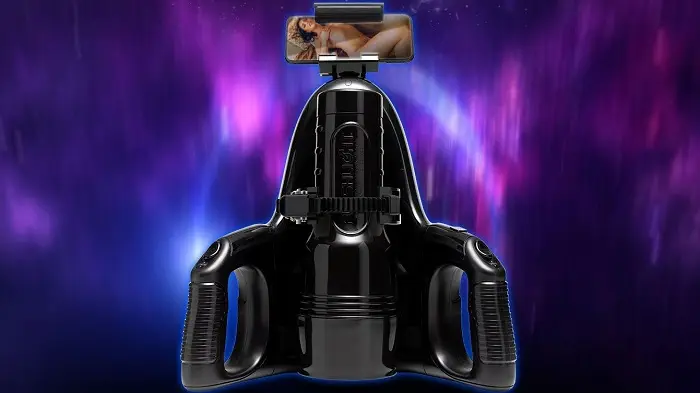 As with the KEON, here's a toy that works with other toys. But this time, the mind's behind it as the geniuses at Fleshlight, whose sleeve masturbators are legendary for their comfort and ability to give users an orally enjoyable blowjob sensation.
If anything, the Fleshlight Universal Launch doubles down on the whole more-is-better when talking motors, as this is an extremely hefty, beefy, vroom-vroom sextoy.
Made all the better as compliments of its creatively engineered strap system, it works with practically every sleeve you have: merely connect, secure it, and let 'er rip!
We cannot say enough how great an idea this is, as a particular headache of trying to capture frequently illusive blowjob sensation is having to buy toy after toy trying to find something that does the trick, all while not being able to combine elements of what does work with one toy and add it to another.
So hello to your little friend, the Fleshlight Universal Launch, and with it, you can use your old favorite sleeve-masturbator in an entirely new way.
It has a couple of other clever features as well, like a handy little stand for your smartphone so you won't have to try to precariously balance it while getting your oral sex simulating fun on or experience the headache of finding that special place where it won't topple over, but it's clear across the room.
Pros:
Works with any sleeve-type masturbator that fits it
Impressively powerful motors
Integrated smartphone stand
Cons:
Not a smart toy, so no internet connectivity
Heavy, so might be challenging to use
Not exactly portable
6: Arcwave Ion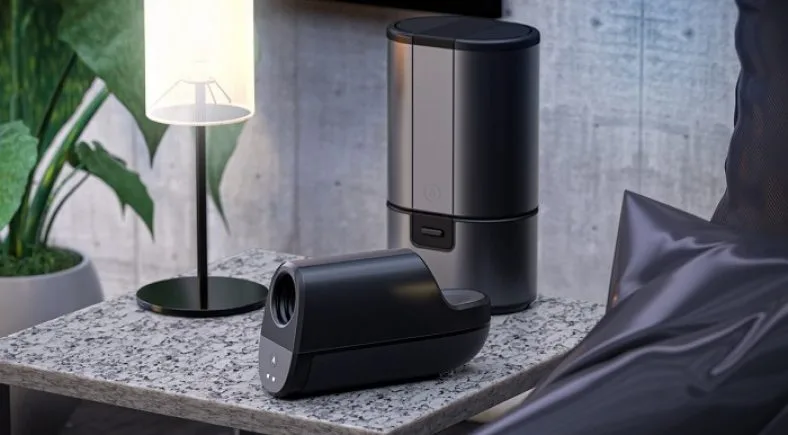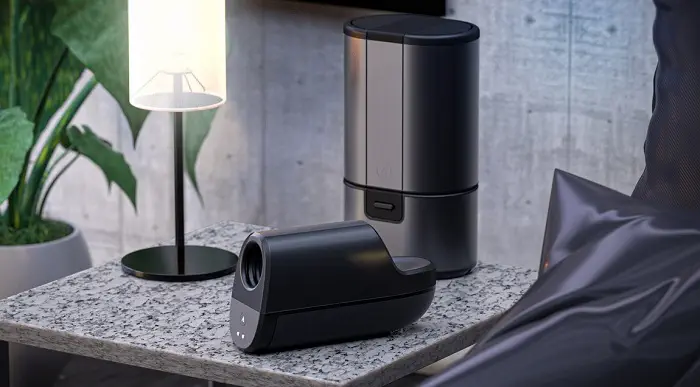 Aside from the unpowered, hands-on models, if a blowjob simulator has to get anywhere near replicating a throat's contractions, lip pressure, or the other muscular delights of the real thing, there has to be a motor of two involved.
No news there, though the Arcwave Ion doesn't use them to vibrate or mechanically work your second favorite organ. Which, in all fairness, when you think about it, is about the most unsexy, if not outright frightening, idea we can think of.
Instead, the Arcwave Ion creates its version of a thumping baseline: its motors generating air pressure in intense, rolling waves to provide a very lifelike sensation.
This may take some getting used to, as the Arcwave Ion feels nothing like all those other male masturbators, but take our word for it. When you do, it's going to change forever how you think about oral sex machines.
This isn't why it's towards the end of our Best Robotic Blowjob Machines list. Instead, it's due to the Arcwave Ion's lack of internet compatibility, so there's no possibility of using it for all any smart sextech delights.
Pro:
More natural feeling
Charging stand included
Well made
Cons:
Rather expensive for what it offers
No sex tech connectivity
7: Lelo F1s V2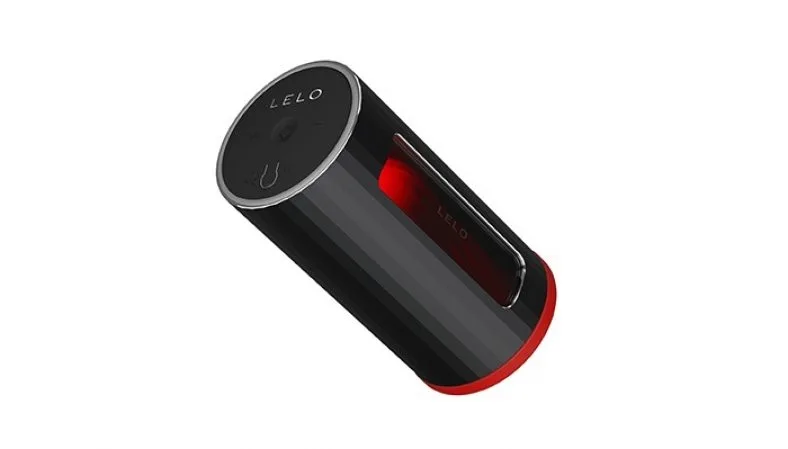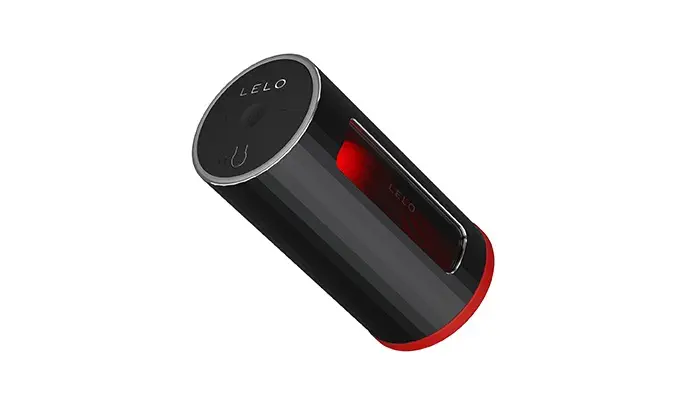 From the awesome brains at Lelo, another of the world's tip-top sextoy manufacturers is their F1s V2. Aside from sounding like an exotic race car, here is another unique take on powered blowjob simulators: motors designed to produce sonic waves for a not-at-all-mechanical feel.
The F1s V2 also cares … sort of. Aside from its soundwave generating systems, its toy's main selling point is that it has built-in sensors feeding data fed into an Apple or Android F1s V2 app so users can use it to study their sexual performance or help them overcome various issues like premature ejaculation.
Even if it didn't have this cool feature, the F1s V2 would be an excellent blowjob simulator. Between its refined engineering, superb craftsmanship, and arousing new technology, Lelo knows sextech, so while grooving on its arousing sensations, you'll understand why they are so well regarded.
If you're curious about why it's down here on our Best Robotic Blowjob Machines countdown, it's like a few others you might call one-trick ponies; the F1s V2 does one thing very well it isn't as smart or versatile as others we've mentioned.
Pros:
Extremely pleasurable
One of the best made sex toys on the market
Coupled with the proprietary app, does it wonders for sexual stamina
Cons:
Doesn't support interactive adult content or with other smart sex toys
8: Autoblow AI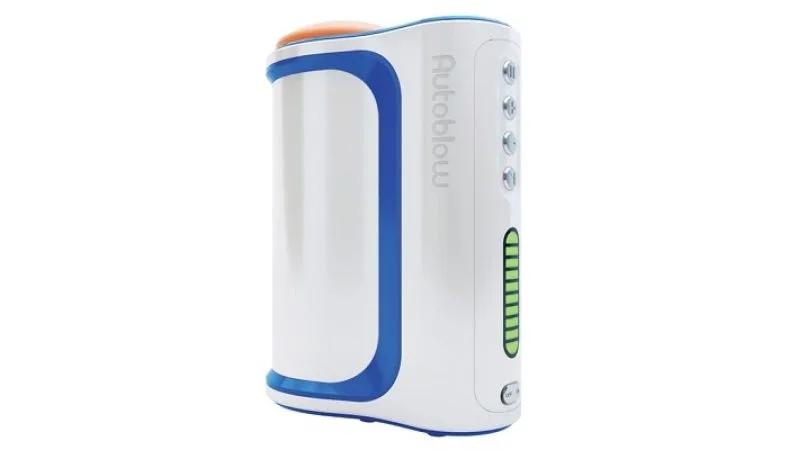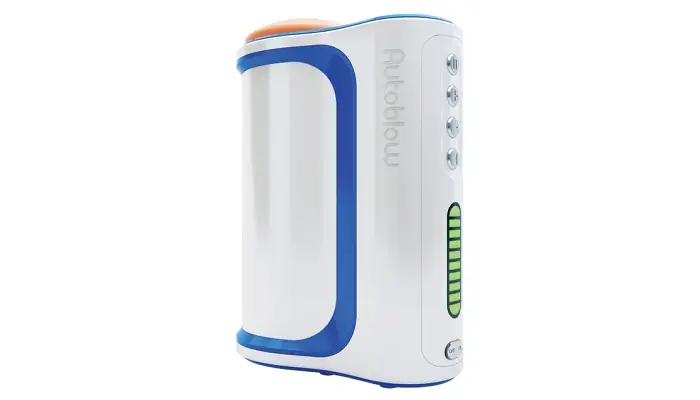 There are different approaches to blowjob simulators, and then there's the Autoblow AI.
Leading off with how its developers trained a neural network using porn films and then used it to program their toy to mirror as much of that action as possible to make a toy that, in their own words, "For Blowjobs, It's The Best!"
In fact, it's the only toy on our list solely dedicated to that and only that, as opposed to giving the illusion of vaginal, anal, oral, or any other orifice you may enjoy putting yourself into.
For its fascinating creation alone, we suggest checking out the company's site as it does a great job outlining how they employed artificial intelligence, of all things, hours and hours and hours of blowjob porn, some wizardly-level programming skill, and some clever engineering in their attempt to perfect the ultimate oral sex machine.
But is it worth buying? In a word, maybe— as in exclusively being a blowjob simulator could very well work against it since it's a lot to spend on a device unable to do anything else.
There are other reasons why it's down here, mainly that Autoblow AI doesn't come with a built-in battery, so while using it, you're going to have to contend with wrangling a power cord that could get accidentally pulled from its socket at any time—ruining what otherwise may be a pleasurable oral sex experience.
Pros:
A toy built from the ground up as a blowjob simulator
Lots of work and study went into its development
Cons:
Requires a steady power supply, no built-in battery
No smart sextech interactivity
The verdict
So here we are at the end of our Best Robotic Blowjob Machines list. While we hope you're feeling at least a little bit clearer about the similarities and the differences between them all, particularly how they may affect your own choice on which one to try out, we want to leave you with a few words of advice.
Like it's never a bad idea to consider what you like in addition to oral pleasuring. After all, if you're going to spend your hard-earned dollars (or whatever currency you use) on a sextoy, it's worth pondering whether or not you'd enjoy tickling other arousing fancies as well.
Or patience is a virtue. Not we think it's a bad idea to pick up any of these toys right this very minute, but if you're hemming and/or hawing over a lack of this or that feature, keep in mind sextech is an insanely fast-evolving industry, so think about circling back to a company or a product after a few months or years to see if a new version will meet your needs.
Also, try not to fall victim to the allure of the newest, fastest, cutting, or even bleeding edge technology if it's something you actually won't be using. For some people, interactive sex toys would be awesome-sauce to fool around with; for others, they may be too complicated to comfortably enjoy, a pain to set up, or not as much fun as they thought they'd be. In addition, smart technology can dramatically increase the price of a toy, so why pay for something you don't want?
Finally, while not a real piece of advice, it gives us no end of silly pleasure to look back when our earliest ancestor made that very first spark, Gutenberg spelled out his first dirty word, Tesla shocked himself silly, or the first dick pic was transmitted via the Internet and how all of it would eventually lead to us talking about state-of-the-art fellatio machines.