Despite all their bleed-edge innovations, from tech interactivity to ultra-safe materials and construction, a majority of sextech companies struggle to make their products lifelike—and as pleasurable as the real thing.
Mainly is due to how they use motors; whether it's providing a vibrator's buzziness (is that a word?) or driving a stroker's strokes, a majority of sextoys depend on some kind of mechanical action to get the job done.
Of course, there's nothing inherently wrong with this, as many start-of-the-art companies have met this challenge by designing products that feel pretty-gosh-darned lifelike.
Though no matter how much time, effort, energy, and money they've dedicated to them, toys for the penis-equipped can make using akin to what it might be like to insert their "second-favorite organ" (to quote Woody Allen) into an Idling car's engine block.
That, and I freely admit this may have taken too long for me to get to, is until a company named Arcwave released the Ion: a unique and fascinating new approach to penis-stimulating toys.
➡️ Click here to check the price of the Arcwave Ion!
Say hello to the Ion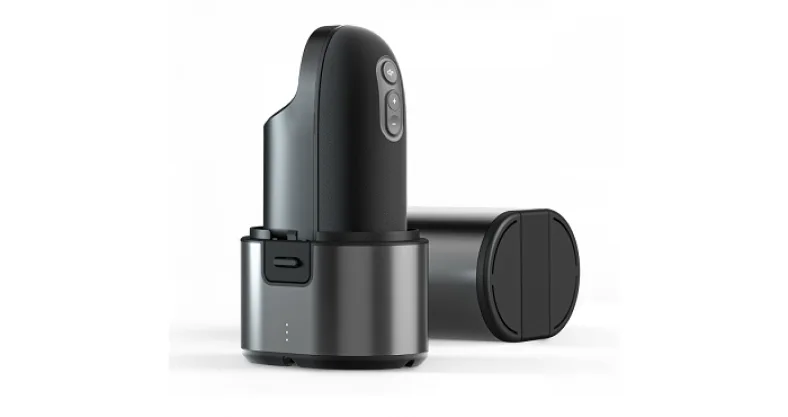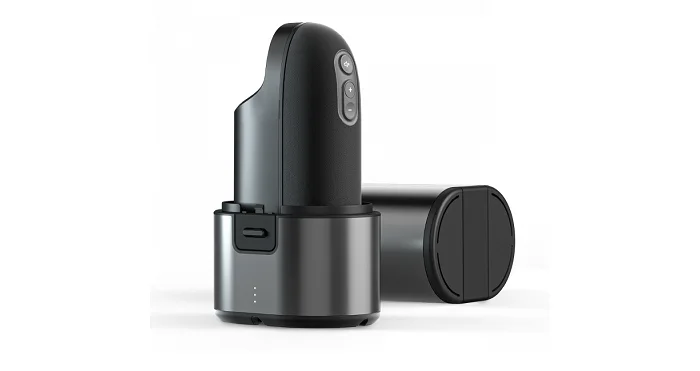 To be clear, the Ion still has a motor, but what differentiates it from toys that use one to propel a fleshy-cylinder up and down the length of a penis, theirs generates, as Arcwave says on their product page, "an innovative new type of stimulation that is based entirely on changes in air pressure."
So it kind of sucks, but not (at all) in the quality of the device or the experience it generates. I'm referring here to how the Ion feels: with the "Pleasure Air"—the term Arcwave's coined for their new technology—features rhythmically pulsing, and gently pulling, against the sensitive underside of the glans—the head of the penis.
Here too, the Ion is not your typical toy for the penis-equipped toy as it doesn't stroke or was intended for users to do anything of the sort manually.
Rather, a penis-equipped person inserts (ahem) themselves into the Ion and, to put it musically, "lets the good times roll."
Yep, you heard me right: no pushing in or pulling out, no sitting back as the toy does the pushing in and pulling out for you.
Instead, users turn it on (a feature I'll get to shortly) put their penis into it—after, as Arcwave recommends, applying water-based lube to yourself and the toy's interior—and that's it: you have nothing else to do. Aside from uttering copious happy noises, of course.
So here's a toy that's unique upon unique with an extra-added smidgen of, you guessed it, unique: a stroker that isn't a stroker; a motorized device that doesn't feel mechanical; and, finally, a product that employs a novel air-pressure system to create a (one last time) unique sensation.
Leading to our next section: is it any fun?
Why new isn't always better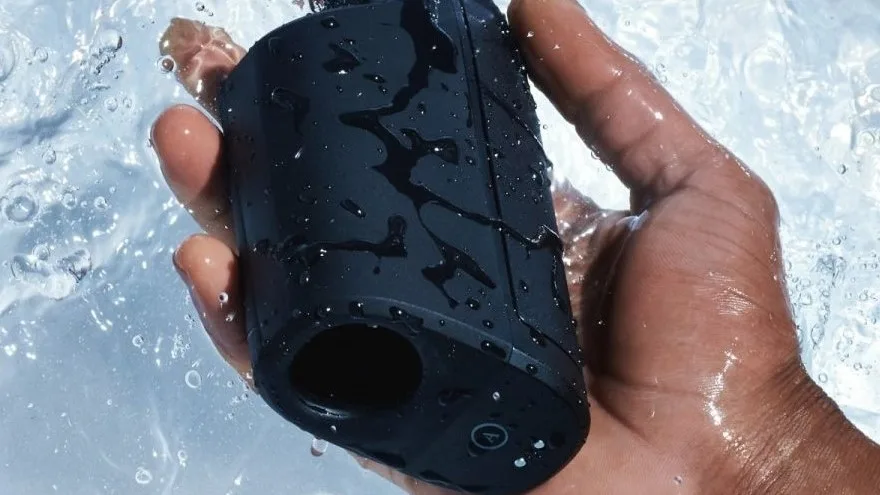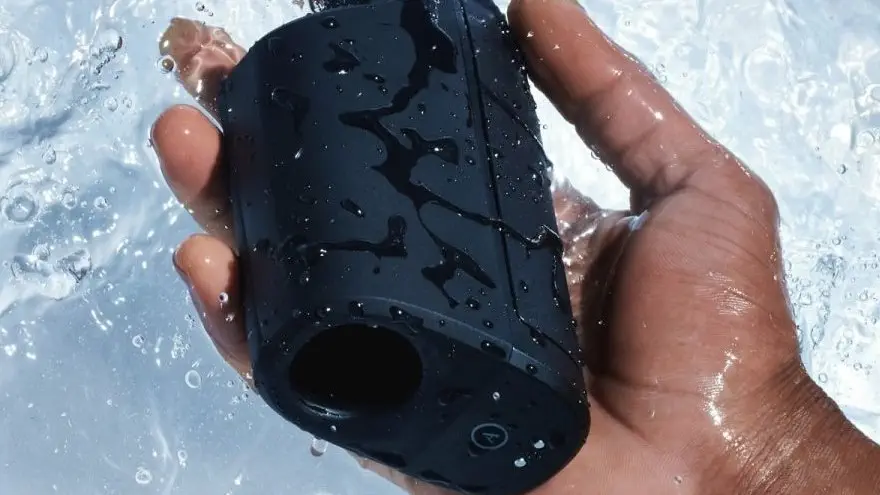 All that uniqueness, you could say, comes with a cost. A notable thing about sex is that there's a kind of 50/50 split between enjoyable and not in regards to what we haven't experienced before.
It's like changing hands, trying out an unfamiliar Kama Sutra position, test-driving a different vibrator, or anything else sexual—or in life, as well: sometimes you discover a new favorite, or give it a dramatic thumbs down when you feel anything but enjoyment.
The Ion is an ideal example of this; with all its novel approach to sexual stimulation of the penis, there's a toss-up chance between it becoming a glorious new way to pleasure yourself or be a toy that'll end up leaving you cold.
There's also that, unlike toys like the stroker-type mentioned above, the designers of the Ion never really tried to replicate penetrative sex.
Exploring Ion's "female orgasm for men"
Arcwave neatly avoids describing the Ion as anything like synthetic intercourse, instead referring on their product page to feeling akin to "The Closest Thing to a Female Orgasm for Men."
Despite being a massive fan of the new and different, especially regarding sextech, I'm still quite puzzled by what they exactly mean by that.
Is it that the Ion is designed to be a passive toy? If so, I have a considerable number of female-identified persons willing to say that, for them, sex is anything but lay back and enjoy it.
Or maybe Arcwave is talking about the Ion's ability for the penis-equipped to experience multiple orgasms? In response to that, I'd like to quote my male-identified comrades who say they routinely come and come and come and come…
Anyway, I'll move on starting with my comments here shouldn't be considered my final say regarding if you should or shouldn't buy one (that I'll detail in my verdict below), but that it's something to keep in mind with this or any other sextech product that takes brave steps forward in design and sensation.
Finally, a toy that knows when to stop playing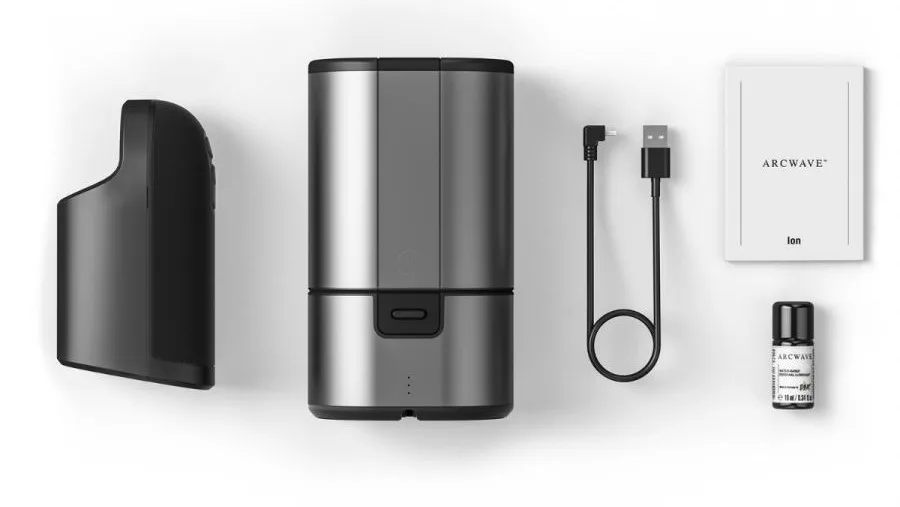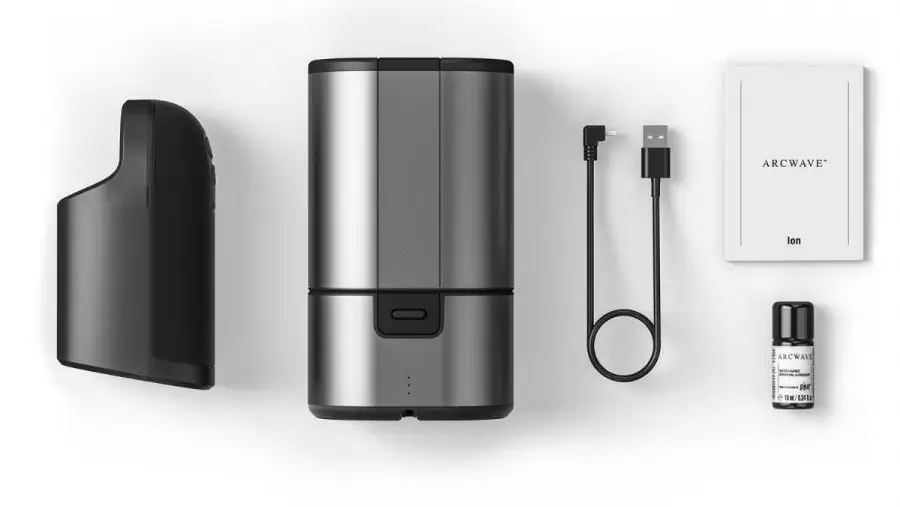 Arcwave didn't stop their innovating with the Ion's Pressure Air technology. Including what I think should be implemented for each and every sexual gizmo, gadget, or toy.
Specifically, I'm referring to the Ion's "Smart Silence" feature that automatically turns the Ion on when it senses human contact. Conversely, taking your hand or other body parts off it causes the toy to power down immediately. The upshot of all this that the Ion's playing time should be far superior to products users still have to remember to turn off they're done.
I want this everywhere and not because I think it makes sextech more futuristic than it already is (long-time SF fan that I am), but it makes a lot of sense.
Why the Ion's doesn't need to be "smart"
Reflected yet more in that the Ion isn't a smart toy. Intelligently conceived, indeed, but not brainy in that it can't connect it to anything—except itself.
At the risk of labeling myself a hypocrite, considering how frequently I've ranted about how gloriously cool it is to add Internet-of-Things technology to sexual devices, there's the somewhat dark underbelly of companies packing Bluetooth interactivity into toys that don't need to be smart!
Insult to injury, some sextoy manufacturers appear to have dedicated thousands of hours of work to design their toys—but only 15 minutes to make sure it all works. Then there's the greater insult to more egregious injury when they neglect the importance of robust internet security.
Though the Ion could still do with some improvement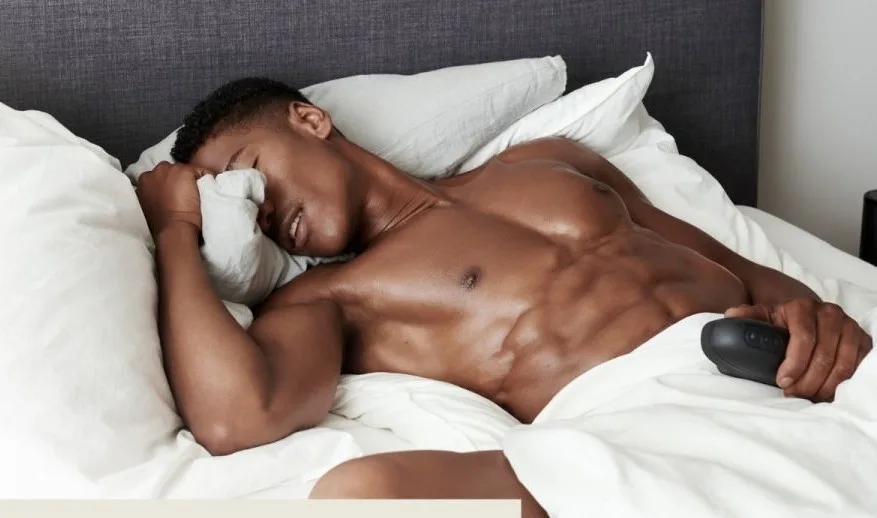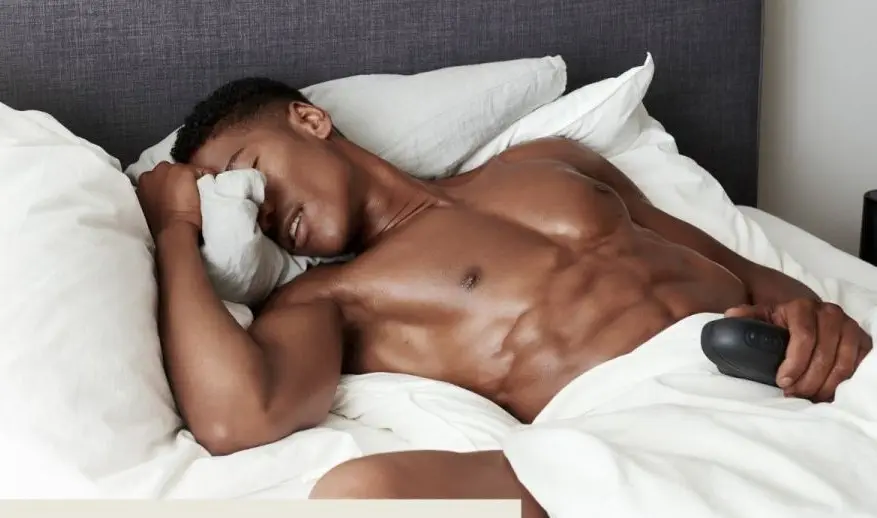 The Ion, however, is a rare exception to my above rant about toys not always needing Bluetooth connectivity, as the Ion could do with at least a small amount of smarts.
It's that for those equipped with them, the head of the penis can be extraordinarily sensitive. So the Ion's very basic controls might not be fine enough for users to get used to its novel sensations as slowly, gently as they'd prefer: something that Arcwave could've addressed by equipping their toy with additional control options or a Bluetooth enabled app.
And if wirelessness isn't a viable option, they could of at least rethought the Ion's hardwired controls, such as building in a slider that'd allow for more precise adjustment than the toy's plus or minus buttons.
Or, echoing back to Arcwave's "Smart Silence" technology, why not upgrade the sensors so it will respond to how little or how aggressively the user squeezes the toy by easing or increasing the intensity?
The Ion's controls, measurements, and how waterproof it is
Moving on, the Ion is quite a handsome product, with a matt-black outer covering of body-safe (IPX7) silicone. On the outer part are the controls, with the top turning on and off the "Smart Silence" feature and below a pair of plus and minus buttons to cycle up or down the toy's vibrations.
Measuring up, the Ion is approximately six inches long, two wide, and three and ½ high, The base, meanwhile, slightly over eight inches tall, three wide, and about four and ½ high.
IPX7 also means it's waterproof, allowing for the possibility to get hot and bothered and wet with it in your tub or shower. However, no hot tubs or the big, blue ocean as—sharing this with other sextoys made out of the same material—its silicone outer could be damaged.
Charging Arcwave's Ion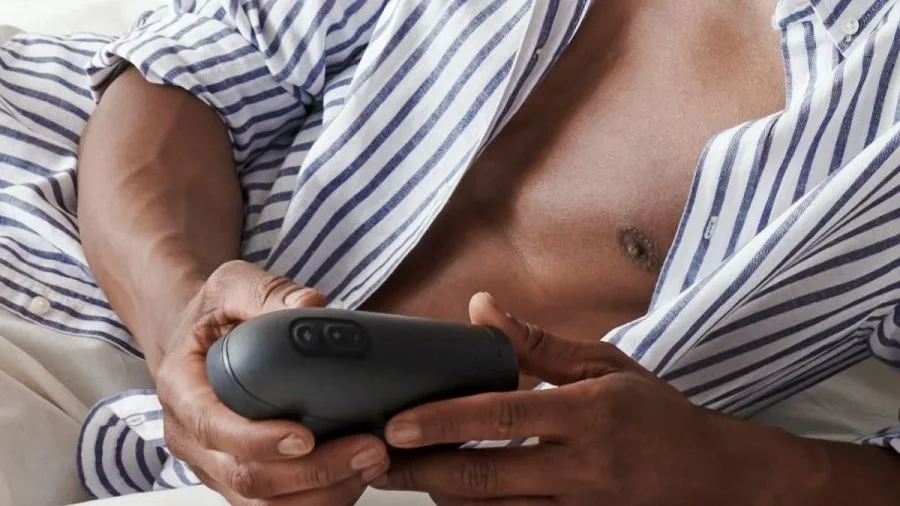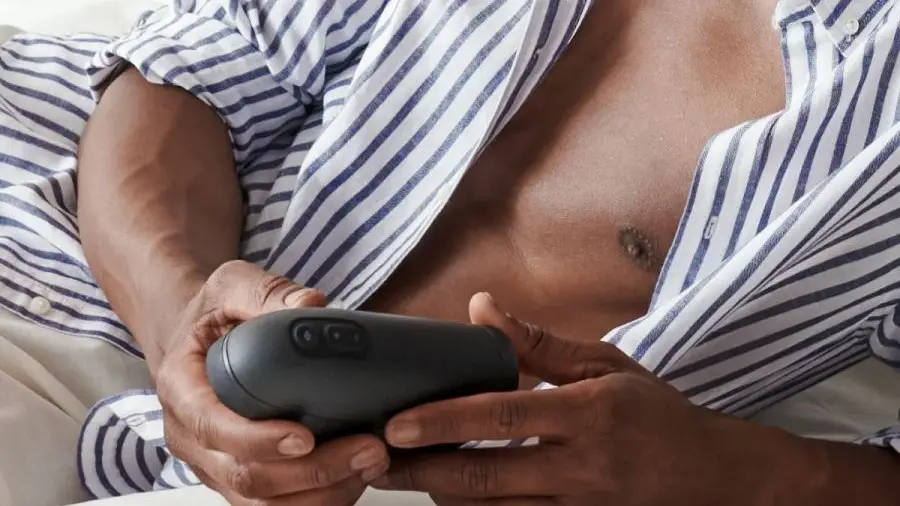 The Ion includes its charging/storage base that juices up the toy compliments via a standard Mini-USB cable (no power brick provided).
This, too, is a pleasant separator between it and the competition as having a dedicated stand like this saves users from that (deep breath) VERY F*CKING ANNOYING trait of changing cables, notably the magnetic variety, to unexpectedly disconnect—or get them to connect up in the first place.
Not with the Ion. Here you simply plug in the base, plug in the toy, and wait for your wattage to fill it up—which takes around two hours for 70 minutes of use.
Yeah, that's not the best. It could be argued that this disappointing charge-to-play ratio is due to the Ion's different technological approach to penis stimulation. Though, less and an hour and a half of fun time might make some you change your mind from a hmmm of excitement to "gonna have to think about this—"
What you get with an Ion and how to clean it
With the Ion, its base, and Mini-USB charging cord, users also get a manual (that can be downloaded from the manufacturer's site, as well), the safety instructions, and some lube to try out.
Then, as a sign that Arcwave believes in the quality of their product, there's the Ion's two-year warranty: which is twice as long as what many other companies provide.
When the fun's over, to clean the just Ion, twist it open, apply your choice of gentle soap (or, preferably, the one Arcwave sells). A bonus feature is the Ion's stand can help out with the drying, courtesy of Arcwave's (prepare yourself for another of their terms) "DryTech stick" that employs silica to absorb any latent moisture.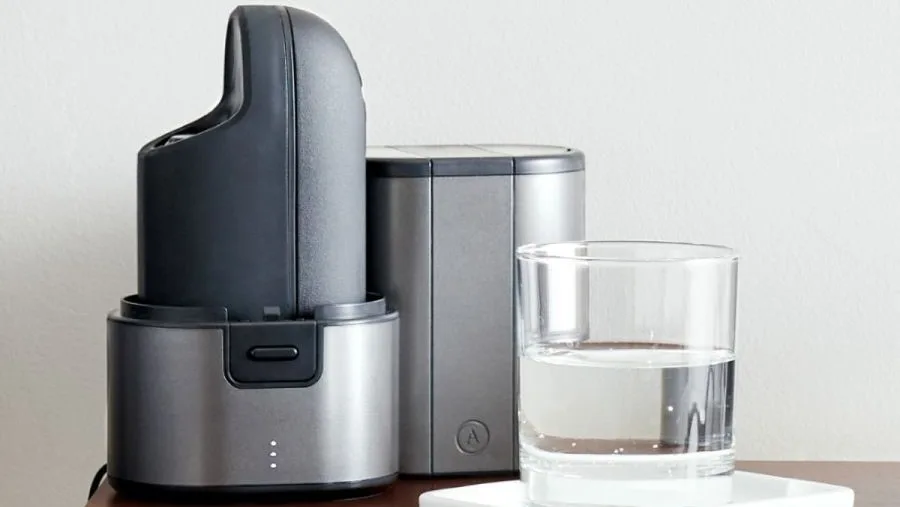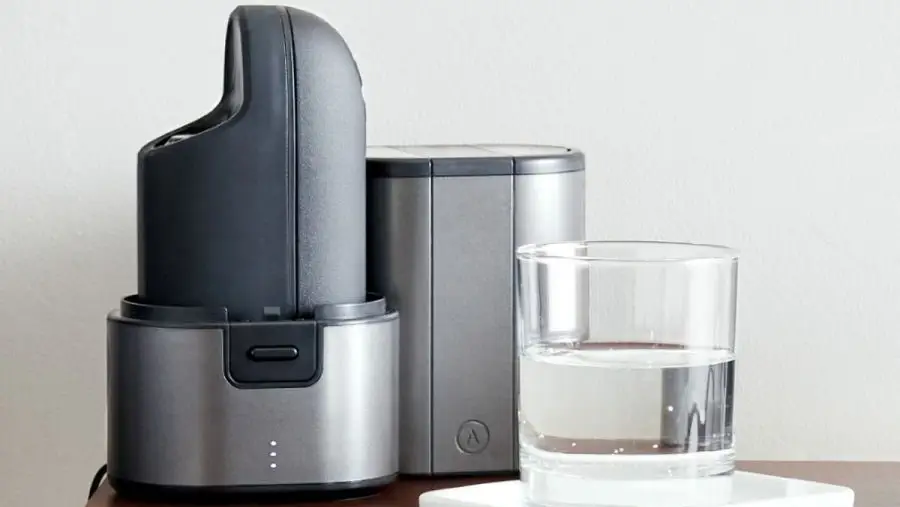 Pros:
Unique (so sue me) design and engineering
A different take on penis-focused pleasure devices
Good choice for those who like the head of their penis stimulated
Same for anyone who may not be aroused by stroking toys
Separate charging stand
Two-year warranty
Lube included
Cons:
May not be pleasurable for those with sensitive glans
Fans of stroker-type toys likely to be disappointed
Can be extremely noisy
A stand-alone product without internet or connectivity or the possibility of remote access
Price on the higher end of sextech devices
The verdict
As much as I adore seeing what brilliant new approaches companies like Arcwave are bringing to sextech—as the industry most definitely needs as much of this kind of "out of the box" thinking as it can—the Ion may be a case of tech that goes a bit too far afield.
Still, I'm a firm believer that whatever turns you on, as long as it's consensual and doesn't interfere with your day-to-day life, is fine, dandy, valid, then go for it!
So if you like your glans played with, extra that stroker toys don't get you where you want to go, Arcwave's Ion is ready, willing, and able to put a smile on your face—and an arousing tingle to your penis.
But even if glans-playing is your thing, as is not enjoying stroker toys, there's no guarantee that the Ion will work for you as the Ion might be too unique to be pleasurable.
Then there's the Ion's remarkably steep price tag, one that made me rub my peepers, check to make sure I read it right, then whistle as it's significantly higher than similarly penis-focused devices. Even ones that are Bluetooth enabled, smart sextech supported, and far quieter.
Finally, while the Ion is a somewhat hefty bit of tech, more so if you include its charging stand, it's not the best it could be in the battery department. I'd even go so far as it's one of the worst I've seen, where it takes longer to charge (120 minutes) than it does running at full tilt (70 minutes).
Getting to the gist, I recommend the Ion if you fall into that like glans-play, don't-like strokers category, and have the cash to spend on it.
Otherwise, everyone should—even if their Ion's not your cup of tea—still salute the brains over at Arcwave, taking the impressively bold steps of taking sextech to where no one's gone before with a toy that's totally and boldly unique (so sue me).
➡️ Click here to check the price of the Arcwave Ion!