If you are a lover of Lovense toys, you must have loved the first Lovense Lush. If so, then you will absolutely looove their new and improved Lovense Lush 2.
Lovense have launched their newest kid in town and she is a beau. It looks and feels amazing, and it will definitely brighten up your day. Several times every day, actually.
Perfect for any woman who wants to live by her own rules and have fun on her own terms, and also anyone who wants to keep the flames of passion burning in a long distance relationship, the Lovense Lush 2 comes loaded with upgrades from the first version to keep you happy for days.
To ensure you don't get counterfeit or defective products, NEVER purchase any sex toy from Amazon or Ebay. I strongly recommend that you order only from trusted and authorized dealers or official stores, like the ones mentioned in this post. Stay safe and have fun! 😀

***  UPDATE – Best deal to buy your Lovense toy online today ***
Before we start, you should really check out the available promotions on the official Lovense site. I'm not sure how long the promotions will last so if you're considering buying one toy or more now would be a great time to purchase.
➡️ Click here to learn more about the new and improved Lovense Lush or order it now
What It Is
The Lovense Lush 2 is the new and improved Bluetooth remote control vibrator, upgraded from its wildly successful predecessor, the Lovense Lush.
It is an internal vibrator that is perfect if you are into those discrete naughty moments in public.
It is curved to gently stroke your G-spot and remote controlled to make sure you will get to have the time of your life wherever you may be.
The Lovense Lush 2 allows you to choose between a short distance Bluetooth control option and a long distance smartphone app control option.
The Bluetooth control is really intense and can get you there over short distances. When using the app, your partner will be able to stimulate you from anywhere in the world.
It has a wide array of options, vibration patterns, and other customizable features such as voice activation and music pattern synchronization.


Main Features
It is an internal vibrator that you slip inside you and you let it stroke you G-spot leading to the most intense orgasms.
It has a flexible Bluetooth antenna that sticks out on one end. This is the receiver of Bluetooth control signals if you are using the short distance option.
If you want to have a little long-distance fun, it is also up to the task. Using the integrated smartphone app, your partner will be able to control the Lush 2 and stimulate you from anywhere in the world.
This will make them constantly think about you and add a little spice to your relationship.
It is made using high quality and very comfortable silicone. It feels very soft to the touch, which is why most women just can't wait to have it inside them.
When inserted, it hardly makes a sound during use. It is very discreet and perfect for any occasion, whether it is a business meeting or a dinner date. No one will hear it.
It is USB rechargeable, hands-free and water resistant. This makes it the perfect self-stimulator for anyone with a busy lifestyle, or if you want to have a little fun in the bath.
A new feature of the Lush 2 is that it has a conveniently located new button that allows you to turn it on and off even while on the go.
Located just above the Bluetooth transmitter on the part that sticks out, all you have to do is give it a light press and the Lovense Lush 2 will turn off. You can then turn it on whenever you are ready for some stimulation.
What is in the box
It comes in a small white box. The box is small but hardly discreet, because it has a huge pink image of the Lovense Lush 2 on the front, clearly announcing the contents of the box.
You should not throw the box out after you unpack it. Instead, consider using it to store the Lush 2, as it is snug and specially made to hold it.
It is a good idea to always store your toys separately. You do not want to bunch them together in a drawer somewhere, as this makes it easy for dust and all sorts of germs to get to them.
Once you get over that, inside you will find a little pink vibrator with a long curved tail. Kinda looks like a cartoon whale, yes? Well, it is plump on one end and long and bendy on the other.
The plump side is what goes in your vagina. It is about 1.5 inches thick and 3 inches long, so it is a quite manageable size. The long part is the antenna, which is about 5 inches long, for a total of fewer than 8 inches.
The box also has a USB cable for charging the Lush 2 and a manual or how to use guide.
When you buy it, be sure to charge it fully first for about 2 hours before the first use. A fully charged Lovense Lush 2 will give you 2 hours of hands-free fun!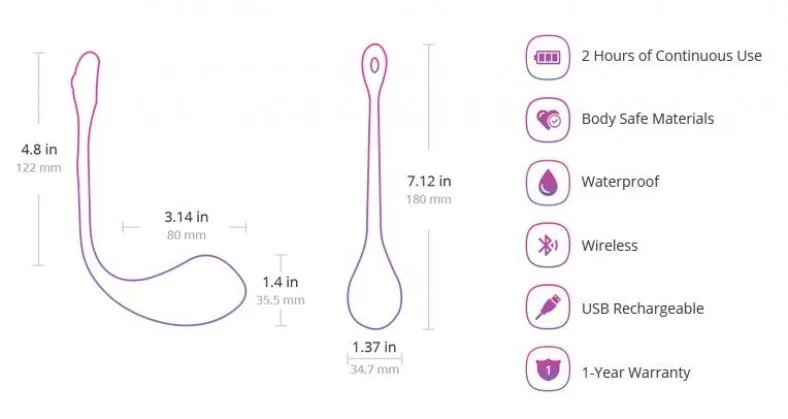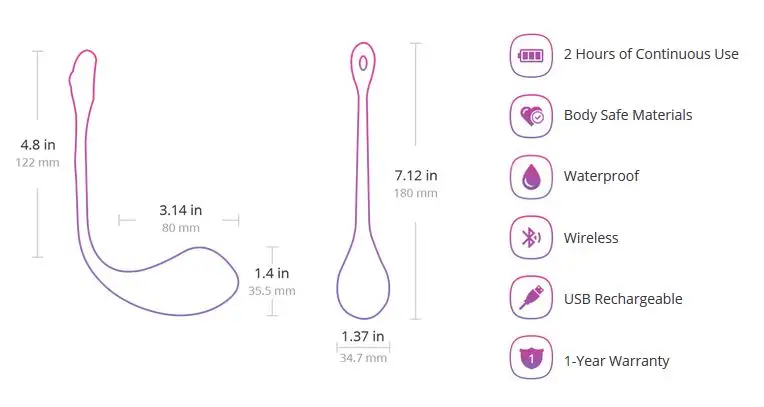 How it works
To get started on your awesome Lush 2 journey, you will need to download the Lovense app. The app has detailed step by step instructions that will guide you on how to use the Lush 2.
You will learn how to pair your app with your phone or any other phone. These first steps require a working Bluetooth connection. It is a really streamlined process and should not take you more than 10 minutes to be up and running.
Once connected, the app becomes the Lovense Lush 2's remote control. It allows you to control the vibration settings, or to create custom vibration settings that will take you there and back again.
One of the most unique features of the app is that it allows you to create sound-activated vibrations. You can set it to make your Lush 2 vibrate in tune with your favorite songs. It will literally blow your mind!
The app also has an added messaging feature, for you to coordinate your play time with your partner.
It can even allow you to receive inputs from multiple partners and sync them into a completely new pattern if you are a freak like that!
The Lovense Lush 2 has a powerful internal vibrator that delivers more intense vibrations than most other love eggs or other similar vibrators. As it vibrates, it remains discreet and relatively quiet.
Be sure to try it out at home before going out wearing it to make sure you find the perfect angle and positioning that lets it work for you. Every woman is different. Make sure you find what works for you.
To sum up, you can use the Lovense Lush 2 in several ways:
1. As a solo masturbator, alone at home, controlling everything yourself. Treat yourself to something special with the Lush 2. Whether it is in bed or in the bath, it has what it takes to take you to cloud 9.
2. As a solo masturbator when you are going about your daily business. If you want to get a little freaky at work, you can dash to the little girl's room and get off within a few minutes. Or better still, you can do it while seating at your desk!
3. With your partner when you are in the same room together, using the Bluetooth control option. You can have some naughty fun while seating across from each other.
4. With your partner remotely, when they are far from you and you just want to spice things up a bit, using the distance smartphone app option. Are they up to the challenge?
Although you can use it as a clitoral stimulator, you should remember that it is not designed to be used as a dildo. It is specifically made to stimulate the G-spot, which is much closer to the outside, as opposed to being really deep inside you.
This is why it is a relatively short toy, so you probably shouldn't shove it inside you in its entirety. However, some women do find the deeper insertion more pleasurable. Again, it's your call, you just need to find what works for you.
A pro tip on its use here is to always use it with a water-based lubricant for that added extra layer of comfort. You should also remember to clean it after every use, as you should all your toys.
Not cleaning your toys regularly is a dangerous practice, as bacteria can and will build up on the soft moist surfaces of these toys after you finish using them. Not cleaning them before the next use means you are putting this ecosystem inside you.
You really do not want to do that.
To clean the Lovense Lush 2, all you need is a little warm water and some mild soap. It is very easy to clean because it is water resistant. Gently wash it with the soap and rinse it with warm water. Wipe it down with a soft clean cloth and leave it out to naturally dry for about an hour or so.
Remember, love your toys and they will love you back.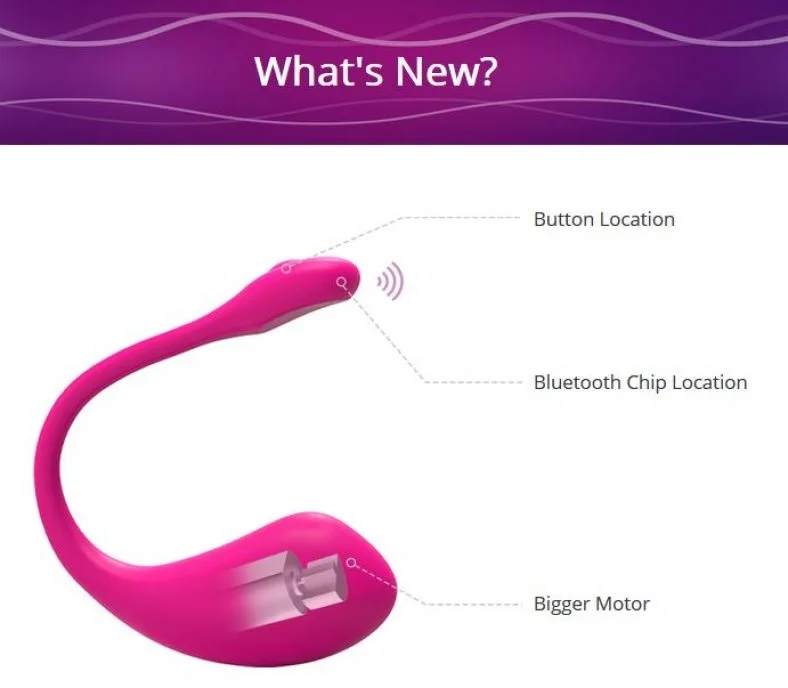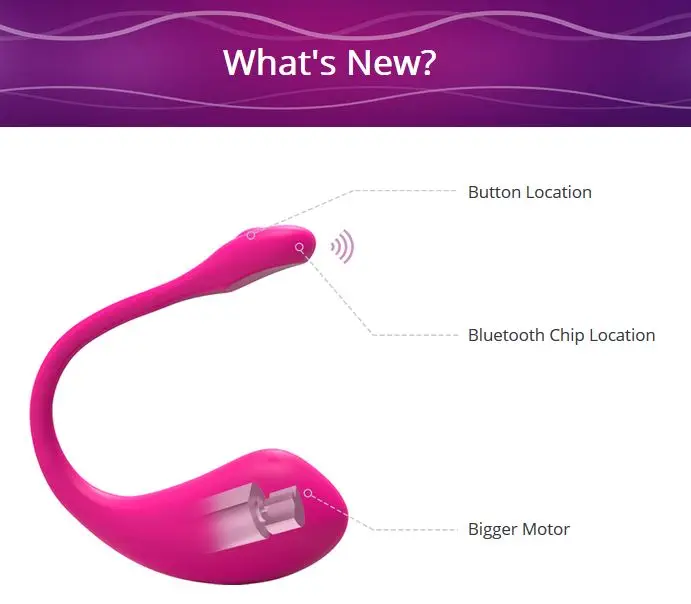 How it feels
The curve of the Lush 2 allows it to bend and reach really deep into you.
It will rest comfortably on your G-spot and deliver really powerful vibrations that will rock your entire world. The outer tail supplements the experience by providing some clitorial stimulation.
Overal, it feels amazing!
The intense vibrations will stimulate your G-spot and take you to heaven and back many times over. The wide array of customization options means that there is something for every kind of woman.
You can even set the vibrations to sync with your favorite song and let it spin your world in tune to your awesome music. It is truly something that every modern woman should experience in their lifetime.


Pros
It has one of the longest control range among similar Bluetooth vibrators.
Its unique shape allows for some amazing versatility when it comes to how much you can do with it. It allows you to get creative and use it in a variety of ways.
It has a bigger motor than its predecessor. If you thought the Lovense Lush was amazing, just wait till you try out the Lovense Lush 2!
The Lovense Lush 2 comes with a new button that allows you to turn it on and off any time you want!


Cons
If you are wearing the Lovense Lush 2 under your clothes, the range of the Bluetooth antenna is significantly reduced and your connection may not be very strong. However, it is still more powerful than the Lovense Lush.
Its bendiness makes it really susceptible to breaking, especially if you use it regularly. It can however last a really long time if you only use it occasionally. Just be sure to know your limits when it comes to twisting and turning it as you insert it or take it out.
It only comes in screaming pink, so the limited colour range might be a turn off for some women. However, once it is in you, you will definitely not be thinking about its colour, will you?
What other users say about the Lovense Lush






Click here to read more user reviews about the Lush 2
Price of the Lush 2
As mentioned earlier, you should check out the available promotions on the official Lovense website, as there might be nice discounts for you. I'm not sure how long the promotions will last so in my opinion now would be a great time to purchase.
However, no matter if you can put your hands on a sweet deal, the Lush 2 vibe is worth every penny.
Its tech and its build quality are astounding given the fact it is being sold for such a reasonable price.
Frequently asked questions about the Lush 2
Is it possible to find other Lovense users through the app?
Can the Lovense Lush 2 be used for anal sex?
Does the Lovense Lush 2 suffer from any connectivity issue?
No bluetooth or app problem since the launch of the product. Great improvement since the first Lush.
Is that the Lovesense Lush?
Where is the best place to buy the Lush 2?
How much does the Lush 2 cost?
Is there any promo code to get a discount on the Lush 2?
Not at the moment, but from time to time limited time offers can drop the price of Lovense products by up to 50%, so
keep an eye on this page
not to miss a good deal!
Final Word
The Lovense Lush 2 offers its users an amazing way to spice up their bedroom lives, both indoors and outdoors. It is very versatile, and can be used in several different ways.
The app is insanely well made, allowing for much more functionality that most other similar toys. And the Lush itself is super versatile, allowing you to play with it in various ways.
You can even use the head of the Lush 2 as a clitoral stimulator, which will give you an equally intense orgasm.
As you can read in any Lush 2 review, it is the perfect tool for the job if you are a woman who loves her "me" time, using it to explore her body and find her inner true self, if you know what I mean…
It is also for you if you are the kind of woman who wants to have a little fun on the go since it allows for a significant amount of mobility when wearing it.
As long as you find a comfortable way to put it on underneath your clothes, it can be your new best friend.
It is also designed for the adventurous couple, who wants to find newer and more interesting ways to spice up things in the bedroom. With this, your partner can give you intense orgasms at any time of the day, getting you all hot an bothered and ready for some action when you both get home.
➡️ Click here to learn more about the new and improved Lovense Lush or order it now