Just when you thought the world of sex toys couldn't get any more cutting-edge, the Lovense brand totally changed the game.
Fusing technology with self-pleasuring devices, Lovense has quickly become a revolutionary brand within the sex machine sector. Nevertheless, it also seems to be one of the best-kept secrets.
Since many sex toys are not widely advertised, Lovense toys are often only found after one goes looking for them. Nevertheless, most users are delighted with what they find.
With that in mind, let's explore the magical world of the Lovense Sex Machine.
➡️ Check the current price of the Lovense Sex Machine
About the Lovense Sex Machine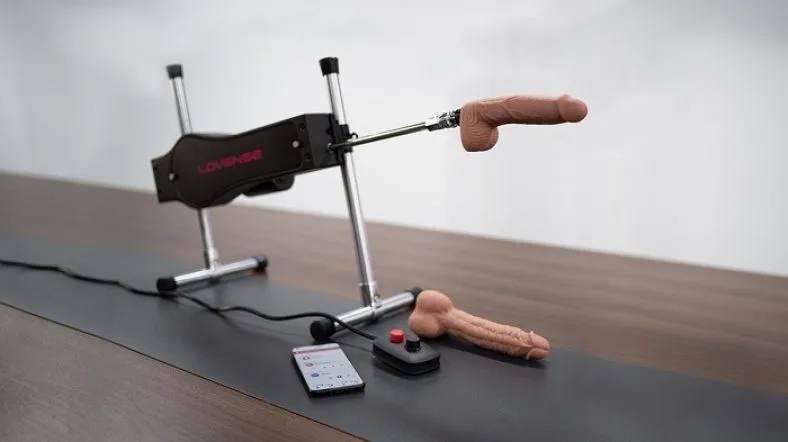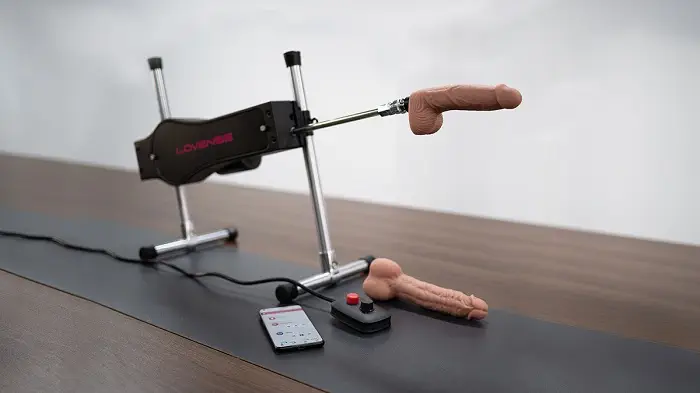 If you've been searching for a sex toy that can truly satisfy you, the Lovense Sex Machine may be an excellent choice.
Versatile, durable, and thoughtfully designed, this sex machine is certainly the one to watch. Offering users a way to receive deep, soul-touching pleasure that can last for hours on end, this sex machine is ideal for anyone who enjoys hands-free penetration.
Designed for solo, close range, and long-distance pleasure, not only is this machine great for any single, couple, or group looking to have fun, but it also allows couples to stay connected and enjoy their sex lives even when you may be in other cities, states, or even countries.
Here is a list of everything included in the package:
2 Shorter bars with attachment casing
1 Motor
2 Longer solid steel bars
Power cable w/ kettle plug
RPM box w/ cable
1 Extension rod
An Allen wrench (for assembly)
2- 7-inch Vac-u-lock dildos
1 Vac-u-lock attachment
1 Assembly diagram
1 Instruction booklet
Lovense Sex Machine Features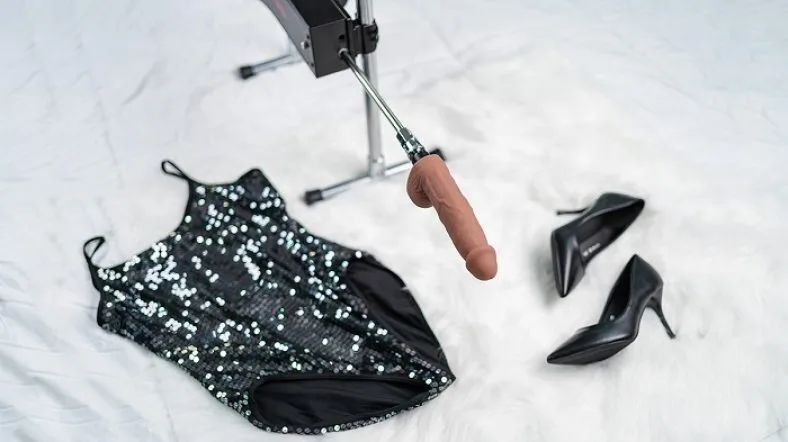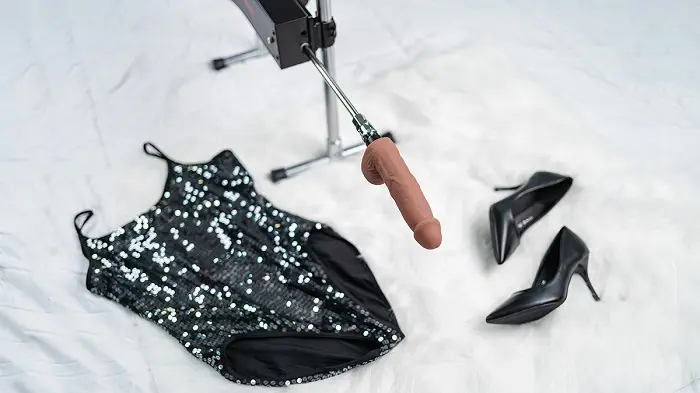 While many sex toy companies create over-the-top names for their products in order to attract more customers, the Lovense Sex Machine stays true to its name. A machine that allows you to attach your favorite life-like shaft or vibrator for some serious penetration.
In fact, the machine includes two realistic dildos that are ready to use as soon as you receive the package. Moreover, it also offers the following features:
Speed
No matter if you choose to take it super slow or if you want it fast and furious, the Lovense Sex Machine has you covered. It has a speed of up to 300 strokes per minute, making it a machine that can give you exactly what you want when you want it.
Adjustability
Another great feature of this sex machine is that it is easily adjustable. This means you can adjust the height and angles until you find the position that works best for you.
It also includes an adjustable stroke length of up to 11.4 cm. Also, here are the specifics of the product:
Assembled Measurements: Once fully assembled, the measurements of this machine are 50 (length) * 25 (width) * 45 (height) cm
Assembled Weight: The weight of the fully-assembled machine is 9.5 kg.
Motor Type: The machine includes a Turbo Gear Motor which is made for continuous duty.
Motor Specs: The specifics of the motor are 24V, DC 5-6A.
Stroke Depth: The machine has a stroke depth of up to 3-15 cm.
High Speed: This machine offers very high speeds of up to 4-5 strokes per second.
Torque: The torque of this machine is 30kgcm / 3Nm.
Electrical Input: The specifications for electrical input are 100-240V 50-60Hz.
Package Measures: The package itself measures around 23*29*53 cm.
Gross Weight: The gross weight of the machine is around 10.6 kg.
Either way, the adjustability makes it possible to use this machine in an almost infinite number of positions.
Double-Sided Thrusting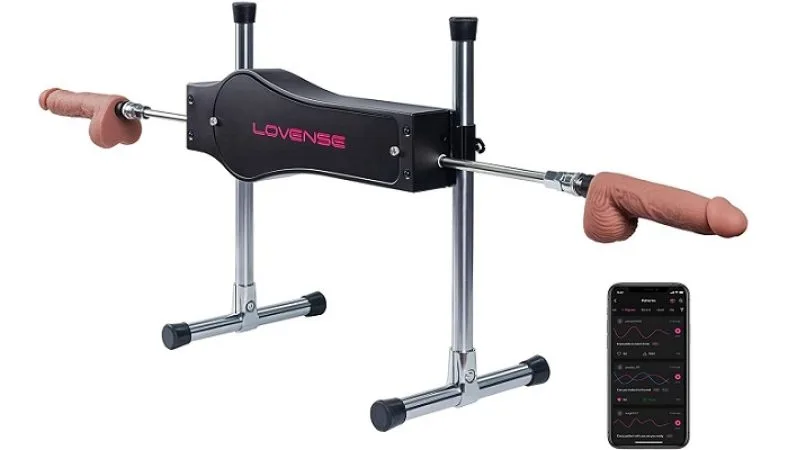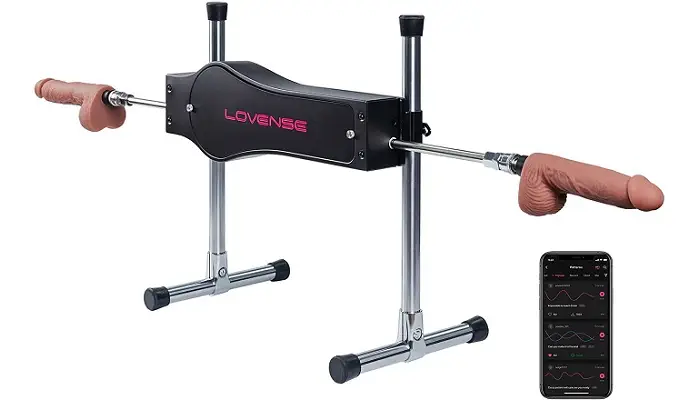 Moreover, the machine offers the option of double-sided thrusting. Therefore, you can enjoy it alone or bring a friend or two.
Either way, two people can enjoy this magical machine at once. This makes it ideal for those who enjoy having three ways or like to film themselves to watch it back later for even more intimate fun.
App-Controlled
As with all Lovense devices, this sex machine can be controlled via the app. Therefore, you can control it no matter if the machine is in the next room or the next town. The person in control can adjust the intensity, speed, and more.
Better yet, the app can be used via a Windows PC (as long as you have a Lovense USB Bluetooth adapter), iPhone, iPad, iPod Touch 11 or higher, an Android 5 or higher, or a Mac with Bluetooth capability.
On the other hand, the controller that comes with the machine itself consists of a dial and a button. The button is used to shut the machine on and off, and also serves as an emergency shut-off button. The dial can be used to lower and increase the speed. It goes from 0 to 100.
Easy to Assemble
Although some are reluctant to purchase high-tech sex machines because they are afraid they will be difficult to assemble, the Lovense Sex Machine is actually very easy to assemble and can be completed in a matter of minutes.
Quiet Machinery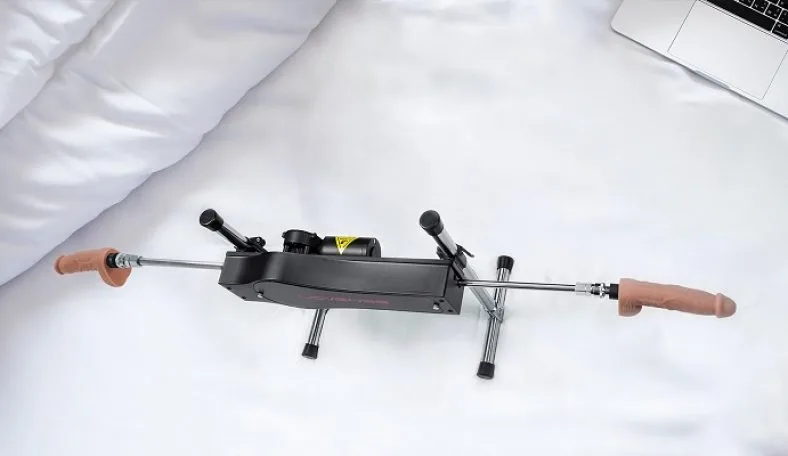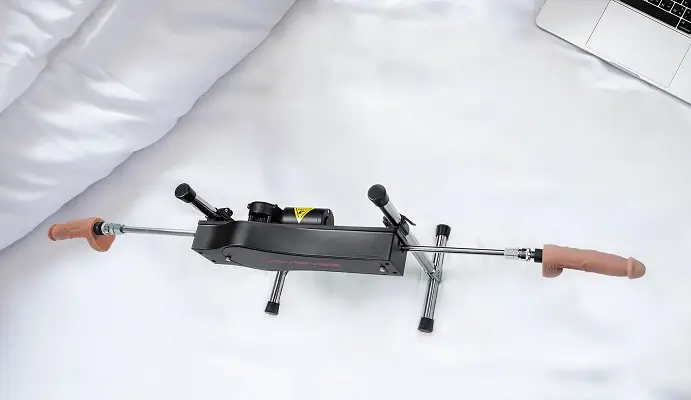 Additionally, some sex machines can get rather noisy. However, this sex machine was designed with your privacy in mind. Most users are pleasantly surprised when they hear how quiet this machine actually is.
Discreet Packaging
Since some people avoid ordering sex toys online out of fear that others will know what they've purchased, Lovense packaging offers a welcome sense of relief. The sex toy comes in a large brown box that does not have any branding or information about the product on the outside.
How Does it Work?
As mentioned, the Lovense Sex Machine is a durable machine that can offer hours of pleasure to its users. Once it has been properly assembled, it serves as a hands-free way to receive amazing penetration.
To use it, set it up on a flat, sturdy surface (ideally, the floor), and adjust it to the size and angle you prefer.
For instance, if you want to enjoy this while lying on your bed, you should simply set it up right next to your bed and find the angles that enable it to penetrate you in the way that is most pleasurable. From there, you may also adjust the speed as needed.
Once you have completed those steps, you simply position your opening to accept the toys, turn it on, and the machine will do the rest.
In other words, whereas a regular dildo requires you to use your (or someone else's) hands, this machine allows you to enjoy the penetration without exerting any extra energy. Best of all, you can stop, readjust, and reposition as often as needed, ensuring that you receive the ultimate climax on your own terms.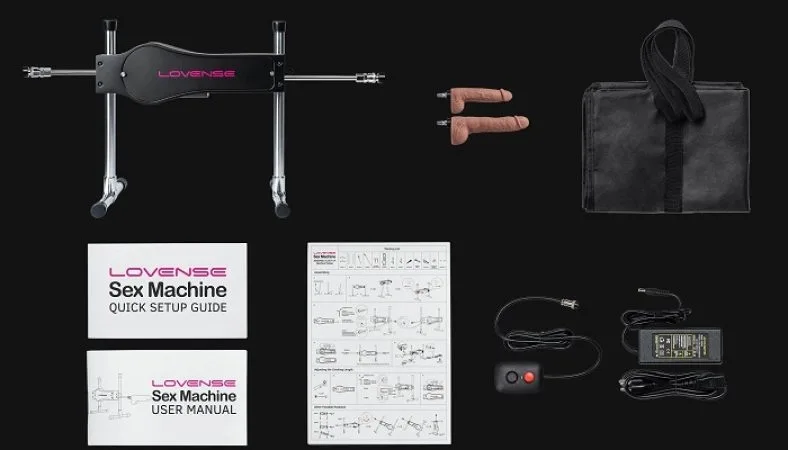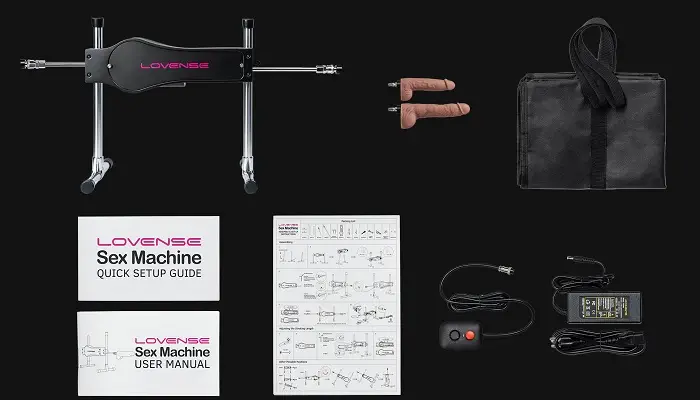 Pros and Cons
As with all sex toys and machines, this device has its share of benefits and limitations. Here are the most notable pros and cons of using the Lovense Sex Machine:
Pros:
Great for Anal Play: Although many sex toys seem to have been made solely for vaginal pleasure, the Lovense Sex Machine actually works great for both vaginal and anal play.
Fast Machine: The 0 to 100 dial allows you to go as fast or as slow as you want.
Great Sex on Demand: Moreover, it allows users to have great sex on demand. You don't have to do any foreplay or warm up the machine; whenever you're ready, your machine will be ready too.
Lots of Positions: The adjustability also allows you to enjoy the machine in a wide array of positions.
Cons:
Intimacy: While some feel the use of sex toys, in general, makes sex less intimate, these feelings can be even more magnified when using a sex machine. So, for some women, allowing a machine to pleasure you takes some getting used to.
Packaging: The packaging can be both a pro and a con. On the one hand, if you prefer discreet packaging, this is perfect. However, if you are comfortable with commercial packaging or want to send a sexy gift to someone, the packaging is lackluster at best.
Non-Adjustable Rod Length: Although it is very adjustable, the rod length is the exception. So, if you need to adjust the rod for any reason, you are out of luck.
Can't Use on the Bed: Many users are disappointed to find that the machine can't be used on the bed. Although you can place the machine near the bed and enjoy it that way, you can't actually place the machine on the bed itself. This is because the machine is relatively heavy and needs a sturdy foundation in order to function properly.
The Verdict
Overall, for anyone who is looking for a durable, highly adjustable, quiet sex machine, the Lovense Sex Machine is an excellent choice. Although there is no such thing as a one-size-fits-all sex machine, this comes as close to it as possible.
Users can choose the speed and position and change it as often as they'd like. Moreover, they can even invite a friend along and/or allow a third party to watch or take control. Either way, it's bound to be a memorably kinky experience.
➡️ Check the current price of the Lovense Sex Machine