Picture an elaborately mustached, bearded Victorian eccentric, twirling the first and stroking the second, as before inspiration hits him like a steam-plumming locomotive: "Ah," he proclaims, finger dramatically thrust upward, "that's the thing!"
Then in his workshop, fueled as much by erotic inspiration as sweaty sexual repression, he marries the firmly thrusting drive of gears, cogs, pistons, driveshafts, and chains to an artificial representation of phallic impressiveness and, viola, becomes the inventor of the very first (patent-pending) sex machine.
The reality is combing mechanical action to an otherwise static sextoy has been around longer than that. How long is anyone's guess, as it's not the thing record keepers have been diligent about, though what we are sure of is in this day and age, there's a lot to choose from.
So take off your swallow-tail coat, doff your top hat, and sit yourself down in front of the nice fire, cup of hot tea at the ready, as we delve into what we think are the Best Sex Machines you can buy.
1: The Joy Ride Fucking Machine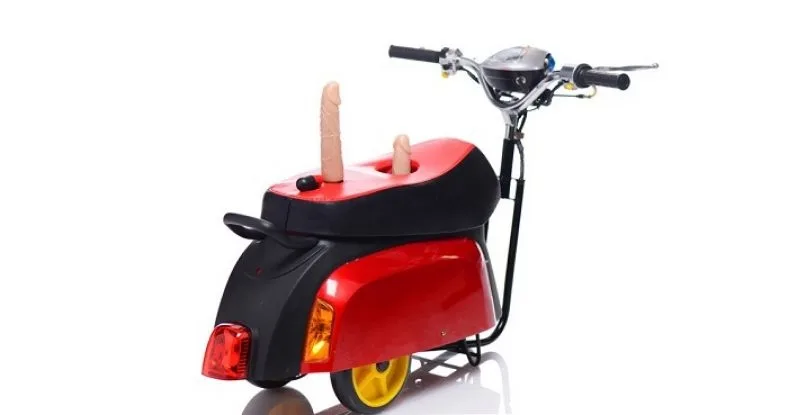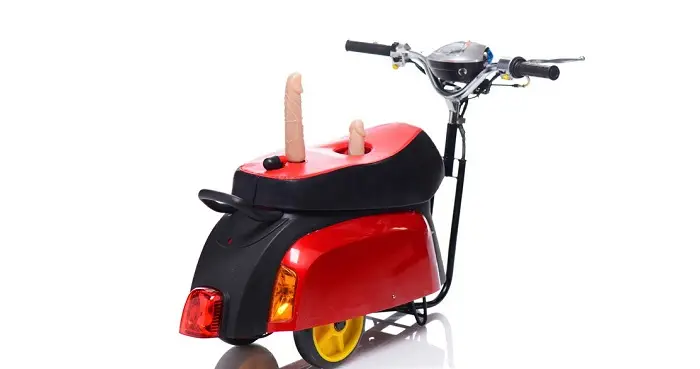 Never in a million years would we think two otherwise disparate words like "cute" and "sex machine" would fit so well together.
In the case of the aptly named The Joy Ride Fucking Machine, they actually do. Just take a look at the thing: instead of opting for a cold, industrial look, the designers clearly took a lot of time to make it resemble something akin to a Vespa.
And this is one motorbike you had better hang onto, for under its cherry-red exterior, The Joy Ride Fucking Machine packs some seriously sexy punch, courtesy of its beefy electric motor, which puts out a screamingly intense 350 strokes per minute.
But stroking isn't the only thing it can do, as it's also equipped with two separate stimulators: a phallus in the front that does the in-and-outing and a second in the rear for … rear play, you could say—which can be operated compliments of The Joy Ride Fucking Machine's wireless remote control.
Keeping with its motorbike aesthetics, speeding up or slow down its inserting part is done by twisting the throttle. It even has working brake lights and turn signals, so people can tell where you're going. That, considering all this, is more than likely in record time to Orgasmville.
The Joy Ride Fucking Machine comes with four dildoes as well, so if one doesn't get your motor running, you can easily swap it out for any of the others.
Pros:
A thrusting and a vibrating/oscillating sex machine
Controlled by a wireless remote as well as by twisting the throttle
Comes with four interchangeable dildoes
Equipped with a playful sense of humor
Cons:
Might be a little silly for a BDSM dungeon
Not exactly affordable
Perhaps too intense for some to enjoy
2: Hismith Mini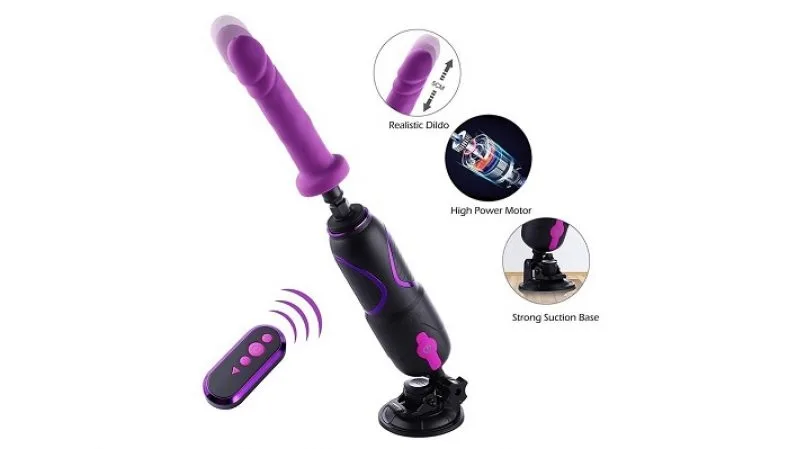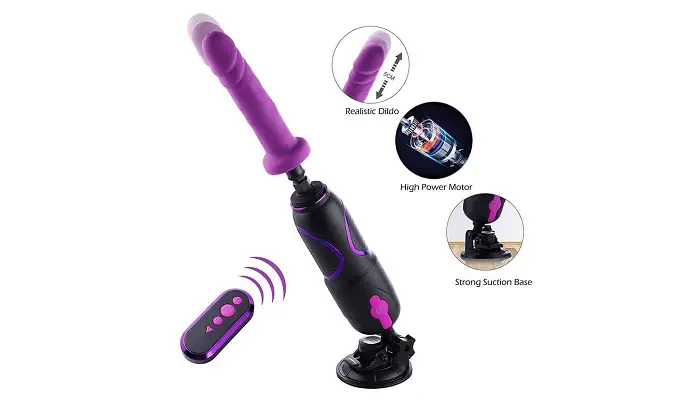 Don't let the name fool you: the Hismith Mini may look relatively diminutive when measured against something like The Joy Ride Fucking Machine, but what it lacks in bulk it more than makes up for in portable power.
Its compactness is why it's up here at our number two slot. To explain why, take a moment to consider it instead of many of the larger, heavier machines on our list. Though they'll deliver pure, unadulterated power, it comes at a cost as in how and where they can be used is extremely limited.
With the Hismith Mini, that isn't an issue as you can take it with you no matter your destination, can be enjoyed with or without its thrusting mechanics switched on, is far quieter than those bigger machines, and there's practically an infinite number of positions you can get yourself—and it—into.
For instance, you can lay on your back and use it as a regular vibrator, squat on it, stick its handy suction cup to something like a refrigerator for back door action… or whatever else you want.
And since reaching down, or back, or around to get at its built-in controls would, shall we say, can ruin the mood, the Hismith Mini comes with a nifty little wireless remote: just the thing to have on hand if you want to speed up, slow down, pause or whatever else you want to do while using it.
On the subject of control, it's the first on our list to be smart in if you have an Android or Apple smartphone, you can download, install, and use the Hismith-APP to give you a great range of assorted tweaks to its various actions, increasing or increasing its performance, in addition to using it for long-distance play by passing control of it over to someone else.
Not only that, but you can use the app to put together your own, customized playlist of what you like it do so you don't have to start from scratch each and every time you play with it.
At the low-ish end of four digits, it's also one of the most affordable sex machines; this way, if you're at all curious about sex machines, you won't have to mortgage your house to take one of them for a test drive.
Pros:
Lightweight and portable
Powerful for its size
Suction cup allows for a great range of angles and positions
Not as expensive as similar sex machines
Quiet
Cons:
On the low side in regards to thrusting power
Requires an AC power supply
3: Shockspot Sex Machine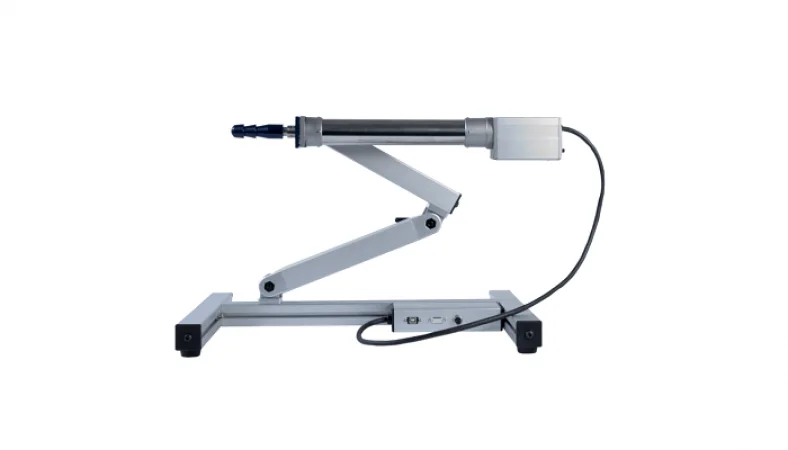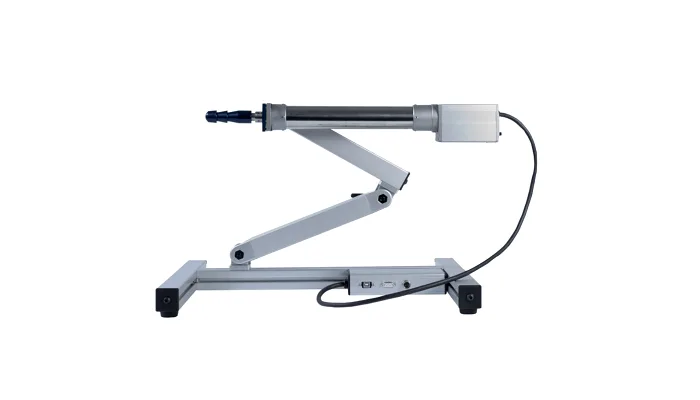 The polar opposite of the motorcycle-themed sex machine in our top spot, it may first appear as if the designers of the Shockspot Sex Machine have abandoned appearance over raw industrial power.
This is a bit true, as it's a decidedly robust sex machine, though its actions can be fine-tuned by using its remote control or by installing its ShockSpot Touch and Feel software on your PC or wirelessly connecting it to a toy equipped with V-Stroker Technology. The PC version even comes with a set of pre-installed patterns to sample.
The Shockspot Sex Machine versatility isn't restricted to control. As it says on their sites, it can be used with a variety of sextoys—so you're far from limited in the kinky fun you could have with it.
It's not a lightweight in the power department, either, with its high torque motor and well-engineered drive mechanics—yet manages to be portable, helped by its elegant foldability.
There are even three models to choose from: either an eight-inch version, a twelve, and the higher-end dual action for vaginal/anal penetrative play.
Pros:
Can be operated from a PC, with a remote, or in connection with a V-Stroker enabled sextoy
Works with many sexual devices
Folds for easy transport
Cons:
Not much to look at
Expensive when compared to other sex machines
4: Fleshlight Universal Launch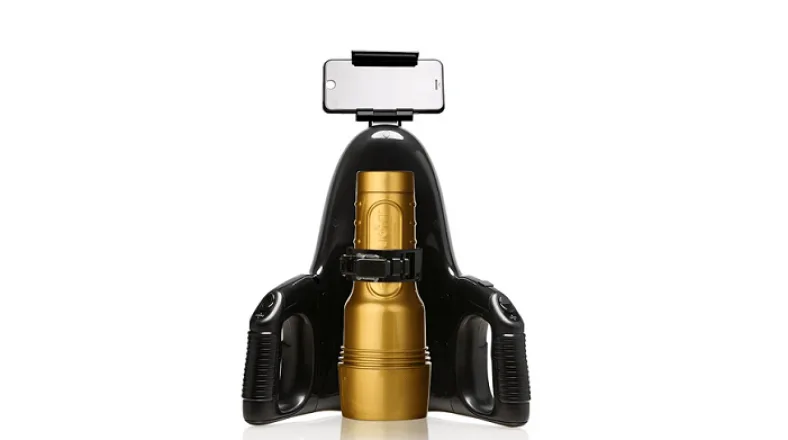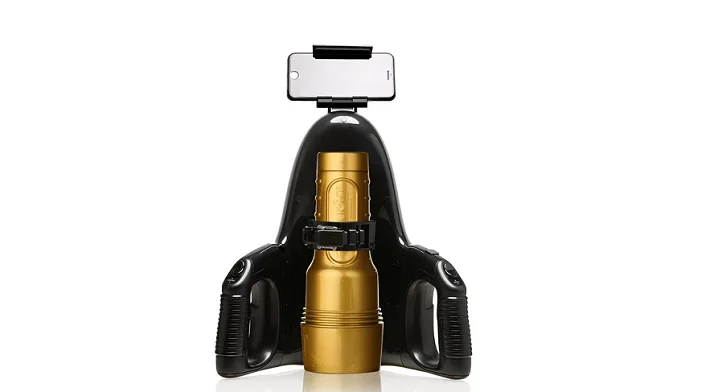 Walking the line between heavy-duty sex machines and little-more-than-thrusting vibrators is the Universal Launch from Fleshlight.
Don't be fooled by that admittedly offhand comparison, as it has a lot going for it. Beginning that, it's from a company that practically invented the sleeve-type masturbator as we know it today—and the Universal Launch was engineered to work with any of them.
Well, almost all of them. But if you can fit it into the Universal Launch and attach it using this sex machine's unique ratcheting system, you can use its built-in high-intensity motor to do more with it than your own two hands ever could.
All in all, it's quite an impressively executed, innovative sextech concept—and from a company that knows what its customers want and how to give it to them.
We can't rave enough about the Universal Launch, including you won't ever have to worry if the pricy-and-then-some sex machine you bought will let you down when it comes to the part that's going to be doing the sexing to you or someone else.
Have a favorite sleeve masturbator? Then attach it to the Universal Launch and have your thrusting, stroking cake and eat it, too.
And it comes with a cool little smartphone mount, so while revving up your toy, you can watch your favorite porn movies—at the same time!
Pros:
Fits all sorts of sleeve-masturbators
Remarkably powerful motor
Comfortably fits in the user's lap
Can be used with a smartphone
Cons:
Not a versatile as other sex machines
Only works with sleeve-style toys and not penetrative types
Check the Price of the Fleshlight Universal Launch
5: The Tremor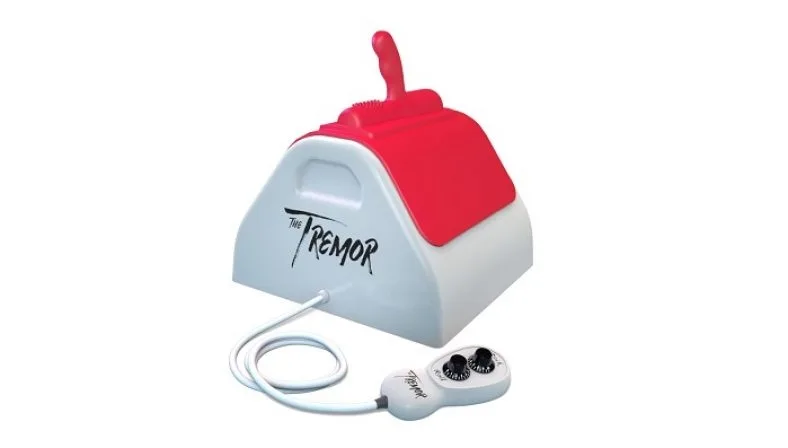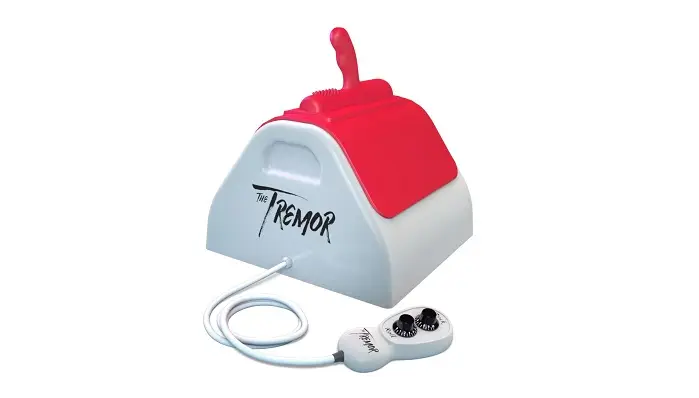 So far, many of our sex machines involve some form of mechanical action, whether it's rotating, oscillating, thrusting, or stuff-like-that-there. Nothing wrong with that, of course, but with the Tremor, we present a modular, portable, high-powered sex machine focused more on the pleasures of vibration.
In a word, this is a pretty neat little piece of technology: looking a bit retro—and far, far away from the machine shop look we've seen so far—the Tremor looks like it might be offered at some 50's malt shop.
Neat though it may be, the Tremor has a long list of things going for it. Chasing to the cut, though, is how it comes with three interchangeable silicone pads, one for penetrative play and one built for outside/clitoral stimulation—so if one isn't to your sexual liking, you can try the other.
Not only that, but the company behind it sells a whole bunch of other attachments, including the double penetrative, the cunnilingus-styled, and way too many more to try and name here.
The pads are also easy to clean, something other sex toy manufacturers too often forget, and operating the Tremor is done via an equally stylish wired remote the manufacturer enjoys likening to guitar knobs.
Pros:
Amazingly versatile, with great selection of interchangeable pads
Relatively small size for ease of transport
Cons:
Vibration only, without stroking mechanics
May not be powerful enough for some
6: Sybian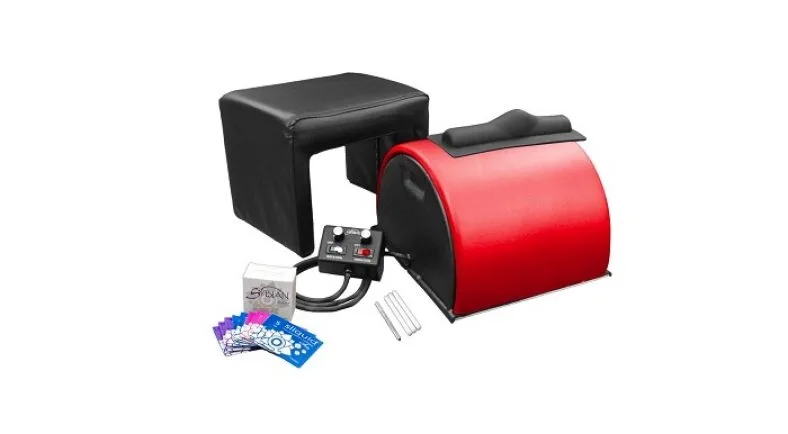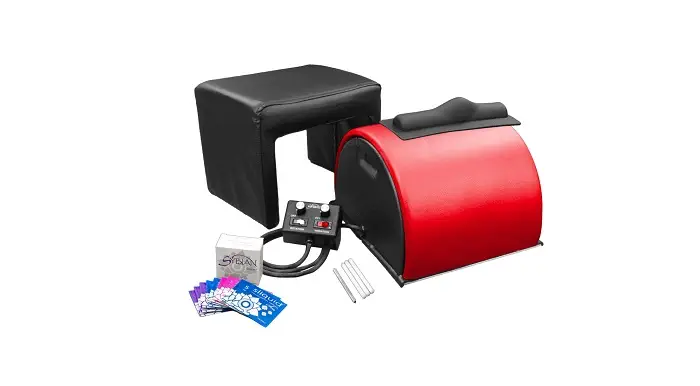 In the annals of sex machines, a name that frequently leaps immediately to mind is the Sybian. First dreamed up by its creator, Dave Lampert, it wasn't until the early 80's he and his engineers managed to produce a marketable version.
And since then, the Sybian has rightfully become legendary. So much so that it became a common feature in many sex clubs, dungeons, and other hangouts of the sexually adventurous.
Now, almost forty years after Lampert came up with the initial concept, the Sybian remains popular—despite a growing number of sex machines on the market.
Famous for a good reason, since during all this time, Lampert's been refining and fine-tuning his product. Like with the Tremor, the Sybian is all about the buzz, which it delivers in delightfully large quantities.
He's also given his customers a range of easily swap-able silicone attachments—that are also available in four playfully vivid colors.
So if you want double trouble with a two-pronged attachment, a lengthy or shortish insertion, or any other kind of sexual experience imaginable, you can mod your Sybian to fit your desires.
Alas, time marches on, and like our Victorian inventor's fondness for gears and camshafts for his sex machine, we now have 21st-century models doing a lot more than vibrating—which is, in all due respect to the legend that is the Sybian, why it isn't higher up on our list.
Still, it can be a sweet and kinky ride and well worth considering as a nice thing about being around for many years is it's given Lampert time to perfect his original design.
Pros:
A true classic sex machine
All kinds of exciting attachments
Sturdy and well made
Cons:
Vibration only sex machine
Other models do more with greater power
7: MotorBunny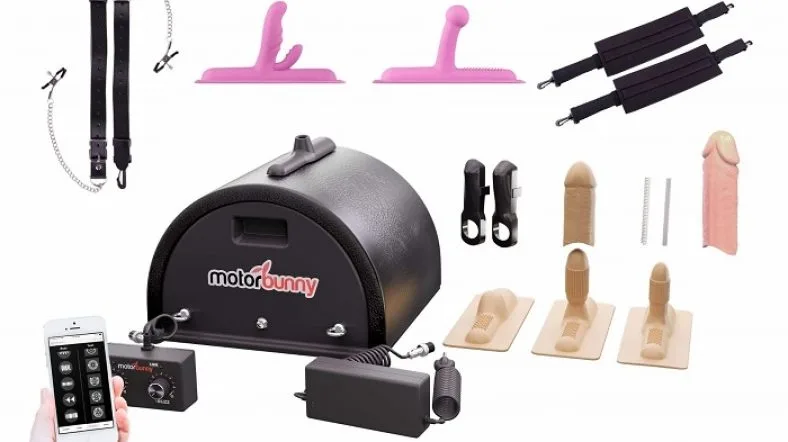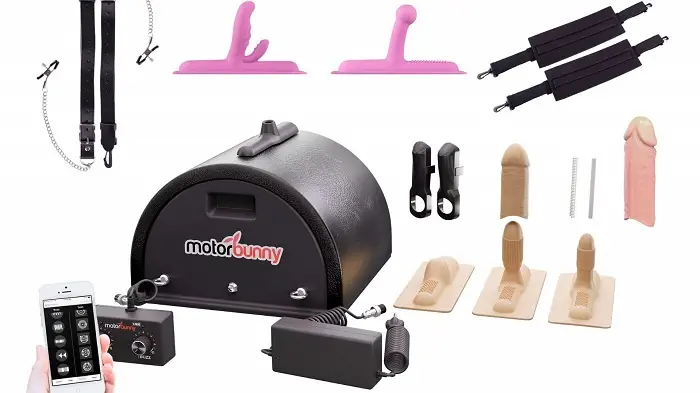 Concluding our Best Sex Machines list is a promising up-and-comer that took and ran with the idea of what a rideable, vibration-type device could be. So you might consider the MotorBunny as the Sybian's descendant—and sporting a few noticeable, modern upgrades.
The mechanism and how it's built to deliver vibrations to those using it are fundamentally the same, though the MotorBunny team took a page from the current sex tech revolution and made their sex machine as smart as they could.
No, it won't do your taxes, but riding one while doing them would certainly make it a lot more interesting. Rather, MotorBunny has developed their own Android or Apple smartphone app, called appropriately MotorBunny Link, that can fine-tune how their sex machine feels, such as setting it up for another person to remotely control it for long-distance sex machine activities.
Then there's FappyBunny. Think of it as one of those Apple/Android addictive games yet with the unique twist of vibrating a MotorBunny along with the gameplay.
MotorBunny also has a different model supplementing the vibrating silicone pad with a trusting unit, making it a best-of-both-worlds when it comes to what you can do with it.
By now, you may be furrowing your brow in puzzlement over why MotorBunny isn't farther up our list. The answer is somewhat complicated, but it basically comes down to these fantastic features show a lot of potential; much of it isn't currently available.
So we recommend keeping an eye on what's up with MotorBunny as when the company does release all that exciting stuff, it could very possibly rocket to the top of this and other sex tech lists.
Pros:
Smart sextech integration, including games and long-distance play
Model available with thrusting action
Smartphone control
Respectful number of accessories
Cons:
Seems like a work in progress
Number of items are sold out or not available
>> Click here to Check the Price of the Motorbunny!
Picking the Right Sex Machine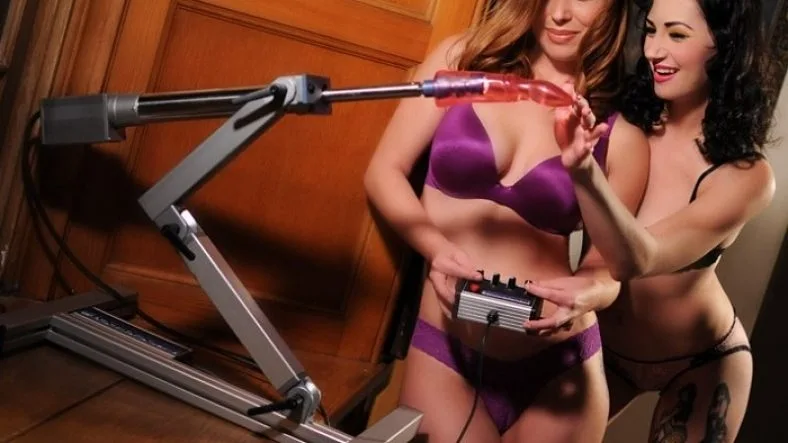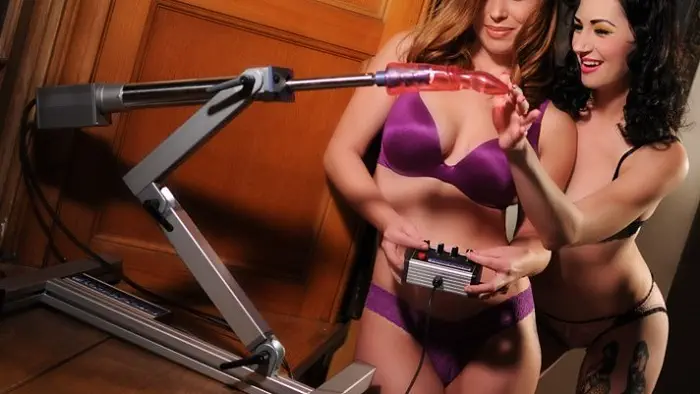 Though they've been around far before our fictitious steam-age sexual inventor ever dreamed of the idea, sex machines are fundamentally the same: a motor, usually a pretty large one, driving either a stroker/thruster or a vibrator.
So you'd think weighing your options when it comes to choosing one over the many others would be pretty straightforward.
In one way, it is, but in others… not so much. It's in the world of sextech the type that will set you back, cost-wise, is typically the sex machine variety. With a few rare exceptions like the Hismith Mini, that's on the lower end of the financial scale; they'll smack your bank account to the tune of a thousand or more dollars.
It's no wonder why there's a booming business in renting them out for parties. But if you're unlucky not to live in an area where that's a possibility, it'll throw a serious monkey wrench into any plans you may have to "try before you buy."
If you're set on getting one, there are additional factors to take into account. As we mentioned, there's the sort of sexual stimulation a sex machine delivers, and if you want a model capable of providing more than one of them or is flexible enough to provide a lovely assortment.
Followed closely by your living space. For a few of our selections, this isn't a primary consideration as they fold up, aren't so heavy they can't be easily moved, or are small enough to fit into your luggage.
Others may be hard to explain to anyone who happens to stop by your home or apartment. And, trust us, trying to convince them its some kind of exotic new exercise equipment doesn't work.
Not to mention how you're going to use it as if it's going to be you and you alone, or perhaps with a few select lovers, you're going to have to address the issue of control: as in you really don't want to buy a sex machine that might potentially run amok when you try and use it solo—all because it was designed and built to be operated by a second person.
Your head is probably spinning at this point. But take a deep, calming breath, and after weighing these as well as anything else you're considering when it comes to purchasing a sex machine, and you'll no doubt get a clearer picture of what you're looking for.
The verdict
Picking our top sex machine wasn't an easy decision to make. Along with elements like cost, versatility, if it is or isn't "smart," the sensations it's designed to provide, and—as we're talking about sex machines—power, there's if they're made for a person to enjoy or are more geared towards being a sex party accessory.
Even then, as you have sex machines engineered to thrust or stroke versus the vibrational type, there's more on more to ponder. That's why MotorBunny, with all its 21st-century upgrades, was so low on our list, as despite all its promise, it feels very much like it's not quite fully developed.
In the end, we're confident in awarding The Joy Ride Fucking Machine as it has so much the others don't.
Like, for starters, it's twin, separate pleasuring components: the vibrating one and the stroker, so it delivers all sorts of wow in the arousal department. Next up, it's large yet portable, with its mono-wheel, so it's insanely easy to tote about… though still tough to explain if anyone should catch an unexpected glimpse of it.
Then there's its control scheme: a remote coupled with its motorbike theme of using the throttle and brake, as well. Not to mention it shipping with four different dildo attachments, something similar sex machines make their customers pay extra for. All of which helped score big points towards The Joy Ride Fucking Machine earning our number one position.
Though, as we say with a massively silly grin on our assorted faces, what tipped the scales in its favor wasn't so much it's thrusting, buzzing sexiness, or how it delivers a fantastic range of stimulating possibilities, but it manages to give all that while displaying a gloriously perverse, thoroughly mischievous sense of humor.
So if you can afford it, join us as we kick its tires, stroke its fires with it, and ride off into the orgasmic sunset: saluting as we go all those crazy geniuses who dared to combine the throbbing industrial power of motors and mechanisms with the energetic pistoning of good, old-fashioned in-and-outing—and who helped to shift our sex lives into high gear.