In my own experience, I have had to cover for those days when my partner is away for work using sex toys, but that was not enough.
When he is out, I often feel lonely to the extent that cheating has crossed my mind. Nevertheless, like all the people out there, I had to adapt.
I now use the technology-inspired Lovense Remote App and its family of sex toys to keep me going whenever he is away. The app has brought more excitement to my relationship, which is now a few years years old.
My partner and I use it to play cheeky games that have improved (I believe) the commitment between the two of us. In a way, I feel that my obligations to the relationship have gone a notch higher since I discovered the app.
I love the Lovense app and the thrill of sharing it with my partner. Here is an honest review of how it has worked for me.
➡️ Check the price of Lovense Sex Toys
What Is The Lovense Remote App?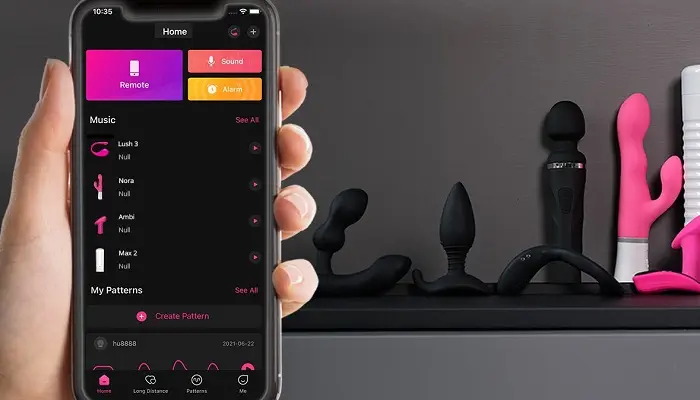 As the name suggests, Lovense App controls a family of sex toys made by Lovense.
In the collection of Lovense sex toys, I own the Lush, Max, Ambi, and Nora variants. I find that the app enhances the experience with the sex toys by transforming a solo play into a multi-partner kind of sex game.
The app has many features; it completes the teledildonic family of toys fit for use in the 2020s.
The music feature and special sounds that merge with the vibrations are the trademarks that make it a complete tool perfect for unforgettable video calls with my partner.
The Lovense Remote App connects well with the iPhone via Bluetooth or Wi-Fi.
It works well for up-close self-pleasuring and local connections with a range of about 30 feet in all directions—it scatters signals 360 degrees up to 30 feet away. A partner can remotely control it anywhere within the 30-foot bubble.
A notable fact that I find interesting as an adventurous person is the three distinct modes, which take full advantage of my partner's proximity.
I can have vibrators powered on in my privates in mode one, allowing me to have self-pleasure while holding my smartphone.
The foreplay mode allows a partner close by, maybe in a room, to control different vibration modes, to my advantage.
The discreet public mode also gets me every time. The feature is most useful in public places like coffee shops and restaurants. My partner can have his way with my body using the feature seated across the table.
Key Features Of The Lovense Remote App
Long Distance Control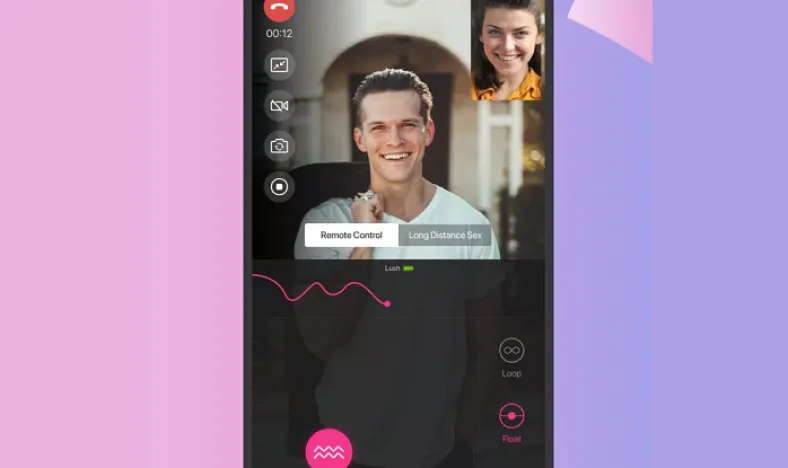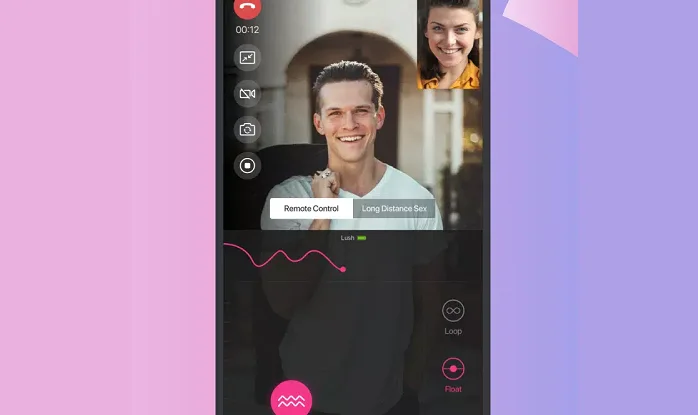 The long-distance function makes it a game of two, regardless of distance. Since I started using the app, I have found it appealing.
While my phone is in my purse, my partner can remotely take control of the vibrator in my vagina. However, the feature works when my phone is within 3-5 feet of the sex toy.
Lovense has a background function that allows it to keep running while the phone is in sleep mode.
Local Control
I would say that Lovense created the app, especially for local foreplay.
In compact spaces, in an apartment perhaps, the app has a range of about 30 feet when my partner is controlling it on sight. Further, if my partner is out of sight, the app can manage a maximum of 10 feet.
Music Activated Control
Most electric sex toys have one thing in common—they all vibrate. The Lovense app allows the vibrations to follow a music pattern set by pre-selected music that ignites my thirst for sexual stimulation.
Special Patterns That Merge Two Sex Toys
The Lovense app has a special feature that I adore. It is not every day that my partner wants to pleasure me. He also has special needs that I have to fulfill.
I can send unique signals to his Lovense remote app that triggers his compatible vibrator. My partner can carry out a similar strike on my side to enjoy the pleasure of mechanical sexual stimulation.
Get Creative with Unique Vibrating Patterns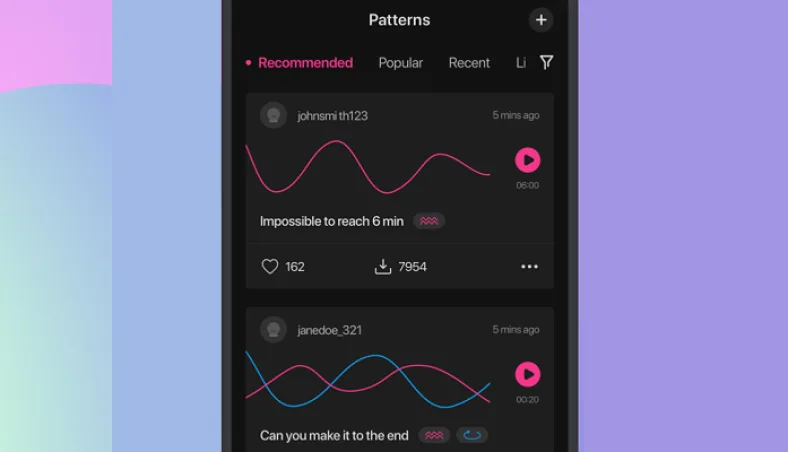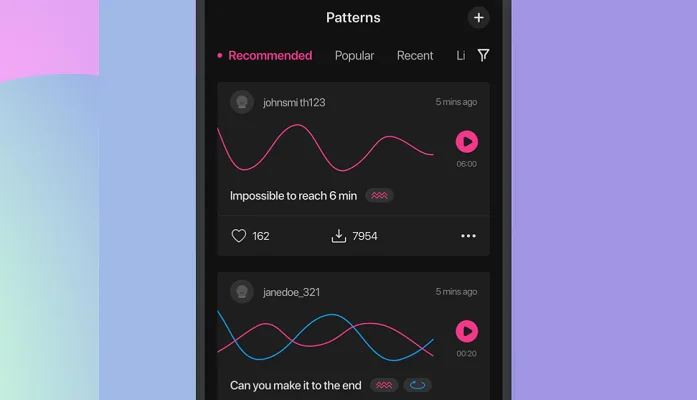 Special buttons in the Lovense app enable creativity. While this is weird to believe, especially in the sense of a sex toy.
The app allows for inputs that create unique vibration modes, which I can name and store in the app for other people's use.
Sound Activated Vibration
Lovense is an app that merges with sex toys to spark sex games, once limited by distance, into life.
When my partner is out, I often use his pre-recorded voice to light up the mood for sexual pleasure. The feature is also compatible with music, creating an opportunity for a music-controlled vibration pattern.
How Does The Lovense Remote App work?
First, before using the app on my iPhone, I had to download it from the App store. Android users can use the Play Store to have the app running on their phones.
From the packaging user manual, the following software and devices are compatible with the app:
PC
Mac
iPhone, iPod touch, iPad Mini, and iPad running iO9 or a newer version
Android 4.3 or higher supporting Bluetooth 4.0
Bluetooth is the primary connectivity method for local connection in the Lovense app. I use a dongle with my Lovense Max sex toy, and I have not had issues with connectivity so far.
Making A Connection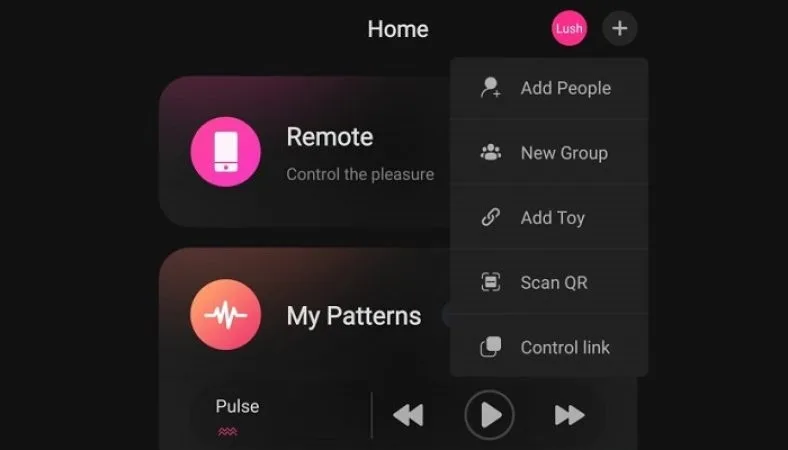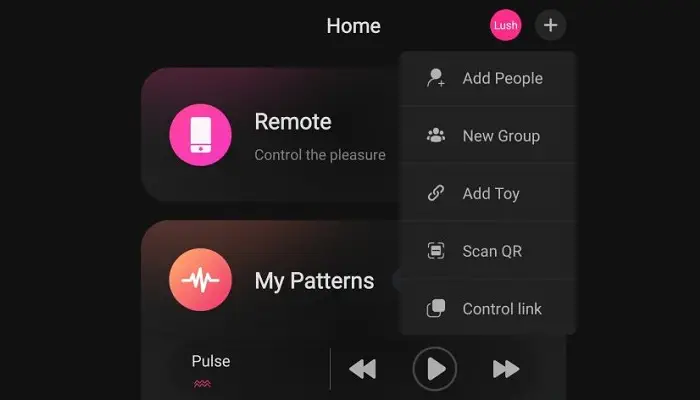 The connection part is simple and does not need any additional tools. In the app, the link icon in the top right corner opens a new window with a + button displayed.
First-time users have to search for new devices to connect them to the app. Since I have used the app frequently, my connections are much faster and more automatic.
Sex toys compatible with the app must be on during connection for the app to find them. During pleasuring, all Bluetooth connections and other connection points must stay on.
Lovense uses two color modes to show an active connection.
When connecting with a device, the color pink will highlight right beside the device that is connected and active. Once communication is out, the pink turns gray.
I have found the Bluetooth connection between my sex toy and the app is flawless most times. However, at times I had to reconnect the device repeatedly.
To do that, I had to restart the connection process from the start all the time—a mood killer.
How To Activate Lovense's Online Control Feature
The long-distance tab is where all the long-distance excitement happens. It allows partners to make the world their playground by simply having an account. To add a partner, the + button on the top right will do the trick.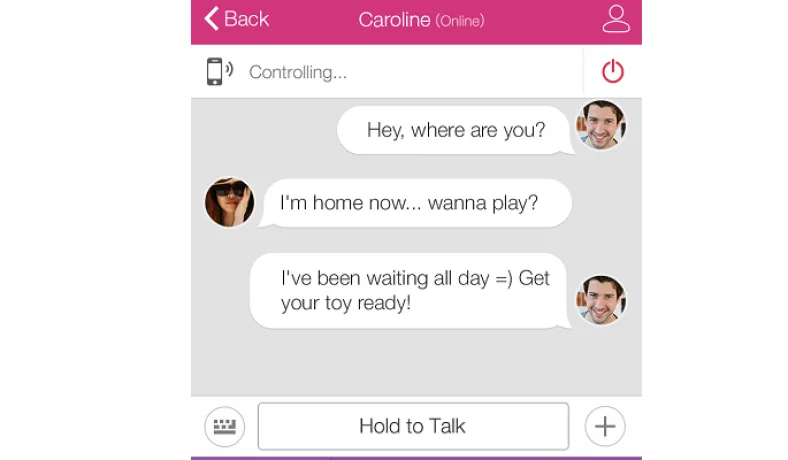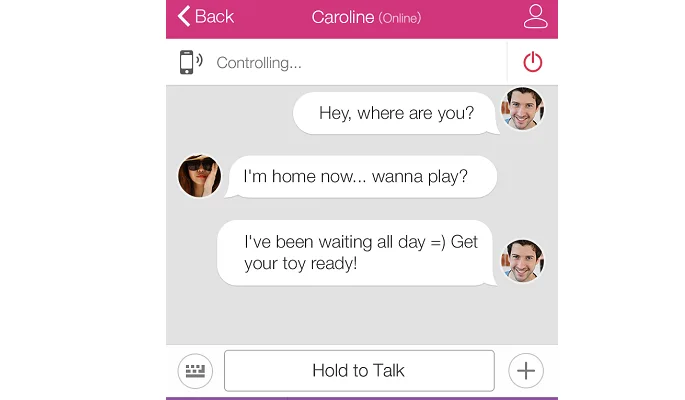 My partner often takes control by creating a connection with my phone and clicking the live control button that turns pink once play is in motion. When not in use, the button turns gray.
The distance control terminal in the app has additional settings, which activate the; auto-play feature, text notifications received from a partner; login prompts from the partner, and permissions to take over control remotely.
Syncing The Music feature With The Lovense App
Diverse operating systems synchronize music to the Lovense app differently for use during pleasure. In my case, I have an iPhone, which easily synchronizes iTunes to the Lovense app.
I do this by having all my music files in iTunes in one place, and then I synchronize my sex-pleasure device by clicking the sync button. Once back to the Lovense app, I can use any music added at my pleasure.
I do not have an Android device, but the user manual points out that those using Android phones must have the songs downloaded from their internal memory, and then make them available by opening the music folder while in the Lovense app.
My Pattern And The Shared Pattern Feature
While I like to get creative by making new patterns for Lovense app users, I have found other creations in the patterns tab rather fascinating.
The preview button gives me the power to trial a pattern before deciding to download it to my phone.
Pros and Cons of the Lovense App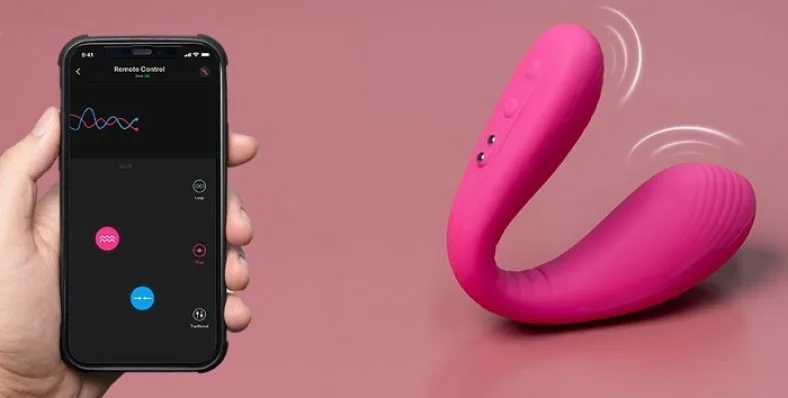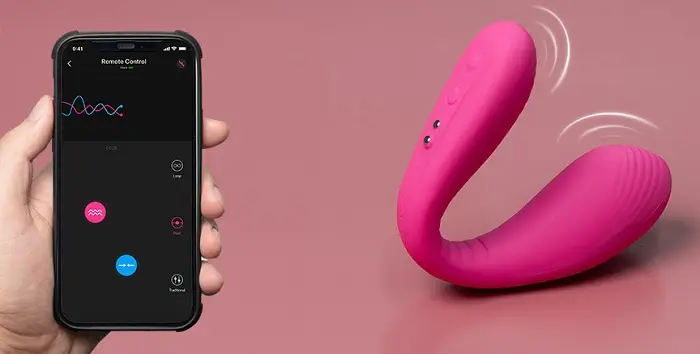 Pros
Easy to operate even for newbies.
It comes with preloaded patterns from other users.
The app synchronizes with iTunes.
Lovense has music-activated vibrations.
It allows multiple connections to two toys.
Compatible with Wi-Fi for long-distance connection.
Compatible with all Lovense sex toys.
It supports voice control activation.
Cons
Sloppy long-distance connection (strong Internet connection is better).
Poor video quality over a distance.
Bluetooth has a range of about 10 feet when a partner is out of view on a local connection.
It only works with Lovense toys (duh!)
FAQs About The Lovense Remote App
How Far Can I Connect With A Partner Using The Lovense Remote App?
The distance is unlimited when you switch to long-distance mode. For the Bluetooth mode, the local connection ranges between 5 and 30 feet, depending on whether your partner is in view or not.
How Do I Know That My Phone Supports the Lovense Remote App
If you have bought your phone within the last five years, and it runs Android or iOS, chances are that it supports the app.
For iPhone users, the app requires iOS 9 or higher, while android phones must run version 4.3 or higher.
My Partner Uses a Mobile Device. Can I Connect On A PC?
Yes. The Lovense Remote App allows you to connect with your partner on different devices.
The only requirement to connect is a reliable internet connection and compatible Lovense sex toys.
Do I Pay For the Music I Sync with the Lovense Remote App
Yes. While the app offers flawless integration with music to spice up the excitement, you must have proper permission to play the music via the app.
For iPhone users, the app synchronizes directly with iTunes, so you do not have to worry about copyright issues.
How Many Devices Can The Lovense App Support Simultaneously?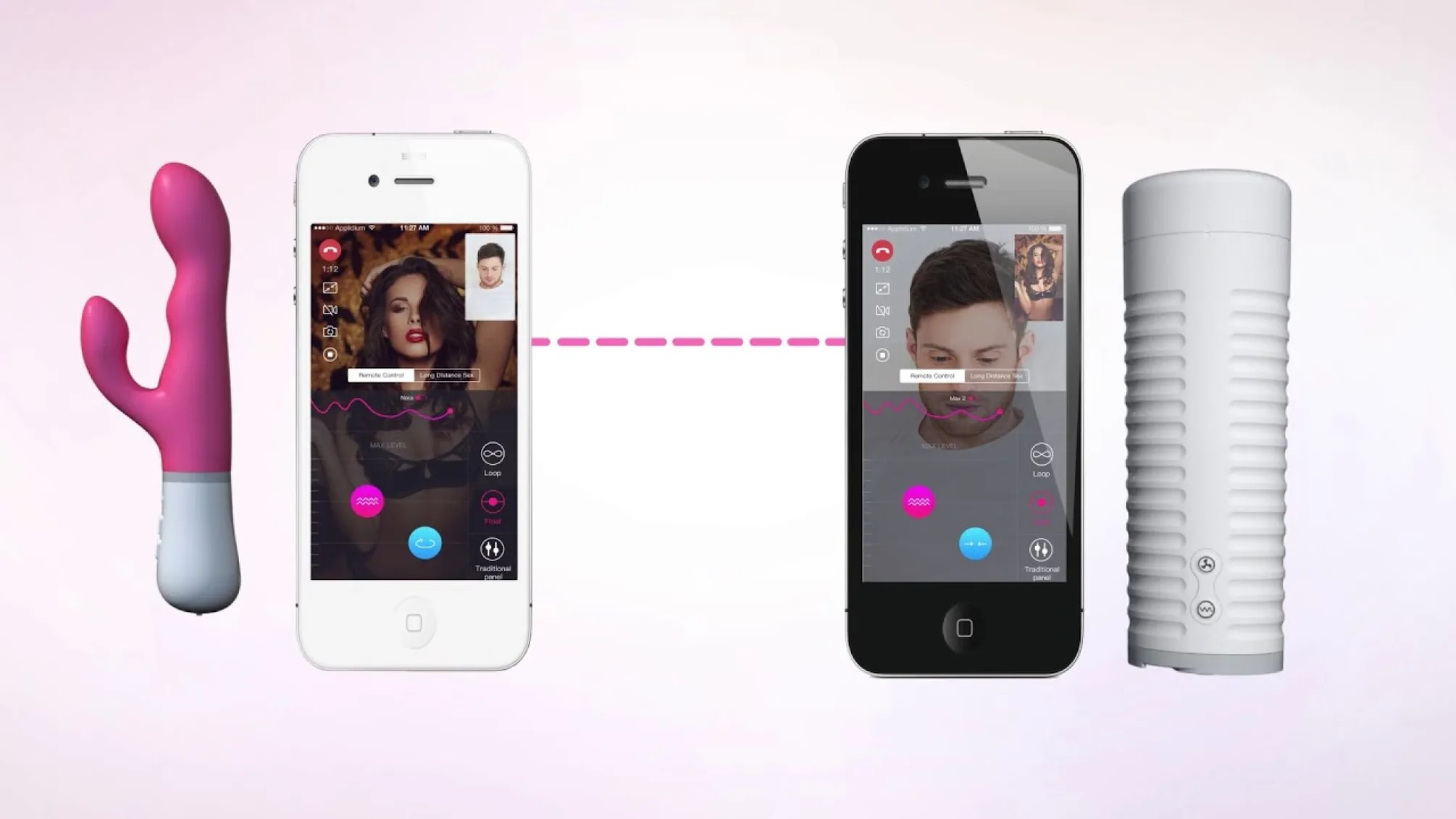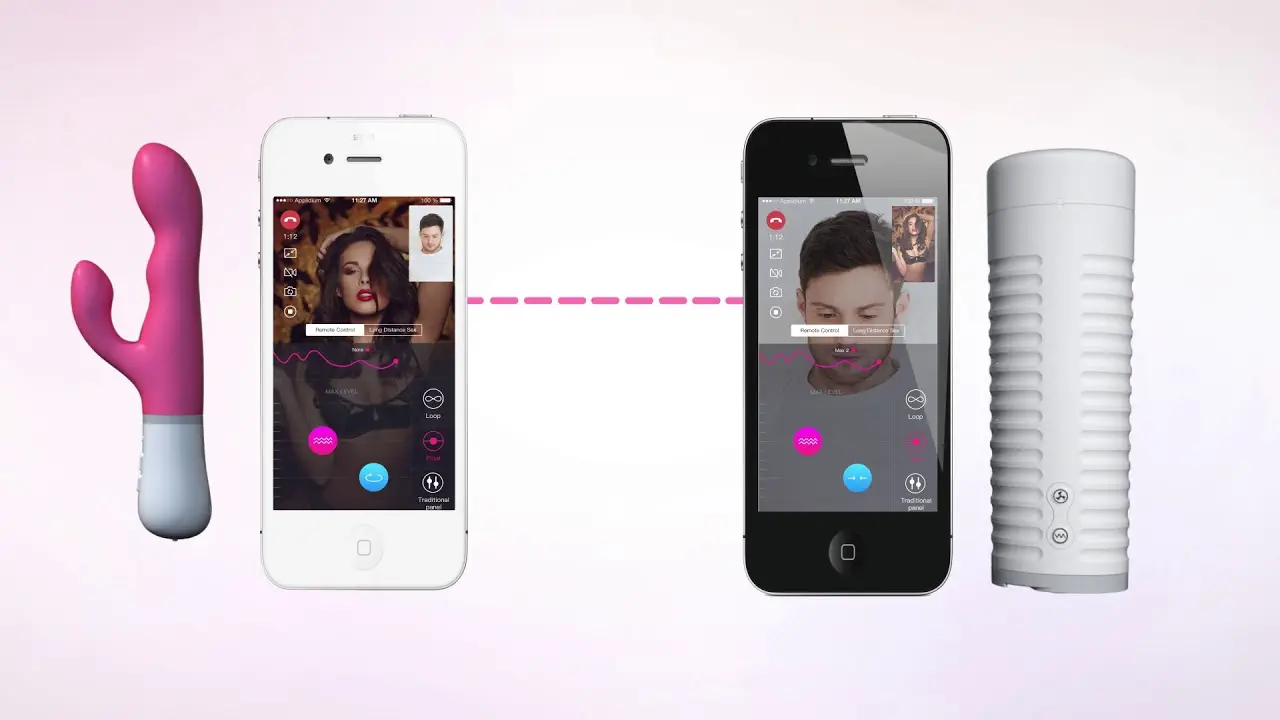 About two per session. You and your partner can run sex toys simultaneously, one each, while connected to the app.
How Great Is Lovense Connection over Large Distances
The connection is great. However, you could encounter lags or poor-quality videos while video calling.
Make sure the network reception on your phone is great before a video session with a partner.
Final Verdict
The Lovense app works great and does not disappoint, except for a few connection glitches. I have experienced some lags and poor video quality, but when I weigh these disadvantages with the benefits.
I still rank it up there with the best, judging from what I have gone through with other teledildonics.
My partner and I have never been apart for long, but I find this app capable of connecting those in such situations and at the brink of a breakup due to distance.
That said, with some updates, the app can shrug off some cons, and it might be a go-to app for those lonely couples that want to connect over the internet.
If you want to experience sexual pleasure like no other device can offer, the app is free for download on Apple's app store or Android's Playstore.
Visit the Lovense online store for sex toys compatible with the app.
➡️ Check the price of Lovense Sex Toys