When Steve Jobs developed the iPhone in 2007, I'm not sure he realized how revolutionary it would be. I'm sure he knew that he made communication, web surfing, and music accessible on one device.
However, I don't think he realized how far-reaching, ahem, sexually, the benefits might be. For example, who knew there would be apps for porn and erotica and live video abilities just a few years later?
Also, I don't think that the engineers who created the vibrate mode decades ago realized the future capabilities beyond alerting us to pages, messages, or phone calls.
Did they foresee that people across the globe would feel this vibration and, perhaps, want more of it?
App developers realized this desire, and they have created many vibration apps and app-controlled vibrators in recent years.
So, thanks to them, you can now use your phone as a self-massager should you be somewhere without an actual vibrator. If this is your first time hearing this, pick your jaw up off the floor. It's crazy, right?
During the beginning of the pandemic, developers saw a massive boom in vibrator app downloads.
"According to data by app analysis platform Apptopia, vibrator apps saw a 171 percent increase in the first five months of the pandemic, with more than 1.6 million people globally downloading these apps in July 2020" claims Vice. I mean, it completely makes sense, though.
Lonely people locked up in their homes alone? App Store, here I come!
For years I've used a sizeable plug-in device that lives in the bottom drawer of my nightstand and could be mistaken for a small kitchen appliance. Could a vibrator app produce as much intensity as my plug-in vibrator?
I'm all about trying new things, so I had to do some research, all for the sake of science, of course! There are a lot of vibrator apps out there, most of which didn't make the list.
Read on, and you'll find a list of the best vibrator apps (and then remote apps for actual vibrators). I dare you to read through it without downloading one.
➡️ Check the Best App-Controlled Sex Toys
Best Vibrator Apps
1. VibraTool- Vibrator Tool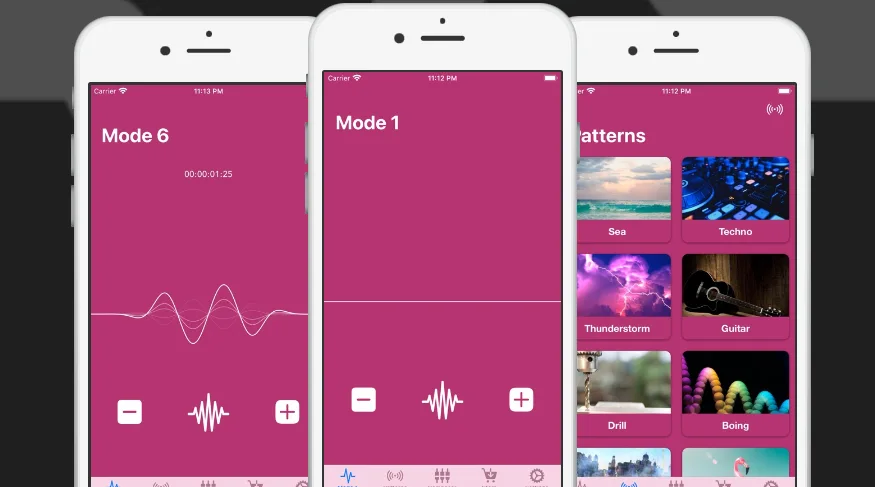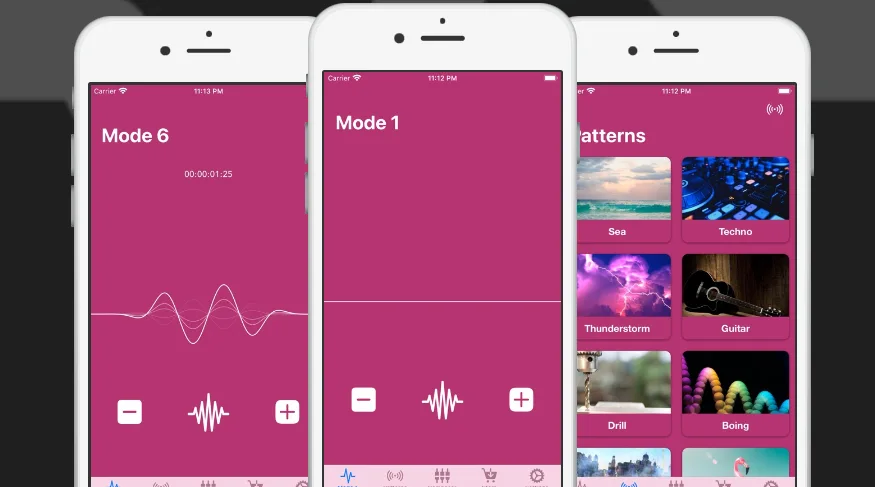 The VibraTool has a pretty awesome free version with twelve different patterns accessible. You can use everything from the Rumble to the Sparkle Patterns.
However, the free version only has one mode available, and it lacks strength. It gives just enough of an itch to get excited, but it didn't get me quite over the edge.
A small fee allows for maximum active mode (more intensity) and the removal of ads.
iOS / free and paid versions
2. Pure Vibrator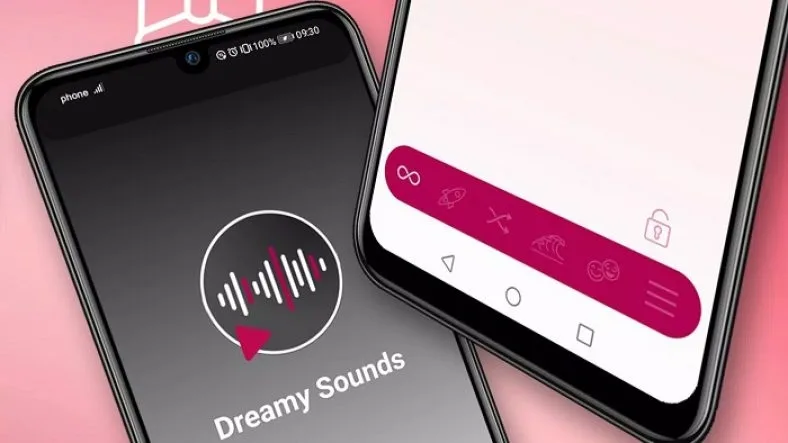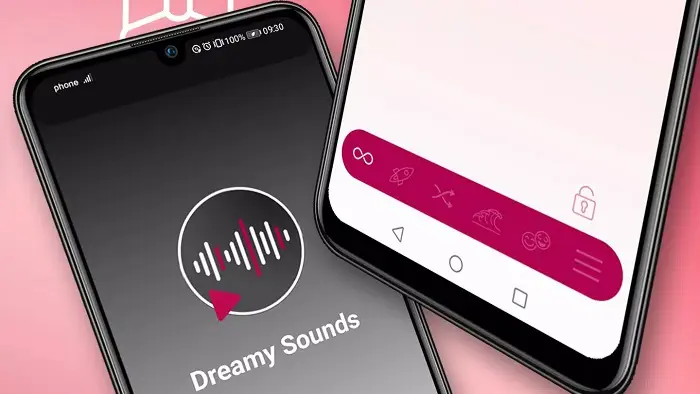 The Pure Vibrator app is one of the best Android apps for self-love. It is 100% free (no payment whatsoever), and there are no annoying full-screen ads on the screen while you're trying to orgasm.
Pure Vibrator has five modes to choose from with different intensity levels. One of the most remarkable features is that you can lock the controls so you don't accidentally stop the vibrator right when you need it most.
Android / free
3. Vibrator Massager – Haptic Vibe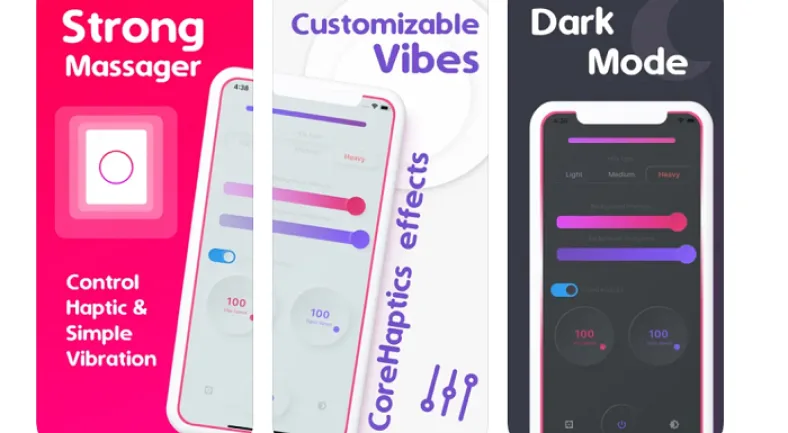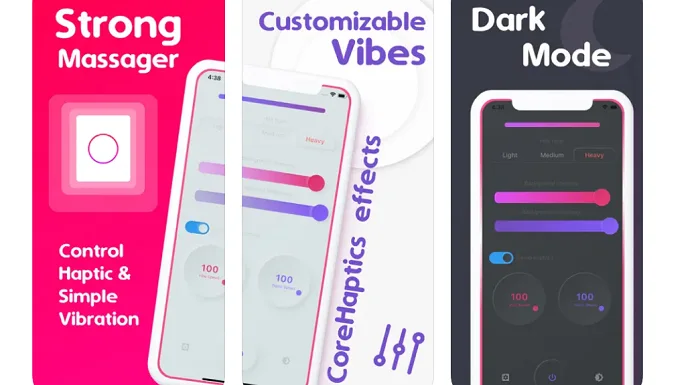 This app gets props for its clean interface and multiple settings. Options include light, medium, and heavy hits, background intensity, and background sharpness.
You can also disable sound. Just press the power button to start. Did I mention it's completely free?
iOS / free
4. Massage Me: Phone Vibrator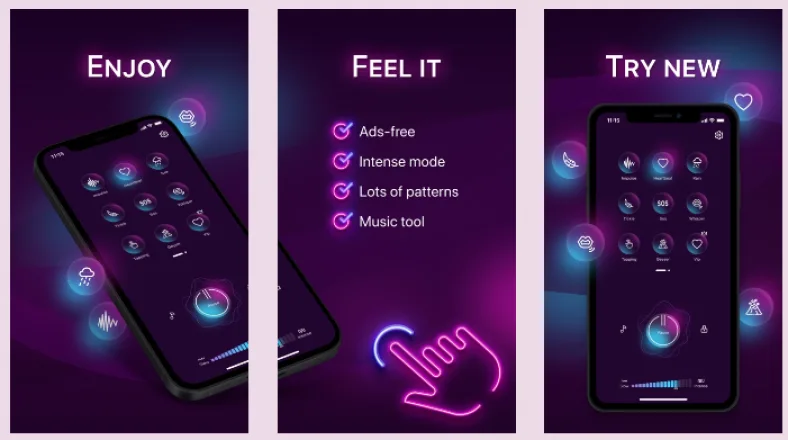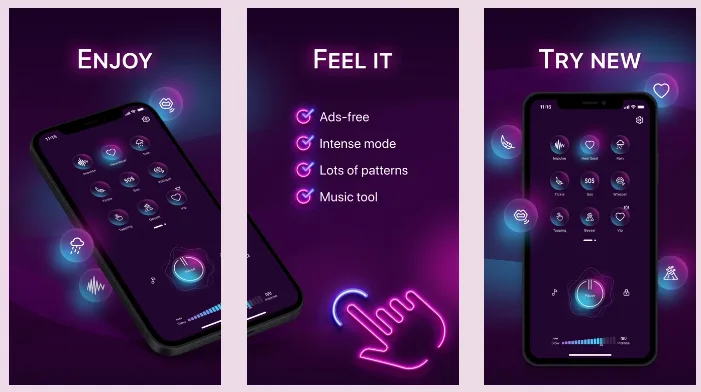 I'm not going to lie. I enjoyed the SOS mode on this app. The interface is pretty great, and the free version gives you access to eight modes, including my favorite, SOS, and the Bomb and Impulse modes.
The free version also allows you to do high intensity, which usually isn't accessible in the other apps, without paying.
A nice feature is that you can lock the screen while you're pleasuring yourself, so you don't accidentally switch modes or turn it off before you've climaxed. Payment unlocks music, more modes, and gets rid of pesky ads.
iOS / free and paid
5. iMassage U Vibrating Massager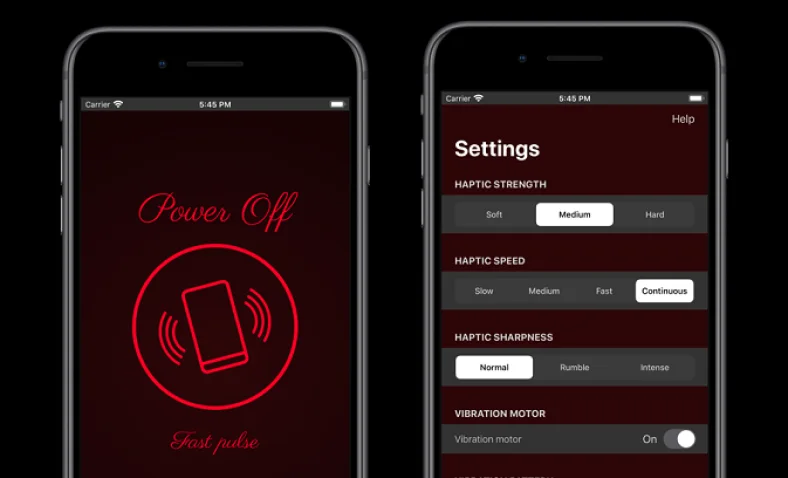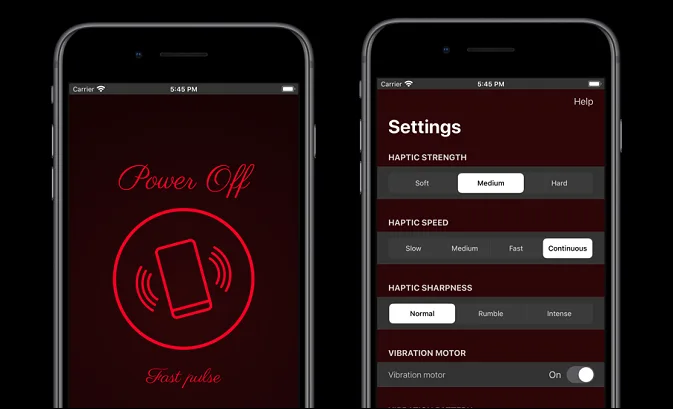 The free mode on this app is okay, with soft haptic strength included – medium and hard are paid access only. However, haptic speed is unlocked except for the highest one (extra fast, I suppose?).
In the free version, haptic sharpness only allows normal, but premium unlocks rumble and intense sharpness. Vibration patterns include slow, medium, and fast pulses—with seven other patterns opened for a one-time fee.
In short, if you're someone who likes fast and hard with a side of high intensity, this app is for you.
iOS / free and paid versions
6. Vibrator- Relax Massager App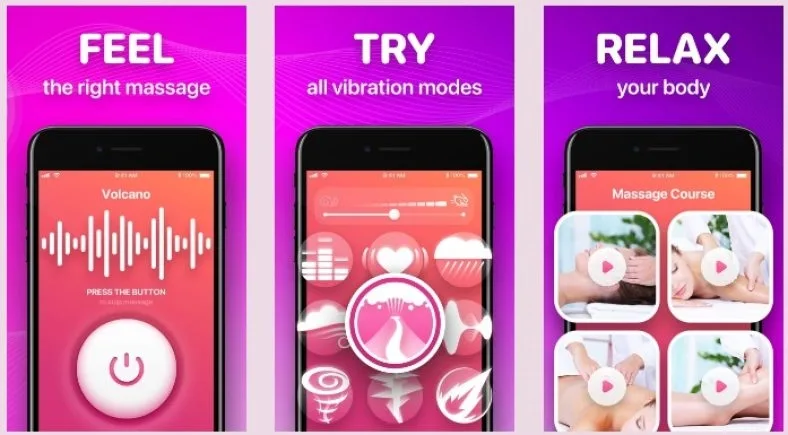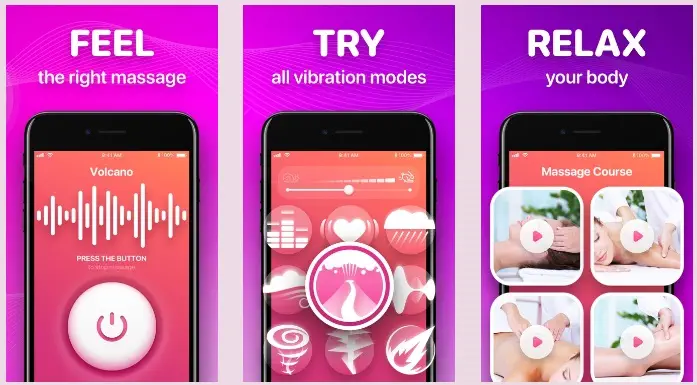 Users of this app highly rate it for its twelve unique modes and fourteen levels of intensity and strength.
Unfortunately, the free version is pretty lame unless you can orgasm with the feeling of someone lightly tapping you every few seconds.
That's kind of what the Heartbeat mode on soft felt like, which isn't entirely mood-enhancing. The paid options sound much more orgasm-worthy with Tornado, Tsunami, Volcano, and Meteor modes.
I never knew that weather phenomena could be so sexy!
iOS / free and paid versions
7. Vibrator Strong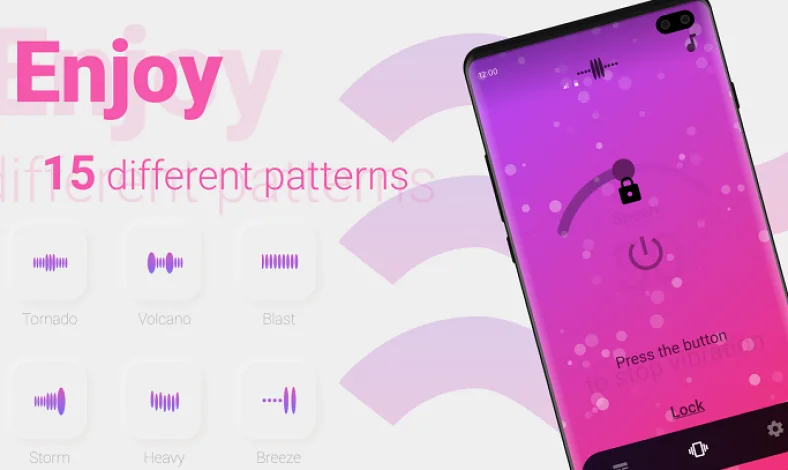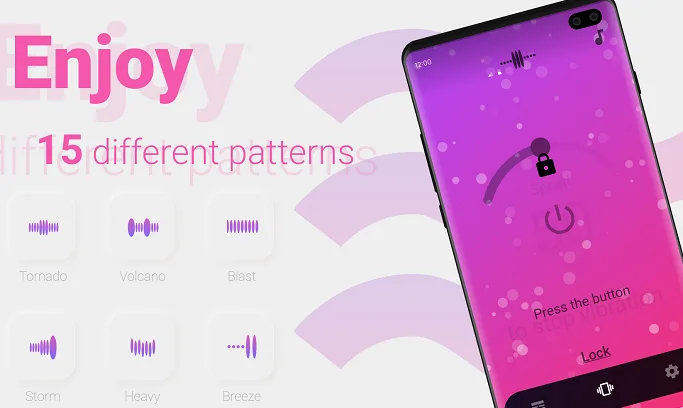 If you want to feel relaxed, try the contrasting vibration patterns in this app. The app will deliver the most potent vibrations your phone allows with various vibrating melodies.
The mobile massager includes pleasant sounds and fifteen different vibrations with speed control. The Google Play Store says that you can use this app to "calm a cat," so maybe you should try that?
Android / free and paid
Frequently Asked Questions
Is it safe to use your phone as a vibrator?
It is not safe to insert your phone vaginally, but placing your cellphone externally on your clitoris is entirely safe. However, it's best to wipe your phone before and after use.
Will I have an orgasm with a vibrator app?
Unfortunately, orgasms aren't guaranteed, even with the best vibrators or apps. However, vibrator apps are so cost-effective that it's worth a try.
Is it worth paying for a vibrator app?
I would recommend starting with the free version first and seeing if you can orgasm without paying. Most free versions only have low to medium intensity levels, so if you can orgasm with that, you'll probably be fine without paying.
Is a vibrator app better than a vibrator?
In short, no. If you don't have a vibrator on hand, a vibrator app can be a substitute. Depending on the app, it could be a really mediocre substitute.
How do I clean my phone after I use it?
You should thoroughly wipe your phone with a cleansing and disinfecting wipe.

Best Remote Apps for Vibrators
So, in addition to vibration apps, there's something even better. It's called teledildonic (yep, real word!) sex technology.
These devices allow you to have a long-distance romantic encounter with your partner while they control your vibrator (or vice versa) using an app.
There are many amazing vibrators on the market, but finding a fantastic vibrator with a working app is not easy. So, we've put together this list so you don't have to do the legwork.
One thing to note- check reviews for the specific app that your potential new vibrator uses before purchasing. Some apps have varying reviews depending on whether it's on an Android or iOS device.
These are the best overall:
1. Lovense Remote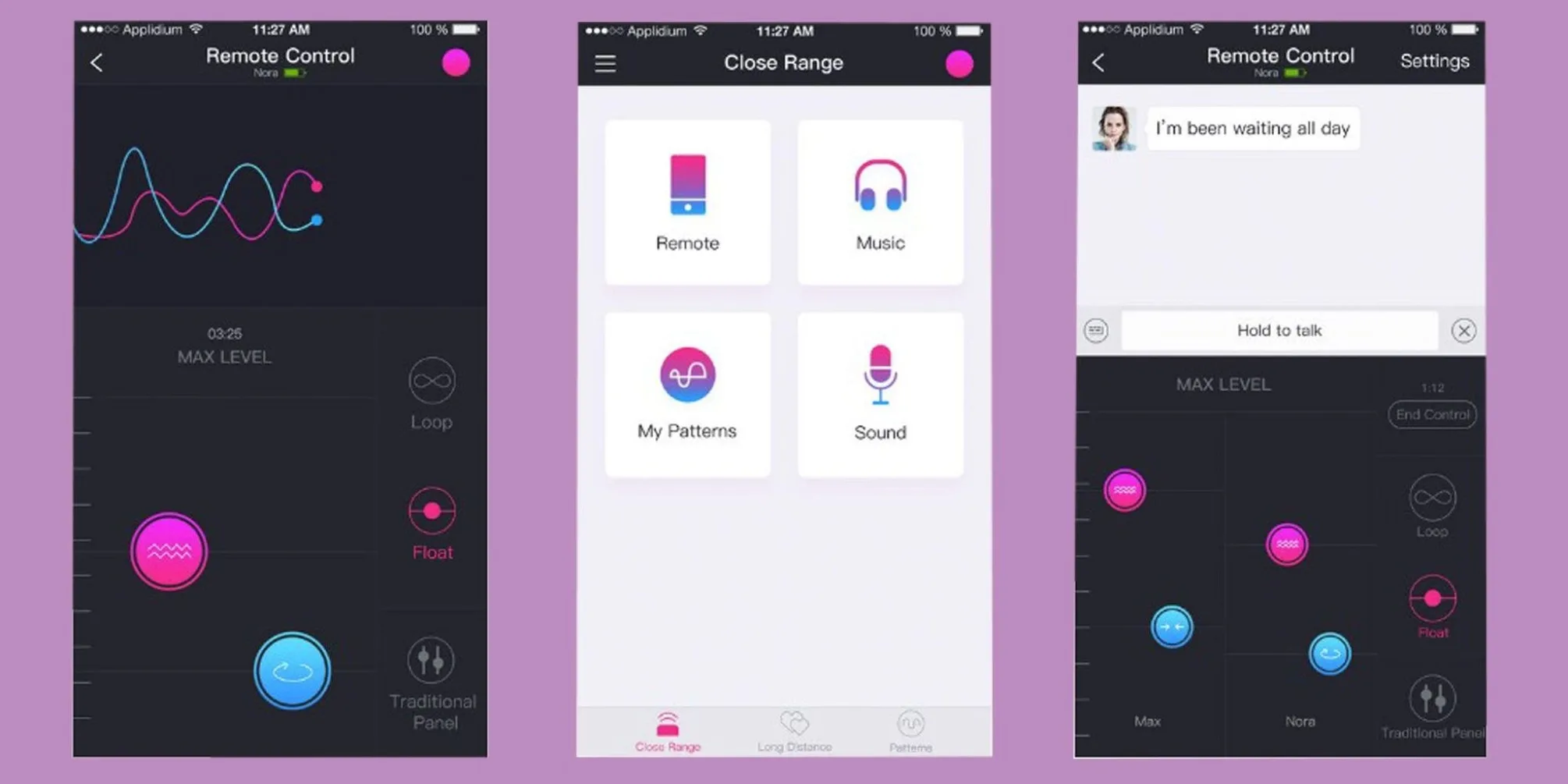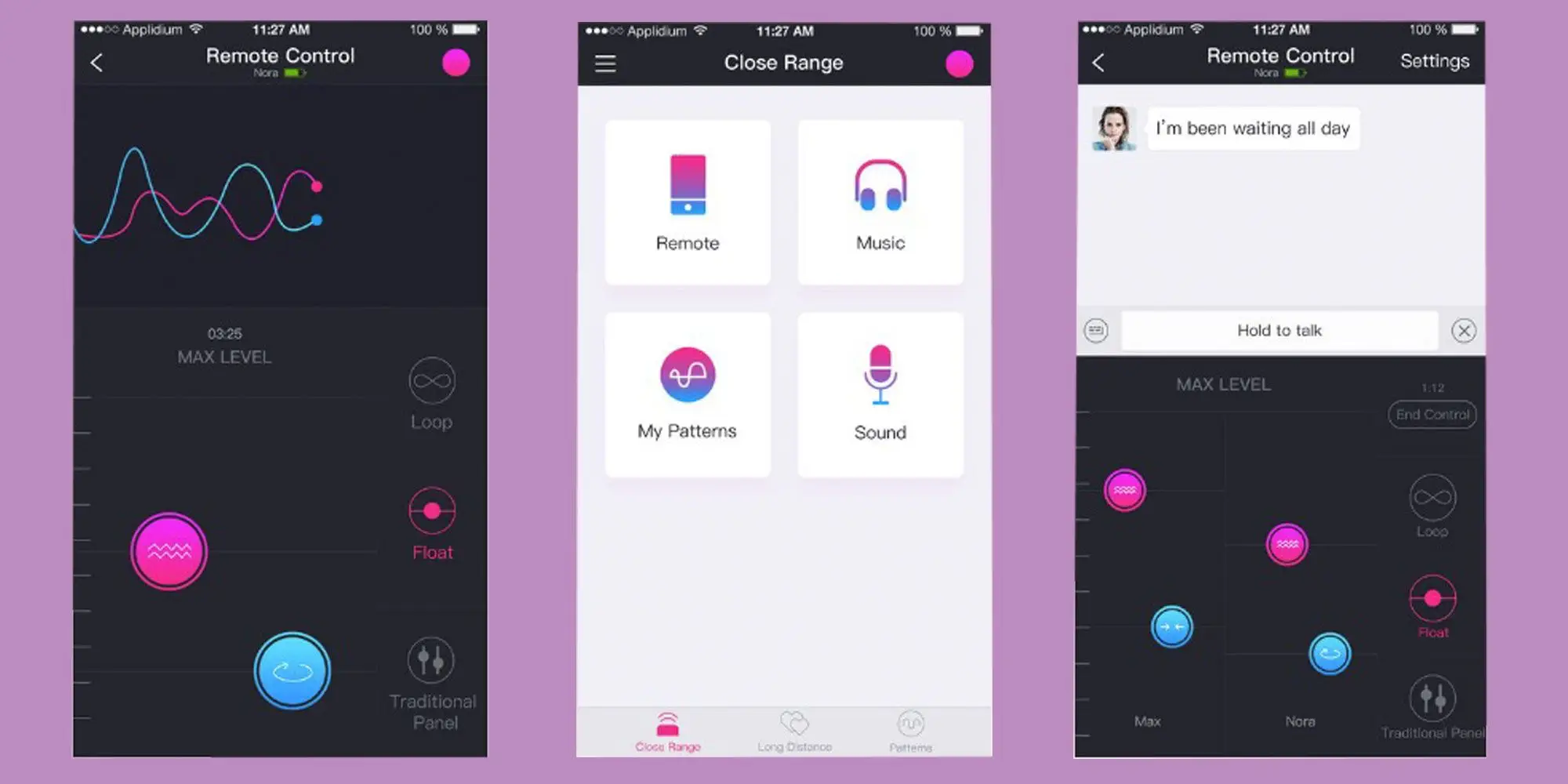 Lovense is no stranger to the sex toy industry, with products from their Dolce to the Lush 3 and others in between. Lovense products are controlled by the aptly-named Lovense Remote app.
The app allows you to control your partner's toy and they can also control yours. If you can handle the pleasure, sync your devices together to feel the pleasure simultaneously!
As if that wasn't enough reason already to purchase a Lovense toy, the app also has an alarm so you can wake up with a nice vibrating pulse and an orgasm to start your day.
Yes, please! Video chat is also available if you need some visual stimulation as well.  Overall, the Lovense Remote app offers the most customizable control of any app-controlled vibrator brand.
Pros:
alarm feature
video chat
sync devices together
Cons:
the app might be difficult to learn the first time
➡️ Check the price of Lovense Sex Toys
2. We-Connect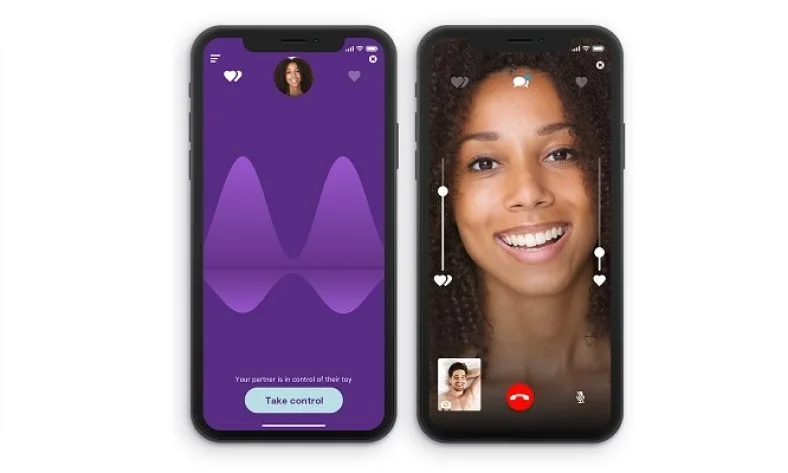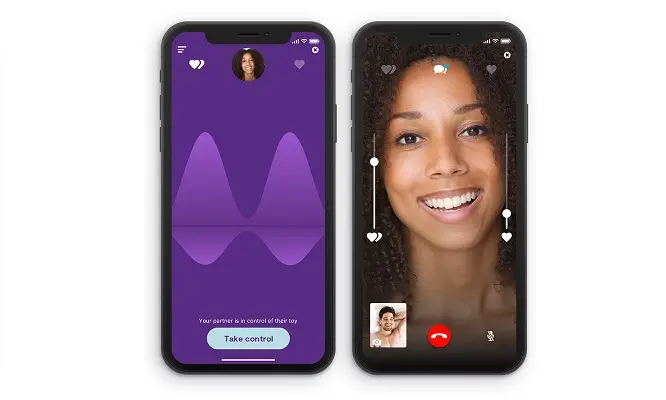 We-Vibe is a forward-thinking Canadian sex toy firm that developed the We-Connect app to go with some of its products. From bullet vibes to G-spot toys to anal vibes, We-Vibe has a wide variety of toys.
All of their products except their Tango and Touch product lines can be controlled via the We-Connect app. The app allows for video calls and the ability to control each other's vibrations and pleasure from across the globe.
And while there was a class-action settlement in 2017 with We-Vibe, it is encrypted and protected on secure servers now.
Pros:
most of their products are supported by the app
Cons:
previous concerns about privacy after settlement
3. Satisfyer Connects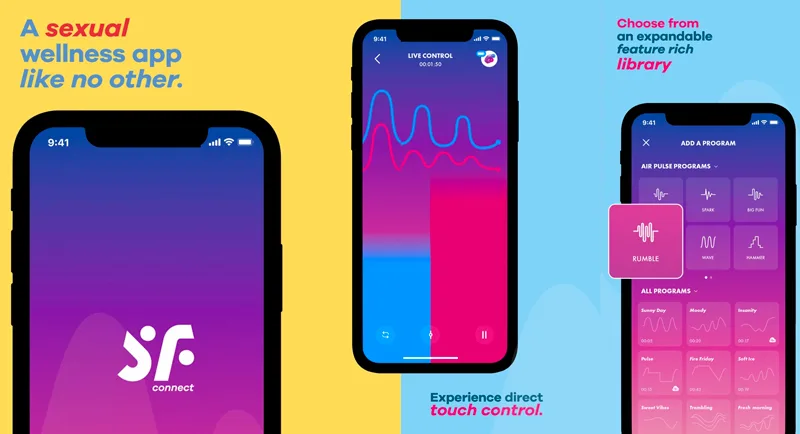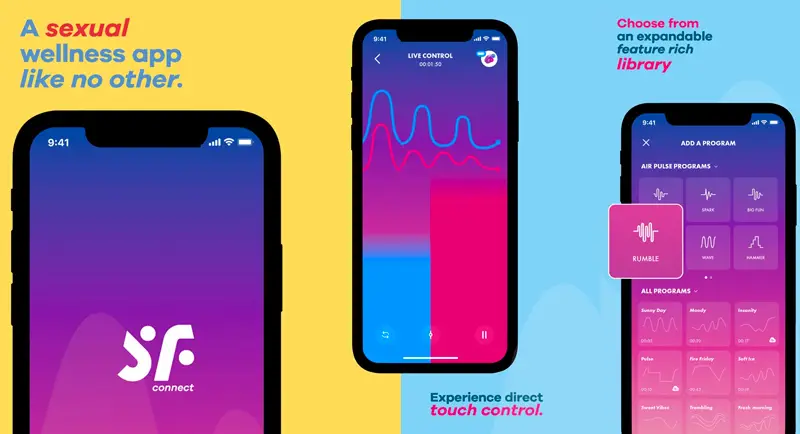 Satisfyer makes popular vibrators like the Satifyer Little Secret all the way to the Curvy 3. Their app, Satisfyer Connect, allows you to create your own vibration patterns and share them with other users if you choose.
You can orgasm to the beat of your Spotify or Apple playlist all while video chatting with your partner. They also have a new series of Remotyca (remote-controlled erotica) available that buzzes along with the story you're listening to.
Pros:
create your own patterns
vibration to music
video chatting
multiple toys
erotica
Cons:
Satisfyer toys are far from offering the best quality on the market
4. Magic Motion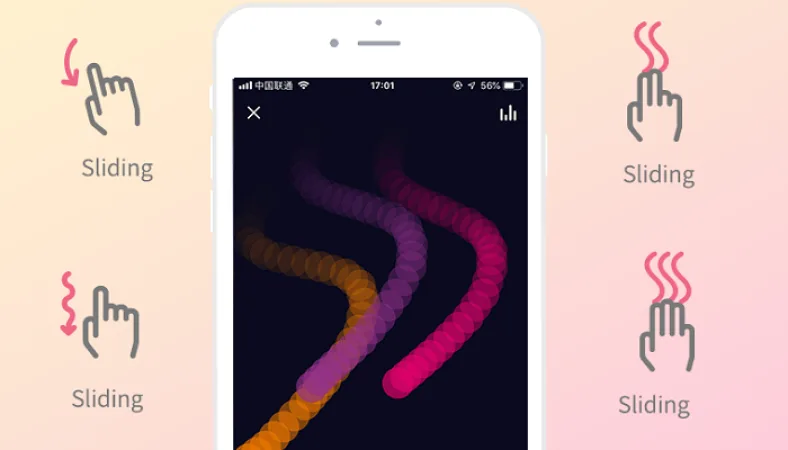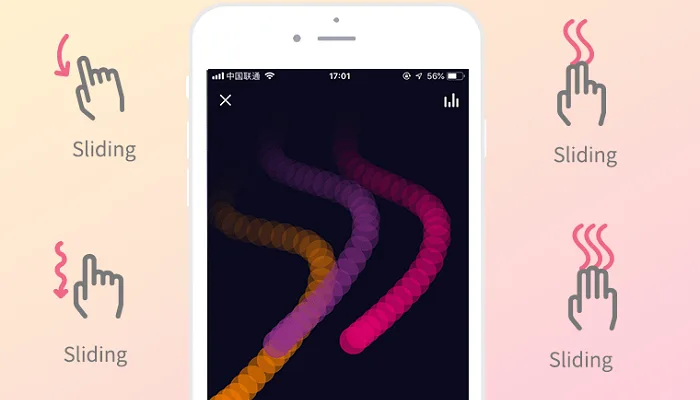 Magic Motion is a smart brand that was established in 2013. Users can connect to a variety of Magic Motion toys via Bluetooth, and then explore pleasure through music, voice chat, vibration, and games.
While the app offers its own patterns, you can make your own pattern by "finger painting" on the screen. One feature is that you can play games (offered by a 3rd party) with your partner.
Not sure what's better than playing games and having an orgasm. Experience music as the app vibrates to the rhythm, or set it to vibrate to your lover's voice so their every word ignites internal fireworks.
Pros:
customizable patterns
games
music settings
Cons:
potential connectivity issues
5. Vibrava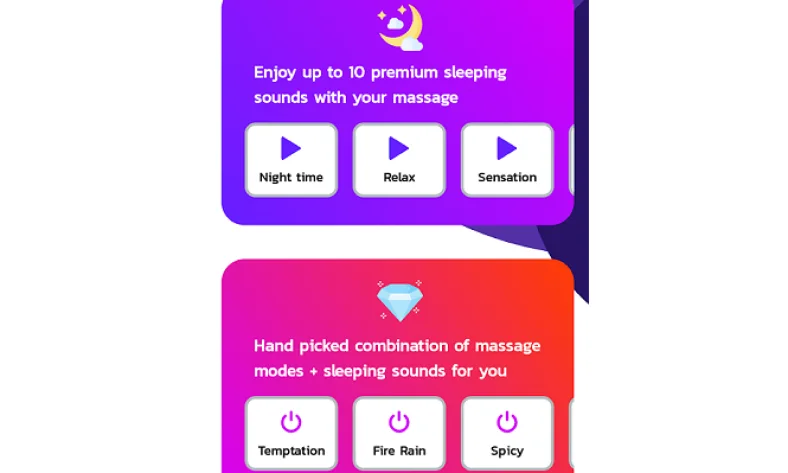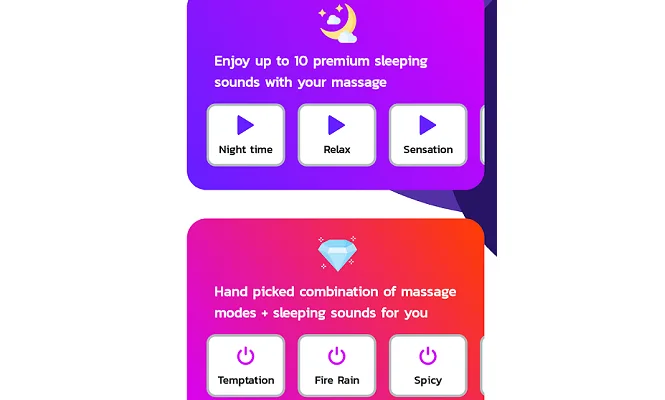 Vibrava is a new concept in sex tech apps because it is not tied to a specific sex toy company. Currently, the Vibrava app supports multiple brands and over 100 vibrators.
So, for example, if you have a Kiiroo Pearl 2, a LELO F1s, and a Libo Elle, the Vibrava app can control all three! No need to hop from one app to another for controlling your sex toys.
Like other apps, it comes with a set of pre-made vibration patterns with the option of customizing your own.
Pros:
can control multiple brands
customizable vibration patterns
Cons:
only on Android
offers a premium membership for all features
Frequently Asked Questions
Is a vibrator with a remote app worth the cost?
Vibrators with apps as remote controls cost more than a regular vibrator. But, they add spice to your sex life by putting your partner in control of the vibration, whether they're in the room or another city.
If you've never had a vibrator before, starting with a simple vibrator might be best. Then you can learn what you enjoy and then upgrade once you're more familiar with your hot spots.
What should I look for when purchasing?
There are a few essential things to look for in a vibrator.
First, check the material, size, and shape. Then, once you discover that it will provide what you need, it's also crucial to check its app's remote capabilities.
Can I use it when my partner is traveling internationally?
Each vibrator has a different distance range when referring to the app, but most will work internationally over Wi-Fi. Ask the manufacturer to confirm before purchasing, however.
What's the best material for a vibrator?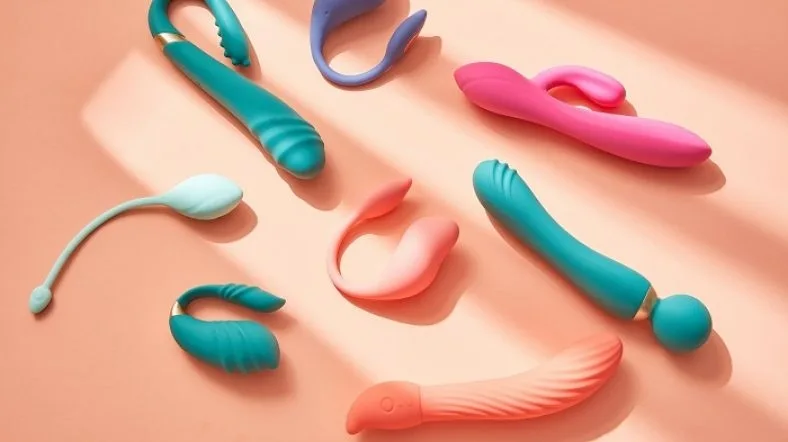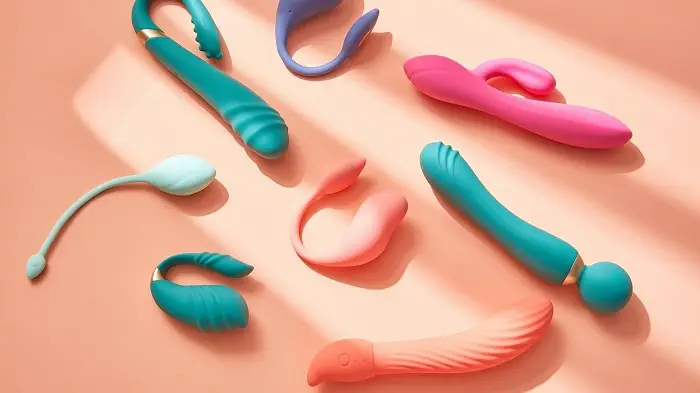 Most vibrators today are silicone. This is because they are soft and easy to clean.
I don't want my vibrator to make a lot of noise- is that possible?
Surprisingly, yes! Vibrators of yesteryear used to be so loud.
Thankfully, technology has come a long way, and many vibrator manufacturers tout that their vibrators are quiet and discrete. If possible, try to shop at a local store and see if you can test them out (for noise purposes only, ha!).