Yes, the time of technology is upon us, and when it comes to technological advancements made within the realm of women's sexual gratification, we have come (literally) a long way.
Gone are the days when women had to rely on the old and boring ways or the whim of a partner.
Taking our own sexual matters into our own hands, there's nothing keeping you from exploring your own sexual potential.
Every woman deserves to climax where and when they want to, whether discreetly and in your own home, or in a more public and more adventurous setting.
That's why the following products will give you the freedom to choose where, when, and how you orgasm., as they're true remote-controlled vibrating panties!
Here is a list of the top 5 best wearable female vibrators to put in your pants or replace your underwear to get you started. Enjoy!
To ensure you don't get counterfeit or defective products, NEVER purchase any sex toy from Amazon or Ebay. I strongly recommend that you order only from trusted and authorized dealers or official stores, like the ones mentioned in this post. Stay safe and have fun! 😀

#1 Lovense Lush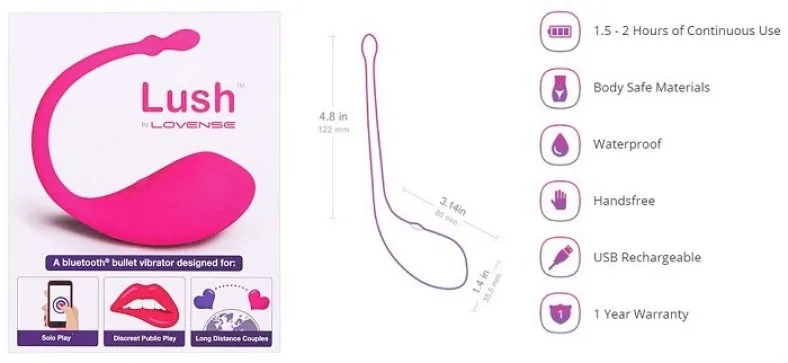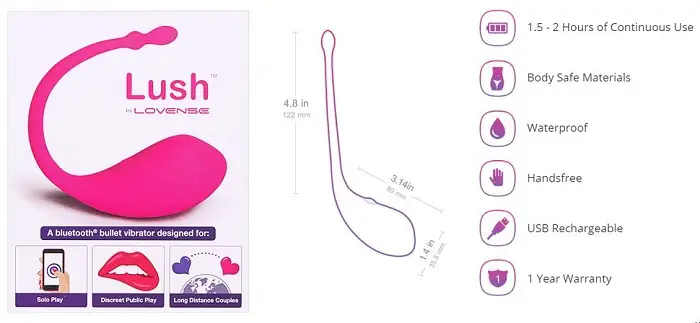 Click here to read the full Lush review
The Lush is great for maintaining closeness in a couple that can't be close physically, like long-distance relationships. The product shape looks like something you might see deep-sea fishing, but never mind all that.
The thin tip is actually the Bluetooth receptor, and the fatter and more bulbous end is what is inserted into the vagina and nestled up against your G-spot, which vibrates in every fashion imaginable.
You can save favorite patterns, and it even syncs movements to your favorite 'getting down' music. The remote control option is the main selling point with this toy though.
You live in Utah, and your boyfriend/girlfriend lives in New York? No problem! The device works with most smartphones and even syncs with the Apple Watch!
The downfalls are that the Bluetooth can and does sometimes fail, even in close proximity situations, and the makers must have been men because they assume via a design that every woman's G spot is in the exact same spot.
For those with harder to reach G spots, the product can still reach them, but that shortens the length of the Bluetooth receptor, which may result in interruptions at inconvenient times (if you know what I mean).
Great product nonetheless and would recommend for anyone with a vagina, despite the kinks.
>> Click here to order your Lovense Lush (official store) <<
#2 Vibease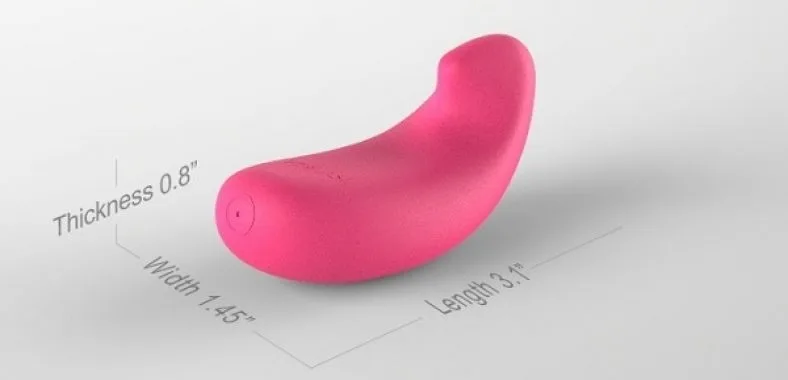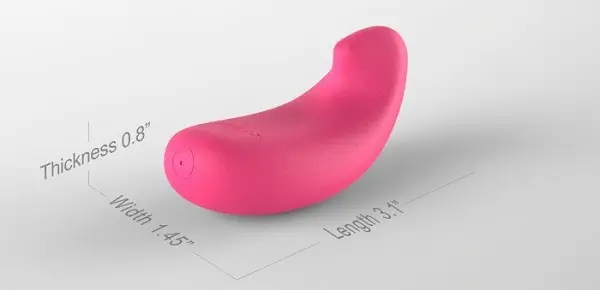 Click here to read the full Vibease review
The manufacturer classifies the Vibease as a "wearable vibrator", and that it technically is, but the style of underwear you wear really does play a significant role in the overall performance.
The vibrator is shaped to fit snugly against your lady parts and is specifically designed to have the flat part rest under the vulva, with the hooked extension nestled against your clitoris.
When worn, the design is discreet and quiet enough to be worn in a semi-noisy public setting.
It comes in a cute package that doesn't scream, "Hey everybody! There's a sex toy in here!".
You would never know what it is by looking at the shipping packaging, and that is an essential and often overlooked pro in the buying experience.
What you do with your body is something that your neighbors don't necessarily need to know about!
It is available in two colors, pink and purple, and comes with 2 USB chargers. There is no carrying pouch, but if you have the one left over from the sunglasses you lost at that concert last summer, that should work just fine.
One of the best aspects of this particular product is the app that is designed to allow your partner(s) to control it, and from distances both near and far.
The app has erotic audiobook downloads, texting, and picture-sending options, as well as the aforementioned remote control options.
The vibrations of the Vibease are quite pleasing, although they are much fainter when wearing the device in your panties.
No underwear on Earth can hold it forever in just the right place like your hand can, but it could make for some interesting date nights.
Fully rechargeable and water-resistant (not waterproof), this toy takes adult fun to a newer and more exciting level, whether playing in public, alone with a sexy audiobook, or with a long-distance partner.
#3 Ohmibod Club 3.0H Panty Vibe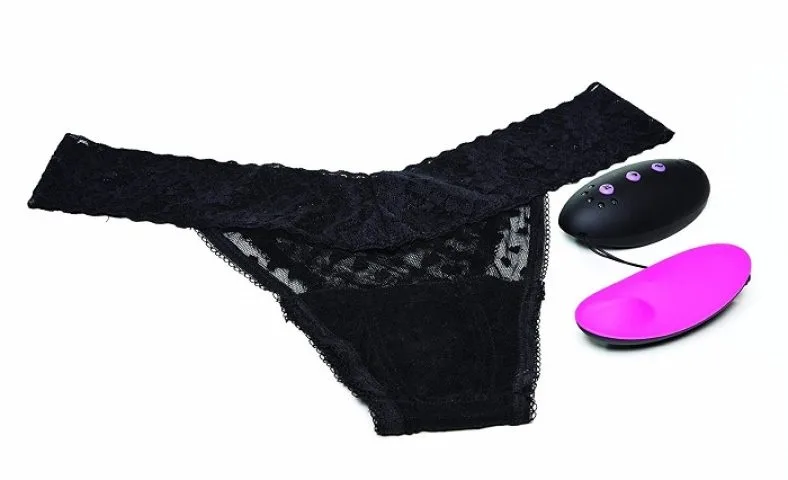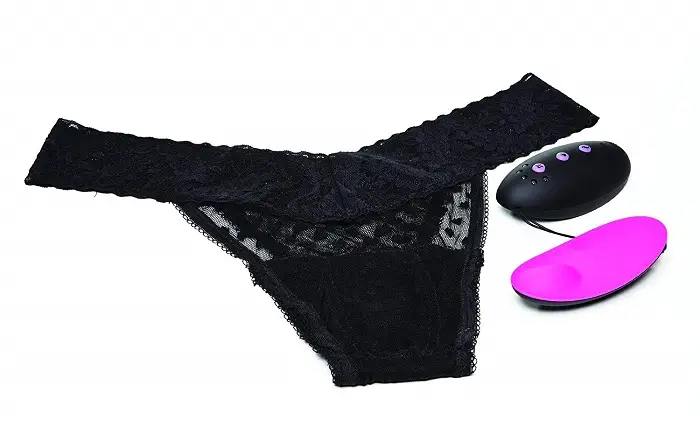 Click here to read the full review of the Ohmibod Panty Vibe
This product from Ohmibod was designed explicitly for concert and club frequenters that want to take their experience to a new and unprecedented level.
The set comes with a charger, remote, and a specially designed (and adorably sexy) pair of panties to wear with the vibe.
It isn't waterproof, so stay out of the pool and tub, but you never have to worry about batteries dying, because this model doesn't require any. Just charge and go!
The noise level of the vibrations is so low that even in quieter settings, it is discreet.
In a case where you are in a club, concert, or bar, the noise from the vibrator would definitely not be a thing of an issue because those kinds of places have constant sounds to help cover up yours anyway.
The remote control works well and even when the vibrator is charging.
It doesn't have a phone app, and it doesn't sync with other devices, but the remote offers such a great and pleasing variety of sensations that you really don't need an option like that.
This is truly a wearable vibrator and can be worn anywhere any time, and is a must-have for those that like a little discreet exhibition!
>> Click here to learn more or order your Ohmibod Club Vibe 3.OH Vibrating Panties <<
#4 Desire Luxury USB Clitoral Vibrator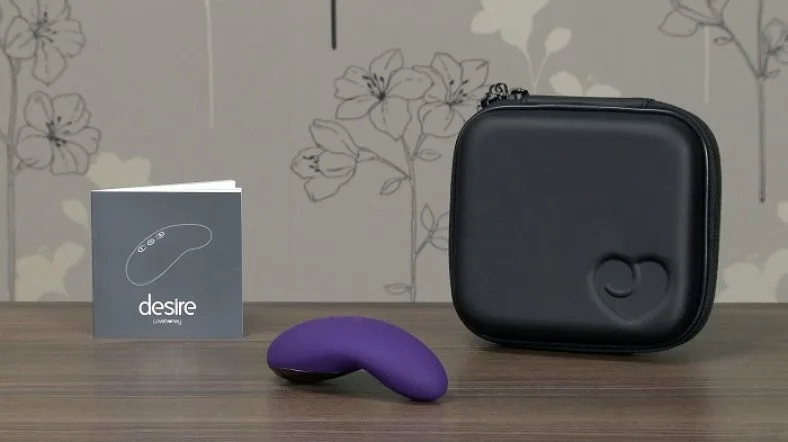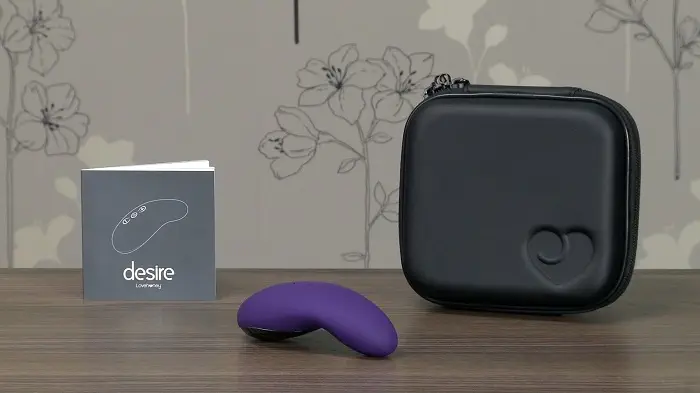 I love this product from Lovehoney! The design is sleek and comfortable, and the vibrations aren't so intense that you can't keep a straight face while wearing it in public.
The controls are on the actual vibrator themselves, so if you are going to wear it around, you're either going to have to leave it on until it dies, slip off for a 'potty break', or openly pretend to adjust your panties to turn it off or change settings.
It has 8 different patterns and the battery life when fully charged is enough to satisfy the lustiest of ladies, though intermittent charging is required to avoid device failure during the following session.
This product isn't waterproof, and it doesn't sync with apps or other devices, but for personal pleasure, I feel like it is a thing every woman deserves to own and should own.
The reviews online are somewhat concerning regarding this product, I must be honest. So many complaints about and battery life, it will leave you in a head spin.
Just do your homework beforehand because I personally never experienced the issues these women were complaining about. Battery life was fine, and I quite enjoyed this product.
May not be the best option for those that like multiple and lengthy sessions though, if in fact, the battery life is a real issue.
>> Click here to learn more or order your Desire Luxury USB Clitoral Vibrator <<
#5 Ohmibod Esca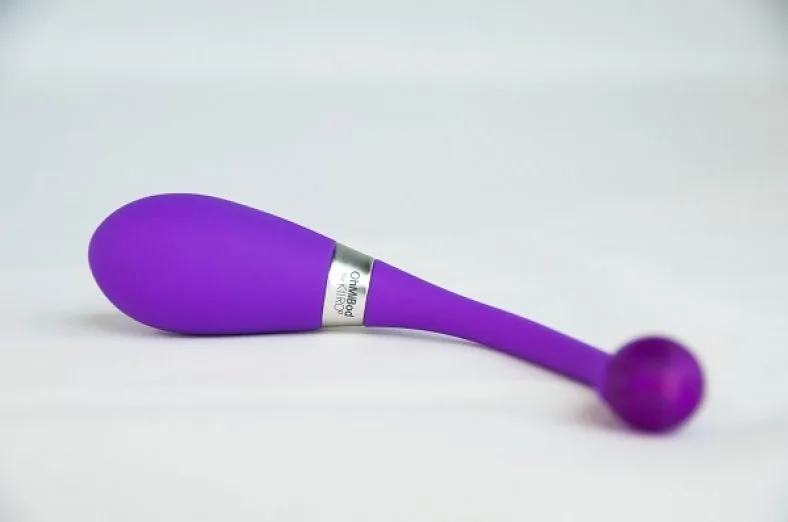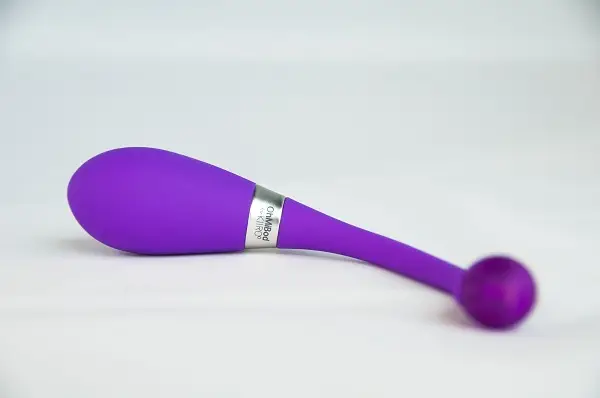 Click here to read the full Esca review
This wearable vibrator from Ohmibod is an excellent choice for women who want to take their pleasure on the go or enjoy it in the privacy of their own home.
It comes with a USB charging cable and a privacy pouch for travel, and pairs with any smartphone, provided you download the app.
The Esca has both a Bluetooth and manual mode, so it is sure to please you and add excitement to any sexual situation you desire.
The design of the device is similar to the Lovense Lush and has two ends, one smaller Bluetooth receptor and a larger end for the vibration and stimulation.
It takes 1.5 to 2 hours to charge fully and then you can have your fun until the led battery indicator reminds you to recharge the device.
It can be paired with a partner's Kiiroo, Fleshlight or OhmiBod device, provided that the device is compatible. Just check the website for a full list of compatible devices.
The vibrations are strong, though the remote options of this device are limited to 25 ft., so it isn't your best option for long-distance pleasure.
Like most models, it offers a 1-year warranty, should you ride too hard and need it.
>> Click here to learn more or order your Ohmibod Esca with -10% OFF (promo code: "SEXTECH") <<
The Best Remote-Controlled Vibrating Panties – Conclusion
With the help of this list, you should be pointed in the right direction to your own sexual freedom.
Many wonderful products are available to you that didn't make this list, so keep that in mind when contemplating a purchase. Do your homework.
This list was compiled based on my own preferences, so don't be afraid to explore other models to find the perfect fit for you.
Every woman is different, and that doesn't exclude their anatomy. Find what works well for you.
My favorite one? Definitely the Lovense Lush!
Sexual freedom should be for everyone. Technology has brought about this golden age of opportunity for all women to reach their highest levels of sexual gratification.
There's no excuse anymore for boring bedroom routines or the lack of fulfillment. You don't have to rely on someone else to make you happy anymore.
Put the power in your panties and go move mountains! The only regret you will have is if you never try anything new and you never find out what is out there for you, waiting to be explored.
I didn't know these "vibrating panties" products were available either until I searched them out and tried them for myself.
Take the chance and give these products a try. You can thank me later.