Womanizer and hansgrohe have come together to put together the world's first personal massager showerhead, Wave.
Womanizer Wave advertises itself as the next generation of self-care, with a massaging water pulse.
This unique two-in-one device's massager is the first of its kind with an intentional design to give women a unique warmup massage and maybe more.
It's marketed as a sex toy, but the marketing deliberately shies away from making any specific promises.
While this is common for many such products, is it even obliquely promising more than it can deliver?
Or is the Womanizer Wave showerhead really everything that you wanted out of a shower product?
About Womanizer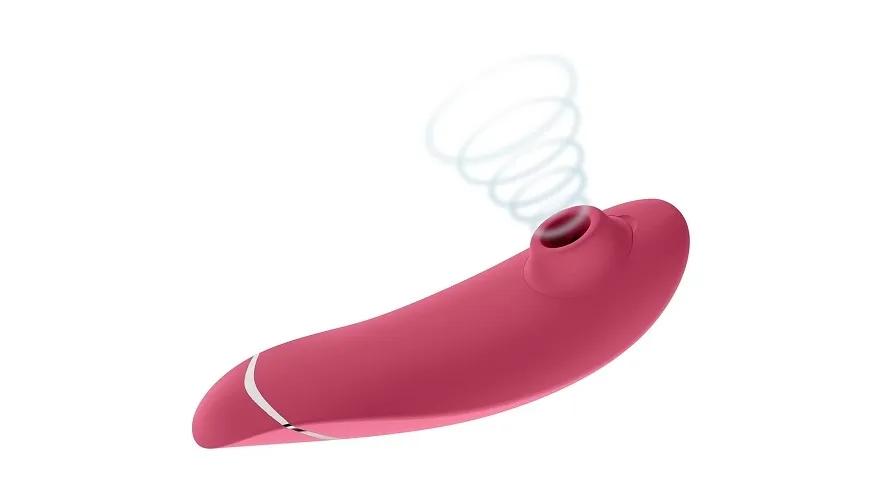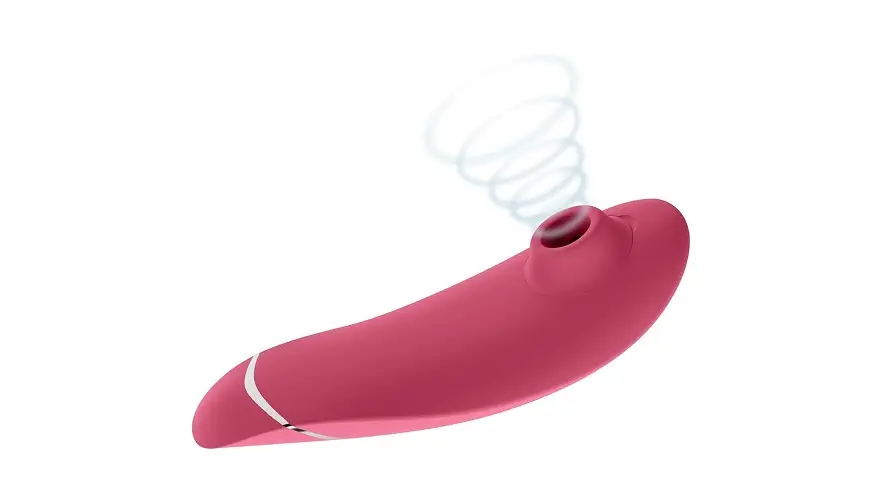 Womanizer bills themselves as "the first adult sex toy shop with pleasure air technology."
Womanizer developed the air-suction clit stimulator, a device that simulates the feelings of oral sex in a handheld vibrator.
We love their main product line, because it's a completely different feeling than a normal vibrator, that you can keep using for much longer because it doesn't tire out the nerves as much as a vibrating toy.
And their collab with hansgrohe is exciting because of the longtime connection between water devices and sexy times.
About hansgrohe
Hansgrohe, whose name is stylized with a lowercase h, is a popular manufacturer of kitchen and shower fixtures.
Their stylish designs are among Europe's most popular, with an annual revenue of 1.528 billion EUR.
Hansgrohe USA is their North American subsidiary, which simply markets their wares in the United States. Their competitors include Chicago Faucet and Delta.
Their collaboration with Womanizer is their first intentional step into the world of sex toys, though plenty of women have used their own showerheads for it as well.
What's the Wave?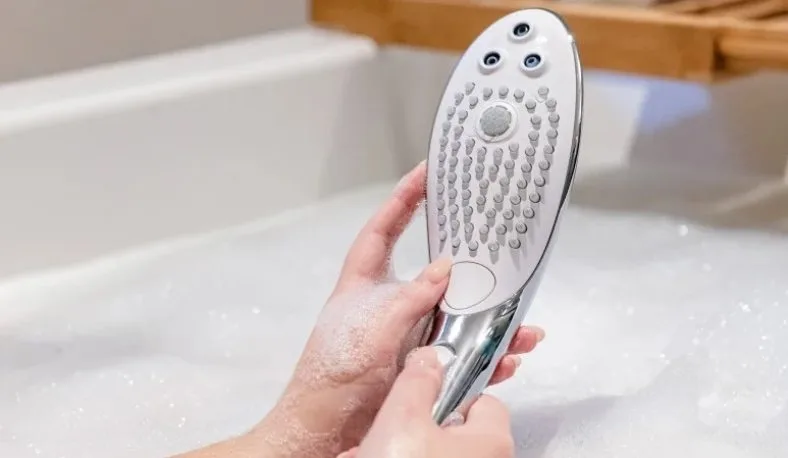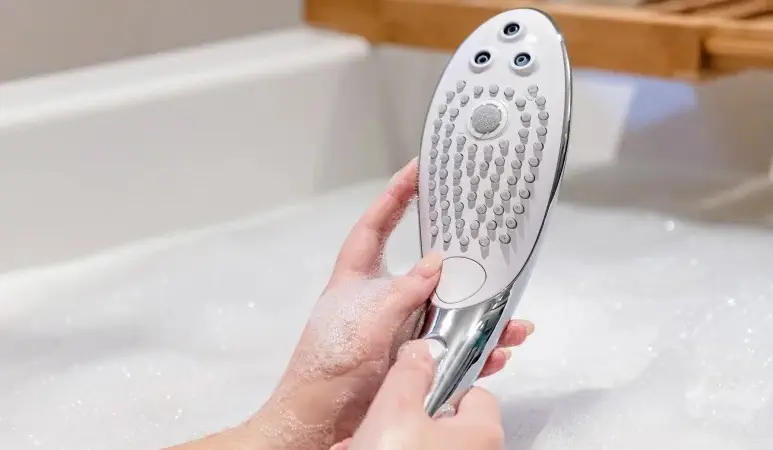 The Wave is a new showerhead with pulsed and intense streams that are specifically designed for pleasure, in addition to a "rain" style stream that is excellent for the normal functions of hair and body washing.
The good old handheld shower head is one of the most discreet available tools for sexual self-pleasure, and with the right tools and the right mind, it's elicited plenty of orgasms over the years in the locked privacy of one's own bathroom.
All over history, improvised sex toys have been common in situations where you couldn't get your hands on something purpose built to the role.
As a showerhead, Wave is a fantastic device.
Its "rain" setting, a standard sprinkling shower identical to hansgrohe's Raindance handshowers, gets the job done as well as any other deluxe showerhead in the same price range.
It's a wonderful piece of work that looks completely normal to the casual eye.
Unless your sharp-eyed friend finds the Womanizer logo – and knows what it means – it could just be a normal handheld shower head in your bathroom.
Nobody's going to think twice about your stylish showerhead if they need to step in to pee the next time, they're at your home or apartment.
So, in that regard, mission accomplished. You've got a nice-looking showerhead that really does the job.
Features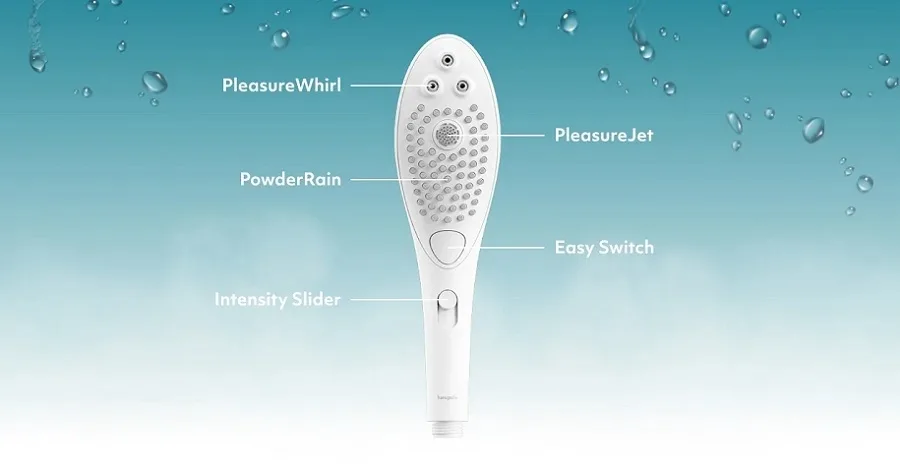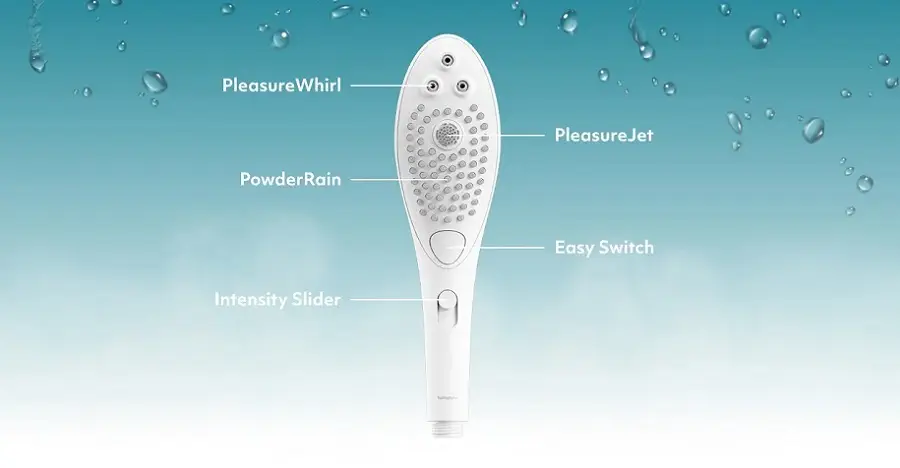 But you're not here for the showerhead, are you?
Getting wet in the shower is a double entendre with the Wave showerhead and it comes with a sticker that spells out #imasturbate, so although the product is being relatively subtle with its design – the box could be mistaken for any other hansgrohe showerhead box except for the Womanizer branding at the top – there's not really any subtlety about what it's intended for.
You're intending to use this showerhead for pleasure. And not just of the "sore muscles and hot water variety."
All that's the runup. And for the most part, this showerhead absolutely fulfills its purpose, beautifully. The massaging pulse got me going, and the intense setting was indeed intense.
But what's the catch here, you might be asking, and I'm glad you did ask.
Because the catch is, the flow restrictor needed to make this a low-flow showerhead (1.7 gpm, meeting EU requirements) slows all that fun water down to a relative trickle.
I wanted it to be an orgasmic experience and while it got me hot and bothered, the hot was less than I wanted and the bothered was more.
Womanizer's website says that 88% of users say Wave is more arousing than a traditional showerhead and I can see that. Wave's design is damn sexy.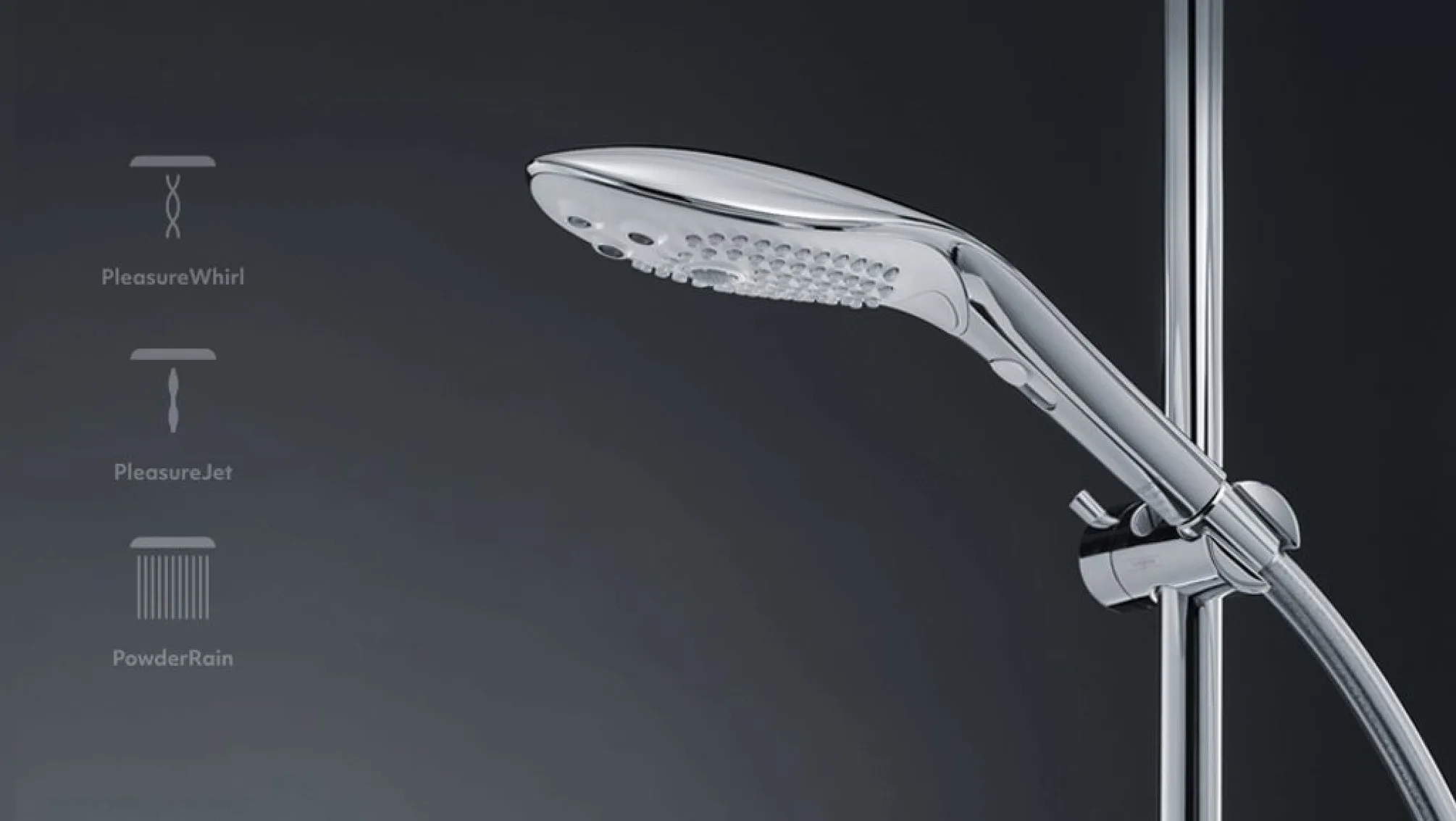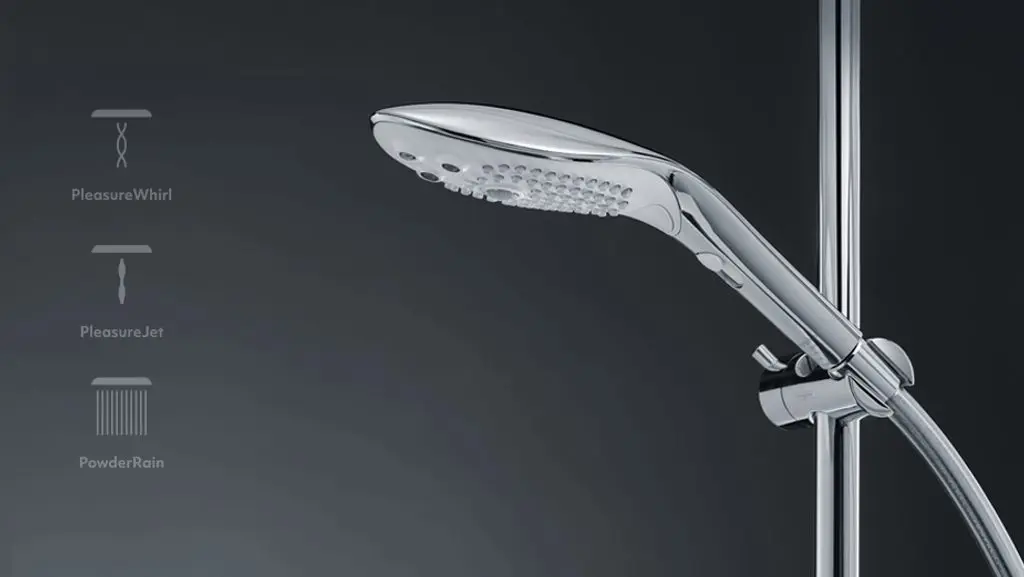 It's a piece of modern art that I love in my bathroom even if it weren't a secret sex toy, which makes it all the hotter.
It also says that 86% of users say it's more suitable for masturbation, which I would hope is the case considering it's explicitly designed for that.
I'm a little surprised it's not higher given the origin.
The last statistic on the site is that 73% of users say it's easier to orgasm with Wave than with a traditional showerhead.
That statistic seems a little interesting to me because you'd expect it to be in line with the other two, and not more than 10% lower.
Maybe that's a sign of the same thing I found, which is that the design of the showerhead is undermined more than just a little bit by the flow restrictor that makes it compliant with EU water use regulations.
All these caveats, wherefores, and statistical extrapolations aren't to say Wave is a bad showerhead.
It's fantastic, in fact. I loved the flow for both washing my hair and "washing my hair."
As an adjunct to my favorite Lovense toy, it improved my shower experience.
But the restricted flow without doing some less-than-manufacturer-intended modification of the showerhead makes it better for foreplay than for the actual main event.
I love the showerhead. I just wish it was more.
What's In the Box?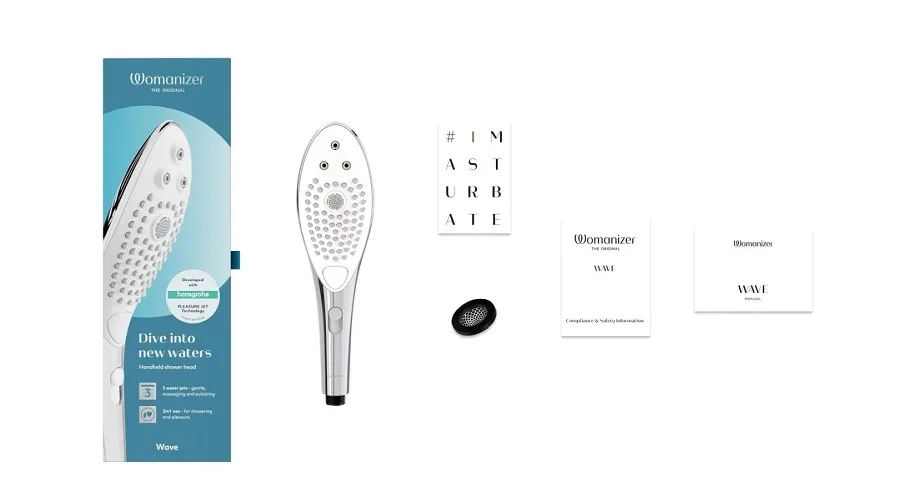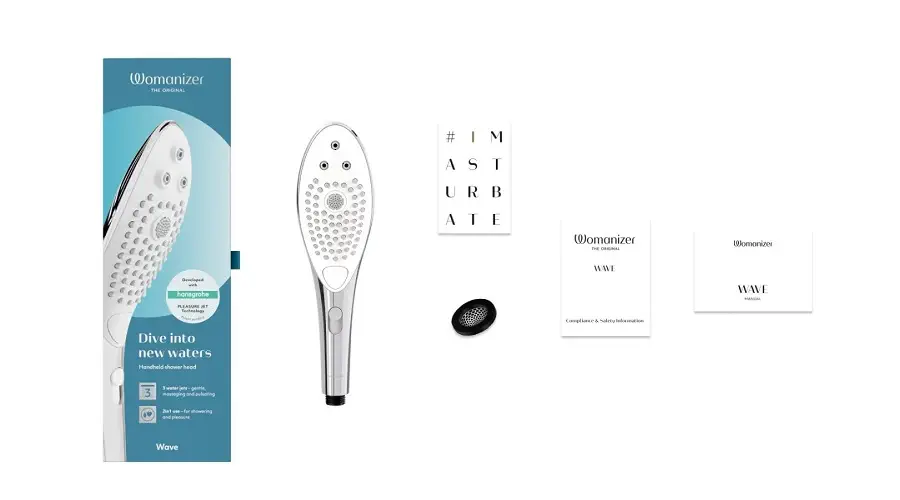 Wave is intended to replace an existing handheld showerhead, rather than to be your first. It comes with the head, a sieve seal, a quick start guide, and safety information.
There's no hose or hanger for the showerhead because the manufacturer assumes you already have those. If you don't, you'll need to pick them up for yourself before setting up the showerhead.
If you're like me, you'll get it home, realize what you don't have, swear at yourself, and run back out to the hardware store to get the necessary hookup hardware (curse you, ADHD!).
Either way, whether you have the hanger and hose on hand or if you must run out to the hardware store to pick them up, once you have that equipment with you, you're able to set up your showerhead and get it ready for your first shower with the new setup.
Close your bathroom door and get ready to change the way you shower. Or just up the game on what you're already doing, your call.
If you're getting the Wave, it's probably the latter. We're not judging you; we do the same thing ourselves.
Troubleshooting the Wave is like troubleshooting any other piece of plumbing, with the added twist that you're setting up a device that you're intentionally using as a "personal massager," rather than that being a function independent of its truly intended purpose.
FAQs
How Discreet is Wave?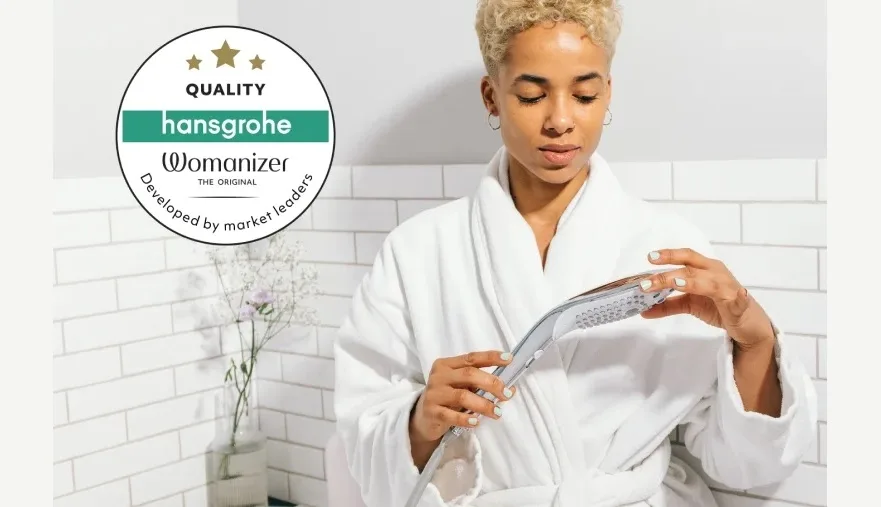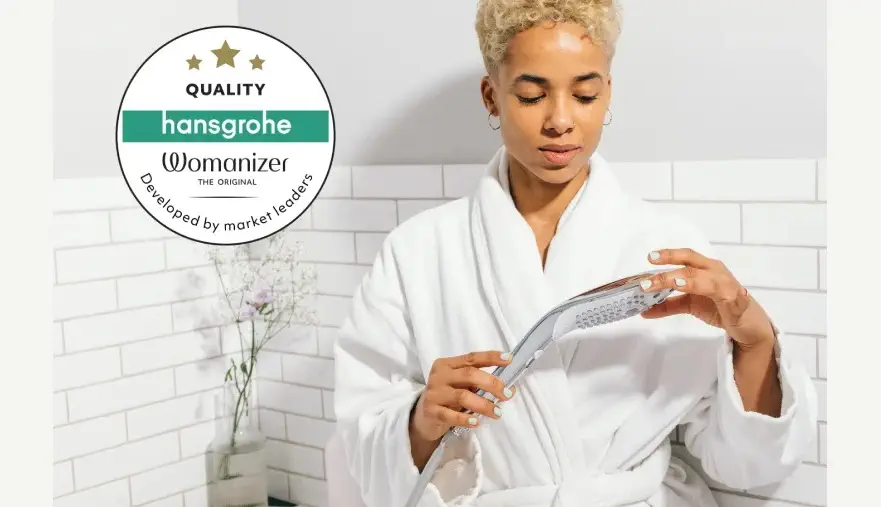 Wave looks exactly like any other high-end showerhead.
It's a little more angular and forward than most, but there's really nothing to distinguish it from another leaf-style showerhead just from looking at it other than the Womanizer logo at the top.
Even then, that might be mistaken for a different logo if someone's not expecting to see it in your bathroom.
What kind of Support can I Expect?
Womanizer fully supports the Wave showerhead.
As far as hansgrohe's side of things, while the product is designed by the famous German design house, it is not one of their products.
Don't expect to be able to message their online help interface and get troubleshooting with the product; it's not their problem. It's Womanizer's product and their responsibility.
How Do You Install Wave?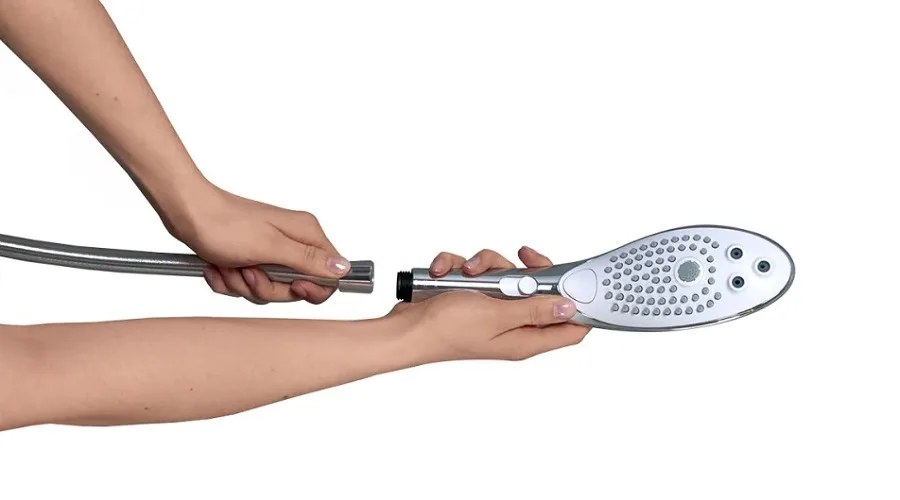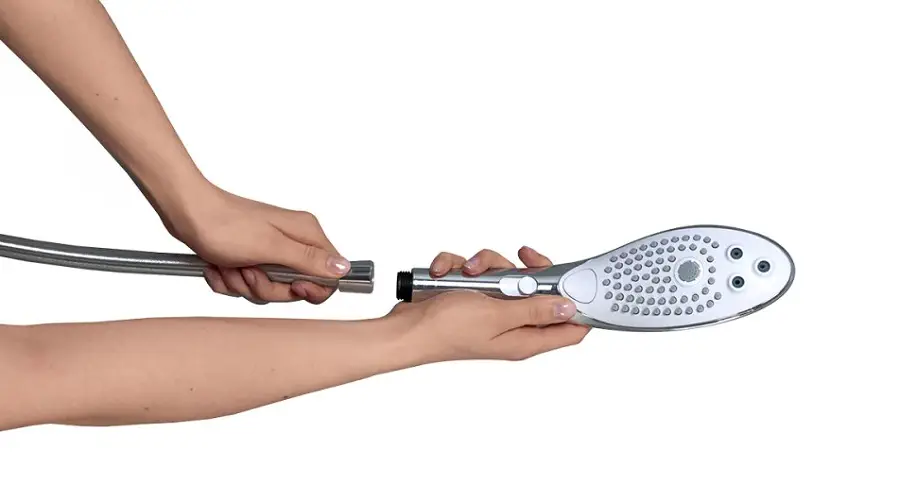 You must understand before you buy that Wave does not come with a showerhead adapter kit. You can reuse your old showerhead adapter if you have one, of course.
But if Wave is your first handheld shower head, you're going to have to make a quick stop by the hardware store to pick up a shower head adapter.
Neither we nor Womanizer make any warranties as to what will happen if you try to install your Wave as a straight replacement for your fixed showerhead.
I don't even know if it could be done.
What kind of warranty does Womanizer offer on the Wave?
Womanizer offers a standard 5-year warranty on all their products, including Wave. This warranty includes massage intensity, pressure and stability, durability against drop, and body safety.
Womanizer warrantees that all materials and the shower head itself are guaranteed to be 100% safe for your body.
Warranty claims are offered out of their office in Delaware, and any attempts to modify the Wave, including to increase flow, will void your warranty.
So do anything of the sort with that understanding in mind.
Satisfaction Guarantees?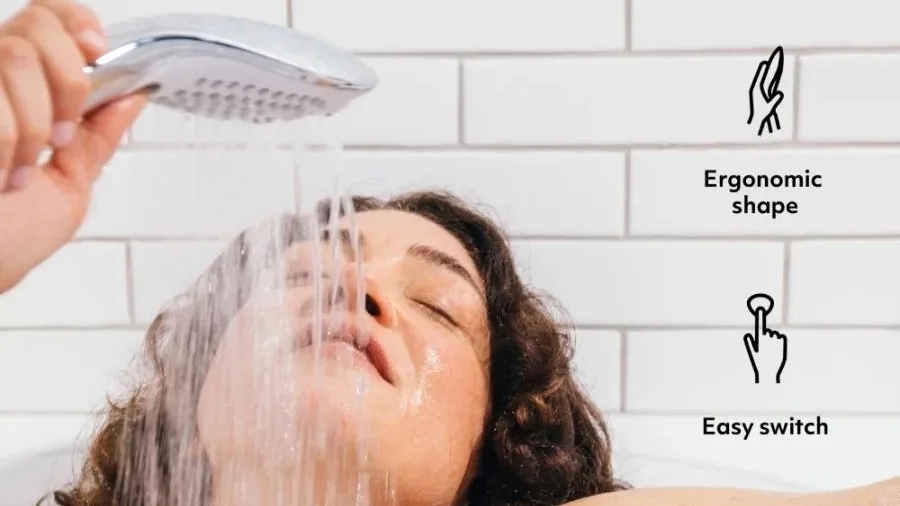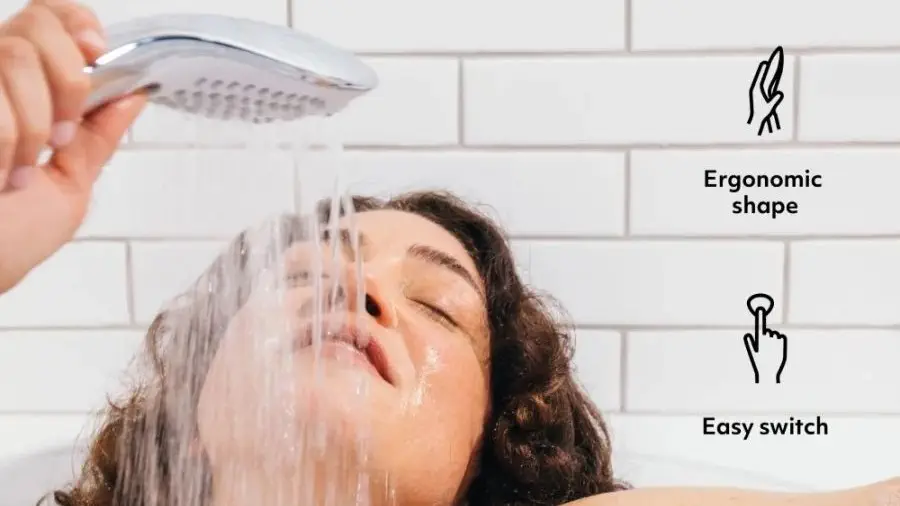 Womanizer guarantees satisfaction for 100 days or money back on all their products. This is in addition to warranty claims for material defects, basic durability, or body safety.
They also specify that only one item per order can be returned pursuant to the satisfaction guarantee – anything else from that order is at their sole discretion.
In other words, probably not.
For something like the Wave showerhead, which isn't in their usual wheelhouse, it's probably a good idea to make it the only item in that order.
Pros
Womanizer Wave is a purpose-designed sexual pleasure toy in the form of a shower head. Within that purpose it does very well.
The design is very pretty, and its shower and pleasure functions work as advertised.
The massaging pulse was my favorite setting, your mileage may vary. The rain setting gets your hair good and soaking, making this a truly viable showerhead for the normal functions you'd expect from a showerhead.
Subtle design makes it possible to have a sex toy fixture in your bathroom without anybody noticing, even if they're using your master bathroom.
Even for women for whom this doesn't get all the way to orgasm, it's a nice, sexy warmup that's a wonderful adjunct to your other bathroom toys.
Cons
Many women find that the water pressure is just inadequate for the purposes the Wave is set out for.
Not a complete showerhead kit. You'll need a hose and adapter if you don't already have them.
If you need both your showerhead and a vibrator to reach orgasm with the Wave, why not just use a waterproof vibrator and cut out the middle-woman?
Hansgrohe does not support the Wave, it's exclusively supported through Womanizer, who doesn't specialize in water fixtures.
Promising design is undermined by water conservation features, necessary as they might be.
Modifying the showerhead to improve water flow will void the warranty.
So, what can we say about the Womanizer Wave that we haven't already?
We really wanted to like the Wave.
The idea of a showerhead that's explicitly designed for pleasure, rather than having the pleasure function be a part of the design that's just implicit, should be great.
But there are a bunch of problems in the implementation. The showerhead doesn't come with enough parts if you're not using it to replace an existing handheld showerhead.
The flow restrictor needs to be removed to get enough water through it to really do the job you want it to do. And in general, it's just not powerful enough to be anything more than a foreplay tool.
Another feature that disappointed me was the lack of support from designers hansgrohe.
While this is sort of to be expected, it does mean that support responsibilities fall on a company that doesn't specialize in bathroom fixtures, and that means that Womanizer's staff could misdiagnose things.
The sleek, stylish showerhead design from one of the world's leading bathroom fixture designers is a plus.
It's not a bad choice if you're in the market for a new showerhead, because it will accomplish that function and do it well.
If you're looking for an orgasm in the shower, we recommend your favorite Lovense or another water-resistant toy, or even a different Womanizer toy.
Womanizer makes some of the best toys on the market, and you'll be happy with anything they make.
Womanizer Wave is a fun showerhead, but it's not going to do more than get you warmed up for something more focused and stimulating.
As much as we wanted to like it, we must give this one a very reluctant miss.