Did you know that recent studies suggest only 18% of women are able to achieve orgasm through penetration alone?
Another 37% said they needed clitoral stimulation to reach orgasm during sex.
But, for these women, it can be cumbersome to stimulate your clit while having sex with your partner.
Fortunately, it doesn't have to be, thanks to the We-Vibe Sync 2!
This typo is one of We-Vibe's best-selling dual g-spot and clitoral stimulators, and is also one of the best-selling couple's vibes on the market today.
But, is it worth the high cost?
Below are some key things about the We-Vibe Sync 2, including what people hate, love, and enjoy about it in this We-Vibe Sync 2 review!
What Is the We-Vibe Sync 2?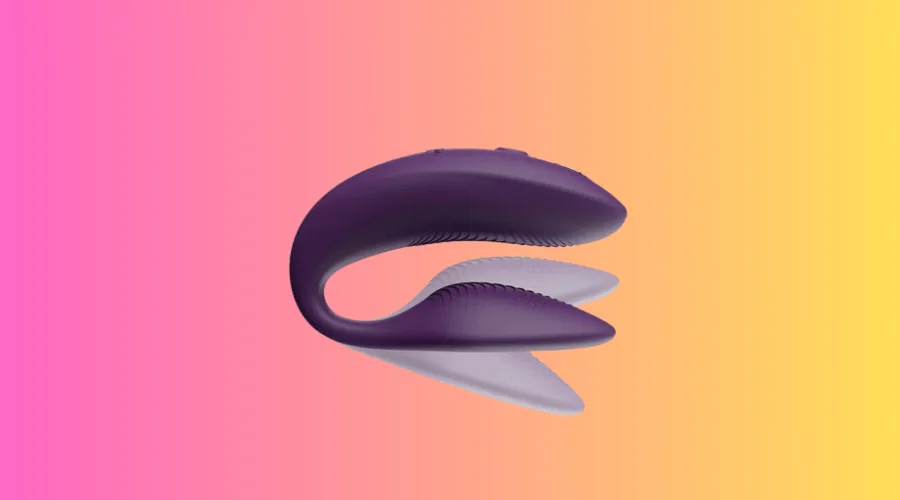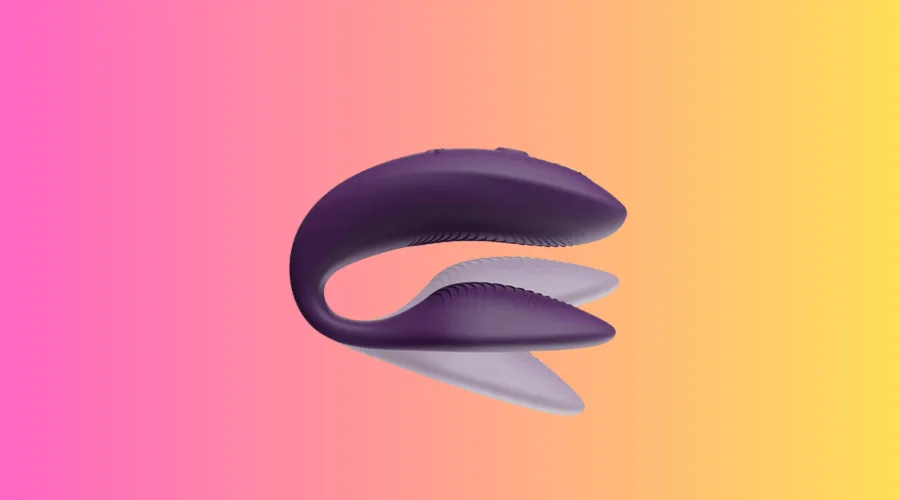 The We-Vibe Sync 2 is currently the best-selling toy to use during PIV sex, meaning penis-in-vagina sex, sold by We-Vibe.
We-Vibe currently has some other strong contenders for PIV sex toys under its belt, including the We-Vibe Chorus.
So, what makes the We-Vibe Sync 2 such a standout among adult toy lovers? Is it its shape?
Its ability to be synced with couples play? The We-Vibe App? Below are some awesome traits about the We-Vibe Sync 2!
Wearable Toy
The We-Vibe Sync 2 is a completely hands-free wearable toy that you can use for solo play, during PIV sex, and even during your regular outings.
Its versatility makes it one of the best sellers since it's so comfortable and easy to hold.
The shape of the We-Vibe Sync 2 is incredibly well designed, with a small insertable g-spot stimulator on one end and a thicker clitoral stimulator on the other end.
Keep in mind that because it is a bit rigid, and its shape doesn't budge in terms of length, some women state the toy isn't comfortable at all.
They report having to hold it in place during sex and some even report liking the shape of the We-Vibe Chorus better.
Unfortunately, there's really no way to test how it will fit your specific body until you purchase it.
Double Motor Action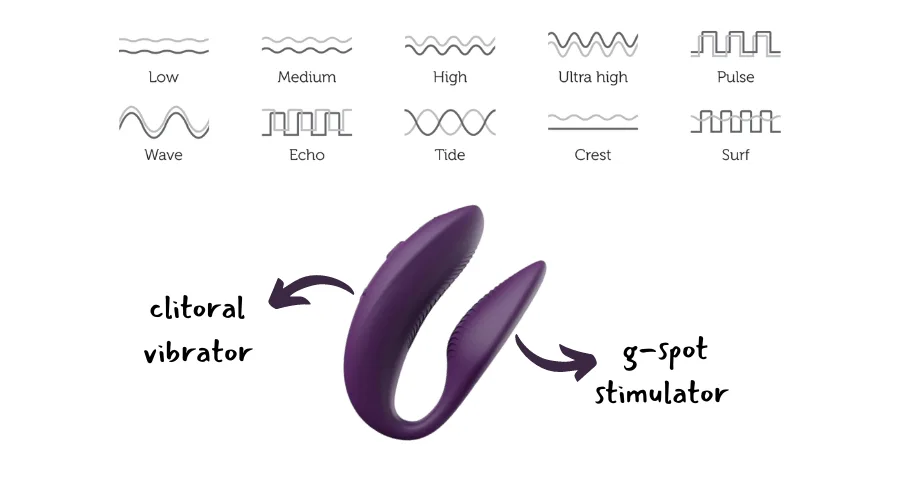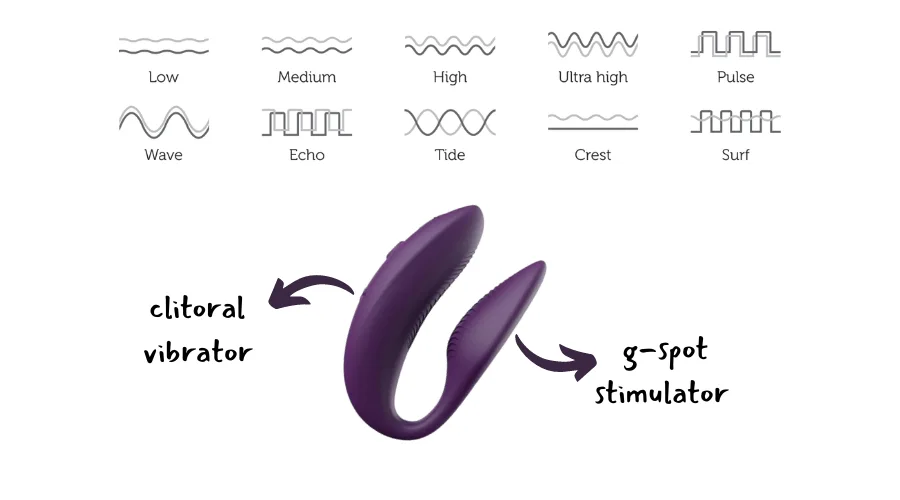 The We-Vibe Sync 2 has two motors, including the g-spot stimulator and the clitoral stimulator that has 10 different vibration settings built-in.
You can control both motors using the We-vibe app or the remote control that comes with the toy.
It's a great toy for those women that want to feel both their clit and g-spot stimulated all at once, creating one of the most orgasmic experiences of any toy yet!
However, because power is divided between the g-spot stimulator and the clitoral vibrator, you should expect reduced power output in both of these areas.
Is that a deal breaker?
For some women, they report that even the highest setting on the vibrator isn't enough to stimulate them unless they firmly press on the We-Vibe Sync 2.
Pressing down on the vibe doesn't seem like a bad option, but might not be worth the effort for a vibe that's supposed to be hands-free.
If you're a beginner sensitive to clitoral stimulation, the We-Vibe Sync 2 might be a good option.
But if you're someone that needs maximum stimulation and is used to the power of a wand or g-spot egg, this might not be the best toy for you.
Unique Shape for PIV Sex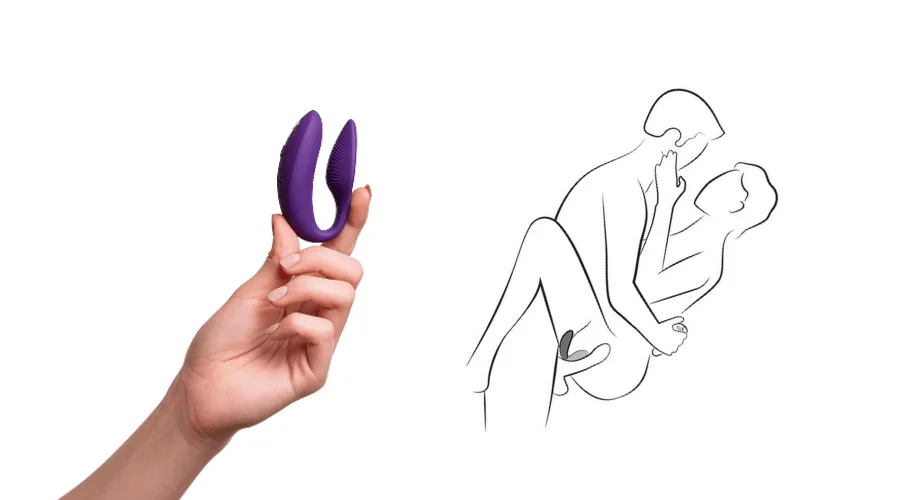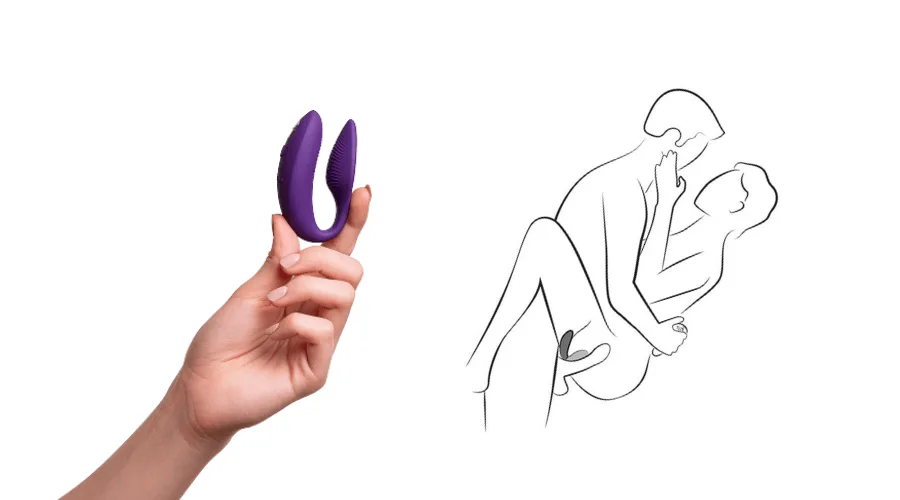 Looking at the We-Vibe Sync 2, it looks like a thick "C" shape, and is quite similar to other wearable eggs and panty vibrators like the Lovense Ferri.
However, it's strong enough to be worn during sex without having to hold it in place, strong enough to wear it while walking about and discreetly, and can, of course, be worn during solo play and during PIV sex.
What makes the We-Vibe Sync 2 different is its thinner g-spot stimulator. It isn't as large as an egg or a full vibrator.
But this thin shape is done purposefully so your partner can feel stimulated during sex as well.
The clitoral stimulator will lie on the clit during sex, and the g-spot stimulator can help give you pleasure while also vibrating on the top of the penis shaft during sex.
While missionary is the ideal position to get the most out of this toy, it is possible to use this toy in other positions like doggy style.
However, your unique body shape, the comfort of your partner, and even the strength of the vibrations can all affect if this toy will stay in place.
Some couples report the toy continues to fall out, especially during rougher sex.
Used With App or Solo Play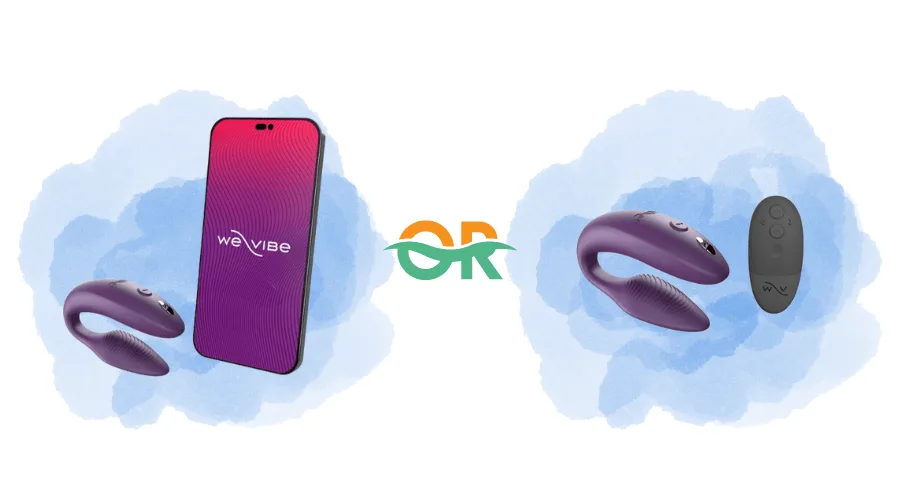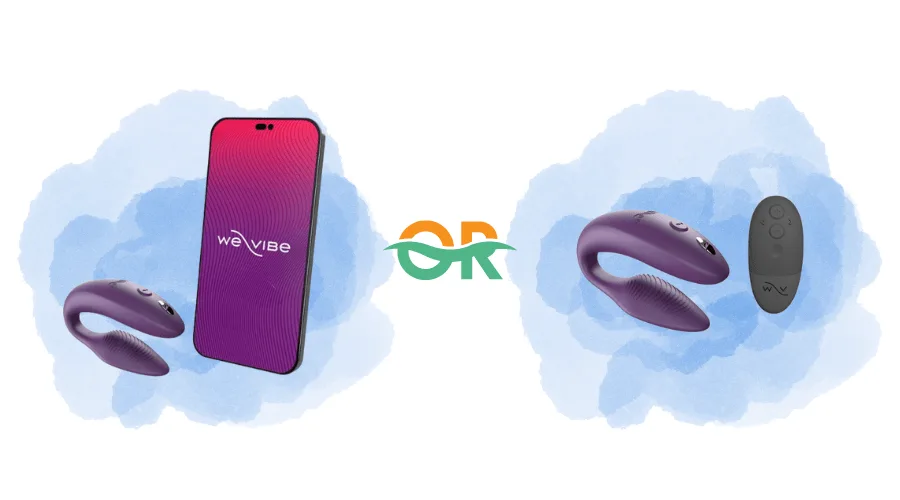 You can use this toy during solo play using the We-Vibe Sync 2 remote that comes along with the toy. Notably, this remote is a lot smaller than the We-Vibe Chorus remote.
There are a total of four buttons on the We-Vibe Sync 2 remote to control the vibrations, intensity, speed, and patterns.
The We-Vibe app can also be used to help you store and create your own vibrations or play with a partner.
Of course, you can also use it during solo play if you want more options than those available on the We-Vibe Sync 2 remote.
How Does the We-Vibe Sync 2 Work?
This toy might look a bit intimidating to first-time users.
Fortunately, it's fairly easy to use once you understand all the benefits behind the We-Vibe app and how to use the toy for maximum comfort.
Remember, don't use this toy if it's too uncomfortable for your body or too uncomfortable for your partner.
To get the most out of your We-Vibe Sync 2, follow these tips below.
Adjust Shape to Your Body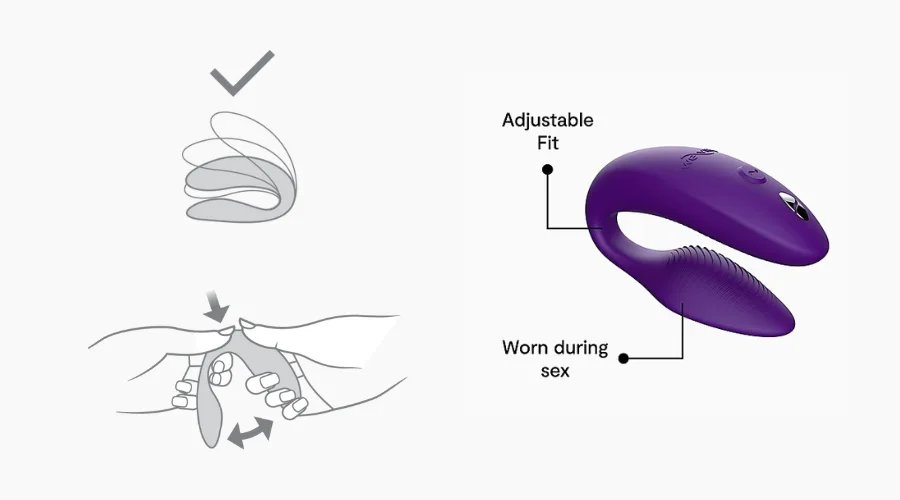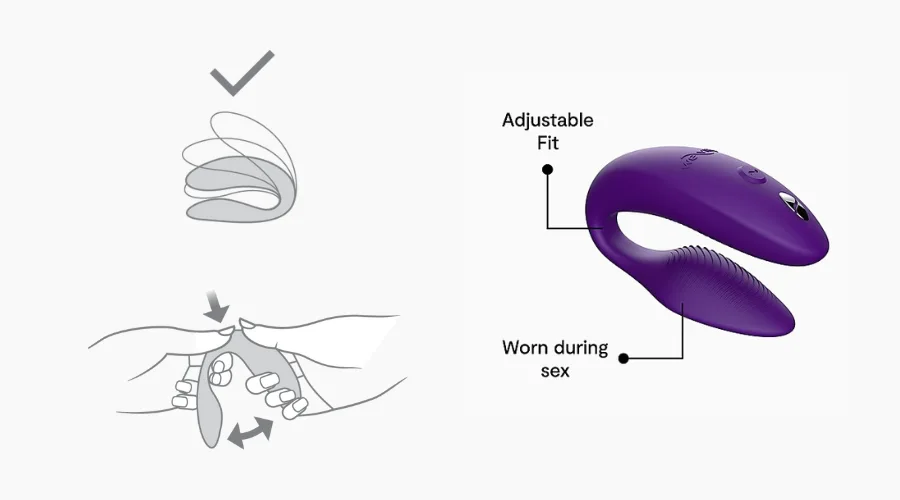 The We-Vibe Sync 2 is fairly rigid, thanks to its C-shaped design that's made to be wearable and hands-free. However, it is still moveable and can be adjusted to your body.
To do so, open or close the c-shaped clamp so that the bigger clitoral stimulator, which has the magnetic charging prongs and the We-vibe logo on top, lies comfortably on top of your clitoral hood.
You don't need to move the labia around the top part, as you would with other types of vibrators such as the Dame Eva.
Once the bigger part of the toy is lying comfortably on top, use a bit of lube on the g-spot stimulator portion of the toy.
Insert it so the toy is comfortably inside of your vagina without having to hold it in place.
Your partner can then insert his penis and enjoy penetration and vibrations at the same time. This process sounds fairly easy to adjust and get comfortable.
If your partner is more well endowed, you might have a more difficult time using this toy. Some couples complain that the toy isn't thin enough to enjoy comfortably with a bigger partner.
Again, only wearing it, adjusting, and using lube will determine if this toy works for you and your partner.
Download the We-Vibe App for Partner Play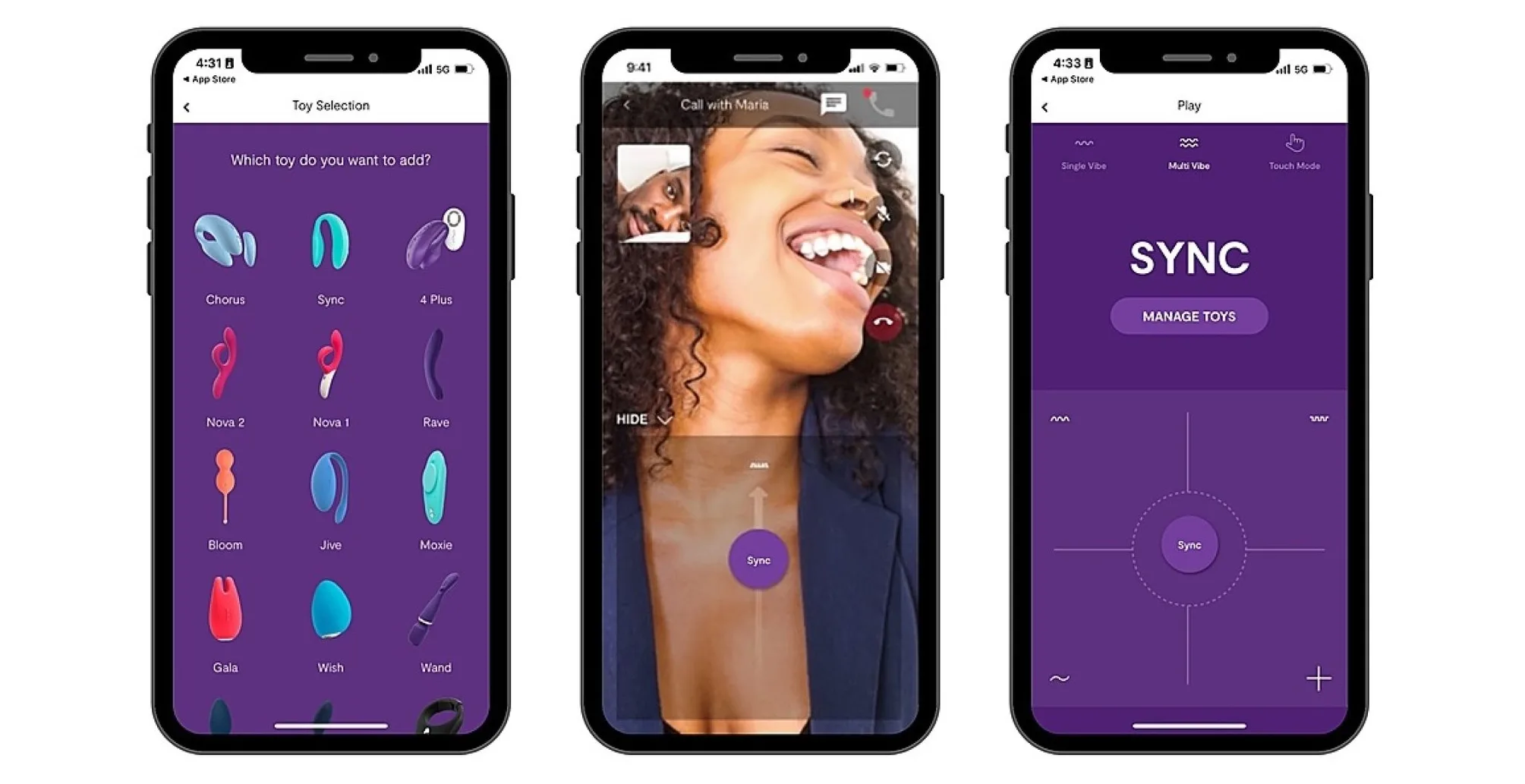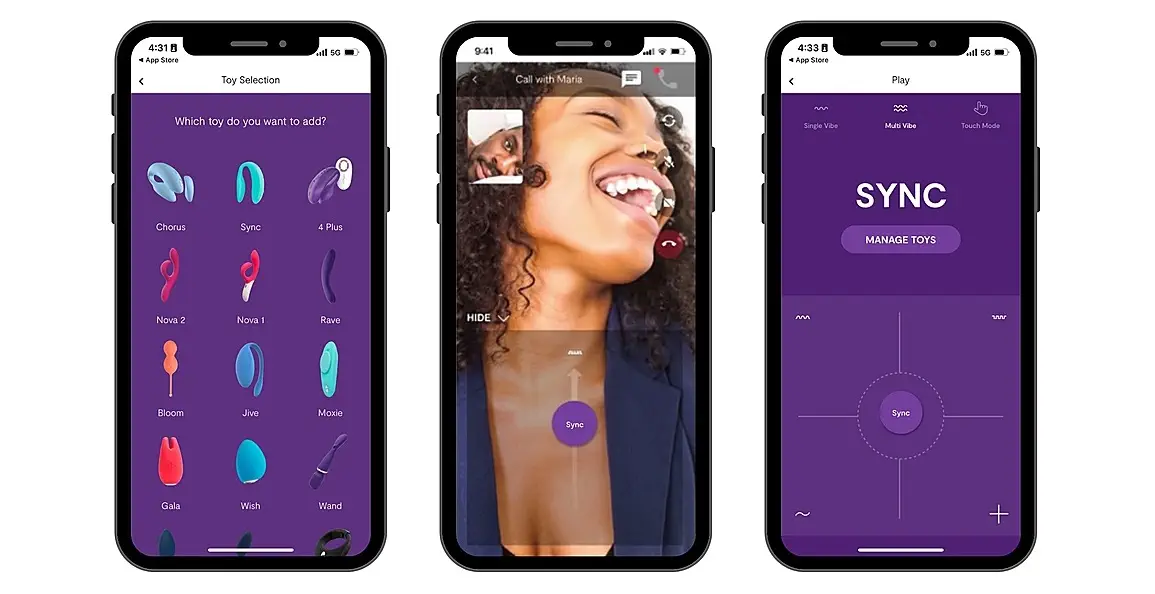 Of course, you can also enjoy this toy using the We-Vibe App for both solo play and partner play.
The great thing about the We-Vibe Sync 2 is that you can use it for long-distance and for remote play up to 30 feet of direct line of sight (meaning the toy is a straight line in front of your partner).
For 360-degree range, you can use this toy up to 20 feet away. To connect your We-Vibe Sync 2 to the app for solo or partner play, follow these steps below.
To download the app, navigate to the Apple Store or download it on the Google Play store. Once the app is on your phone, you can open it up and begin to sync your toy. Make sure both your phone's Bluetooth is on and your toy is discoverable. You should also make sure to reset your toy ahead of time.
To reset the We-Vibe Sync 2, you should hold down the button on the clitoral stimulator portion of the toy. This looks like a "~" that's directly above the magnetic charging ports. Hold it down for at least 10 seconds until your toy vibrates twice and there is an LED light flashing. This indicates the toy is reset (meaning unpaired from the We-Vibe Sync 2 remote) and ready to use.
Open up the app and follow the instructions to pair your toy to the app. When your toy is paired, it will vibrate three times. The LED light will then turn from flashing to a solid light. It's now ready to use with the We-vibe app.
While this method will work so you can use the app for solo play, making your own vibrations, and for using it with your partner from close range, it won't help with long-distance play.
To set up your toy for this, follow the steps above. Then, in the We-vibe app, you'll want to send your partner an invitation using the "long-distance play" option.
Your partner will need to download the app, although they don't need to sync to the toy itself.
Use the Remote for Solo Play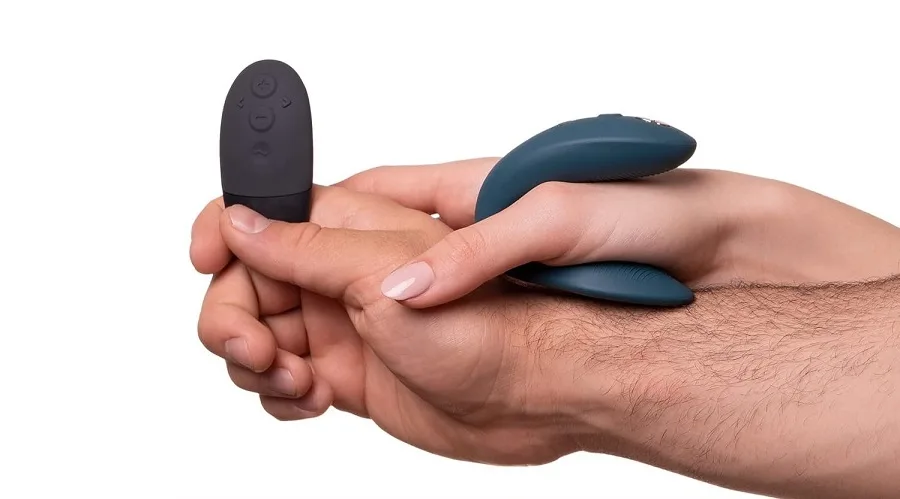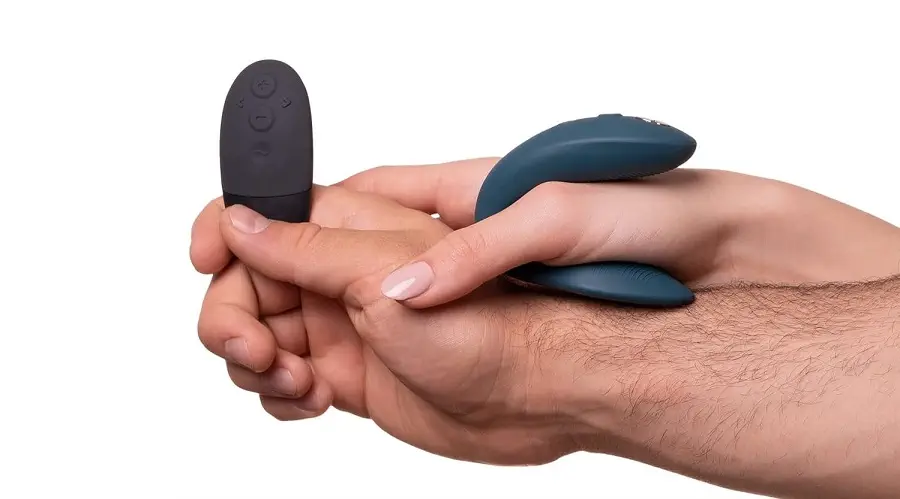 If you don't want to go through the trouble of using the app, fear not.
You can use the toy straight out of the package using the remote that comes equipped with 10 vibrational speeds and patterns.
For solo play, you'll notice there are five buttons on the We-Vibe Sync 2 remote. These buttons include:
A + sign that can increase the vibrational speed
A – sign that reduces the vibrational speed
A > sign to skip forward to another vibrational pattern
A < to go back to the previous vibrational pattern
There is also the "~" We-Vibe sign that will help you pair your toy by holding it down and using it for solo play.
To do so, hold down the We-vibe button on the toy for 5 seconds. Once the LED light flashes, hold down the We-vibe button on the remote for 5 seconds.
When the toy vibrates 3 times and the LED light turns solid, it's been paired to the remote.
Frequently Asked Questions
How Do You Clean This Toy?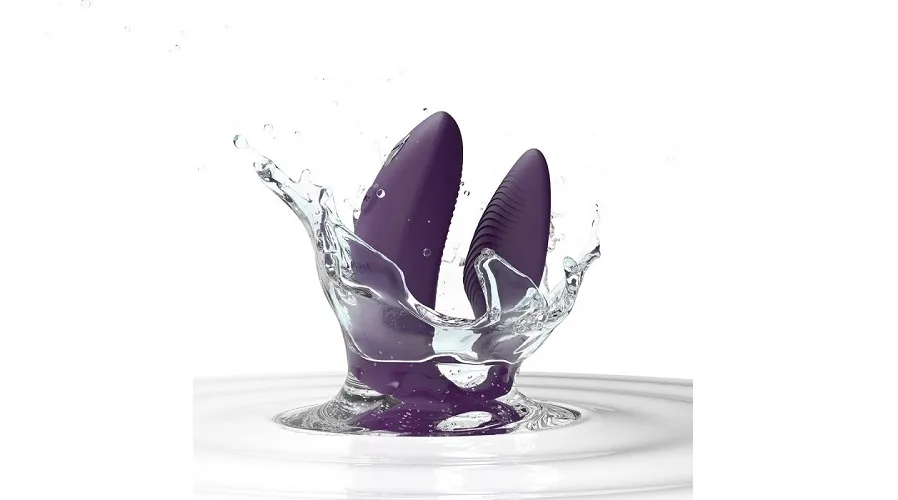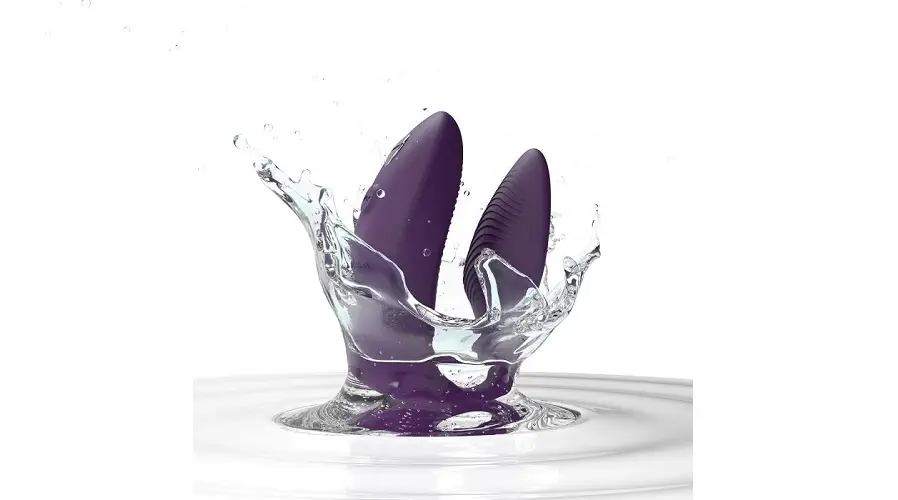 To clean this toy, use soap and water to clean the toy itself, which is IPX-7 waterproof.
This means you can submerge it under water without damaging the toy. Use a toy cleaner that's safe for silicone for best results.
You should also clean the remote which is IPX-4 water resistant. To do so, use a damp cloth with soap and water to wipe it down clean.
What Is It Made Of?
The toy itself is made of silicone, while the remote is made of ABS plastic.
How Do You Charge This Toy?
There are two magnetic prongs on the clitoral portion of the toy.
The We-Vibe Sync 2 comes equipped with a USB charger, and will take 90 minutes to fully charge for 90 minutes of play.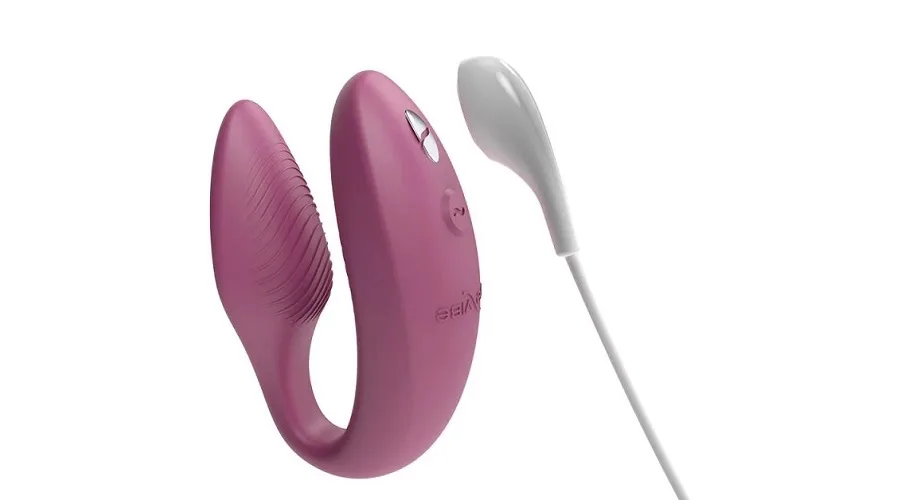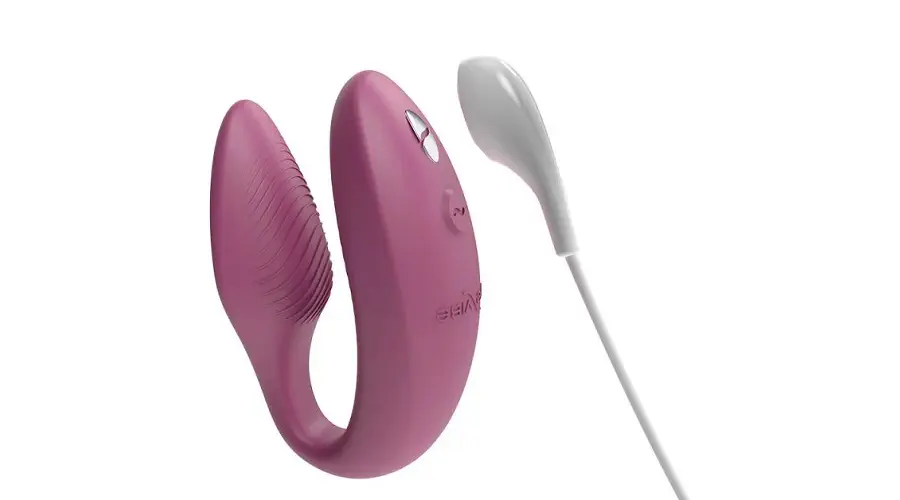 Unfortunately, one of the biggest downsides is that not all toys will hold a charge.
It seems the biggest issue customers have found with the We-Vibe Sync 2 is it quickly loses power when synced with the app. Other defective toys don't even charge past 20%!
Can I Get a Refund?
Of course, if your toy is defective, you can always reach out to their support team here and submit a warranty claim within 2 years.
Make sure to have the serial number located on the toy's packaging box ready when submitting for a replacement or refund.
Pros
Wearable vibe with dual-action stimulators
Can be used during PIV sex
Mailable design
Easy to sync with app
Can be used solo, with a partner, or long-distance play
Cons
Not as strong as other vibrators
Can't hold a charge at times
Not made for everyone's body size
Might be uncomfortable for bigger males
Verdict
Overall, the We-vibe Sync 2 is a great option for couples looking to spice up the bedroom or engage in interactive play long-distance or while out in public.
It won't offer heavy stimulation and might have defects in terms of charging times. For some users, the shape is weirder than it is comfortable.
The only way to tell if this toy is a good fit is to buy it and test it yourself!
If there are defects, consider using its generous 2-year warranty plan. If not, you and your partner might have hit the jackpot.
For its high price point, consider investing in this toy only if you're willing to take a chance.