The market for female vibrators is flooded and finding a reliable sex toy that performs to your expectations can be daunting.
However, there are various brands known to provide universal designs that will definitely provide the pleasure you are looking for.
Even then, it is still essential to keenly review each product you find. More importantly, you should read the manual and understand your toy before you start using it.
Right now, the Eva II by Dame Products is one of the most popular hands-free vibrators on the market.
If you're curious about this innovative creature, here is a brief descriptive Eva II by Dame Products including what it is, how it works, pros and shortcomings!
>> Click here to learn more or order your Eva II by Dame Products
What is the Eva II By Dame?
The Eva II is basically a hands-free female sex toy that is designed to help women orgasm. Unlike other vibrators, Eva is worn externally to stimulate the clitoris and outer labia.
You can use it alone for hands-free pleasure or with your partner as it does not block the entrance to the vagina. It is non-intrusive so that couples can enjoy amazing vibrations without losing comfort.
Since it is worn externally, the toy can be used during intercourse to provide orgasms.
Eva II has a pear-shaped design with two wings that run on either side to provide a perfect fit that hugs your vulva and sits on the outer labia.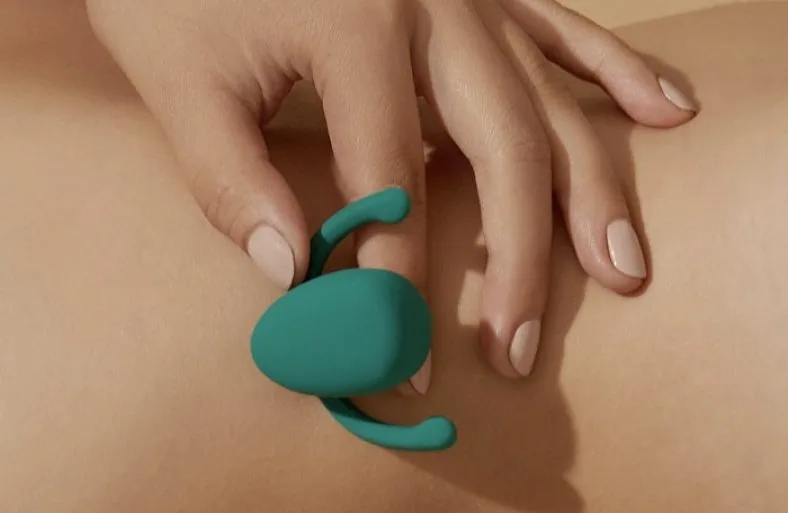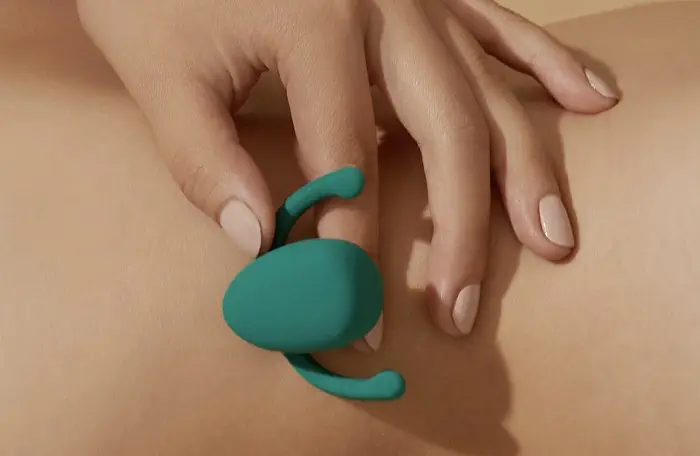 How does it work?
The Eva II by Dame Products works in a unique way.
The vibrator has one button which is used to power it on, navigate through its interface and select different vibration speeds.
When worn, its extended bar runs downwards contacting your outer labia and clitoris. It uses a small motor that provides three main vibration settings.
The Eva uses a 5v battery which can last up to 60 minutes on high speed and 5 hours on low setting.
The battery is chargeable via USB and has a LED display that blinks red on low power and static white when fully charged. To use the Eva II, simply press the power button once to wake it up and one more time to navigate its settings.
You can start with the low setting and adjust to mid or high as you approach orgasm.
Eva II is made of medical-grade silicone body, so it is advisable to avoid silicone-based lube. Use antibacterial soap and toy cleaner to sanitize Eva.
It is also worth noting that this strap-free vibrator is not totally waterproof and should not be submerged in any liquid.
What's in the box?
Eva II by Dame Products arrives in a plush black box that contains the vibrator ready for use. It is advisable to charge and sanitize before using.
The box contains Eva II women's hands-free toy, a USB charger and a wall plug, a user manual and a small satin bag for convenient storage.
Unfortunately, it is not shipped together with the lube so you will have to purchase it separately if you need one.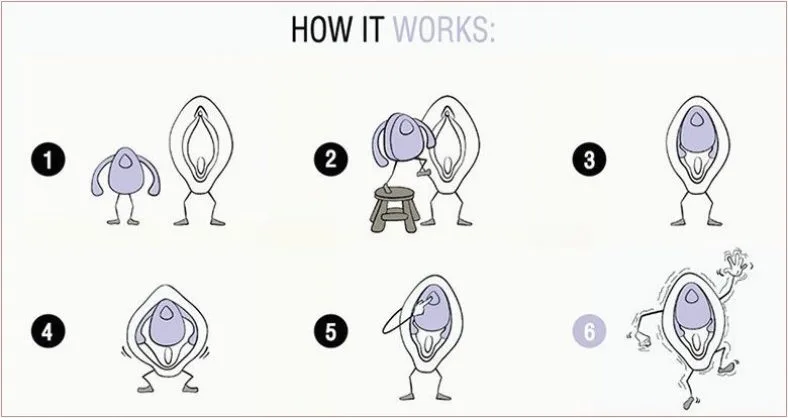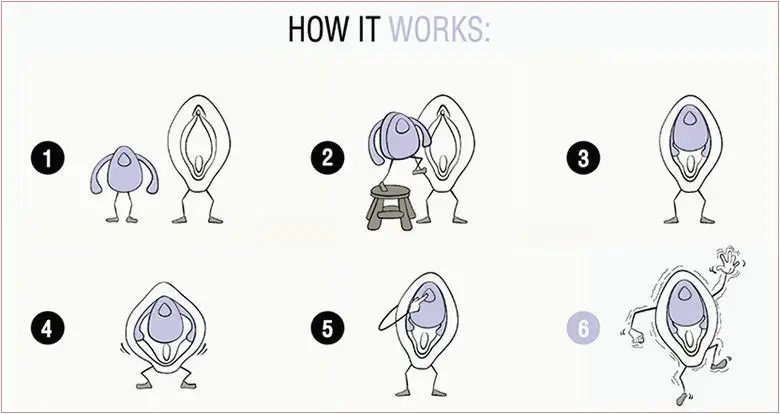 How does it feel?
The Eva 2 may seem tiny and does not provide any penetration. However, this should not fool you. Its impact is as great as any high-end vibrator on the market if not much better.
One thing you will note about any Eva by Dame Products review (like this one) is that users achieve incredible orgasms.
The toy fits perfectly on your labia nestling the clitoris and outer lips. When activated to life, it provides unique vibrations that send spikes through your entire body.
You can also adjust the setting to receive stronger vibrations and sensations.
Another great thing about the Eva II is that it allows you to slide in your fingers or another vibrator if you need some penetration.
It is also hands-free so you can play with your nipples for more pleasure.
Another notable experience is that the Eva 2 provides a different bliss when you change your position. Changing the angle of contact can pleasure you in ways you did not imagine.
The more you use it, the better you will become at drawing the most pleasure from it and having unforgettable orgasms.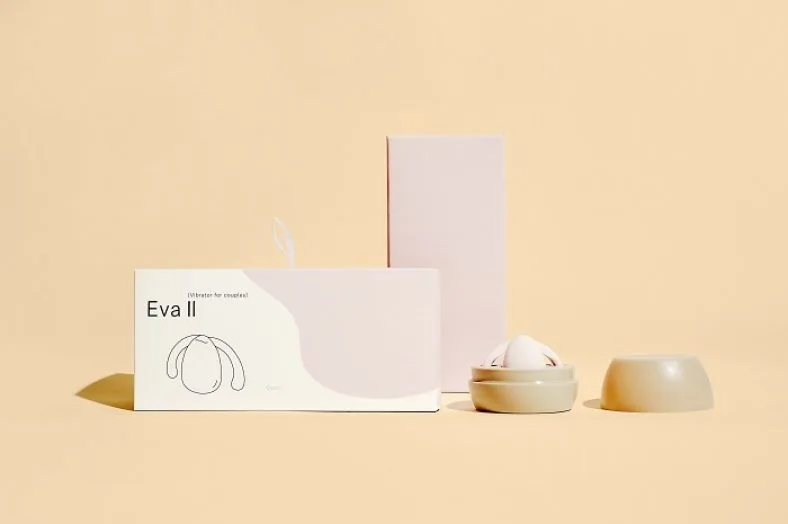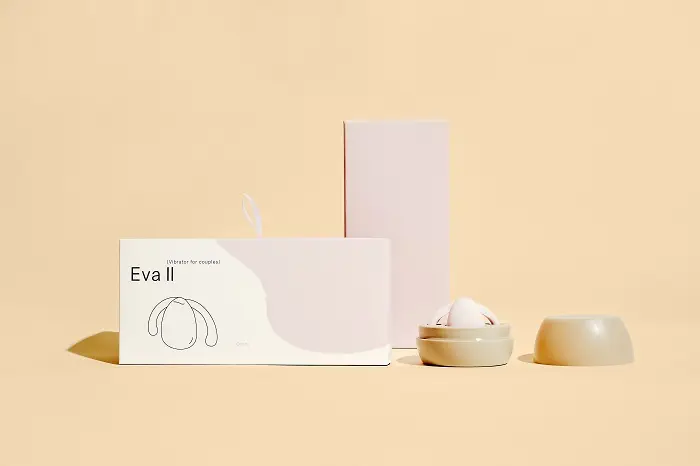 Pros
The benefits of Eva II by Dame Products are quite straightforward. From its fabulous design to its performance and feel, it is a perfect sex toy for anyone.
Whether you love private sessions of hard solo orgasms or need extra clitoris stimulation during intercourse, Eva will meet your needs. Its pros include:
Body-safe – Eva II is made of medical-grade silicone deemed safe for human use. It is also free of phthalates, harness or any harmful chemicals.
Easy to use – once you read the manual, you will find this toy very easy and convenient to use. One button does everything you need.
Amazing feel – as aforementioned, Eva II fits perfectly on your lips offering the right contact at the right places to send you into massive orgasms.
Versatile – this is one of the few sex toys that you can use alone for hands-free pleasure or together with your partner. It also has three speeds to help build your orgasm in stages.
Cons
Like every other sex toy in the market, Eva II by Dame Products has its fair share of shortcomings:
The push button, for instance, requires a bit of pressure to change the power settings.This may not be ideal when approaching climax.
Some people also find the device a little daunting to fit.
Although it uses a rechargeable battery, the high power setting will only last up to 1 hour before you need a recharge.
What other users really think of the Eva II




Click here to read more user reviews
Verdict
Despite its few cons, the Eva II is generally one of the best hands-free couples vibrator you will come across. It does not only meet its purpose but also provides a safe and convenient way to experience incredible orgasms.
You do not need to use it while it is plugged in and charging can be done by any device supporting USB including power banks and PC.
Compared to other devices in the market, it performs fairly well and falls among the best offers.
When shopping for stimulators like the Eva II by Dame Products, it is recommendable to choose credible, reputable stores that can guarantee original products from the manufacturer. This way, you can be sure to receive all the benefits mentioned herein.
Eva II is definitely one of the top-quality female non-intrusive vibrator.