Not just for Halloween, conventions around the United States and around the globe have been populated since at least the dawn of the Star Trek convention with costumed depictions of fans' favorite characters.
"Cosplay" started as an anime-specific subgenre of costuming, since "cosplay" is a loanword from Japanese (an abbreviation of the English words "Costume Play"), and quickly came to cover the entire genre of costuming as a character from a fictional franchise.
Fast-forwarding to 2023, cosplay is a pervasive part of geek culture, creating a new way for people to engage with their fandoms.
Highly detailed costumes are a popular part of any convention, with everything from My Little Pony to a particularly famous carpet at the Atlanta Mariott Marquis being celebrated.
It was inevitable, once these extensive and amazing costumes began to be worn, that people would want to have sex in costume and in character.
From there, cosplay porn quickly emerged. VR Cosplay X is a service that exploits the natural urge to see pretty people performing sex in costume and in character.
So how does this service work for its users? Let's take a look!
What Is VR Cosplay X?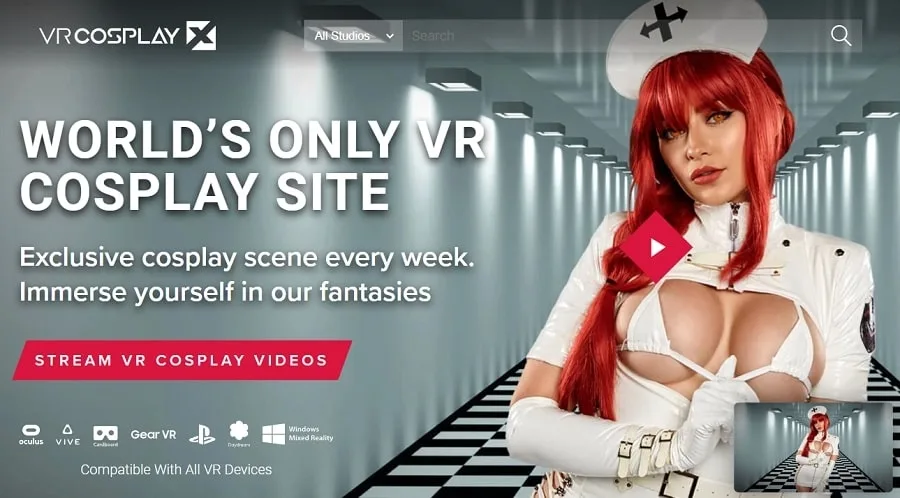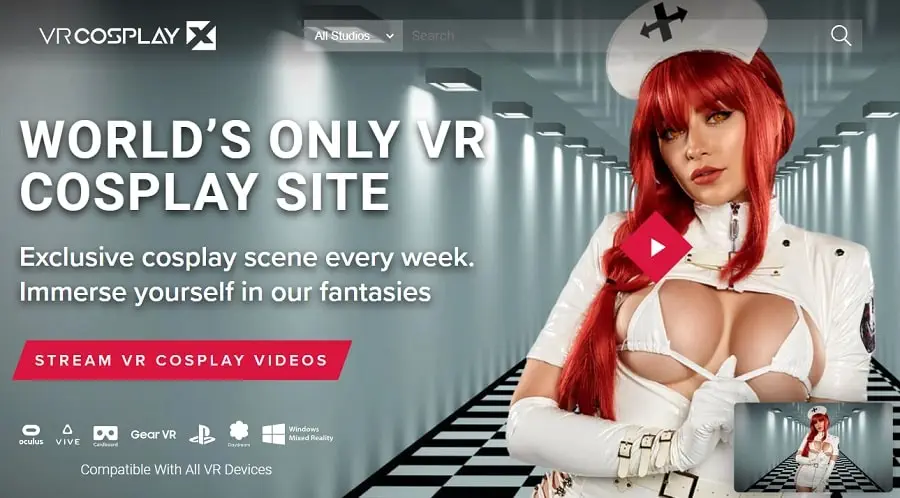 VR Cosplay X is a popular site that features VR videos in 6k, 7k and higher resolution.
As the site's name indicates, it focuses on cosplay, costume play, of popular franchises like Overwatch, Hogwarts Legacy, Final Fantasy, and more.
Cosplay pornography has been one of the fastest-growing segments over the last 20 years, with XXX parodies of popular franchises including Star Trek, Star Wars, many anime, and the cultural superpower that is the Marvel Cinematic Universe.
With stunning costumes, beautiful porn stars, and detailed sets, VR Cosplay X certainly delivers on the promise of cosplay.
Fans of any franchise love to see their favorite characters depicted and are sensitive to even minor errors in costume design.
A cosplay porn studio needs to have high costume standards – and even more so in VR, where the ultra-high resolution doesn't allow any room for mistakes in sewing and design.
The costumes in VR Cosplay X's videos are detailed, accurate, and highly sexy, with characters immediately identifiable to their original inspirations.
And if the actresses don't look much like their inspirations – such as in the "Kill Bill" XXX parody – it's fine.
This is cosplay, after all, not a representation. Nobody expects a cosplayer to be a clone of 90s superstar Lucy Liu.
Video Availability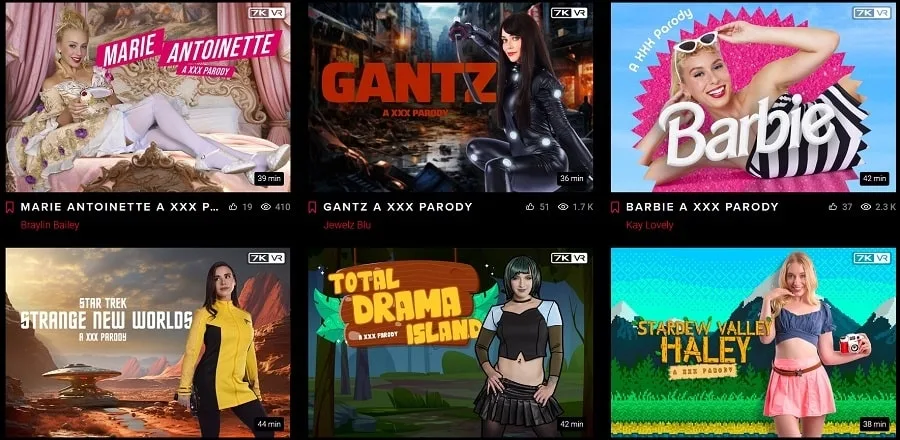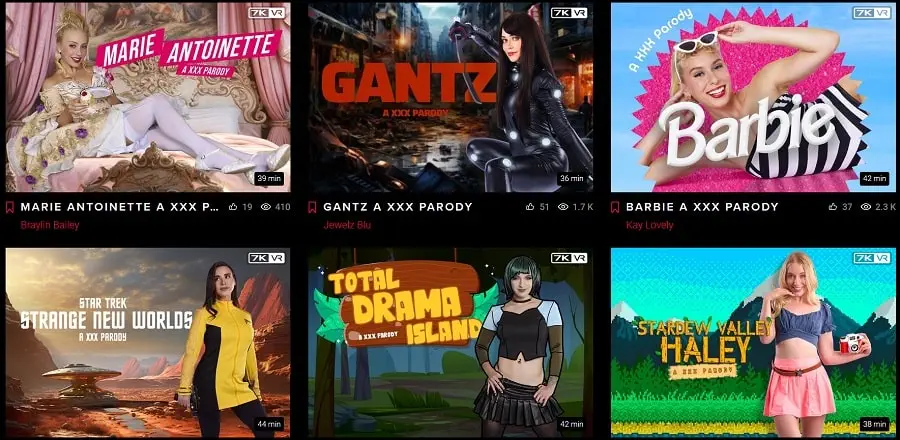 Video availability is good for the videos that are present. But there lies the one major rub of this site: There's just not that many videos on it.
There are only under 400 videos on the site at present, a very small number for a modern porn site. Now, this needs to be qualified.
VR requires much more detailed set design and a lot more camera work, since the viewer is free to look around the space.
So, this means that VR films take a lot longer to make than films with set camera angles, since those can ignore the fourth wall entirely.
VR Cosplay X also focuses on longer videos with 180-degree fields of view, which means that even though this site has a relatively smaller number of videos, it's also giving more content – not the bite-sized pieces of free sites like PornHub.
The site also includes a limited number of non-VR photographs of the videos it includes, which helps it sell itself more to people who are browsing before they start their VR exploration.
VR Cosplay is a niche in the greater porn market, which helps – but also it means that the availability of movies on this site is never going to be the same as that on a more mainstream site.
And the additional work and detail needed to do VR means that there will never be the same amount of content available on VR Cosplay X as on competing sites like JAV HD or Cosplay Erotica.
How Does It Work?
Sign-up for VR Cosplay X works like signup for any other website.
Like most other porn sites, VR Cosplay X charges through an innocuous-looking shell biller, to keep your credit card company from seeing where you're spending your hard-earned money.
They use industry-standard security features to keep your information as safe as it can be from data miners and thieves, and joining the site is as simple as signing up your credit card for one-day, monthly, yearly, or lifetime access.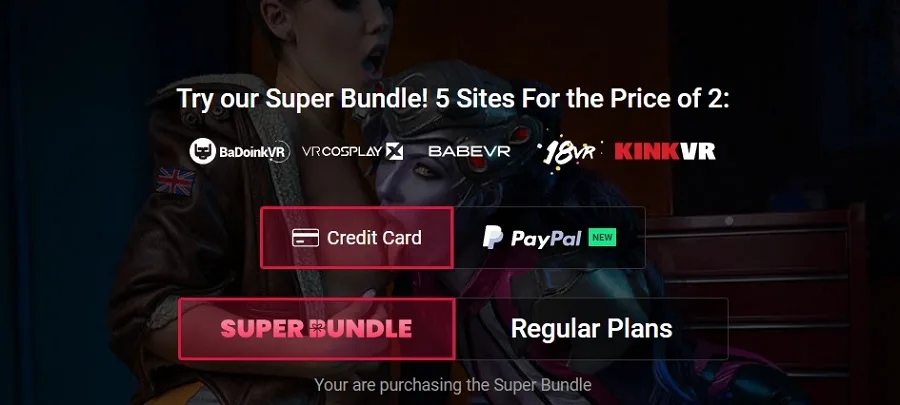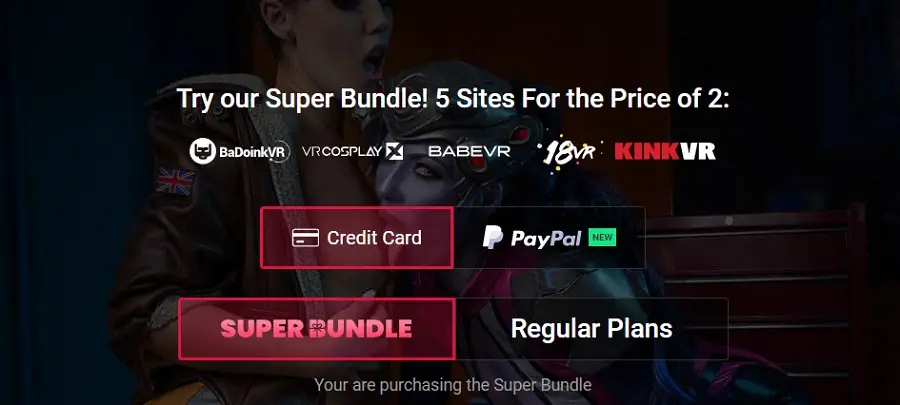 An optional Super Bundle package, if you're interested in VR in general, gives access to four additional sites: BabeVR, KinkVR, 18VR and BaDoinkVR.
Babe and BaDoink cover mainstream porn, while 18 covers the "barely legal" teen subgenre. Kink VR is the hardcore site and covers BDSM and other assorted kinks.
VR Cosplay X assumes that the new person signing up for their service has no experience with VR porn before signing up, and their help site is incredibly useful, containing step by step instructions for connecting, finding, and playing your porn.
It also includes troubleshooting instructions for most users, and its supported variety of headsets ranges from a basic Google Cardboard to extensive setups such as the famed, classic Oculus Rift.
According to VR Cosplay X's extensive help section, VR goggles are needed to view all of the porn on their site.
To help make this more accessible, the company gives away a free basic set of goggles with purchase, equivalent to a Google Cardboard set.


So, to really watch in a way that's comfortable and leaves your hands free, you'll want to at least buy an inexpensive VR headset that includes straps to keep it on your head while you watch your content.
One of the difficulties that we noticed with this website, however, is that the systems to unsubscribe from the website are considerably clunkier than those to subscribe to it in the first place.
In order to unsubscribe, should you find yourself in a position where you no longer want to be pumping cash into a porn site that you've either lost interest in or exhausted the new content of, you have to start an online customer service ticket.
The company makes no promises about turnaround, so you will want to be watching your billing cycle if you're thinking about the possibility of turning the site off at the end of the month.
Available Subscriptions
VR Cosplay X has four subscription tiers. The most basic tier is a single day of access to one video.
There are also monthly, annual, and lifetime subscriptions, with each tier of subscription representing some level of discount below the previous tier.
With so many available subscriptions, it's easy to find something that will fit your available budget and desires for people having sex while in costume as famous characters.
The Appeal of Cosplay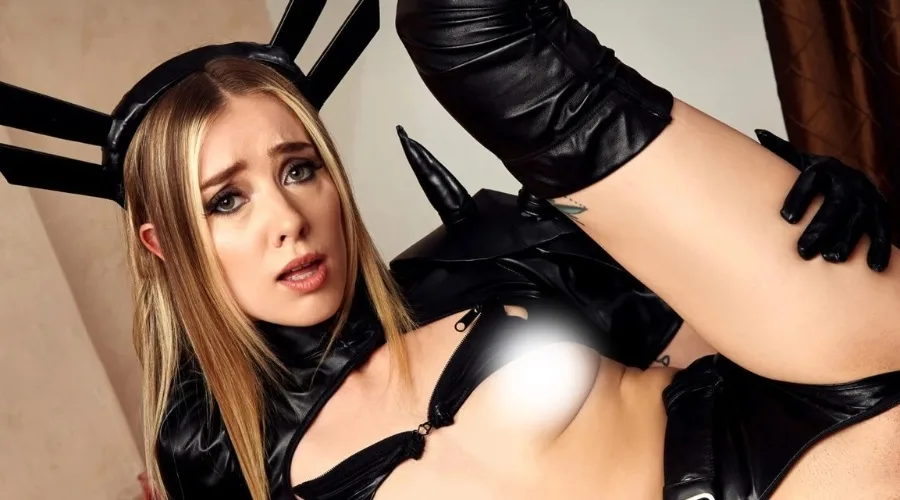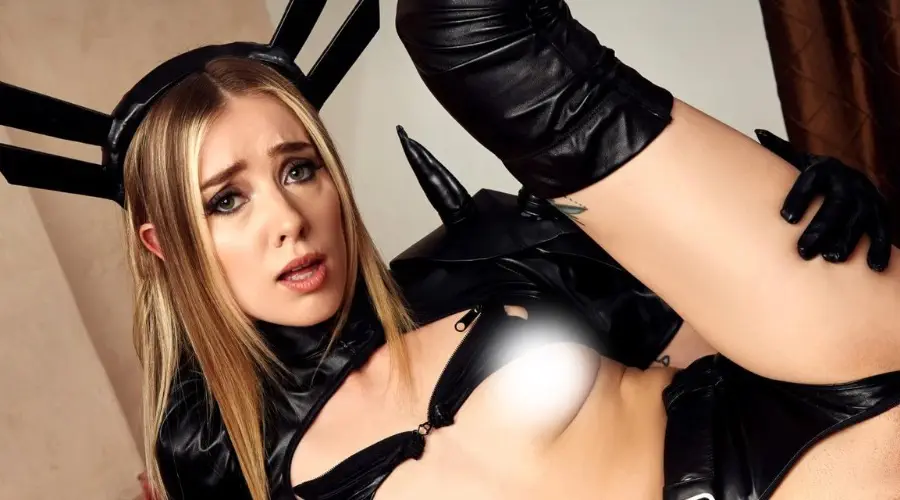 XXX parodies or porn parodies have been one of the staples of the porn industry since fandom has been part of popular culture.
One of the earliest porn parodies was Batman spoof Bat Pussy, made around 1970.
It was something of a minor stream in the world of pornography, next to naughty nurses, horny cops, and innuendo-laden visits by delivery boys carrying suspiciously positioned pizza boxes.
It wasn't unheard of – but neither was it a particularly common type of porn compared to "mainstream" pornography.
The stories gained something of a boost in the 1990s, however, and started to be more common and popular in the early 21st Century with porn parodies like The XXX-Files and X-Men: The Porn Parody beginning to appear.
In the 21st Century, however, with geek culture spreading into the mainstream.
Conventions introduced cosplay to the masses, with people discovering anime and science fiction on a level they never had before.
Cosplay isn't exactly acting, and it isn't exactly costuming, but it combines aspects of both.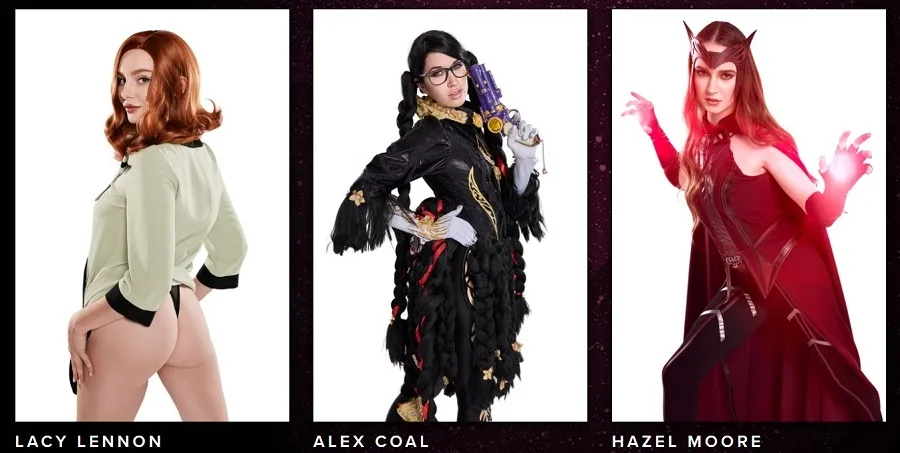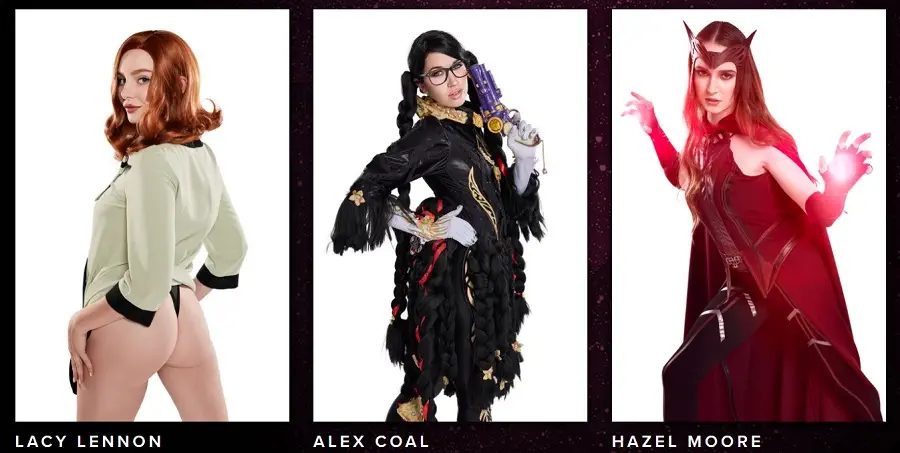 The costumes created for cosplaying tend to be highly detailed and exacting, with players spending weeks bringing everything together in their costume designs.
Cosplay isn't just making a costume – it's a form of grand personal expression that engages costuming, props, and behavior. High-level cosplayers adopt mannerisms and catchphrases from their favored characters.
A high-level cosplayer spends months putting together their costumes and props and can recreate a character almost perfectly.
Cosplay as an artwork is a billion-dollar business with its own celebrities who have their own YouTube channels and product lines.
So of course, when cosplay became an important cultural force, it also became something that the porn industry took note of.
Cosplay porn tends to be considerably more diverse – not as body-positive or diverse as some would like, but certainly more so than the mainstream porn industry which fits groups of women into "fetishes" like Asian or Black.
The cosplay porn appeal has an extra facet as well: For the people who are most likely to consume it, there's an aspect of "like me" involved.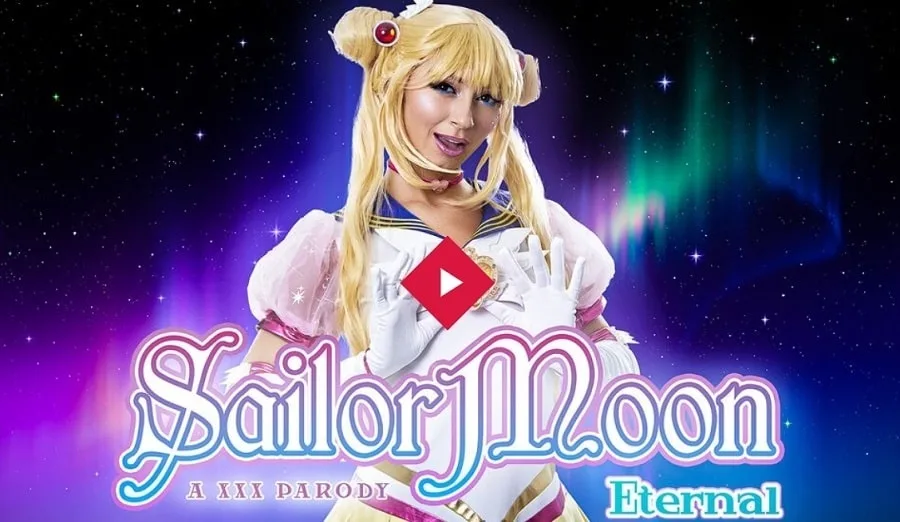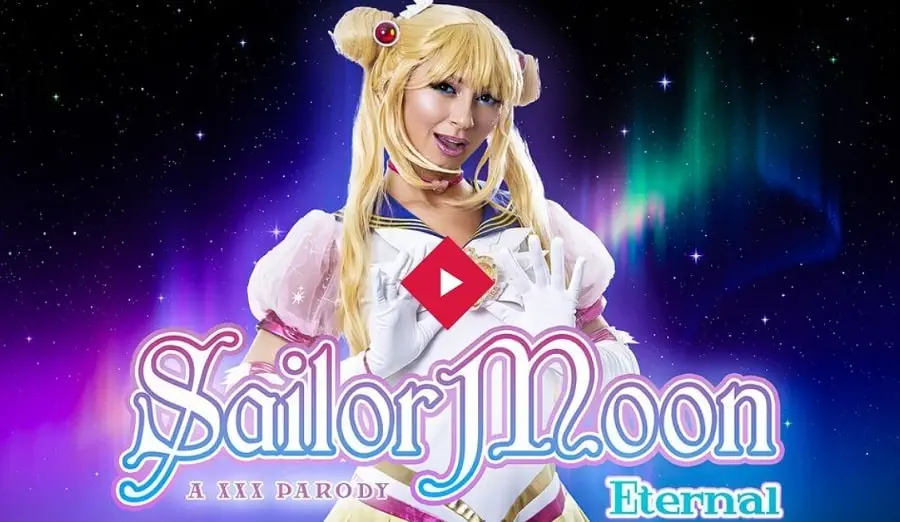 Because cosplay is a nerdy undertaking and cosplayers themselves are also nerds, many of the people who are drawn to cosplay porn are looking at seeing people like them engaging in sex while dressed as Sailor Moon and Ruroni Kenshin, or as Dungeons & Dragons characters, or Link.
And cosplay tends to be more body diverse – there's a lot of transgender cosplayers, for example, as well as women who are not of the traditional "porn star" type build.
Frequently asked questions
What Is VR?
Virtual reality is a type of display technology that uses stereoscopic image display to immerse you in a wider kind of video than can even be provided on a widescreen.
It's like 3D in that it's presented using image technology that presents one image to each eye individually. But unlike 3D, the user is free to look around them while the scene is going on.
When will the site update?
The site updates approximately weekly, with 1-3 new videos per week and an existing library of more than 350 videos.
Can I preview the site?
VR Cosplay X includes an optional $1 one-day preview of their site. Additionally, the monthly and annual subscriptions include a free preview week before they charge.
New users are allowed seven days to peruse the site and see if its offerings are right for them.


How does cancellation work?
In the event that you intend to cancel your subscription to the site, you'll need to submit a support ticket and allow the support team to find and close your subscription.
This is one of the only major downsides of this site.
A support ticket-based cancellation tends to be considerably slower than a cancellation that the user can initiate and complete, and you probably won't be able to cancel it if you realize on the day that your bill is being cut that you can't afford to pay for the next site payment.
What If I Don't Want to Use VR?
VR Cosplay X, as its name implies, is a VR-focused site. If you're not interested in VR, there are alternative sites out there that focus on two-dimensional cosplay.
With VR Cosplay X, if you're not interested in the main interaction mode of the site, you're probably going to be out of luck as its only non-VR offerings are a small sampling of screenshots from its available videos to preview viewers' options.
What Kind of Headset Compatibility?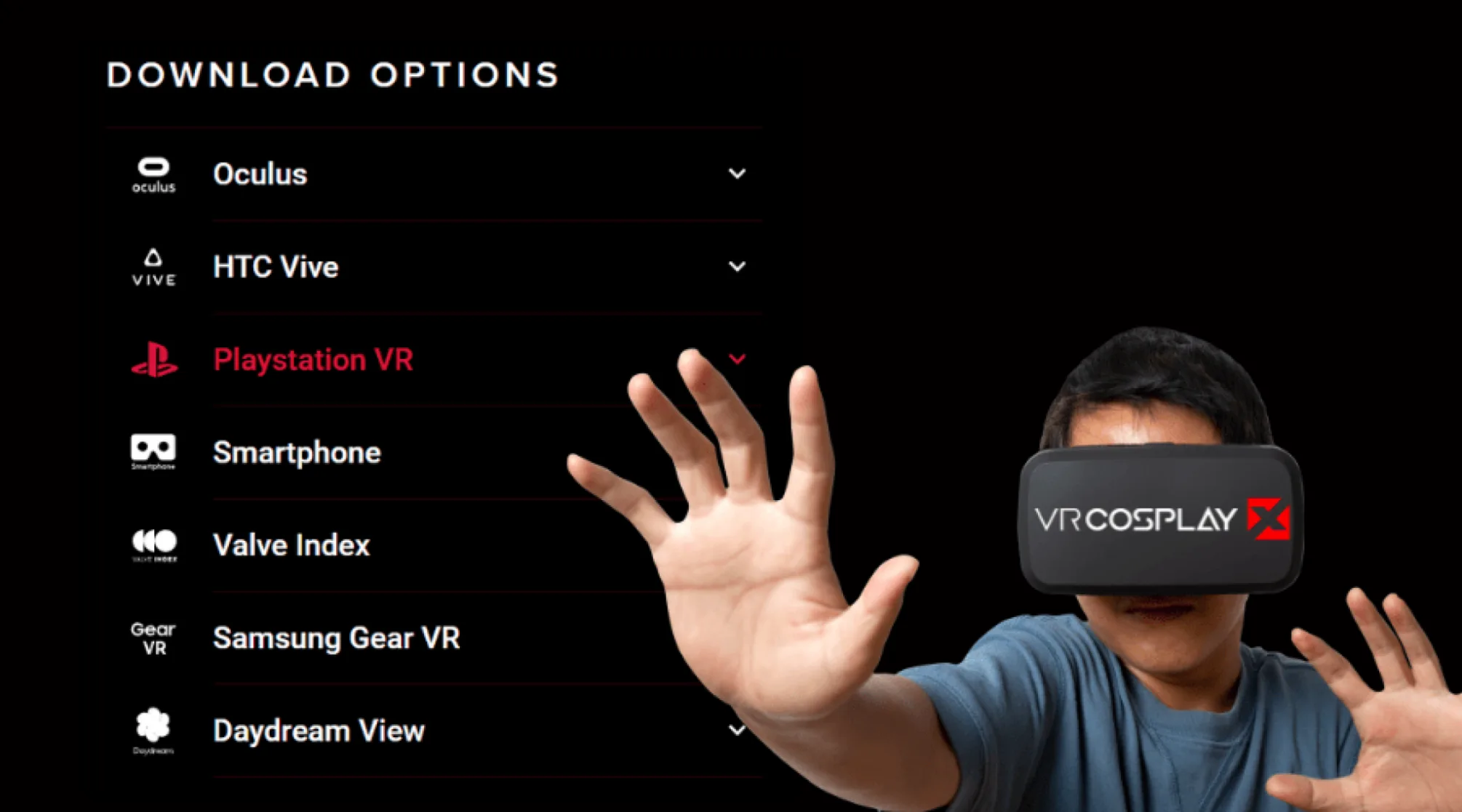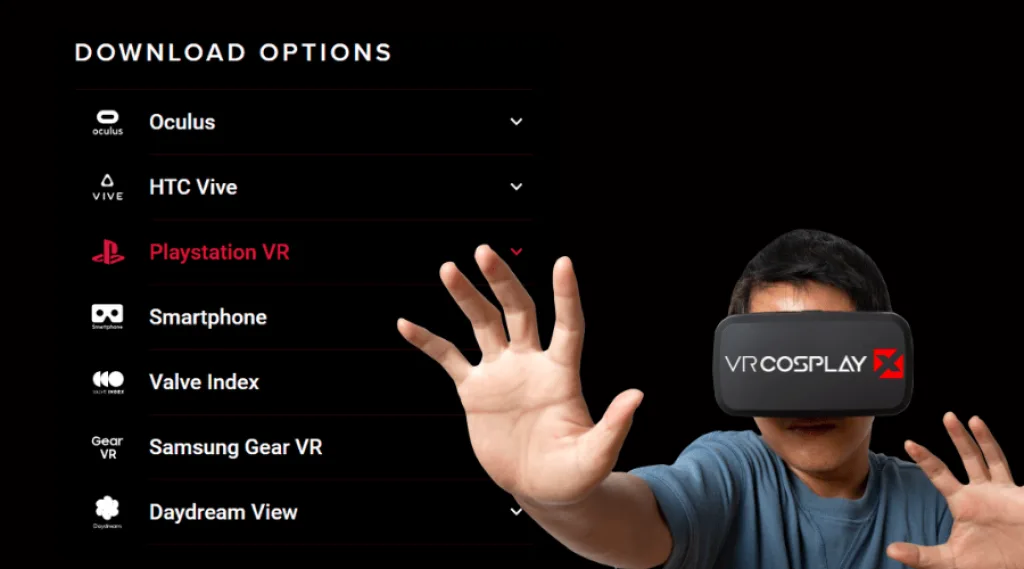 VR Cosplay X includes compatibility for most available headsets.
Its compatibility list is heavily populated by Oculus, HTC, and Samsung, and also includes mobile headsets through a VR file download. If you have a VR headset, you will be able to access the site.
Pros
High-quality costumes and sets.
Cosplay porn of fan-favorite characters from media & video games.
Because of its niche status, cosplay porn attracts actors who are not typical porn stars.
With Super-Bundle options, it comes bundled with 4 other VR porn sites.
Updates weekly.
Cons
VR Cosplay is a specific subgenre.
VR-specific, if you don't have a VR headset available it's not for you.
Compared to more general interest sites, a very limited menu of clips.
VR clips update more slowly than "flat" clips.
Unsubscribing is a tremendous hassle, involving a server ticket rather than a form.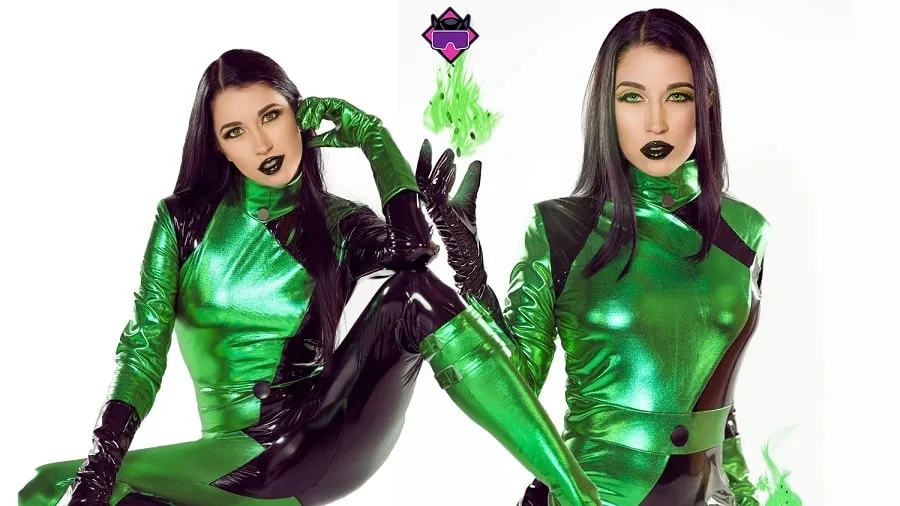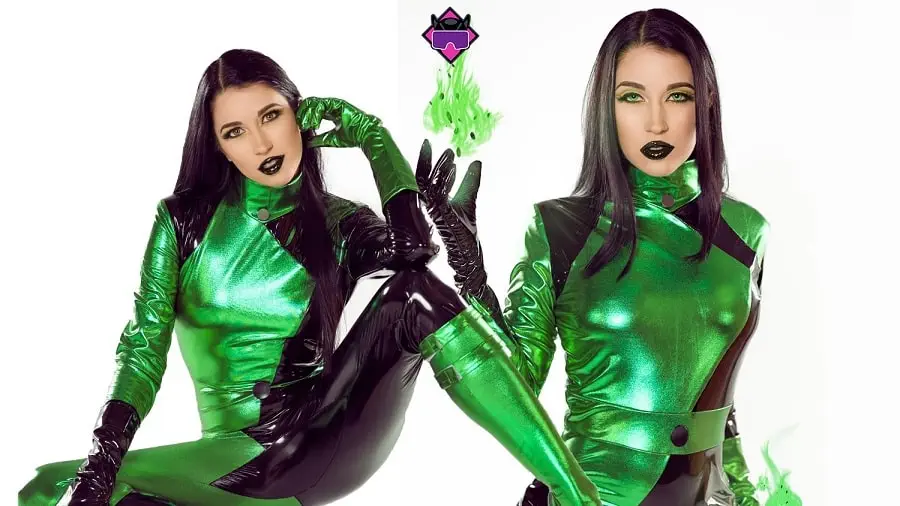 Verdict
VR porn has been one of the hottest emerging segments in porn over the last decade, and VR Cosplay X is a great site with fantastic content.
It has a wide variety of content from many fandoms and contains creators and artists who are celebrating the same fandoms as many of the people who come to visit the site and spend their money on them.
VR Cosplay X is worth the money.