Velvet Thruster is one of the best toys available in the palm of your hand, with the power of a fully featured sex machine in an easily handled toy, with a variety of sizes to fit the needs of anybody who needs a thrusting toy.
Delivered in a discreet package, the Velvet Thruster toy doesn't differentiate between masculine and feminine users and has a pleasingly high-tech design that will satisfy all users.
The Velvet Thruster series debuted in 2022, the premier line of Velvet Brands, a boutique pleasure and wellness company based out of Brooklyn, NY.
With a fulfillment site and custom laboratory for their devices in New York City, they produce limited-run and boutique products that satisfy and delight their dedicated fan base.
Velvet is the direct manufacturer of their product line, making them unique among North American manufacturers, with their mini line products available at selective retail outlets SheVibe, Spectrum Boutique, and PeepShow.
Their full-sized Prime models are only available direct from the manufacturer and are priced according to their premium status.
This reviewer can only hope that other stores, like Minneapolis, Minnesota's Smitten Kitten, and the famous Good Vibrations, will be able to start carrying the mini line soon.
If you're interested in a toy that has the strongest self-thrusting power available in a variety of diameters, go with Velvet Thruster.
With sizes from 5" for the petite Teddy TX to 7.25" and a diameter of 1.85" for the XL-sized Sammie, all variations have a powerful 3" stroke (2.5" in the smaller Teddy series) and a thrusting maximum of more than two strokes per second (125 RPM for the Teddys, 136 for the others).
Introduction to Velvet Thruster!
Velvet Brands, as said above, is a small-batch boutique source for sex toys, and from their headquarters in Brooklyn they specialize in made-in-the-USA hardware that's built to last.
With insertable lengths between 7 and 7.5 inches and a girth certificate clocking in anywhere from 0.65" to 1.85", these friends are big pieces of hardware designed for your pleasure.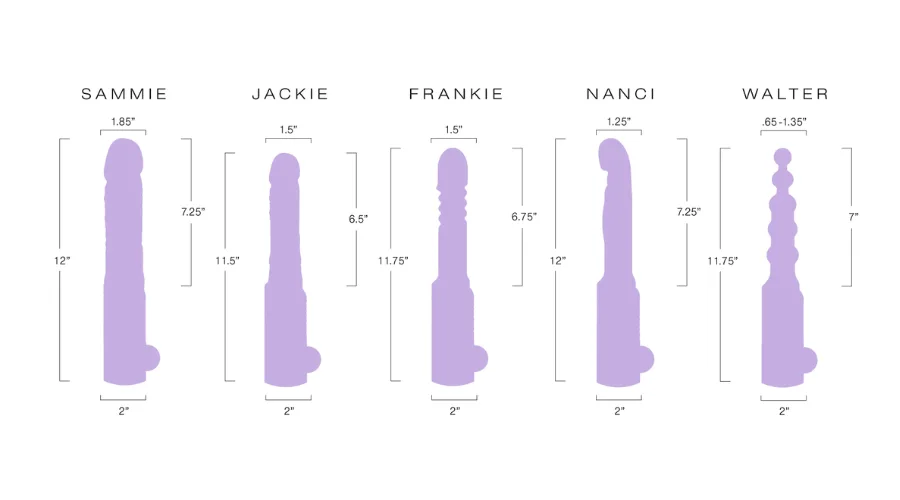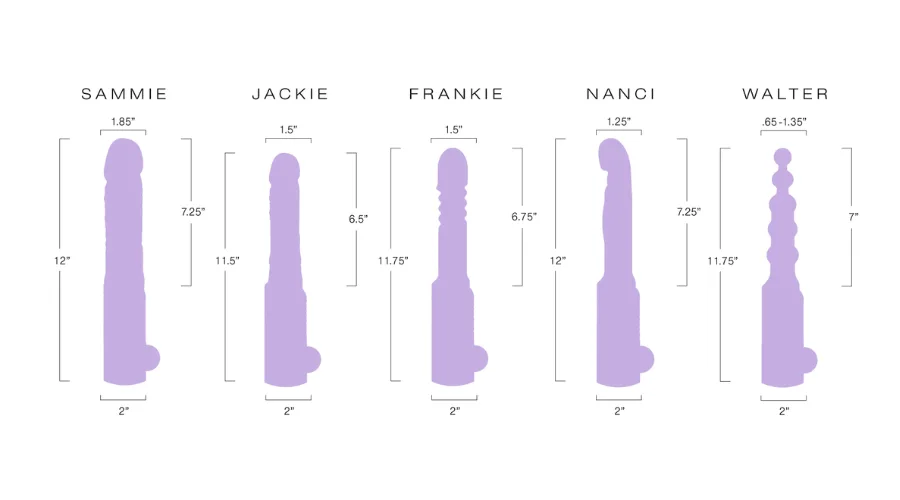 Lengths are 5" for Teddy TX, 5.75" for Teddy XL and Teddy GS, 6.5" for Jackie (now discontinued), 6.75" for Frankie, 7" for Walter, and 7.5" for Sammie and Nanci, the two giants of the bunch with massive pounding capabilities.
People of all persuasions can enjoy the Velvet Thruster series, and Velvet Thruster Prime introduces some new incredible options for their pleasure.
These toys are well known for their strong thrusting power and surprisingly long shaft.
A 3" thrust in a compact hand-held device is a shockingly strong piece of equipment and users might be surprised by it at first or have difficulty handling the surprising thrust of the machine.
Plenty of users have described being surprised by the machine pushing their hand away, so get a good grip or the suction base.
What's the Velvet Thruster Prime?
Advertising the full power of a thrusting sex machine in the palm of your hand, the Velvet Thruster Prime adds exciting options to the basic mix of needs.
With mix and match tops and heads, the Prime is a truly custom experience, but this customizability comes with the price of sacrificing water resistance – your Velvet Thruster Prime won't be able to go in the shower with you because of it.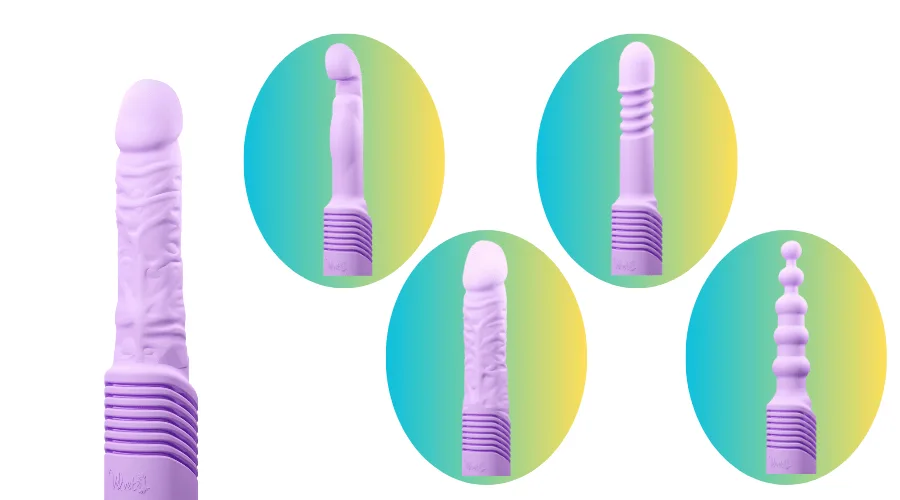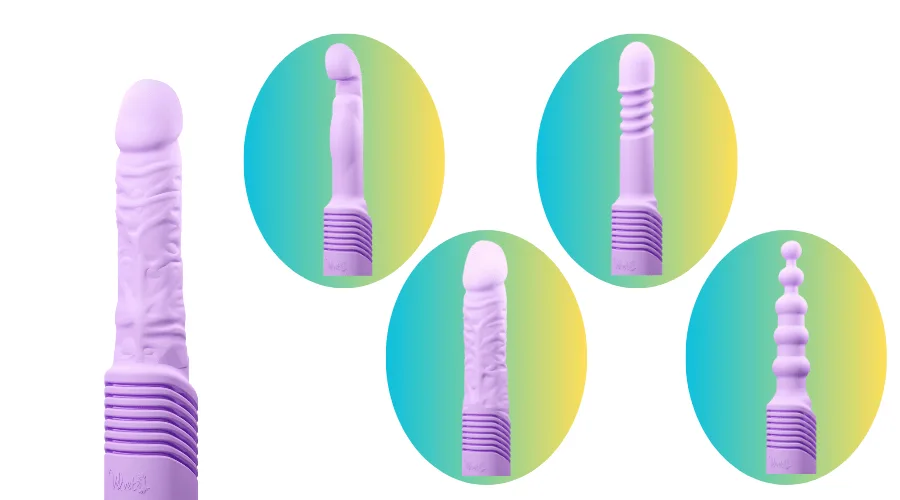 In its basic form, the Velvet Thruster Prime looks like any other boutique sex toy – a long shaft that comes in a basic dildo shape or any of four other variant heads, plus custom grips, suction bases, and power attachments.
The basic form is obvious. The options may surprise you.
Velvet Thruster Prime consists of a skeleton including a powered base and a thrusting piston.
The heads include "Jackie" (a traditional dildo shape), "Frankie" (ribbed), "Walter" (beads), "Sammie" (a different dildo shape than Jackie) and "Nanci" (a modern g-spot dildo, hooked slightly for better pressure into the anterior wall.
The choices give the user maximum opportunity to create their favorite pleasure profile.
"Well, you just plug it into a wall outlet and turn it on." – Joel Hodgson
For a sex toy, the Velvet Thruster Prime is an amazingly well-designed piece of custom equipment.
While it doesn't have the water-resistant qualities of peer devices, it is water-resistant for cleaning and should be cleaned regularly, as with other toys.
Water should not be allowed to enter the charging port. The Thruster is completely self-powered and can be recharged hundreds of times before the batteries expire.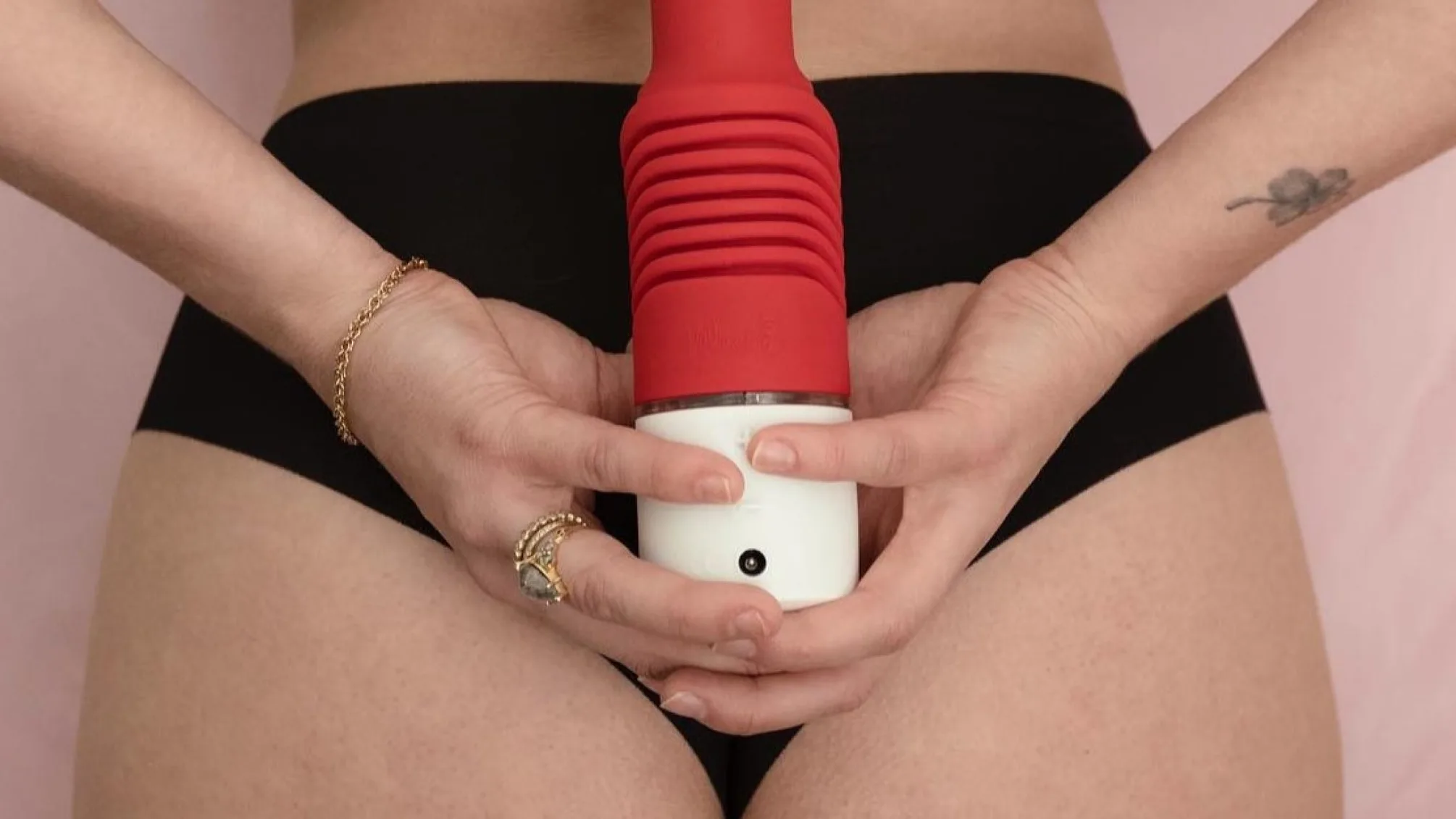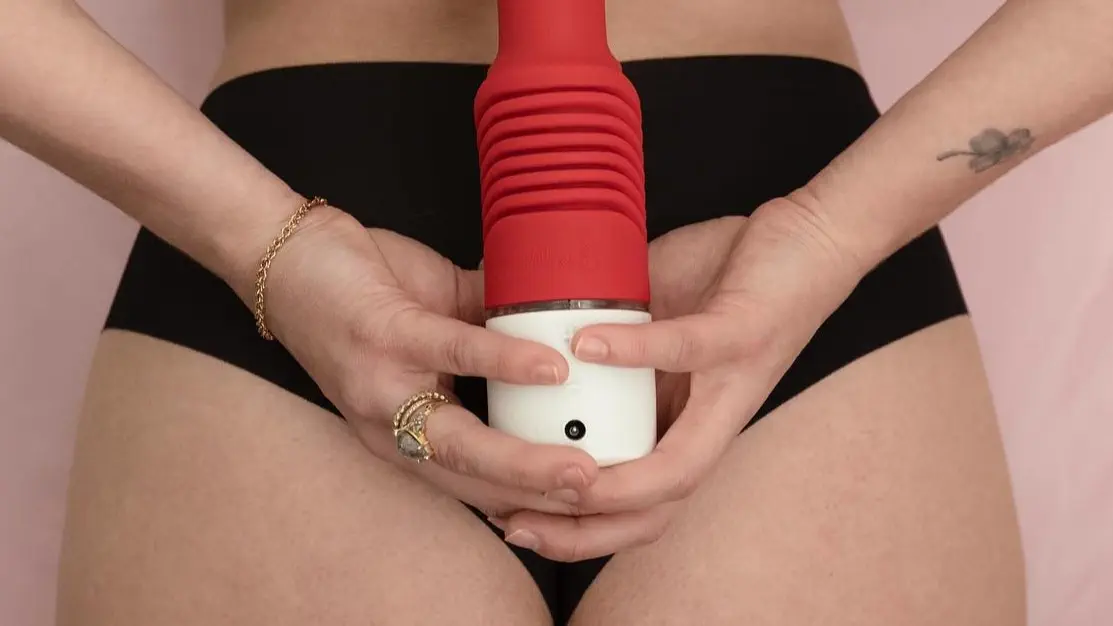 The Velvet Thruster Prime has a marathon-level endurance of up to an eight-hour session, a huge advance over its smaller siblings that last up to three.
At faster and higher-torque settings, the battery will obviously drain faster, as will high resistance, such as clamping down between your legs, which may also stall the motor. Users can find the best ways to handle their toy over time.
Plenty of users review the Prime has such an amazing power that they hold on for dear life as it pushes in and out and the suction cup or handle base attachments are often seen as a necessity for extended play, since the Prime has an incredibly powerful motor and many users report that the "ball" knob at the base of the toy is not really grippy enough for users to get a consistent handle on.
Once you have a handle on the toy – literal or metaphorical – it's time to hold on and ride the toy for dear life and plenty of orgasmic play.
Frequently asked questions
How Deep do the Prime Toys Thrust?
All three Prime-branded toys have the same 3.5-inch stroke length, with a stroke speed up to 140 per minute – this is not a toy for the faint of arm!
They can also flex up to ninety degrees, though at maximum flex the battery drains much faster than at smaller flex angles. Your adventure, though, is your own responsibility.
What is the difference between Jackie and Sammie? They look very similar!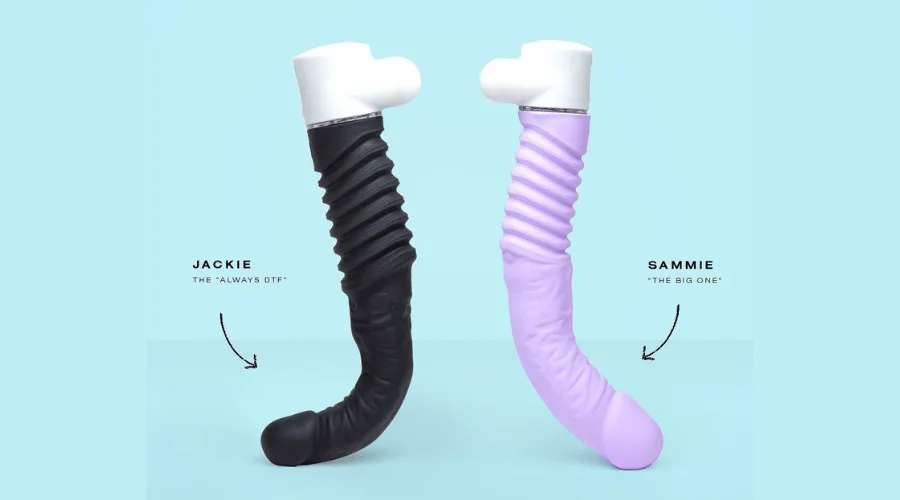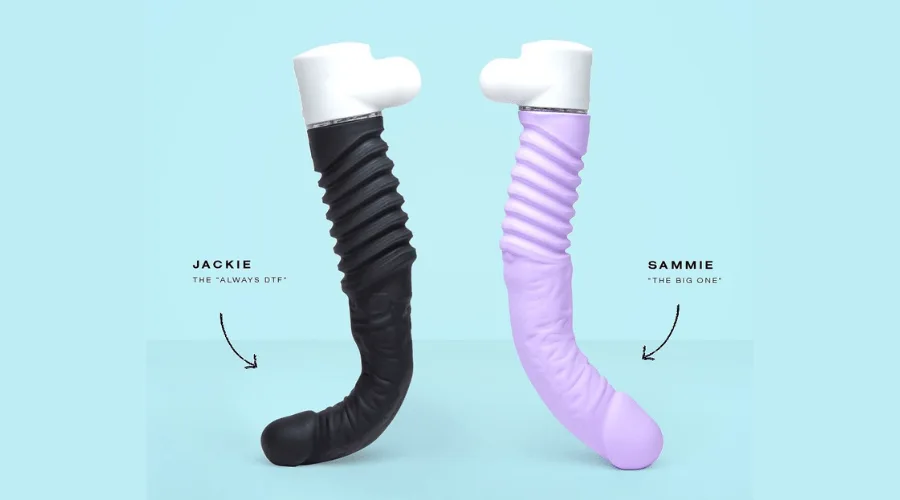 Jackie is slightly more svelte than Sammie – other than that, the two are virtually identical.
Sammie is the best choice if you're feeling like size royalty! Jackie, being more svelte, has a smooth, supple head that feels great as it bottoms out.
Sammie's girth is the same as some people's wrists, making it an excellent choice for riding fun for those who can take that size.
What About Anal Beads?
Walter is the bead option, with an easy-inserting tip with two beads at .65" diameter and the last three beads at a slightly smaller 1.35" diameter versus Jackie and Frankie's 1.5" (and half an inch smaller than Sammie at 1.85".
Why Isn't It Waterproof?
The one major weakness in the Velvet Thruster design is its use of a barrel-type charger tip, as opposed to more modern magnetic or sealing tips.
Because of this, it can't be submerged – the barrel charger tip provides a path into the toy for water, and as we all know, water kills electronics dead, especially charged electronics.
If this charger tip gets submerged, you're in for a sad time.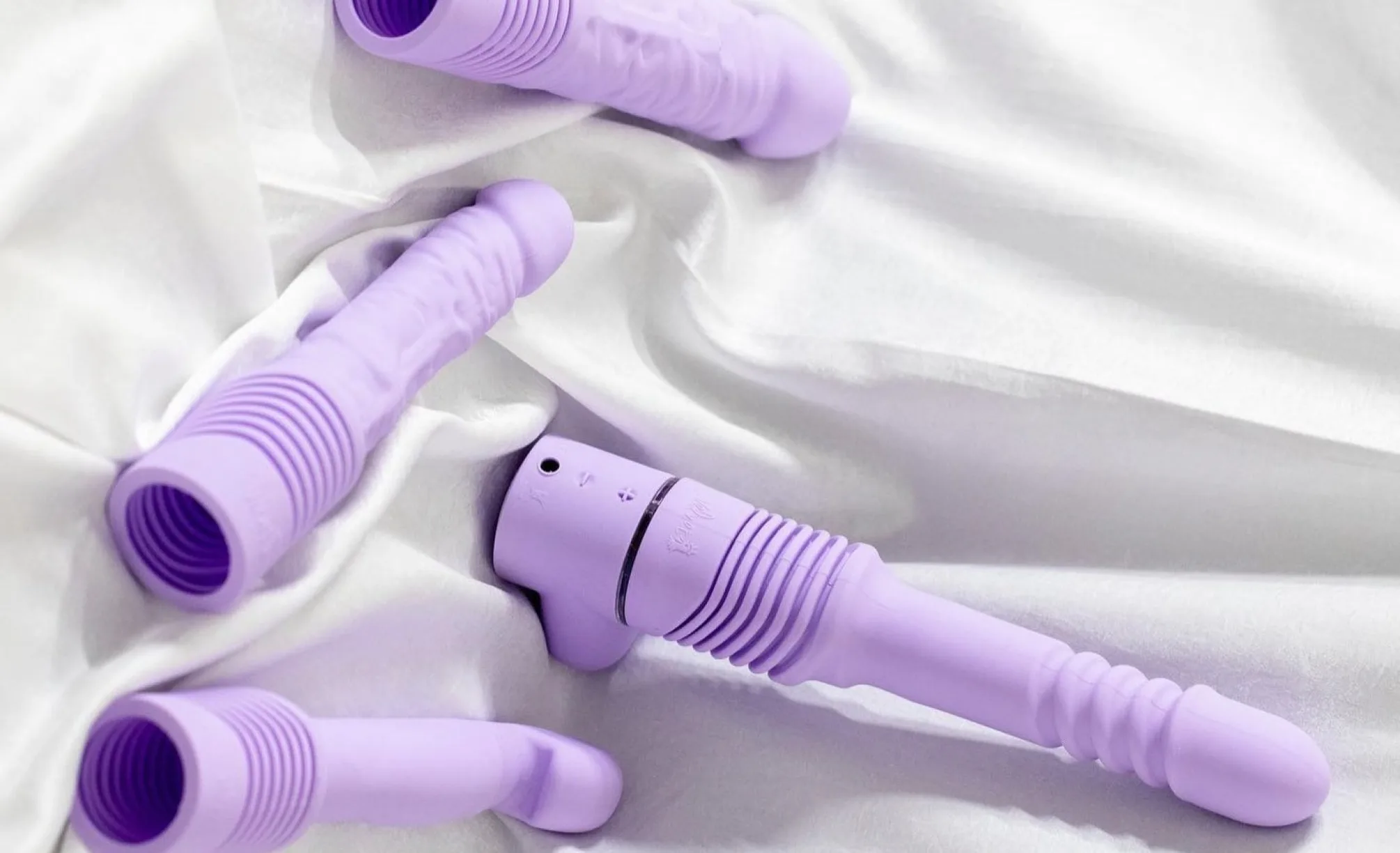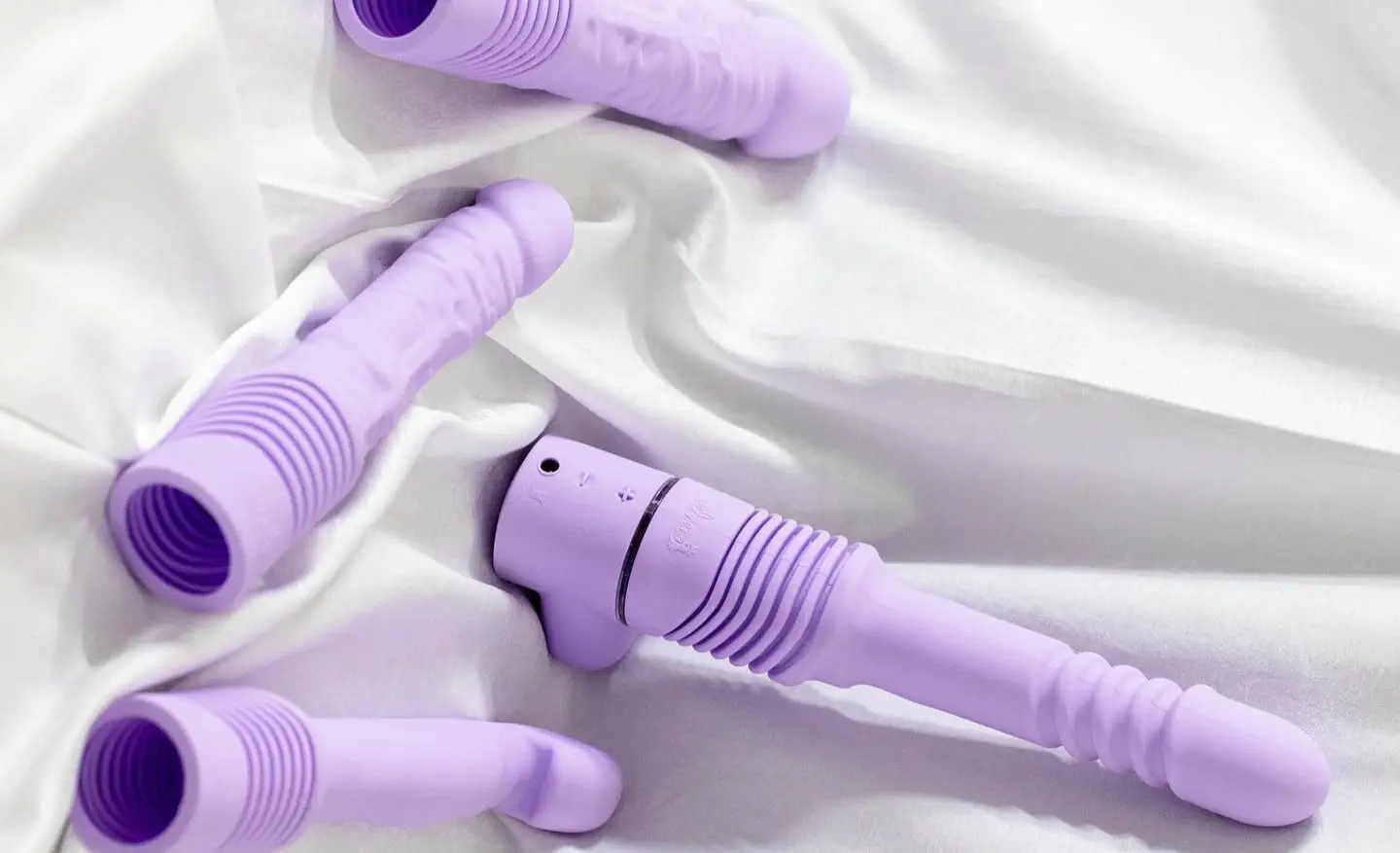 Another reason for the Prime line to be less waterproof than peer toys have to do with its interchangeable design. The Prime Thruster has a swappable head/shaft for those who crave variety.
This means that there's a line of unsealed material where the shaft assembly meets the powered base, which is an ample space for water to invade.
If you're going in the shower, you may need a different thrusting toy.
How Does the Prime Line Compare to the Minis?
An obvious point of comparison for the Primes is their miniature counterparts. The Prime versions are more premium and priced like it, with a premium of $70-100 over their smaller versions.
The accessories help make up the difference, with a longer and more naturalistic thrust giving you some additional oomph due to their bigger piston and stronger motors.
The Prime version also has more than double the Mini version's power time, with a run time of eight hours versus three for the minis.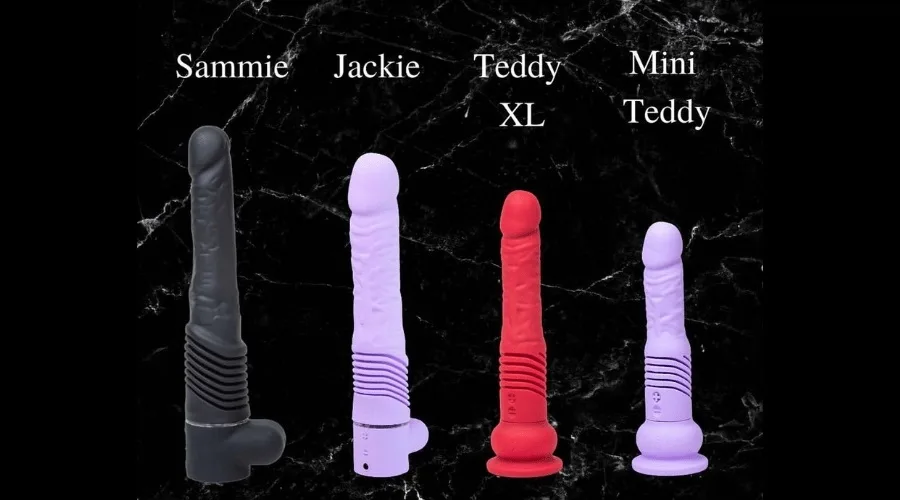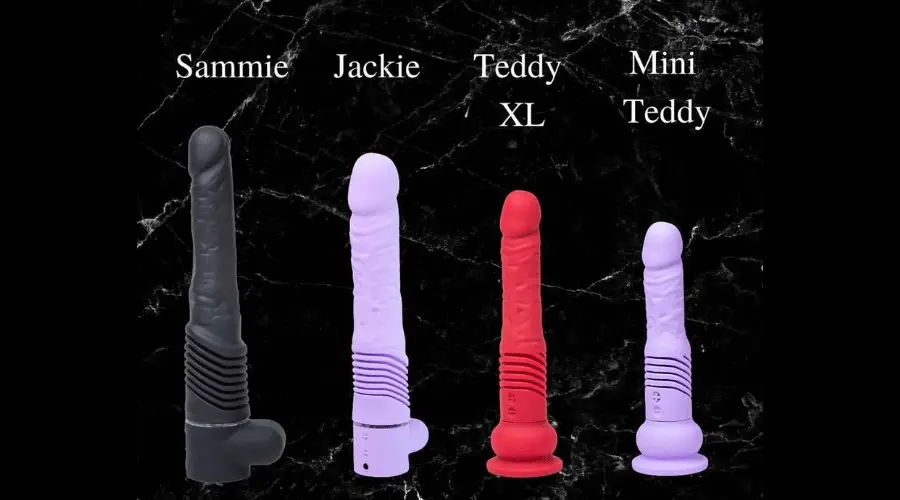 Greater size also gives you more leverage for partners to enjoy using your toys on you, letting you have the fun of receiving with a partner's creativity.
On the plus side for the Minis, being considerably less expensive.
If you're not sure if you want a thrusting toy, or you're just on a budget, they're going to put less of a dent in your wallet if you decide that these sorts of toys aren't your go-to.
Minis also travel better and are easier to hold for solo play. If you're not sure, if you travel a lot, or if you don't have a partner you play with regularly, they're a better bet.
If you're looking for more: more power, more options, more everything, the Prime version is the obvious winner.
But if you're not sure if thrusting toys is the right thing for you, you might find the Mini as a better option for your first time. And if it wins you over, you will have somewhere to go from where you started.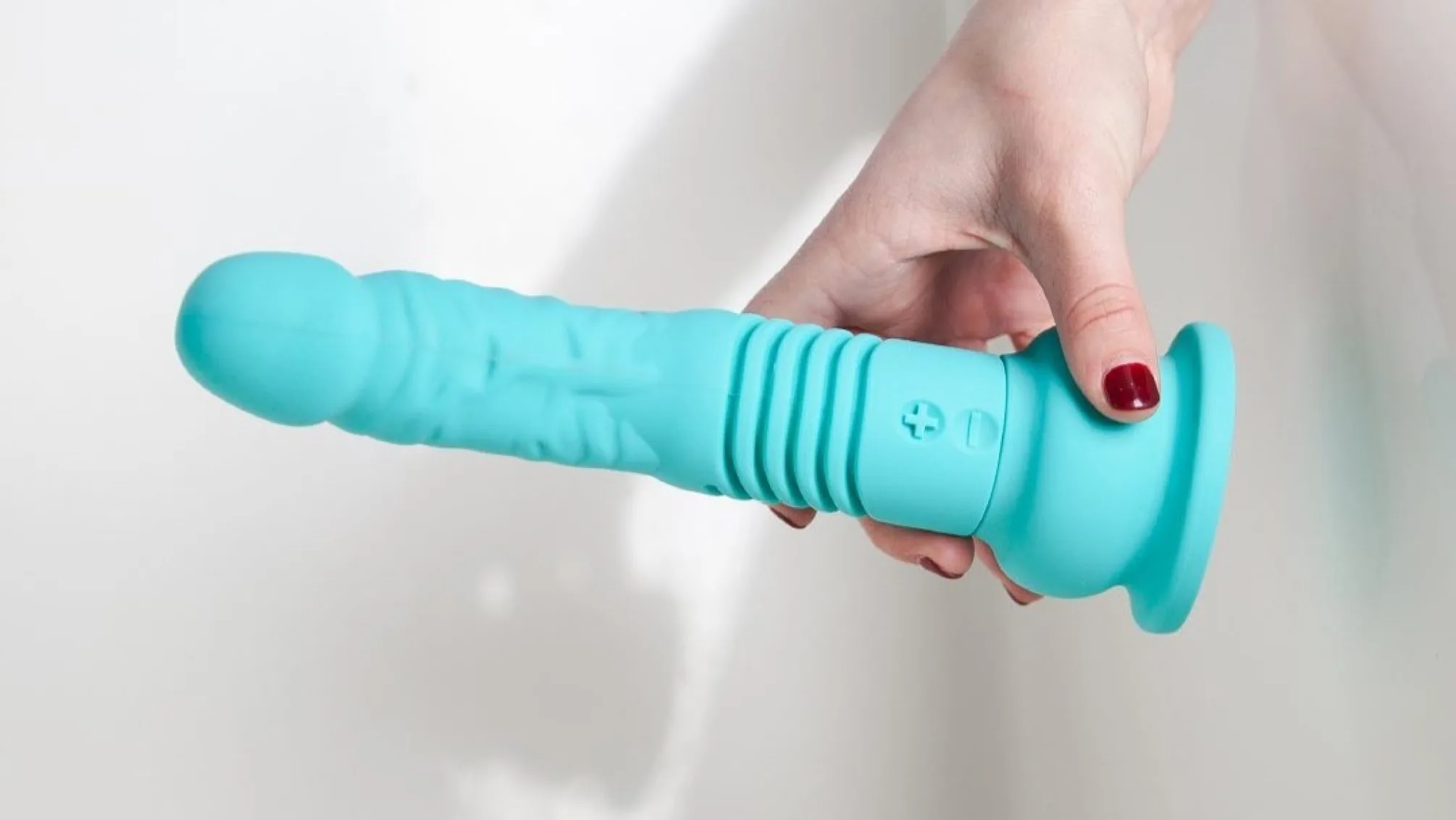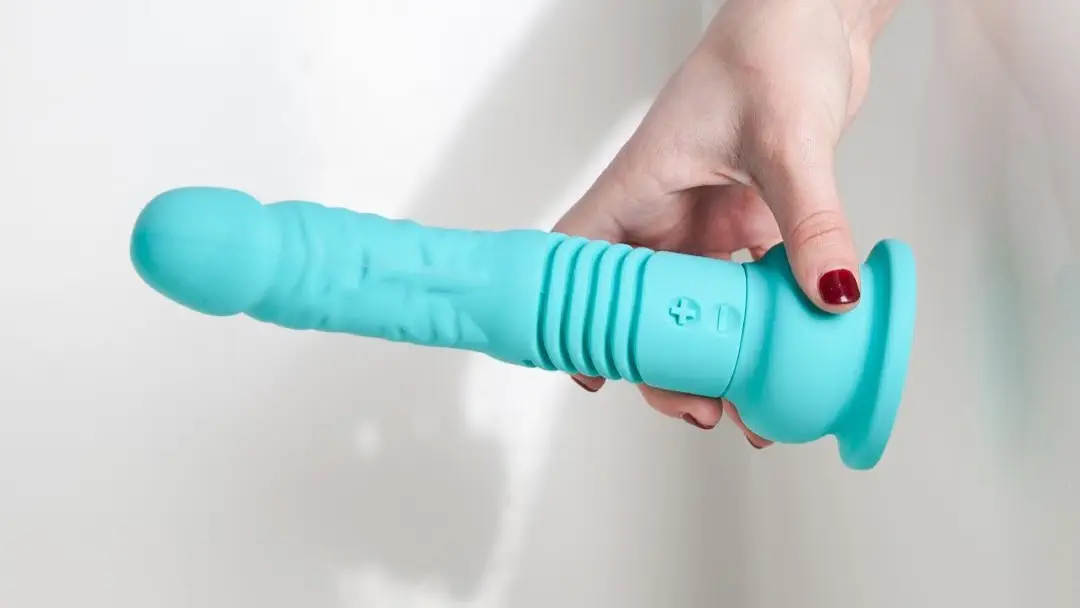 Pros
One of the finest thrusting toys on the market today. The Prime has no lack of power.
A wide variety of widths and use cases give the Velvet Thruster Prime a great opportunity to shine as the new favorite in your top drawer.
Made-in-America construction gives the Velvet Thruster Prime extra clout on the market.
The small-batch construction means every set will be slightly different from every other set.
The most powerful motor on the market drives a highly flexible shaft.
Cons
The motor is quite loud, and the toy is very large. At eleven inches long, this is not a discreet toy.
The traditional barrel-type power connector makes it too easy to get water into. If you want to take a toy into the shower or bath with you, you will probably need a different one.
If you buy the Prime version and discover you don't like thrusting toys, you are out quite a lot of money.
The powerful motor can make it difficult to keep hands on the end. The Mini version's suction cup is less powerful than the Primes.
Verdict
By now we hope you can see that the Velvet Thruster Prime is one of the best thruster toys on the market.
If this is a selling point for you, congratulations! You've found your next major toy purchase!
If you might not be so into this as you thought when you started reading this review, it might be worth giving the toy a second think before you go in on it.
The Velvet Thruster Prime lives up to the promise of Velvet Brands. It's a truly premium toy from tip to tail.
Its premium construction brings a price to match, and a power which, like a fine sports car, can get away from the unwary first-time user.
This is something you'll want to treat with some respect, not just set to its maximum power and jackhammer away the first time you get it home.
If you take some time to warm up to it, treat it with the respect that a power tool of its caliber deserves, and remember to take it slow and with lots of lube, the Velvet Thruster Prime promises to be one of the greatest toys you've ever put inside you.
High-powered thruster toys aren't for everyone but if they are for you, you can get your money's worth with the Velvet Thruster Prime.
As far as premium sex toys go, it doesn't get much better than this.
Hopefully, you'll agree and make the Velvet Thruster Prime the prize of your sock drawer: A premium piece of sex toy hardware that you'll come back to for years on end.