They twist and/or turn, vibrate or oscillate, come-hither or go-anywhere, cool down or heat up, stroke or pulse, strobe or glow-in-the-dark, realistic or surrealistic, OMG or teeny tiny, portable or heavy-duty industrial, smart as all get-out or dumb as a bag of hammers, space or stone age, and ones that'll make you pancakes in the morning or tuck you in at night.
But for those into oral, vaginal, or anal penetration, there's only one kind of sextoy: thrusting dildos.
And if you're into them … or, maybe it would be better to say, have them into you, it isn't so much finding one but determining which of the loads of thrusting dildos would hit your penetrative sweet spot the best.
This is where we, with our more than somewhat extensive experience in all things sextech, enter the picture by offering for your consideration our comprehensive list of the Best Thrusting Dildos Vibrators money can buy.
1: Fun Factory Stronic Drei Vibrator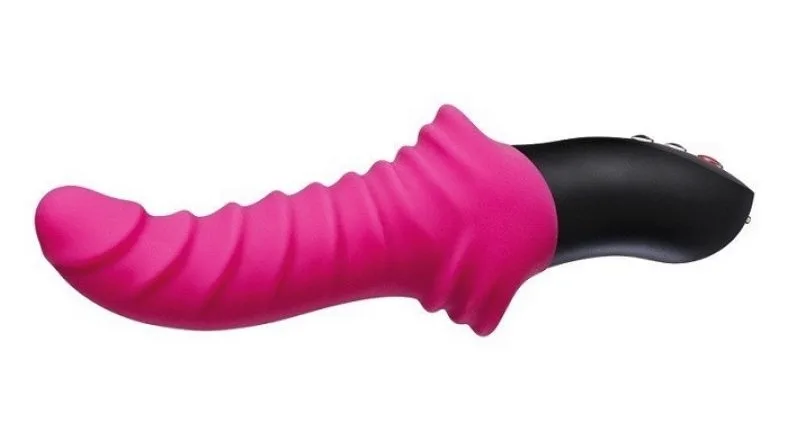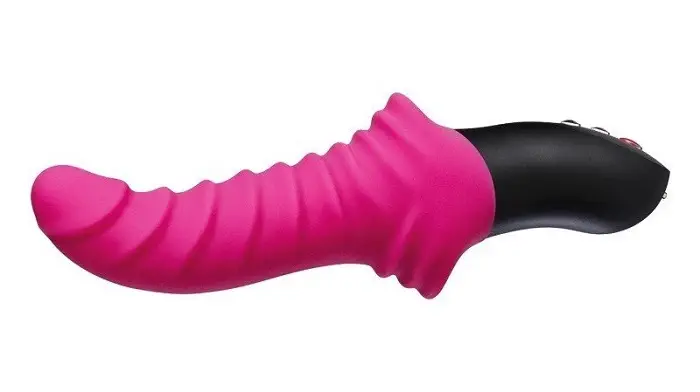 Drum roll, please … beginning with the innovative, stylish, powerful, and almost certainly universally pleasing Fun Factory Stronic Drei Vibrator.
We ain't kidding when we said this is an all-around party animal. Whether it's employing it as a traditional vibrator on places like nipples, clits, teasing the overall, genital, anal region, as well as whatever sexual antics you can dream up, or putting the Fun Factory Stronic Drei Vibrator's impressive thrusting actions to use into and out of a vagina or anus, it could very well be the only sextoy you'll ever need.
It even manages to be a fantastic implement for hitting those two sweet, sweet spots: the G one for those with vaginas and the P (as in prostate) for penis-equipped persons.
The Fun Factory Stronic Drei Vibrator's impressiveness doesn't end there, as it's exceptionally well made. So can easily handle about each and every sexual activity you could ever use it with and "keep on ticking." To use a very outdated term for ultra-fine engineering.
Not only that, if you're worried your neighbors may know a little too much about your sex life, the Fun Factory Stronic Drei Vibrator is whisper-quiet, making it ideal for home or on-vacation play.
And the fun keeps on coming, and so will you, as it's waterproof, for soaps and sudsy fun in the bath or shower, and comes with a built-in travel lock so it won't accidentally start doing its Powerful Trusting Action … Action … Action when you're standing in line at the airport.
Maybe not a "feature," per se, but we also want to tip our bonnets to the folx at Fun Factory, who thoughtfully added to the Stronic Drei Vibrator's product page that it's a very not good idea to use it if you or the whoever you're playing with has a pacemaker.
Pros:
Superb, all-over, multi-purpose vibrator and thrusting sextoy
Waterproof
Equipped with a travel lock
Extremely quiet
Cons:
Strokes somewhat shorter than other thrusting-type sex toys
Don't use it if you have a pacemaker
➡️ Check the current price of the Fun Factory Stronic Drei
2: Greedy Girl Thrusting Rabbit Vibe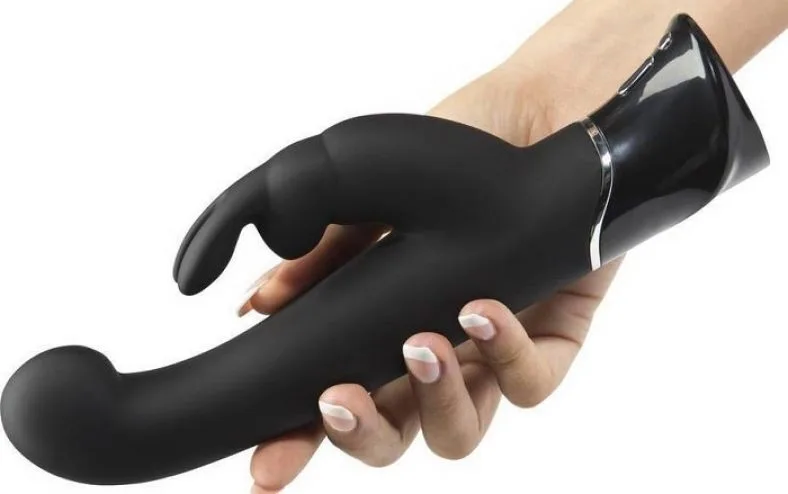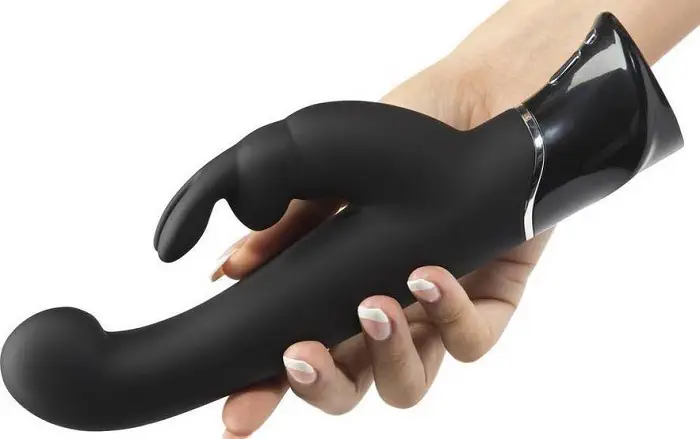 With one of the best names we've ever seen for a sextoy, for our number two spot, we have the (takes a deep breath) Fifty Shades Greedy Girl G-spot Rabbit Vibrator from JOUJOU.
If you're equipped with a vagina and get off on penetrative sex and like your clit tickled, then we have good news for you, as this is a fine-equality toy built for you and your sexual arousal in mind.
With its twin motors, one for each of its two components, body-safe silicone outer covering, precisely designed shape to reach and do its vibrational goodness on a G-spot, and overall ergonomic and aesthetically pleasing design, the Greedy Girl Thrusting Rabbit Vibe will do what you want, need, and crave from a thrusting dildo.
Plus, each of those motors comes with three intensity settings and nine unique vibrational patterns, making a total of 36 different combinations. So we doubt you'll get bored with it anytime soon.
It's also ideal if you're worried about excess noise, as it's a hushably quiet plaything, and if you like to get more than a little wet, it's completely waterproof. Just don't take it to the beach or into a hot tub, as that can seriously wreck it or any other silicone sextoy.
If we had to say anything bad about the Greedy Girl Thrusting Rabbit Vibe is that the name could do with a wee amount of shortening, and it's part of the author-approved, Fifty Shades Of Grey toy line—a book both kinksters and sexologists aren't exactly fond of.
Still, we have to give it to JOUJOU for bringing us such an exciting new sextoy, and one we feel will do the same for you.
Pros:
Dual action sextoy
Three power levels and nine pre-set vibrations
Quiet and completely waterproof
Cons:
Minimal thrusting action
Less said about Fifty Shades Of Grey, the better
➡️ Check the current price of the Greedy Girl
3: Realistic Dildo Sex Machine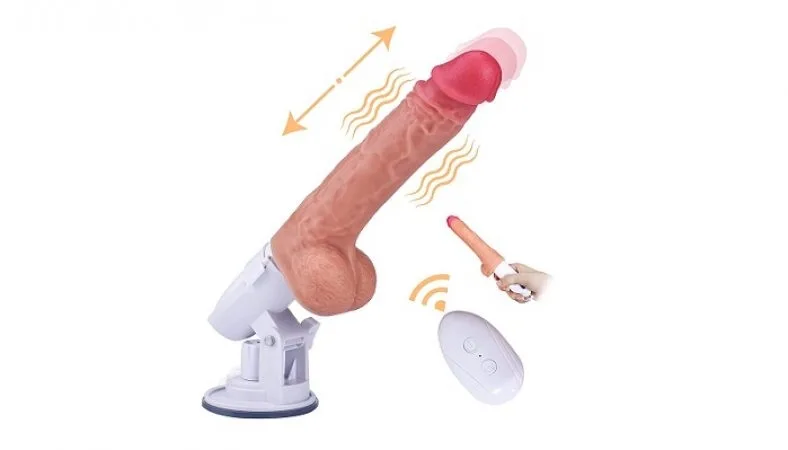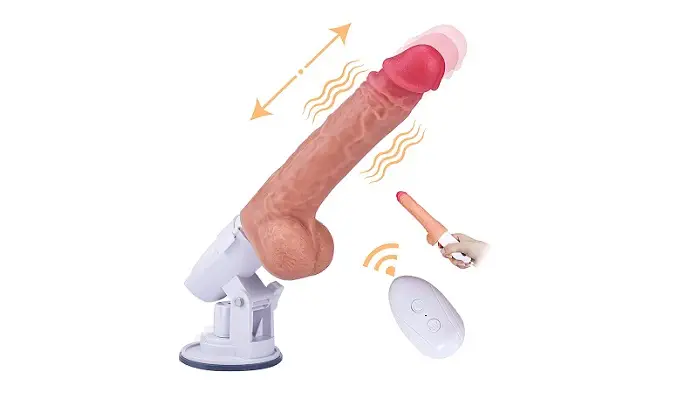 Let's take a moment to talk about thrusting dildos. Or, more precisely, the fluke about them in how when they get bigger, have longer strokes, or ramp up their horsepower, it gets harder and harder to keep them from running wild or maybe even flopping all over the floor like a landed trout.
What's needed is a system to, for lack of a better word, help anchor the toy in place.
Getting us to our number three on our Best Thrusting Dildos list, the Realistic Dildo Sex Machine from WeDol: a toy with a special suction cup attachment ideal for helping it stay where you want it to.
To set it up, all you need is to use a surface that'll hold a suction cup's suck, anything that's metal, well-polished wood, or non-ribbed plastic enhanced with a light application of water or oil-based lube will do fine, and you're ready to fire up your Realistic Dildo Sex Machine and hang on!
But there are other good points to this sextoy, including coming with its own wireless remote, how it lives up to its "realistic" product description, and the suction cup stand can tilt for optimal penetrative angling.
Pros:
Suction cup is pleasantly robust, more than enough to keep it in place
Adjustable vibrations and length of stroke
Realistic dildo
Included remote
Cons:
Middle-of-the-road quality
Requires a USB charging block
Some may find its lifelike appearance off-putting
➡️ Check the current price of the Realistic Dildo Sex Machine
4: Ultra-Thrusting Mega-Pounder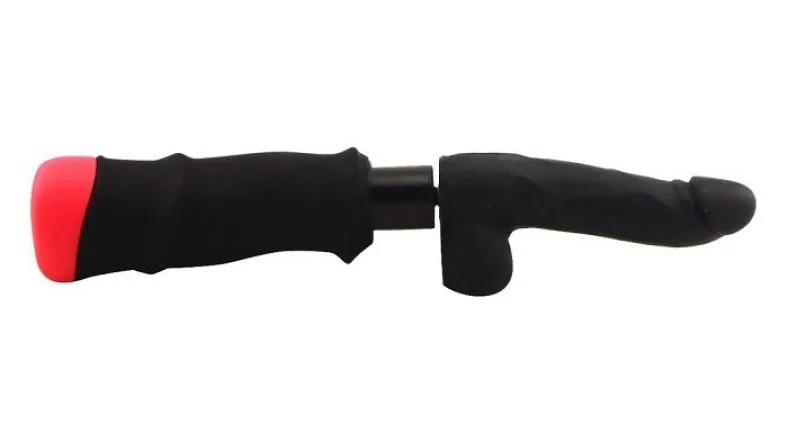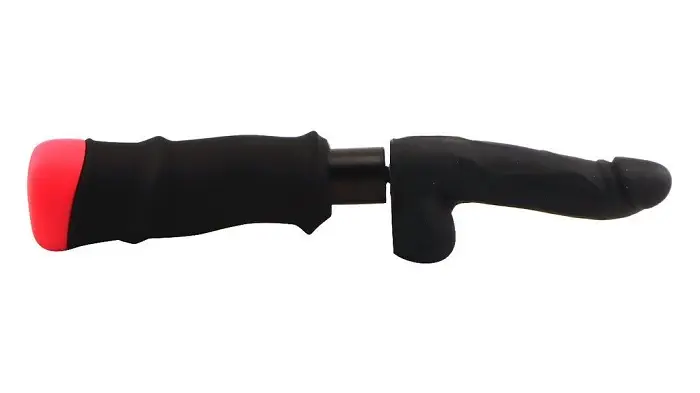 You want to feel, and we mean feel those thrusts? Craving seriously intense horsepower between your legs? Desiring as-good-as-real-sex pounding—or, if you play your cards right, with the possibility of even more intensity?
Then say howdy to a sextoy that says all that right on its tin, a toy that's all about providing those mouth-watering, thigh-quivering, orgasm-churning thrusts.
And we're not kidding, as you definitely have to like that kind of action since the Ultra-Thrusting Mega-Pounder isn't what we'd call a gentle, sensual plaything—and, seriously, with a name like that, how could it be?
Noticeably backed up by how the Ultra-Thrusting Mega-Pounder gets its all-important power, i.e., you have to plug it in. Yep, you heard us right, this isn't a charge-up-and-take-it-with-you type of sextoy but rather is a plug-in-and-hang-on one.
That's good and somewhat bad news; the first is that it's able to take full advantage of full, direct wall current to deliver all its oh-so-serious strokes; the second is that you should employ an extension cord when using it.
Pros:
Power, power, and more power
Stylish design
No batteries to run down, no need to wait while it charges
Cons:
Might be too intense for some
Not many options beyond thrusting
Powercord might get accidentally unplugged during play
➡️ Check the current price of the Ultra-Thrusting Mega-Pounder
5: Eve's Deluxe Thruster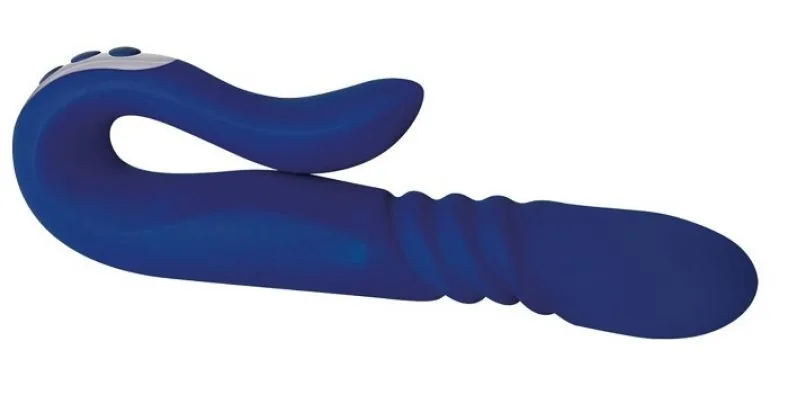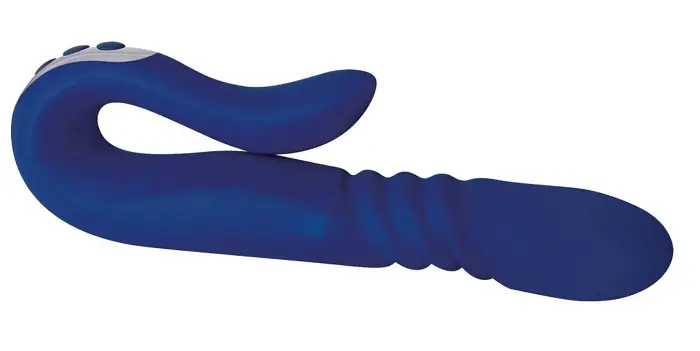 A great example of a toy able to deliver three uniquely different sexual sensations, and so well made that each part could easily stand on its own in the arousal department, from the sex tech giant that is Adam & Eve comes their Eve's Deluxe Thruster Vibrator.
For clitoral pleasuring, you've got an independently powered stimulator; for vaginal stimulation, the motor there can make it twirl or vibrate, and what we're all here for, it can also thrust forwards and backward half an inch.
Not a lot, you may think, but what we like about Eve's Deluxe Thruster Vibrator, and why it's number five on our breakdown of the Best Thrusting Dildos, is its versatility.
It's rare to find someone who only likes toys that do the whole in-and-out action and only that. So they frequently have to give up pleasuring these different parts of themselves or find a toy that'll dish out those thrusts as well as stimulate their clits.
Enter Eve's Deluxe Thruster Vibrator, which pulls this off while vibrating and oscillating at the same time.
It has other things in its favor as well, like being waterproof, made by a highly respected company, has a satisfying range of built-in intensities and pre-set patterns, and is covered in non-reactive silicone.
Pros:
A well-made thrusting, vibrating, and clitoral area sextoy
Provides a respectable range of sensations
Waterproof
Cons:
Limited range of thrusting
Designed for vaginal pleasuring only
Respectable though not excellent engineering
➡️ Check the current price of the Eve Deluxe Thruster
6: Velvet Mini Teddy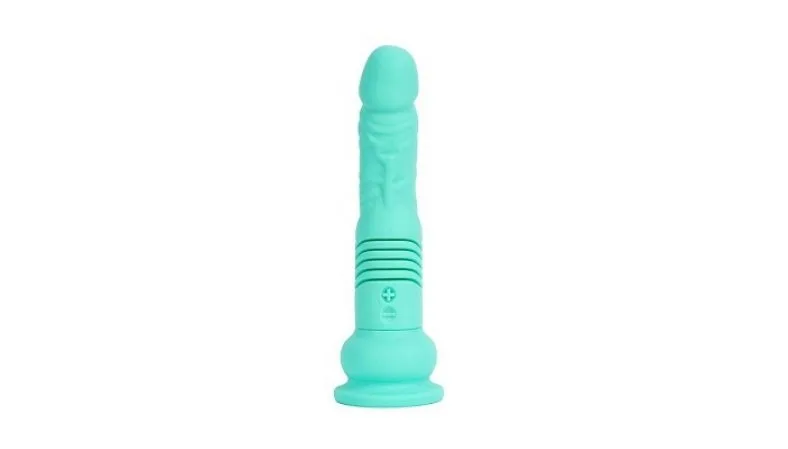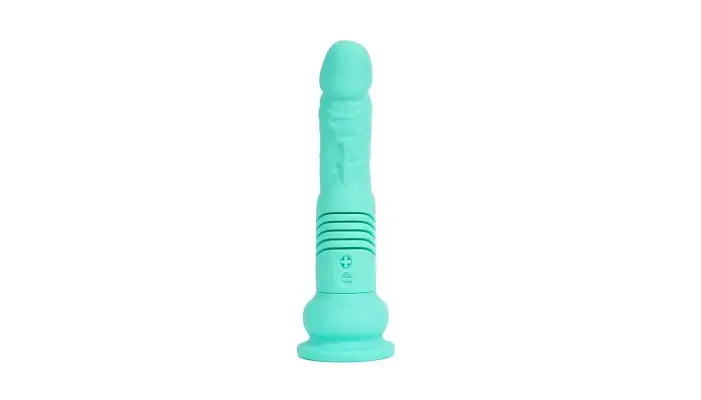 Another interesting fact about thrusting dildos is how there's a trade-off between the stroke length and the overall size of the toy. This is why smaller, portable models tend to be notably scant when it comes to how far they're able to reach, while the kind built to tickle the user's back teeth look like they require a Commercial Driver's license to move from one room to another.
Enter the Velvet Mini Teddy: a sextoy bucking this rule by fitting into any, albeit somewhat large, shoulder bag but thrusts an impressive two inches.
Though that may not sound like much, we suggest you check any of the videos out there about it so you'll have a better idea of how long, hard, and satisfying two inches can be.
The company behind the Velvet Mini Teddy has even managed to equip it with a suction cup base, so it won't go wandering off while you're enjoying those deliciously lengthy strokes. Lengthy and fast, as it can additionally rev up to a staggering 125 strokes per minute.
Pros:
Impressive stroke length for a portable toy
Integrated suction cup
Six speeds
Available in multiple colors
Cons:
Exclusively a thrusting toy
Not waterproof
➡️ Check the current price of the Velvet Mini Teddy
7: Happy Rabbit Thrusting Realistic Rabbit Vibrator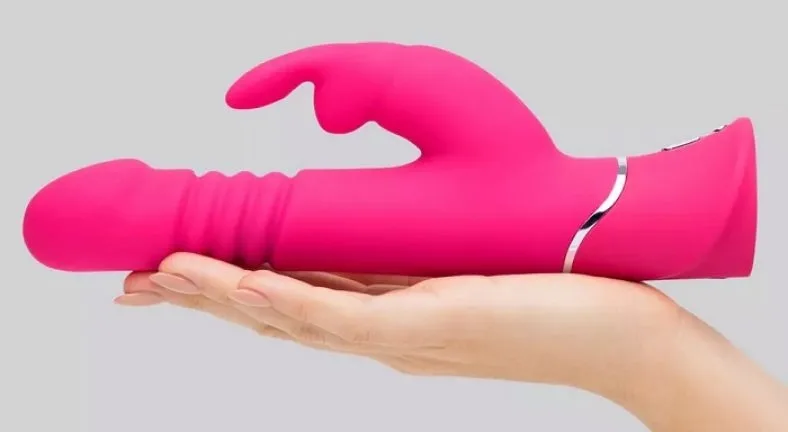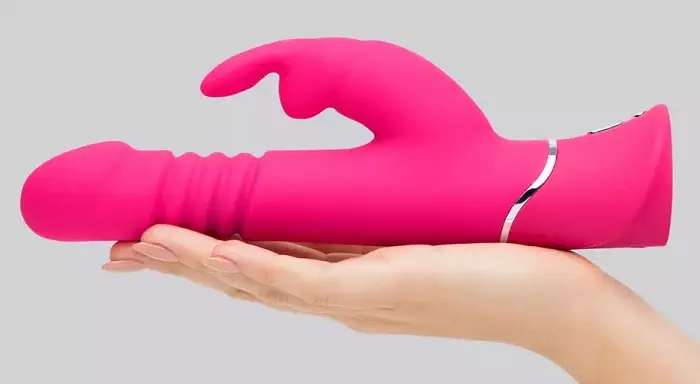 Lovehoney is deservedly proud to bring us their cheerfully titled Happy Rabbit Thrusting Realistic Rechargeable Rabbit Vibrator. Though we're scratching our heads over why they thought they needed to use "rabbit" twice.
Weird name or not, this is an incredibly fun sextoy and another doing its level best not to be a one-trick pony. Backed up nicely by its flickering, buzzing, vibrating ears for clitoral tickling and doing the same internally, compliments of its twin motors, while putting its instead realistically designed head forward as a thrusting dildo.
And it does all this to the tune of twelve different built-in vibration modes for its rabbit ears and three for its shaft. The fun keeps on coming since it's also quiet, waterproof, and is made of body-safe, high-quality silicone.
What's also cool about this sextoy is its design was at least partially determined by Lovehoney's customer base, with their ideas and feedback aiding in how the Happy Rabbit Thrusting Realistic Rabbit Vibrator was designed and built.
Pros:
Comfortable and enjoyable rabbit, rabbit, rabbit-style vibrator
Satisfying thrusting action
Waterproof and not at all loud
Good selection of vibration modes
Cons:
Stroke length is relatively short
Other sextoys have a greater number of settings and modes
➡️ Check the current price of the Happy Rabbit Thrusting Vibrator
8: Essenza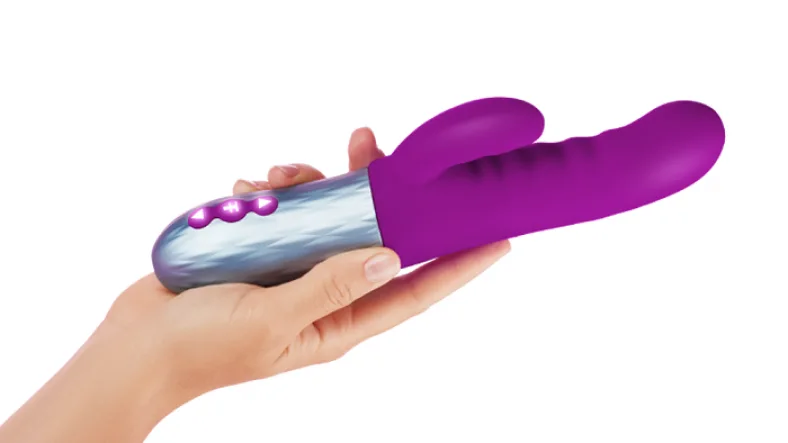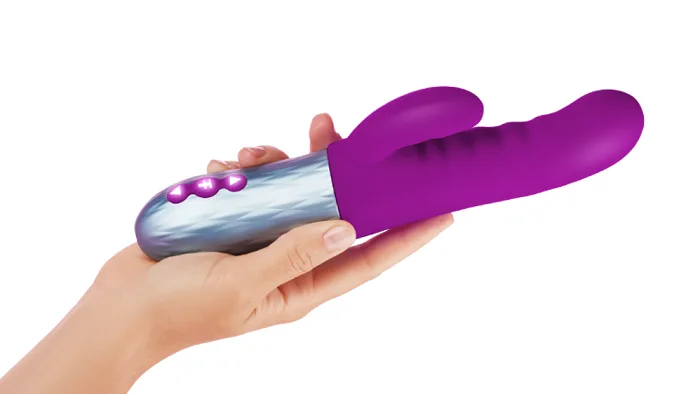 Say what you want about FemmeFunn's Essenza vibrator, but what with its brighter-than-bright silicone outer covering and brightly gleaming chrome-ish handle, this is a flamboyantly stylish sextoy.
Fortunately for thrusting fans everywhere, the Essenza feels as good as it looks with its clitoral stimulating in addition to penetrative abilities, range of built-in vibrations, multiple colors available, and seven different thrusting speeds.
In addition to being handy-dandy and oh-so portably compact, ergonomically pleasant to use, it is built with a standby mode, so when not in use, it'll retain a charge; it's available in pink or purple—adding to its fashionista-accessory demeanor.
Pros:
Satisfying clitoral and vaginal thrusting dildo
Quite attractive toy
Seven thrusting speeds
Three pre-installed vibration modes
Cons:
Attraction is in the eye of the beholder
Not as well-engineered as other thrusting dildos
More expense when measured against competing toys
9: Jack Rabbit Signature Thrusting Rabbit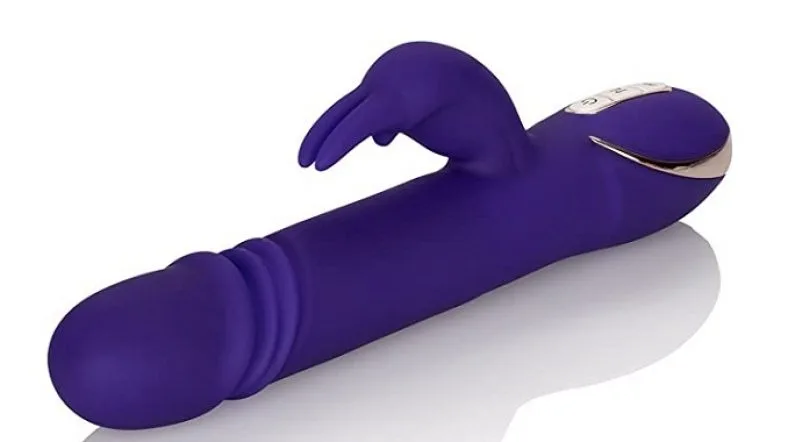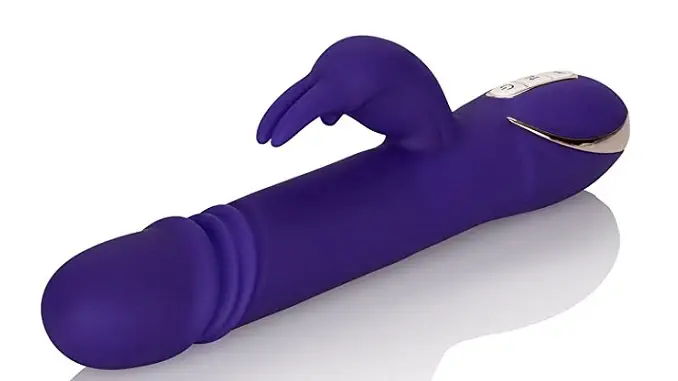 Maybe it's bunnies, with their well-known penchant for multiplication, but number nine on our list of the Best Thursting Dildoes, is a dual times two rabbit vibrator, the Jack Rabbit Signature Silicone Thrusting Rabbit.
Yes, you heard us right the first time: dual, the first, as it's another sextoy with two bunnies in its name, and the second dual because it joins the Happy Rabbit in being built to arouse the interior and exterior of vagina-equipped persons.
And it does this very, very well, primarily due to pair of clitoral and vaginal motors, a satisfying number of pre-set vibration modes, and three thrusting ones. Not to mention it's waterproof for bath or showtime adventures, has non-reactive silicone skin, and its maker, CalExotics, is no stranger to making pleasure devices.
Since we're near the end of our list, it's probably worth talking about why it's down here. Not to burst your bubble, the Jack Rabbit Signature Silicone Thrusting Rabbit is far more fun than many of the sex toys we've tried over the years. It's that what it does and how it does it is good, maybe even great, just not superlative.
Pros:
Pleasant, rabbit-style thrusting vibrator
Respectable range of vibration and thrusting actions
Waterproof
Cons:
Fair to good construction
Short stroke length
Controls feel awkward to use
>> Click here to Check the Price of the Thrusting Jack Rabbit
10: Velvet Thruster Jackie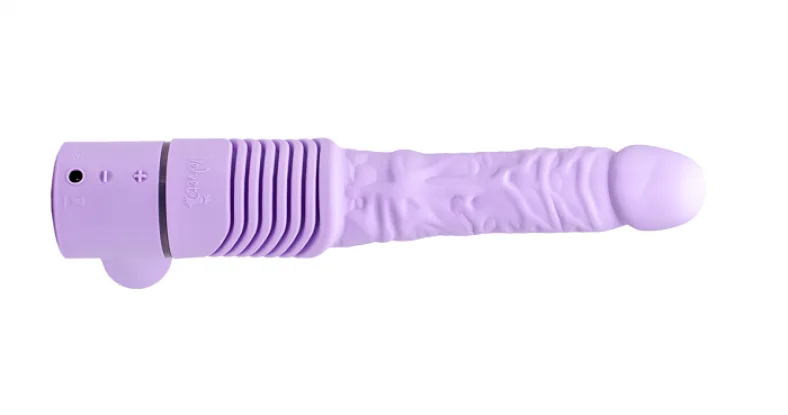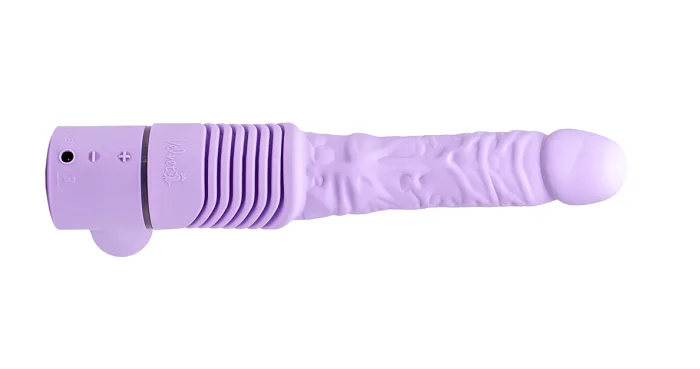 Concluding our look at the best thrusting dildos is, like our number nine spot, is a member of an entire line of these kinds of toys, that also serves as a great introduction to a company all about the pleasures of repeated penetration sextech.
Unlike other sex-tech enterprises, Velvet is focused primarily on developing and selling thrusting devices, with the Jackie one of five differently-colored models.
But whatever their outward appearance, each toy is practically a perfect thrusting dildo: combing a fantastic stroke length, fantastic flexibility, six speeds, a suction cup bottom (as an added extra), and a non-reactive silicone outer skin makes a dream come true for repeated penetration sexplay fans everywhere. For those into easily concealable enjoyments, there's their mini-series that does the same, merely smaller.
The reason we don't have Velvet and their line of toys higher up on our list is despite coming from a company every thrusting sextoy manufacturer should look up to, it's still a single-purpose sextoy: great if that's all you want, but for anyone looking for a more rounded experience, it may not be completely satisfying.
Pros:
Company's dedicated to thrusting sex toys
Incredibly flexible
Option for a suction cup base
Comes in a wide range of colors
Cons:
Does what it does very well, just not much else
More expensive than most
Not waterproof
➡️ Check the current price of the Velvet Thruster Jackie
11. Endless Pleasure Thrusting Vibrator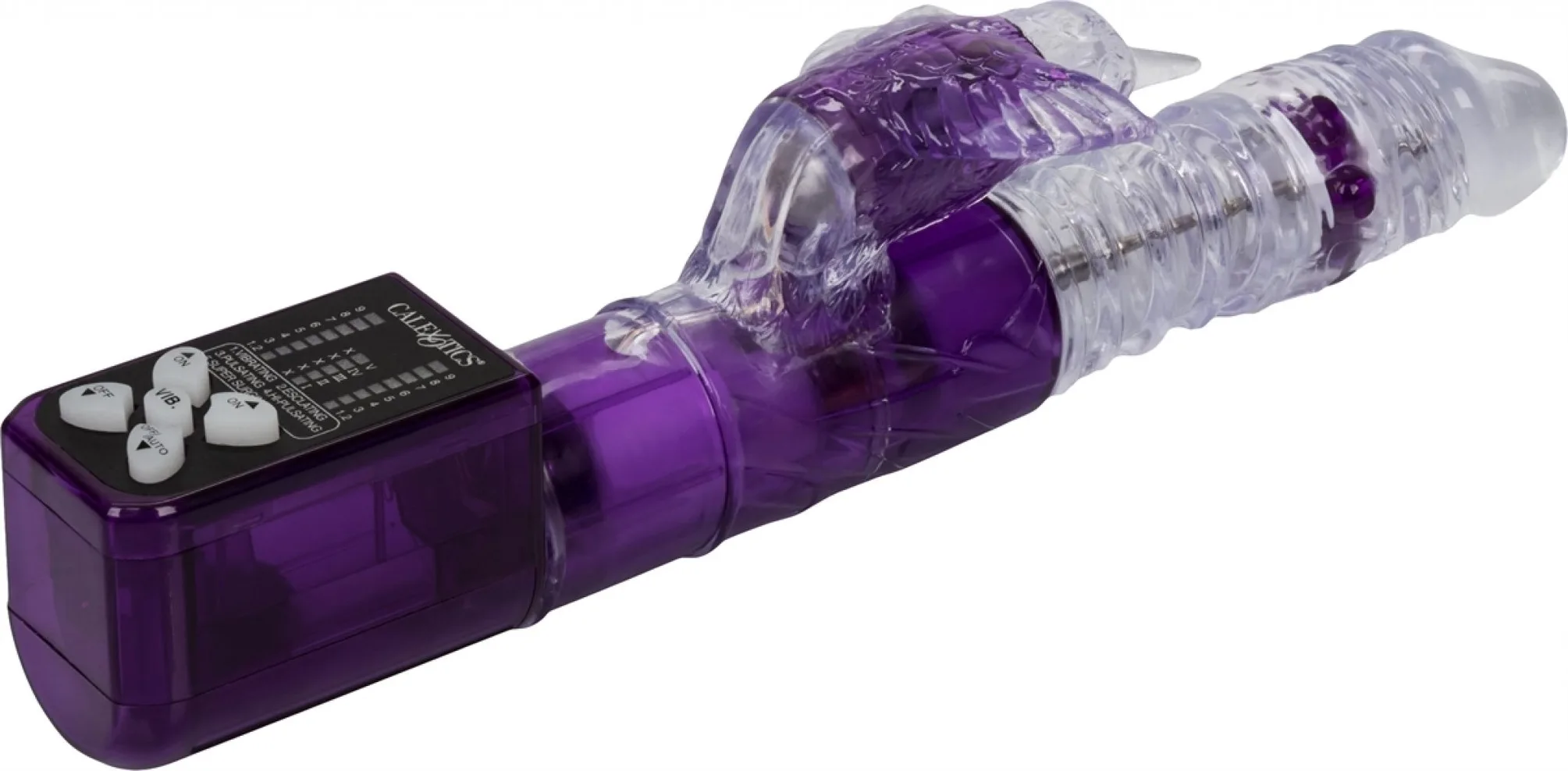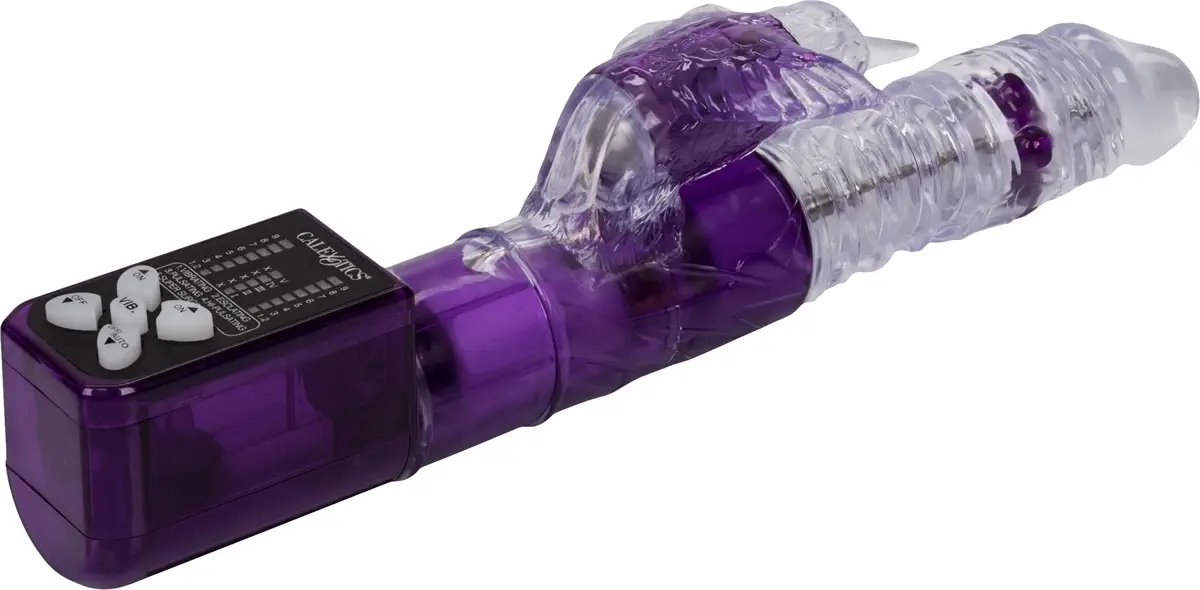 The Endless Pleasure Thrusting Vibrator is a rabbit vibrator sexily designed to give you an ecstatic time of play. It is specially made to skillfully please you with its numerous orgasmic tricks.
This bad boy mimics a real lover and leaves you with wonderful sensations that would make you beg for more.
It wonderfully gyrates while thrusting in and out as well as beautifully massaging your clitoris, giving you a mind-blowing sensation.
Its tip is beautifully shaped like a penis head to enable smooth insertion.
This thrusting vibrator thrusts and twirl without your effort all you have to do is lie down and enjoy its magical touch.
It also has four independent pleasure settings that allow you control the amount and intensity of vibration delivered to your vagina.
Its vibrations can be set from pulsation, escalation to vibration modes.
The endless pleasure thrusting vibrator comes with mouth-watering features that works hand in hand to give you an amazing orgasm.
It is a gyrating and thrusting shaft with glorious vibrations. It has swirling beads that delivers pleasure simultaneously to all your internal pleasure zones and a vibrating clitoral swan that gives the sweetest and most delicate massages to your clitoris.
This toy is made with super soft and flexible jelly material that gives you a new sensation as you change position.
It has a total length of 9 inches and it is 1.2 inches wide.
It can also be easily customized to your favorite settings with the aid of the arrow keys on its body. After play, the thrusting vibrator is easy to clean up by using a warm soapy water so as to avoid any form of infection.
A quality lube is recommended to be used with this toy so as to enjoy a wonderful and slippery experience.
The amazing features that this vibrator possesses are:
It is rechargeable
It is easy to clean
It is a dual stimulator and it can gyrate while it thrusts
>> Click here to Check the Price of the Thrusting Vibrator
12. Fun Factory Bi Stronic Fusion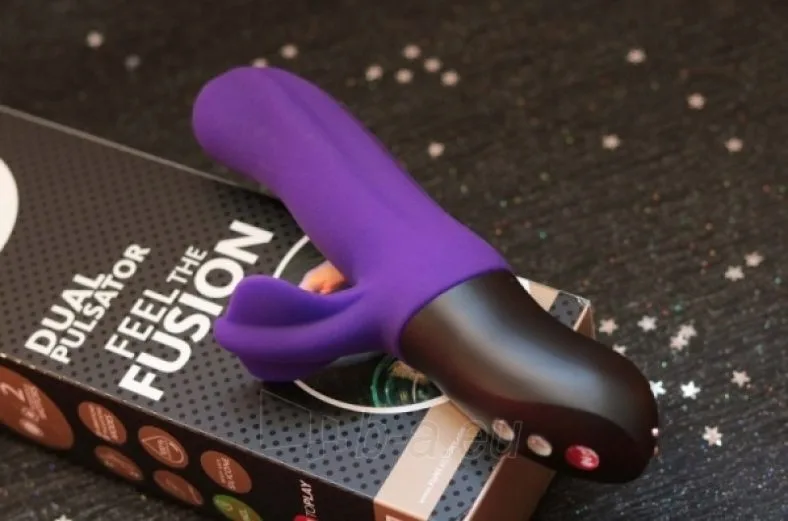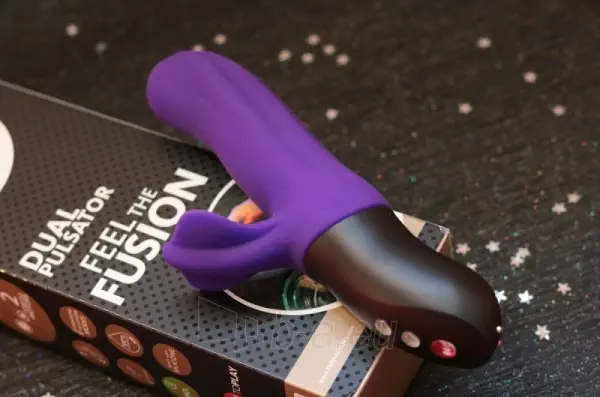 The Fun factory Bi Stronic Fusion is an amazing thrusting vibrator that is specially made to fulfill all your fantasies.
This toy has an insertable length of about 4.25 inches and a girth of 1.5 inches.
The Bi Stronic fusion is an amazing dual stimulator as it also has a rabbit arm that is about 2 inches long that is designed to give you the most sensual clitoral massages.
As a result of this rabbit arm, the Bi Stronic fusion can also come in handy during anal play, therefore you don't necessarily need to have a clitoris to enjoy this bad boy.
The Fun Play Bi Stronic Fusion has a streamlined shaft and a pretty wavy texture. It has a raised bulbous tip meant to hit your g-spot right. The tip can also serve as a good prostate massager.
Although this toy does not possess vibrating features, its shaft gives the most sensual and breathtaking pulsations.
It is a discreet toy and its sound cannot be heard behind closed doors or through the wall.
This toy comes in beautiful colors that give you the feeling of luxury. It is available in Candy Rose, Indian Red, and Violet colors.
Its body is made from high quality premium silicone. This material is 100% non-porous and free of toxins, therefore it is body safe.
Because of the draggy nature of the device a good water-based lube is highly recommended when using this toy.
One of the amazing features of the Bi Stronic Fusion is that it is completely waterproof, therefore cleaning is made easy and an intense session of play under the shower is made possible.
After use, it is advisable to clean with warm soapy water or an antibacterial toy cleaner. It is also necessary to sterilize it well in a 10% bleach solution if it is to be shared with someone.
The Fun Factory Bi Stronic Fusion is completely rechargeable and comes with a USB charger cable. It takes up to 16 hours to completely recharge and can give you a long-lasting session of play.
>> Click here to Check the Price of the Bi Stronic Fusion
13. Adam and Eve Thruster


The Adam and Eve Thruster helps you experience thrusting vibrations in a whole new level.
It is a beautifully designed toy made to deliver breathtaking thrusting sensations to your vagina at the push of a button.
It performs a wonderful task as an intense g-spot stimulator as a result of its angled tip. This gives you a mind-blowing sensation while thrusting in and out of your vagina.
Its rabbit-style design gives it a unique feature of a clitoral stimulator, it can perform this task skilfully and place you in a world of sheet griping ecstasy.
The Adam and Eve thruster has an amazing inbuilt thruster motor and comes with seven different pleasure settings, that allows you work your way up to cloud nine.
The control buttons are found at the base of the device and can be easily manipulated to your favorite intensity of thrusting and vibrations.
They can be controlled together or independently for a wonderful session of intense play.
The thruster is sexily designed with a total shaft length of 10 inches and an insertable length of 6.5 inches. It is also well sculpted with a girth of 1.5 inches.
It has a gorgeous looking swirl shape that is firm in the hands even after applying lube.
The thrusting vibrator comes in a well-designed ergonomic shape.
This device is also waterproof which makes washing easy and fulfill your fantasies of a hot play in the bath.
It is completely rechargeable and takes about 2 to 3 hours to get a complete charge. When fully charged it can give you up to an hour of intense thrusting and unimaginable pleasure.
The body of this vibrator is made from hypo-allergenic silicone that feels smooth and soft in the body, giving you an extra sensual effect during play.
A quality water-based lube is recommended with this toy as it prevents the silicone surface from getting damaged. After use, washing can be done easily in a warm soapy water.
>> Click here to Check the Price of the Adam and Eve Thruster
14. Fun Factory Stronic Eins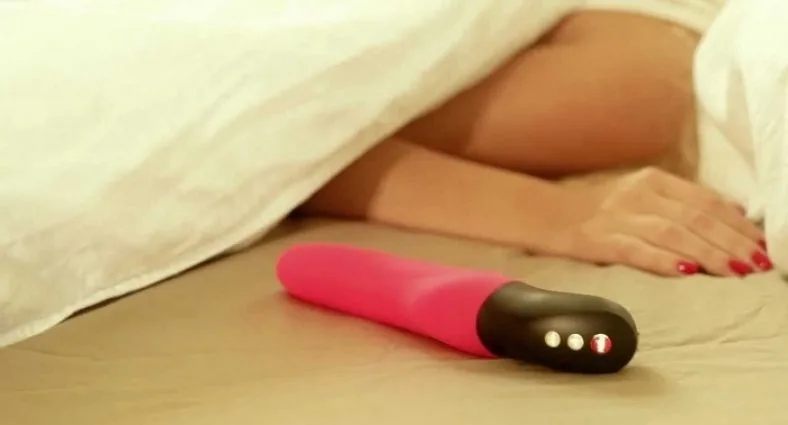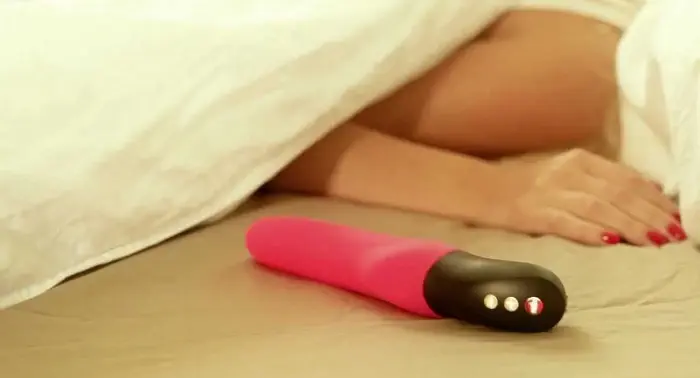 The Fun Factory Stronic Eins is a wonderful thrusting vibrator that never fails to please you, tease you and leave you begging for more.
Is your vagina asking to be rocked? Then the Stronic Ein is for you.  This toy is beautifully designed with a insertable length of 4.5 inches.
It is known to deliver strong and intense thrust that will make you writhe in pleasure in the quickest possible time.
The thrusts are wonderfully deep and just one plunge would tip you over the edge of ecstasy.
This toy skilfully performs the job of stimulating your g-spot. Its curved tip makes it easy for it to locate your g-spot and stimulate it sensually.
It can also perform the job of a clitoral stimulator as it bumpy part rests wonderfully on your clitoris while giving it a mind-blowing massage that would make you see stars.
It is made with fine quality silicone matte. The silicone is phthalate-free silicone, therefore it is body safe.
It is also completely waterproof, this makes washing a whole lot easier and enables you to have a fun bath time.
The device only requires washing in warm soapy water to prevent any form of infection. You can also sanitize it in by placing it in a 10% bleach solution.
A water-based lube is highly recommended with this device as any other type of lube might damage its surface.
The Fun Factory Stronic Ein is completely rechargeable through a magnetic connection to contacts at the base of the toy. It takes about 16 hours to get it fully recharged.
The intensity of vibration and thrust can be set with the aid of the three buttons on the device. One of the buttons has the Fun Factory logo while the remaining two have the plus and minus sign.
The button with the logo is to turn the device on. She turned on the device starts with a pulsation called "Perfect Start".
You can increase or reduce the intensity, speed or pattern of the vibration and pulsation through the sign button. It also has an amazing travel lock feature that comes in handy in case of a trip.
The Fun Factory Stronic Ein is available in a beautiful dark-violet color and fun-pink color.
Some of the features that make this device a top choice are:
It is made from smooth body safe silicone.
It is completely rechargeable.
It is waterproof.
It is a dual stimulator.
It is easy to wash.
It can be used alone or with a partner.
Its thrusts are strong, deep and intense.
It has travel lock features.
It has a minimal noise.
>> Click here to Check the Price of the Stronic Eins
How To Pick The Perfect Thrusting Dildo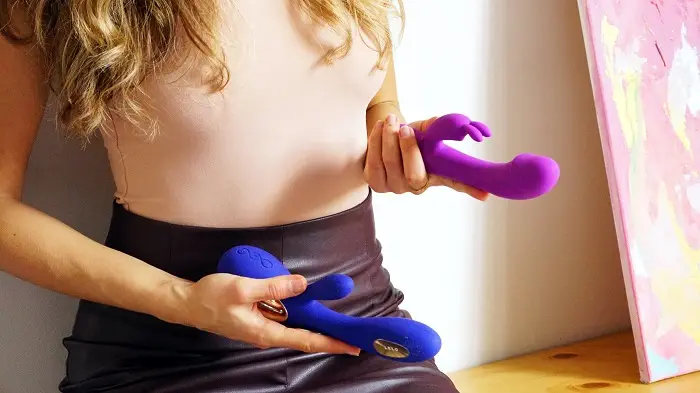 Like what you enjoy noshing on, no two people have the exact same preferences when it comes to sexual arousal. Sure, they probably have a great deal in common, but we're absolutely unique when it comes to specifics.
We're bringing this up because picking this, that, or the other thrusting dildo, there's a lot of individual factors to juggle. Probably the biggest if you're hunting for something for a bit of the old in-and-out or if you prefer that sensation in conjunction with other kinds of sexual stimulation.
Suppose you're on the only side of the equation. In that case, you'll probably agree with our choice of Fun Factory's Stronic Drei Vibrator as our number one pick as it does precisely that and with a phenomenal amount of power, style, and effectiveness.
But if multiple pleasures are your ticket, you may tend towards our second-place winner, Thrusting Rabbit Vibe from Greedy Girl, for its hitting-all-the-right-places excellent design and engineering.
Whatever direction you take, and where you choose to do your exploration into thrusting sex toys, please follow your passions and while listening to people who know their sex tech stuff, like us here at Teledildonics, can be informative always choose what you think will please you the most.
The verdict
You'd think putting together the Best Thrusting Dildoes would be a walk in the park compared with other makes and models of sex toys; there aren't many of them out there right now.
Imagine our surprise when the real challenge was deciding who should go where, as unlike other lists we've done, each entry in its own right deserves to be at the top.
When all's said and done, we remain confident in opening with Fun Factory's Stronic Drei Vibrator. Mulitple-pleasuring it may not be, nor does it feel like you're being mechanically rogered by a locomotive when it comes to teeth-loosening power. Still, we thought if the dictionary ever needed a picture to go with "thrusting dildo," then this would be it.
Besides, it is a poster-child for a complete and total sensual/sexual experience, usable as it is for anus or vaginal play and designed to reach either a G-spot, for those with them, or a prostate, for anyone with one of those.
It does all this while looking remarkably cool and exciting. It's like Fun Factory threw out the tried and true, and now exceedingly stale, sex-tech design book and gave us a glimpse of the future.
As we mentioned about choosing your own, though might gush over the Stronic Drei, but don't let us talk you into something you don't want. It's your body, after all, and what excites you is no one's business but your own—and if you're playing with anyone else, if they're a consenting adult.
Have fun, be safe, and have a life full of joyful discoveries and more anything else: pleasure!