One of the hottest, and most quiet, sex toys being released soon is the new Lovense Hush 2. It is a butt plug shaped like a teardrop that will bring pleasure to anyone with an anus, including men and women of any sexual orientation.
Not only can this latest version of the Lovense Hush toys bring on anal orgasms, but it can also prepare you for anal sex.
➡️ Check the current price of the Lovense Hush 2
The Lovense Hush 2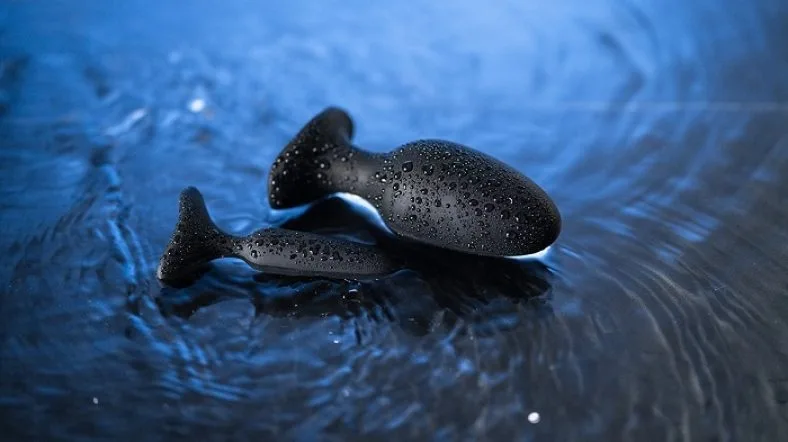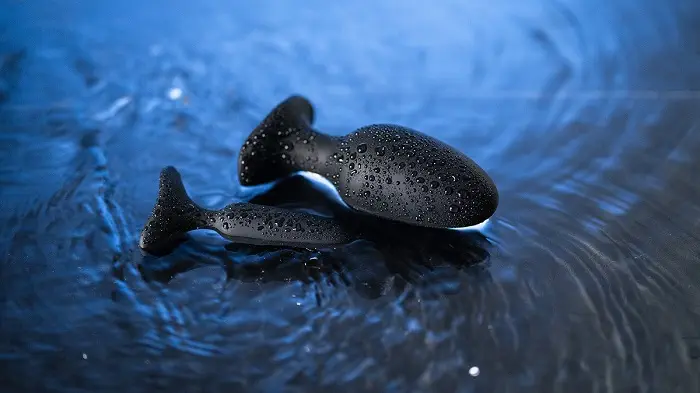 The Lovense Hush 2 is an amazing butt plug that is comfortable yet sensual. The Hush 2 butt plug that now comes in two new sizes, extra small and large, works as a powerful yet quiet stimulator.
The small size Hush 2 will give you two hours of sheer pleasure each time you use it and is only one inch in size while the two and a half inches that are provided by the large size will provide you with sensual excitement for up to 11 hours.
This black, smooth butt plug is designed to work with your smartphone or other devices so you can control it as long as you have internet access. It even has an improved Bluetooth remote reach, so you can go the distance, no matter where you are.
You can sync your Lovense Hush 2 with music and both you and your partner will have control of the app and the vibrator, for exciting times.
It even boasts hands-free pleasure that is very discreet, so you can have fun anytime you want at any place you choose to. The Lovense Hush 2 offers very stimulating vibration modes, and you can even perform the deeds on your own with the Lovense app.
It even has a 360-degree range for added flexibility and is made for the beginner user to the advanced and seasoned user.
The Details of the Lovense Hush 2
The Lovense staff and company in general pride themselves on creating the best sex technology possible to provide you with new ways to bring pleasure to your body and have intimate moments with yourself or with your partner in a discreet yet over-the-top, amazing way.
The Lovense Hush 2 comes in a smooth black and discreet design so you can use it anywhere you go at any time that is convenient for you. It offers plenty of reliability when it comes to hitting the spot without even losing connection.
It is also more powerful than ever before since it has been created with a stronger motor that allows for plenty of battery life. It even has a magnetic charging port for your convenience and a flared base that allows for plenty of safety while you are using it.
Features of the Lovense Hush 2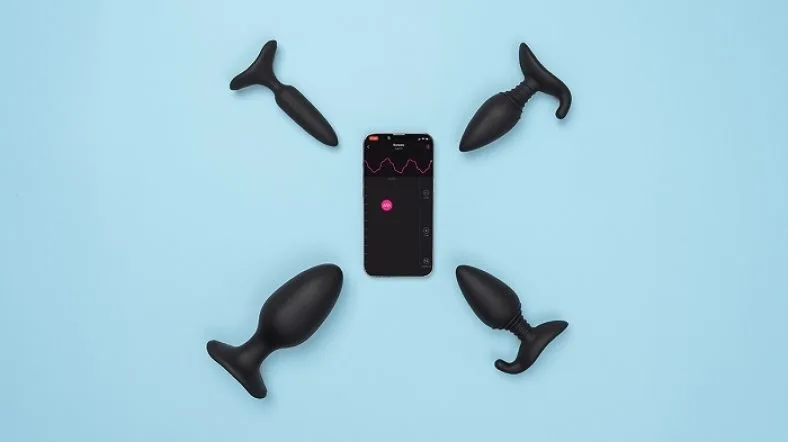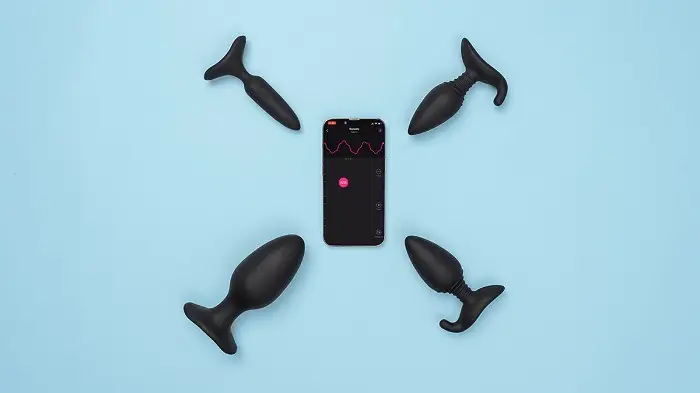 You can even sync your favorite music with the amazing vibrations that this amazing butt plug provides to you at home or in public. It will create custom vibrations that are unlimited for your mornings, afternoons, and especially your nights.
It allows you and your partner to have control for hot sexy times since you can use the Bluetooth control in your bedroom or when you are out to dinner or at the movies. You can use it any place you want to by using the wireless app and can even let your partner take control.
The New Sizes of the Hush 2
The Lovense Hush 2 is an addition to the original Hush with the two new sizes that are offered.
The one-inch in diameter version of the Lovense Hush 2 is great for beginners and provides you with two hours of fun and excitement. The large Hush 2 offers up 2.25 inches of fun and excitement that can last up to 11 hours for plenty of pleasure time for the advanced user.
Both sizes are designed for the best in intimate pleasure and for amazing reliable wireless control. This sleek and smooth butt plug vibrator is waterproof and is made with body-safe silicone material that is smooth to the touch.
How Does the Lovense Hush 2 Work and Where to Purchase?
First of all, it is best to purchase your Lovense Hush 2 directly from the Lovense.com online store to ensure you are receiving an authentic product.
Some Lovense products are also sold on Amazon through the Lovense Seller which is the only official store on Amazon to purchase the authentic products. All of the Lovense products on Amazon are purchased through direct sales through the LVS company and are simply shipped via Amazon.
You should make sure you are only purchasing through the LVS Official Store on Amazon to receive the authentic product and not a fake toy that is a copycat version of the Lovense Hush 2 or other Lovense products.
If you happen to receive a fake product from another seller, you can actually open a dispute through Amazon since the Amazon A-to-Z agreement allows for the process to protect you if you find yourself in this type of situation.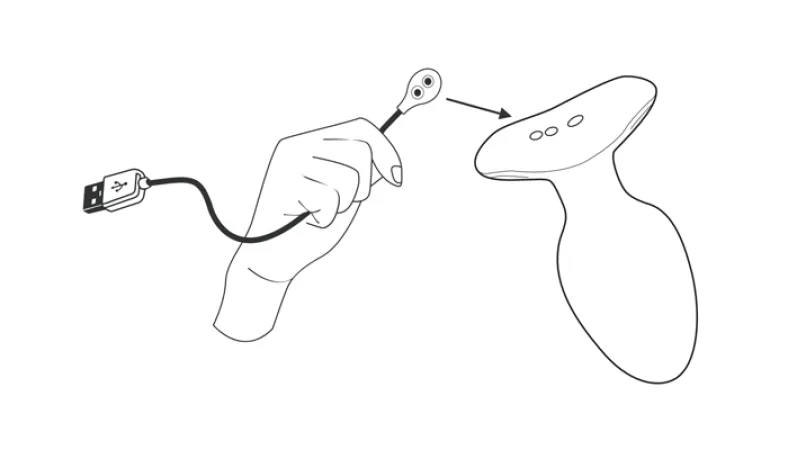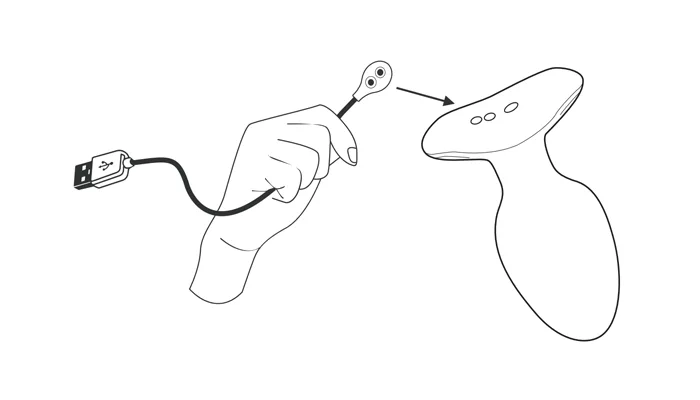 Once you receive your wearable and discreet Lovense Hush 2 product, you simply take it out of the box that will include the Hush 2 Bluetooth Controlled Butt Plug in the size you ordered, a charging cable, and the user guide. To turn on your Lovense Hush 2, simply hold the on/off button down for three to five seconds.
First of all, though, you should ensure that it is fully charged by utilizing the magnetic charging port. If not, make sure the vibrator is off then plug it into the charger and let it charge to its full potential. Keep in mind that you should not use the Hush 2 while it is plugged into the charger.
You can plug it into any USB port, or you can use a USB or AC adapter to plug it into an outlet in your home or office. The Hush 2 takes about two and a half hours to become fully charged and the indicator light should stay on while it is charging.
Once it is fully charged the red light will turn off, or you can view the battery indicator in the app after you have connected the product to the app.
Pair It with Your Device
You can pair your Lovense Hush 2 with any device, including your personal desktop computer or laptop, an iPhone or an Android phone, or even a tablet. You should follow the instructions that are included as to how to download the app onto your specific device and then how to pair your vibrator with the app on your device by using Bluetooth technology.
The pairing process for each device is very similar but a few things can be different depending on how your device is set up for connecting to Bluetooth technology.
Cleaning it and Caring for Your Lovense Hush 2
It is very important that you take excellent care of your Lovense Hush 2 device so then at last for years to come while providing you with the ultimate in sexual pleasure.
You should definitely clean your vibrator before you use it and again after each use by using a mild soap in warm water or you can opt for a sex toy cleaner.
Be sure to dry your vibrator completely and thoroughly before you store it in a place that is away from freezing or extremely hot environments. Be sure to recharge your vibrator at least once every six months and never boil it in water as it can cause the battery to explode or water to leak into the vibrator and ruin it.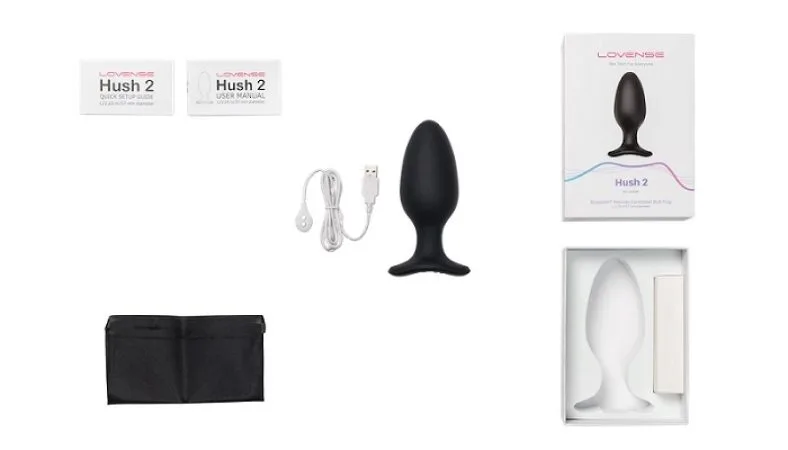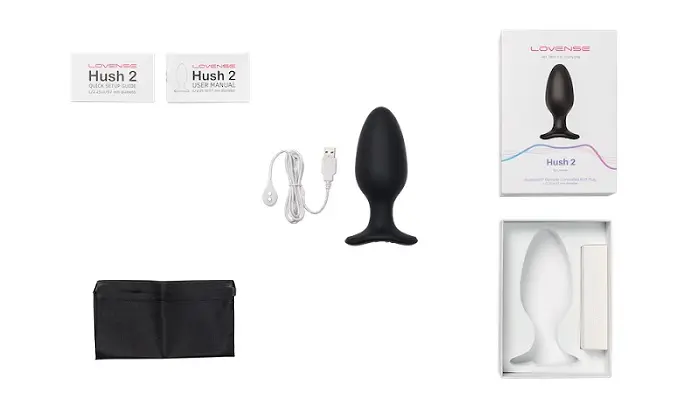 When using your Hush 2, you should only use a water-based lubricant since silicone or oil-based lubricants can be harmful to your vibrator that is made of 100 percent silicone.
To apply the lubricant, you should put it on yourself as well as the vibrator then apply as needed since water-based lube tends to dry out quicker. It is recommended that you use Lovense Water-Based Lubricant for the best results.
It is best to place the curved end of the base facing your back to be able to receive the best connection range possible to your phone. Also, make sure the phone is pointed in the direction of your Lovense Hush 2 butt plug.
If you are engaging in anal play and you are new to this type of sex act, you should research the best ways to do it properly to avoid any issues. If you feel any pain while inserting or while you were in the middle of anal play, you should immediately stop using it.
Pros of the Lovense Hush 2
It is extremely quiet so you can use it pretty much at any place, at any time.
It provides you with pleasure as you have never experienced before.
It offers reliable control since you sync the vibrator with the electronic device of your choice.
You can customize the vibration patterns and save them to be used again in the future.
The vibrator can be synced with your favorite music of your choice that correlates with your experience.
You can use the Lovense Hush 2 by yourself or with a partner and your partner can have the control if you choose to give it to them.
You are able to sync multiple Lovense toys together and then control them at the same time.
The Lovense Hush 2 has a strong motor and reliable battery life for a lasting experience every time.
Cons of the Lovense Hush 2
Need to be careful when cleaning around the charging port and need to use the proper cleaning products on the Hush 2.
Some people have reported issues with getting the device to stay charged.
The Verdict
The Lovense Hush products are a hit with users and the Hush 2 with the new sizes is set to be popular also.
It is a great product that has been designed to be very safe for use by both men and women. The Lovense Hush family of products, including the Lovense Hush 2, are powerful, strong, and the silicone feels natural.
It is a great experience to be able to use the Hush 2 with or without your partner and also to be able to pair the strong and amazing vibrations to music. The fact that this product is waterproof is also wonderful since you can use it in the bath, hot tub, or pool.
The Lovense Hush 2 will take you to new heights when it comes to sexual pleasure and is highly recommended. Order your Lovense Hush 2 today through the Lovense Store and enjoy this amazing butt plug.
➡️ Check the current price of the Lovense Hush 2