Lovense Dolce (formerly known as Quake) is a brand new wirelessly controlled vibrator from Lovense. And to be fair… there's quite a lot of hype surrounding it, as is expected!
This leaves the average consumer with a few questions. Is it better than the Lush 3? Do you need it in your toy chest? Most importantly, what is a blended orgasm?
Let's review the Dolce, the groundbreaking new vibrator by Lovense!
➡️ Check the current price of the Lovense Dolce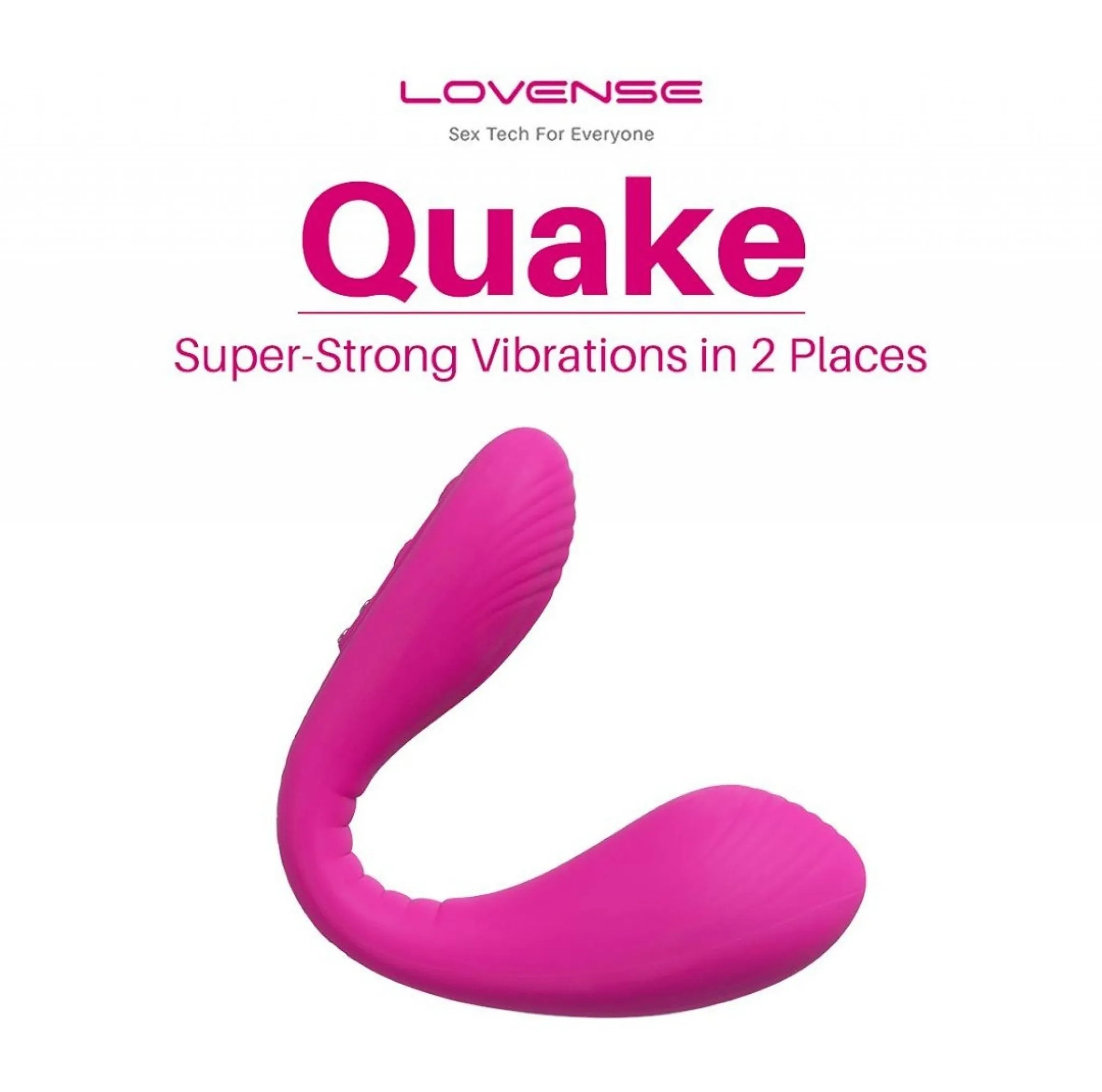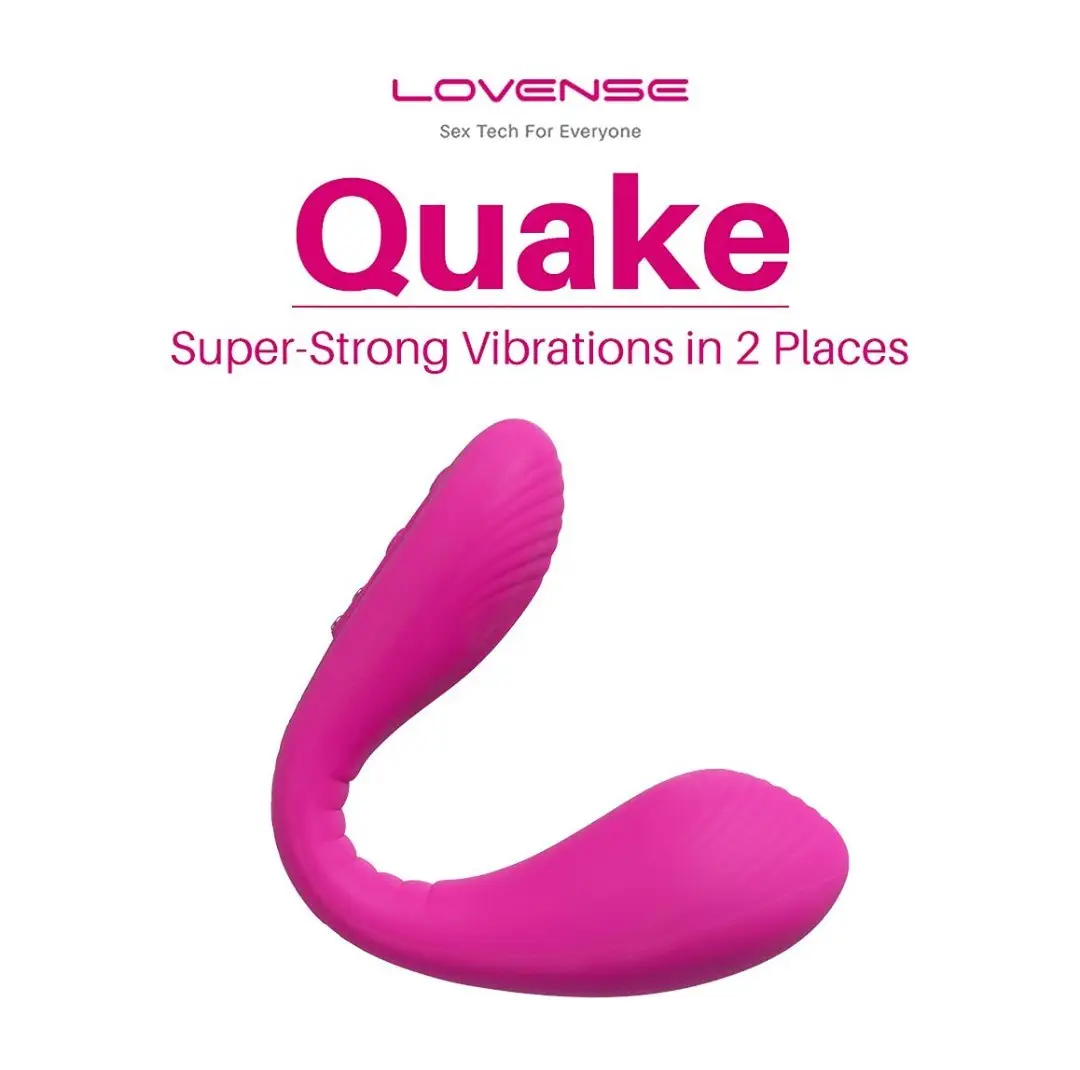 All you need is Lovense
The Lovense company began with a  situation many people find themselves in. Dan Liu was in a long-distance relationship. Like many long-distance lovers, he found the physical aspect of the relationship to be lacking.
He began researching teledildonics. If the phone and internet can connect people across the globe, why not use it to control a sex toy? His first prototype worked through Skype.
Later models used Bluetooth technology, which provided a more reliable connection. Max and Nora were the first two successful offerings from the company.
Now, Lovense has an extensive product line. They provide male and female toys for nearly any preference and situation. The toys have improved over time. Today's teledildonic toys have a more reliable connection than earlier models, and often have more powerful motors. Customization has improved significantly as well.
About the Lovense Dolce
The Dolce is a teledildonic vibrator designed for vaginal use. It has two arms. One for insertion and one for clitoral stimulation. The larger end is bulb-shaped and designed for insertion. It is similar in size and shape to the Lush 3. It offers ridges, but these don't seem to increase sensation.
The neck of the toy can be bent 120 degrees. This allows you to adjust it to fit your body. It's designed to stay in place hands-free, so your hands can focus on other pleasure areas.
Measurements and Hardware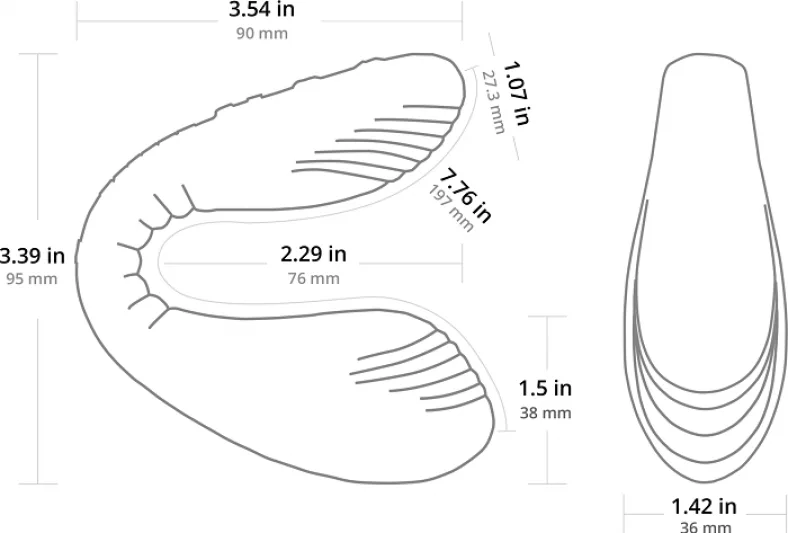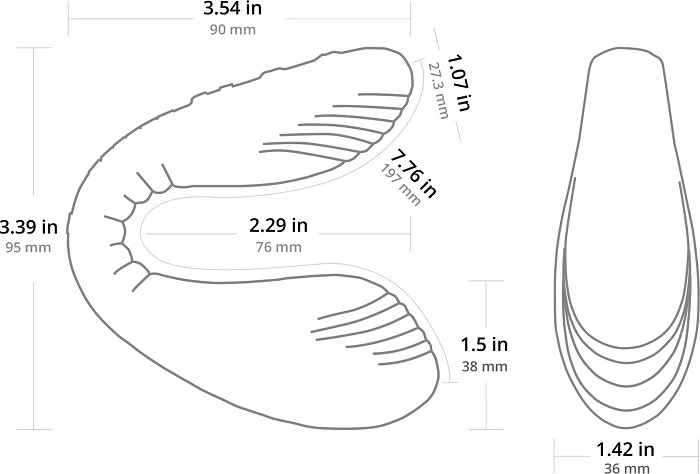 It's 3.39 inches tall and 3.54 inches wide. The bulb end is 1.5 inches wide, and the external end is 1.07 inches wide. The insertable length is 2.3 inches.
It has an upgraded antenna and Bluetooth chip to provide greater connectivity and reliability. It's made from body-safe silicone, and it's free of phthalates and other harmful chemicals.
It's waterproof, so you can play anytime. However, the Bluetooth connectivity will not be stable when it's submerged in water.
A USB magnetic charger is included. However, if you want to connect it to a PC, you'll need a USB adapter.
Good Vibrations
The Dolce has two motors, one in each vibrating arm. If you enjoy deep rumbling vibration, the Dolce gives plenty of it. The internal motor packs the same power as the Lush 3. It comes with 8 preset patterns, and nearly endless customization via the app remote.
App Remote Control Features
The Dolce is compatible with iOS, Android, Mac, or PC devices. You can create unlimited intensity patterns, and both motors can be controlled independently.
In addition to setting patterns, you can set it to music or your lover's voice. Adjust the decibel level to change the sensitivity of the Dolce.
Of course, you can also send messages via the app, so you can stay connected to your significant other while you are having fun.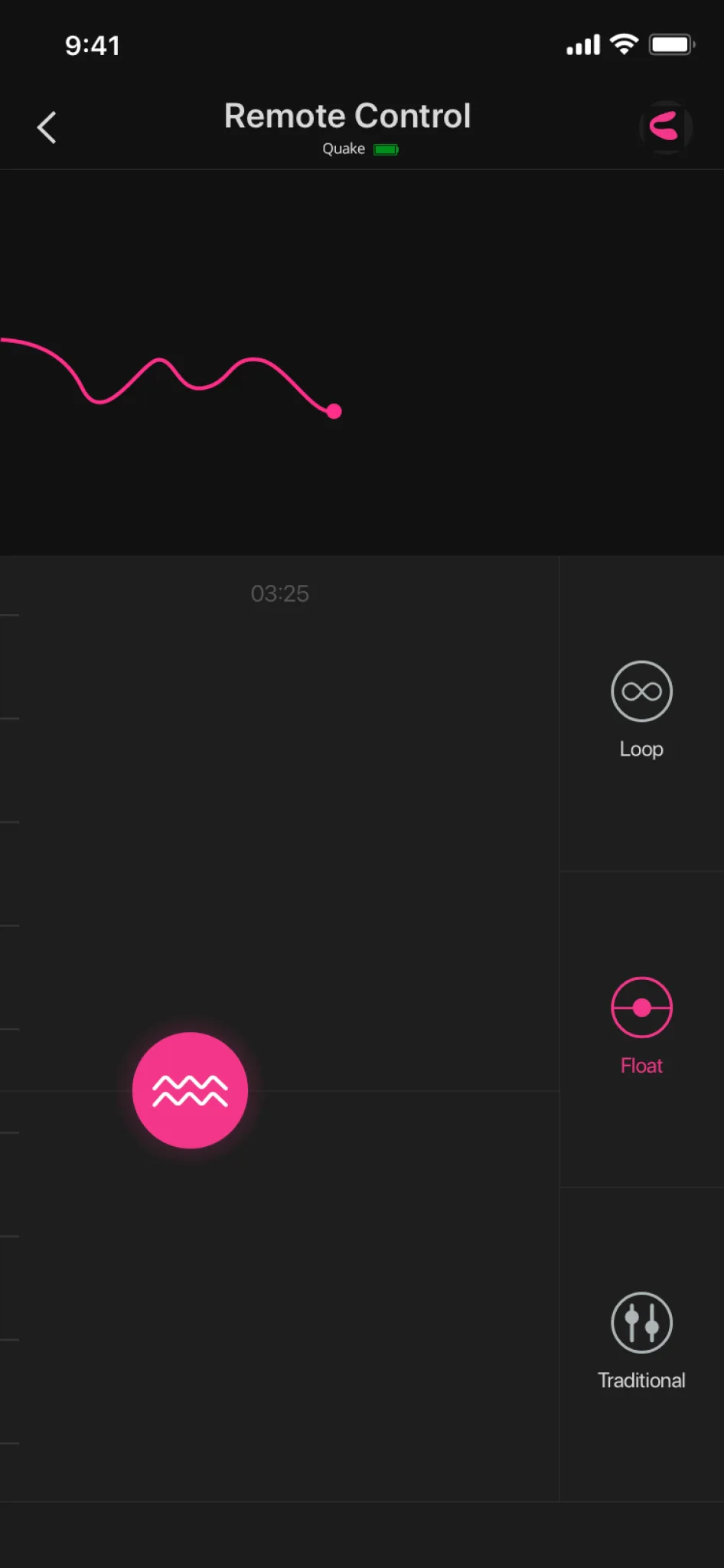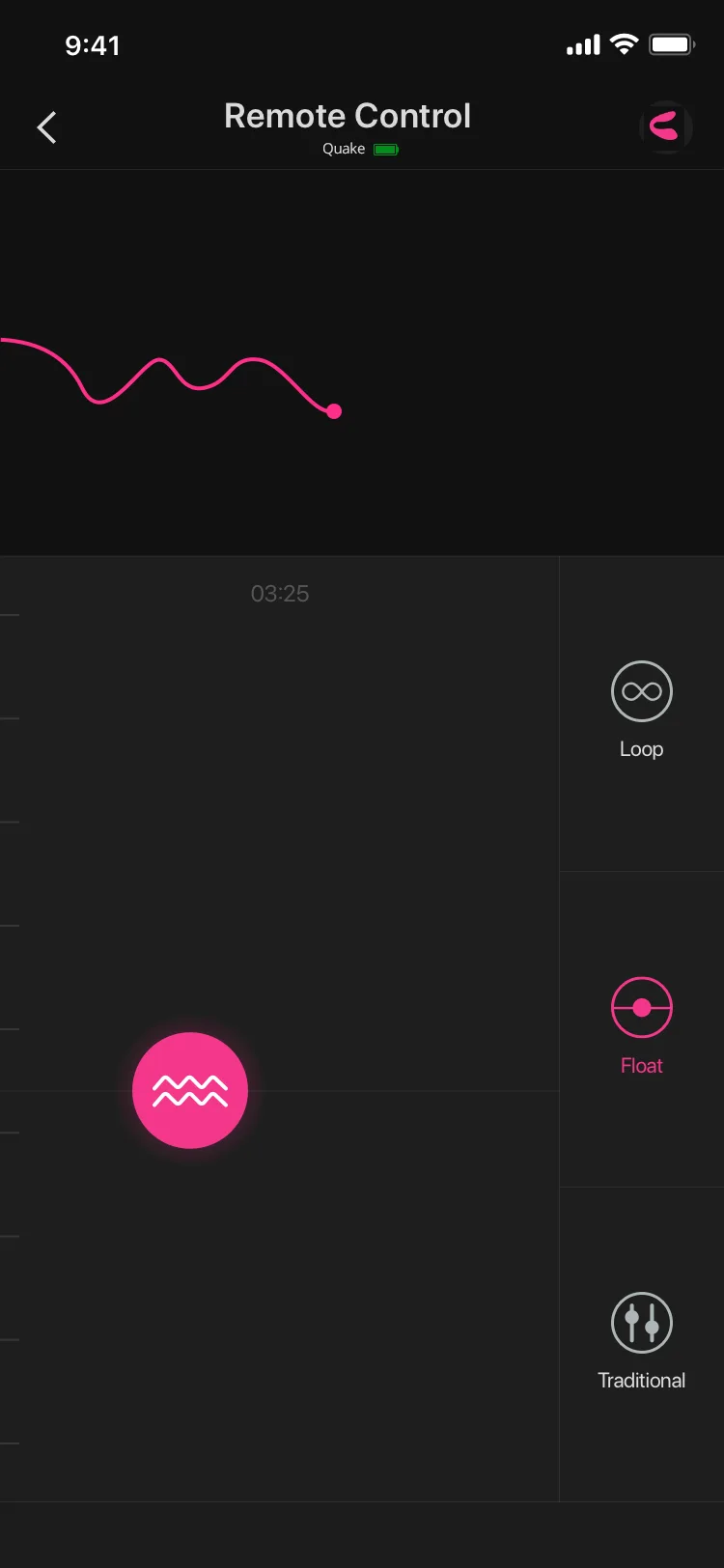 Using the Dolce
Wondering how to use Dolce, or what the experience is like? Here's all you need to know to prepare for a Dolce date.
Setting Up
The first thing you'll want to do is charge the Dolce. It may have a charge out of the box, but charging it will provide the best experience. Simply plug the USB end into a charger or laptop. The magnetic end will connect with points on the Dolce for magnetic charging.
It's a good idea to clean it before and after each use. Use a cleaner designed for sex toys to keep your Dolce clean and in working order.
Hugging Your Curves
One of the perks of the Dolce is its adjustability. The arm length isn't adjustable, but it is bendable up to 120 degrees. To adjust it to your liking, insert the bulb end. Then adjust the external end until it hits your sweet spot.
The external end is flatter, which provides great contact with the clitoris. You can also adjust the pressure by adjusting the curve until you get it just right.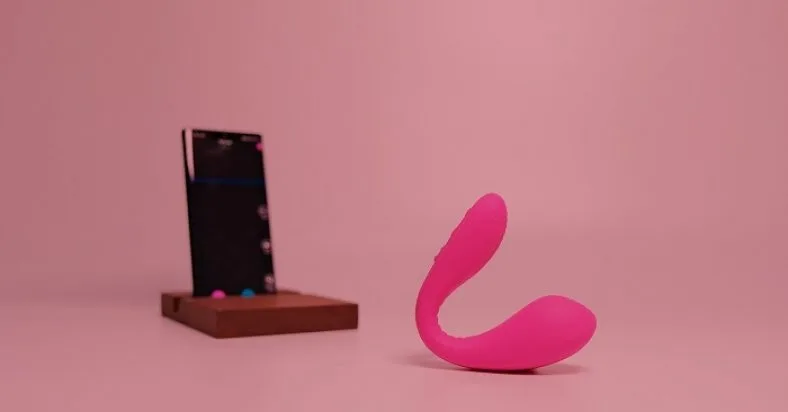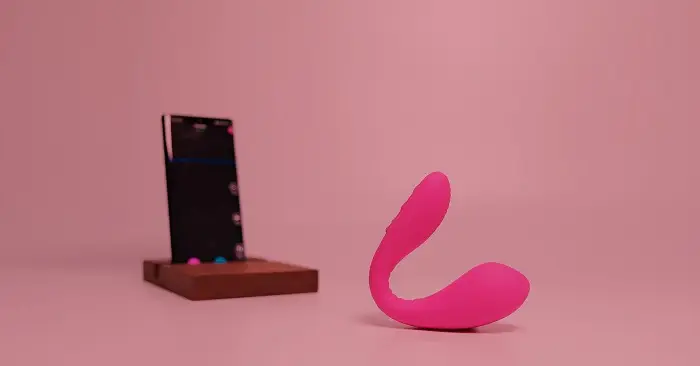 Patterns
Once inserted, the buttons are at the top of the toy, within easy reach. Most people prefer using the remote app, but the buttons are preprogrammed with 8 patterns. If you can't wait to try it, give it a whirl with the buttons.
You can also program the buttons using the remote app. Once you program them, your favorite patterns are only a click away.
The A button turns it on and off. It also cycles through the patterns. The B button is also the indicator light. The A button cycles the patterns up, and the B button cycles down.
Familiarize yourself with the patterns and turning the toy on and off before using. Once you turn it on, the excitement can make it difficult to find the controls in the heat of the moment.
Wearability
It is twice as heavy as the Lush 3. It's designed to be a wearable vibrator, and should stay in place with panties on. However, if you plan to be active and nude, it might not be the best choice for a wearable vibrator. If you plan to use it in the bedroom, this won't be an issue.
Versatility
The Dolce is a very versatile toy. However, it's important to know what you can and can't use it for. It's not a good toy to use with vaginal sex. The insertable arm is designed to be large enough to provide a pleasurable sensation of fullness. It should be comfortable for most women, but there won't be room for anything else.
The design of the toy makes it difficult for a lower to access your clitoris as well. Of course, the external vibrator provides plenty of clitoral stimulation.
It's not designed for anal use. If that's your thing, there are other Lovense toys better suited for that.
It can be used as a wearable vibrator, but it's not the best for that purpose. It's fairly heavy. The noise level is medium for a sex toy, particularly with the external arm active. It's not noisy enough that your roommate will hear you with the door shut. However, if you are at a quiet restaurant, your waiter might ask questions.
Now for what the toy can do. It can be used to achieve blended orgasms, providing vaginal and clitoral stimulation.
It can increase closeness in long-distance relationships, because your partner can control the toy from anywhere. It leaves your hands free, which can be ideal for solo play sessions and steamy video chats.
It's not ideal as a wearable, but it's a great option for bedroom play.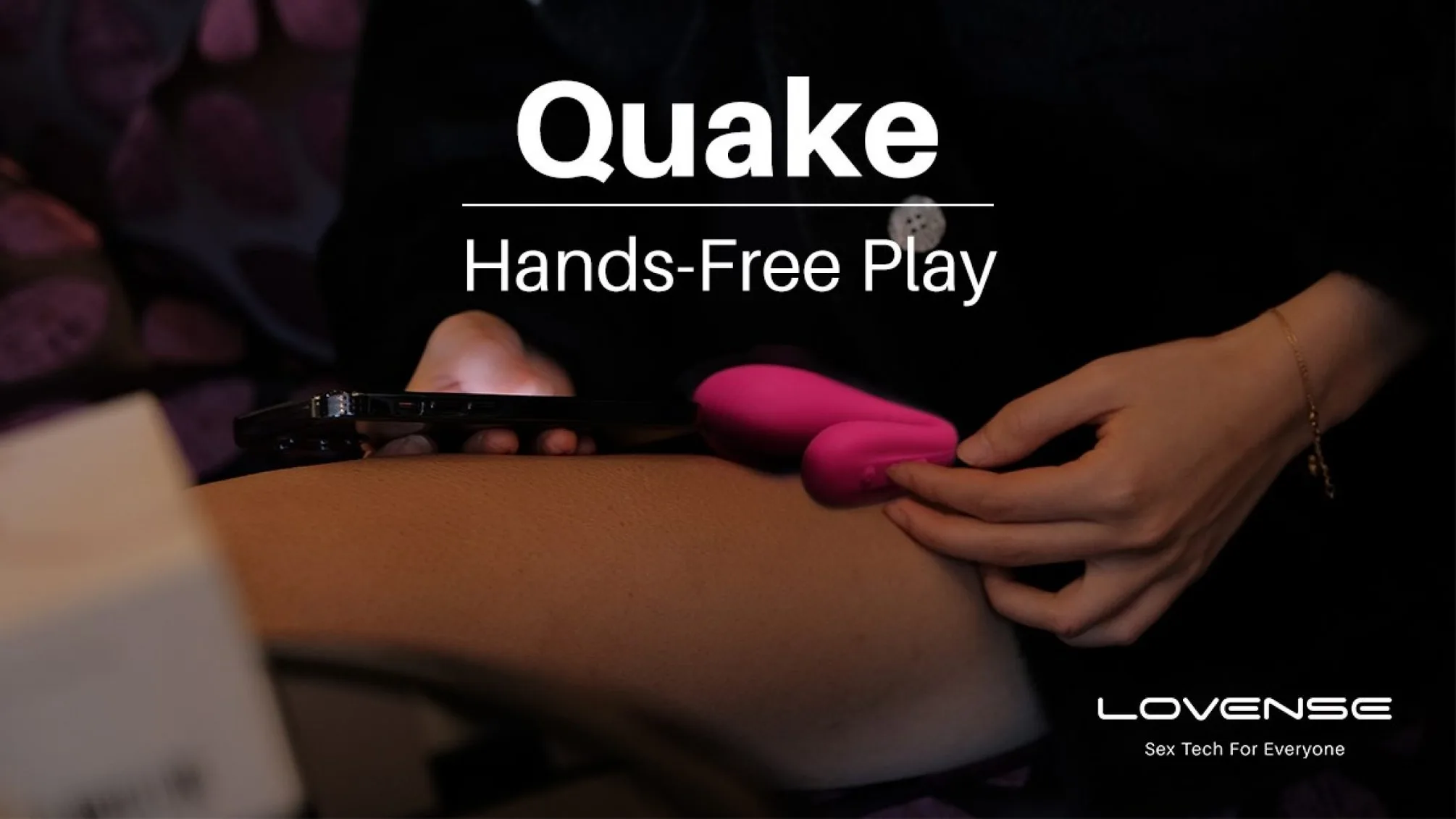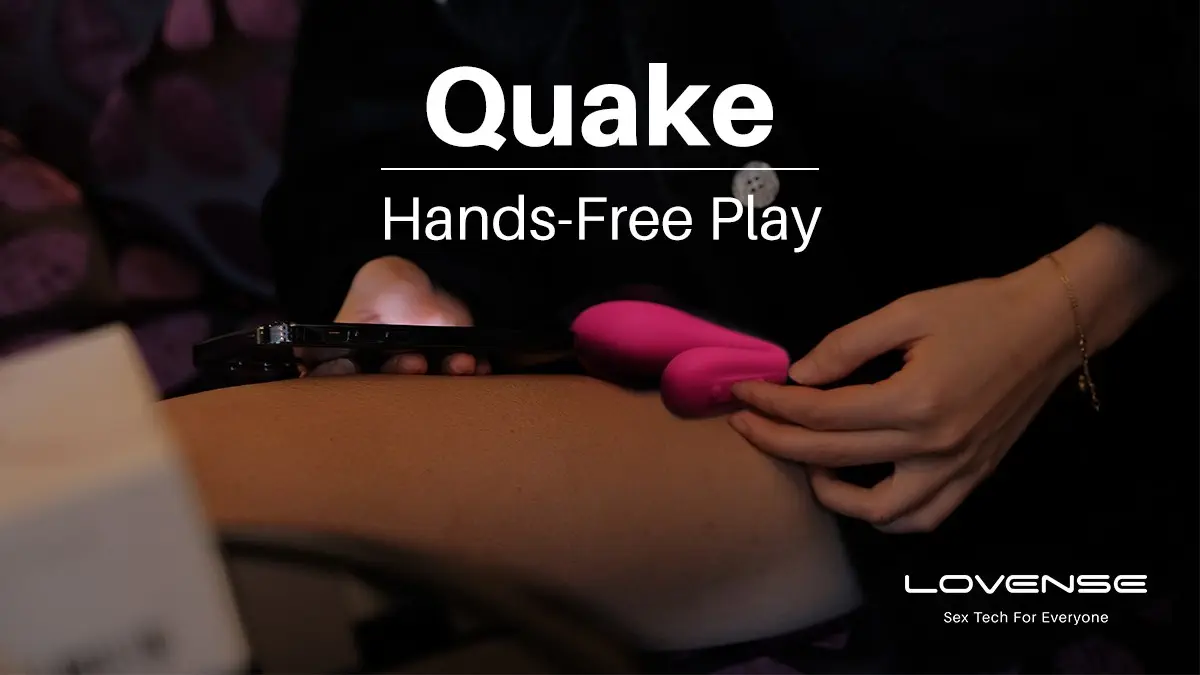 Pros and Cons of the Dolce
The Dolce, like all things in life, has its pros and cons. Comparing them can help you decide if the Dolce is right for you.
Pros:
Adjustable arms for a customized fit
Endless patterns via the app
Increased remote app reliability
Powerful as the Lush 3
Can provide blended orgasms
Cons
Not ideal as a wearable vibrator
App options can be overwhelming
Not as quiet as some vibrators
Pink is the only color option
Lovense FAQs
What Kind of Lube Can You Use With Dolce?
You shouldn't use silicone-based lubricants with Dolce. Silicone lubricants can break down the silicone toy. Oil-based lubes are safe. They are long-lasting and very slippery. However, they can break down latex condoms.
Water-based lubes can be used with any toy or condom. They get sticky after prolonged use and need to be reapplied. They aren't quite as slippery as oil-based lubes. They aren't ideal for shower sex, because the water washes it away.
Wait, What's a Blended Orgasm?
Depending on whom you ask, there are 5 or even 10 different types of orgasm. Some are believed to be more pleasurable than others. A blended orgasm involves both clitoral and vaginal orgasm.
Most women find a clitoral orgasm easier to achieve. This is why many women struggle to orgasm during penetrative sex. The vaginal orgasm is an orgasm from vaginal stimulation, usually penetration. Many women who achieve them say they are very subtle, but others claim they get full-body tingles and waves of pleasure.
Because the Dolce stimulates the vagina and the clitoris, it makes blended orgasms possible, or even easy to achieve. It's likely not the holy grail some magazines like to present it as, but it's sure to be an enjoyable experience.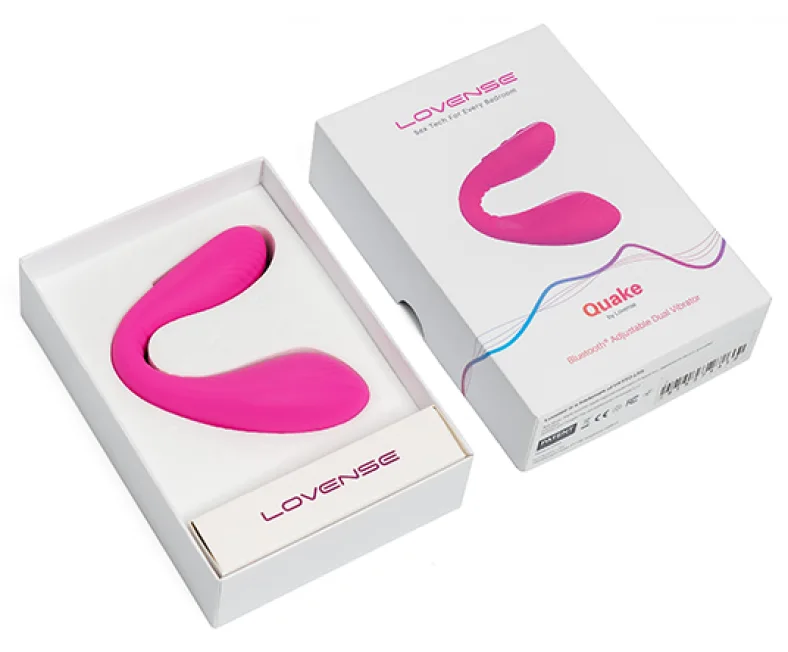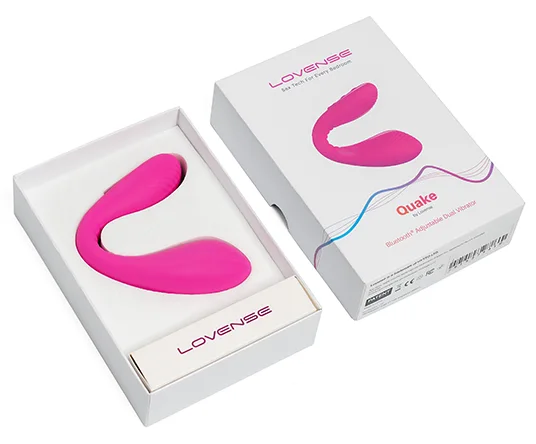 How Do I Clean My Dolce?
The Dolce can be cleaned with gentle soap and water. It's waterproof, so it can be safely submerged. It shouldn't be boiled, because it can damage its motors and material. For added convenience, you can wipe the Dolce down with toy cleaner.
How Often Should I Clean Dolce?
You should clean your Dolce before and after each use to keep it sanitary. It is an internal vibe, so it's important not to introduce bacteria. Cleaning is easy with Dolce, so make it part of your play routine.
Can I Use Dolce Too Much?
Some women are concerned that using a vibrator too often, particularly one as powerful as Dolce, can cause nerve damage or permanent numbness.
The truth is that you can't use a vibrator too much. It's possible for nerves to become temporarily numb. However, the feeling will quickly return. You can use the Dolce as often as you like with no worries.
Verdict
Overall, the Dolce is an excellent sex toy. Lovense is popular for those in long-distance relationships. However, it can also spice up your love life if you live with your partner.
The customization options, ease of control, and music sync can provide tons of fun no matter where you and your lover are located. It's also an incredible option for single ladies. It leaves your hands free, which can lead to a more intense self-love experience.
The Dolce is a toy that should be in every ladies toy box. You can find yours at Lovense today.
➡️ Check the current price of the Lovense Dolce