In case you're wondering, we're really into clit sucker toys these days.
This class of toy was introduced in the mid-2010s as an alternative to the traditional vibrator, and offers an array of benefits over classic vibes, with an indirect contact-based stimulator head.
Clit suckers are one of the most amazing toys out there, and the Lelo Sona 2 Travel is a special toy that's built, appropriately, to travel and give you some amazing orgasms while you're both on the road and in your own bedroom.
Is this a great travel toy or a complete gust of noisy air when you're on the road?
We're going to break down the Sona 2 Travel and show you what it's like.
Who's Lelo?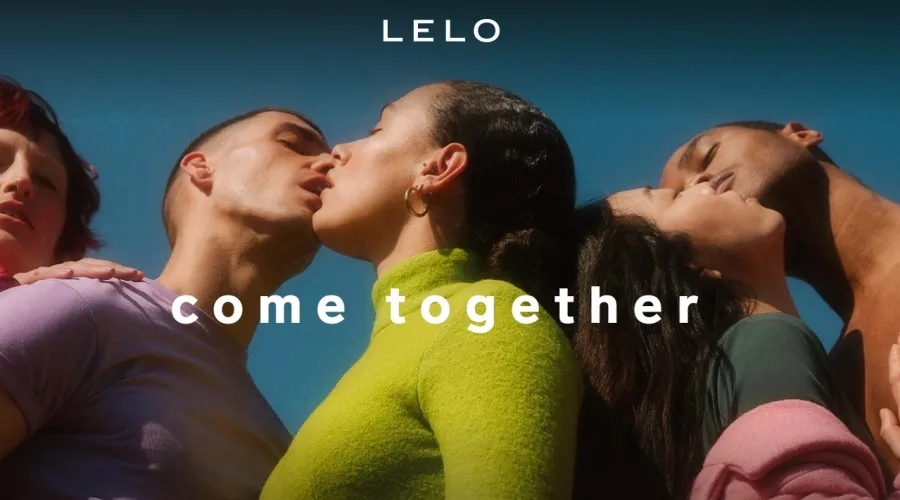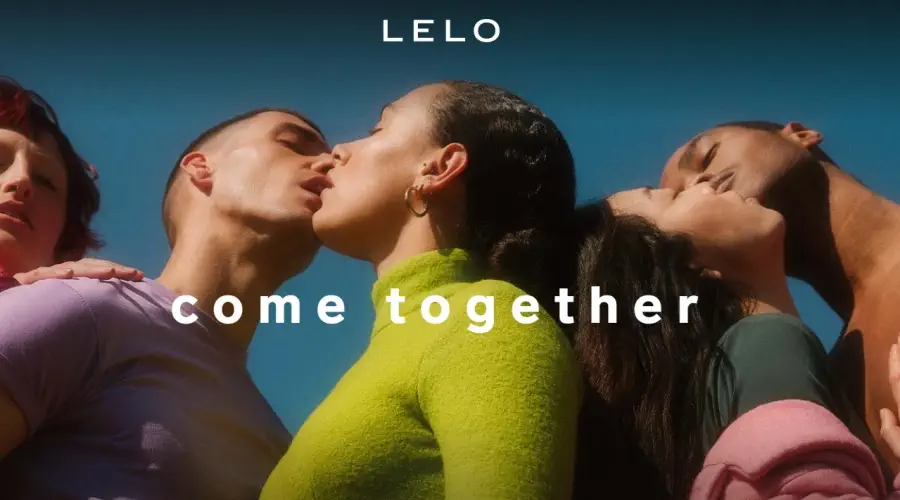 Lelo is one of the most popular makers of high-end sex toys on the market today.
They got going in the early 2000s with the now-legendary Nea pebble vibrator and Mia lipstick vibe and developed a fantastic reputation early on for their combination of build quality and design style.
That reputation deservedly survives to the present day, created by their continued dedication to beautiful design and top-tier material quality.
Lelo are one of the most popular makers of premium sex toys on the modern market.
When you get the Sona 2 Travel for the first time, you will notice that its packaging is in full keeping with the company's luxe reputation: A matte package with a simple clear window that displays the toy to best effect.
You're not hiding the Sona 2 Travel. Its intentions are stamped on the package in gold letters.
This is not a sex toy to furtively hide in a black paper bag, Lelo seems to be saying. This is a premium pleasure product that you can and should be proud of owning.
That kind of forthrightness in sex toy packaging gets a point from me.
What's the Sona 2 Travel?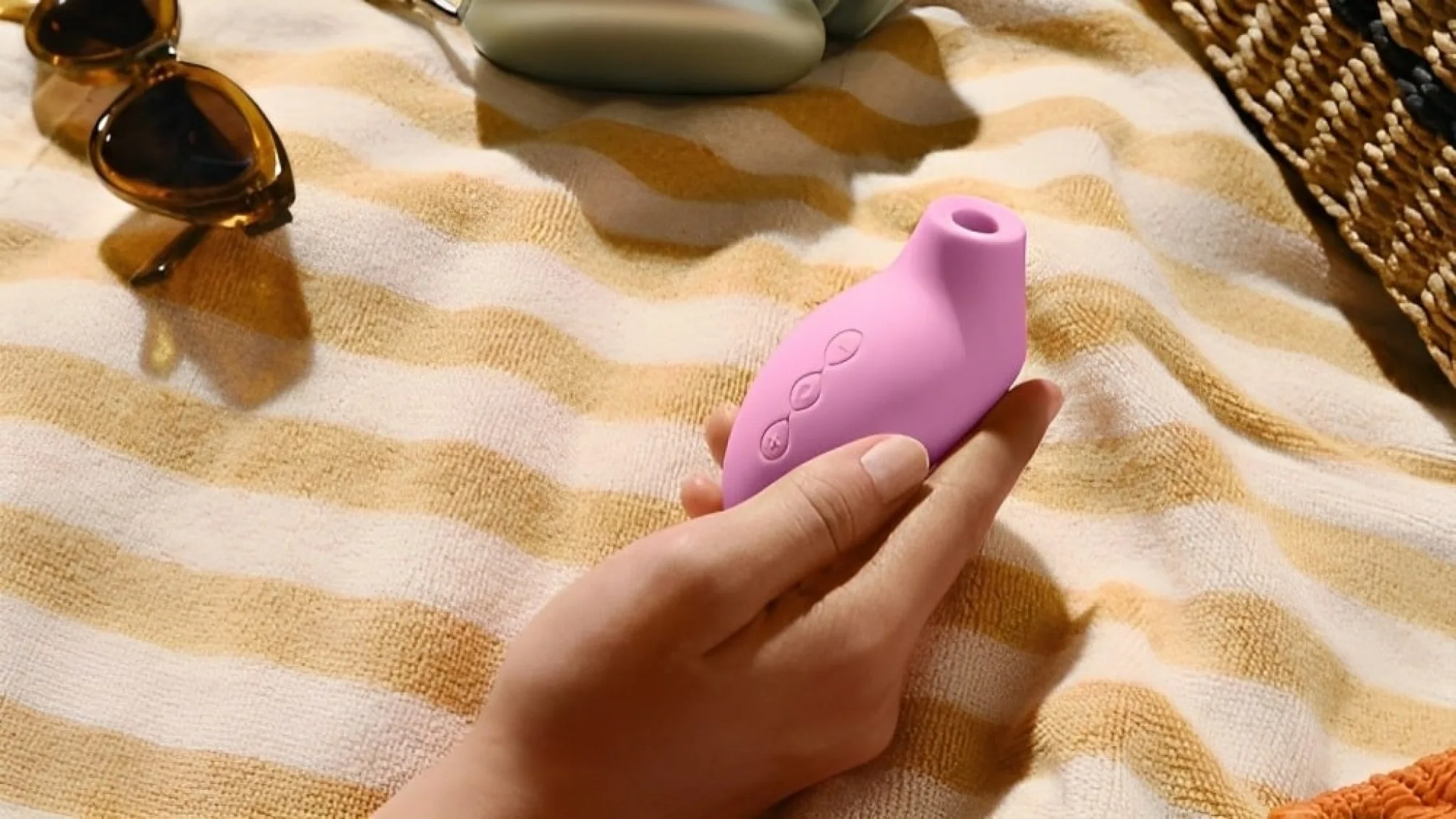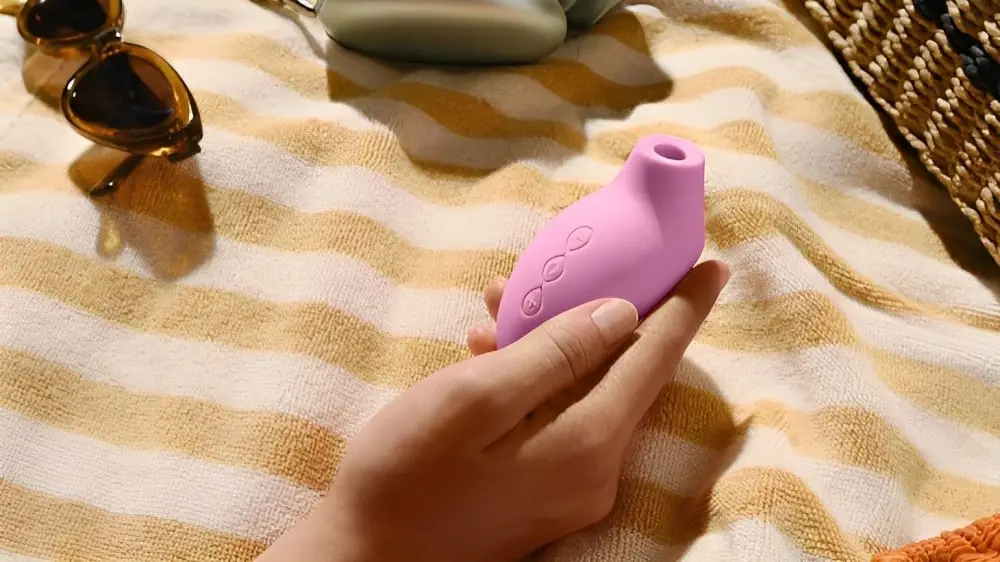 Of the clit suckers you can get right now, Lelo Sona 2 Travel is one of the most well-made toys out there.
The build quality is, as you would expect from a Lelo toy, superb – there are no loose joints or rattles to be found on this device, and the bright side of this, of course, is that the Lelo is going to make you very happy with very little wasted energy.
The design of the toy as well is one of the best that Lelo's made, with a very unusual backward curve. It looks really weird, especially if you're used to other clit sucker toys that generally curve toward the body on the backside of the curve, but once you have it in your hand, you realize the purpose of this curve.
The backwards curve of the toy fits perfectly against the heel of your hand, making it sit better in your body than anything else that Lelo could engineer, which is really important for a travel toy.
The best way to make sure you're as comfortable as possible when you're pleasuring yourself during travel is to avoid having to reposition your grip constantly, and the palm-hugging reverse curve of the Sona 2 Travel is a great start to that.
Sona 2 Travel also has one of my least favorite features on Lelo toys, and this is one of my few critiques of the design: The large "lagoon" of chromed plastic that goes right under your hand.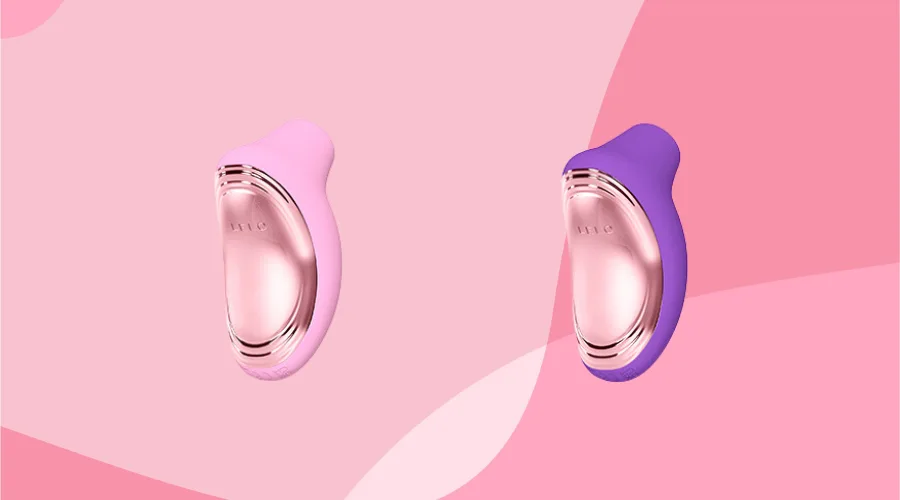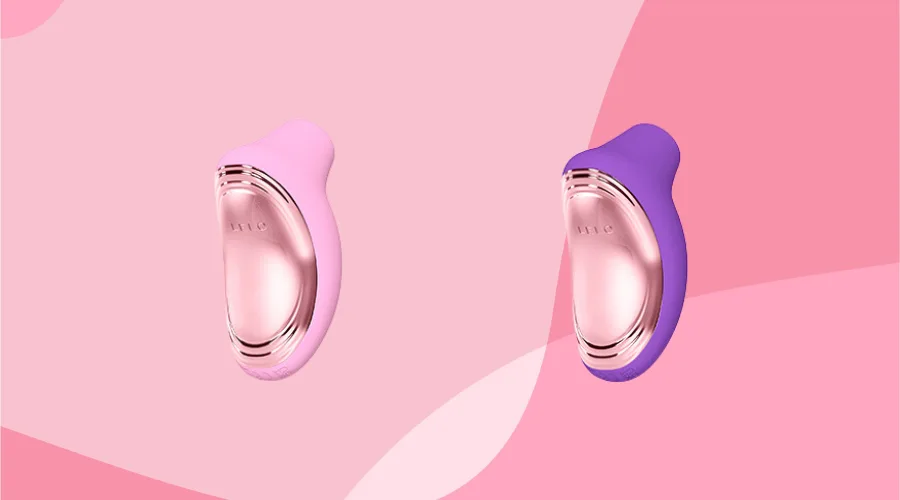 I'd much prefer a fully enclosed silicone toy rather than this big divot of ABS plastic.
ABS can get sweaty under your hand and slide or rotate, which makes it a little bit awkward and slightly hand-cramping for extended play sessions on the road, which is of course what the Sona 2 Travel is designed and marketed for.
It also leads to serious questions about the long-term durability of that particular feature because chroming can slide off of a toy over time.
Especially for the "travel" model, a full body enclosure of silicone would have been the right answer, so, unfortunately, I must ding it for this design choice.
After we get past the chrome divot, though, this toy has gotten rave reviews across the internet, and for very good reasons: It really lives up to its reputation as a sexy little orgasm machine.
Along with its sibling device, the Sona Cruise, it can give you shattering orgasms surprisingly quickly, meaning that your two-hour charge time is really a great deal of time for a play session, which is another very road-friendly feature: The less time it takes you to get off, the more time you can spend on your travel itinerary, while still giving you the orgasms you deserve.
How does it work?
One of the features that Lelo has kept constant on their toys since the very beginning is that they are trying to avoid chasing after Internet-connective features like apps and Bluetooth.
Their toys are simple, well-made, and reliable, and a Bluetooth wireless connection would interfere with that basic design functionality.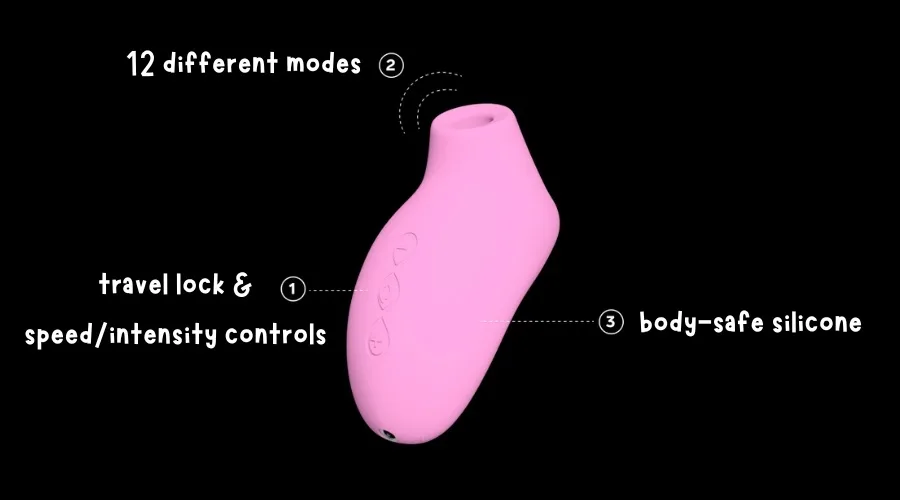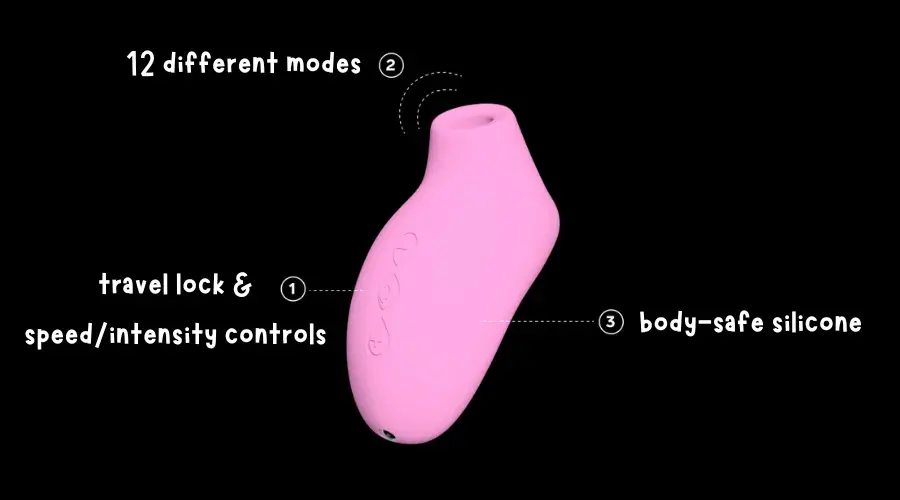 Because of this, their controls are simple and easily manipulated, contained within a "triple infinity" sign-based control setup with speed/intensity controls flanking an on-off button.
A firm press changes the power setting, up or down, making this one of the easier toys to handle while you're working its primary function.
A downside for the toy is that it is fairly noisy, with a maximum noise level of 60 dB, which can be heard through a relatively thin hotel or apartment wall.
If you have any concerns about noise, you're probably going to want to use your Sona 2 toy in the bathroom with the water running, which leads to our next point: Lelo advertises that the Sona 2 Travel is waterproof while in operation, which is a huge thing for travel, when you're likely going to be hiding out in the bathroom while using the toy.
Because of this, play while underwater or on the toilet is more likely than when you're at home, and a slip of grip could result in an inadvertent immersion for a Sona 2 Travel toy.
Fortunately, it does live up to the waterproof hype, and plenty of internet reviews reveal that the Sona 2 Travel is more than capable of functioning while fully immersed.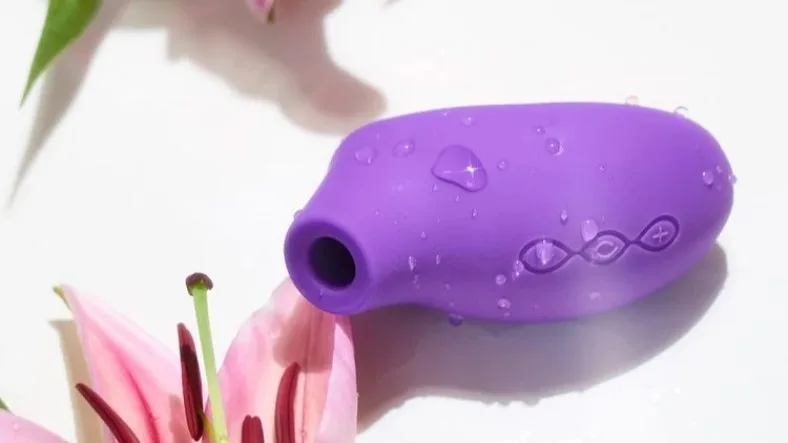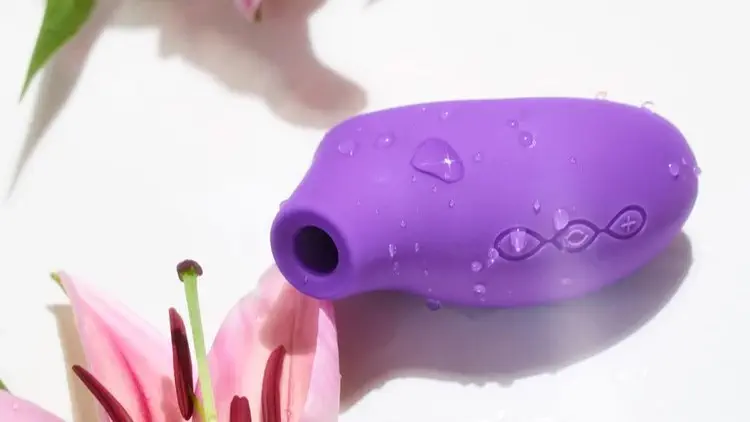 I'd suspect that it might be even more exciting when used underwater, but I'm a little bit of a wimp about putting electric toys fully underwater – call this my butterfingers nature that's managed to destroy two smartphones over the years by dropping them in toilets while traveling, but I just don't want to actively test a sex toy by immersing it in water, so from my point of view, that particular feature will have to simply remain untested.
Still, of the parts that are meant to be wet in active play, those are fully enclosed in silicone, and waterproof beyond the touch of the moisture that my body can make.
Frequently asked questions
What Kind of Warranty Service is Offered?
Lelo has an industry-leading warranty service, and the Sona 2 Travel is a big part of that.
The Sona 2 Travel's warranty covers one year of returns for any problem that occurs with the toy after you've purchased it, and an additional 10-year quality warranty kicks in after that point, protecting you from defects that occur as a result of quality flaws in the toy's manufacture.
This is of course a higher bar in terms of triggering a refund versus the primary warranty, but it's comparable to the standard warrantees offered by most of Lelo's competitors, making it a pretty good option.
What are the alternatives to the Lelo Sona 2 Travel?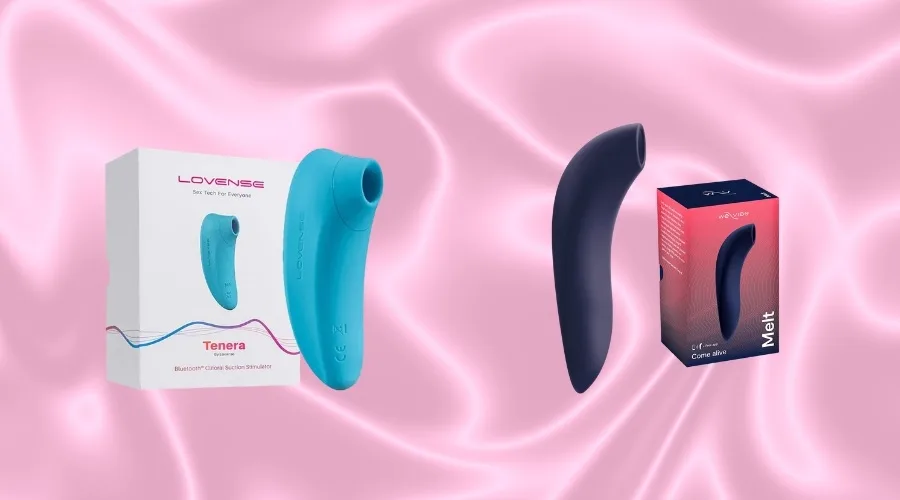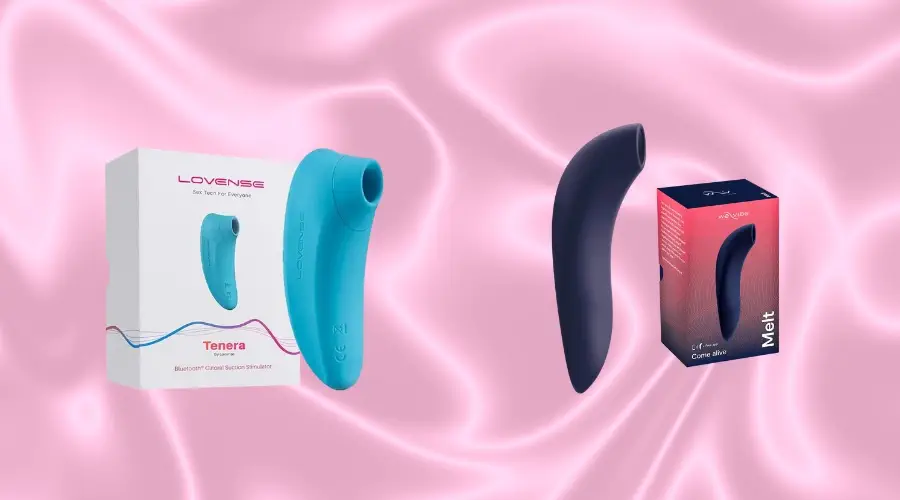 Clit sucker toys are one of the most popular new categories of toys out there, with plenty of alternatives from high-end producers.
On the luxury tier where you find the Sona 2 Travel, you will find toys by high-end competitors like Lovense Tenera and We-Vibe Melt, which have similar sleek curves, though more of the inward-facing shape.
I admit to liking Tenera and Melt a little better in terms of design aesthetics – I'm kind of a sucker for the smooth, quasi-seamless all silicone look – but the Sona 2 Travel's ergonomic reverse curve is really comfortable and has a little bit of a break for tired fingers on the road, making it more comfortable to grip and putting its controls right under your fingertips when you're manipulating the toy, versus the thumb-oriented Lovense controls.
Of course, the Lovense toy is focused on their app and long-range connectivity as well. If you're playing with a partner with your clit sucker, Lovense is absolutely the way to go.
What Lelo does very well, and always has, is their focus on making the solo play toy experience the best they possibly can.
You won't find a Lelo toy that has an app focus like Lovense or We-Vibe, that's just not Lelo's vibe, pardon the expression.
They know their stuff for solo play toys, and they're smart enough to not want to move outside of their core of competence.
Is There Anything I Need to Know About Maintenance?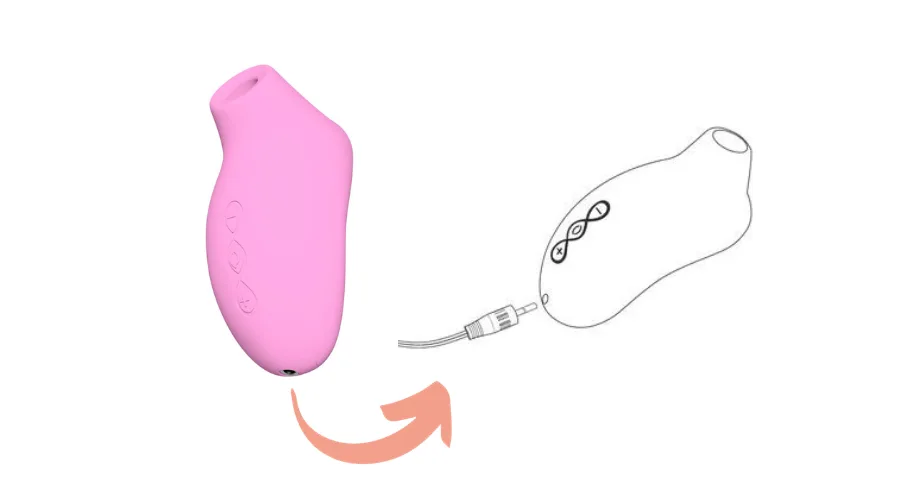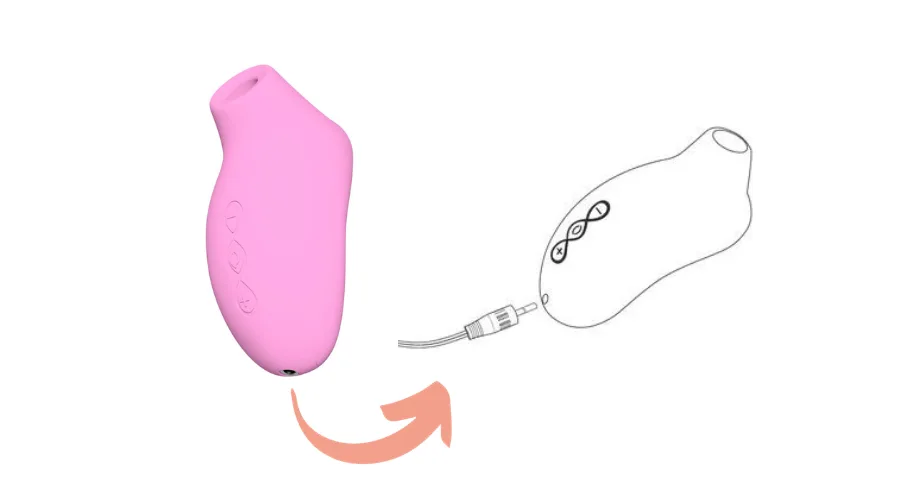 Because of the simplicity of the design and electronics, all you need to do to maintain this toy is to turn it off after use and plug it in and let it charge up before you next use it.
The Sona 2 Travel's charging time is a little bit mediocre, with a 2-hour charge time for a 2-hour use time. This is pretty ordinary for a device that uses a barrel-type charger.
Just don't expect USB-style fast charges from your Sona 2 Travel. Its 520 mAh 3.7V Li-Ion battery can hold a charge for up to 90 days.
Is The Sona 2 Travel Compatible with Any Apps?
No, it isn't! Lelo is one of the only luxury-tier sex toy manufacturers who is not concerned with long-range toy functionality of any kind.
The only application you will ever worry about or want to worry about with the Lelo Sona 2 Travel is the application of the toy's mouth to your clitoris.
What Do They Offer in the Way of Shipping?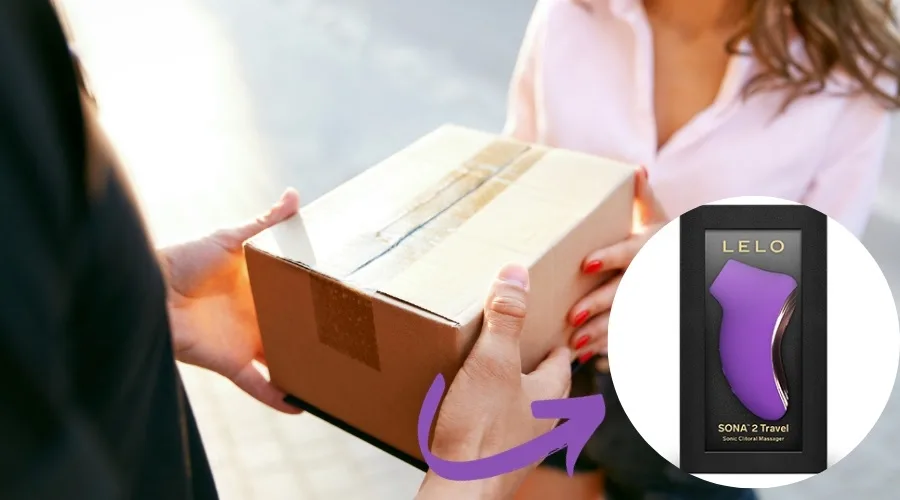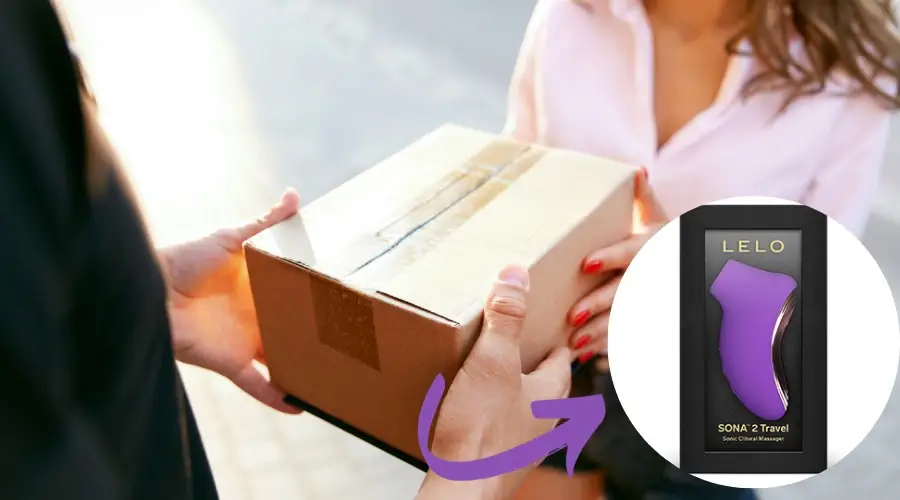 Lelo offers free standard shipping to U.S., Canadian, European, and British customers.
They also are currently waiving the import duty costs to orders from the UK until the legal outcomes of Brexit are fully worked out.
Their global couriers include USPS, UPS Ground, HP, DHL, TNT, FedEx, and EDS.
Express shipping reduces the 8–12-day shipping time to 2-3 at a price of around $9.99 US or EUR 9.99 (GBP 4.99), an entirely worthwhile minor expense to add to this toy.
Pros
I am a big fan of well-designed consumer packaging, and this package is very well-designed, with a matte finish that screams quality.
Lelo is one of the best-established sex toy companies out there.
The warranty is exceptional.
High-power sonic sucker toy is amazing.
Fully waterproof.
Cons
I really don't like that lake of chrome plastic.
Barrel charger charges at a trickle rate compared to a standard USB.
I don't entirely trust "waterproof" barrel adapters.
If you're not into clit suckers, this one's not going to change your mind.
If you're jumpy about purchasing a sex toy, the proud packaging of this one is probably going to keep you jumpy.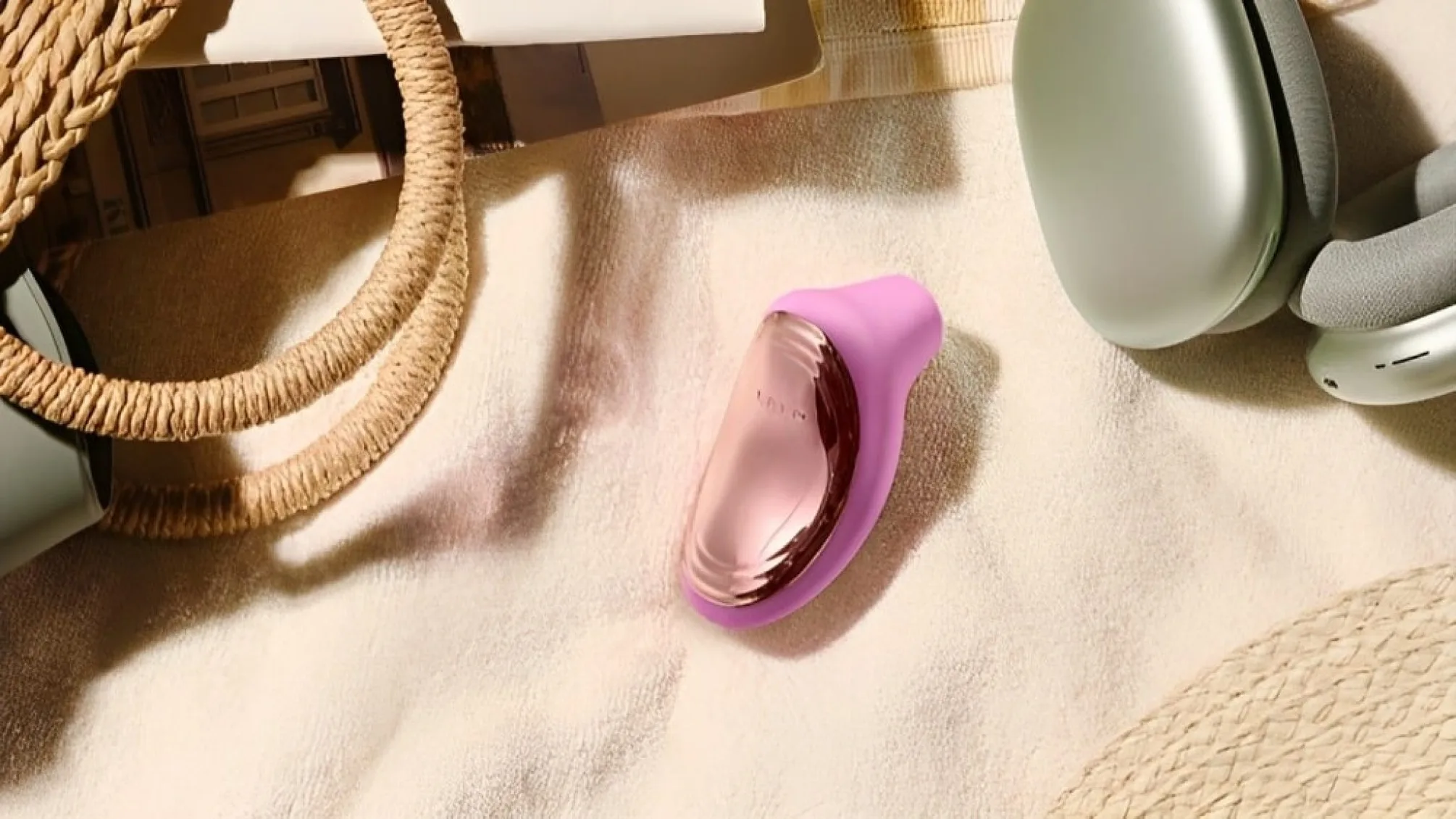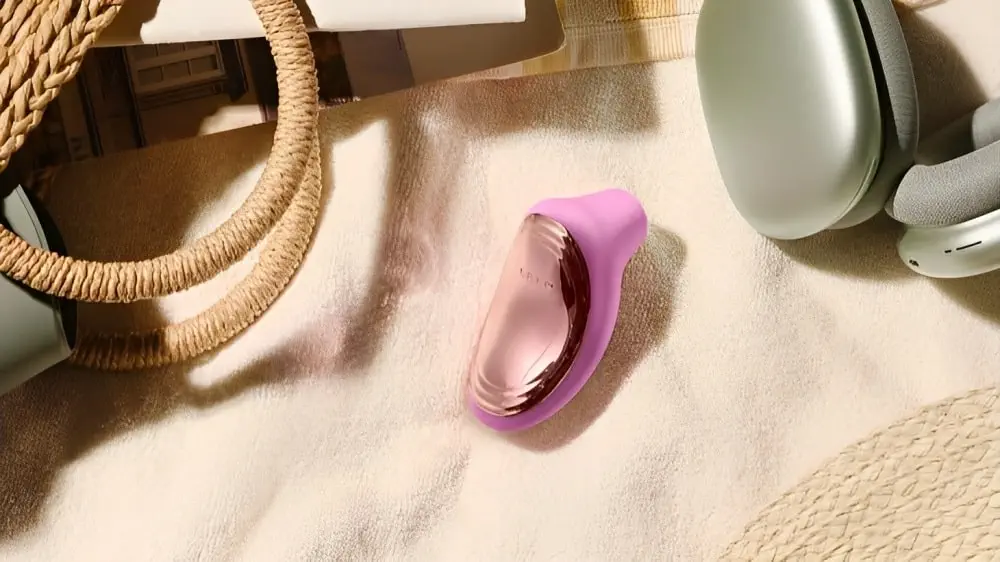 Verdict
Well, that was a lot.
Overall, the Lelo Sona 2 Travel has a lot to make your body happy and if you're into clit sucker sex toys, this one with its sole focus on getting you off in solo mode is going to make you very happy.
The cons that I've listed above are relatively minor quibbles and mostly aesthetic dislikes.
Even the barrel charger is not ultimately that big of an issue for a toy you can leave plugged in for most of the day while you're out doing your other travel activities or general life activities.
If you're going to make the Sona 2 your primary travel sex toy, you can definitely do a lot worse.
Sona 2 Travel is highly recommended for both travel purposes and for use at home.
If you want to have a toy that's going to last you for years and years (the quality warranty, remember, is an absolutely astonishing ten years), you're right there with Sona 2 Travel.
If you want a clit sucker and you don't give a flip about playing with somebody halfway across the planet, this is absolutely one of the best ones on the market.
Its limited battery life is ultimately a limited consideration, given the justified reputation that clit suckers have for getting you off in a hurry.
If Sona 2 Travel is your toy of choice, make sure you get it in your toy box as quickly as you can.