If you don't know what Fleshlight is, what rock have you been living under for the last 25 years? First designed in 1998, Fleshlight brought the art of male pleasure to a new level.
Using some of the best ideas from onacups and other new male masturbation toys, the Fleshlight's name describes a good bit of what it is.
With a hard plastic body resembling a gold flashlight, the original Fleshlight Stamina Training Unit changed the game for male masturbator toys.
Inventor Steve Shubin reports that he invented it during his wife's high-risk pregnancy, and the rest is messy history.
With a line of toys twenty-five years long, giving them more experience in the high-quality male masturbation toy space than any of their competitors, Fleshlight is also a made-in-America sex toy success story.
Stamina Training Unit Gives You Classic Feel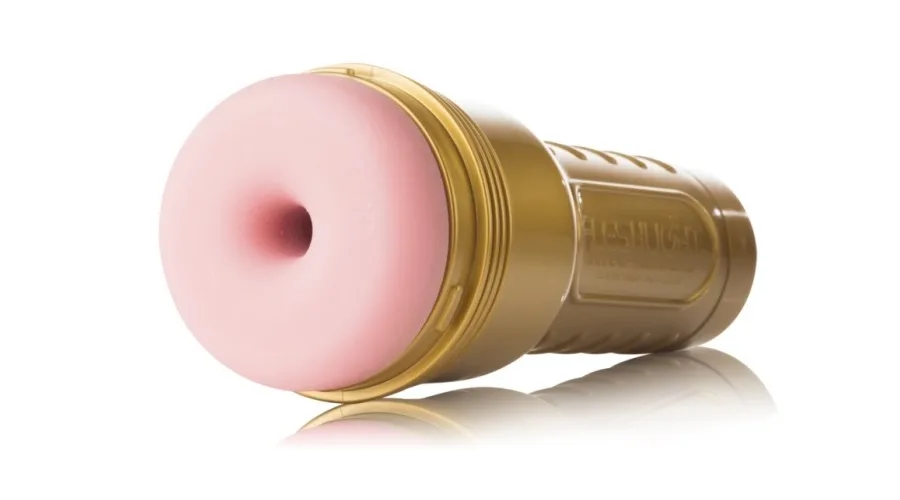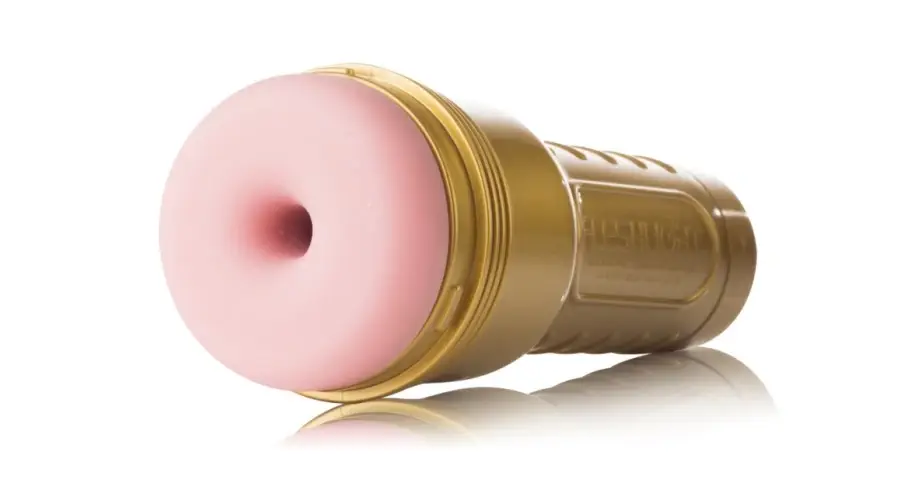 The original and still the most popular and sought-after Fleshlight sex toys, the STU has an ostensible mission, to get men ready to last longer in bed.
And there are in fact programs out there to do just that with the STU, but most guys who buy it, just buy it to use, and if they get more sexual stamina that's more of a side effect than a primary intention.
With that said, its relatively simple interior bump configuration makes it one of the most realistic sex toys out there.
The STU has been purchased 12 million times by men around the world and remains one of the company's best sellers.
Its distinctive gold tube and deep insertable depth makes it a great choice for all but the most absolutely well-endowed men; unless you're Long Dong Silver you can probably bottom out in this thing and leave room to spare.
Spoiler: You're not Long Dong Silver.
Pros
With a cycle of continuous improvement for 25 years, this is easily the most refined sex toy of the century.
Gold tube makes it distinctive.
Silicone material warms up well.
One of the most realistic pocket pussy toys
12 million men have bought one. It's got to have something to it, right?
Cons
The distinctive gold tube makes it hard to conceal.
There are more interesting models now.
There's no variation inside of it, unlike most of its successors and competitors.
Turbo Takes You Down to Paradise, But Misses on Its Stated Objective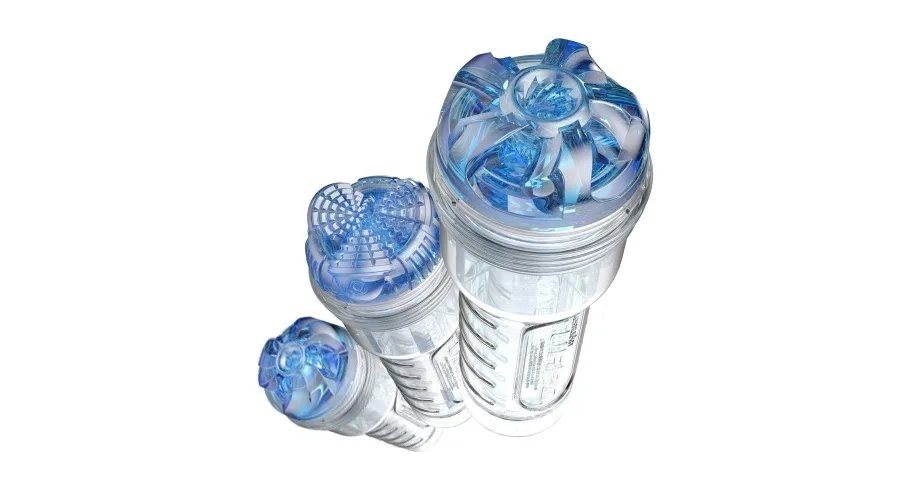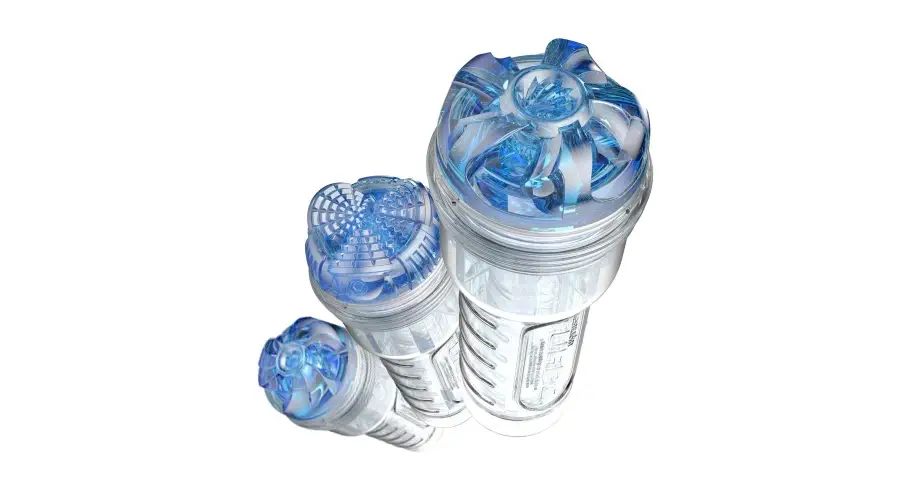 Fleshlight Turbo claims to imitate the feeling of a blow job.
While this claim is a little overblown – no mere sex toy is going to get there – what it does is give you a soft, gentle, really stimulating massage.
Its holes are not super tight, but they are very grippy, with lots of ways to play with some serious variety in your sensations.
Getting into it and getting off are as simple as any other men's sex toy, and like the other Fleshlight toys, you just warm it up and go to town.
The place where Turbo gets the closest to delivering on its promise of a blow job feeling is the patented triple chamber, developed to simulate the feeling of lips, tongue, and throat.
The round, non-anatomical orifice gets some criticism, but it's also very difficult to see where Fleshlight could have done better because people have also remarked on the creepiness of a disembodied pair of lips.
It's a little bit of a problem no matter which way you go on the final device.
Users have recommended that if you want a little bit closer feeling to a blowjob to use less lube in the Turbo than you normally would, but add a small splash of water, to make the lube feel more like saliva.
Pros
Softer TPE material feels more naturalistic than the standard Fleshlight toy.
Three chambers for different feelings all along the toy.
Cons
Material absolutely needs to be warmed up.
Doesn't really accomplish its stated purpose.
Fleshlight Classic Is a Pink Lady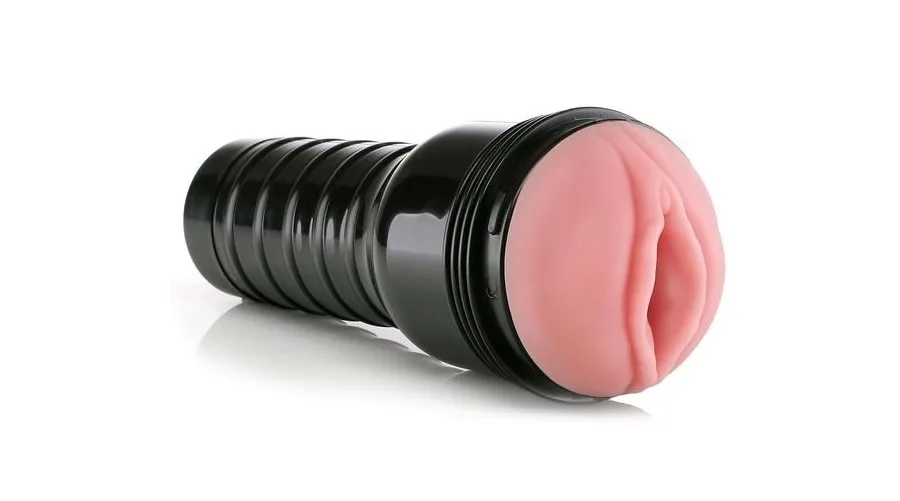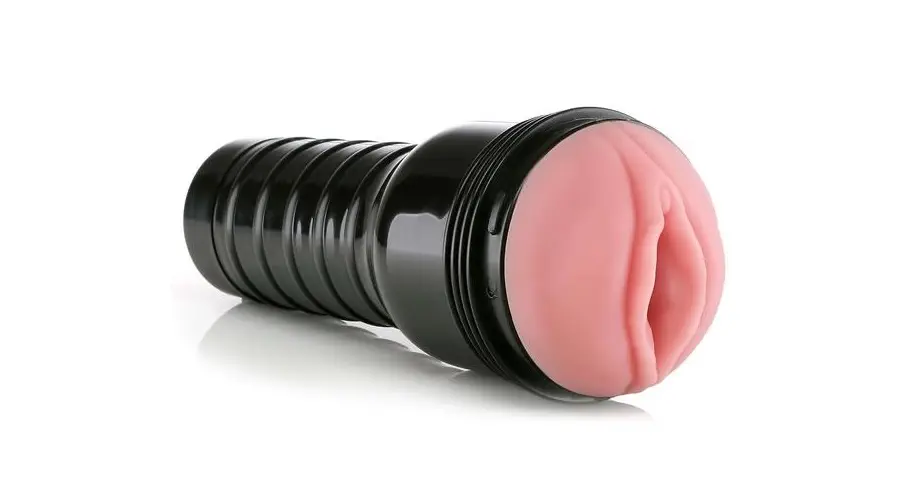 The first toy Fleshlight ever released, the Pink Lady has a simple, smooth interior that doesn't have the bumps of the follow-up Stamina Training Unit, let alone the complex, engineered interiors of later versions of the Fleshlight.
Instead, it's just a simple channel to masturbate with. As such, it's really a mixed experience for many people.
With a "when it's good it's great and when it's bad it's just ok" reputation, the Pink Lady is fine as a beginner toy, but some men report it being too tight to use, and some just don't like the smooth interior.
The Pink Lady is absolutely not the toy you want to be using if you're used to the more complicated interiors of more modern Fleshlights or Feels.
If you're looking for a classic 90s throwback experience, this might be the toy for you. If you're not, maybe forget it and move on, like the world moved on from 98 Degrees.
Pros
The simple interior gives a good introduction.
Classic toy with a classic feel.
Cons
The 90s Boy Band of sex toys. Pleasurable at first touch, but one-dimensional.
Quickshot Vantage Is Clearly Fun for One or Two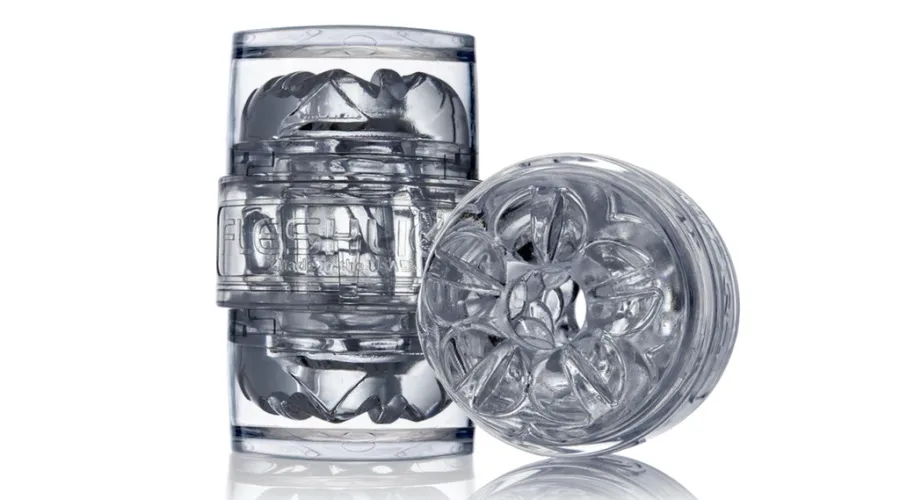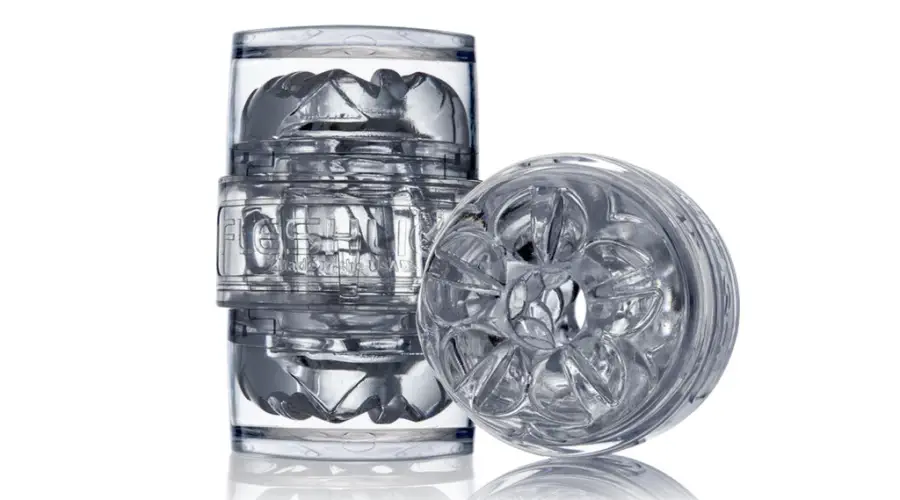 With a unique transparent material and a stubby shape that lets it slide fully onto and off of a penis, the Quickshot Vantage is one of the more playful offerings by Fleshlight, and one of the few that's viable for partner play.
With a stubby 3.5-inch length, this one would seem to be too short for most penises, but there's a trick: The open top end lets it slide all the way over the penis, leaving the glans open to the world.
Clearly this is not the toy for a discreet wank but for actual bedroom sexy times.
Now that we're there, the Quickshot Vantage's ends are reversable, so you can stick it in either side, and both ends are non-anatomical, so nobody's going to feel left out if they have a penis.
The sleeve needs lubricating to get going (but you should know this by now, nobody should be just sticking a sex toy around or in their anatomy without slicking it up first), so you don't tear it or chafe your willy (sorry Mel Brooks).
Once that's accomplished, the other thing you need to know is that there's no cup to catch your fun juice, so you're going to need to figure out how to handle the inevitable outcome of your fun times.
But you're an adult, so you've got that covered by now, right?
Quickshot Vantage's clear casing and clear stroker might not be for everybody – if you're not interested in seeing a penis rearrange the synthetic guts of a sex toy, then Fleshlight has you covered on that with the Quickshot Boost, made in black.
Pros
Double-ended design makes this a unique sensation compared to other Fleshlights.
Interior nubs are pretty amazing for everybody.
Potential partner fun to be had with a device that plays peek-a-boo with your penis.
Cons
Not the most subtle toy in the line (and that's saying something).
Transparent gimmick not for everyone. Fortunately, there are non-transparent versions.
Ice Lady Warms You Up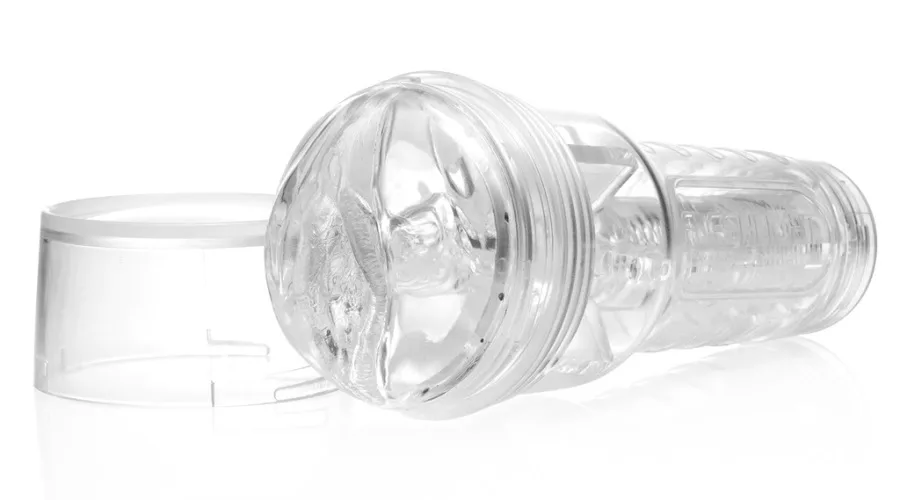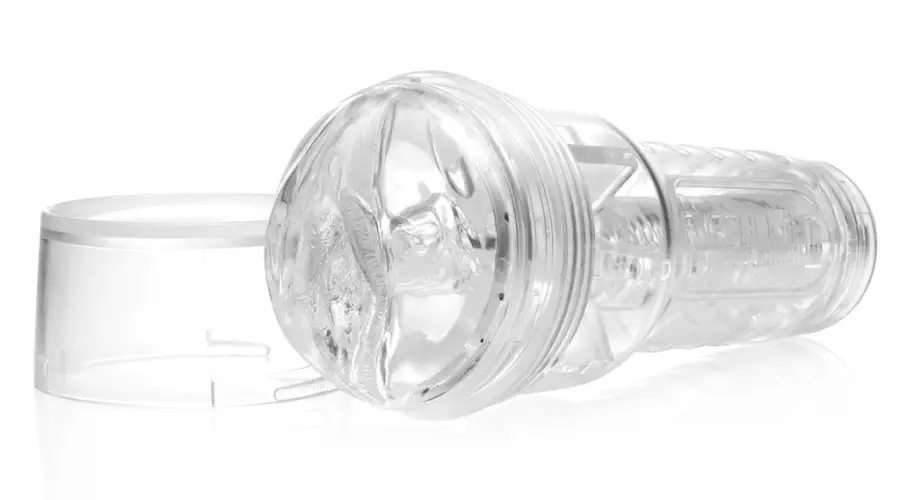 Ice Lady is one of the more interesting new options for Fleshlight pleasure toys.
With the same transparent case and sleeve as Quickshot Vantage, Ice Lady is one of the most beautiful choices and definitely a display piece if you're into displaying sex toys – a rarity for men's toys as they tend to be pretty utilitarian in their design.
The anatomical display of the interior of the trademark Fleshlight design is a pretty cool one and you'll be interested in this one.
There are a few quirks, though, in Ice Lady that make it a less suitable option than some of the others here.
If you're using Ice Lady, there's an inconveniently placed narrowing that especially awkwardly hits men of average size.
It's easy to see what it was designed for, to tighten the toy around the glans.
Unfortunately, it makes that last little bit of insertion more difficult than it needs to be and as a result, it's just an average experience unless you're above average in length.
Pros
Clear design makes this a viable display piece as well as a pleasurable sex toy.
TPE elastic material has better thermal response than the basic skin of the original Fleshlight toy.
Multiple-chambered design is great for men who like a little bit of a blowjob feel to their masturbators.
Cons
Transparent material is tackier than the standard material, this absolutely needs to be warmed up & well-lubed.
Awkwardly placed narrowing makes it a more difficult experience than expected for average men.
Not even remotely subtle, if you like to be able to carry a sex toy with you this one is going to scream its purpose to anyone who even casually glances at it.
Flight Pilot Clears You for Takeoff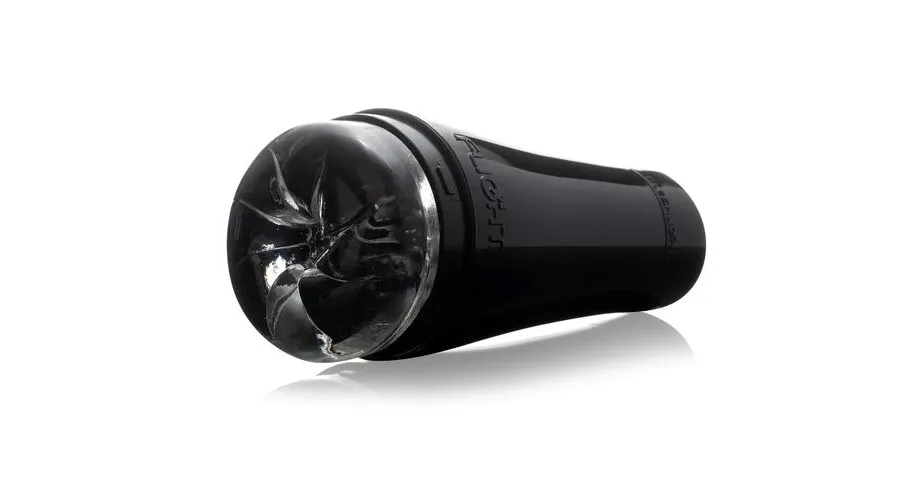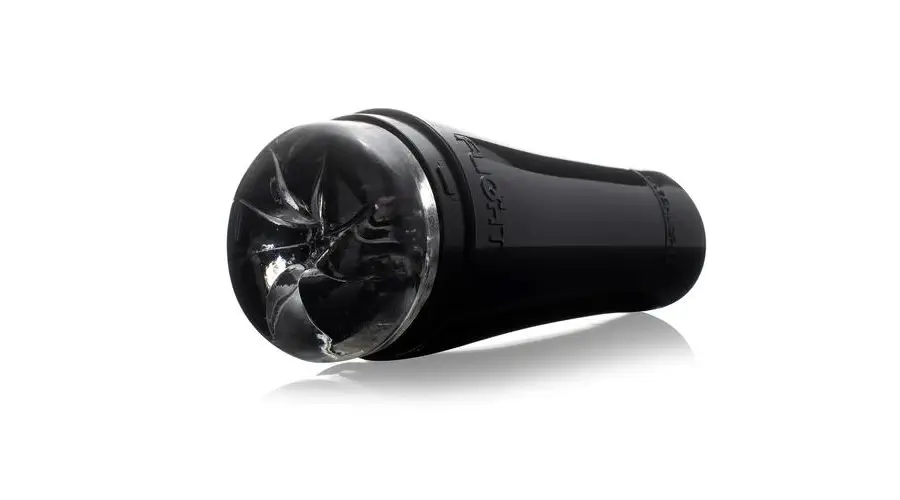 Corny lead-in? Yeah. But it's also one of the best toys for the money, and it's a pretty handy device for your travel needs, making it to the top of a crowded market.
While the Quickshot is slightly more subtle, there's also no disguising what the Quickshot is for, while a casual inspection might mistake the Flight for a large-ish flashlight (ok, a flashlight with a screw-on top is a pretty big stretch. You're going to be seen if people see this in public. Sorry).
Flight Pilot is still a great experience, using the latter-day TPE material for its interior rather than the original silicone material.
Because of this, it has the crystal-clear look of many of Fleshlight's latter-day toys.
It also comes with a non-gendered/non-anatomical entry, which makes it equally pleasurable for men of all persuasions as long as you like sticking your thing into another thing.
If you're into getting off while you're on a trip, or just of average length and the standard Fleshlight is a little much for you to handle, the Flight toys are a good alternative option.
They come in a variety of colors as well – the Pilot is the basic black model, but it also comes in translucent blue ("Commander") and crystal clear ("Aviator").
On top of that, there's a compatible shower suction-cup mount.
Pros
Smaller size makes it easier to carry along with you.
Black case gives you aesthetic continuity with the rest of the line.
Sleek design fills the flight theme perfectly, making it nicely streamlined.
Cons
6" insertable length might make some longer men feel unsatisfied.
Incompatible with the Fleshlight Launch toy line.
You're not going to fool anyone if you've got this with you. Keep it secret, keep it safe.
Flight Commander Clears You for the Friendly Skies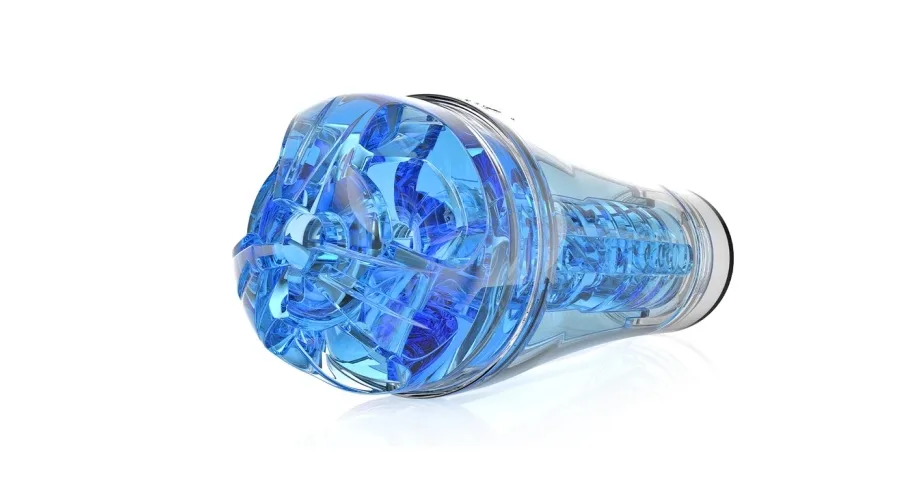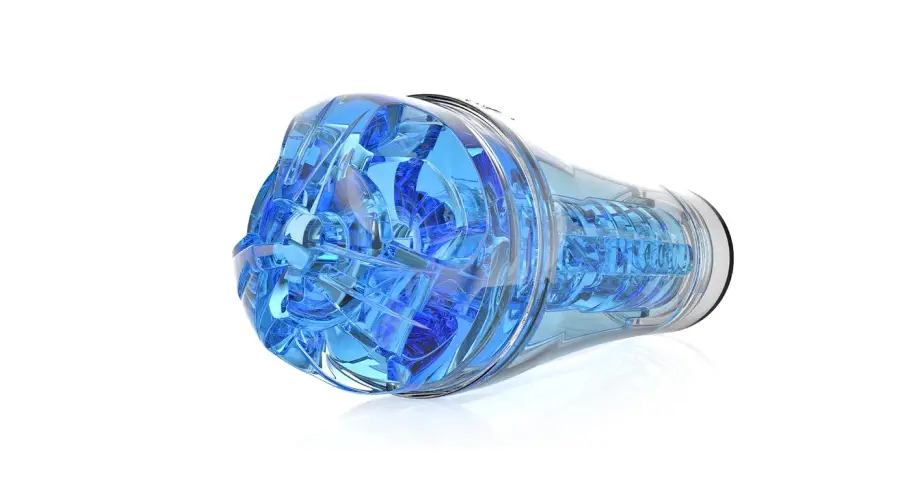 If you're interested in the Flight but with an additional see-through experience and a cool blue color, Flight Commander might be the one that gets you ready for take-off.
Like the Flight Pilot, Commander uses a modern TPE material with a clear interior and a non-gendered, non-anatomical entry for everyone's pleasure.
Flight Commander also has the same sleek, swoopy exterior, making it visually just a bit cooler than the clunkier, flashlight-flavored versions that dominate the line.
The comments we have on the Flight Pilot also apply to the Flight Commander version, since it's an extremely similar design.
Our only additional comment – and this is true for the other Flight versions – is that because of the different length and girth versus the standard flashlight-design models, Flight Commander is not compatible with the Fleshlight Launch, because it won't fit in the bracket correctly.
If this is a drawback for you, please do take note.
Pros
Cool blue tint makes this a great display piece if you're into displaying sex toys.
Keeping you stroked and stoked on the go is this toy's purpose, and it fulfills it well.
Sleek design is super cool for people who like the aesthetics of their sex toys as a thing.
Cons
6" length (insertable) is a bit short for some men.
Even more so than the Pilot, you're not fooling anyone. Just keep it hidden when you're on the go, ok?
Go Torque Ice Helps You Get Cool After Getting Hot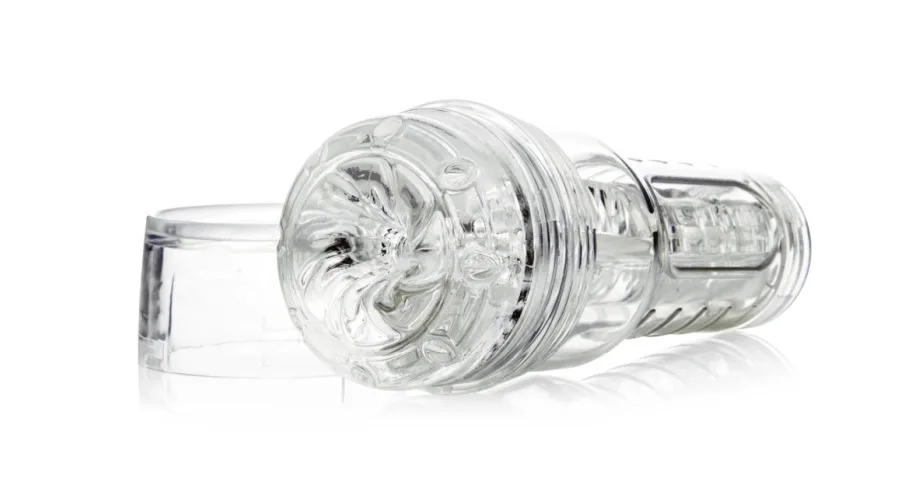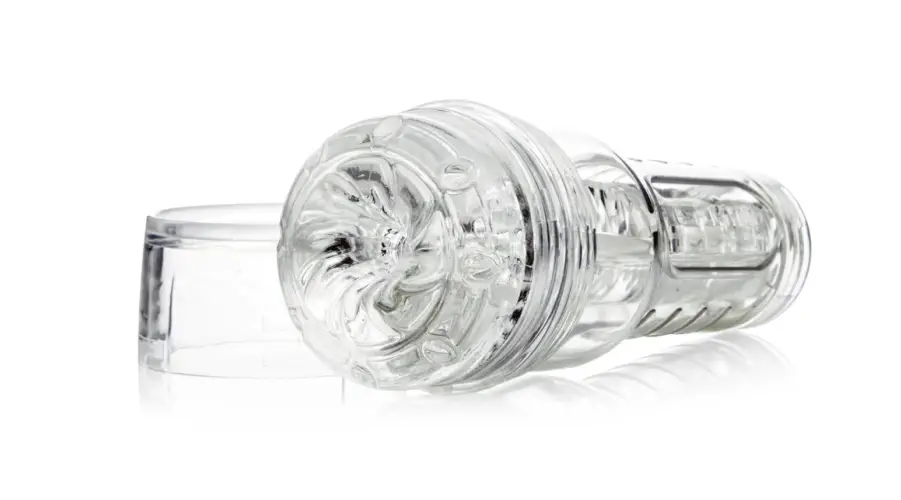 Another one of Fleshlight's incredibly cool clear toys, this one's compact design doesn't give you any compromises on its interior dimensions, giving your girth certificate a full clearance to get a full 7-8 inches in.
If you're that long, rejoice, because Fleshlight has made a travel toy for your desires and your dimensions.
The sleeve gets more intense as you go along, too, so it makes it very rewarding for the long among us who want to feel properly accommodated toward the end, rather than rushed.
The advantage there is also a drawback, however, for average and shorter men, because the most intense and interesting sections of the toy are beyond their lengths.
For those men, we recommend going with something else, because this is likely to unfortunately disappoint.
Pros
Clear and compact for travel use.
Intense end makes this a special pleasure for longer penises.
Similar to above pros, this toy is a good display piece if you are into displaying sex toys.
Cons
Design has its most interesting bits toward the end, making it a little frustrating for shorter penises.
Truly long men will have problems toward the end – insertable length is 7-8 inches.
Boost Your Pleasure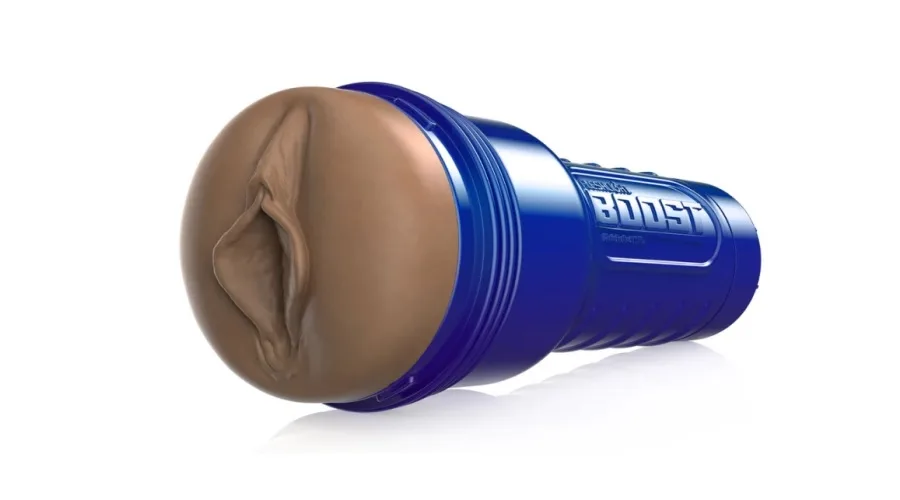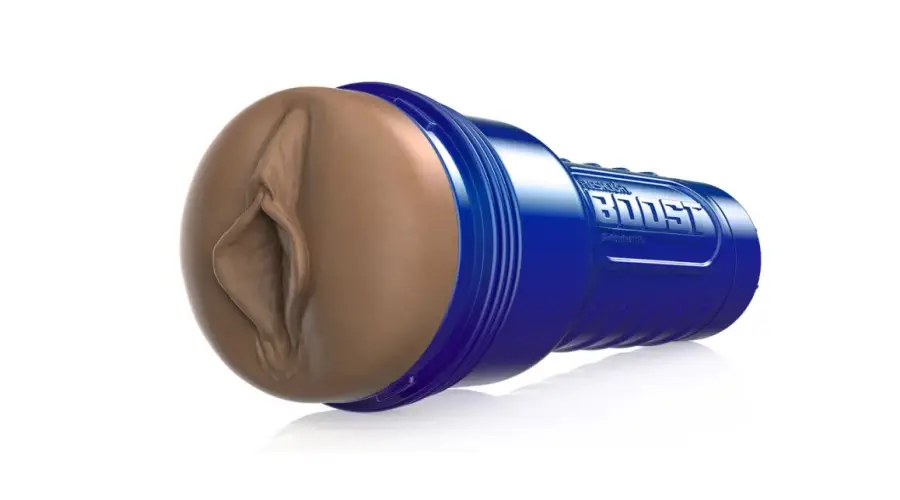 With some really amazing engineering and two thick "floating rings" in the very beginning, Boost is one of the easiest and most rewarding Fleshlights to use, and clearly one of the best options for beginners.
Its case is among the first Fleshlight cases to include a vacuum cap, increasing the suction factor for you.
Your pleasure with the Boost is going to be enhanced by some of the best chambering in any men's sex toys.
The toy gives you some excellent options with four distinct sections from the tongue-like start to the completion chamber far down the shaft.
Overall, Boost is an amazing piece of engineering. It also comes with four different choices – two anus-shaped openings said to simulate male and female anal sex, a pair of lips, and a traditional vaginal opening.
If there are any problems, the floating sections are difficult for a shorter man, so you might want to figure that out for yourself before you get started.
Pros
Intense, multiple sections.
Tongues greet you before the different multiple ribbings.
Gets more intense as you go along.
Wide array of choices of entry orifice.
Cons
The first ring is a bit much to get through, which can make it tiring if you're only long enough to get into the second chamber.
Flight Aviator Clears You for Takeoff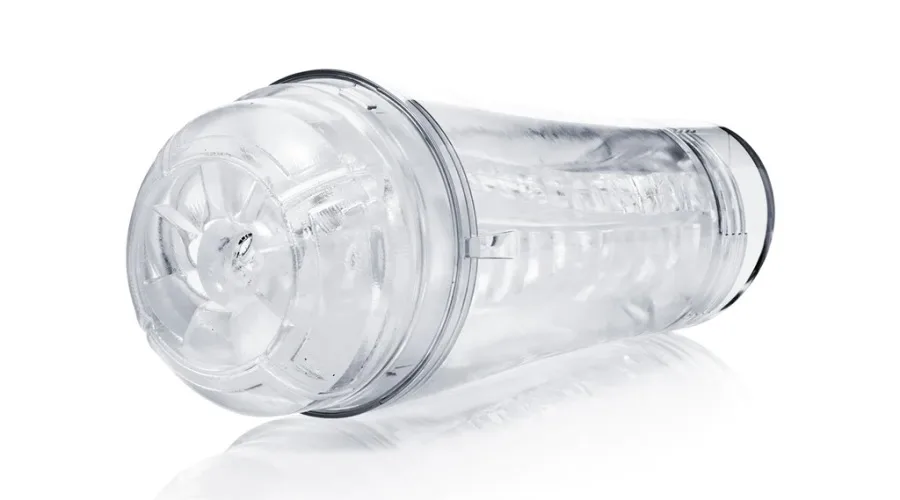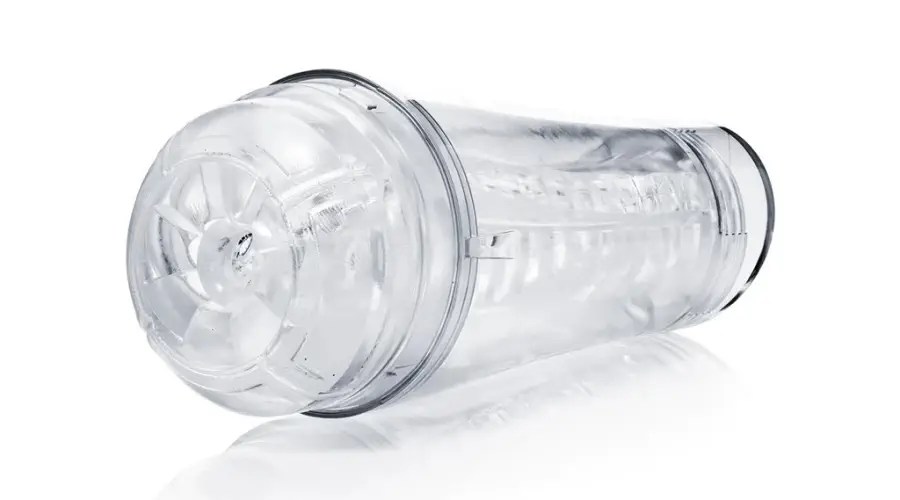 Flight Aviator is the fully transparent version of the Flight series that we saw previously with the black Pilot and blue Commander.
Crystal-clear with the same Flight aesthetics and design.
Unlike the other crystal entries, I think this is slightly inferior to the crystal-blue Commander toy for actual display, because the tinted interior is just a little bit cooler than the perfectly clear one.
Still, this is a great choice for either display or for fapping.
The other comments regarding the other Flight versions also apply to this one: The six-inch insertable length is going to be a bit frustrating for longer men, and the girth certificate is a little bit smaller than other toys in the Fleshlight line, so you're going to have issues on that line as well if you're longer and girthier.
Just like the other Flight toys, this is a travel option that can fit nicely in your carryon baggage, not a primary masturbator for your bedroom at home.
Pros
Transparent, aesthetically cool.
Elastic material accommodates quite a lot of penises.
Clear sex toys are quite displayable if you're into displaying sex toys.
Cons
Not QUITE as cool for display as the crystal-blue Commander
6" insertable length only accommodates average and shorter men
Men of high girth are going to find it less than accommodating.
Buyer's Guide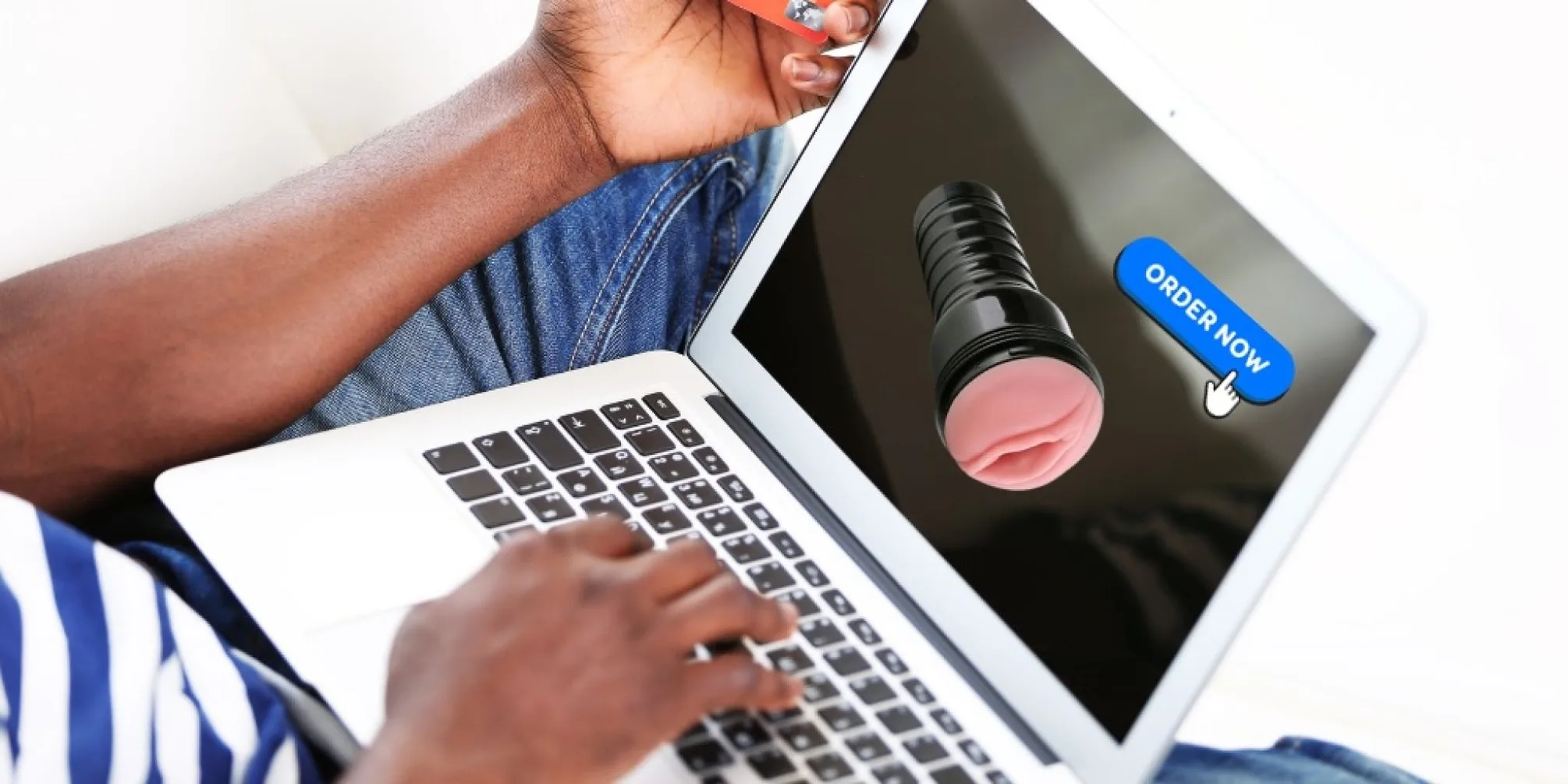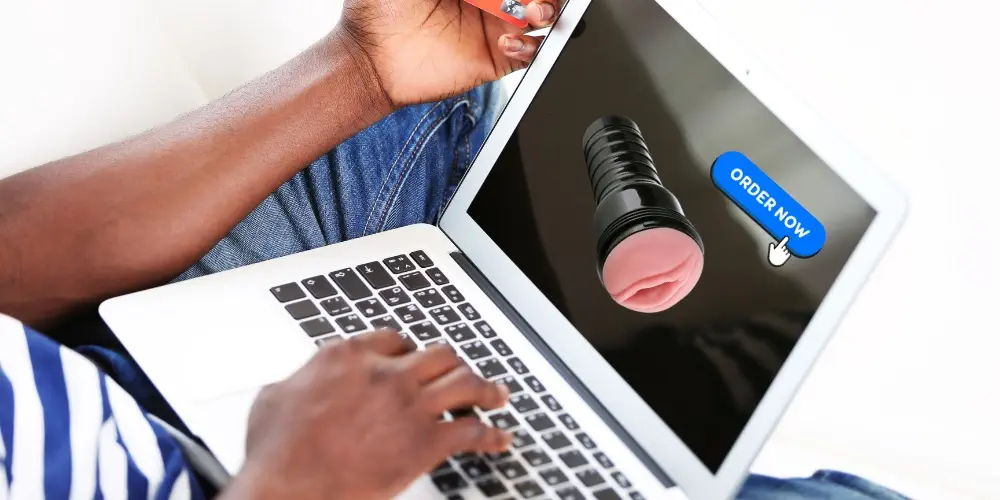 It says a lot about Fleshlight's manufacturing ethos and their commitment to research and development of one specific device over time that despite 25 years of constant development among their rivals, they're still a go-to in the men's sex toy realm.
The Fleshlight's uniquely memetic position in the ecosystem of sex toys means it's going to be many men's first masturbators, and even more men's go-to for their entire lifetimes.
That said, there are certainly other options available in the market that weren't around in 1998.
Japan has continued development of Japanese-style sex toys, including single-use "onacups," which continue to push the cutting edge of men's masturbators.
The single-use nature of onacups doesn't translate as well to the US, where imported Japanese sex toys are more expensive than you would want to put out for a one-use-and-throw sex toy.
The primary competitor in the reusable masturbator space comes from one-time collaborators Kiiroo and their award-winning FeelStroker and FeelStars lines.
Kiiroo are interested in making cutting-edge, interactive sex toys, and the reason the original Fleshlight Launch is no longer available is because Kiiroo decided to pull that tech back in-house for the Keon masturbator; the revised Fleshlight Quickshot Launch is a more basic platform that doesn't quite measure up.
Whether you prefer FeelStars or Fleshlight, your toy is probably going to be casually referred to as a Fleshlight by those in the know.
That kind of base-level name recognition is something you can't just stumble over and is going to last for a very long time. You really can't go wrong with a toy by Fleshlight.
Ranking The Fleshlights
Bearing in mind this is just one person's opinion, but the top toys in this line are the Fleshlight Boost, with its engineered channels; the classic Stamina Training Unit, the second toy that Fleshlight ever released, and the infinitely cool Quickshot Vantage with its transparent casing and peek-a-boo delights.
The bottom toys on the line, unfortunately, are the basic-black Flight Pilot, which is a little too constrictive, and the plain-vanilla Pink Lady, which although the original is just a little too basic and smooth to keep attention forever.