The Fleshlight Quickshot is the latest in a line of efforts by the guys and gals over at Fleshlight to miniaturize their toys for the discreet masturbaters of the world.
Being the world's best-selling sex toy for men, the word Fleshlight is practically a household name and the design of the Fleshlight classic has become somewhat… recognizable.
There's also the problem of portability, as the Fleshlight Classic's larger frame makes it difficult to transport or travel with. Products like the Fleshlight Flight, the Sex in a Can, and the Quickshot are supposed to help us solve those problems through compact size and a more discreet design. I decided to try out the smallest (and cheapest) model, the Quickshot, to see how it stacks up in use.
Check the Price of the Fleshlight Quickshot Vantage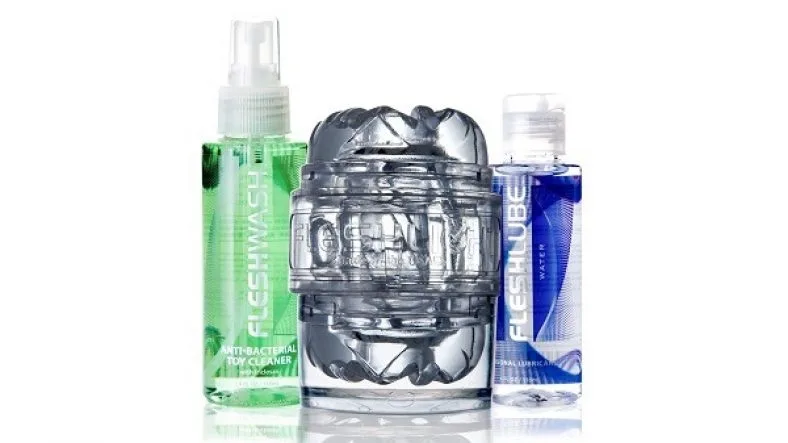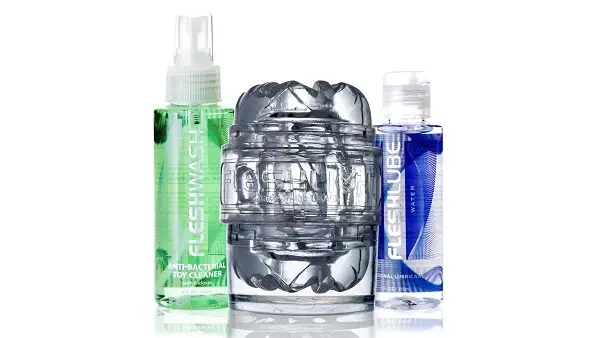 Fleshlight Delivery
When it comes to quickshots, you've got two choices: Quickshot Boost or Quickshot Vantage. I decided to go with the Quickshot Vantage since I wanted to test out one of the clear models. I've seen a lot of people posting online about hesitance to order from Fleshlight because they're afraid the delivery packaging will be obvious. To help put some minds to rest, I'll pop a picture up (personal information and tracking codes obscured of course).
As you can see the only listed sender is ILF inc., so no worries about having your neighbors see a box with "FLESHLIGHT: THE #1 SELLING MALE SEX TOY IN THE WORLD" laying about.
So I finally had my toy safe and sound, with the neighbors blissfully aware of my sexploits. Next step was to take a look at the features in my new toy.
Good things come in small packages
The Quickshot comes packaged like it belongs on the shelf at a sports shop, and it's very subtle, I think at a glance you could barely tell that it's a product to stick your dick in. It comes in two styles, the Boost or the Vantage.
The shape is the same for both but one is opaque black, the other clear. I opted for the vantage (clear), it looks very clean and minimal and there's something oddly satisfying about seeing your dick clearly through the plastic.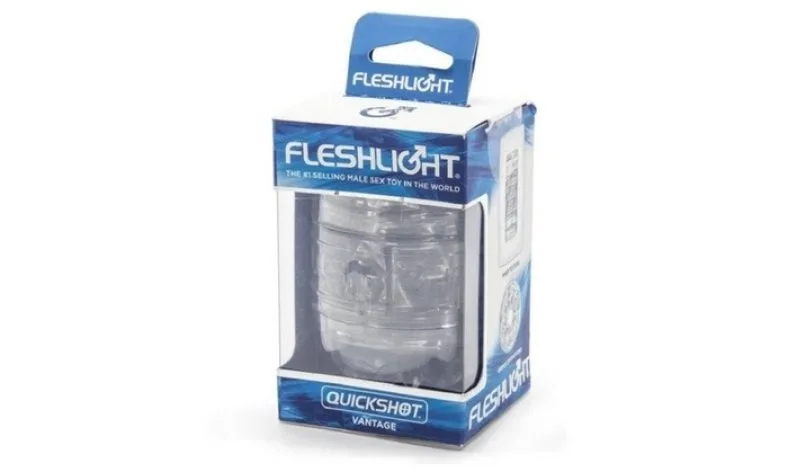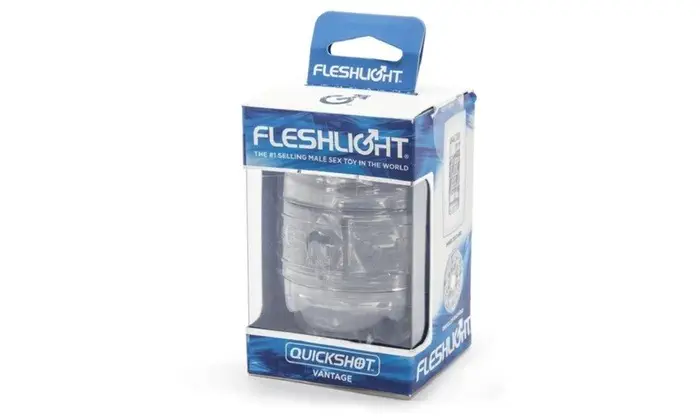 Slightly larger than a coke can
My other Fleshlight, the Flight, is large enough to completely insert myself, the Quickshot, however, is only 3.5 inches in length (without the lids on) and as you thrust downwards, your member will protrude from the end.
This is very useful for getting head, as well as some manual play on the tip, making the Quickshot very versatile. There isn't any real difference in the dual-end design, but the symmetry is a nice touch.
Quickshot Vantage – First Impressions
Out of the box, I do have to say I quite liked the design of the Vantage. The shape of the case reminded me more of a barrel of monkeys than a sex toy, and it was extremely compact.
It comes with a sample pouch of water-based lube to get you started, and a little booklet with instructions for cleaning and maintaining your toy (SparkNotes: don't use soap, let it air dry, powder it with cornstarch or Renewing Powder every so often).
The size might not be enough if you're super long, but the vantage has 3.5″ of insertable length and you're meant to have the top of your dick poking out anyway.
I definitely noticed that the vantage had a chemically smell as mentioned by other reviewers, and it was a bit sticky to the touch. However, the smell went away after a wash and the slight tackiness of it didn't bother me as the toy's overall texture was extremely pleasing to the touch. It's very soft, almost bouncy, and I just knew it was gonna feel awesome once I put it to use.
It's actually a slight spiral
In terms of feel, the material is the patented Superskin material, which is as much as I know about what the material is other than it being phthalate free. But how does it measure up?
I'll be honest, the name Quickshot is a little ironic, as I have never lasted as long with any other toy. Possibly due to the dual-orifice, I found I had significantly less stimulation than a standard Fleshlight.
Make sure as always that you use water-based lube with this if you use the Fleshlube that Fleshlight release then that's even better, as it will enhance the feeling. In terms of cleaning, it's as simple as wiping it through with a cleaning wipe, the inner material is removable so you can fully clean the outer and inner separately if you so choose.
Now, this isn't necessarily a bad thing, if I want to chill out and self-actualize for 30 minutes plus then this is the toy I'd choose. It still feels good, it's just not very intense.
I wore a cockring a few times whilst using this and even after coming I could still stroke at regular speed despite the enhanced sensitivity without any real overwhelming feeling. In fact, I simply continued for 15 minutes afterward using the Quickshot, which was an unexpected yet enjoyable use, so kudos to you, Fleshlight.
The real selling point of the Quickshot is not the intensity (for there is none) but in the compact size. This is a very discreet stroker and performs its job admirably. I would happily travel with this device (and subsequently get arrested at customs) as it is small enough to fit in most bags without taking up too much space.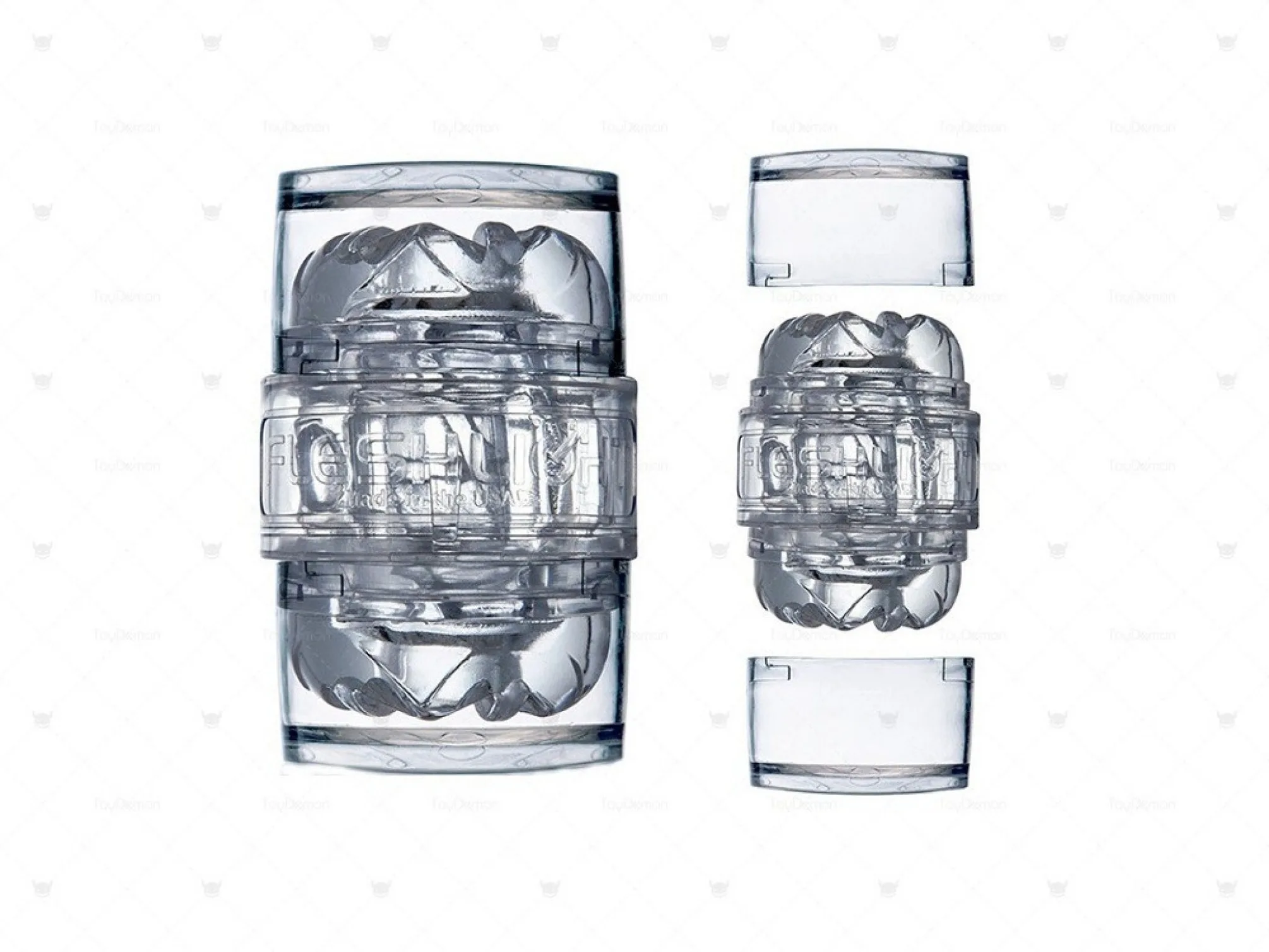 In Use
I'm sorry to say that in use, what initially looked like an awesome and discreet toy had a serious downside. The NOISE, oh my god the noise. Turns out that the suction effect that makes Fleshlights feel amazing does not mix well with a toy that is not capped on one end. The sound of the suction as your dick is popping in and out of the exit hole is loud enough that if you're sharing a house with anyone, you're going to want to wait until they're gone. The sound of it is hard to describe, but quite a turnoff.
Seeing as this toy is supposed to be small and discreet, the fact that it would announce to my housemates that I'm spanking the monkey was a turn off. I mean, even the noise of it itself was a turnoff. Instead of letting me get in the moment I was constantly worrying about volume controlling my masturbation megaphone.
Now, if you're living on your own or with a partner this won't be a problem for you. This is more a problem for those who have roommates or are house sharing, like me. It's a damn shame too because in every other way this toy worked perfectly.
The texture and material felt amazing on my dick, and the case provided a good grip to maneuver it with. Plus, it's the easiest to clean of all Fleshlights (although you will be cleaning yourself more since you'll be cumming out the back end of this toy).
What I did like about the toy is that when you cum, your dick head will probably be sticking out the back end. Normally when I use Fleshlights, I get super-sensitive and tend to seize up at the moment of truth, and the sensation can sometimes be a little too much. With the Vantage, I found that when I came I was able to keep stroking the shaft for extra pleasure without hitting the hyper-sensitized head. If you're on the more sensitive side of the spectrum, this may be a better option for you.
In terms of other upsides, I think the Quickshot Vantage would also be excellent to use with a partner as a blowjob or handjob enhancer. It's short enough that in most guys at least part of your dick is going to be sticking out of the top end when you're fully inserted (only 3.5″ of insertable length) so you totally have it available as a fun option in the bedroom.
Quickshot Vantage – Verdict
Whilst it is not my favourite toy in terms of orgasm, I do like how easy it is to use, so I will be using it in future when I'm too lazy to use a bigger toy as it is very simple to clean (and possible to come without causing a mess) so it's quite effective as a late night impromptu wanking device.
Overall I like the Quickshot, it's compact, easy to store and gets the job done (albeit with less feeling than other Fleshlights). More importantly, it is quite affordable, which is an absolute bargain considering the build quality. The dual casing lids slide on and off smoothly and I feel it is a very well built product, and so I would definitely recommend it if you're looking for a smaller, cheaper orgasm.
I wanted to love the Quickshot Vantage, I really did, but unfortunately, the noise issue made it unsuitable for me personally. I'm going to give it a 7/10 because it is a quality toy and it did work as promised, but I'm bummed out because I'm unable to use it discreetly.
I have no problems with toys that make a bit of noise, but this one is just too loud, sustained, and obvious in what it sounds like. If you're in a living situation where noise is not an issue then I can recommend this toy based on how well it worked, but otherwise, I would suggest picking a different type of Fleshlight.
Check the Price of the Fleshlight Quickshot Vantage