Before the Autoblow AI, VIECI the company that created it, launched an Indiegogo campaign that crowdfunded the infamous Autoblow 2.
It became the most successful crowdfunded male sex toy product of all time, selling over two hundred thousand pieces.
A few years later, the Autoblow AI was invented.
The Autoblow AI literally changes the way male sex toys are made, by introducing a new AI feature that allows the toy to be innovative and come up with new ways to give you pleasure every time you use it.
Update
To be frank, Autoblow AI feels quite low tech in comparison with the newest releases from SexTech pioneers, Lovense and Kiiroo.
Read out detailed comparison articles here:
➡️ Click here to check the price of the best alternative to Autoblow AI: the Lovense Max 2!
What Is It?
The Autoblow AI is a male masturbatory toy that is controlled by an AI system.
The AI program in the Autoblow AI allows it to replicate and simulate over 10 different blowjob experience with 16 blowjob techniques.
It also gives you total control over how you want to feel, so you can also control the speed and intensity of every stroke. It really is the ultimate modern way of having a little, or a lot, of solo fun.
What Makes It Special?
It has a unique new and very powerful motor that makes it one of the most intense male masturbators in the market today. The sensations you get from it are strong and powerful.
Plus, it gives you total control over how hard or soft you want your action.
The sleeve and gripper design are unique, making it feel realistic and very human-like. When you place your penis inside it, the gripper closes up around it, then starts moving up and down, creating an amazing feeling due to the resultant friction.
The soft sleeve feels sensual and perfect around your penis, almost like a real mouth and tongue. The gripper and sleeve combination works with all penis sizes, allowing all men of all sizes to enjoy every stroke.
The AI that controls the motions of the Autoblow AI is the best feature about it. The Autoblow AI comes with an onboard minicomputer and four sensors. These allow the AI program to move the gripper to any of over 250 points.
The AI was created after studying over 6000 minutes of porn and determining as many different blowjob styles as possible. The AI model recognizes over 16 blowjob techniques and replicates these motions in the Autoblow AI.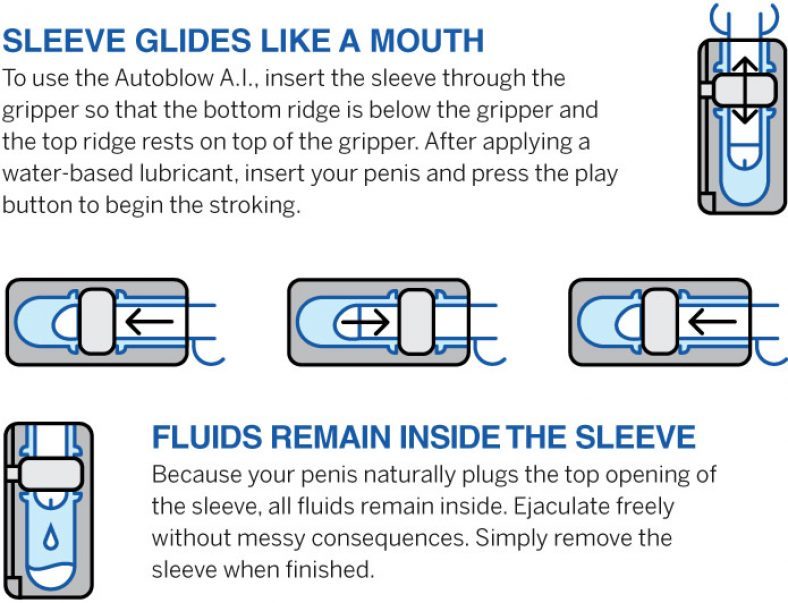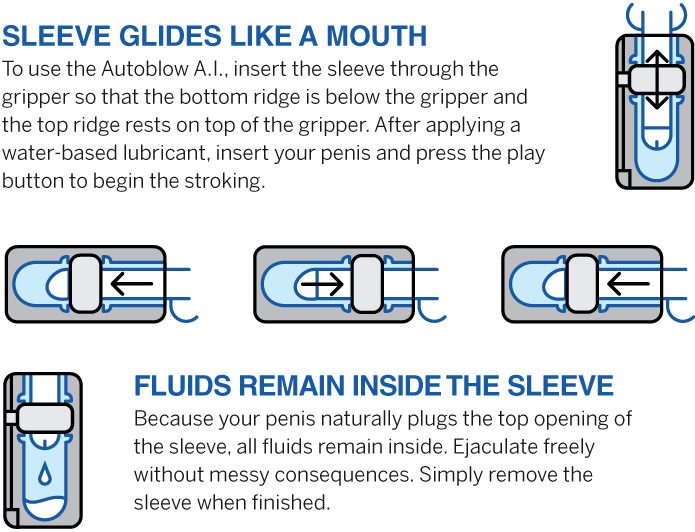 The Autoblow AI comes preprogrammed with 10 different blowjob experiences. You can control the speeds and intensities of these experiences using the buttons on the Autoblow AI. If you want to experience something completely different, one of the 10 modes is called the Enhanced Experience Mode.
It allows you to get a special enhanced AI blowjob experience, which is different every time because the machine keeps changing its technique periodically until you finish or turn it off.
It also has an edging feature. The edging feature lets you pause the Autoblow AI mid-stroke by hitting the climax control button.
However, the Autoblow AI does not just stop.
It also remembers what it was doing, so that when you are ready to continue, you simply need to press the climax control button again and it will continue making the exact same motions you hit pause at, at the exact same speeds.
The story of how the blowjob AI was created is an interesting one.
In essence, it determines how much of a penis is inside a blowjob giver's mouth at any particular time.
This was determined by watching over 6000 minutes of oral sex porn (8333 minutes to be exact) at 50% speed. The researchers then manually moved a head indicator along a penis indicator to mimic the actions on screen.
After quality control, machine learning algorithms were employed to discover the 16 most used mouth locations on a penis during a blowjob.
Safe to say that after the research was complete, most of the team had become completely desensitized to porn videos, especially oral sex videos. Plus, most of the companies that were instrumental in the research did not want to attach their name to the project for fear of what some of their clientele might think.
You see, most of these machine learning and AI research firms work with FinTech companies and government organizations. The fallout and stigma that might come from working with a male sex toy company could ruin them.
It is over 50% quieter than its predecessor, while also being 3 times more powerful. It also has a set of LED indicators that tell you which mode you are on, and what speed you are using. The Autoblow AI comes with 10-speed modes preprogrammed, all customizable to ensure the highest levels of your personal enjoyment.
What's In The Box?
The Autoblow AI is currently being crowdfunded on Indiegogo. It went live in October 2017, and since then it has far surpassed its initial target of $50,000. Already, 20 beta test working units have been built. It is set to ship by May 2019. The Indiegogo version comes with a mouth sleeve.
However, you can purchase a separate vagina or anal sleeve. VIECI, the firm that makes the Autoblow AI, has also partnered with RealDoll, a sex doll manufacturer based in California, to create an optional extra realistic mouth sleeve.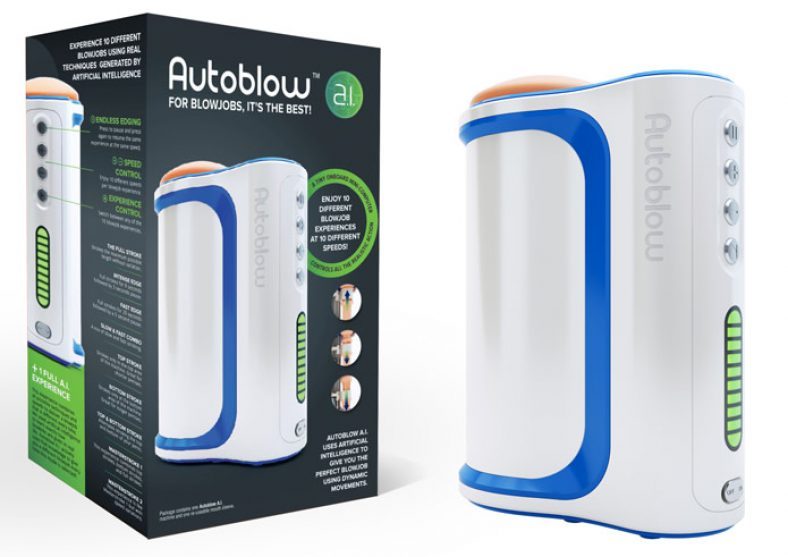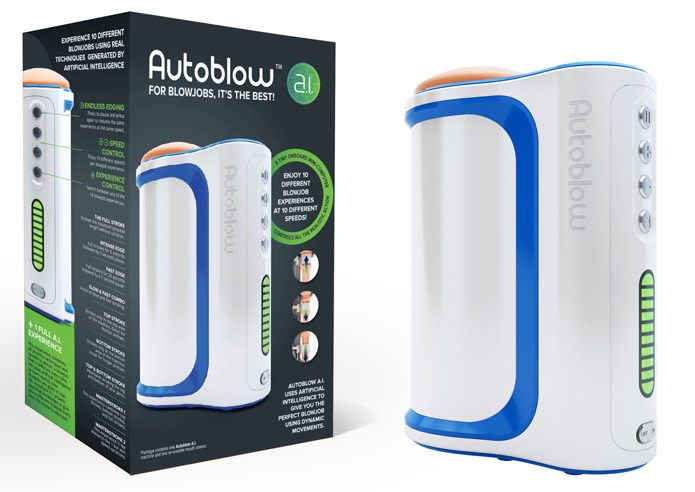 How Does It Work?
The Autoblow AI combines the power of a microcontroller, infrared beam sensors, and magnetic beam sensors to allow the gripper to move across over 250 different points. It has a 5-inch long stroke plane, which is the average distance a normal blowjob goes through.
There are four factors that bring men pleasure during oral sex: friction, grip, velocity, and lubrication. The Autoblow AI carefully balances all these factors.
All you have to do is insert your lubricated penis into the opening, then the artificial skin sleeve with the gripper will work together to leave you feeling amazing. All you have to do is control the cycles by pressing the buttons to increase or reduce the speeds.
With several different stroking motions to get you there, everyone, no matter their penis sizes, will be able to be satisfied. The gripper makes the sleeve glide like an actual mouth, stroking your penis and giving you ultimate pleasure.
The Autoblow AI is actually the first sex toy in the world to use AI technology to enhance blowjob realism.
The team that built the AI studies over 6000 minutes of porn, then utilized machine learning techniques to analyze the huge dataset of oral sex videos. This led to the compilation of data on actual blowjob techniques. With this information, they developed the 10 blowjob experiences, which include:
The Full Stroke: The entire length of the penis is stroked with each motion, without any variation. You just experience pleasure through the entire shaft of your penis, over and over.
Intense Edge: This experience is perfect for controlling when you ejaculate. It offers a combination of full strokes and pauses, where you have full strokes for around 8 seconds, followed by a 3-second pause.
Fast Edge: This is a variation of the intense edge experience. With the fast edge, you get 20 seconds of full strokes followed by a 5-second pause.
Slow and Fast Combo: This experience mixes things up a bit, by throwing in a combination of slow and fast strokes. You get to control the intensities and speeds of both these strokes using the buttons on the Autoblow AI.
Top Stroke: This experience strokes just the top part of the machine, so if you have a shorter penis, this is the experience for you.
Botton Stroke: This experience focuses on the lower part of the machine. It strokes the bottom area with varying levels of intensity, all determined by you. This experience is great for people who have longer penises.
Top and Bottom Stroke: This experience alternates the strokes from the top to the bottom and back again.
Masterstroke One: This experience is an amalgamation of various experiences. You get to combine the top stroke, the bottom stroke, and the full strokes.
Masterstroke Two: This experience is a variation of the Masterstroke One. In addition to the top stroke, bottom stroke, and the full stroke combo, you also get various speed variations within the strokes to make things even more interesting.
Full AI Experience: When you are in AI mode, the Autoblow AI will combine every technique that it has learned, along with different speeds, guaranteeing a different blowjob experience every time. If you like blowjob surprises, this is how to get them. Just select experience 10 and let it go to town on your penis.
Always use the Autoblow AI with some water-based lubricant. Do not use a silicone-based or oil-based lubricant, because these can easily damage the sleeve.
When you are done, it is very easy to clean up. All you have to do is pull out the sleeve, then pour out its contents. You will then have to turn it inside out and wash it carefully with warm water and soap, then let it dry completely.
It is good practice to let it sit and dry for at least two hours before you can reinsert it into the machine.
However, if you are not that patient, you can use a hand dryer to dry the sleeve.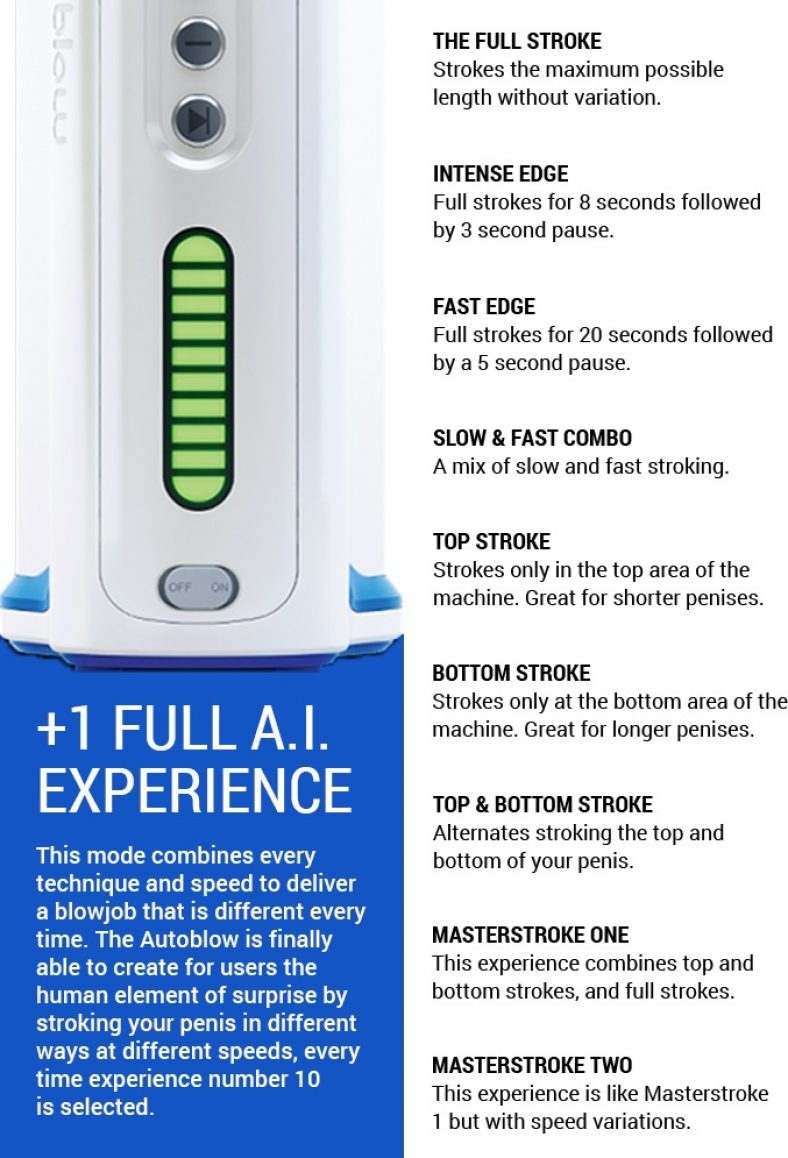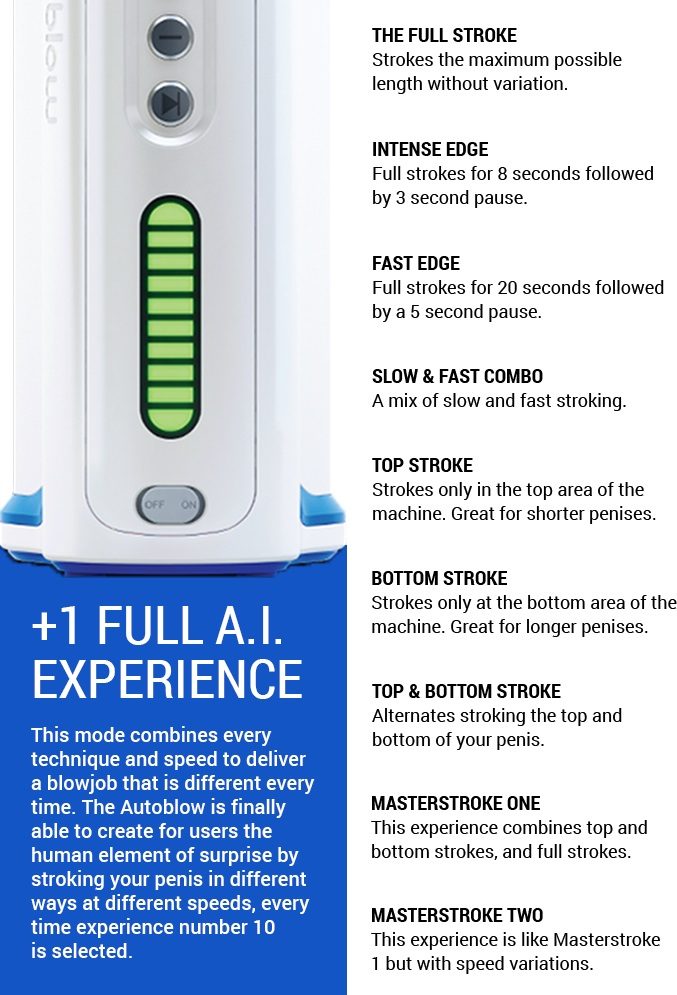 How Does It Feel?
The Autoblow AI is one of the most realistic feeling male masturbatory toys out there. The sleeves feel almost flesh-like, and if you use a sufficient amount of lube before putting your penis inside it, you can almost picture a wet mouth.
The different motions that are also available with the Autoblow AI keep things interesting. It is almost like being blown by 10 different mouths, all with different techniques.
The AI experience is the ultimate experience you will ever get from a toy like this. Always changing things up, always surprising you with a new sensation you have never felt before, you will never want to buy another sex toy once you have this. Your mind will be blown by how good this feels. No pun intended.
When you climax, you get to do it on your own terms. You can delay it to see how long you can last, and make it even more intense, or you can choose to go straight to the point and get your release.
Either way, you are guaranteed to climax several times when you use the Autoblow AI. Try to have a little fun by climaxing on all the different modes, then a few times using the AI mode, which will be different each time it blows you.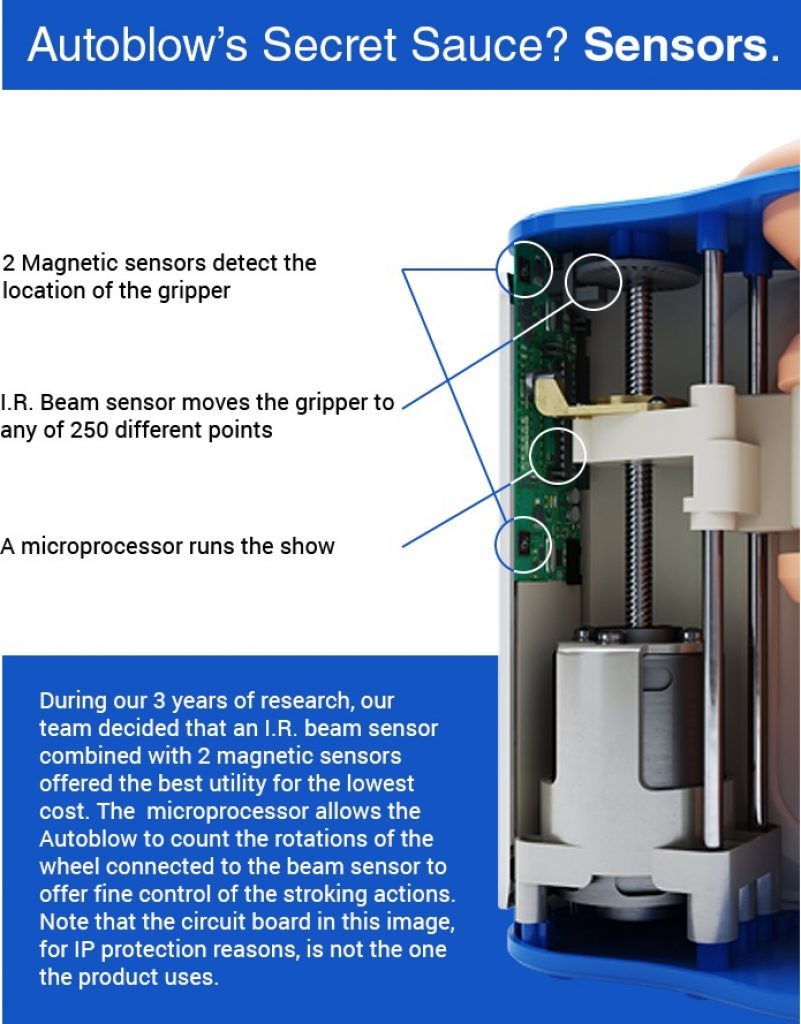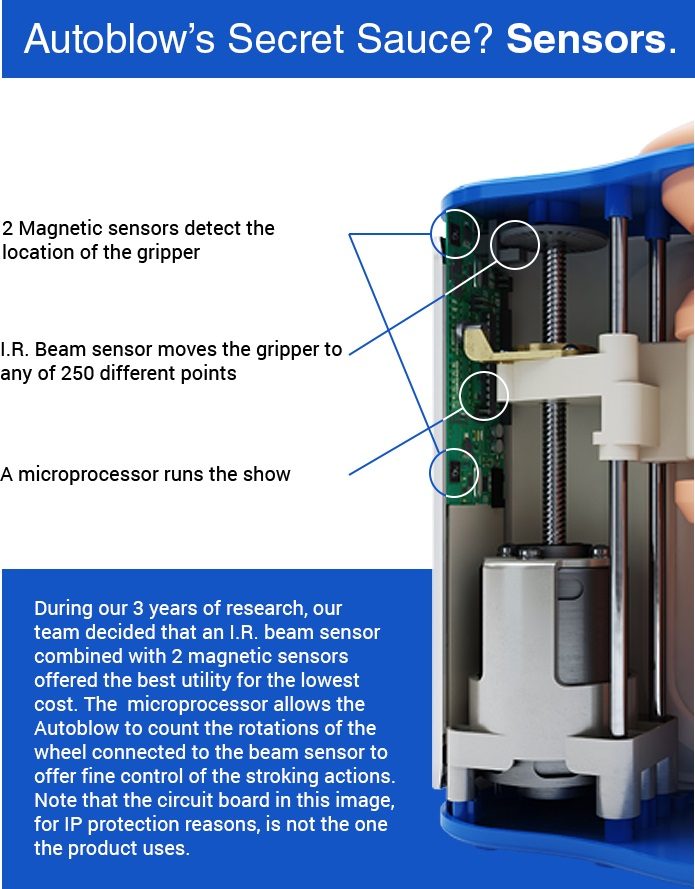 Pros
It is one of the most innovative male sex toys in existence. The AI feature exists in only this toy and no other.
It feels amazing. The research and development team spared no expense in making sure the Autoblow AI feels as realistic as possible. They even gave a little extra by making sure it feels like you are dealing with a very experienced mouth.
It plugs in into any wall outlet, so there is no need to think about expensive batteries and charging
Cons
The fact that it does not use a battery and needs to be plugged in for each use makes it have very limited usability.
If you have a thick penis, the Autoblow AI will not work for you at lower speeds. It will just simply stop, and you will need to manually increase the speed for it to work again.
It does not have a handle or a table mount.
Who It Is For and Why?
This is the ultimate sex toy for the modern man. If you love being in control and enjoy spending some time alone, this is the toy for you.
The wide range of power and capabilities of the Autoblow AI is out of this world. With this toy, all you have to do is sit back and enjoy the sensations, flipping through the modes till you get that ultimate climax.
It is also great for couples who love keeping things interesting. Whether you are in a male-male relationship or a male-female relationship, you and your partner can enjoy giving each other hours of pleasure with the Autoblow AI.
It really is the best and the coolest way to keep things steamy and interesting in the bedroom.
Verdict
The Autoblow AI is a great sex toy for men that is well ahead of its time. Being one of the first completely fully AI controlled toys in the market today, it completely floors the competition because there is almost nothing like it out there.
If you want to have the ultimate high tech fun, this is how to do it.
➡️ Click here to check the price of the best alternative to Autoblow AI: the Lovense Max 2!