With the recent advancements in the adult toy market, it is pretty easy to get overwhelmed with all the options available. This is especially true when it comes to men.
That said, it is really refreshing to see that men's needs are once again being brought to the forefront as more and more male masturbators are being produced.
There are more male masturbators in the market today than ever before. Most of them come packed with lots of features to ensure that they deliver earth-shattering orgasms on demand.
This is all well and good, but how can you tell which toy to go for? What is the best option out there?
Well, this article will help you start to figure that out. It will focus on automatic masturbators and review two of the best ones in the market today: the Autoblow AI and the Kiiroo Onyx +. It shall highlight all the features these two come with and explain how they work to help you decide for yourself what to go for.
Let's begin.
Autoblow AI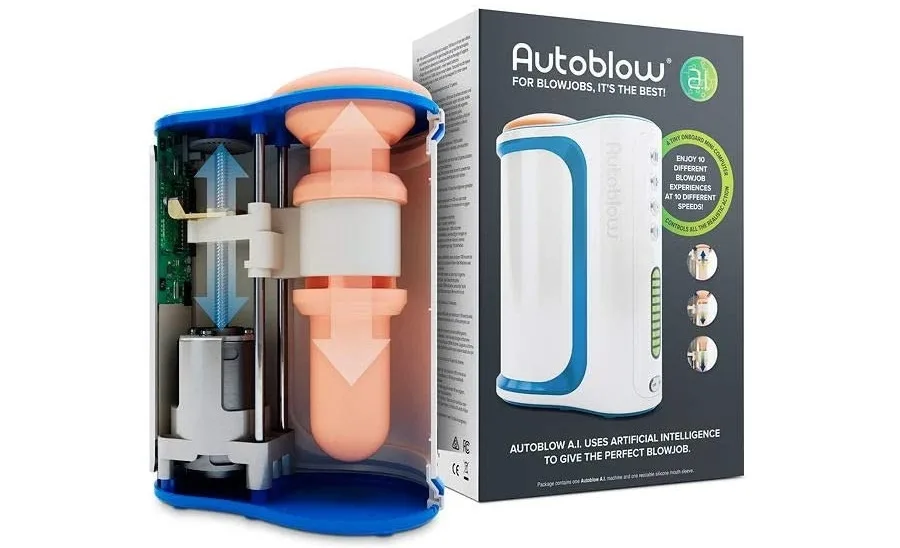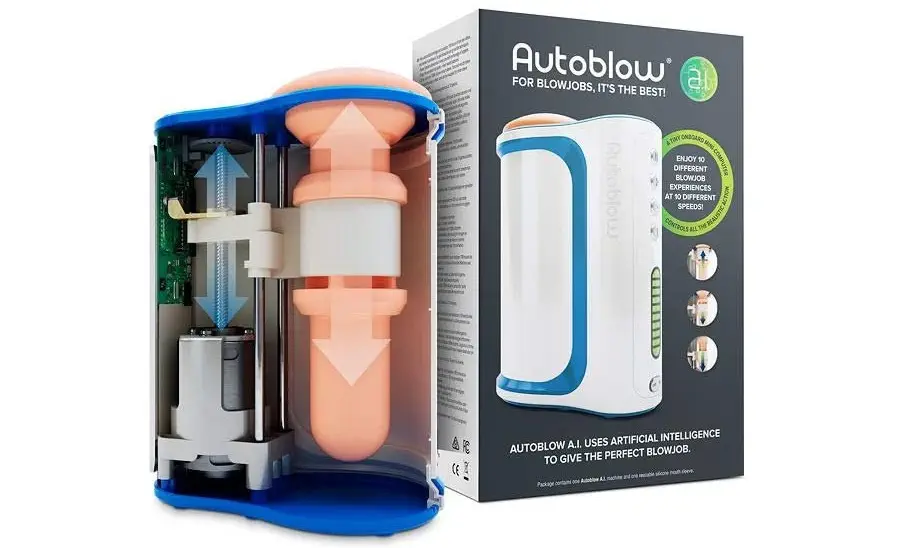 Autoblow AI is marketed as the ultimate sex toy for men that was created by scientists using artificial intelligence. According to the official website, it was made to change the way male sex toys are made.
In a lot of ways, it has achieved those goals because Autoblow AI comes packed with a host of features that will completely blow your mind, literally and figuratively.
As the name suggests, it has an AI feature that learns what you like and innovates new ways to please you. In fact, this toy can feel different every time you use it.
The AI feature was a result of countless hours spent studying various real-life blowjob techniques with the aim of replicating them. And the results speak for themselves.
To enjoy this toy, all you have to do is apply some water-based lube on the sleeve, insert your penis into it, then press the play button and let it go to town on you.
Just be sure that the sleeve is inserted correctly through the gripper with the bottom ridge being below the gripper and the top ridge resting on top of the gripper.
Key features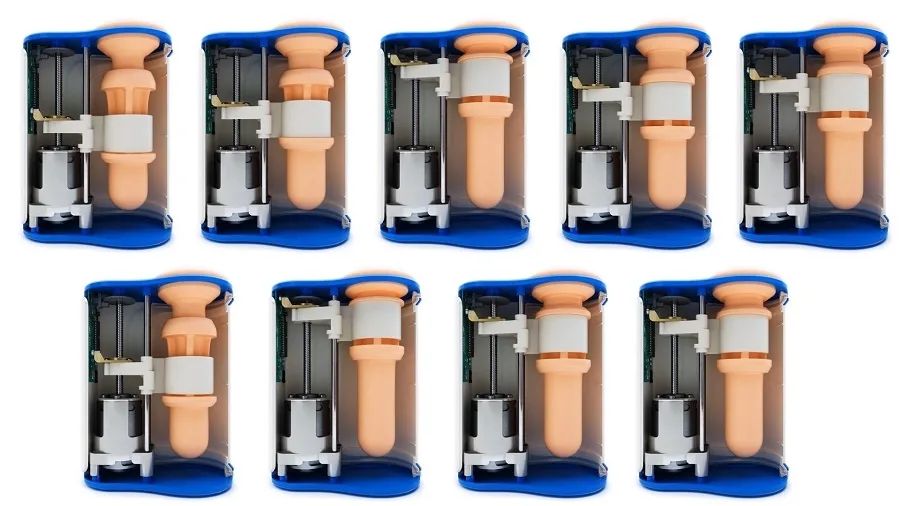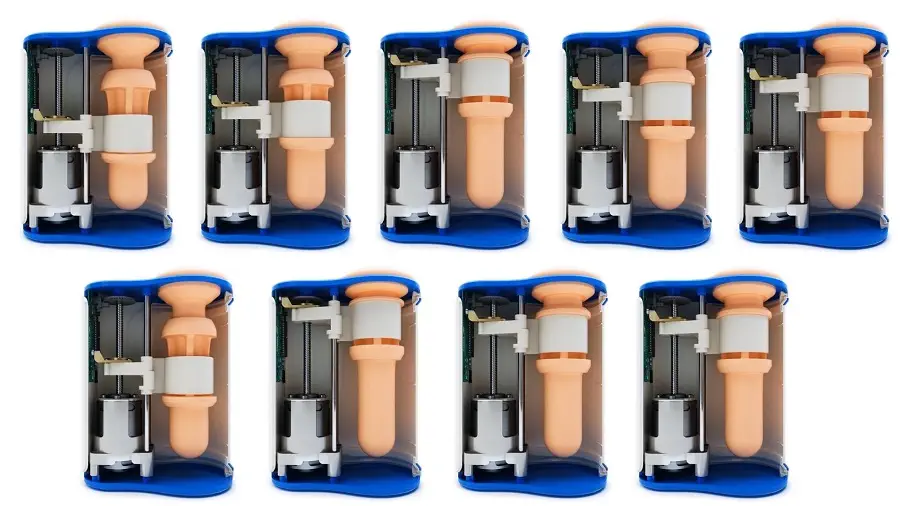 Hands-free robotic blowjob toy
It comes with a sleeve and gripper that have been designed to maximize your pleasure by imitating oral sex. The gripper was created to make the sleeve glide you like an actual mouth as it strokes your penis. All you have to do is place your penis inside it and let it do its job.
Enhanced experience
With the Autoblow AI, you will get a different experience every time you use it. It has been designed to keep changing its techniques every few minutes until you finish or turn it off. The best part is that you can also customize these techniques, ensuring that you will always get the best sensation every time.
Edging feature
It also has an edging feature, which remembers exactly where you stop as you use it. When you press the pause button, it will have a memory of the exact motions it was making, so that when you are ready to go again it will continue making the exact same motions at the same speed.
Does not need batteries
You don't have to wait until it is charged to use it. It is safe to use and all you will need is a power source to get going.
Uses interchangeable sleeves
All the sleeves the Autoblow AI uses are 100% silicone, which makes them easy to clean and reusable while also supporting all penis sizes. It is as close as it gets to the real thing.
My experience with the product
When the toy arrived at my doorstep, I was really eager to get right to it. I had been waiting for the delivery for a few days, after all.
It was really easy to get started with it. All I had to do was plug it to a power source, turn it on, and start having fun.
Quick pro tip here; remember to use a lot of lube before inserting your penis in the sleeve because otherwise, it can get pretty uncomfortable.
The sleeve feels almost flesh-like, and it is really easy to let your imagination do the work for you as you picture a wet experienced mouth pleasuring you. The different motions also kept things interesting; it felt like being blown by different mouths all with different techniques, which only adds to the ecstasy.
I was also pleasantly surprised to notice that I got completely new sensations the next time I used it. The edging feature is also really great for prolonging things and trying to make yourself last longer if that is what you are into.
Personally, I enjoy getting there as fast as I can without too much hassle, and the Autoblow AI definitely did not disappoint.
Kiiroo Onyx +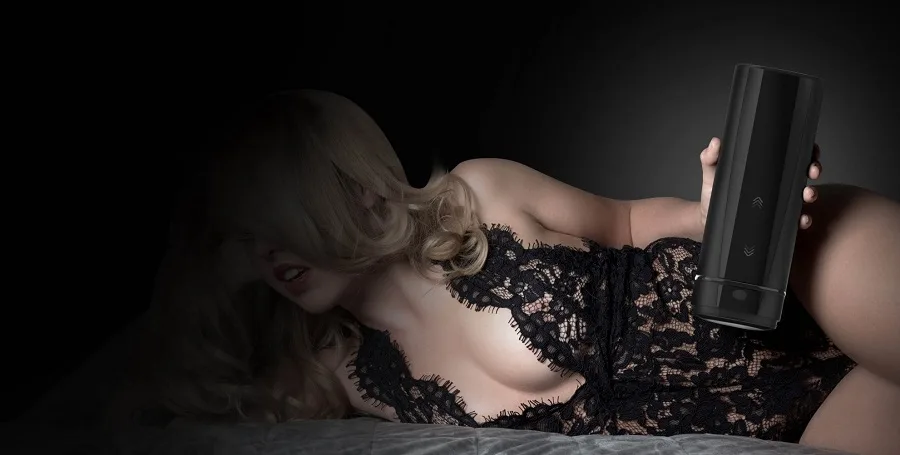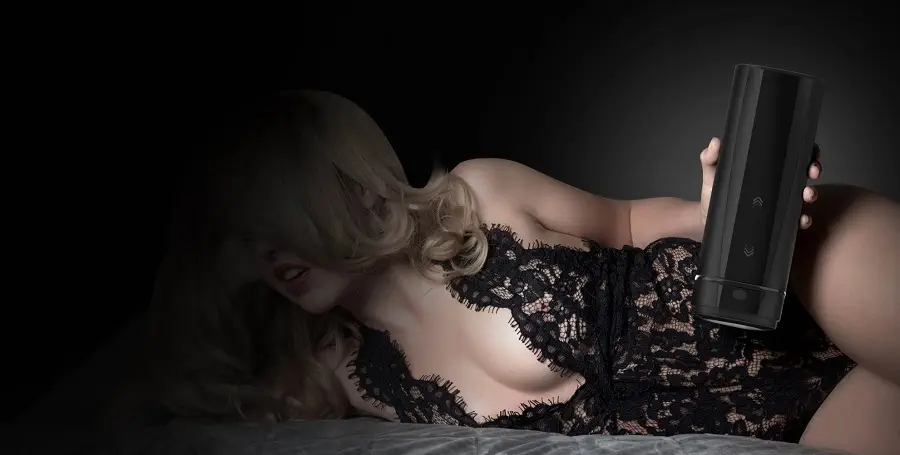 Kiiroo Onyx+ is a unique male masturbator that is designed to take your play sessions to a whole other level. With VR compatibility, distance-play support, and the ability to offer you hands-free stimulation, it is easy to see why this toy has won so many awards.
Quiet, unique, and discreet, the Kiiroo Onyx+ will make you feel amazing with its unique set of features that are all tailored to helping you achieve the ultimate heights of self-pleasure.
Key features
Connectivity
The Onyx+ comes with Bluetooth support, VR connectivity, and distance-play support through the FeelMe app.
This means you can enjoy using it while watching some interactive VR videos, which will have you feeling exactly what the models in the videos are experiencing, or even pair it up with a partner from across the world and let them join in the fun by controlling your Onyx+ for you.


Touch-sensitive trackpad for the speed
The Kiiroo Onyx+ comes with touch control that is used to change the settings. Since different men prefer different speeds, this is a particularly handy feature, and you do not have to deal with buttons to achieve the stroke speed you desire.
Quiet and discreet
The Onyx+ is arguably the quietest, most discreet and durable masturbator in the market. You have to strain to hear it vibrate, which is exactly the kind of thing you are looking for in a male masturbator.
I should note, however, that the vibrations do get louder with speed increment, but the sound will not be high enough to be heard.
My experience with the product
The first time I used the Onyx+, it was in auto mode. That's where you let the toy surprise you while you just lie back and let it do its thing. Although I did enjoy the sensation, I quickly found out that I prefer a bit of hands-on action.
The Onyx+ supports this too. All you have to do is switch to manual mode and play around with the settings.
It is really easy to adjust the speed and intensity in manual mode thanks to the touch controls. However, I was a little disappointed that it didn't have any thrusting motion.
All you get is expansion and contraction around your penis, which still feels pretty great, but if you want the in-out motion, you have to do that yourself.
The Onyx+ has ten rings inside it that expand and contract when it is in use, creating some amazing sensations around your penis. I think they also vibrate, or at least it feels like they do. It is unlike anything I had ever felt before, and I absolutely loved every second of it.
What amazed me most, though, was how quiet the toy was. It was almost too quiet. To be honest, it felt a little awkward for me sometimes since I'm used to these toys making motor noise.
All in all, though, I love my Onyx+ and I'd recommend it to anyone.
>> Click here to check the price of the Kiiroo Onyx +
How they Work
The Autoblow AI combines the power of a microcontroller, infrared beam sensors and magnetic beam sensors that will allow the gripper to move across several different points as it pleasures you.
The device balances all the factors that make you experience maximum pleasure during oral sex, including friction, grip, velocity, and lubrication. This makes it a truly one-of-a-kind toy in this space.
The Onyx+, on the other hand, stands out by having 10 rings that control all the vibrations. They feel amazing and different at the same time, which is really cool.
The discreetness and quietness are also pretty great. Plus, you can also use it with interactive VR videos and take your experience to a whole other level.
Pros of the Autoblow AI over Kiiroo Onyx+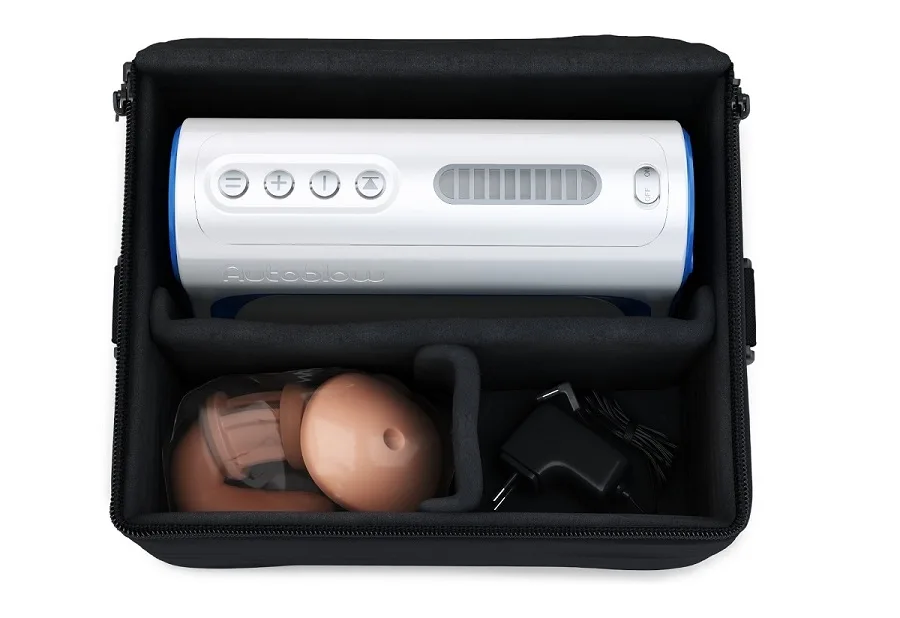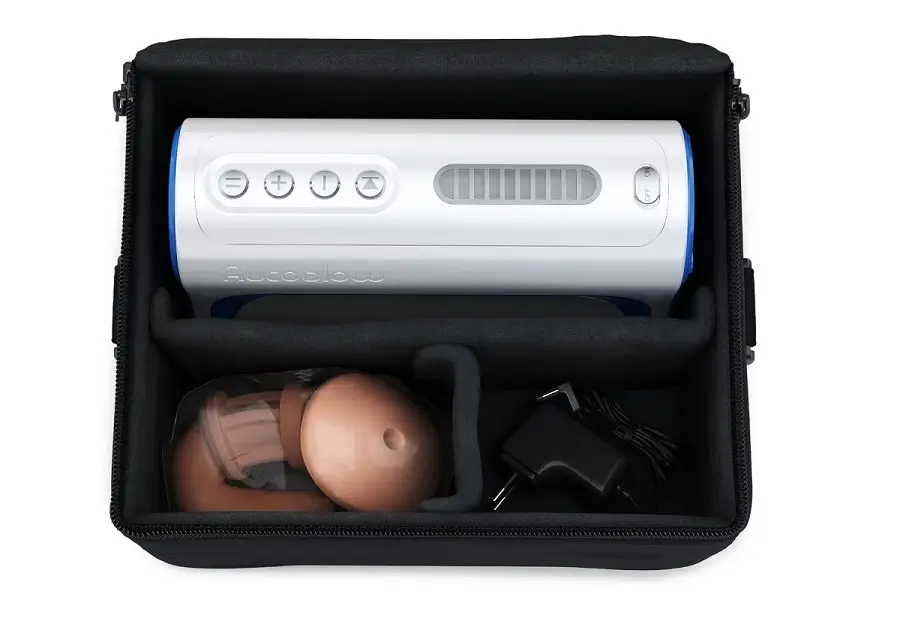 Autoblow AI sleeves come in three different sizes giving you an option to choose what will fit your penis. Kiiroo Onyx+ may not accommodate all penis sizes.
Autoblow AI is designed to feel like real oral sex by default. You do not have to make any adjustments. The Kiiroo Onyx+, on the other hand, needs to be tweaked a bit for maximum enjoyment.
Autoblow AI will save you the cost of charging and buying expensive batteries because all you need is a power source for it to work. The Kiiroo Onyx+ has a rechargeable battery that you'll have to make sure is charged before you can use it.
The sixty-minute battery life in Kiiroo Onyx+ is a little short. The Autoblow AI that just requires a power source and you can enjoy it as much as you want.
Pros of the Kiiroo Onyx+ over Autoblow AI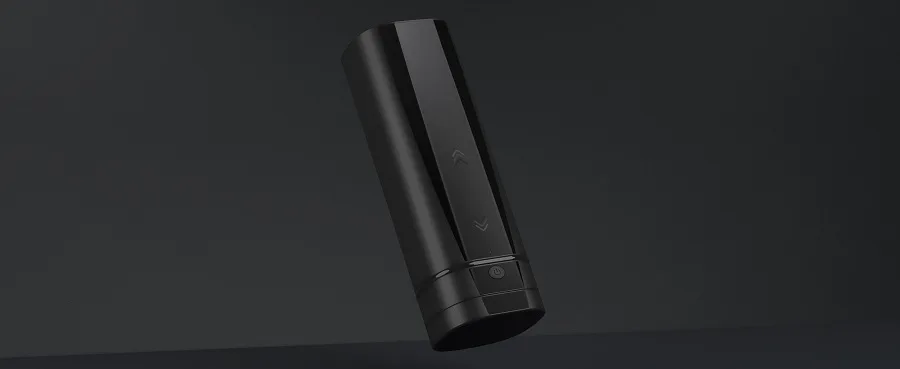 To use the Autoblow AI, you have to connect it to a power source. It does not have batteries. The Kiiroo Onyx+, on the other hand, has rechargeable batteries so you don't have to be near a power source every time you use it.
The Kiiroo Onyx+ is more portable than the Autoblow AI. All you have to do is charge it and you can take it with you and use it in any place you like. Its portability makes it easy to travel with.
At lower speeds, the Autoblow AI will not work at all if you have a thicker penis. It may start but it will eventually just stop until you increase the speed. The Kiiroo Onyx, on the other hand, will work with absolutely no issues no matter what size you are.
Final Thoughts
Both these toys are really innovative and unique. However, if you are looking for a robust toy that will never let you down no matter what, then the Kiiroo Onyx+ is the way to go.
With its whisper-quiet performance, its dependability, and the fact that it is highly portable, it is easy to see why this is clearly the better product between the two.
While the Autoblow AI does have its own strengths, the only thing that it really has going for it is its use of AI technology to stimulate the penis. Other than that it is rather lacking on a lot of fronts, including portability, reliability, and overall performance.
For this reason, I highly recommend the Kiiroo Onyx+ for anyone looking to take things to another level.
>> Click here to check the price of the Kiiroo Onyx +