What is a Cock Ring and What is it (Really) For?
Every man desires to be a "sex machine" that can pleasure a woman, by giving her mind-blowing sex, characterized by multiple orgasms.
At times, however, due to health conditions, or busy life schedules, you as the man, might fail to achieve an erection or stay hard for long.
Such situations leave your lover feeling disappointed and dissatisfied, and you, inadequate.
Fortunately, there are reliable solutions that you can use to ensure that you never fail to rise to the occasion when it matters.
One such answer is the cock ring. But just what exactly is a cock ring and why are they causing so much fuss?
What is a cock ring?
From the name, you can tell that the device is a band worn around the penis. The ring restricts blood from flowing from an erect penis, to ensure a firm, healthy and long-lasting erection.
Typically, a person wears the ring at the base of the penis, but you can still wear it on different parts of the genitals such as behind the corona, and around the scrotum, depending on the purpose you wish to accomplish.
These rings go by different names such as C-rings, shaft rings, penis rings, tension rings, erection rings, balls rings or even testicle cuffs.
They also are in a wide variety of shapes, sizes and material construction suitable for distinct purposes such as genital adornment, enhancing sexual pleasure, as well as treating erectile dysfunction (ED).
Some of the standard materials used to make the Cockrings include elastic rubber, silicone, wood, glass, and metal.
What is a cock ring for?
At a glance, a cock ring can pass off as a mere simple sex toy. But do not let its mundane look dupe you. It has plenty to offer and is ideal for:
Making the penis hard
One of the strong reasons why people use cock rings is that they help to produce hard erections. When worn around the penis base, the ring restricts blood from flowing from the penis.
The trapped blood ends up accumulating within the member resulting in a rock solid erection.
Making the penis bigger
The saying "Size doesn't count," is a mantra that doesn't hold much water when it comes to penis size. I mean, who doesn't like a well-endowed cock?
A large penis makes it possible for you to reach deeper erogenous zones and give your lover maximum pleasure.
Since the cock ring traps blood, the blood accumulation makes your penis larger.
Increasing Stay power
The strength to last longer in bed is the secret to sexually satisfying your lover.
The increased pressure caused by the ring around the penis base helps to build up orgasms, which makes you last longer in bed.
As a result, both you and your lover can enjoy pleasuring each other into delightful orgasms.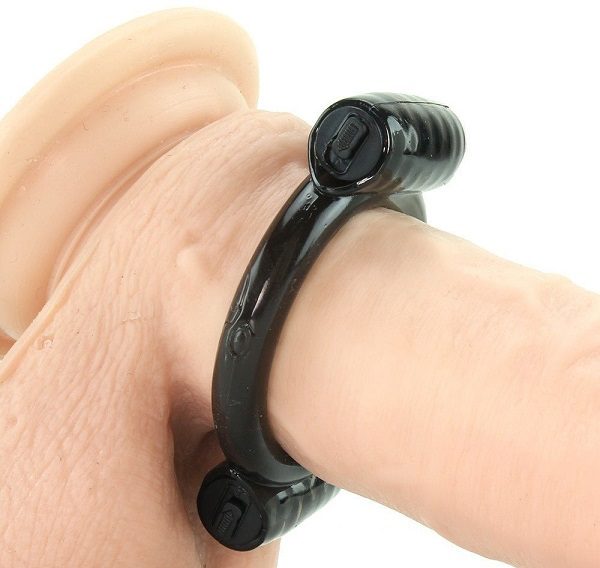 Increasing penis sensitivity
Having the ring around the penis makes your cock more sensitive.
As a result, the entire sexual encounter will feel more powerful, explosive and sensual than before. Your orgasms will also be more intense than usual.
Spicing up your sex life
Wearing the ring while having sex without a doubt adds some sense of excitement and adventure into your sex life.
The fact that you are adding something new to your sex routine is enough to change your intimate relationship for the best.
What are the different types of cock rings?
The Cock ring market is awash with hundreds of bands ranging from the stretchy rubber and silicone types to those made of metal, wood, and glass.
All these rings differ on material construction, flexibility, design, where it is worn, or the purpose for which you wear it.
Generally speaking, the following are some of the favorite cock rings available in the market.
Rubber cock rings
These are the rubber or elastic variety. Since these rings can stretch, so they are perfect for sizing and ideal for someone who is new to using cock rings.
If you decide to use the rubber rings, go for one whose circumference is slightly smaller than your penis size.
Silicone cock rings
These also, are the stretchy type. Unlike the elastic rings, however, the silicone kind are durable and body friendly, and they feel silky and comfortable against the skin.
What is more appealing about the silicone cock rings is that you can sterilize them to keep them body-safe.
Metal rings
As the name implies, the metal rings comprise stainless steel or metal rings. The ring effortlessly slides on and off the penis, while its metal body feels sensual against the skin.
Since metal is an excellent heat conductor, the ring quickly heats up to match your body temperature.
Wooden and Glass rings
Lastly, we have the cock rings made from wood and glass.
Just as with the metal models, these rings have a solid non-flexible build, and they offer a gratifying effect, guaranteed to take your sexual experience to the next level.
The wood, glass and metal rings, however, are meant for advanced cock ring users who know what using such toys entails.
If you choose to experiment with any of these rigid rings, make sure you get one that perfectly fits your penis size.
Otherwise, you might find yourself in a hospital emergency room.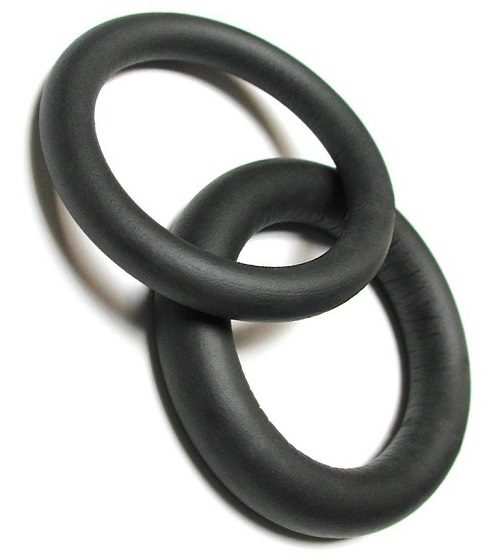 How to use it a cock ring
Even though using a cock ring might seem like a simple, straightforward thing to do, doing it in a wrong manner might result in unsatisfying results, or even put you in the ER.
For this reason, it is sensible to take the time to understand how to use it.
Find the right rim for your needs
The first step when using a cock ring is getting the right ring for you. If you are a beginner, you are better off using the stretchy elastic or silicone bands since they are soft, comfortable, flexible, and easy to roll.
Also, ensure that you pick one whose size is suitable for you. For best results get a stretchy band that is slightly smaller than your penis size.
But, if you prefer the rigid metallic, wooden or glass cock rings, ensure that it is of the right size.
Apply lube
When using a cock ring, it is wise to lube it up. Simply put a water-based lube on the ring's inside.
Doing so will make it both easy and comfortable for you to wear the cock ring and even take it off.
Wear it when you are not hard
The easiest way to put on a cock ring is when the penis is still flaccid or semi-erect. In such a state, the ring will have a sufficient sliding room.
Besides, trying to force the cock ring on when you are rock hard will only result in you hurting your member. To put it on, stretch the ring over your penis head and roll the rim to the penis base.
If you prefer intense sexual stimulation, you can pull the elastic band and loop it below your balls. Putting the ring under your balls, however, is not mandatory.
Evaluate how it feels
Once the ring is in position, take a few seconds to examine how it feels. The ring should feel snug but not too tight that it hurts.
If you realize that the ring causes your penis to be too sensitive, or that it hurts, you should consider changing the ring size to a suitable one.
The ring is meant to enhance the sexual pleasure, so ensure that both you and your partner get the desired amount of satisfaction.
When you are confident that both of you are relaxed and comfortable, you should get on with your business.
Have a time limit
Experts caution against wearing the cock ring for extended periods. And rightfully so. The blood flow restriction can lead to unpleasant health issues.
For instance, it can damage the erectile tissue, or result in priapism, a condition in which the erection becomes painful.
As a safety measure, therefore, it is prudent to wear the ring for about twenty to forty-five minutes.
Removing the cock ring
Removing the cock ring does not require a rocket scientist's talents. The moment your penis softens, the ring effortlessly slides off.
Your only concern should be that it doesn't tug on your pubic hair.
Conclusion
Cock rings are without a doubt a must-have for every man who wishes to up his "between the sheets" game.
You only need to determine what ring type suits your needs, and use the sex toy in the right manner to enjoy unimaginable sexual encounters.