With more and more companies jumping into the sextech arena, it's kind of inevitable that all these new products would begin to resemble one another.
Powered or not, sleeve masturbators for the penis equipped, prostate massagers, G-spot stimulators, or toys built to pleasure these and other pleasurable portions of our anatomy simultaneously, this new breed of erotically focused devices have also reached a point where all it takes is the mere push of a button to deliver not just one but multiple orgasms.
So let's compare and contrast the Zumio and Lovense's Hyphy, a pair of uniquely designed sextoys that both deliver vibrational goodness to the clitoris to see which of them is the best at it.
Looking at the Zumio


While other sextech manufacturers offer a frequently large number of products, Zumio—for the moment at least—is dedicating themselves to perfecting their line of ​​clitoral stimulators.
Currently, there are four models, though they only differ in the shape of their clit-arousing tips and how they rotate.
For instance, the Zumio X (or Xena) has a tip designed for "concentrated energy," the S (or Sadie) uses a spherical one for "broad even stimulation," the E (or Ethel) is small to help produce "high precision stimulation" and the I (for Iyana) is spoon-shaped for "diffuse stimulation."
According to the Zumio site, they are unique, at least from other clitoral sextoys, for utilizing the company's trademarked Spiro-Tip technology, which, you may have guessed, is all about spinning as well as vibrating.
Each is also waterproof for bathtime pleasuring and comes with its own induction charger, which eliminates the need to fumble around with magnetic or otherwise cables. Merely connect the stand to a USB power source and slide your Zumio into it, and you're all set to go.
The Zumio is 8.9 inches long, 3 to 2.3 wide, and weighs 320 grams. On a full charge, it should be good to go for about two hours.
It boasts eight speed settings and has a travel lock feature, so it won't accidentally turn itself on.
Say hello to Lovense's Hyphy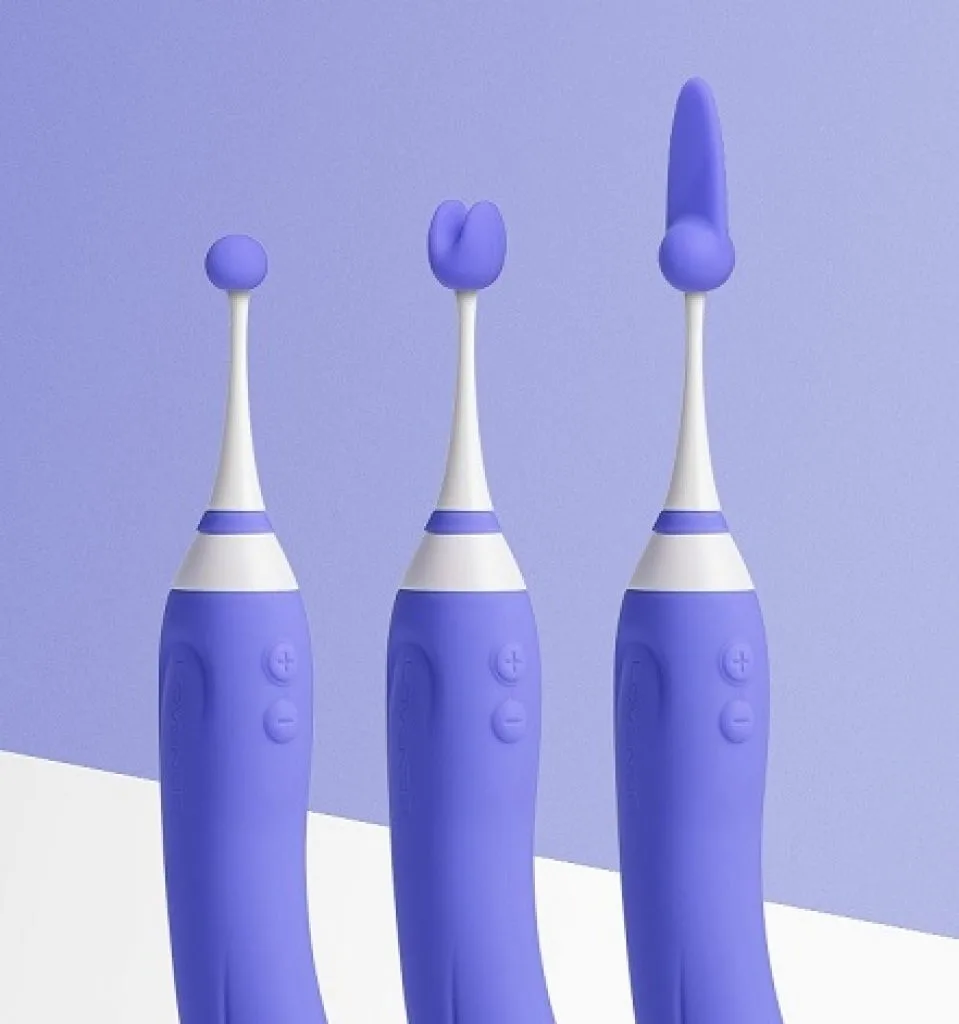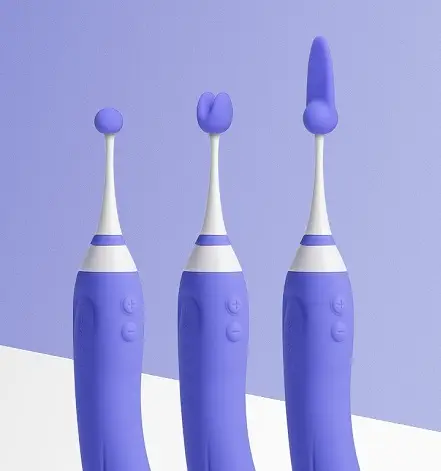 Where Zumio has a set of similar toys, one for each tip, Lovense's approach is to provide their customers with one and only one Hyphy and three attachments they can swap whenever they want.
The Hyphy has two motors to allow those same customers to adjust them together or independently compliments of the Lovense Remote smartphone app—which provides all sorts of extra options such as linking the Hyphy to other Lovense smart sextoys for long-distance activities, creating and sharing customized vibrational playlists, and set the toy to vibrate along with ambient sounds or the beats in your favorite song.
Along with allowing extensive pleasurable fine-tuning, the Hyphy's motors provide remarkable power, which, combined with its ultra-portability, backs up Lovense's claim of "Never miss the big 'O' (even on the go)."
The Hyphy isn't exclusively a clitoral vibrator as its handle has its own high-frequency motor that can serve as a G-spot toy.
So all you have to do to get off on either its internal or external stimulations is flip it around.
Lovense even has its own unique take on induction charging, as the Hyphy ships with a clear-lipped, banana-shaped case to store it in and, when connected to a USB power source, will make sure it's always fully charged and ready to go.
The Hyphy is likewise waterproof for shower or bath fun and is made of high-quality, body-safe silicone.
Size-wise, the Hyphy is eight and a half inches long, with its insertable handle at 4.53 of that while being 1.38 wide overall.
After a complete charge, the Hyphy is good for an impressive 4 and a half to a full five hours of use.
➡️ Check the current price of the Lovense Hyphy
What the Zumio and the Hyphy have in common
As I opened with, each toy is dedicated to clitoris-pleasing—and because of this, they obviously share the same general shape and function.
This strangely extends to charging them, as the Zumio and the Hyphy both come with induction charging stands or cases.
This makes me wonder if one company was inspired by the other, which isn't a criticism; backed up by how many times I wish this sort of mutually shared inspiration was more common as it helps move the sextech industry forward.
However it happened, these toys are the better for it as no one likes having to either mess around with cords, cables, USB ports—which, the first time trying to plug into one, is always the wrong side up—and how annoying it is when any of these accidentally comes loose.
They are also waterproof and made of body-safe silicone with a smidge of ABS plastic.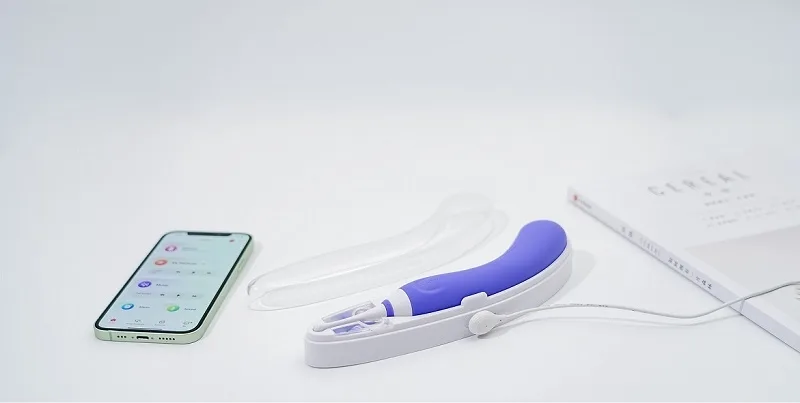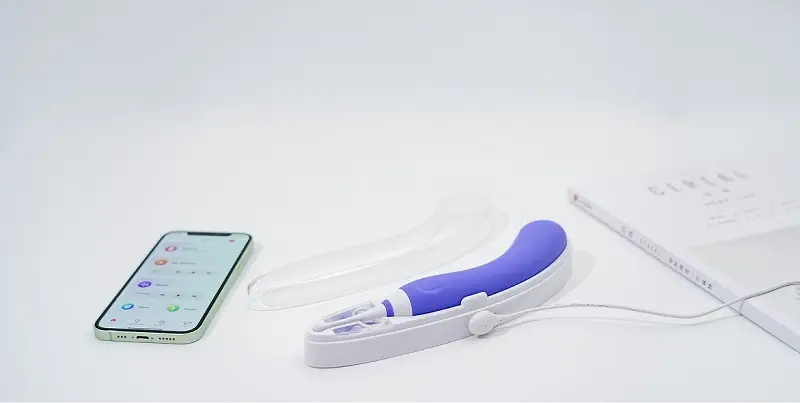 What separates the Zumio from the Hyphy
The big difference between them is how the Zumio is exclusively a clit-pleasing device while the Hyphy is a dual-purpose one: easily and comfortably supplying stimulation to either a clit or G-spot.
Their distinctions don't end there, as to change how it feels, you'll need to buy more than one Zumio: each with its own distinctly unique tip. Meanwhile, the Hyphy comes with three you can swap out at any time.
Not to mention the Zumio isn't, like at all, smart.
While the Hyphy is as brainy as they come, able to effortlessly work with Lovense Remote—which is available as an Android or iPhone app, as well as a PC or Apple desktop version—to take full advantage of its various features and control its pair of motors far more precisely than with the toy's built-in controls.
In charging, too, they aren't totally alike, and here I have to give a small lead to the Zumio as its induction charging stand looks and feels a touch more elegant than Hyphy's clear-topped, strangely curved case.
In Hyphy's favor, you don't have to use its case to charge it. Unlike the Zumio, which requires its stand.
Pros of Zumio over Lovense's Hyphy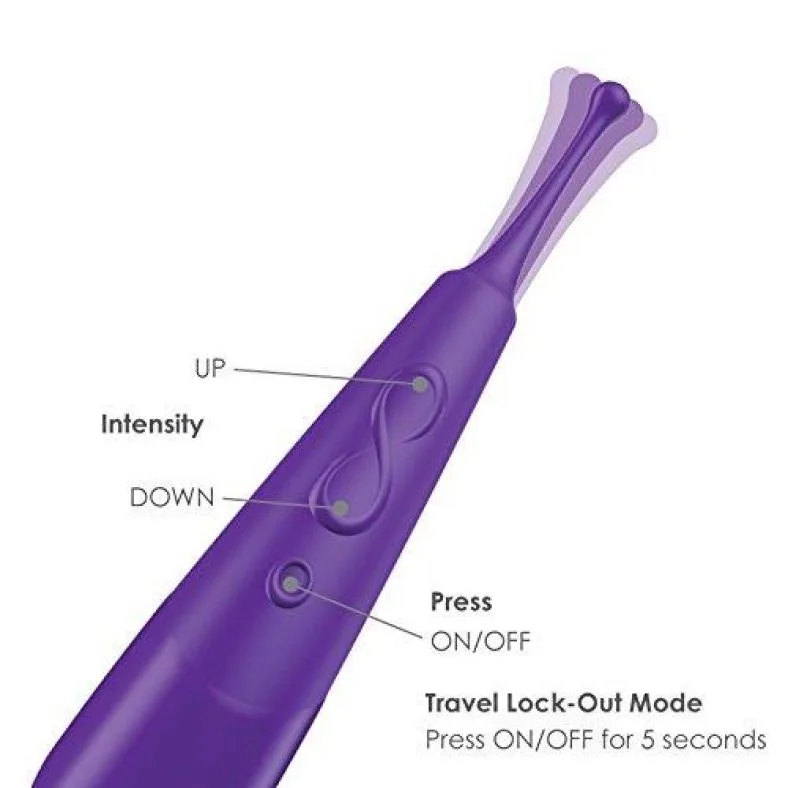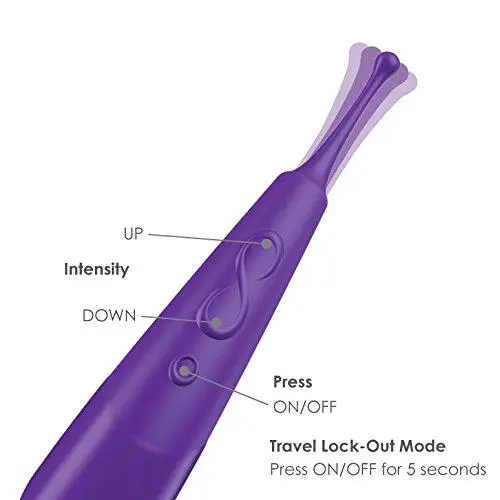 If you're one of those folx you find the prospect of doing anything high tech, from setting up a new smartphone or trying to navigate some gadget or other's new interface, then a Zumio would probably serve you better than a Hyphy as, in all honesty, if you're not going to use a Hyphy with Lovense Remote it'd be like paying for a round-the-world ticket when all you want is to go to the corner store for a carton of milk.
Pros of Lovense's Hyphy over Zumio
Conversely, if you aren't intimidated by smart sextech, then picking up a Zumio doesn't make much sense.
After all, while a well-made product, the Zumio is equally limited by its built-in controls and very limited use.
By this, I mean when you have a Hyphy, you have a clitoral vibrator and a G-spot stimulating one, so if you prefer one over the other, you'll always have the option to switch back and forth rather than having to purchase two toys for these very different, and arousing jobs.
Additional points in its favor are Hyphy's four and a half to five hours playtime versus Zumio's two.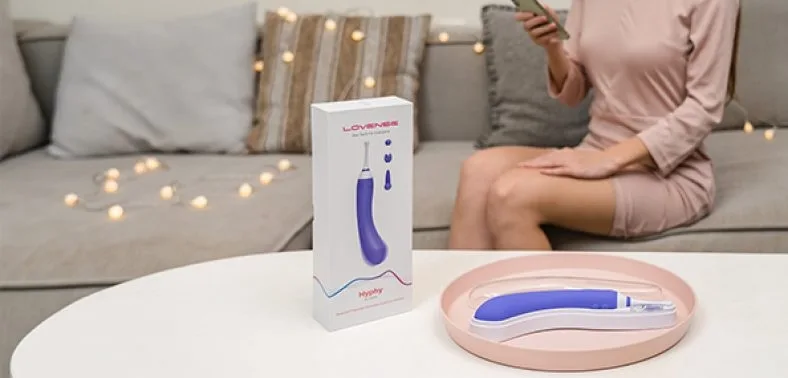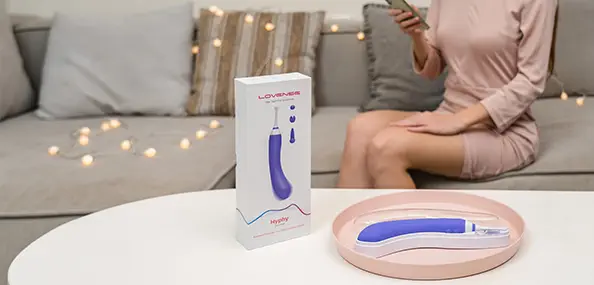 Who should get a Zumio (and why)?
Beyond its simplicity, if a traditionally vibrating clitoral toy doesn't get you where you want to go, you probably should think of trying out a Zumio as it bucks this trend by delivering its exciting simulations by twirling and vibrating.
It's also recommended for anyone who, like myself, tends to misplace a gadget's various bits and bobs: like how when you get hold of something that comes with optional extras, like the Hyphy's optional tips, only to realize that somewhere along the line one or more of them has unexpectedly vanished.
Who should get a Lovense Hyphy(and why)?
If you like clitoral vibrators and G-spot ones, don't mind having to keep track of optional extras, and get all hot and bothered at the thought of sextech interactivity, long-distance erotic encounters, or all the other benefits the Lovense offers, then it's pretty clear the Hyphy is going to tick these and many other sexual boxes you may have.
It's also ideal for anyone who likes to change things up a bit, like going from an oral sex-feeling tip to a nipple pleasing one without having to purchase another toy to scratch more than one sexual itch.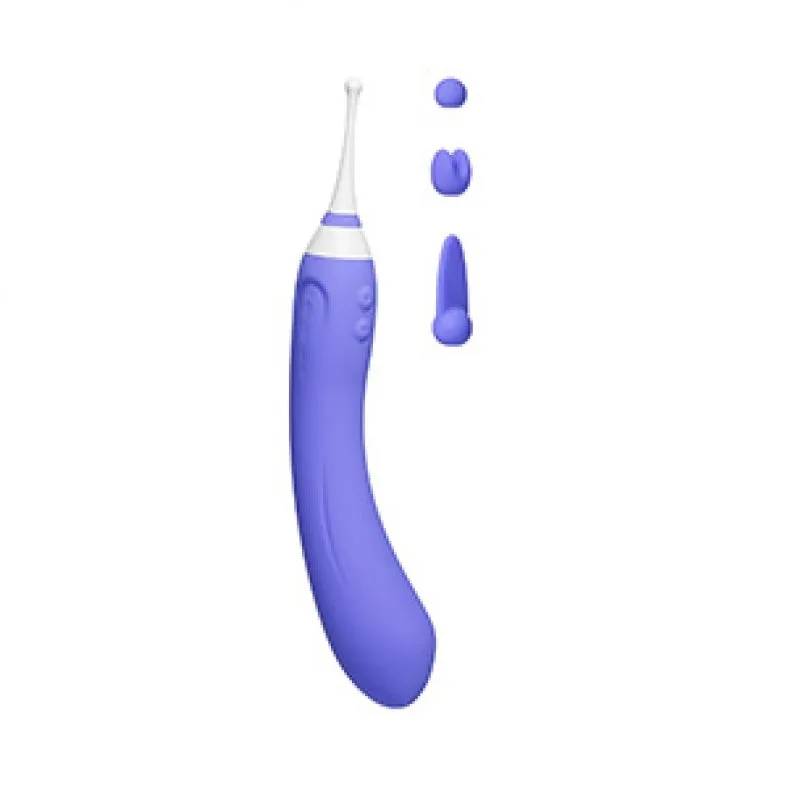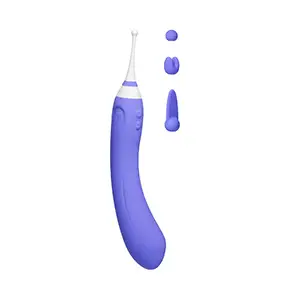 The verdict
Like how they tend to get noticeably specific in what they look like and how they work, we're seeing companies who understand human arousal isn't a switch they or anyone else can simply flick from off to on or vice versa: that, niche pleasures or not, every so often we all want to mix things up a bit.
This is why I'm crowning Lovense's Hyphy the winner in our clitoral-vibrating head-to-head contest because of the impressive number of things you can do with it—or it can do to you.
Such as its dual clit and G-spot motors, how it ships with three separate tips, can be charged with or without its carrying case, and not least of all, it seamlessly integrates with the Lovense Remote app—which I've gone on record saying how I hands-down feel thoroughly beats every other sextech control app.
Then there's how the Hyphy does all this for the same cost as picking up a single Zumio, which is quite remarkable when you consider it.
Finally, the Hyphy is from Lovense: a deservedly well regarded sextech company with dozens of superbly engineered products under their belt, so when you're lucky enough to have any of them, you're probably, like me, immediately aware of much effort they've put into learning all they can about what turns us on and why.