Cock rings offer a safe and pleasing way to enhance sexual intimacy with a partner.
While tools to stimulate the penis and vagina existed long before prehistoric couples copulated in a cave, the current generation of cock rings takes pleasure to a new and exciting level.
No longer the bulky, battery-operated behemoths of the past, these snazzy silicone toys are designed to fit perfectly, vibrate intensely, and satisfy completely.
An effective cock ring strategically limits blood flow to the penis. This promotes and perpetuates an erection, satisfying both partners. Newbies sometimes turn their toys on at full speed to get the full vibe from the start.
More seasoned lovemakers learn to tap the talents of these toys by varying vibrations so they can visit the edge many times before climaxing.
The most popular cock ring models have remote control capabilities. The majority of them connect with a smart phone through Bluetooth to allow better programming of pleasure patterns and even long-distance stimulation.
These remote-control cock rings offer greater capabilities than their low-tech competitors.
The 7 cock rings below have received high rankings from a broad range of customers over a wide geographic region.
Although more expensive than some of the basic products in the sex toy market, these rings have a track record of delivering pleasure to most of the people who have purchased and played with them.
All are easy to clean, durable, waterproof, and available from their manufacturer and other commercial outlets.
Most have great interconnectivity through Bluetooth, allowing you greater opportunities to please your partner whether they are next to you or far away.
For each of the top cock rings listed below, you will find a review that summarizes their most important characteristics.
In addition, pros and cons are included for your consideration. Consider your options, do your research, and enjoy!
The 7 Best Remote Control Cock Rings
1. Lovense Diamo: Long Distance Excitement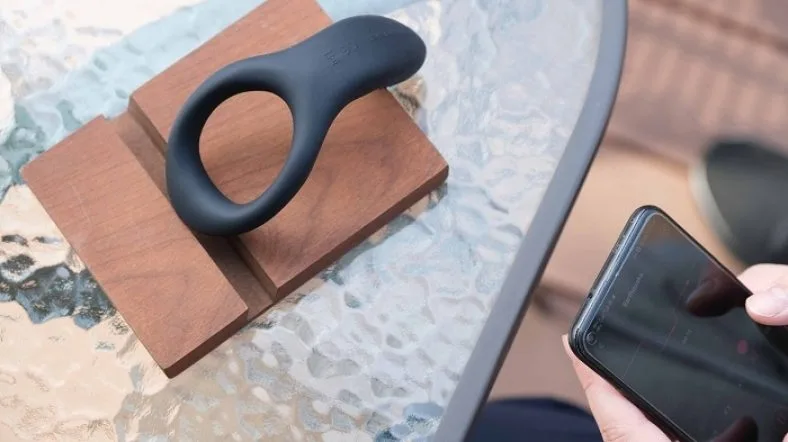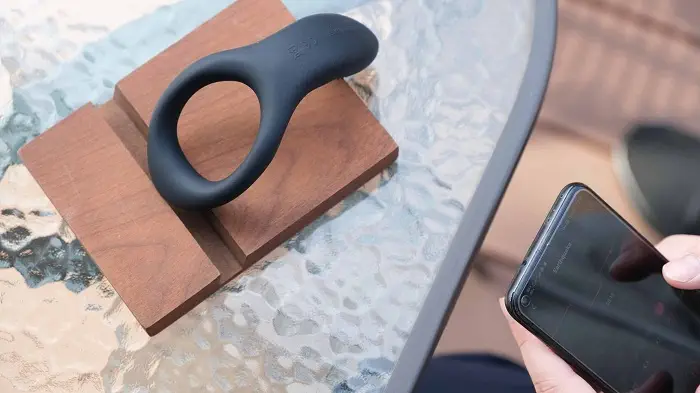 The interactive Diamo vibrating ring from Lovense has built a firm and strong reputation for extending erections and postponing orgasms until the peak moment.
By holding back the blood flow along the shaft, this ring pulsates to keep the man larger for a longer period of time.
Designed for extended comfort to maintain erections, the Diamo increases sexual stamina without the loud sounds that some toys emit.
The powerful motor performs well while staying in the sound range of general room noise or background music, allowing for the louder noises to come from lovers as the vibrations stimulate their bodies.
The Diamo is a long-distance performer. Expect at least 2.5 hours of non-stop use before it needs a recharge. Simply plug this toy into the USB cable between adventures and Diamo will be ready to serve again.
Discreet for public stimulation, the Diamo easily connects to a phone with the Lovense app through Bluetooth for those moments when a partner wants to initiate some remote playtime.
The ability to synch with music emanating from the phone lets the throbbing tunes have a more impactful beat. This toy "hears" noise around it and can become more intense as the moaning and music increase.
The single button may frustrate, since a little extra clicking is necessary to get beyond the pre-set functions and vibration patterns.
The ability to create custom vibrations that oscillate and alternate between slow and intensely fast allows partners to reach the edge, step back, and get there again with ferocious passion.
Pros:
Very versatile
Wearable in different ways
Bluetooth works very well, even at a distance
Strong signal strength
Offers powerful vibration
Quiet operation even allows for public playtime
Great for long-distance relationships
100% waterproof
Cons:
Costly for play partners on a budget
Design is not as flexible as competitors
Lube may not help with inflexibility
The ring may be too small for some
Single-button interface may frustrate some users
May require a learning curve to master
➡️ Check the current price of the Lovense Diamo
2. We-Vibe Bond: Perfect with App or Remote Control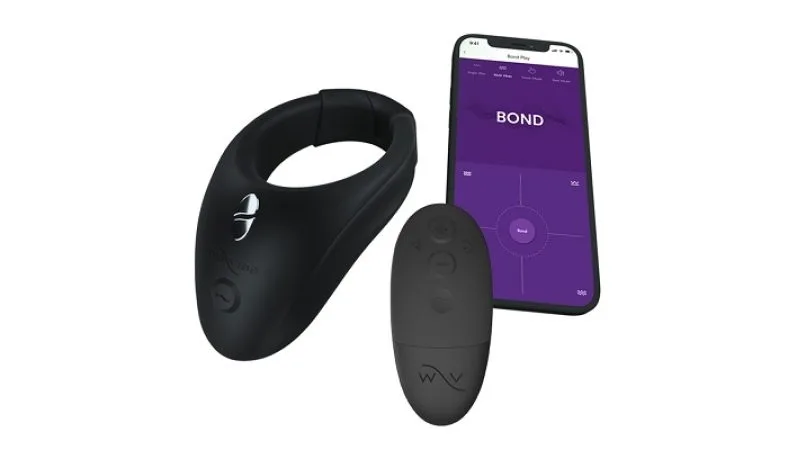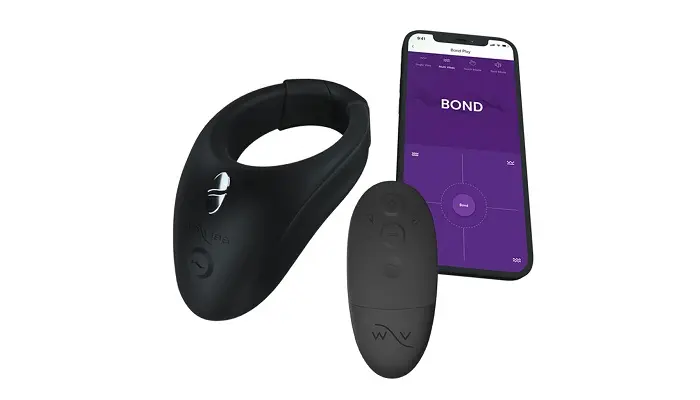 The We-Vibe Bond brings partners together for intense pleasure generated by stimulation either by app or remote control and 10 built-in vibration patterns.
Similar to other members of the We-Vibe family, this toy easily recharges with a USB cable and is waterproof.
The Bond may break some intimate bonds, however, since the supposedly custom-fit function may not allow larger men to enjoy the same level of intensity.
Far from a one-size-fits-all toy, those with greater girth, bigger balls, and more profound penises may find this device less comfortable than some competitors.
Despite this critique, most men and their partners will find a lot to enjoy from the bonds this device helps to cement.
The We-Connect app allows a partner to change vibration patterns and intensity settings, as well as create mutual playtime with other We-Vibe toys on the Bluetooth network.
Great for in-person or long-distance intimacy, the device is very easy to clean and maintain.
Pros:
10 different vibration patterns
Custom fit through openable rings
Lightweight and compact
100% waterproof and hands-free operation
Includes a remote controller
Controllable with the app
Does not require lube
Intense perineum stimulation
Cons:
Shorter battery life than others
Tighter fit may bother bigger guys
Connectivity and pairing issues disrupt fun
Cannot connect to remote control and app simultaneously
Relatively weaker vibration
➡️ Check the current price of the We-Vibe Bond
3. We-Vibe Verge: Gives Full and Extended Performance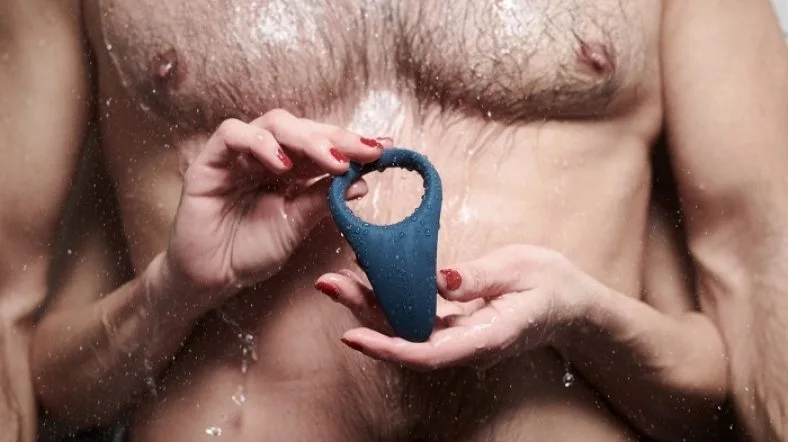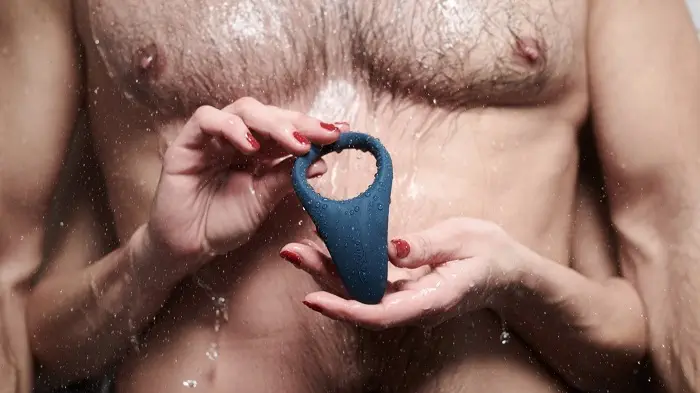 The We-Vibe Verge offers a great fit for those of all sizes who expect to feel and share intense vibrations and rumbling sensations as the moaning and bed rattling increase.
Great for time together or long-distance excitement controlled through the We-Connect app, the wearer and anyone in contact with them will feel the vibrations.
Unlike the cheaper and weaker brands, this strong cock ring delivers sensations that reach from the tip to the perineum and any partner's parts that are feeling the rub.
For best use, avoid going full throttle with this toy's power. Instead, start slow, use the 'up' and 'down' buttons to go into overdrive, stop at the edge, enjoy the view and feel, coast backward, and pick it up again.
The We-Vibe Verge's ergonomic design and silicone composition guarantee a body-safe experience with an easy-to-clean ring. Quieter than its less-expensive siblings, this device specializes in customizable vibrations.
Mix and match from low to high, tease and pulsate, as you vary the intensity of the feelings. Some have experienced connectivity issues with the app, so test and adjust before playing.
Pros:
10 different vibration patterns
Great for masturbation when alone
Sufficient battery life for most partners
Soft silicone gives a lifelike feel
It can be worn in multiple ways during sex
Intense perineum stimulation
100% waterproof
Cons:
Vibrations not as intense as hoped
Sometimes it is uncomfortable to remove
Too much lube may promote testicles slipping out
Connectivity issues with the app disrupt fun
Weaker performance as battery wears down
➡️ Check the current price of the We-Vibe Verge
4. Hot Octopuss Atom Plus: A Noisier Noise Generator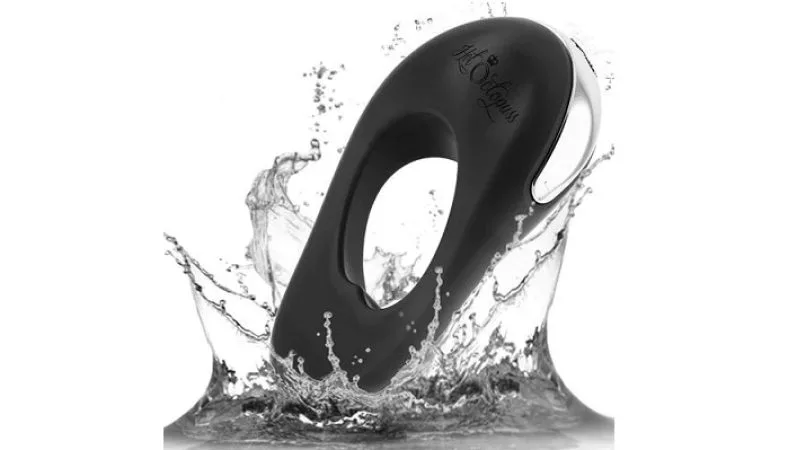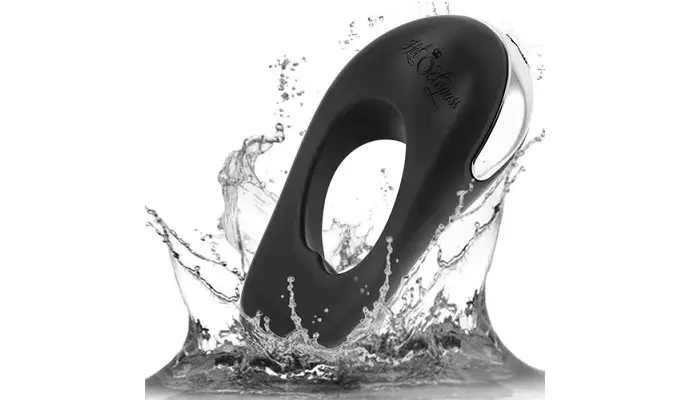 Touted as the next generation of cock rings, the Atom Plus from Hot Octopuss has dual-integrated motors that offer twice-as-nice pleasure that will turn up the volume and passion.
Unlike some rings which fit easily, whether firm or flaccid, this ring requires more of a soft or semi-flaccid posture than a stiff presence to fit properly when perched behind the testicles.
Once installed, let the growth begin! Adjust the 5 functions in intensity using the 'plus' and 'minus' buttons on the sides. The dual motors tickle your taint while pleasing your partner's perineum.
This toy also delivers for masturbatory moments of solo play, with the silicone tending to soften after the first few uses as the Atom Plus gets used to your protons and generates more intense electrons.
Although the dual motors offer a level of wetness and intensity that places the Atom Plus on par with other high-end rings, there are some differences in its performance that are worth noting. If not properly placed behind the balls, the toy may slip off the shaft.
The 5 speeds deliver varying levels of intensity, but without the nuanced notches found in rings with more vibration patterns and speeds.
The most noticeable difference when compared to other rings is the noise it makes when engaged, especially when used at the highest level.
Great for moments together when nobody is listening on the other side of the wall, this toy might not be the best selection for quieter destinations or public stimulation sessions.
Pros:
5 different vibration speeds
Offers a tight and comfortable fit
Stretchable silicone for easy on-and-off
Dual motors deliver double the pleasure
Modern and very sleek design
Easy to adjust while thrusting
100% waterproof
Cons:
Fewer settings offer less subtlety
Very noisy, especially at the highest vibe setting
Not as pleasing in all positions
Not as pleasing for both partners
Best put in place while flaccid
The ring may be too small for some
5. MysteryVibe Tenuto: 6 Sexy Ways to Vibrate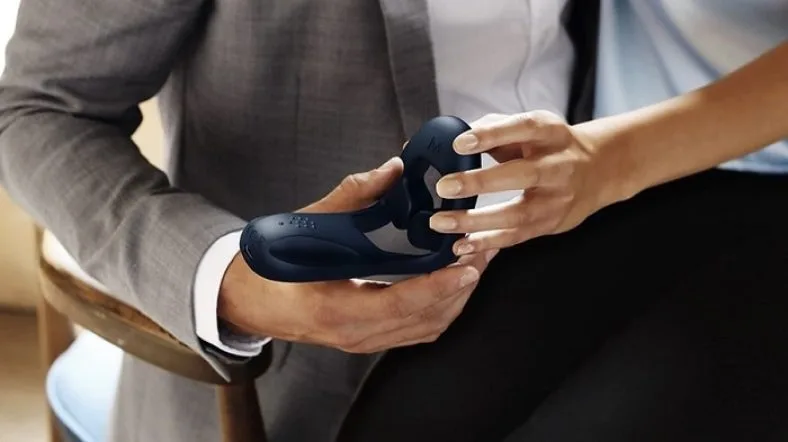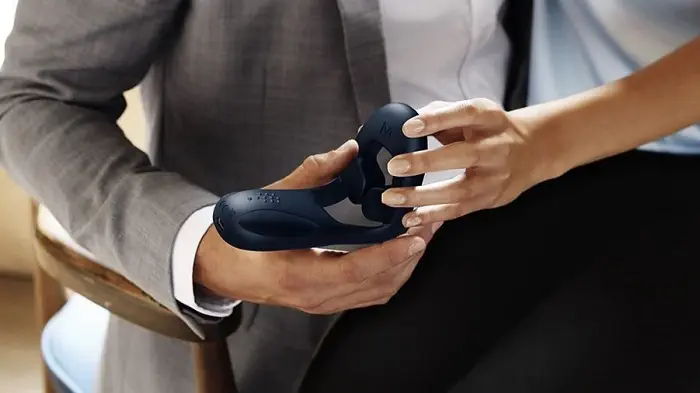 Tenuto 2 from MysteryVibe has 6 sex-driving vibration modules that please the shaft as well as the perineum. Turn on the power, put yourself inside, open the toy's "wings" until your head gets warm and red.
A great addition during lovemaking, the Tenuto 2 vibrates your partner while powerfully stimulating your penis.
With the MysteryVibe app and a Bluetooth-enabled phone, you have the ability to connect and pair in pleasing ways.
The app offers a variety of pre-set vibrations as well as the potential to create an additional array of intense vibrations with little effort.
Whether used with the app or the convenient buttons, this ring has the functions necessary to take both partners over the edge.
The toy's design and the strategic location of the vibrating points enhance blood flow, extend erections, and maintain them.
Unlike inexpensive and largely ineffective rings, the small but strategic placement of modules brings the erection to new and easily sustained heights.
One notable design flaw may hinder long-term performance. Similar to most high-end toys, the Tenuto 2 charges through a USB rather than a battery.
Unfortunately, the port lacks a cover and remains open on a part of the Tenuto 2 that usually sits closest to the user's rear end. If water, sweat, or other fluids get into this area, they may cause problems after a period of time.
Pros:
Unique design gives a different feel
Vibrations touch multiple areas better than other rings
Adjustable flaps deliver greater pleasure
Dynamic control available through app
It leads to better sex for both partners
Maintains its charge
Intense perineum stimulation
Great for stress-relieving massage of testicles
100% waterproof
Cons:
Somewhat uncomfortable.
The app has limited functions compared to others
Smaller buttons are difficult to access
Expensive compared to other brands
The USB port is unprotected and exposed to moisture
➡️ Check the current price of the Mysteryvibe Tenuto
6. We-Vibe Pivot: Pivotal Partner in Penile and Pussy Pleasure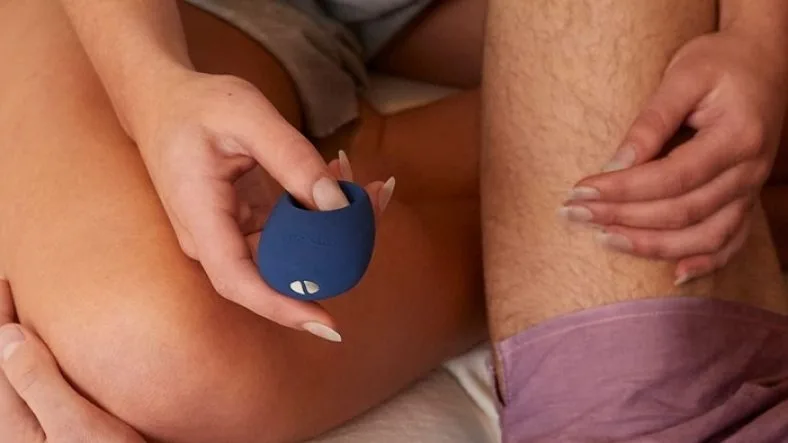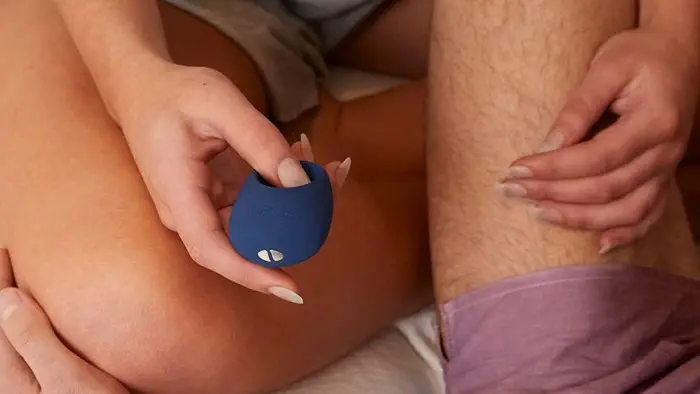 The We-Vibe Pivot offers a more traditional design, but with a nicely-fashioned feel that intensely rubs, ribs, and throbs both partners.
When fully charged, this silicone toy delivers up to 2 hours of potent power and has a great ability to contact and pivot in the most perfect areas.
The Pivot offers the right balance between tension and flexibility. The vibrations rumble more than the usual, cheaper ring varieties that leave partners having to settle for a mere shake.
This tends to deliver more sensitive and sensual experiences to those soft skin and tissue areas that get wet or firm when pleased.
Ready to use when erect, this ring works great with your favorite lube. Easy to attach, the general consensus among firm men is to affirm the pleasure it delivers.
The Pivot maintains erections and allows for excellent edging opportunities before slowing down and intensifying for the perfect release. Couples often prefer to experiment by cycling through different vibration levels as they ride each other.
Pros:
10 different vibration patterns
Offers sheer versatility
Controllable with the app
Better value than other top brands
Bluetooth works very well, even at a distance
Great for long-distance relationships
High-quality silicone construction
Stays in place when adjusting positions
Smooth and elastic
100% waterproof
Cons:
The charger does not stay secure
Some concern about charging issues
Motor lacks intensity of We-Vibe siblings
➡️ Check the current price of the We-Vibe Pivot
7. Satisfyer Royal One Connect App: Best Budget Option for Regal Boners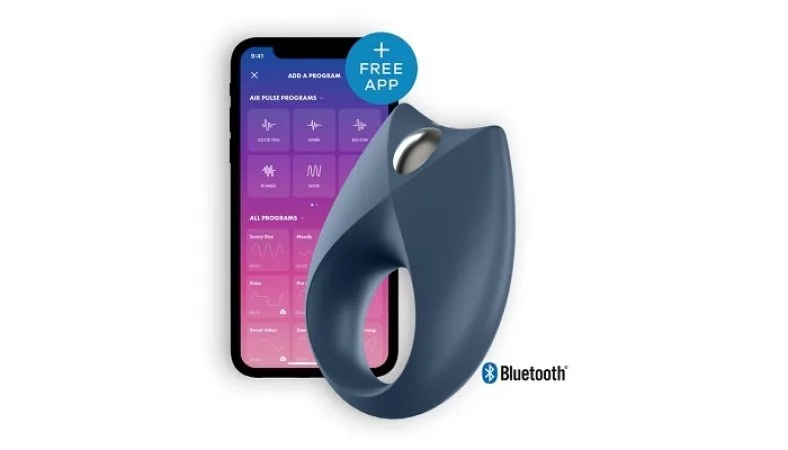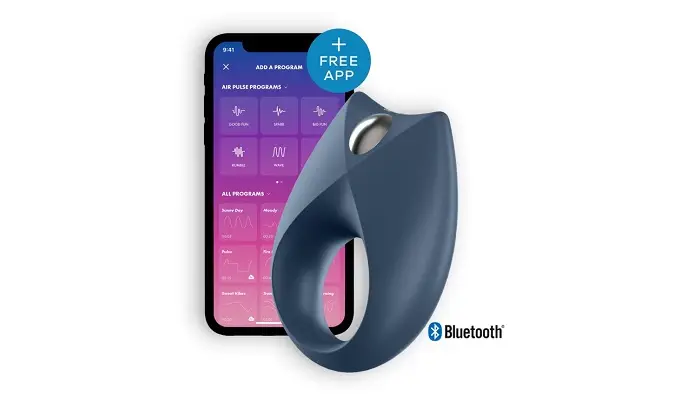 The Satisfyer Royal One Connect App ring is the crowning achievement for those who want a kingdom-cum experience with a partner in their castle.
The Royal One offers a cost-effective alternative to the more expensive high-tech toys on the market. This sensual satisfier surpasses the low-end, less-potent bargain alternatives that often fail to deliver.
With a soft, body-friendly and durable construction, the Royal One allows for moderating and intensifying speeds with ease.
When the king finds a pattern that pleases His Majesty, it can be saved for future visits to the royal pleasure chambers.
Vibrations can synch to media files, an Apple Watch, and other stimulating sounds.
Indeed, the Satisfyer Connect App makes this already cost-effective option an even better deal. The pairing between app and toy was quick and without difficulty. Through Bluetooth, one can adjust vibration types and intensity.
Take the throbbing beats from your playlists and send the pleasing pulsations to the penis and pussy. The Royal One can be controlled across the internet for great distances, keeping people stimulated far away from the kingdom.
Pros:
A powerful yet economical choice
Designed nicely
The apps expand possibilities
Usable with or without the app
Comfortable feeling when worn
Great alone or with a partner
Whisper mode functions well
15-year warranty
100% waterproof
Cons:
Charging cord connection issues
The ring may be too small for some
The control knob is not in the best place
Has a tendency not to shut off
Remote Control Cock Ring Q&A
Forthcoming answers to the questions you may have about the way cock rings enhance your ability to cum.
Why should a person invest in a vibrating cock ring?
While penetration during intercourse is pleasing for most people, the stimulation offered by the mini-motors in a top-quality cock ring has a track record of offering better — and better-to-control — orgasms.
In addition, for moments when alone, a high-quality cock ring serves as a more pleasurable way to reach climax than touching through regular masturbation techniques.
How do more expensive remote control rings differ from less-expensive brands?
Higher-end models tend to offer more options, and have better connectivity with smart phones through well-designed apps.
An increasing number of cock ring manufacturers now offer apps that work on many or most platforms, allowing for long-distance stimulation through commands sent on the web.
Is there a one-size-fits-all ring?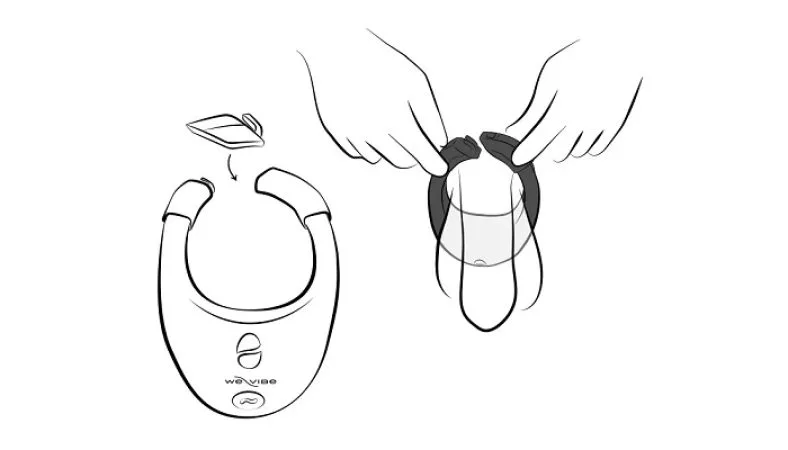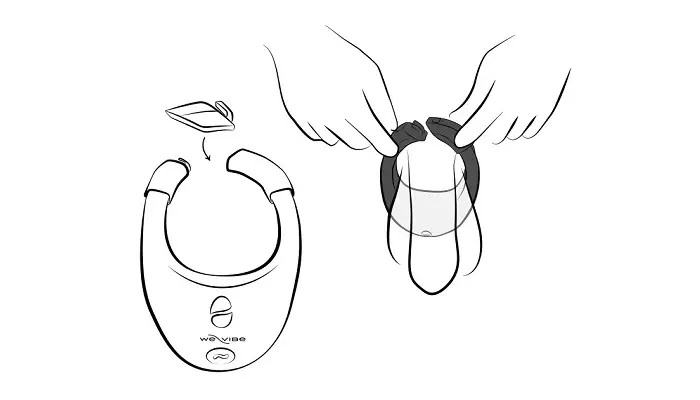 Some brands advertise that their rings accommodate all lengths and girths. While this may technically be true with a few products, the performance of the ring depends on how its modules interact with sensitive areas of the body.
A person with a smaller or larger penis should review product specifications before purchasing a ring to make sure that it fits them in the best way possible.
Are all rings made of silicon?
Although most brands use either firm or flexible silicone to design the rings, some varieties are crafted from other materials. These include nylon, rubber, leather, metal, and other casings that protect the vibrating mechanisms within.
Do these rings require lube?
Lube always enhances the experience of these sex toys. In most cases, a few drops will do the trick to make the ring comfortably encircle your dick.
Beward of oil-based and certain silicone lubs that may corrode your ring or condoms, if you choose to wear them. Water-based lubes work great.