Orgasms are known to relax your muscles and effectively relieve stress, which makes them a great way to distract yourself. Plus, it is no secret that they feel amazing. One of the most common ways to achieve an orgasm is by stimulating the clitoris.
Clitoral stimulators, as the name suggests, are sex toys that target the clitoris. There is a wide range of clitoral stimulators today in the sex toy market, which has made finding one that is of good quality and attains the desired results a lot harder.
Here is an unbiased look at We-Vibe Melt, a sex toy in this category, to help you determine if it is worth a try.
>> Click here to check the price of the We-Vibe Melt
What is it?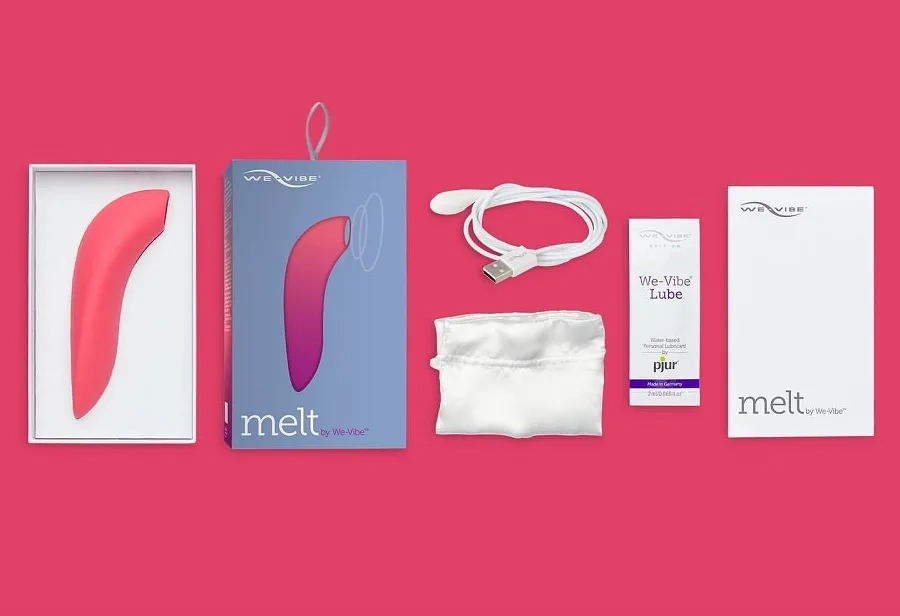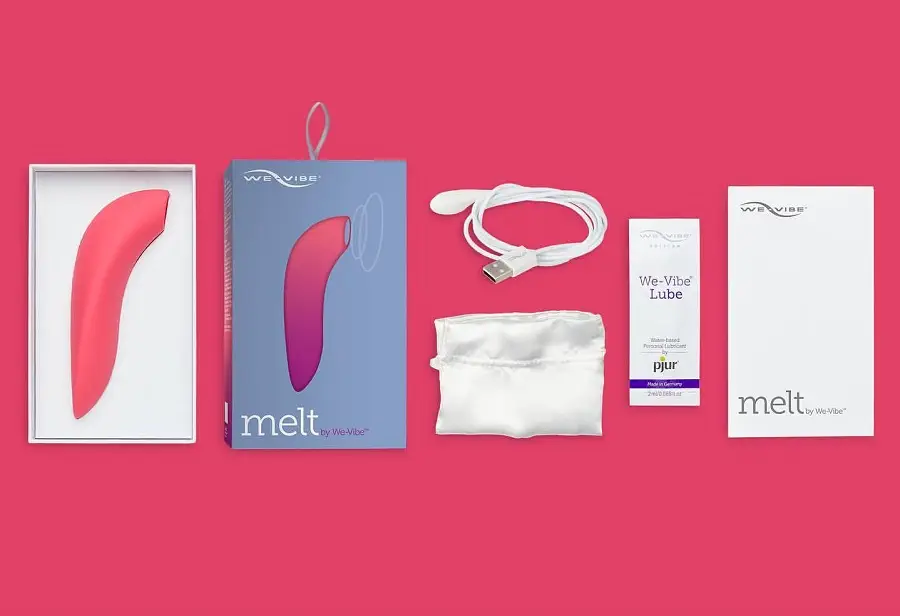 Melt is a pressure wave/suction toy by We-Vibe that can be controlled using an app. It can be used to pleasure the clitoris without needing direct contact.
The rim of the opening of the toy encircles the clitoris and the pressure chamber that is inside the toy releases suction waves around the area.
Melt has several intensity levels, giving you the chance to play around as you try to find what suits you best. You can opt to use it as a conventional clitoral stimulator or combine it with the We-connect app to connect with a partner and enjoy more functionality.
Melt is streamlined, seamless, and slender. It comes in a vibrant peachy pink color, and it can be held comfortably in one hand.
Key features
Silicone exterior surface
The surface of Melt is made of 100% medical grade body-safe silicone, free from BPA and phthalates and constructed without latex. It is soft and flexible allowing you to use it without having to worry about the discomfort of a hard surface coming in contact with your skin.
Pleasure air technology
The Pleasure Air technology that Melt uses takes advantage of subtle changes in the air pressure to massage the clitoris gently, resulting in intense pleasure and subsequent orgasms. The gentle suction and pulsating waves from the toy surround the clitoris to elicit sensations ranging from gentle kisses to intense steady speeds.
12 intensity levels
There are a total of 12 intensity levels that range from gentle to intense. This is convenient as it allows you to start from the lowest level and gradually build up until you reach an intensity that gives you a toe-curling orgasm.
Slim sleek design
Melt has a slim, curved shape, allowing you to use it with a partner during sex in different positions without getting in the way and ruining the mood.
USB rechargeable
Melt is constructed with a lithium-ion polymer battery that is USB rechargeable. The toy comes with a magnetic charging cable that you can plug to a wall charger or on your PC.
Waterproof
Melt is fully waterproof, which means that you can enjoy it in the shower or the bath without having to worry about it getting rendered functionless by water.
Low power alert
When your Melt gets low on power, it will alert you to charge it so that your playtime is not suddenly interrupted.
Quiet and discreet
Despite the powerful intensity levels of the toy, Melt is pretty quiet, allowing you to enjoy the toy without having to worry about loud suction noises.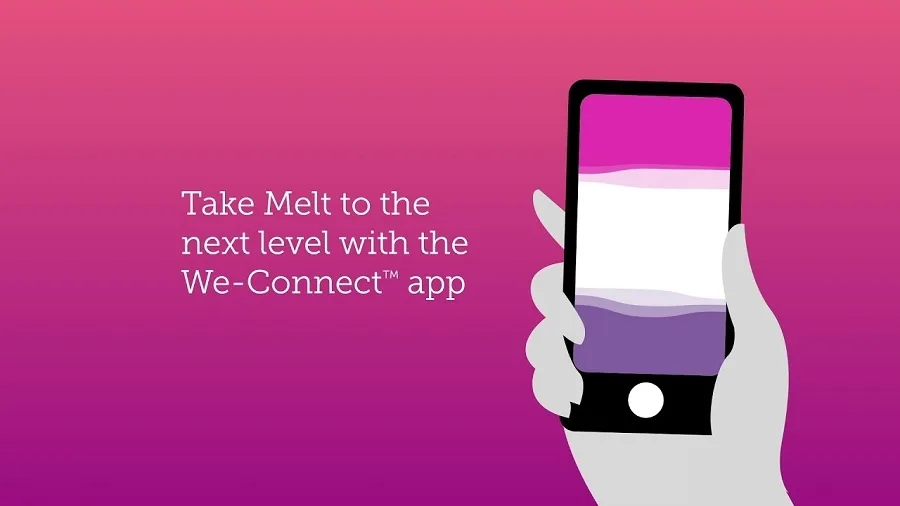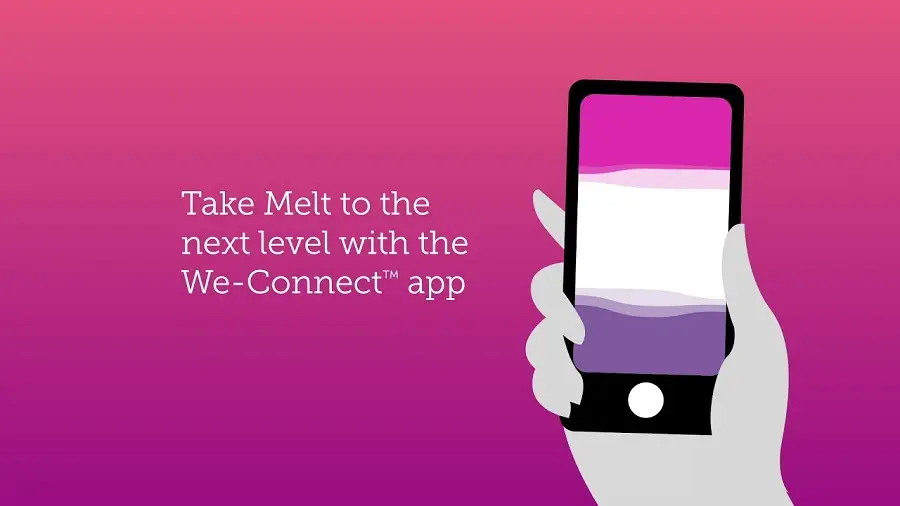 App control
To elevate the functionality of your Melt, opt to use it with the We-Connect app. Allow your partner to remotely take control of your pleasure as you use the Melt.
The app also provides you with access to a wide variety of intensity levels so that you can experiment and find the right sensation.
What's in the box?
The We-Vibe melt package is discreet, and once you open it, you will see a layer of paper wrap protecting the toy. Upon unwrapping it, here is what you will find:
A magnetic charging cable
A sample size of lubricant from Pjur – this is a 2ml sample of water
A satin storage pouch
A Multilanguage user manual
The We-Vibe Melt
How it works
Charging your Melt
Before using your toy, you must charge it. Using the magnetic USB cable, connect it to your PC or wall charger and wait for the LED light to start blinking to indicate that the toy is charging. It will take 90 minutes for it to fully charge, and the light will remain on to indicate this.
When Melt is full, you can use for 2 hours for continuous playtime or 4 hours if it is on standby. As previously mentioned, your Melt can alert you when the battery is low, plus you can check the battery percentage via the We-connect app.
Apply lubricant
Although Melt is a clit stimulator, it is still important to apply a generous amount of water-based lubricant before using it.
This is because it is very powerful especially if you are using the higher levels, and it can be a bit much when using it directly on an organ that is as sensitive as the clitoris. Avoid using oil or silicone-based lubricants as they tend to degrade the surface material of the toy.
Turning on the toy
To turn on your Melt, press the "+" button. You don't need to hold down the button – a quick press is enough to turn it on.
This way, you will use the toy from the lowest intensity. On the other hand, if you hold down the button for about two seconds and quickly press the "+" button, the intensity will increase and reach the highest setting. To turn off your toy, simply press the "-" button for two seconds.
Experimenting with the intensity modes
To experience the pressure wave sensations from the toy, enclose your clitoris with the stimulator head. As previously mentioned, when you turn on Melt, it is on the lowest intensity level.
To increase the speed and cycle through the 12 intensities, use the "+" button, and reduce the speed with the "-" button.
Because of how slim and soft the surface of Melt is, you can use it during intercourse with your partner with a variety of positions including cowgirl, missionary, and even doggy-style sex.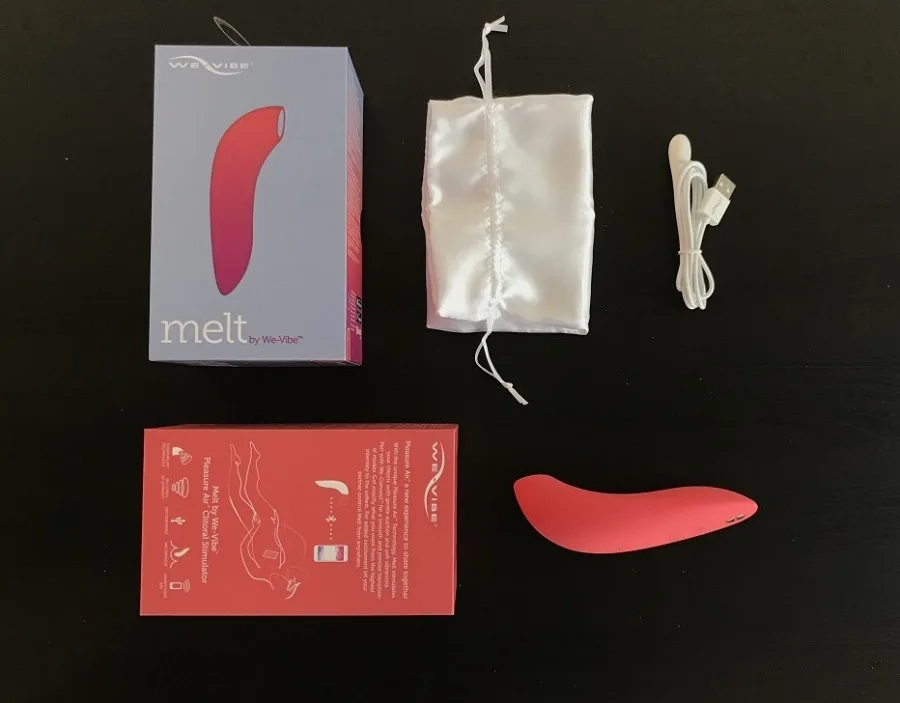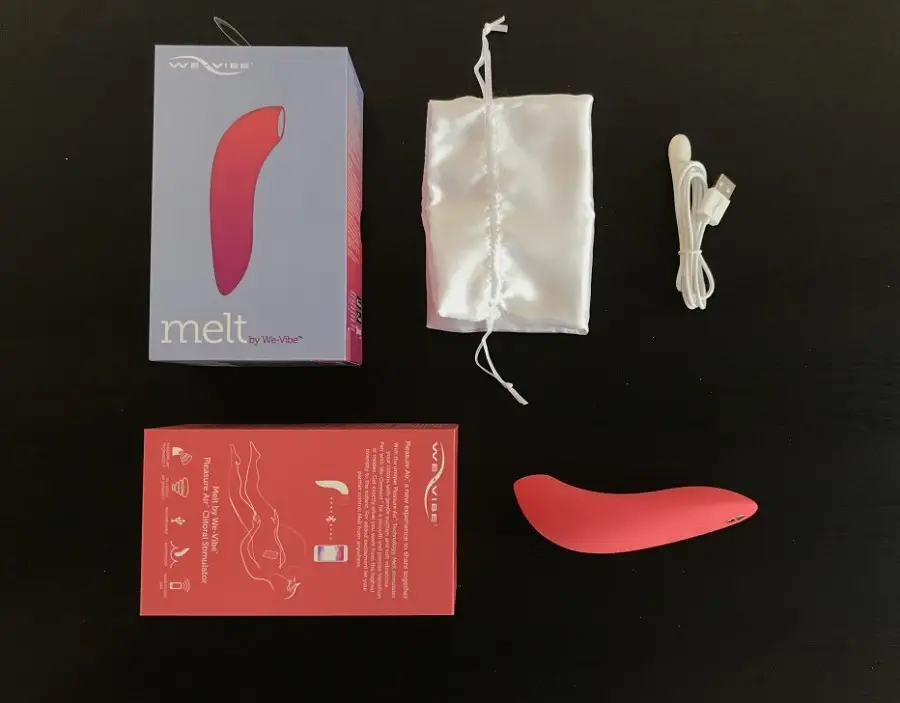 Cleaning and care
Cleaning is not the most interesting thing about using a sex toy, but it is important for the sake of hygiene as well as the lifespan of the toy.
Melt is waterproof, which means that you will have an easier time cleaning it as you don't have to worry about damaging it.
Use warm water and antibacterial soap or sex toy cleaner to give your Melt a thorough clean. However, keep in mind that the suction head of this particular toy is not detachable, so you will need to use a Q-tip to clean and rinse the inside of the hollow head. Ensure that you clean your Melt before and after each use.
Once your toy is clean, it is important to let it fully air dry before storing it. I like to dry mine upside down so that there is no water left pooling in the hollow head.
Always keep your Melt away from direct sunlight, and never expose it to extreme conditions. Store the toy in a dust-free environment or in the satin storage pouch that comes with it in the package.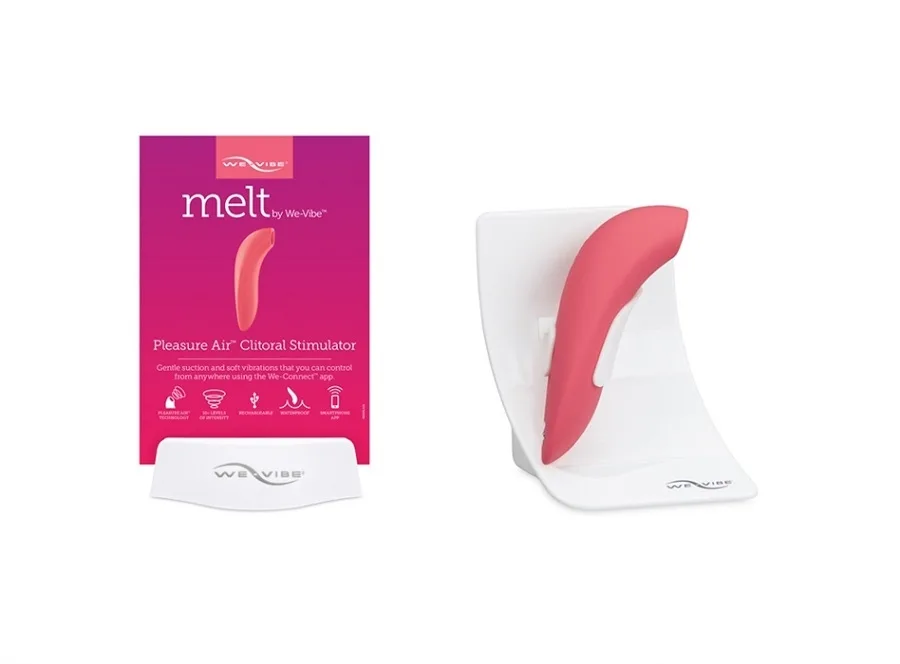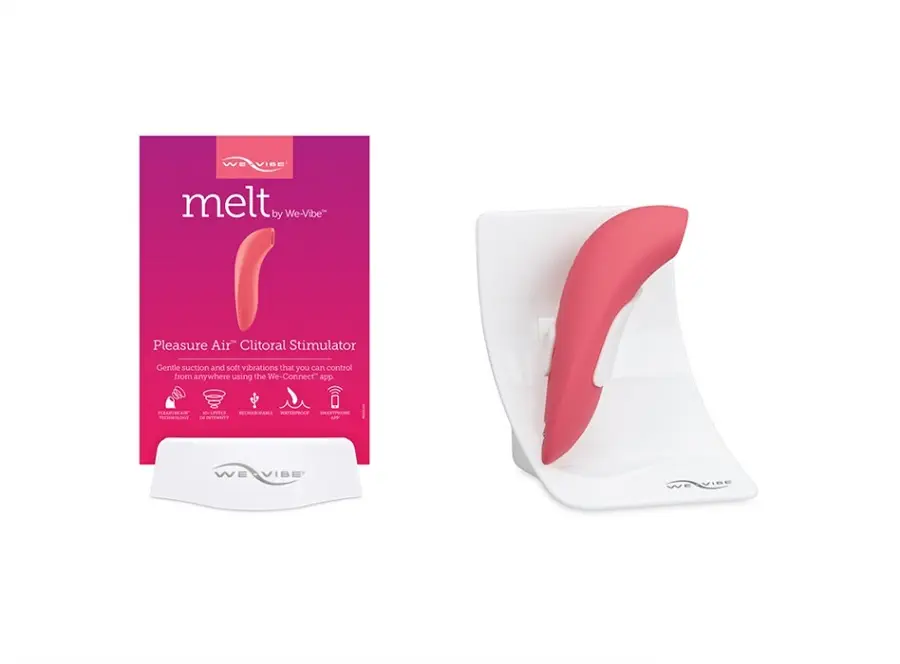 Using Melt with the We-connect app
The We-connect app is a free app that you can find on Google Play Store or Apple Store. Here are the steps on how to connect your Melt with the app.
Start by activating the connection mode
To connect your Melt to the We-connect app, start by clicking the "+" for about 5 seconds to enable the connection mode.
Pair your Melt with the app
If you are using the We-connect app for the first time, create and register your account. This will only take a few minutes. When you are logged in, press the menu on the upper left and select the pairing option.
To connect with your partner over the app, ensure that they also have an account. In the menu, select the "connect lover" option to send an invite to your partner.
The invite will have a link that your partner can click and start connecting with you. Your partner can control your Melt through the app on their smartphone and control its movements from anywhere in the world.
Using the functions of the app
You can easily control your Melt using simple touchscreen gestures. To adjust the intensity levels of the toy, drag the waveform on the app up/down or pinch your screen.
There are several modes you can choose from, including pulse, wave, vibrate, and crest. To change from one mode to another, simply swipe left or right. You can also create your unique vibes by experimenting with the speeds and intensities.
To create a vibe, go to the app menu and select the "create my vibe" option. Choose the "draw vibe" option, then drag the light gray circle across the screen. To replicate the waveform, press the link icon, then start over by pressing the pencil. To save your newly created vibe, press the checkmark.
Listen to a personal playlist from your phone
The We-connect app allows you to use a personal playlist that you have saved on your phone to spice up your playtime. Alternatively, you can opt to take in your surroundings by using your mic to pick up voices or the surrounding noise.
My experience with the We-Vibe Melt
When I received my Melt, my partner was not around so I got to play with it on my own for the first couple of days. The first thing I noticed was how smooth and sleek the toy is, and how comfortable it felt in my hand.
Initially, I was concerned that the suction head would come in contact with my clitoris. However, I was pleasantly surprised when it fit perfectly around my clit and was able to deliver stimulation without any contact whatsoever.
I was eager to try out the twelve levels of intensity to see how far I could go before I went over the edge. I was able to stay composed until I got to the seventh intensity level when I experience an intense toe-curling orgasm. So far, I haven't gone beyond this level as the higher levels are too intense for me.
When my partner got back, I got to try it during sex. We first experimented using the toy with the missionary position. As I controlled the toy on my clitoris and my partner hit my G-spot, I was able to reach orgasm much more quickly than I expected.
On the second night, we tried the reversed cowgirl position to see if I could last longer while using the toy. This time, my partner controlled the toy via his smartphone.
Unfortunately, I wasn't too fond of my partner taking control as he quickly increased the intensity without warning which slightly turned me off. That said, when I communicated my needs, we were back on track and I still reached an orgasm.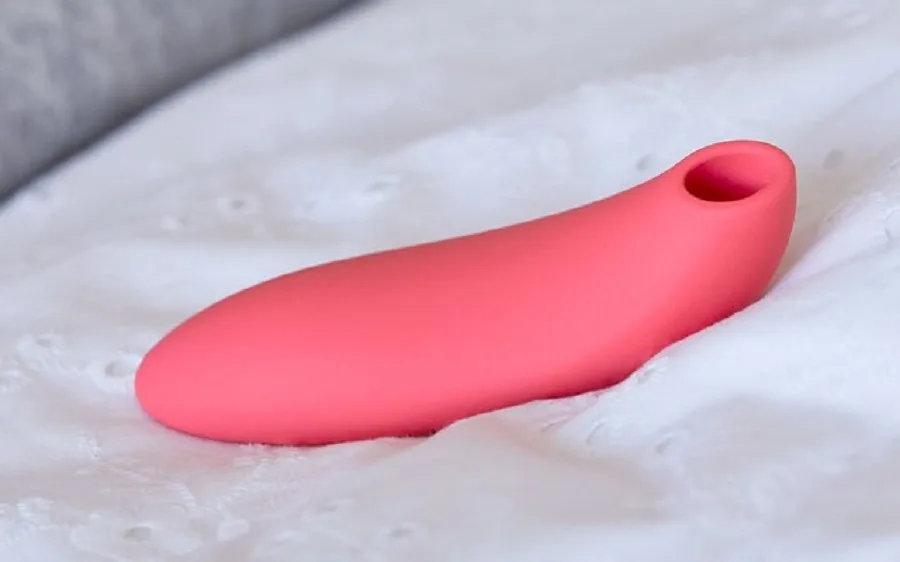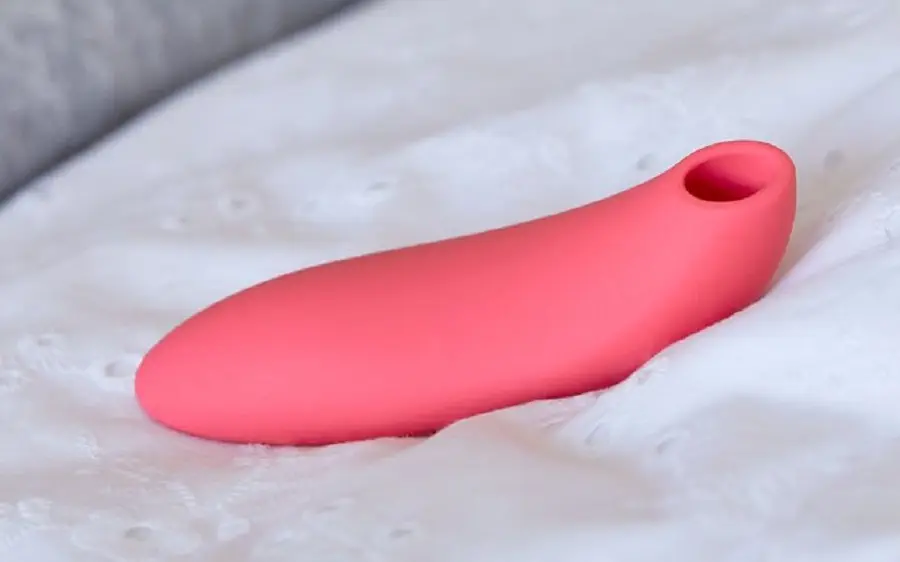 Pros
Intense stimulation: The pleasure air technology incorporated in the toy delivers intense pulsating waves and suction to the clitoris for a pleasurable experience.
Waterproof: Melt is waterproof, which means that you can use it to spice up your showers and baths. The fact that it is waterproof also allows you to easily clean it with water.
It is quiet: From my experience with Melt, it is very discreet, so you don't have to worry about it buzzing too loudly as you use it.
It has a rechargeable battery: When the battery runs out, simply use the included USB cable to recharge your toy.
The silicone is body-safe: There is no risk of an allergic reaction to the toy as it is made of medical-grade silicone that is 100% body-safe.
It can be used for long-distance play: Connect your Melt to the We-connect app to allow your partner to control the toy regardless of how far they are.
Cons
It is a bit hard to clean the toy: The hollow head of the toy is not easily reachable during cleaning. As a result, you may end up missing some crucial spots.
It is not cheap: The toy is quite pricey, so be prepared to invest quite a bit of money if you intend to buy it.
Verdict
If you enjoy suction clitoral stimulation, We-Vibe Melt is a great option to consider. It is powerful, quiet, and waterproof, plus the orgasms it elicits are quite powerful.
However, it might take some getting used to especially if you intend to use it for some sex positions.
>> Click here to check the price of the We-Vibe Melt