The toys built by Singapore-based Lovense are, by this point in time, well-known and justly renowned among sex toy enthusiasts.
Widely beloved for their consistent Bluetooth connections, strong motors and powerful app that makes webcam interactivity not just possible but so easy as to make it a major selling point for webcam models that use them, Lovense toys are heavily featured in videos on major websites including PornHub, OnlyFans and many others.
But do all of them live up to the standards of their fans? And if not, which ones are the best and which are the rest?
Lush 3: The Latest Generation of a Legend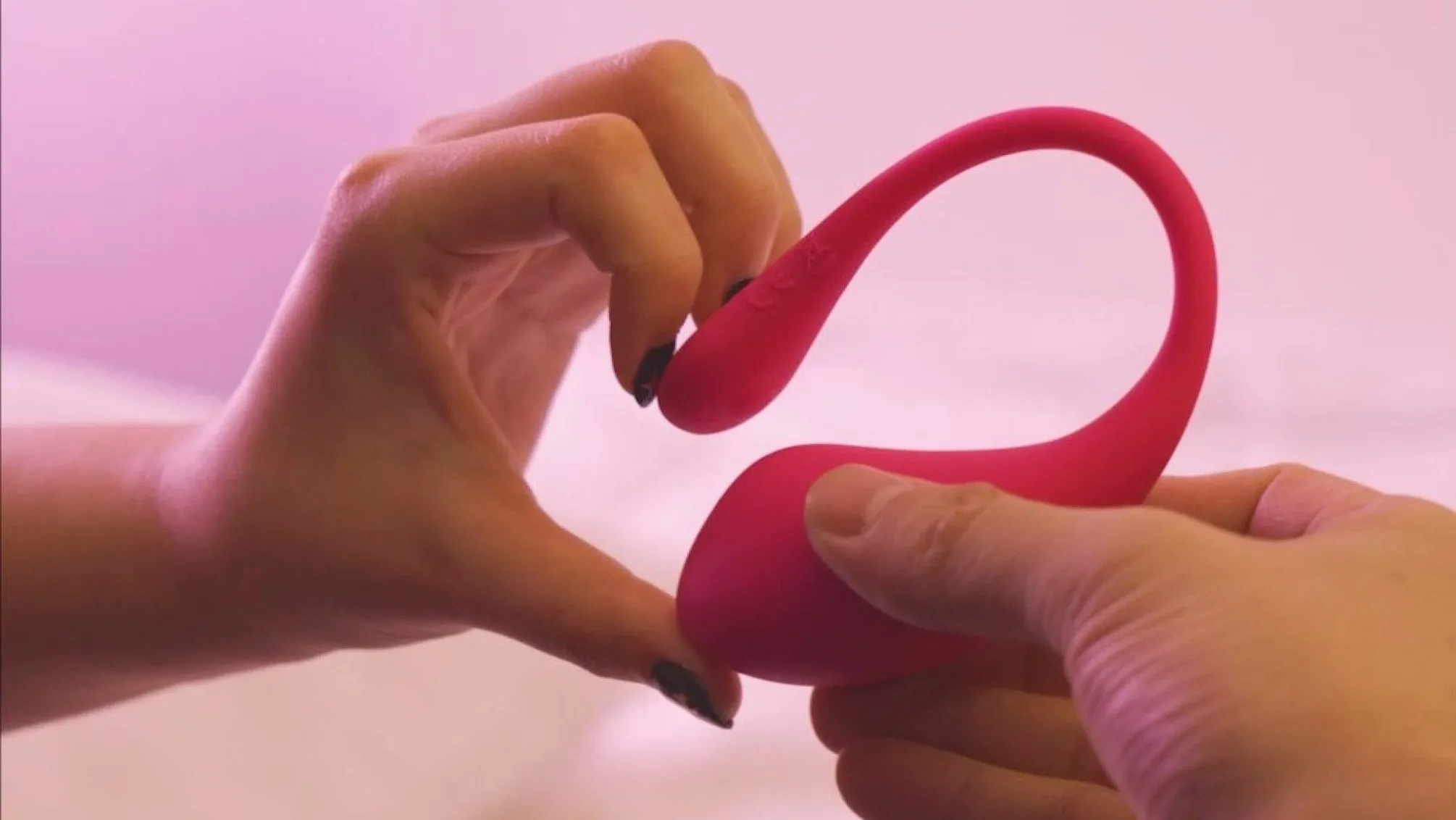 Since its origin in 2016, the Lovense Lush has made itself practically a necessary accessory to any sex webcam model.
Its app control features, originally designed to make it controllable by a lover across the room, across the country or across the planet, have been refined into a design that easily allows anyone who's interested to become a webcam model.
Sized for insertable play and quiet enough to wear in public, Lush 3 became a necessity, with new versions showing up every few years.
Lush 3 is the third-generation revision of the famous toy. It's a popular sensation for cam work and public play, making it a no longer surprising match for many people's toy needs.
It's moved from a relatively niche, performer-centric toy to a toybox staple for lots of sex toy friendly bedrooms.
It's no coincidence that Lush is practically synonymous with Lovense, even over their original Nora and Max toys.
Pros
You know exactly what it is.
You're going to get off.
Cons
None. Pretty much the best thing to ever work inside you.
Max 2: Very Little has Changed.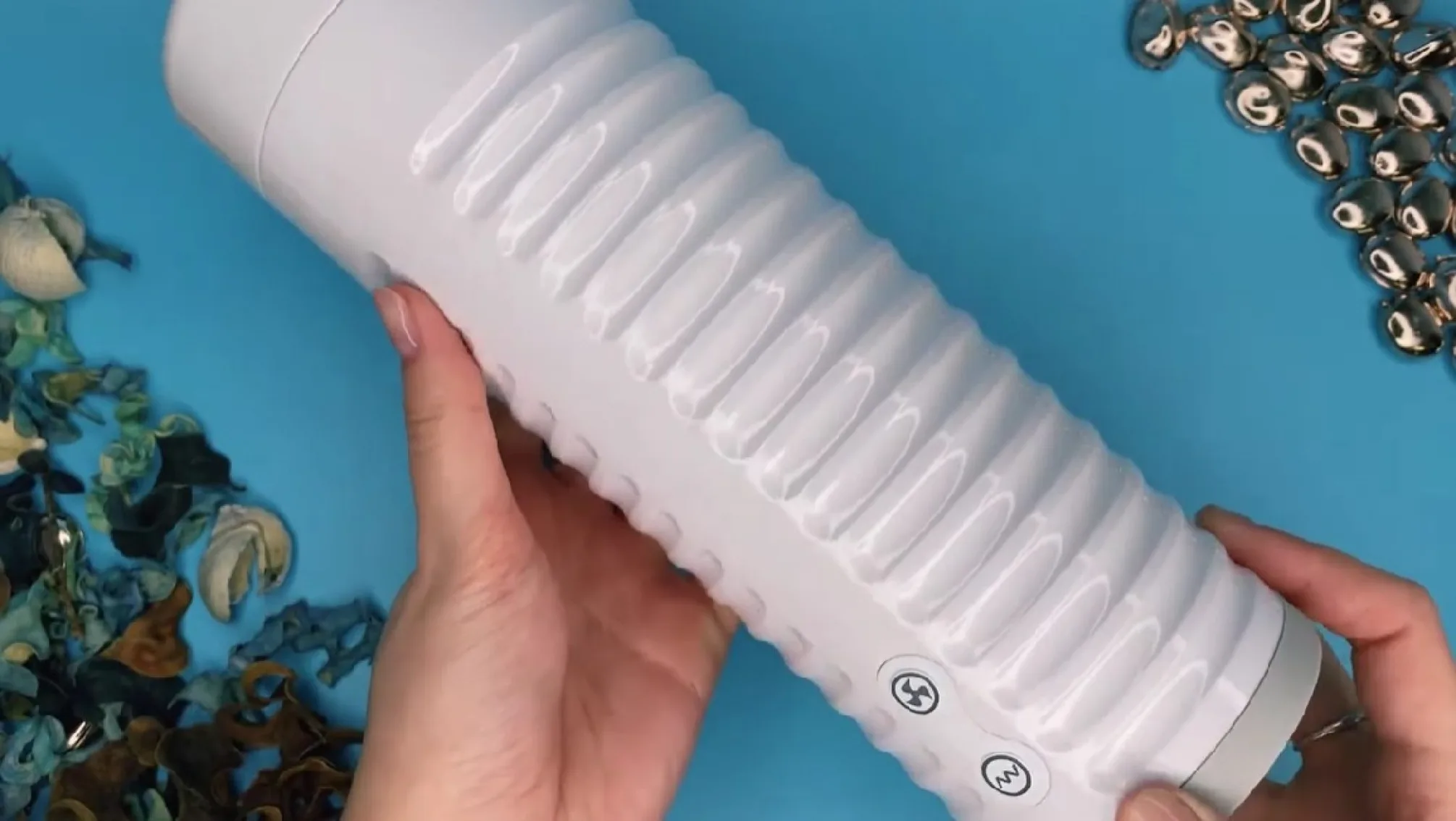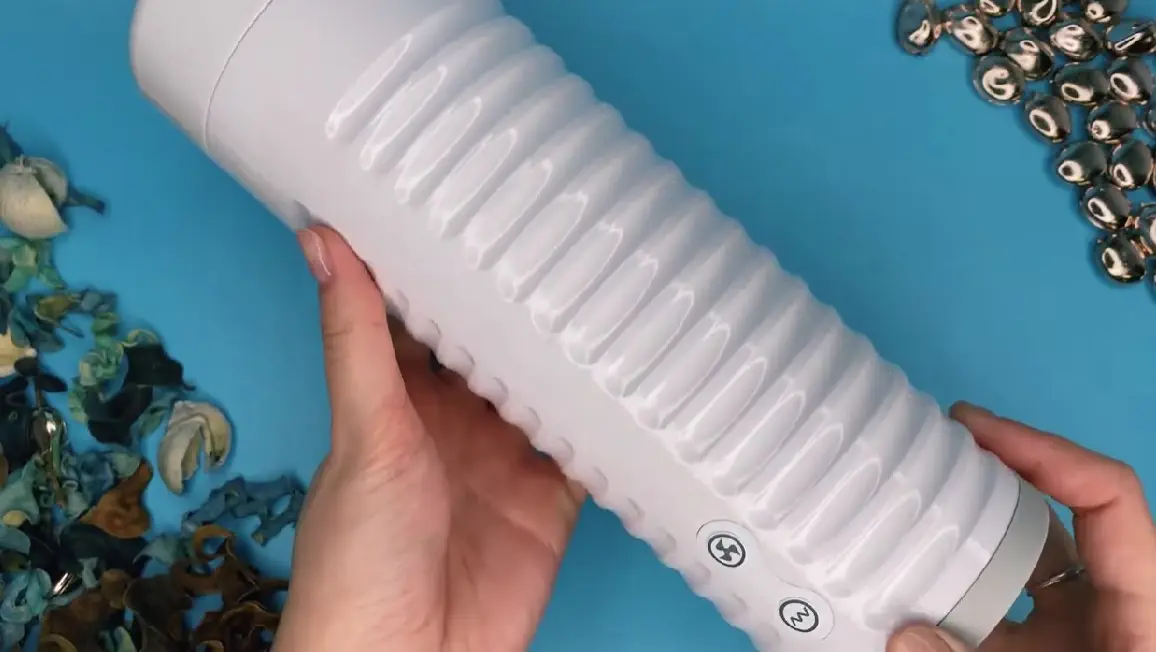 Lovense's premier men's toy.
Max is not only the first men's toy and one of the first two toys Lovense ever produced back in 2013, but it's also one of the best designs ever for a stroker cup-based masturbator.
With its online connectivity, either through the app or a linked Nora toy, Max is a natural match for hot and heavy long-distance bedroom sessions.
Unlike Lush, though, Max is rather obviously not for public play unless you're at a party. It's a big canister device that goes over your cock, giving very little question what it's truly for.
With the limitations of being a very obvious toy, Max is also a lot of fun and you can find lots of videos on PornHub and other places affirming how much fun it is to use.
You'll be very pleased with it, either alone or with your favorite long-distance lover to share it with.
Pros
The oldest male toy by Lovense, with a generational update
Strong motors mean you know what you're getting, and you'll get it fast.
Cons
Not for public play, period.
Nora: Don't Mess with Perfection.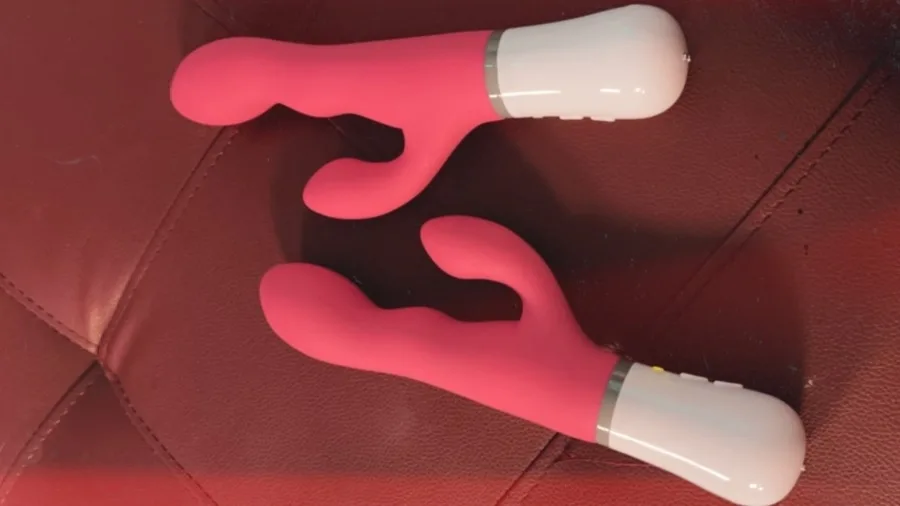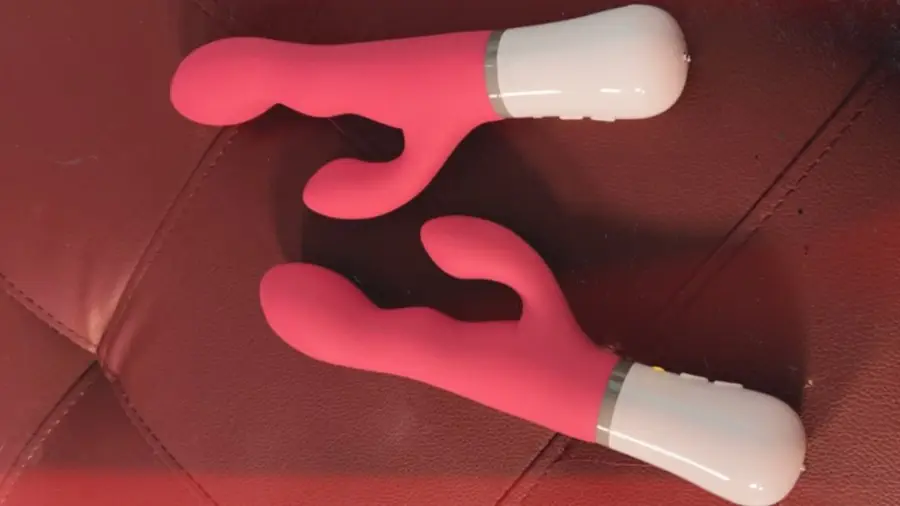 The distaff counterpart to Max 2, and one of Lovense's only long-standing toys that hasn't had (or needed) any updates since the line started back in 2013.
Nora's app-controlled rabbit vibe design is timeless, and its popularity endures with sound activation, music sync, or long-distance control.
With 3.5 to 4 hours of power and body-safe materials, Nora is the perfect toy for beginners to Lovense.
The only downsides are that it's a very big toy, and the Bluetooth connection is a little glitchy.
Pros
Rabbit vibe form factor is familiar and popular.
Thrusting and independent vibrators are powerful.
Cons
Slightly glitchy connectivity.
No updates since release means it's a little behind the curve of Lovense's most recent options.
Tenera Sucks in a Good Way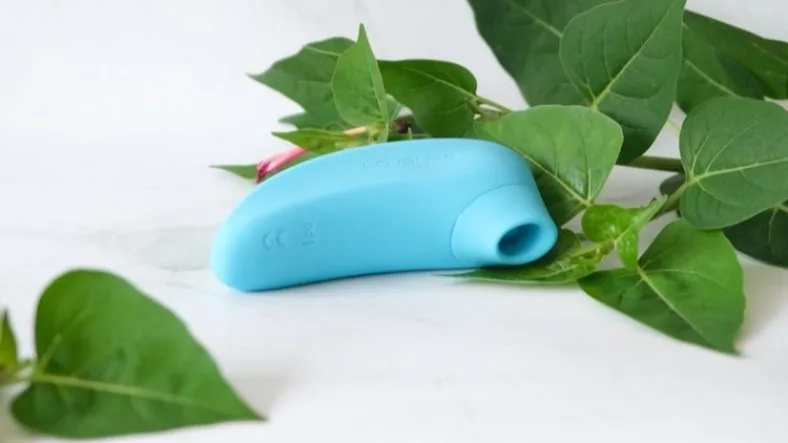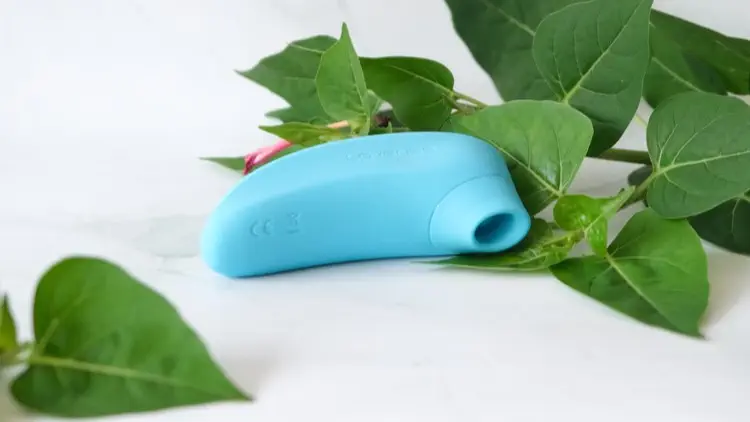 The new genre of clit-sucker toys is an attempt to do for women what pocket pussies do for men: Create the sensation of suction on the glans of the clitoris, to simulate the feeling of oral sex.
Tenera is one of the smartest suckers on the market, giving you some amazing sensations with very little difficulty in getting off with it.
It's power-packed and app-controlled, with up to 5,000 air pulses per minute. Absolutely, completely mind-blowing, with a unique experience even in the genre.
Not one of Lovense's best-known toys, but one of the best, with an incredibly discreet and compact form factor.
Pros
Discreet and compact
Suction gives its competitors a run for their money.
5,000 pulses per minute is amazing.
Cons
Not as versatile as some Lovense toys.
Hush 2: Truly Discreet Men's Toy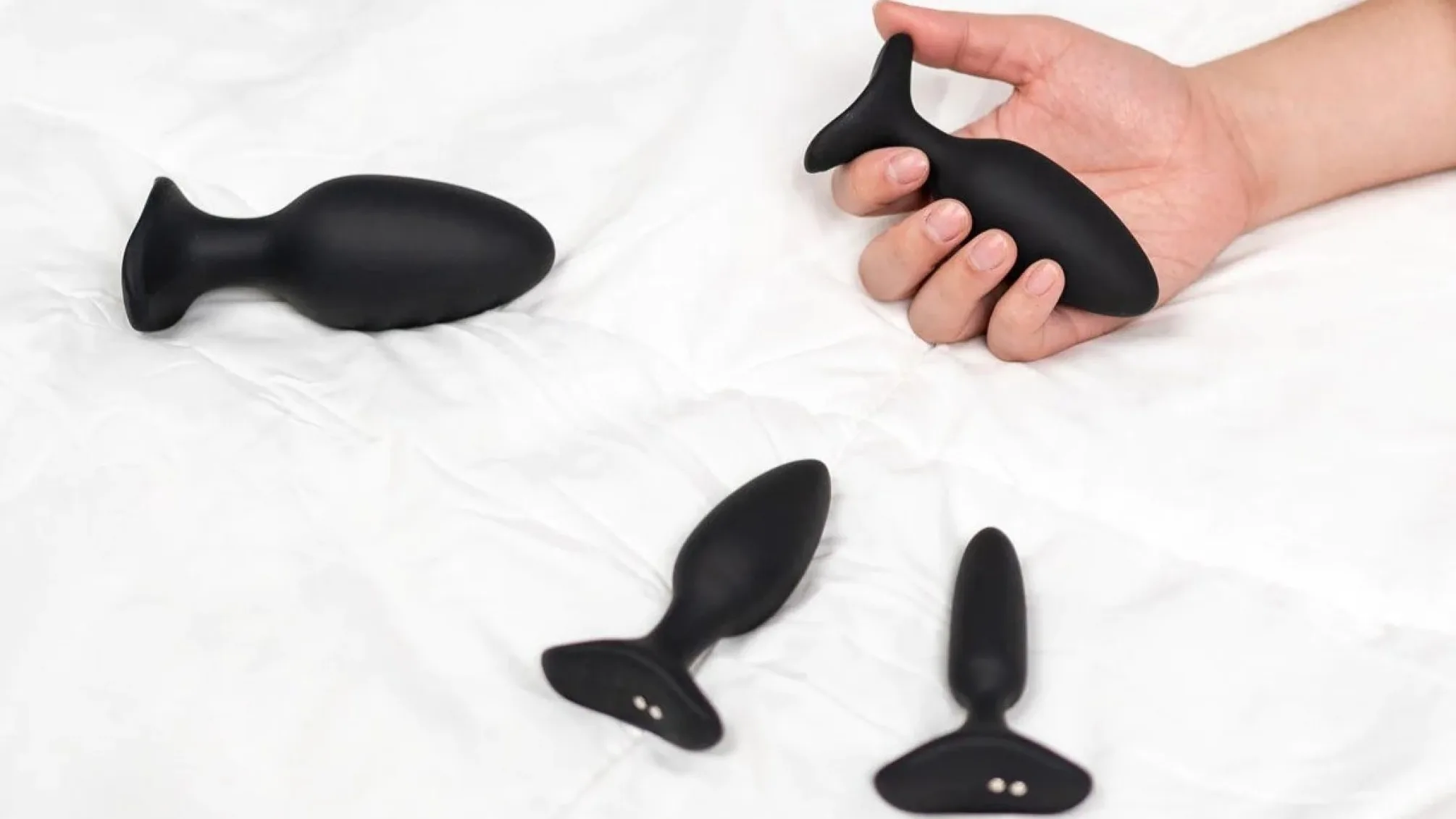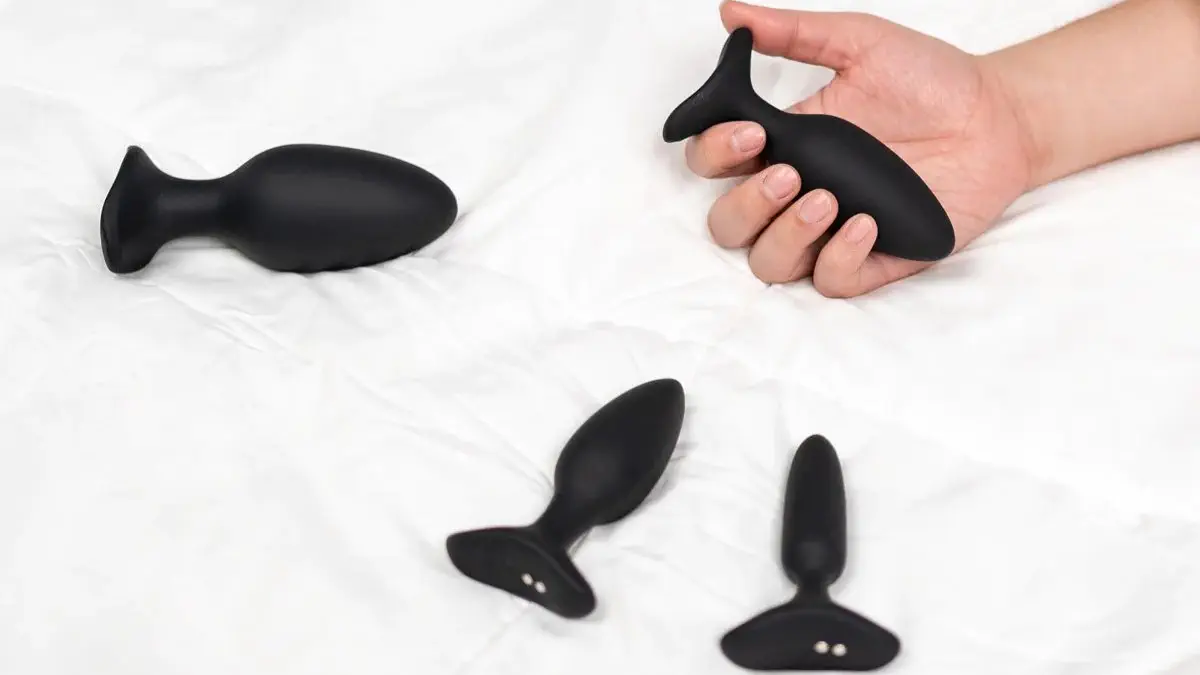 Hush 2 is one of the best choices in Lovense's arsenal for an insertable toy for men, unless the man in question is flexible enough back there to be able to take a Lush 3 (see that toy's description).
If you're in the mood for a male toy that's powerful enough and quiet enough to make discreet play in public a true option, Hush 2 is one of your only bets.
There are only two caveats: First, because it's a butt plug and not a prostate massager, it's harder to get the vibrations where they truly need to be to get a man off in public.
The second one is that the Hush 2 is a little bit of a stiff butt plug, making it harder to insert than a solid one. Still, if you're into public play, it's the best choice you have as a man.
Pros
A truly discreet, male-oriented sex toy.
Anal vibrations are very rumbly indeed.
Cons
A little bit stiffer than a solid butt plug, which can make it harder to insert.
Not as efficient at hitting the prostate as the Edge 2.
Sex Machine: Does Exactly What It Says on The Tin.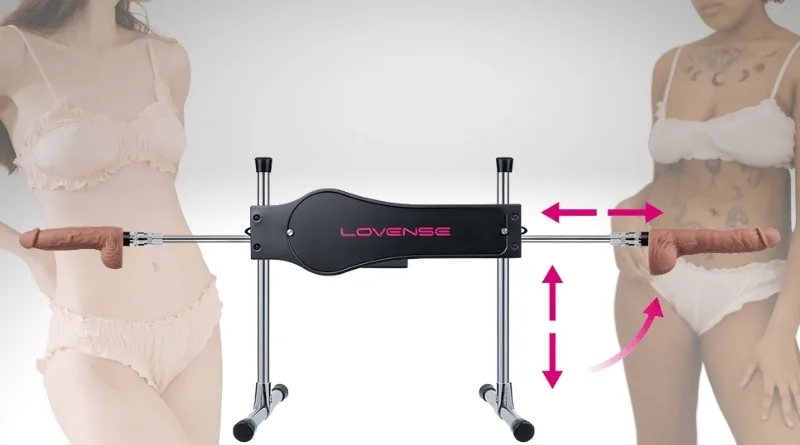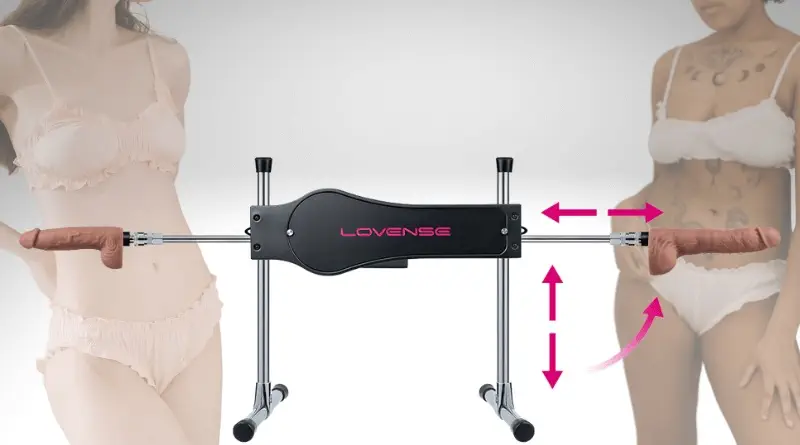 The Lovense sex machine is completely obvious, and that's part of what makes it great. There's nothing subtle about it at all, it's just there to give you a good time.
When you set it up, you're just getting into it to get fucked, and that's all there is about it.
It's one of the best toys like it on the market, and for the premium price you'll pay for it, it's appropriately well-built, heavy, and durable.
You're going to make this one of the centerpieces of your playroom, that's all there is to it. Unlike some of Lovense's other toys, this one doesn't get penalized for not being publicly useable.
If you have a sex machine, you're not using it for naughty adventures in public to begin with.
Pros
One of the top sex machines on the market
A premium device with optional two-user setup
Big and heavy gives it great stability
Cons
It's EXPENSIVE.
And HEAVY.
Seriously, this thing is gigantic. You'd better have a closet to hide it in when it's not in use.
Flexer is Great but Not Without Downsides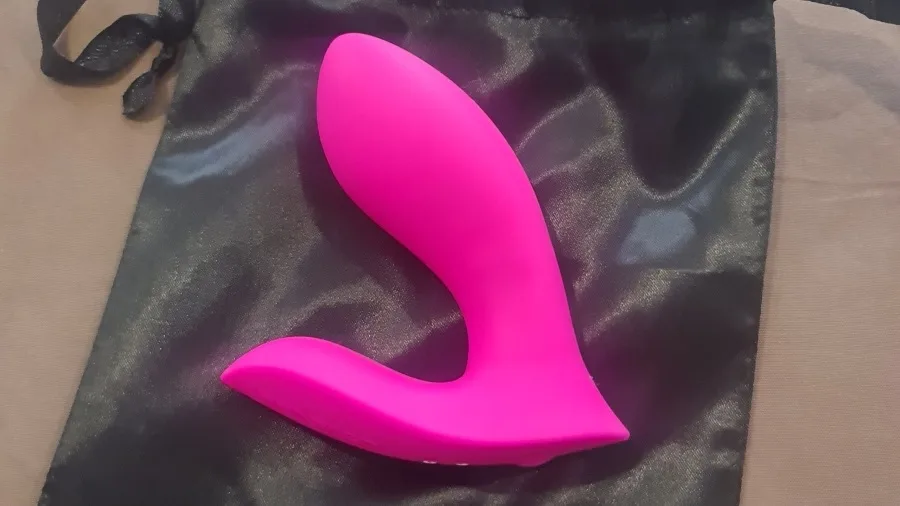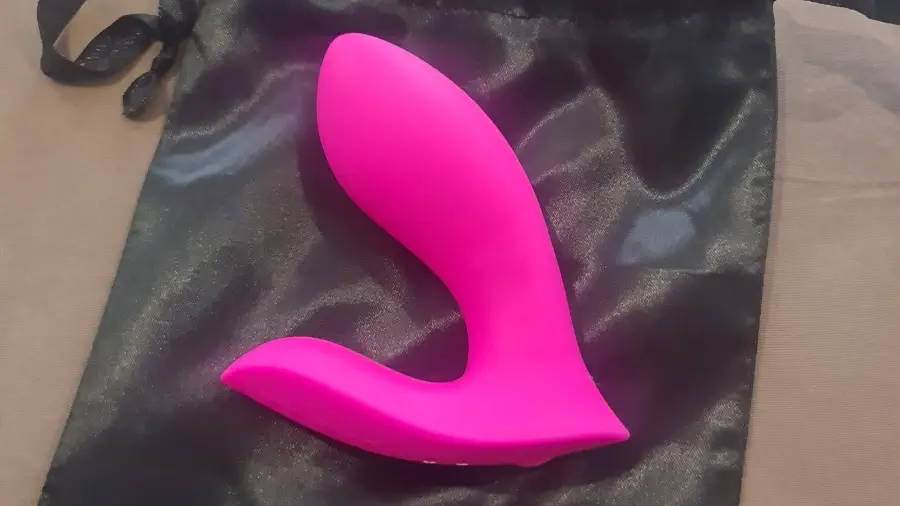 Very similar to the Lush with an added come-hither movement and external finger to make it work, Flexer is absolutely tons of fun with an incredibly rumbly vibration that gets you going.
Does it have a drawback? Well according to our testers, it has a few.
First, unlike the whisper-quiet Lush 3, this toy has some pretty significant sonic signature, so if you've got some fantasies about playing with this in public, unless your idea is to have an orgasm at Yankee Stadium, you're not going to go unnoticed.
Also, Flexer has a looser fit than Lush 3, so despite its marketing as a panty vibrator, it's not a toy that's going to be easily used outside of the bedroom.
Flexer, overall, is a great toy option, but not one that fits its advertised niche.
Pros
Come-hither motion really pushes the inner arm into the g-spot.
Very strong motors
Cons
Can slip out.
Not for use in public.
Some users report the flexing motor is a structural weak point.
Gush Will Get You Gushing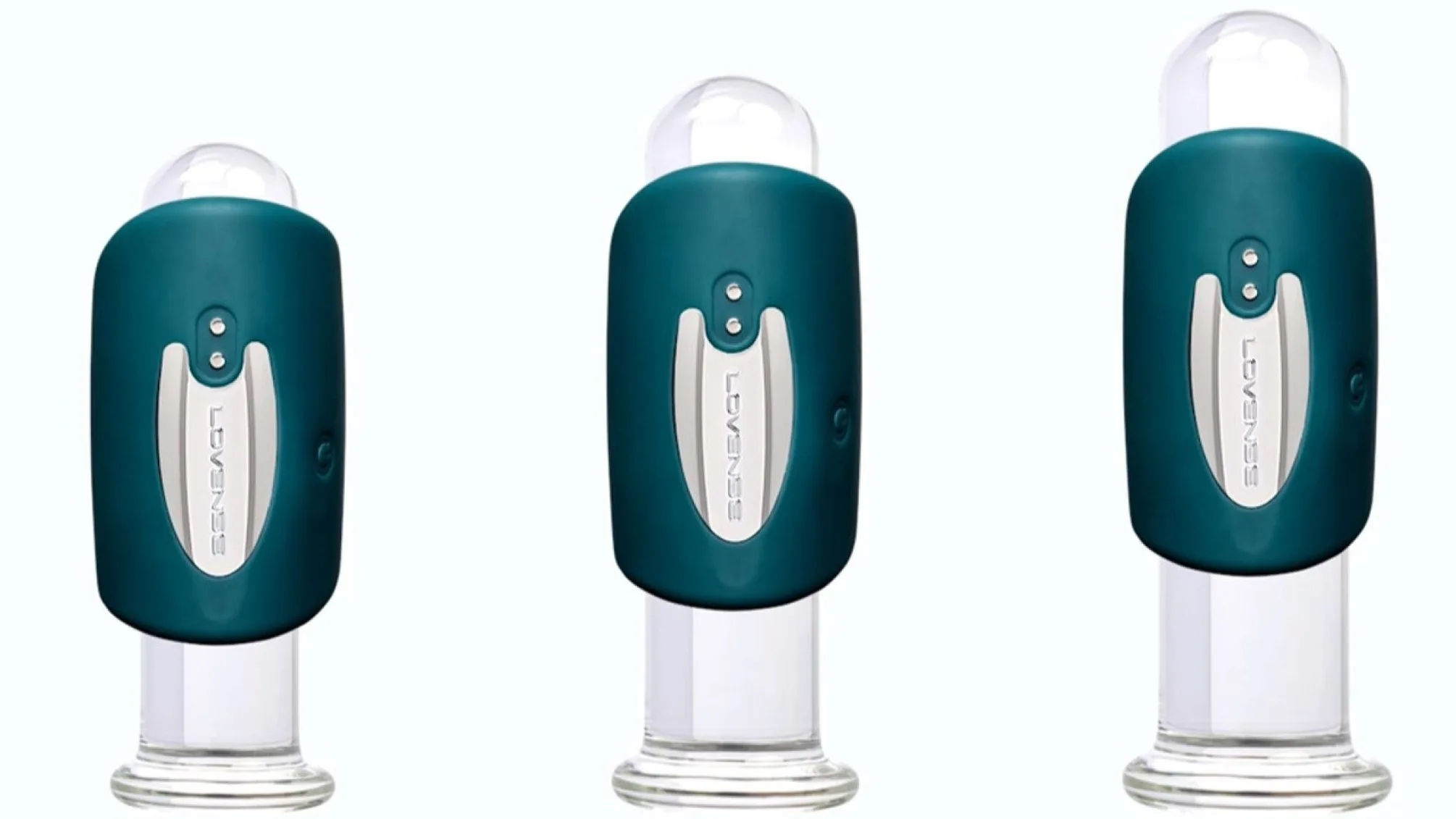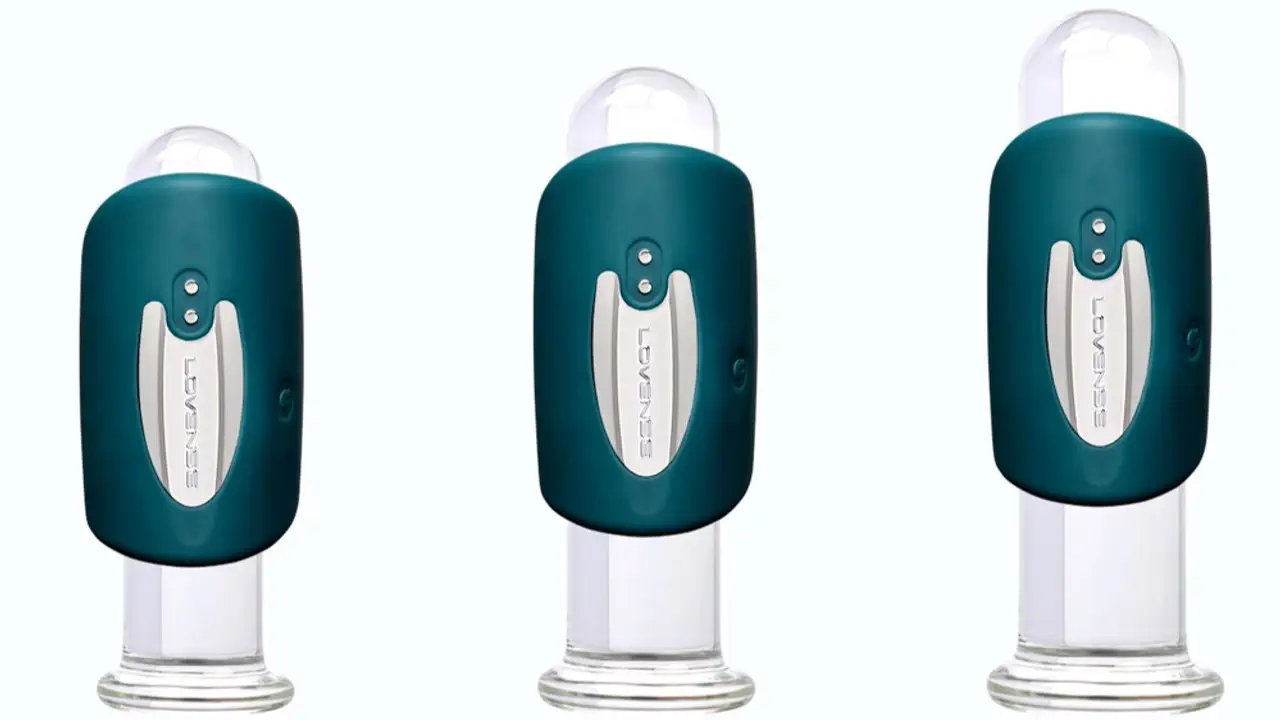 Gush by Lovense is a wraparound vibrator for men.
With a strong vibration and wings that spread it around the glans, it's pretty much for one purpose and one purpose only.
But that's what's great about it: Gush is not subtle at all, and it's one of the best men's toys for in the bedroom.
Unlike Max 2 and Calor, which are both artificial vagina stroker toys, Gush is a pure glans massager, and it does that really well.
The manta ray-like wings are another great feature, creating a 360-degree surround with the vibrations in a way that few other male vibrators deliver.
But like many of Lovense's male toys, a little bit must be deducted from Gush because it is not for public use.
Pros:
Winged design completely surrounds the glans with pleasure.
Vibrator is one of the strongest on the market.
Cons:
No Long-Distance Sex Option
Definitely not leaving the bedroom with this one.
Dolce is a New Earthquake for You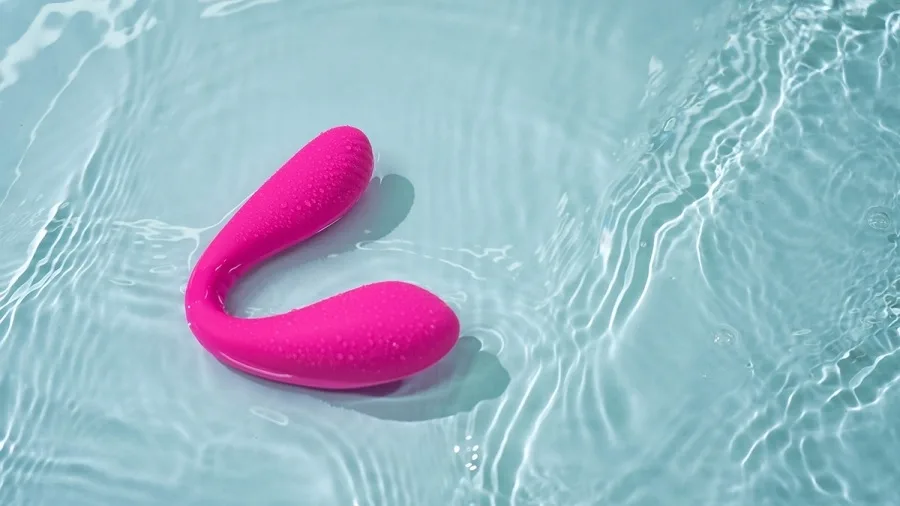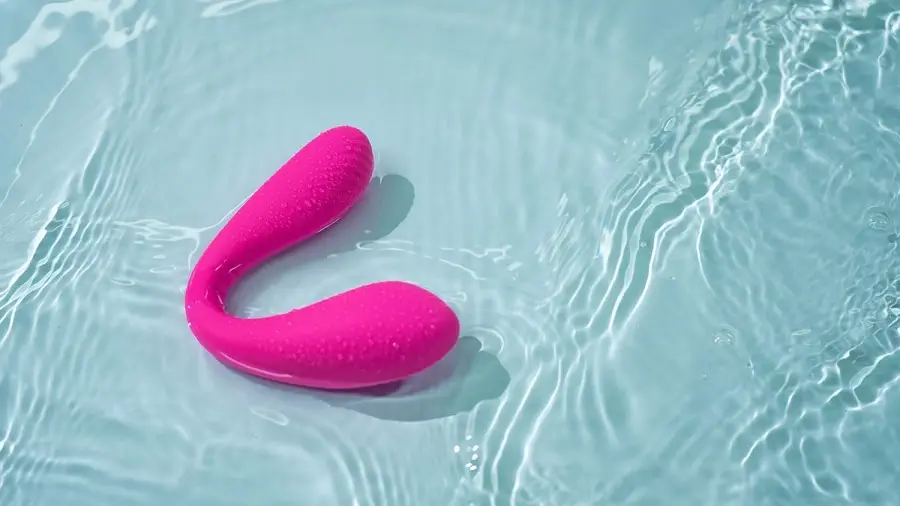 Previously called Quake, Dolce is sometimes mislabeled as a couples vibrator. In fact, it is not, at least not in the sense that products like the We-Vibe Sync are.
The inside bulb is big – big enough that insertion under it is not going to be a realistic option.
Instead, Dolce is a couples' product in the sense that other Lovense products are. It's designed for a couple to use over app or internet control.
If you're into app-controlled toys, Dolce is like Lush, but with an external arm that directly hits the clitoris for you.
Like other external vibrators, it is incredibly lacking in the subtlety department.
Do not even think about wearing this one in public – it's loud and will alert anybody to the fact that you're doing sus things in public.
Pros
Blended orgasms are easy to achieve.
Lovense's trademark strong motors
Cons
Loud. Not a great choice for public play.
Calor adds Warmth to the Pocket Pussy Formula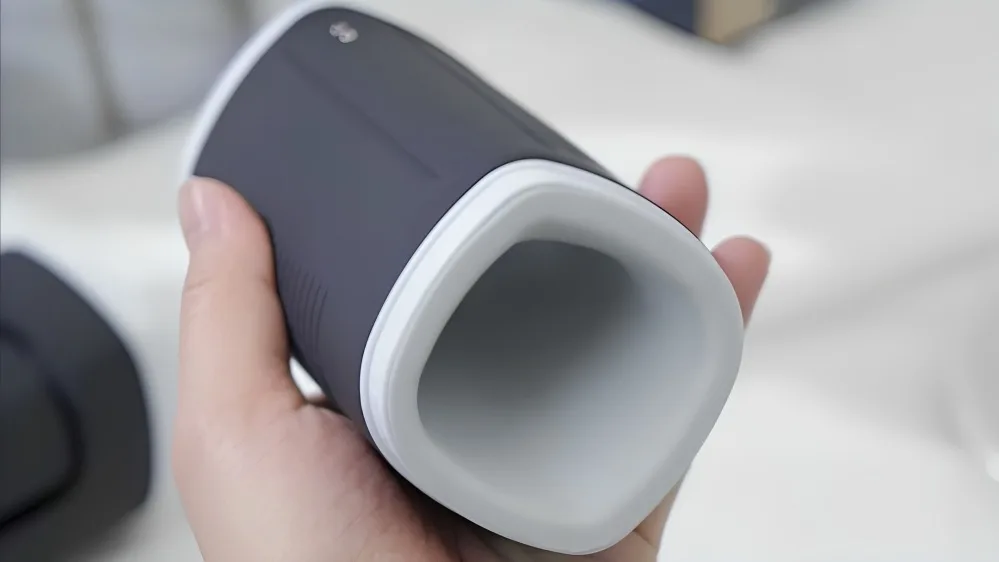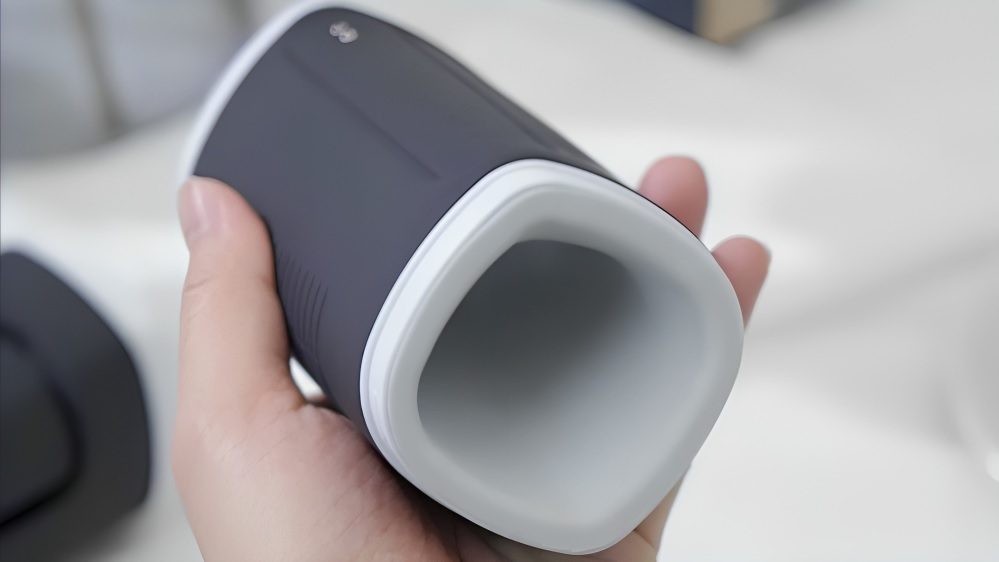 With additional warming circuits, Lovense Calor is an additional dimension to the vibrating pocket pussy design.
With a perfect combination of depth, heat, and vibration, Calor is another great toy by one of the best manufacturers in the game.
It's a little bit noisy so don't expect to be able to use it in a public space. The interior is open-ended, but it's not a hands-free device – you're going to need to still be stroking it.
It can also sync its movement with Max 2, another Calor, or the Nora rabbit vibrator. Overall, a compelling option, but not a primary choice to be your only Lovense device.
Pros
Feels absolutely wonderful.
Open-ended design is very versatile.
Cons
Not for public use
Shaky compatibility with other devices
Sleeve texture is not as realistic as offerings by Kiiroo or Fleshlight.
Edge 2 Gets Your Prostate Hard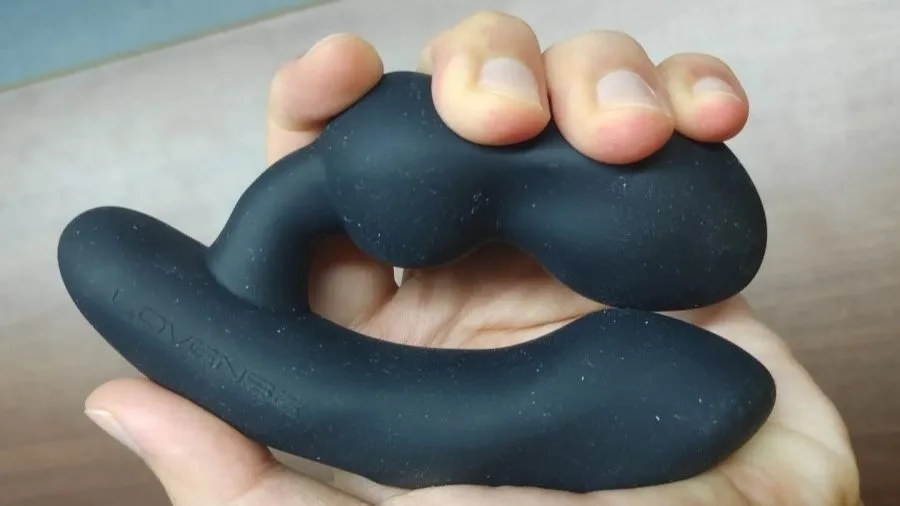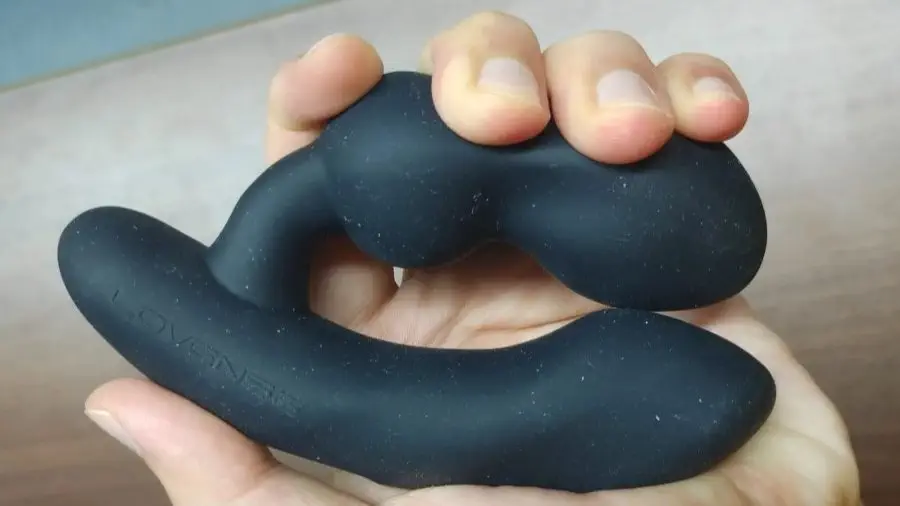 Edge 2 is an internet darling.
One of the strongest prostate massagers available on the market, the revised internal bulb design, which is the biggest upgrade from the original Edge, makes it a lot easier to keep in the body than its predecessor.
The prostate plug is not directable with the hand, which is ok, that's not what it's really for.
The bad news is, Edge 2 is another male-oriented toy that's not truly compatible with public play – the shape will likely let it slide out, and the perineum vibrator, being outside the body, is noticeably quite loud.
Pros
Some of the strongest prostate and perineum vibrations around
Gives control to your partner in an extremely gratifying way.
App-controlled prostate massager with a really reliable connection
Cons
Not for public play
Interface is not the best of Lovense toys.
Exomoon is a Sexy Little Lipstick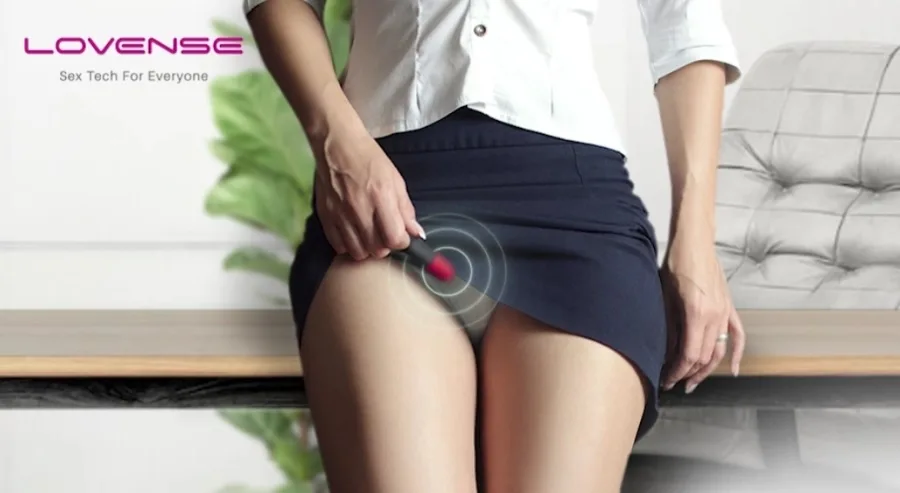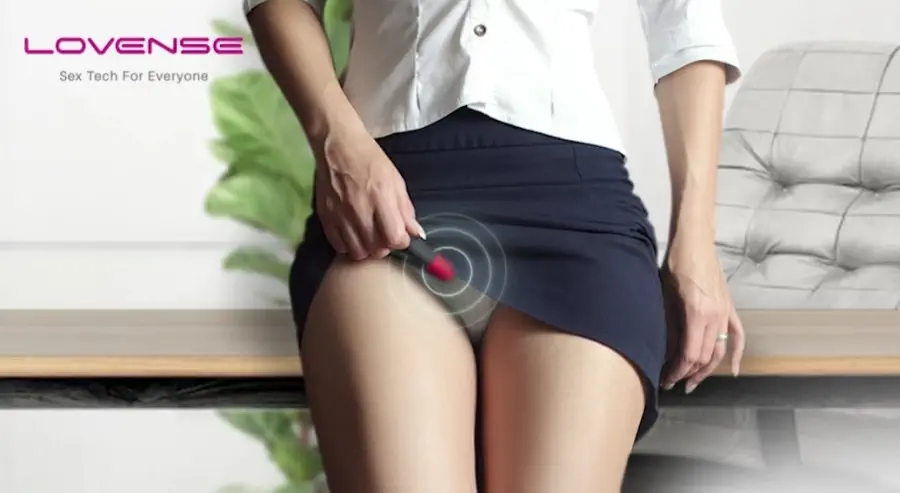 One of Lovense's little secrets, and among the most affordable toys in Lovense's arsenal, Exomoon is a lipstick-sized bullet vibe with a huge difference.
It's discreet and beautiful – without seeing the control button magnetic charge point, it looks almost exactly like an actual lipstick in case.
It's small, discreet, and can be easily used with others around, such as in a quiet house later at night.
The tip is a little bit hard, which makes it easier to get the vibrations across, and surprisingly, it includes all of Lovense's most popular teledildonic features!
Pros
A teledildonic vibrator in lipstick form factor
Whisper-quiet motor lets you use it in public or in a quiet house.
Cons
Motor is buzzier than most Lovense products.
Gravity Gets You from Below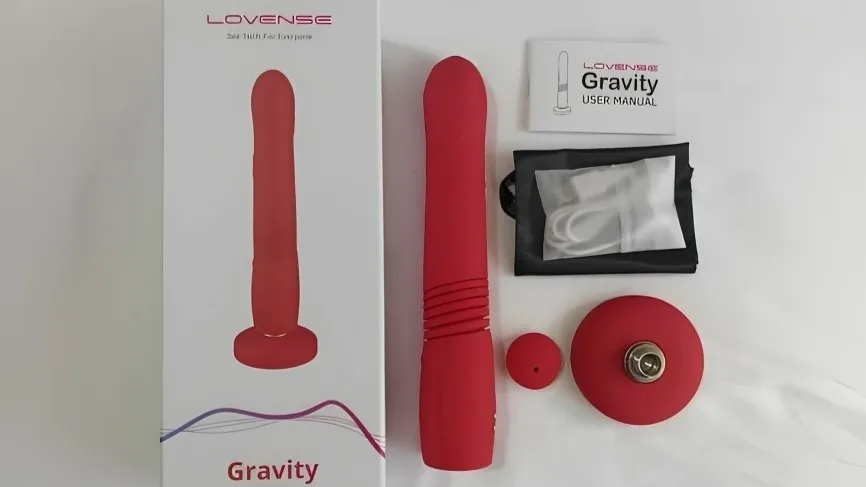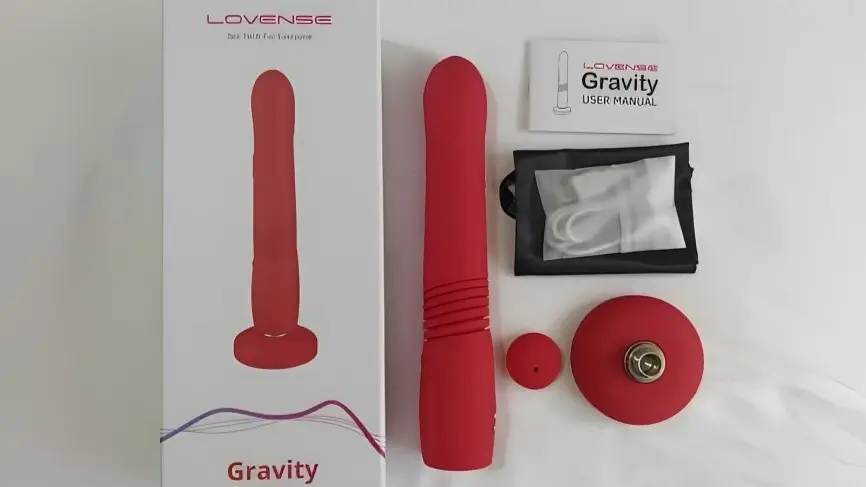 Right in the space between a traditional dildo and a sex machine is Gravity, a thrusting dildo.
It's got a solid, suction-cup base, vibration and 1.18" (3 cm) of thrust each controlled separately with their own motors and 4 hours of battery time.
It doesn't need to be said that this is very much not a subtle toy at all, and not suitable for public play so I'm not going to evaluate it for that.
Gravity is a relatively affordable entry point to thrusting toys.
And if you like it, maybe consider checking out the sex machine, too. But for its own class of toys, Gravity is exemplary of itself.
Pros
Long thrust for a thrusting dildo gets you right where you need it.
Vibrations independently controlled are amazing.
Cons
Don't think you're using this with someone else in the house without them knowing you're using it.
Domi 2: Abracadabra!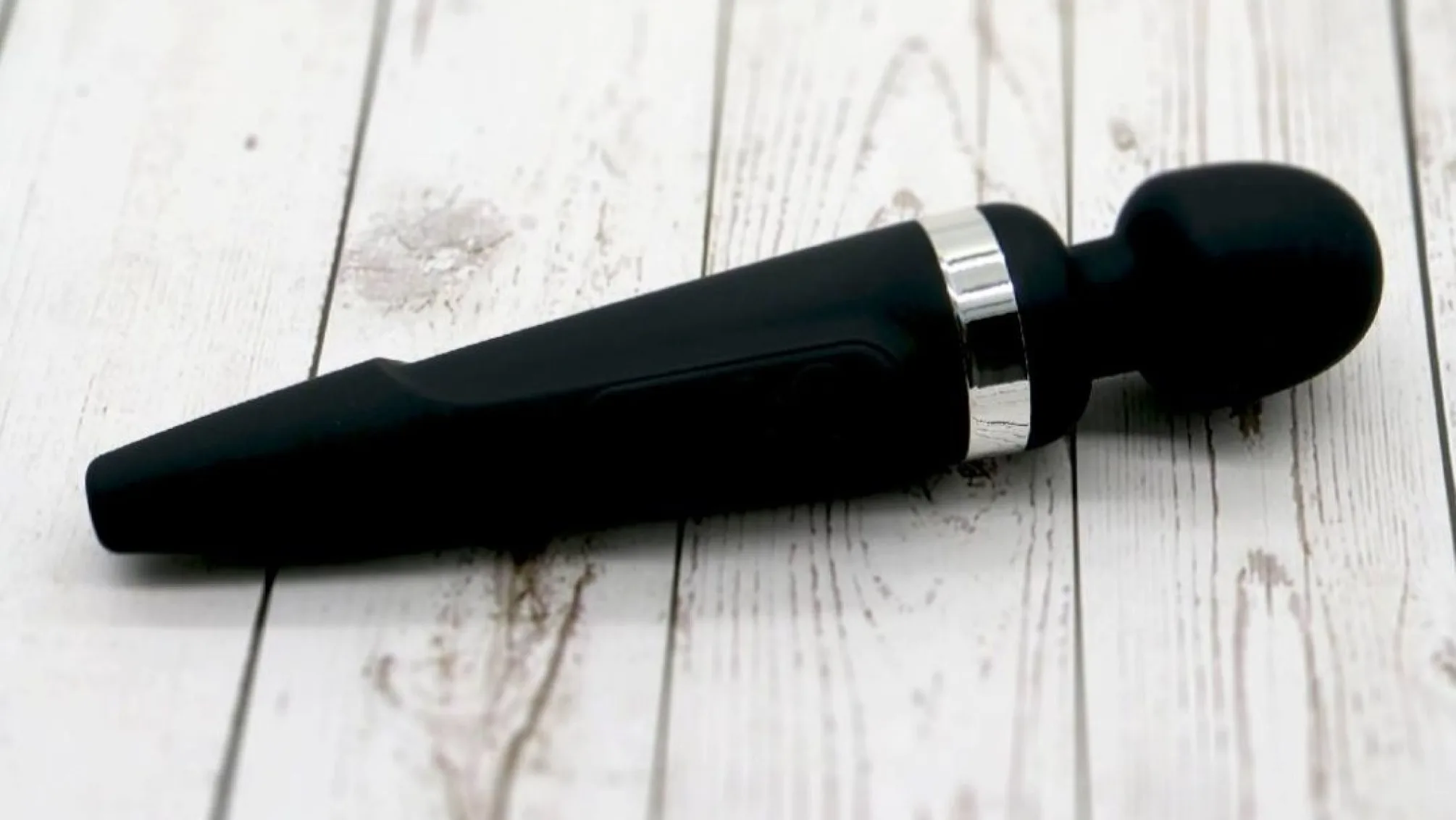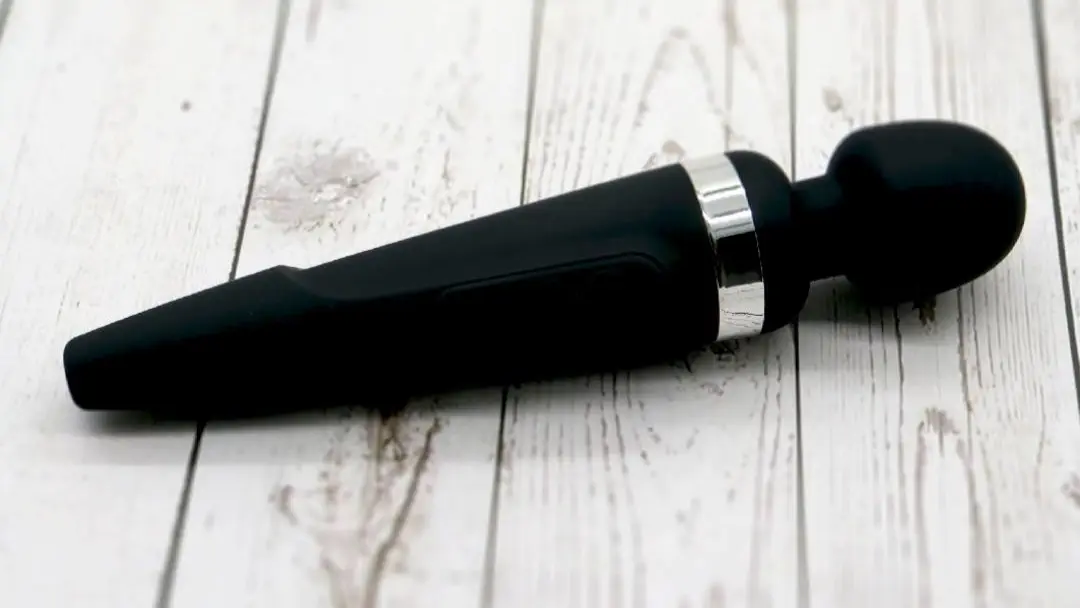 Lovense's take on a magic wand.
Domi 2 is one of the most powerful mini-Magic Wands on the market, with loads of attachments that mirror the ones on the more famous Hitachi.
Powerful and quiet but not small, it's an extremely fun but very unsubtle way to get off.
With classic G-spot and prostate options, the latter also having gripping fins for glans play, Domi 2 is a great choice.
Domi 1 is a little more powerful, so consider finding one of those that's still on the market.
Pros
Mini-Wand Power
App Interactivity is a surprising feature for a magic wand.
Cons
Not as powerful as its predecessor.
Hyphy Misses a Bit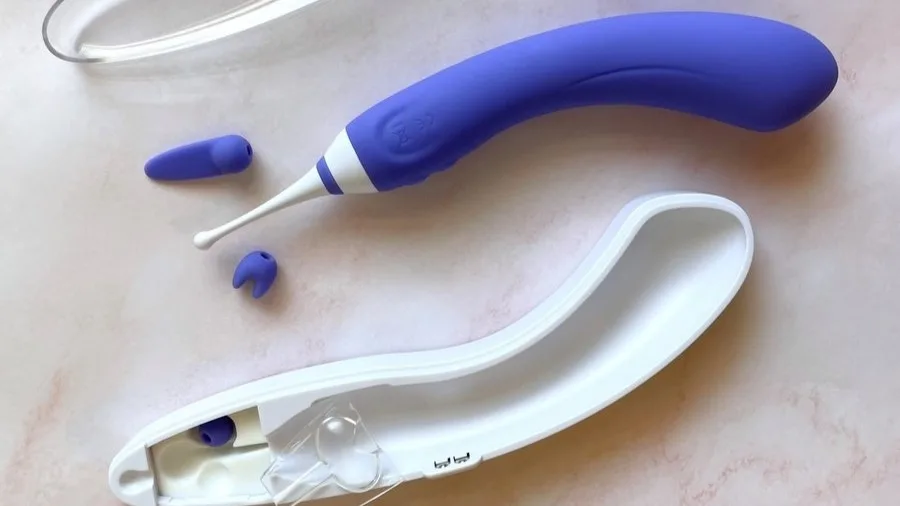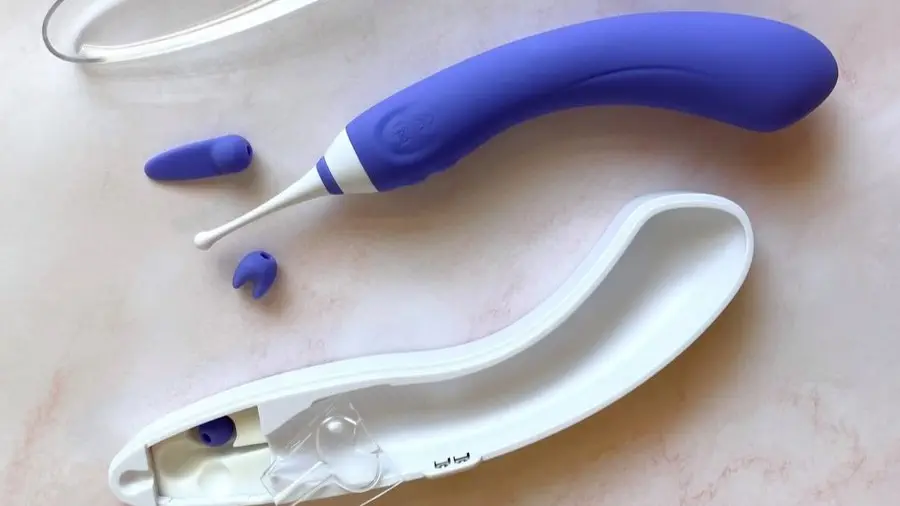 A Two-in-One toy. The curved end is a high-frequency G-spot vibrator consistent with other toys in the range.
The point vibrator for the clit is a little hit or miss, some users absolutely love it; some feel that it's either TOO pointed or too easy to miss the mark.
I think this is not my favorite toy; I'd rather have an independent clit vibrator AND g-spot vibrator than try to put both on opposite ends of the same toy.
Pros
Point vibration is unique.
Powerful g-spot vibe
Cons
Dual-ended design means one-or-the-other.
Many people think the point is too easy to miss with.
I'd rather have these as separate toys overall.
Diamo is for Men who Don't Put Things Up There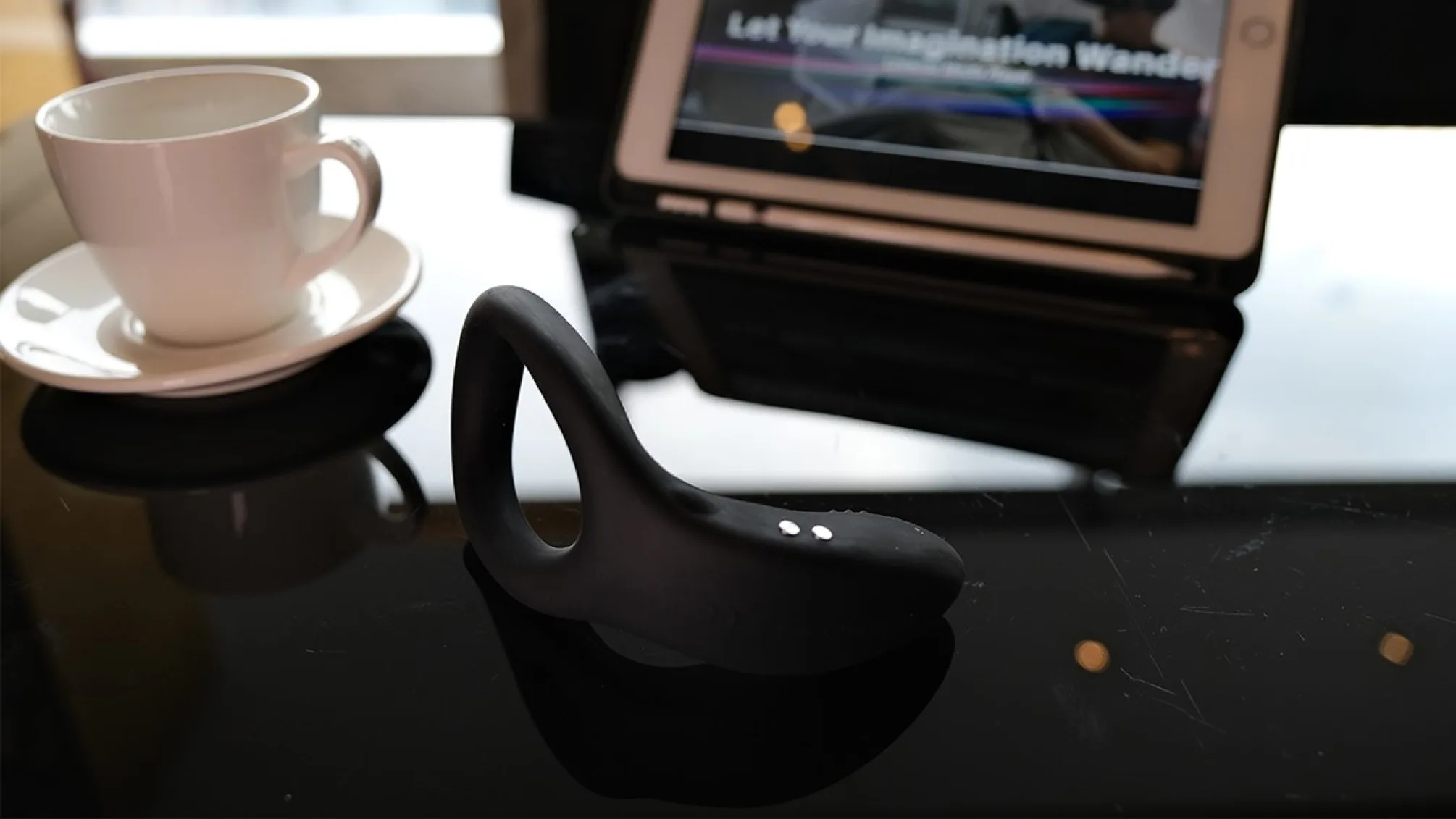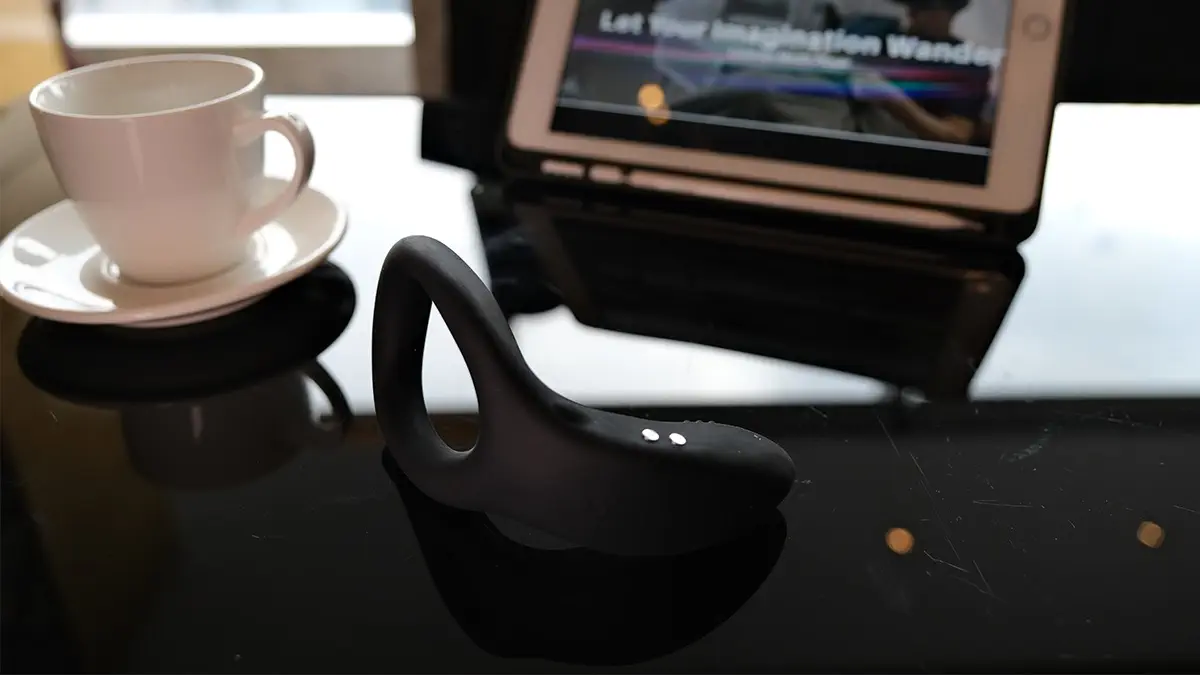 Men's toys, smart or otherwise, have one drawback for some customers: They require you to have a lot of patience for putting toys up your butt.
Many people are uncomfortable with this – anal insertion requires a lot of preparation and tolerance for either a disgusting mess, or enemas.
If you're not in that group, Lovense has something to help: A vibrating cock ring called Diamo.
Its vibrating arm can either rest on the cock or the perineum, giving men a chance to see what's so great about this whole vibrator thing.
Diamo has some big advantages over trying to use a wand-type vibrator with genitalia that wands don't fit well with.
It fits more comfortably against the penis or perineum and gives its vibrations in those areas.
If you're down, you're down, without having to clean an insertable – or clean yourself before inserting.
Pros
No-clean toy attachment.
Vibrating arm stimulates penis or perineum equally well.
Cons
If you love prostate stimulation, this won't do it.
Gemini: Big but Gentle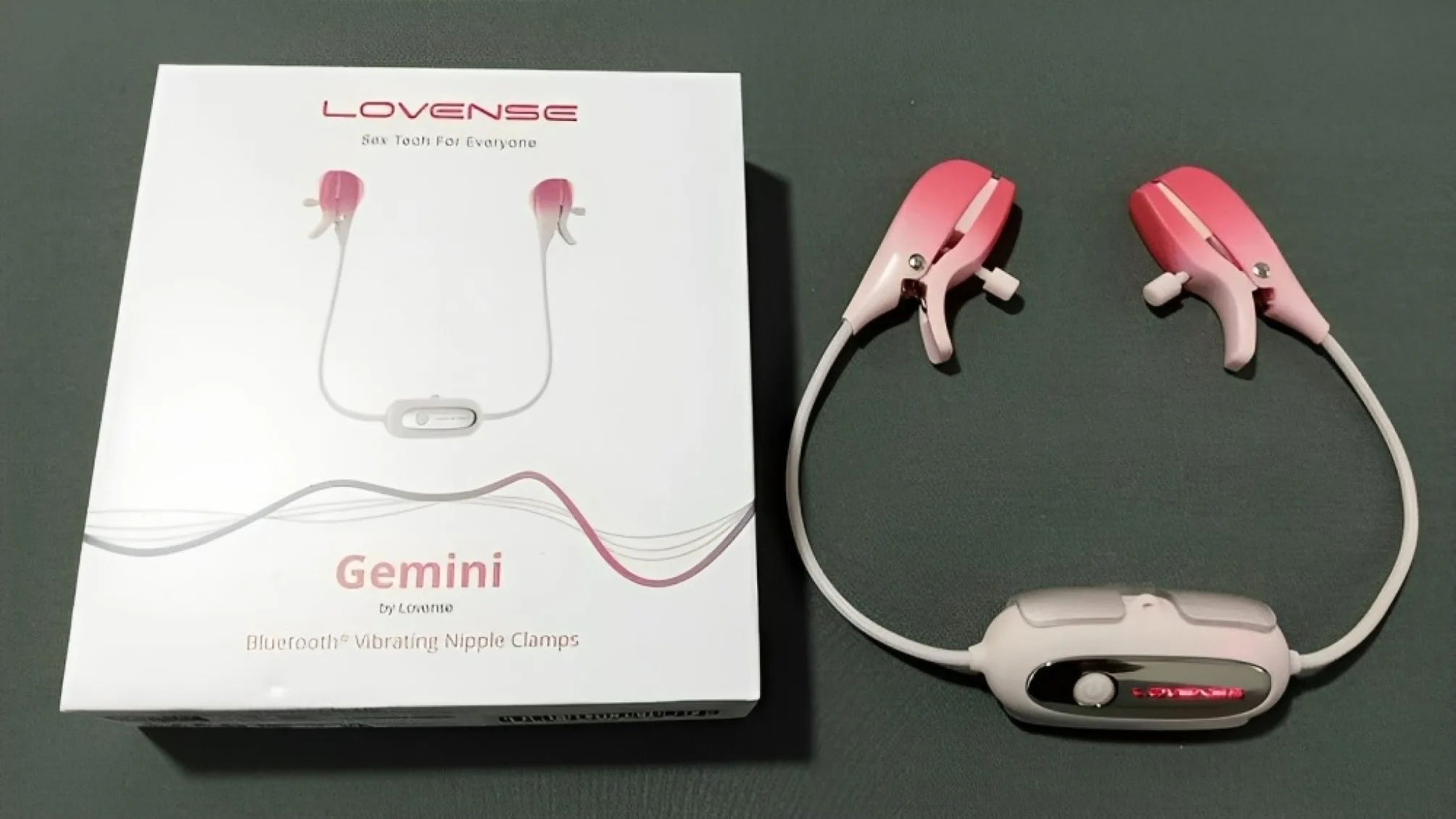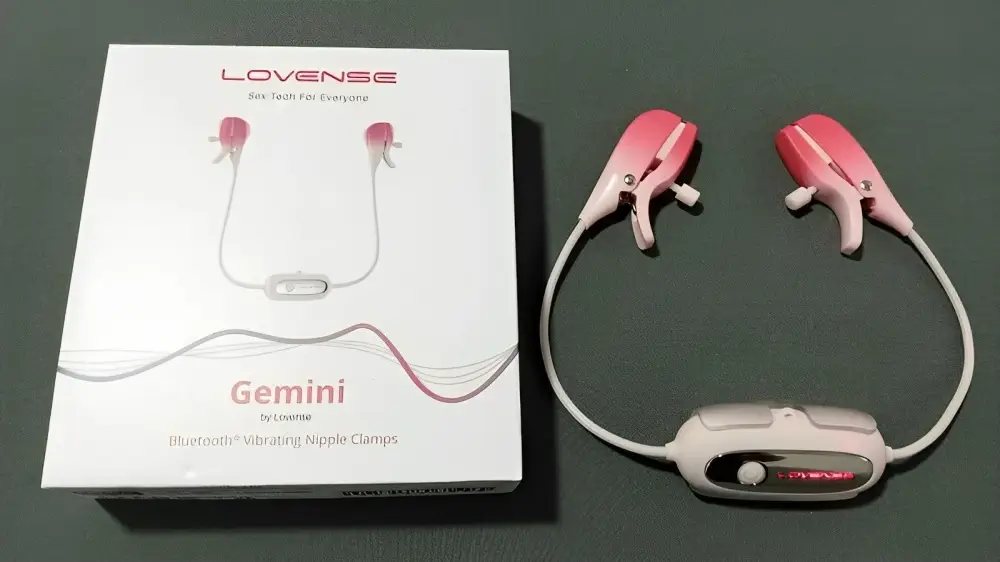 Nipple clamps are one of the most imposing and intimidating toys in the toybox. Nipples are very sensitive and too much sensation can turn into pain with no warning whatsoever.
Fortunately, Gemini's silicone clamp pads make it very easy and forgiving, and the vibrations are rumbly without being overwhelming.
Gemini is one of the best options for nipple clamp newbies.
Pros
Gentle introduction to nipple clamps.
Cons
Looks like the hands of a Spongebob extra.
Osci 2 Pinpoints the G-Spot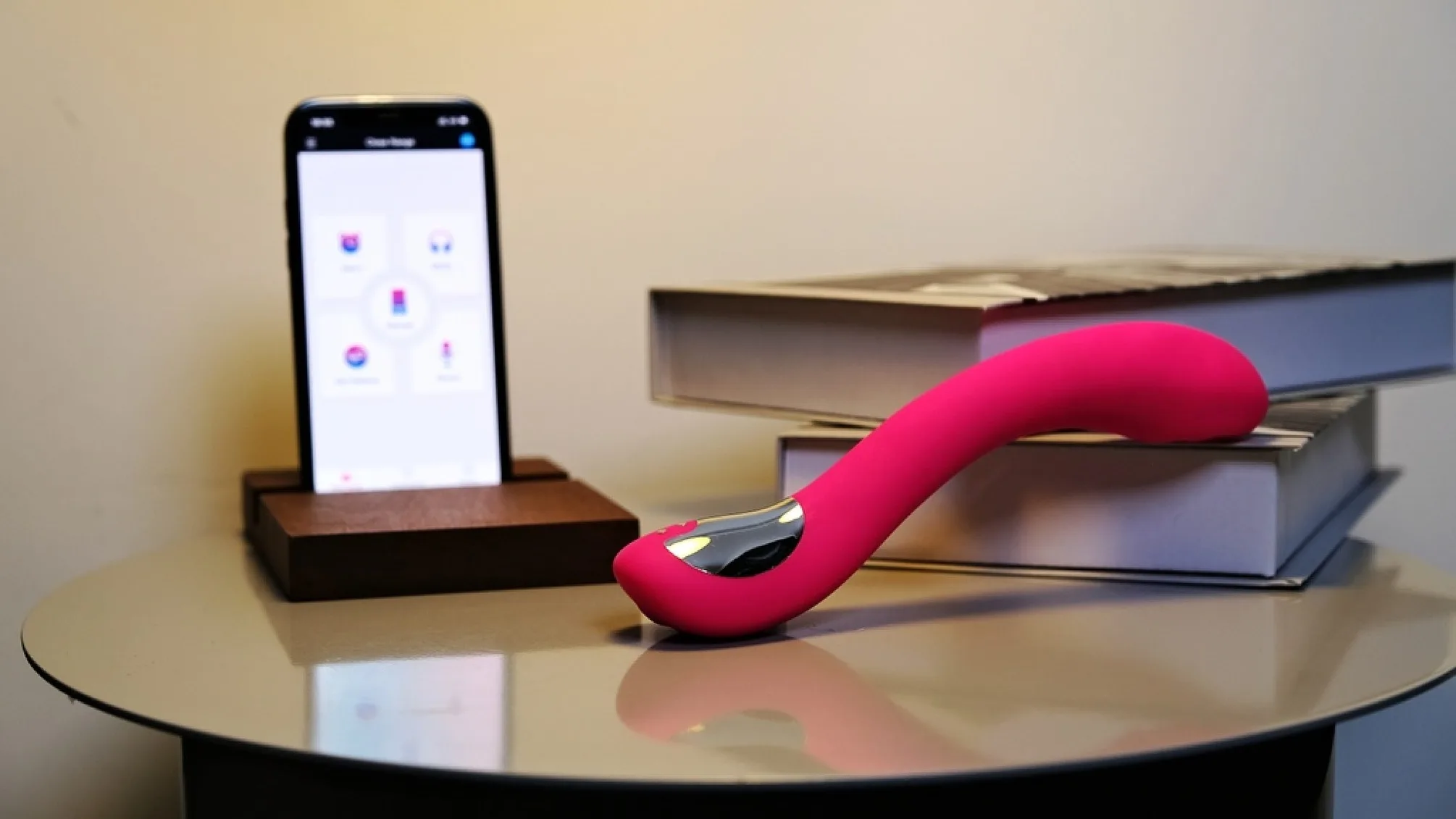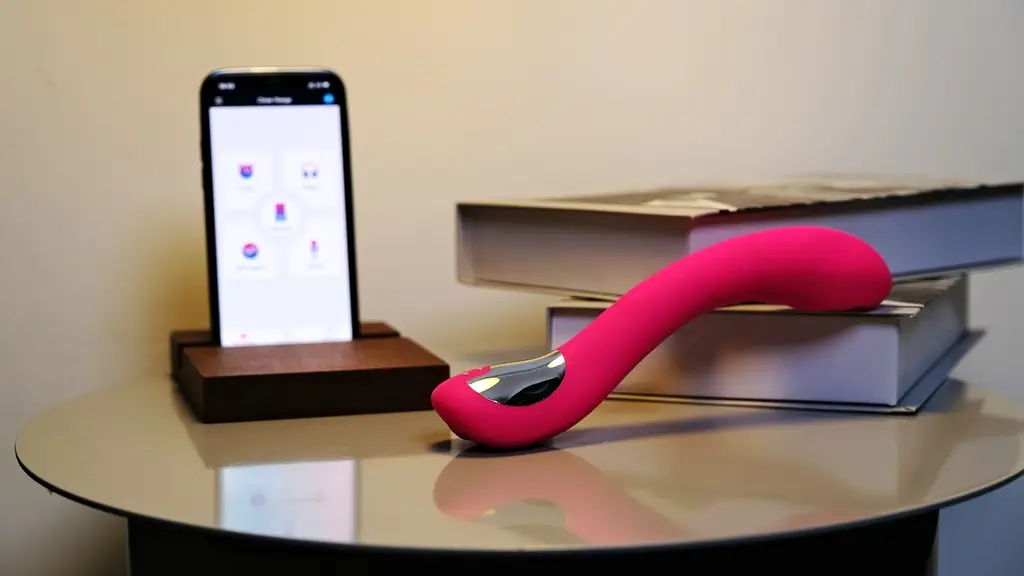 Osci 2 is a g-spot vibrator with some serious power focused on the business end. A replacement for the limited-edition Mission, most of my remarks here will also apply to that toy.
Osci 2 is powerful, precisely curved, and its business end gives a unique oscillation. It's not overpowered, but not lacking.
Many women will need some clit vibration in addition to the g-spot oscillation to get off, though, so keep that in mind. You'll need patience to see rewards from Osci 2.
Pros
Powerful, with an oscillating motion that can be intensely rewarding.
Cons
Osci 2 can be difficult for the impatient.
Mission's Edition Was Limited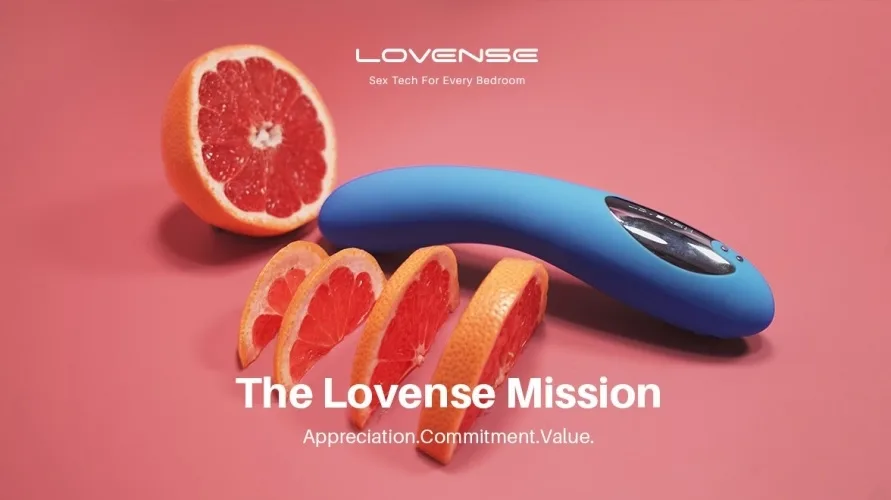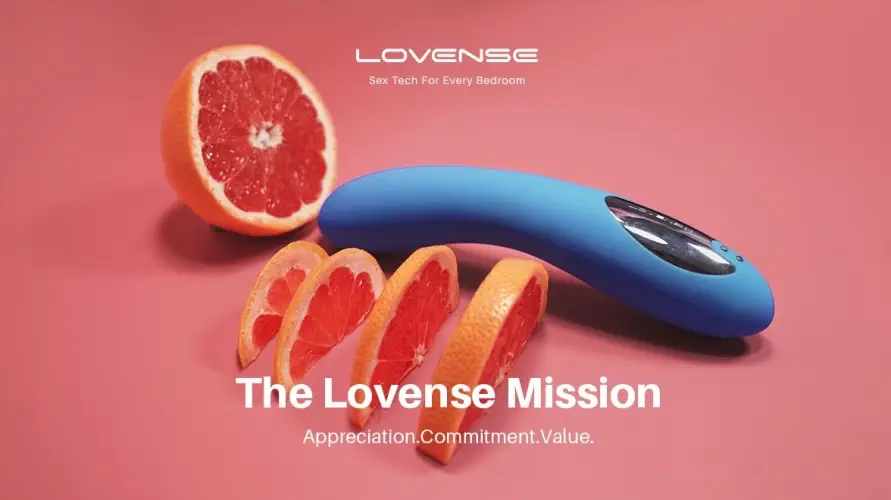 Now out of production, Lovense Mission was largely similar to the in-production Osci 2 and most of my remarks for Osci 2 also apply to Mission.
Go for Mission if you can find it on sale, but it's not easy to find and Osci 2 is a very adequate substitute.
Pros
More powerful than Osci 2.
Cons
It's out of production and tracking it down can be hard.
Ambi: Ambitious but Awkward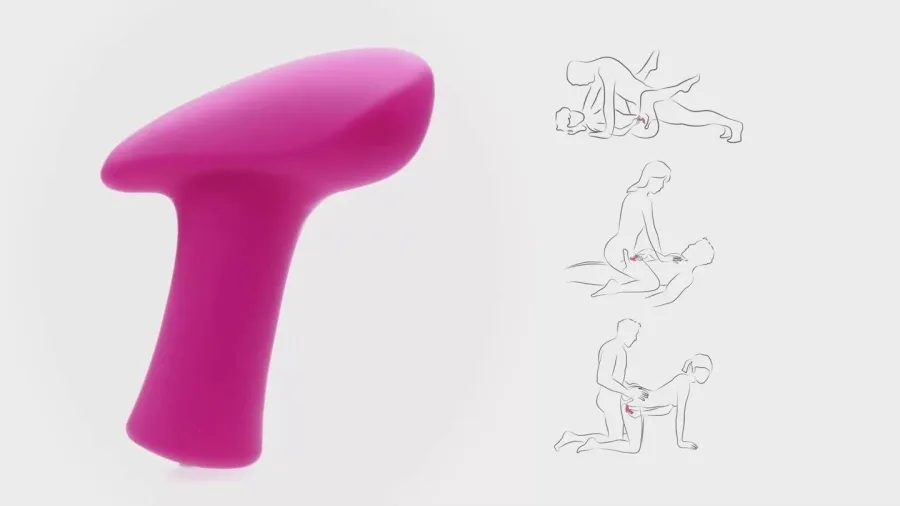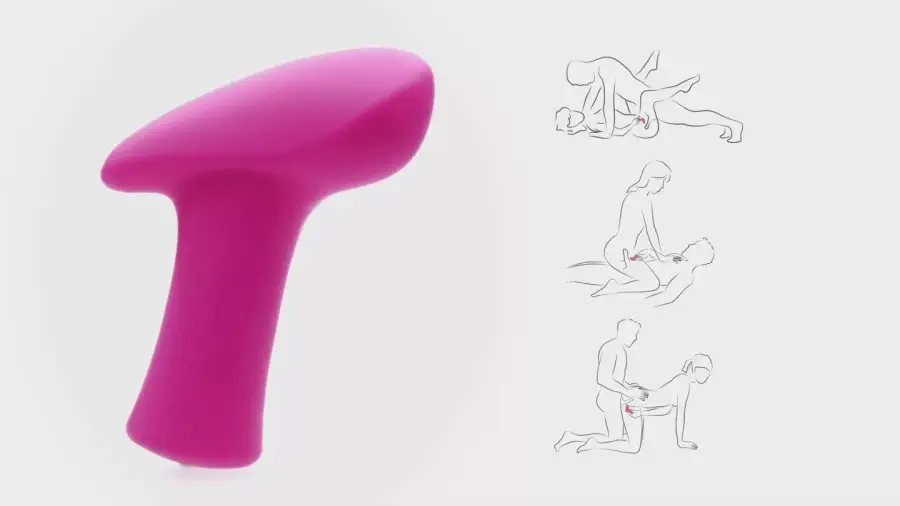 Ambi is the unfortunate one of Lovense's toy lineup. A clit vibrator with a handle, it's just difficult to know what to do with this one.
I really want to endorse Ambi, but it's just a design that never quite came together and even though the app control and vibrators are up to Lovense's usual standards, the toy design isn't.
Pros
Cons
Competitive Look
Beyond the big 3 of Lovense's toys, the Lush 3, Max 2 and Nora, the rest of Lovense's toys are an eclectic blend, and a mix of pros and cons.
The first three should be in every toy box, the rest can be mixed and matched depending on your personal preferences.
But excepting the Ambi, which is just too awkward to get a good handle on for many people, the good news is that virtually every Lovense toy is going to satisfy some people, and most will satisfy many people.
You're going to have fun in Lovense's garden, so relax, and find your exact combination of ideal toys.