Nothing is better than being able to masturbate hands-free and get real-life thrusting sensations.
For women, it can be tough to find a toy that comes close.
Fortunately, the new Velvet Thruster Teddy (also known as the Velvet Thruster Mini) is one of the most affordable, highly rated, and trusted thrusting toys on the market!
Powerful thrusts combined with smooth-like sensations make this toy a fan-favorite.
But, is it worth it?
Find out if it's worth shelling out your pocket money on the Velvet Thruster Teddy in this honest review!
What Is the Velvet Thruster Teddy?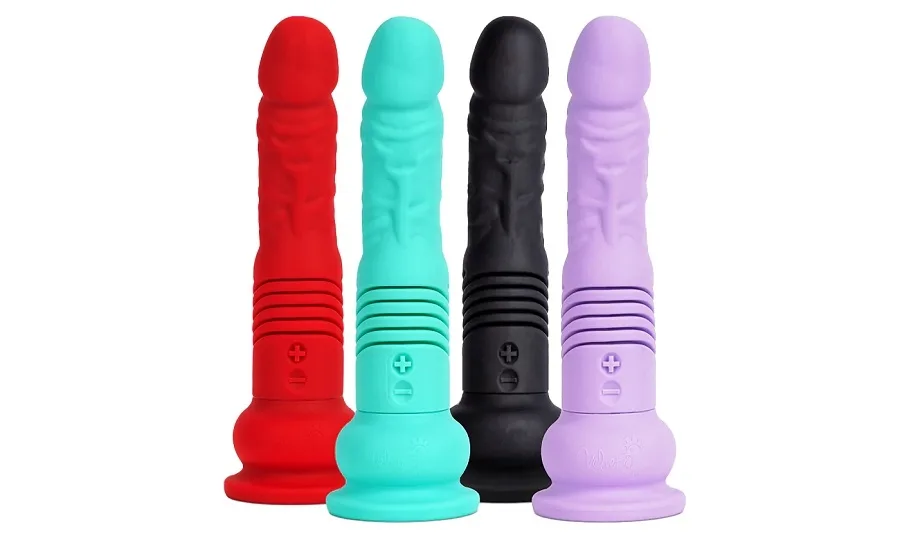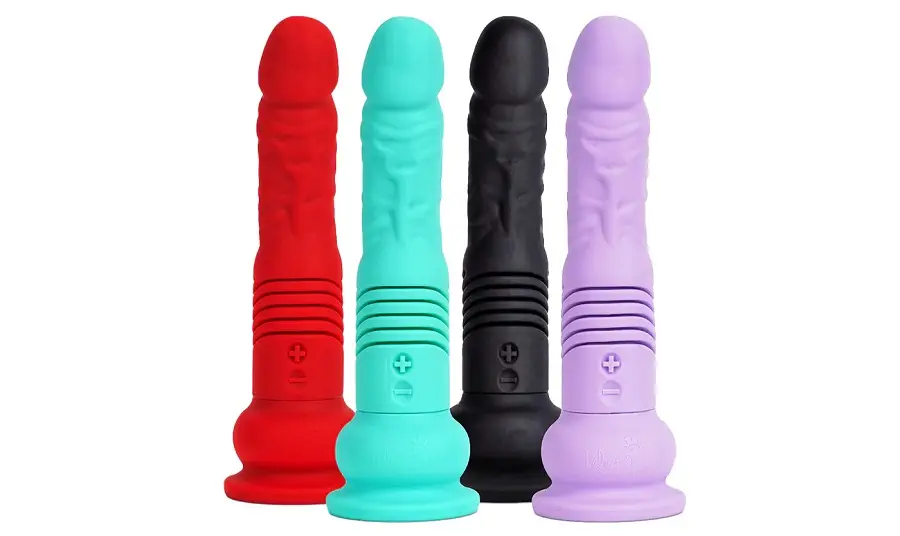 The Velvet Thruster Teddy is one thruster in quite the array of sex toys developed by Velvet.
This company focuses mainly on thrusting toys, including anal beads, larger dildos (such as the Teddy XL), and has a line of interchangeable sex toys.
What makes the Velvet Thruster Teddy different is its small size, coming in at just under 9 inches of total length and about 5 inches of penetrable length.
It's a lightweight thruster that's perfect for the woman or man that wants powerful action at the tip of their fingers!
Six Thrusting Speeds
To start off, the Velvet Thruster Teddy has six thrusting speeds that allow the user to use it hands-free.
While other Velvet products have thrusting speeds of up to 140 thrusts per minute, the Velvet Thruster Teddy still packs a punch offering 130 strokes per minute.
That's a lot, considering the average male strokes between 10 to 400 times in a 4 to 7 minute sexual encounter!
You can get a realistic number of strokes with added power at your fingertips.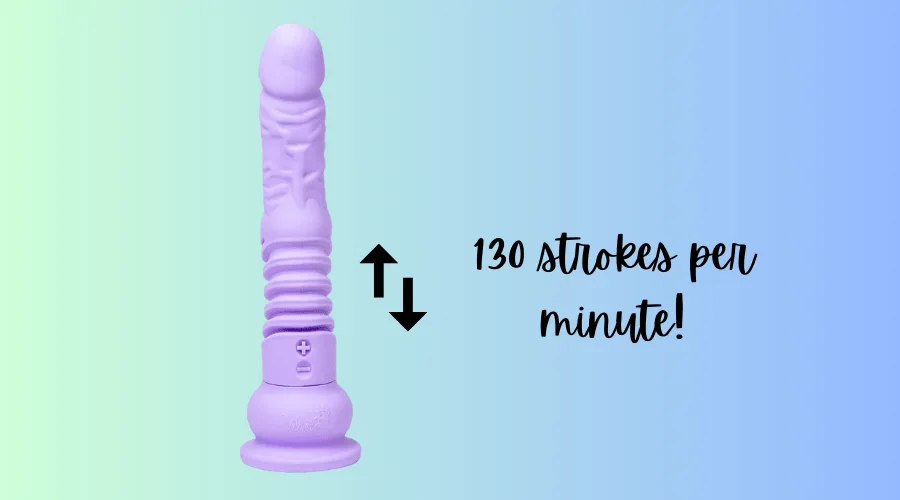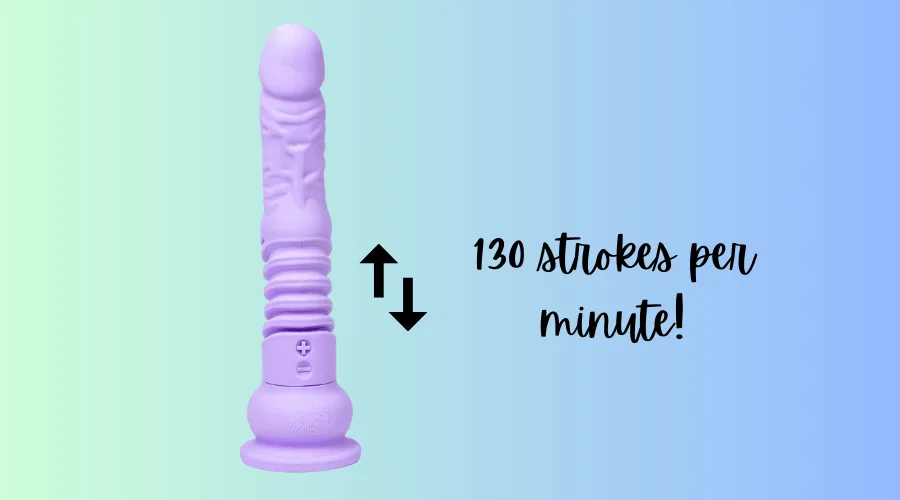 However, it's important to note that the thrusting speeds might be a bit underwhelming for those that have experienced other thrusting machines such as floor-mounted thrusters.
These machines can pack a punch and deliver up to 450 strokes her minute.
Yes, you won't get the same amount of power, but it's arguably more comfortable (and a thousand times more discreet) to have a handheld thruster with a powerful motor.
Real Soft Silicone Feel
One of the great things about the Velvet Thruster Teddy is that it's made of actual medical-grade silicone. Does this add on to the price point?
Unfortunately, the use of medical-grade silicone does add quite a hefty amount to the Velvet Thruster Teddy compared to other thrusting sex toys on the market.
However, you'll feel more peace of mind knowing you're using the exact safe silicone materials used for medical grade supplies.
Online reviews of the Velvet Thruster Teddy also state that the silicone is well worth it for both vaginal and anal play.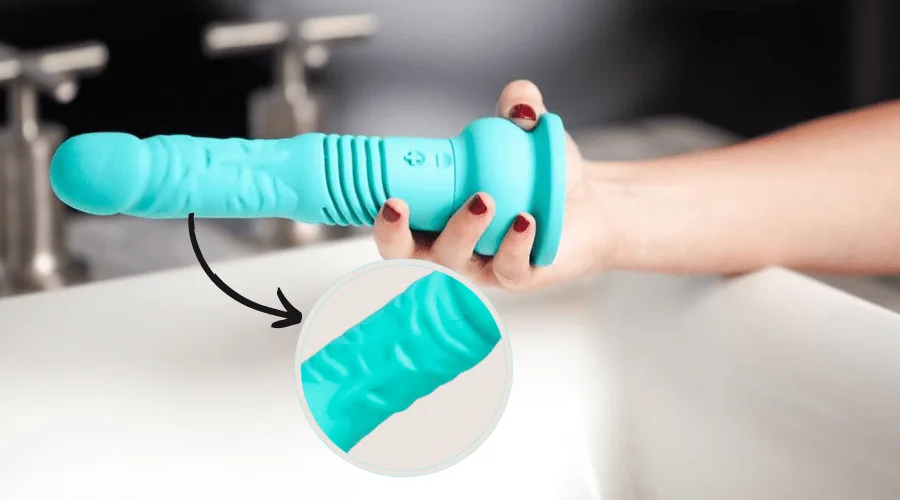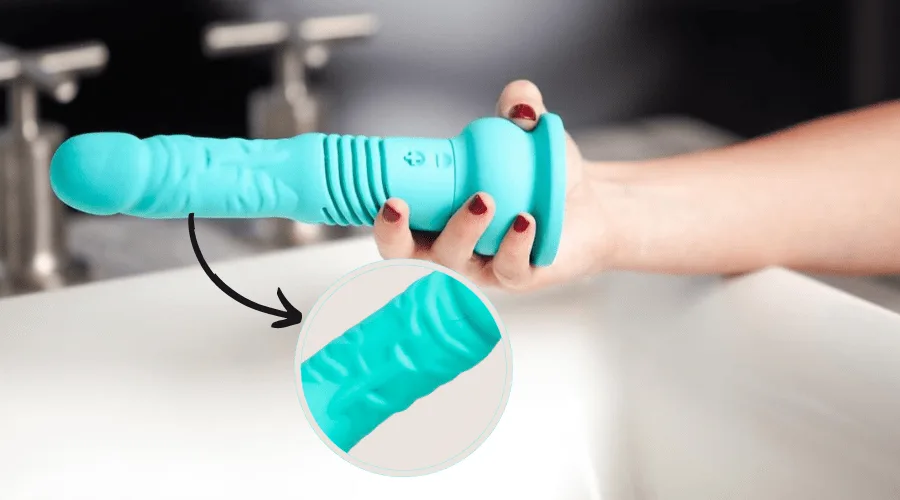 If you take a closer look at the Velvet Thruster Mini, you'll notice thick and bulging veins, which are perfect to add a more realistic feel during solo play!
All in all, it's one of the better and safer options for beginners looking for a softer toy to play with.
Bendable Shaft
For those that are a bit scared of the Velvet Thruster Teddy's intimidating looks, it's good to know the shaft is bendable up to 60 degrees in every direction.
While it's not as bendable as other toys on Velvet's line, such as the Prime Thrusters Jackie or Frankie, it does offer quite a bit of leeway for less experienced masturbators.
Playing with the bendable shaft to get the shape you want can help reduce discomfort.
The good news is that, while it might not be as flexible as other toys, this toy allows you to flex and bend while the machine is in use!
This means you can experience thrusting and adjust the shaft to hit your g-spot during that magic moment of climax!
Beginner users should exercise caution, and use lots of lube to help reduce discomfort as well.
Hands-Free Usage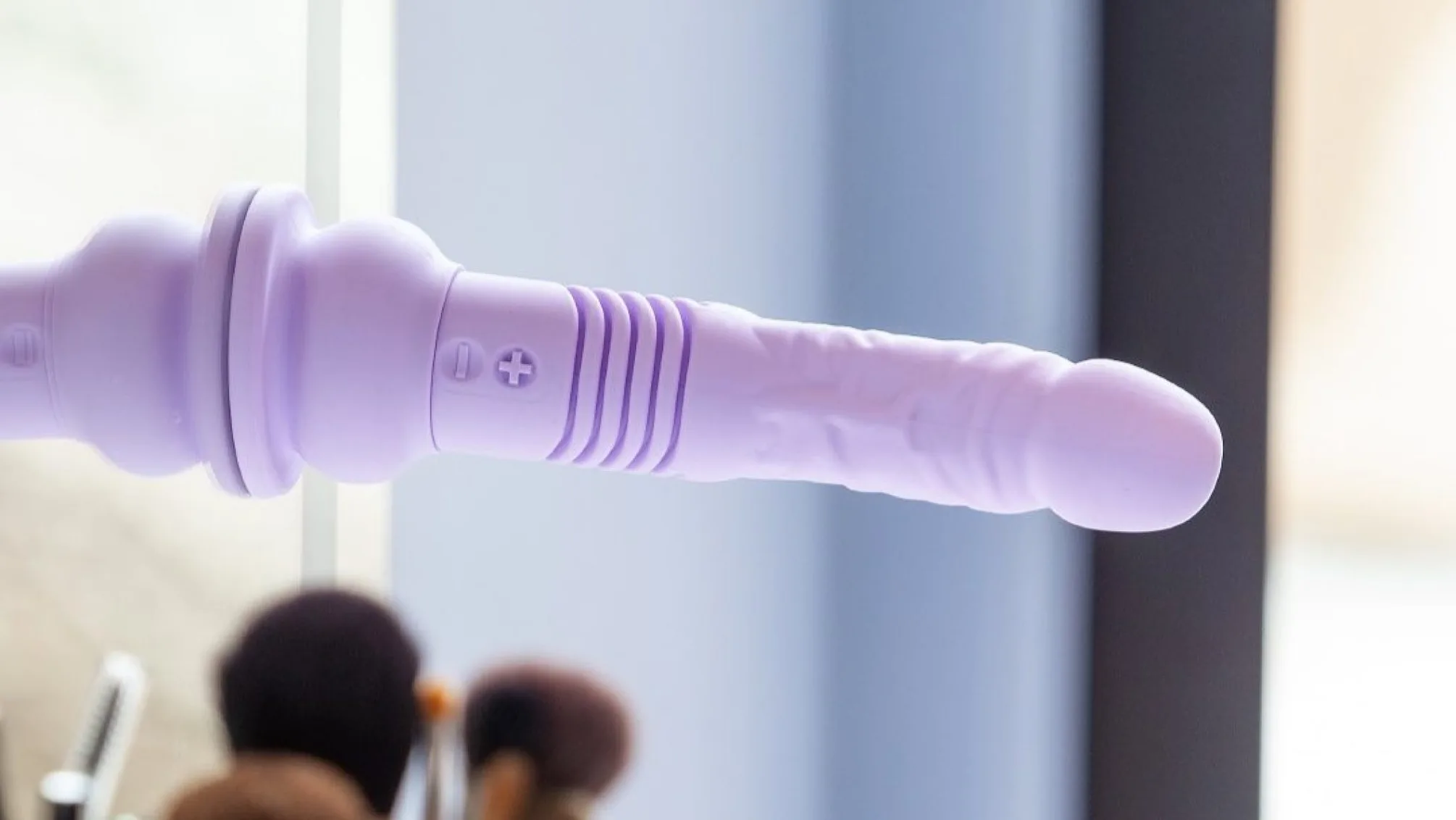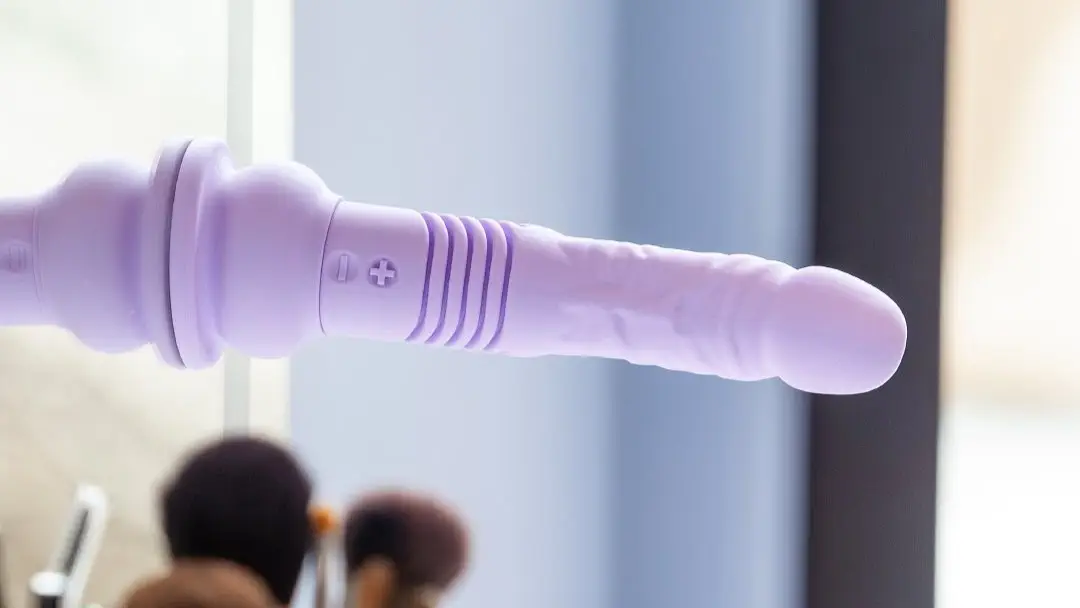 Another thing that sets the Velvet Thruster Mini apart from the rest of the Velvet Prime Thrusters is its hands-free design.
It's designed to be used with a suction cup base that's strong and powerful enough to hold the toy upright while thrusting at 130 strokes a minute.
A word of warning, it's best to use it on smoother surfaces like hardwood floors instead of on textured walls.
Other toys, such as the Velvet Walter and other Prime Thrusters, don't have a suction cup base and must be used either solo or with a partner.
While the Velvet Thruster Mini is great at being used hands-free, this unfortunately means it might be more awkward to hold while not in doggy style.
Missionary masturbators might find it awkward to use the toy while it's in use, so it's best to have a base (like a book or mirror) to help you get the most out of the Velvet Thruster Teddy.
Holding it might be awkward and take a bit of practice, but this toy is fairly lightweight at 1.5 pounds, so you're bound to find your most comfortable position sooner rather than later!
Great Size For Beginners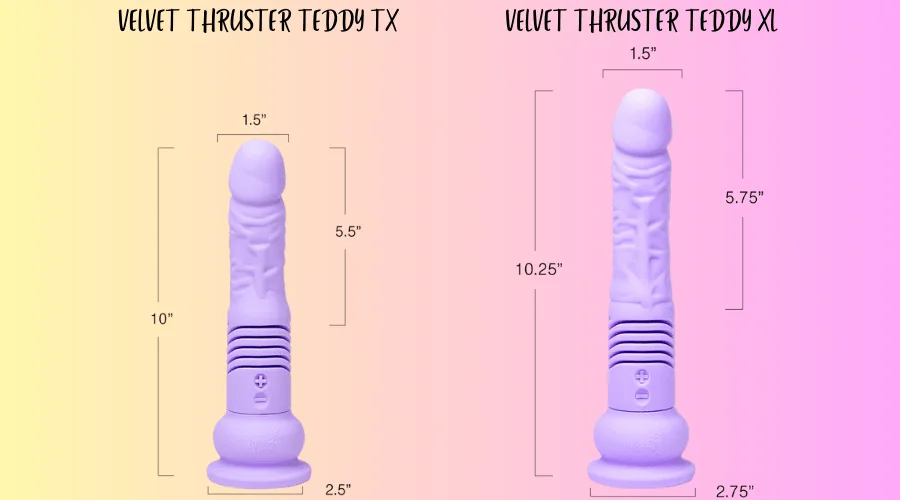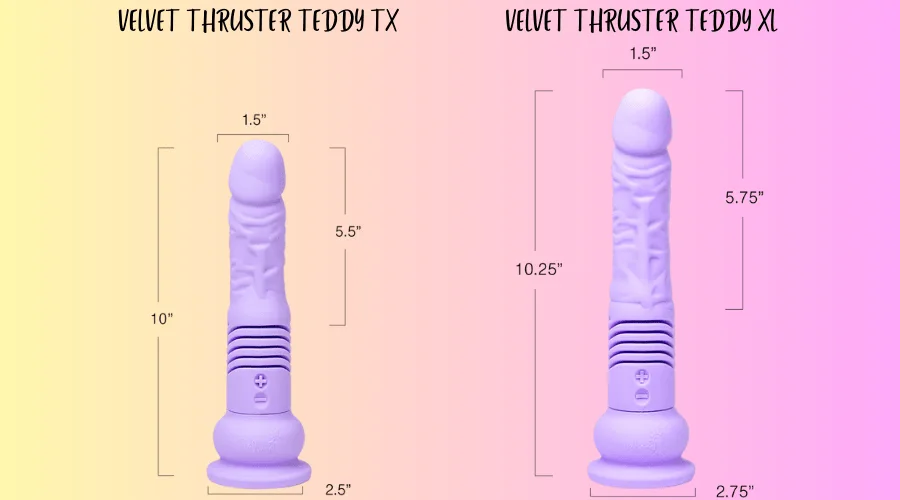 The Velvet Thruster Mini packs a punch into its mini size.
With only 5 inches of insertable length and 1.5 inches in girth, this is the ideal toy for beginner masturbators and those that might be intimidated by thrusters in general.
But don't be fooled, what this toy lacks in length, it makes up for in feel!
That's because its tip is designed to hit your g-spot and contour to your inner walls, making climax a breeze despite its small size.
If you're looking for something bigger, or that has more thrusting speed, check out the Velvet Thrusted Teddy XL, which offers the same hands-free action and thrusting at 10 total inches and 6 inches of insertable shaft.
Or you can customize your own thruster and check out the Velvet Prime Thruster line so you can mix and match thrusters to satisfy your needs.
How Does the Velvet Thruster Teddy Work?
Fortunately, the Velvet Thruster Teddy is fairly easy to use and a no-brainer for first-time dildo owners.
Below are some key things to consider to make sure your Velvet Thruster Mini stays in good shape and gives you maximum comfort and pleasure.
Cleaning for Safety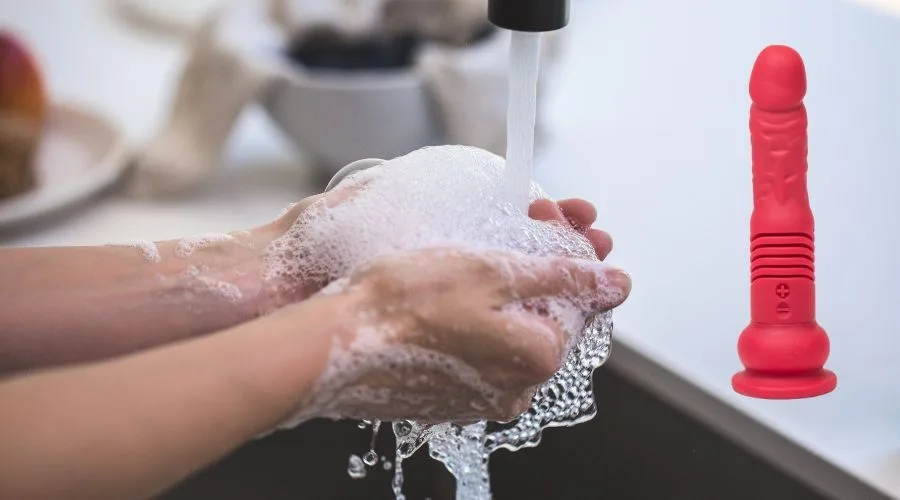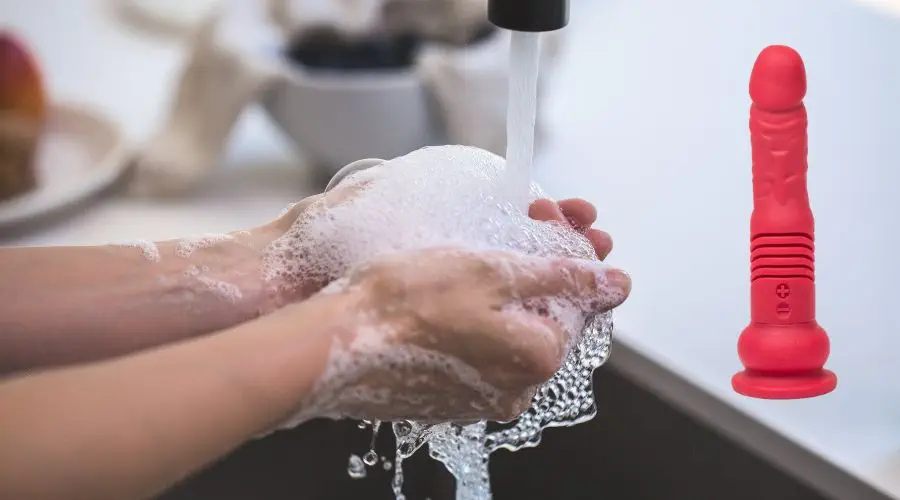 To clean the Velvet Thruster Teddy, use a mild water and soap combination or use a sex toy cleaner made for silicone toys.
Not cleaning can lead to harboring bacteria, and can lead to degradation over time.
In addition, you'll want to avoid submerging the Velvet Thruster Teddy completely in water while cleaning, since it's water-resistant NOT waterproof.
Rechargeable Batteries (Or Plug in Play)
You can charge up your Velvet Thruster Teddy in as little as 20 minutes! That's quite the amazing feat, considering you get a whopping four hours of use time after charging.
However, if you have plenty of outlets in your home or nearby, you can keep the Velvet Thruster Mini plugged in and get non-stop thrusting action even while it's plugged into the wall.
If you're recharging it, use the cord charger that comes with the toy. The charging port is located just under the power on and off button and is discreetly hidden by a silicone flap.
Choosing a Speed Function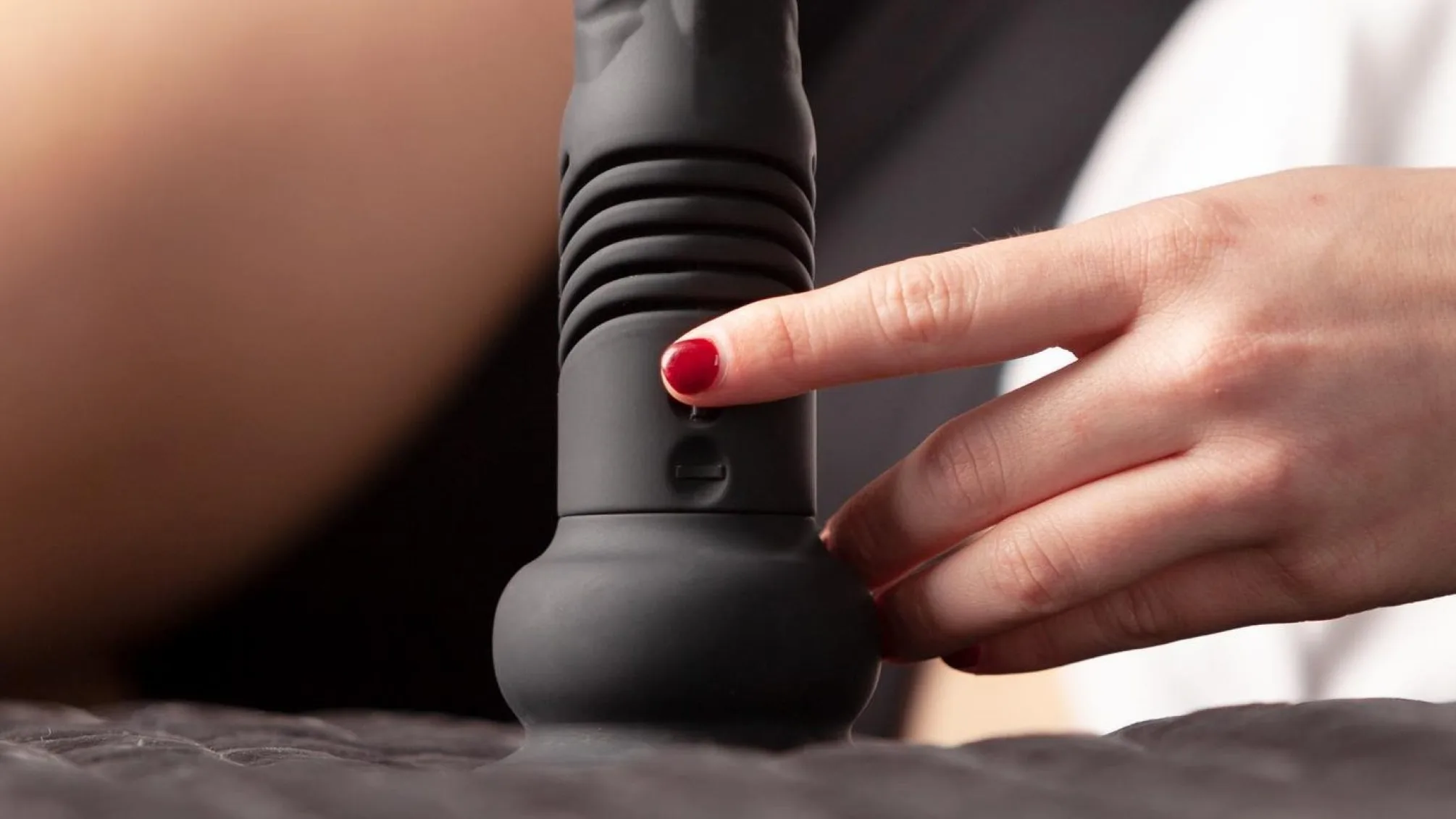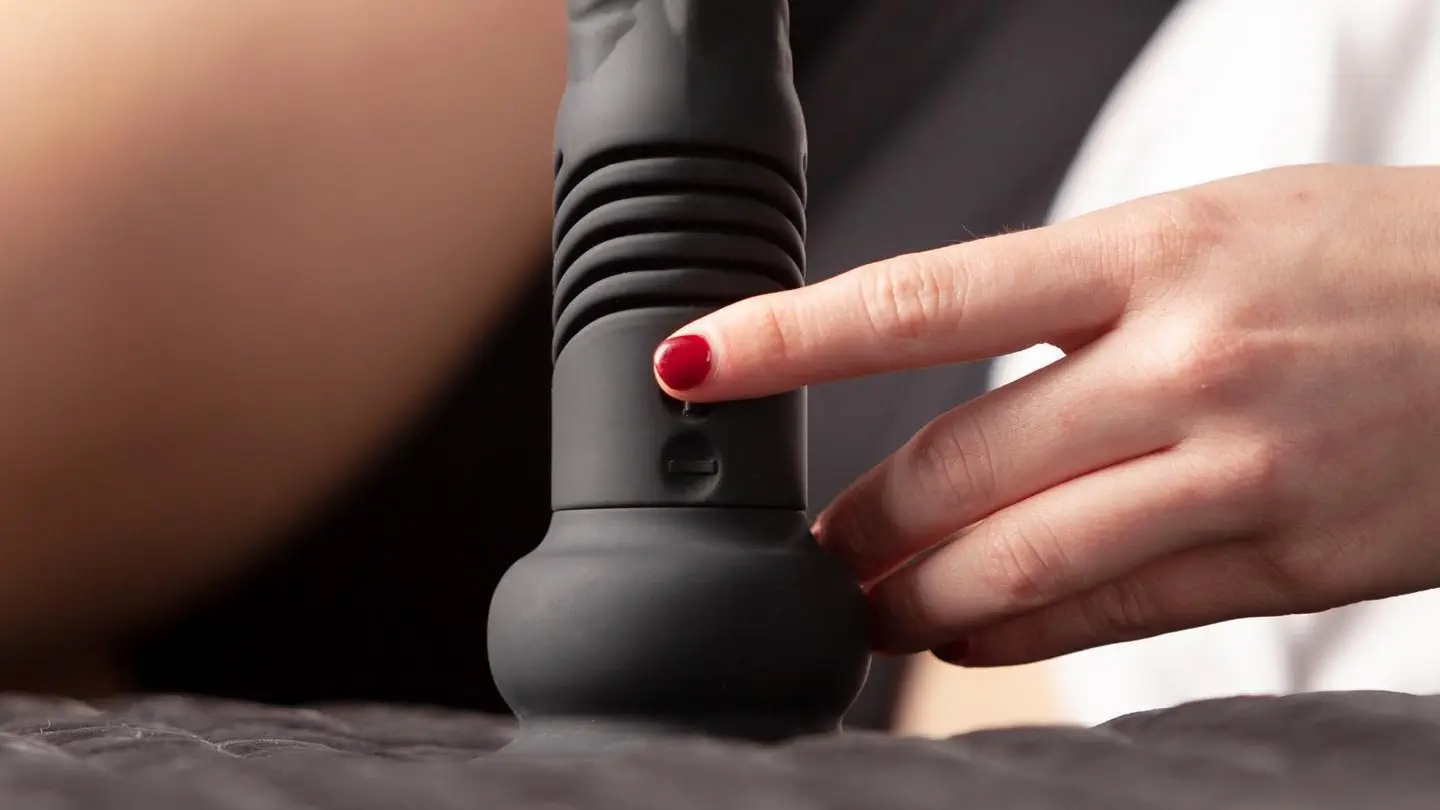 Once you're all charged up, cleaned, and ready to go, using the Velvet Thruster Mini is as simple as turning on the toy and choosing a speed!
Since this toy is designed with a suction base, the adjustable speed buttons (which look like a + and – sign) are located on the side of the toy.
It's a little awkward to access them while in doggy style, and unfortunately, there's no remote to help you adjust the speeds.
Play around with the positioning of the toy so you can find the buttons easily and adjust them mid-play.
There are six speeds to choose from, with most people recommending speeds three to four for a good solo session!
Powerful No-Stall Motor
Why is a no-stall motor important? For maximum thrusting, of course!
The Velvet Thruster Mini allows you to get deep penetration and thrusting action even if you get a little wild and push against the toy.
As you're pushing against the toy, you won't notice any change in speed or power, thanks to the no-stall six-speed motor.
While it delivers a punch at 130 speeds a minute, we admit it's not as powerful as other thrusters.
Nevertheless, it's no-stall features mean you can climax and feel free to push against this toy without fear it will suddenly give out on you.
Proper Lubrication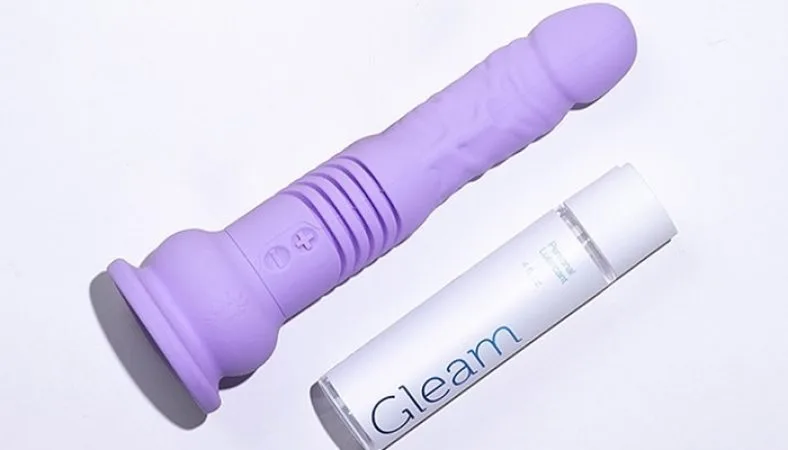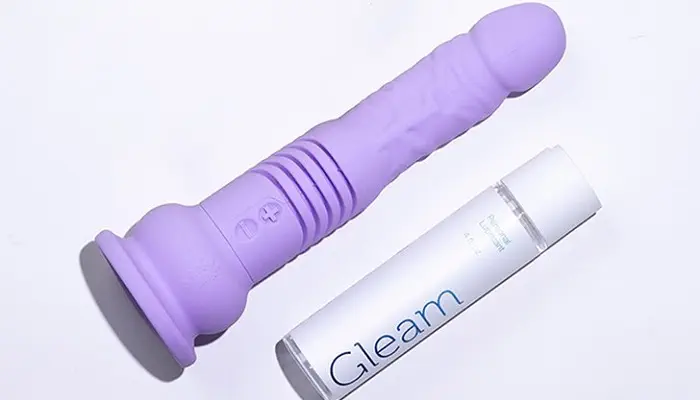 Lastly, it's important to properly lubricate your toy using a water-based, silicone, or hybrid lube.
Because the toy is made of high-quality medical-grade silicone, it's easy to find a lube that's compatible and won't degrade your toy overtime.
Make sure you lubricate before both vaginal and anal play. The more lube, the less friction, and the better the climax.
Frequently Asked Questions
Can I Sync With an App?
Unfortunately, there's no app that can currently adjust speeds hands-free.
However, you can use the buttons on the side of the Velvet Thruster Teddy to change speeds and the toy is designed to be hands-free using a suction cup.
Is It Comfortable for First-timers?
Some people report that the toy might be intimidating to use for first-timers.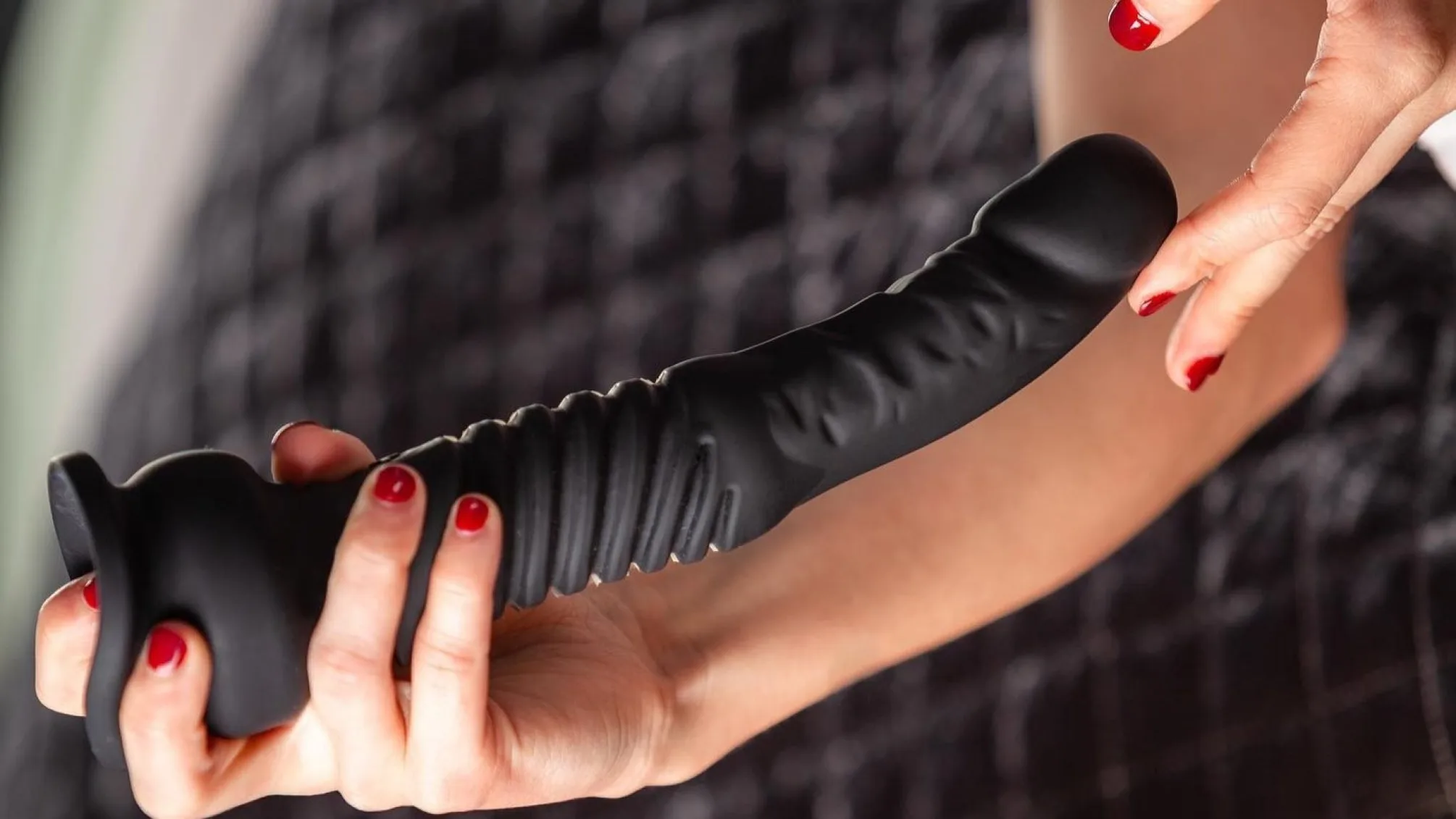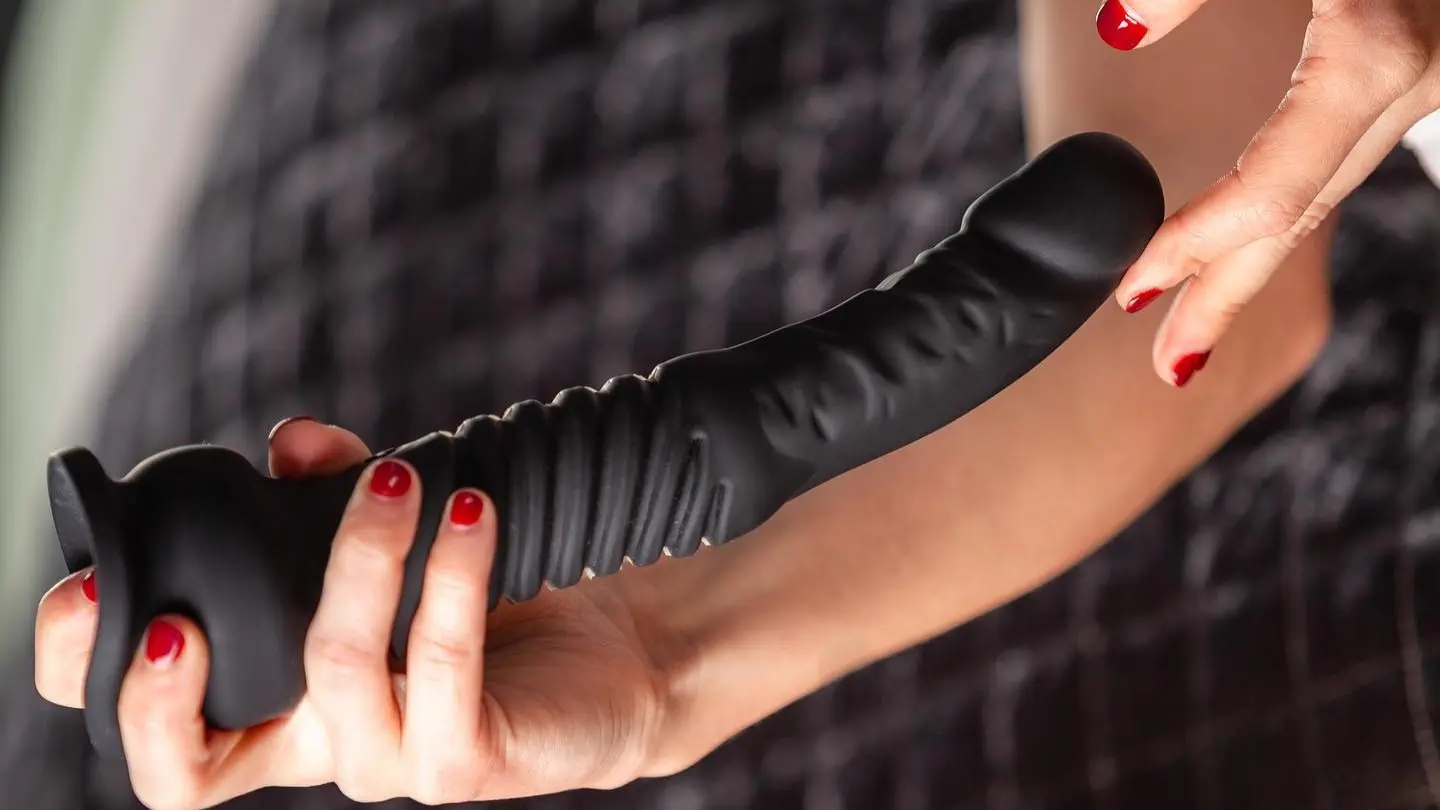 Because it isn't as flexible as the Velvet Prime Thrusters, it's important to bend the shaft to a comfortable angle and use plenty of lube.
Take your time and go slow, and the wait will be well worth it when using the Teddy!
Does It Vibrate?
Underlying vibrations are key to the Velvet Thruster Teddy. The higher the thrusting speed, the more vibrations you'll feel at the tip of the shaft.
However, the toy itself isn't marketed as a vibrator, and shouldn't be used exclusively as one.
How Much Thrust Length Does It Offer?
The Velvet Thruster Mini thrusts at 2.5 inches.
You'll notice there's an accordion-like shape at the very base of the shaft, which is designed to move up and down and extend these 2.5 inches while the Teddy moves up and down.
How Long is the Warranty?
Velvet offers a generous 12-month warranty excluding direct water damage.
However, you can get an extended warranty during checkout which allows you to possibly get store credit or a replacement for any manufacturer defects.
Velvet does not accept direct returns after use, so take advantage of the warranty ahead of time.
Is It Waterproof?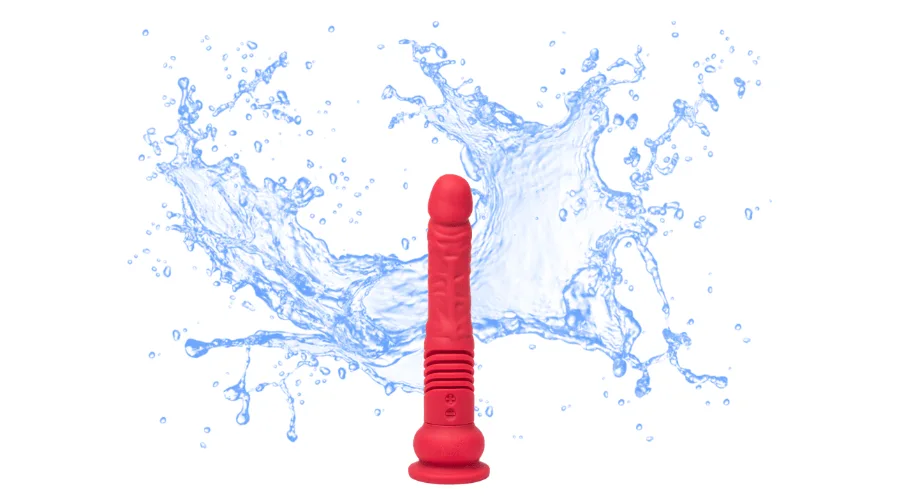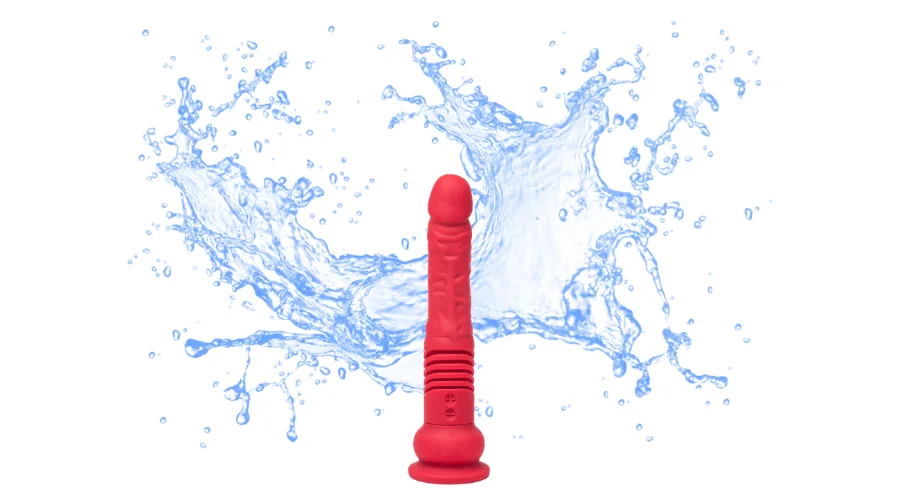 No, unlike most toys on the line, the Teddy is not IPX7 waterproof.
While it is water resistant, the only time you should use water is when cleaning the toy with a mild soap solution or with a silicone toy cleaner.
Who Do I Contact for Support?
You can e-mail help@velvet-brands.com to get your warranty or return process started.
Pros
Can be used hands-free mounted using the suction-cup base
No-stall six-speed motor
Up to 130 thrusts per minute
Comes in fun colors
Realistic feel
Medical-grade silicone
Can be used plugged in or 4 hours of playtime
Discreet packaging and less discreet than a floor-mounted sex machine
Generous 12-month warranty
Cons
Might be underwhelming for those looking for more thrusting power
Shaft only 5 inches of insertable length
Might be awkward to hold for some beginners
Not waterproof, only water resistant for cleaning
Speed control buttons at an awkward angle
Non-realistic colors might be a turnoff for some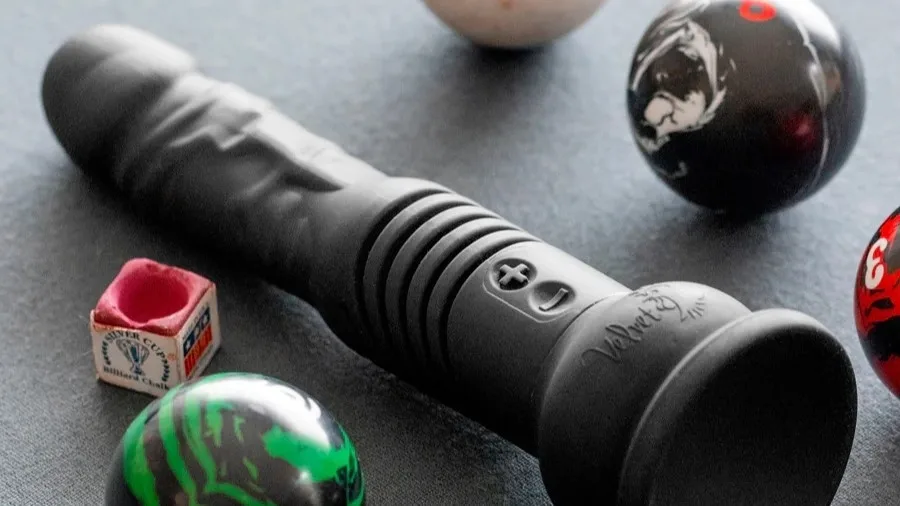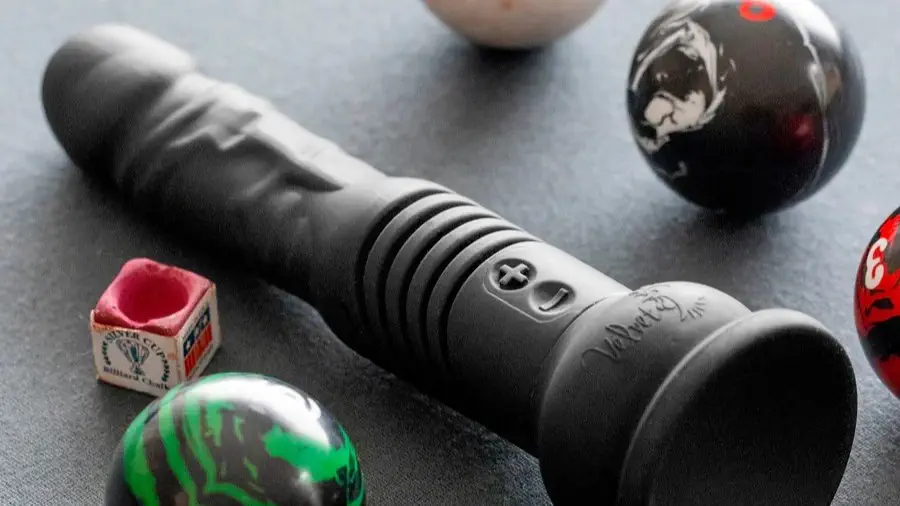 Verdict
The Velvet Thruster Mini is the perfect choice for those that want a discrete thrusting machine at a fraction of the cost of a regular floor-mounted model.
While it isn't going to deliver tons of power, and might be outweighed by the Velvet Prime Thrusters, its 130 thrusts per minute is enough to climax over and over again.
Hopefully in the future, additional features such as an app or hands-free device can be added to make the experience less awkward for less-experienced users.