Unfortunately, SayberX is no longer available for sale… However if you are still looking for an excellent automatic masturbator, we strongly advise you check out our
Kiiroo Onyx 2 review
!
When women have a wide array of powered and manual sex toys, men usually have to settle for paid hookers or use their hands.
There are very few options for men, and this was one of the main reasons that inspired the design of Sayberx.
This is in no way a novel idea, but rather an enhancement of products available in a limited industry.
Men sex toys have been in the market for a long time, only not as prevalent and in various forms as those offered for women.
Here is a brief descriptive Sayberx review including what it is, how it works and the sensation it provides.
What is it?
Sayberx is basically a handheld male sex stimulator that uses the internal gyrating motor to provide intercourse sensation.
The toy features a durable plastic casing and simple design. It has a chamber that uses a skin-like material (SayberSkin sleeve) for a human-like experience.
The gyrating motor also provides a human-like rubbing that results in the same sensation felt during sex with a real partner.
Although the toy is held in your hands, it does not require any masturbation motions to trigger orgasmic experiences.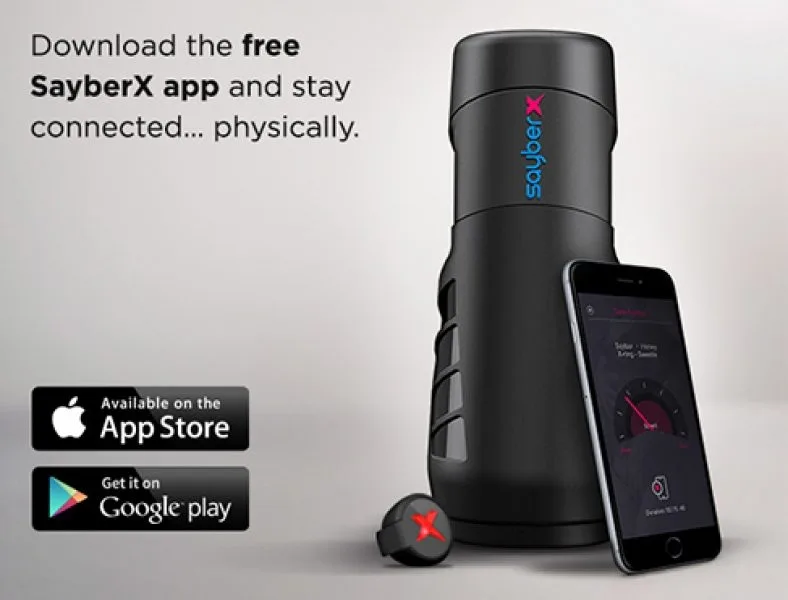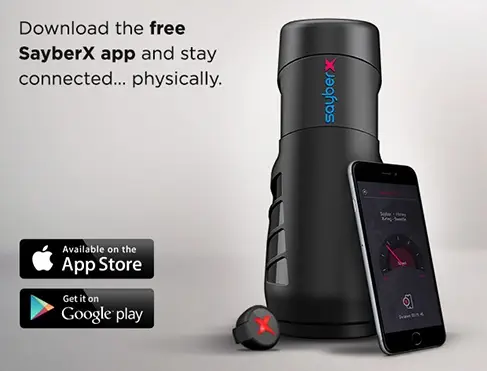 How does it work?
Sayberx works like most powered male sex toys in the market. The design has an automatic drive system eliminating the need for manual assistance or movement.
It slowly increases the internal motions with up to 5-speed functions. It allows a maximum of 7 inches and minimum insertion of 2 inches which is ideal for most men.
Like most "pocket pussy" products, Sayberx requires a lube and it can be used with any type of lube sold in the market.
SayberX works differently from the competition, as opposed to vibrating, or rotate or just squeezing, this device simulates partner motion for solo pleasure and has been engineered to mirror the partner's actual movements delivering mind-blowing intimacy remotely.
You can also buy the optional Bluetooth compatible silicone X ring (finger loop). This ring reacts to your own motions and increases the bliss received by providing a combination of motions.
It is perfect if you want to customize the sensation.
Also, thanks to this, the SayberX male masturbator delivers automatic satisfaction and can be controlled remotely by a partner's movement from anywhere across the globe.
A partner can use the motion tracking X-Ring to remotely take over control of the device's speed and movement.
The X-Ring is Bluetooth-enabled and wraps around the SayberX allowing for motion tracking through a smartphone app.
The manufacturer has made it possible for any SayberX masturbator to connect with any X-Ring, so that you can use the device online even if you're in a long-distance relationship.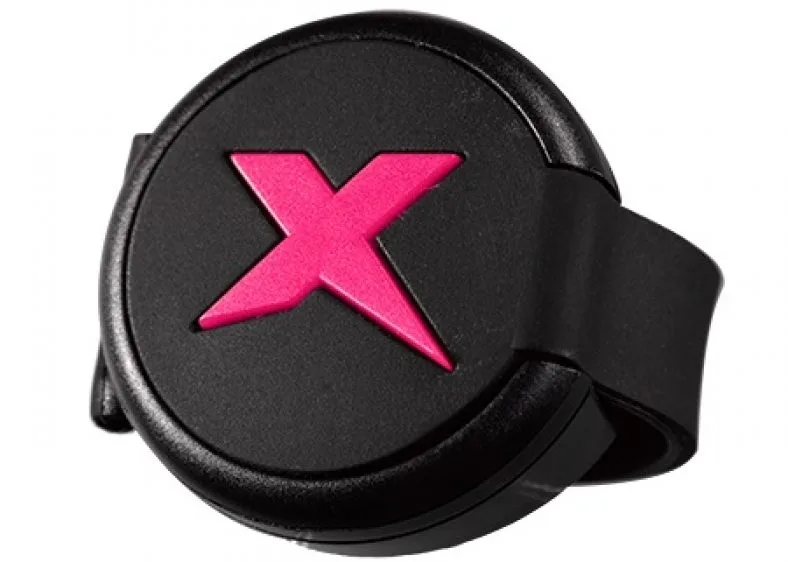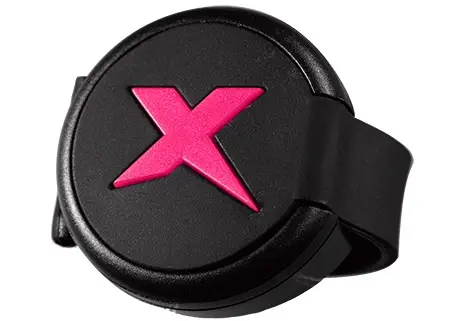 CAM4.com Partnership
To spice up things, SayberX has partnered with CAM4.com a popular live webcam site. The partnership ensures that users access a 360° sight, with accompanying sensual touch and stereo sound.
The combination of these two companies and their elements guarantees users a higher intimacy and immersion experience never experienced before!
Gun Oil Collaboration
SayberX has collaborated with Gun Oil, a top personal lubricant company. All SayberX purchases will include a free starter lube courtesy of Gun Oil.
The lube gets rave reviews from users since it lasts longer than most lubricants on the market today.
What's in the box?
The box that holds the SayberX Male Simulator device is well crafted. It's designed to properly and discreetly hold the device and accessories.
It carries several treats that will appeal to all buyers. Some of the items you will find in the package include:
One standard electrical outlet power cable (The device doesn't use batteries)
An instruction manual
One SayberX handheld Automatic Handjob device
One small Gun Oil lubrication packet
Points To Consider: The motion-activated X-Ring carries an extra cost. Moreover, the SayberX Skin sleeves are also packaged and sold separately.
These are reusable supplies that will need replacement every few days if you want top-quality experiences each time. The full box is fairly inexpensive and so are the supplies.
These items attract a small cost and are worth adding to the masturbator if you want to have the best-simulated sex experiences.
Another notable point is the fact that the whole package doesn't come with storage. The user is left to come up with an appropriate storage bag or compartment.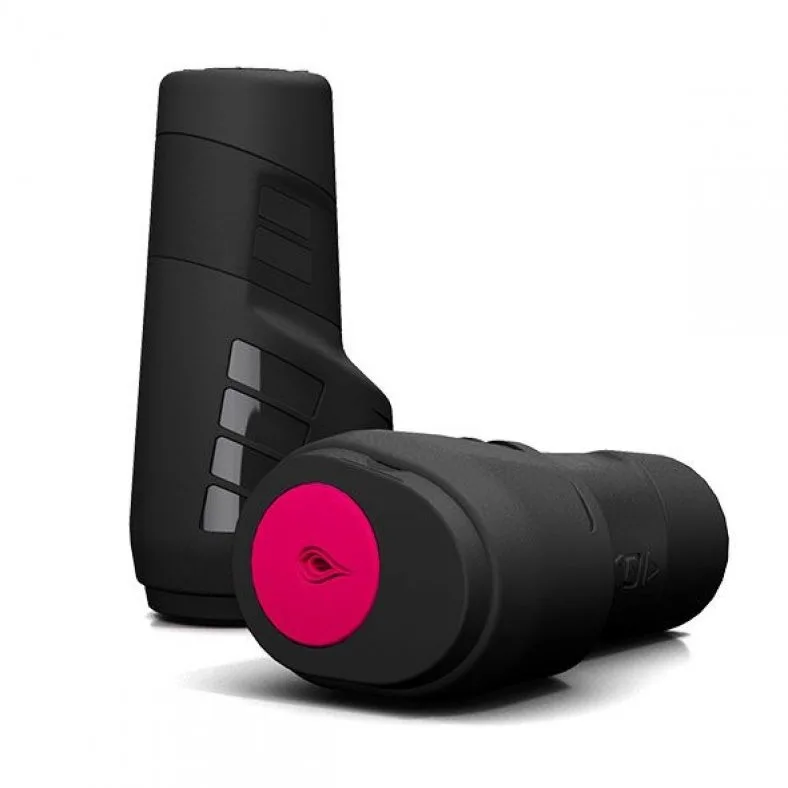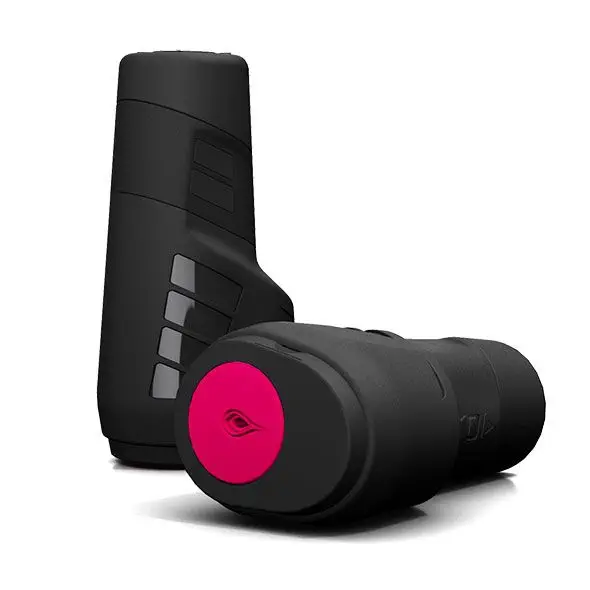 How does it feel?
With its high-powered strokes, any unbiased Sayberx review will acknowledge that it provides slightly less mechanical smoothness.
This is the great property responsible for its intense orgasm-giving abilities.
The SayberSkin sleeves are designed to feel like human skin during real sex with a partner who knows how to wiggle on your member.
It offers very close competition to existing high-end options. The experience is just as mind-blowing albeit slightly different and more exciting.
It's more pleasurable because it wiggles on the penis thus sending the user into a frenzy of back-to-back moans.
Sayberx feels different since it provides a twisting gyrating motion.
The optional ring also brings an element of surprise allowing you to experience fully fledged orgasms.
Like any other handheld stimulator, this toy requires some skill and routine maintenance to get the most out of it. It does most of the work required so it will not feel like manual masturbation.
However, a little technique and mood setting can make all the difference when it comes to achieving those greatly memorable orgasms.
SayberX simulator has one notch higher than the competition thanks to its incorporation of more bells and whistles and the partnership with a VR company to broadcast live webcam makes this the ideal masturbator.
Users can sit back and relax as the device takes over with very minimal hand use.
The smooth, twisting motion inside the SayberX chamber not only makes the penis remain hard but simulates the walls of a vagina and with the help of the lubrication the user is guaranteed of achieving several orgasms.
Besides, to incorporate your partner, the X-Ring paired with the masturbator allows the partner to control the sensations and rhythm of the stimulator.
The five different intensity levels play a huge role in determining how fast and how pleasurable the user will achieve magical orgasms.
Pros
The advantages of Sayberx handheld sex stimulator are quite obvious and straightforward.
From impressive high-tech engineering to ease of use and efficiency, this is definitely among the most reliable male jack-off machines in the market. Its pros include:
App and remote control – the motion-activated rings allow you to take advantage of conventional remote control used for couple play. It works with a free app that can activate it from anywhere in the world. The app also responds to your own motions and speed when wearing the smart ring.
Realistic feel and movements – while it is not reasonable to compare toys to a vixen experienced in giving orgasms, the manufacturers of Sayberx deserve some credit for creating a realistic. Both the opening and internal chamber provide a sensation that is just as mind-boggling as real sex.
Safe for your skin – the material used to make Sayberx is safe, non-toxic and no phthalate materials are used so there is no cause to worry about compounds breaking out on your skin. The only precaution is for rare
people allergic to latex.
Convenient – the toy is not only easy to use but also works with all kinds of sex lubes. The two-size finger rings also come with strap bands to help you keep the toy in position. Sold with sample lubricant and ready to use
Affordable – cheaper than most top-tiers, yet still provides an incredible feel and experience. Also, it's powered by AC power, so you don't need batteries.
Cons
Although many Sayberx reviews focus on its merits, the toy has its unique shortcomings that will hopefully be resolved in future designs. Some of the key concerns include:
Doesn't come with the motion-sensor X ring – you will have to buy these separately especially if you want to enjoy the long-distance couple play. They can also be hard to acquire and cost extra bucks.
Size does not fit all – the one-size fit claimed by the manufacturer is exactly what it is, a claim. You may find it difficult to fit if you are more endowed, but it should be alright for most people
Keeps you restrained to within a few inches of power outlets – while you do not need to charge or use batteries, the machine can only be used when plugged. You will basically be chained to the wall in order to enjoy the pleasure it brings.
Verdict
The Sayberx handheld automatic stimulator is a perfect toy if you want to enjoy remarkable orgasms without having to pay expensive hookers or using your hands every other time.
It is designed to be nearly as satisfying as real sex and does not require much effort to use.
Its cons can be easily overlooked although the machine would be much better with rechargeable batteries.
SayberX simulator is the most advanced male self-pleasure today. The sex device will make you go home early just to have some sensational pleasure!
In my opinion, the motion-activated ring makes it the perfect sex device for long-distance couples. The free app accords a couple the delight of controlling and enjoying a pleasurable time even if they're thousands of miles apart.
The FREE app that connects the self-pleasure device to the Bluetooth ring thus engaging remote control of the motion speeds is a breath of fresh air for many users.
Finally, the fact that SayberX simulator device features non-toxic, hypoallergenic and phthalate-free materials are a major relief to buyers.
When compared with other top manual and automatic masturbators in the market, Sayberx performs fairly well.
Make sure you purchase your product and supplies from credible licensed retailers who can guarantee genuine quality from the manufacturer.
Best alternatives to Sayberx
Nowadays, it's quite difficult to find the Sayberx available online. So you will find down below the best alternatives if you're looking for an advanced male masturbator!