I remember watching the movie The Ugly Truth, where Katherine Heigl's character slips a remote-controlled vibrator into place before heading out the door to a business meeting. The remote control slips from her purse, and a child picks it up and begins playing with it.
Heigl's character almost immediately begins writhing in pleasure, unable to turn off the toy. Within a few moments, she's awkwardly having an orgasm in front of business associates!
This scene is stuck in my head almost 15 years later. Even at the time, I doubted that remote-controlled vibrators worked nearly that well–or quickly.
And if you do want to try using a remote-controlled vibrator in public, you probably want to avoid the remote falling into the wrong hands.
Having tried a few remote toys myself, I can say that scene was almost entirely unrealistic, especially when it comes to 2009 technology!
But vibrators have come a long way. Three companies making these toys, Lovense, Lelo, and We-Vibe, are known for their quality products with more than decent vibrations.
In addition, many remote-controlled toys are Bluetooth-enabled and connect right to your cell phone.
So while it might take more than two and a half minutes to get off when using one, remote vibes can be a lot of fun, especially if you hand over control to a partner.
Keep reading to learn how to use one of these toys, which might seem intimidating at first glance, and avoid an embarrassing scene as Katherine Heigl experienced in that movie.
➡️ Check the price of the best remote-controlled vibrator
1. Pair Your Wireless Vibrator Before You Leave Home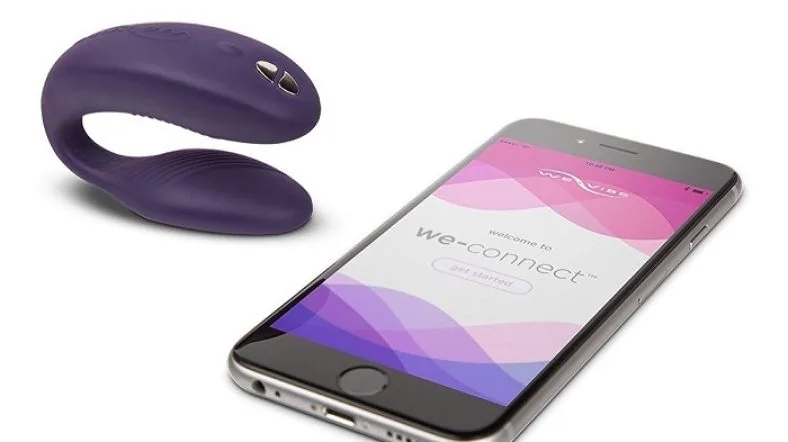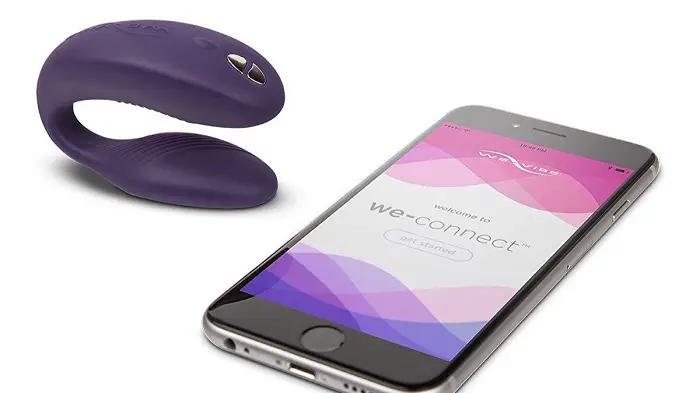 You can skip this step if your wireless vibrator has its own remote control. The devices will already be paired.
But if you have a toy that connects directly to your smartphone (or your partner's!), you must pair your vibrator and phone via Bluetooth. Toys can be finicky, and you don't want to struggle to connect the toy when you're already in public.
You'll need to first download the corresponding app from the app store. For example, both We-Vibe and Lovense have their own apps.
Once the app is installed, launch it on your phone. You'll be prompted to connect your first toy. Turn on Bluetooth if it's not already enabled.
Generally, you'll have to press a physical button on your toy to pair it with your phone. The vibrator and phone should be within a few feet without any obstructions.
Clothing or body parts might prevent the Bluetooth signal from traveling between the devices and establishing the connection.
Once they're connected, you'll see information about your toy on screen, will be able to control it, and may even be able to use it with on-screen videos or chat apps. Get accustomed to the controls.
Depending on where in public you'll use the vibrator, you may not want to give away that you're doing something sneaky by focusing too much on the remote control or the app.
Plus, you can test the noise output on different settings, so you'll know how loud the vibrator is. Have your partner stand progressively further away to try where the connection weakens and stops entirely.
Turn off the app and vibrator when you're done testing–or using–it. Now's a great time to charge or add fresh batteries to the vibrator and remote control.
2. Get the Vibrator in Place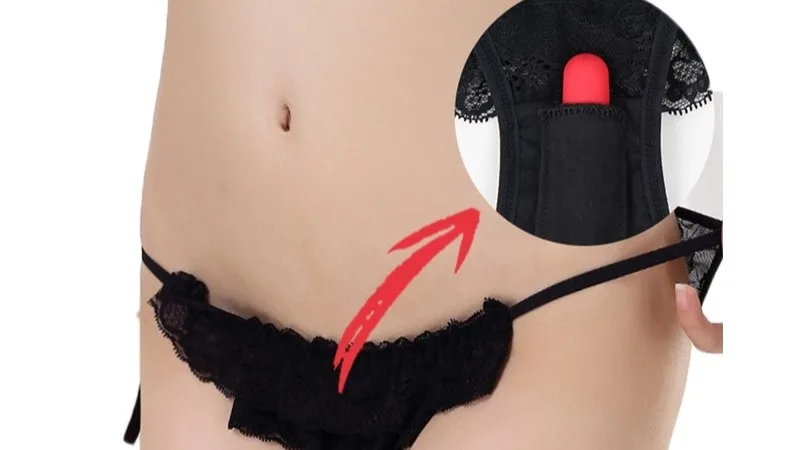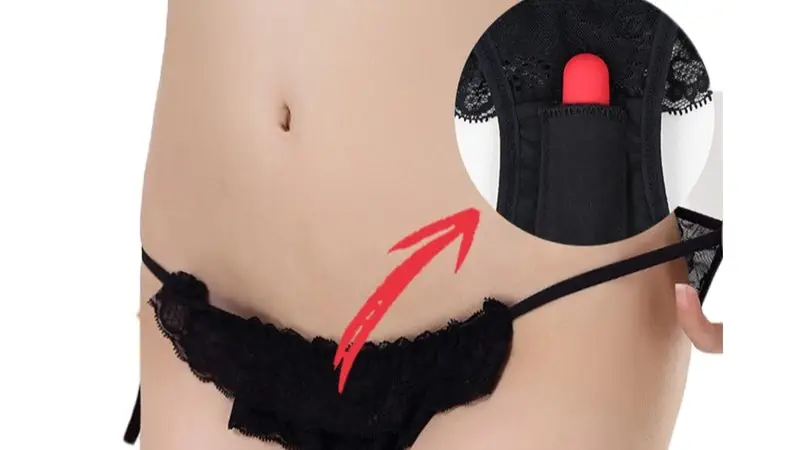 Whenever you're ready to use the remote-controlled vibrator, you'll just need to put the vibrator in place, turn it on, and launch the app on your phone. This might mean tucking it into your panties or inserting it vaginally or anally.
You can hand off the remote to your partner right away or wait until you're in public and attempt a sneaky handover.
For some vibrators, placing them before you plan to use them won't be ideal because wearing them while walking and moving will be uncomfortable.
Instead, you might wait until you get to the destination, then run to the bathroom to pop the vibrator in place. This also works well if you want to surprise your partner.
3. Turn on the Remote and Vibration
Press the physical button on the remote control or launch the app on your phone and connect to the vibrator.
Touch the button or control to turn on the vibrations and navigate through the various settings. For example, there might be different levels of continuous vibration, pulsation, escalation, or other modes.
4. Tease, Pleasure, and Torture Away
You can tease and torture your partner if you're holding the remote control.
If they're especially sensitive and you know their responses well, you might be able to push them over the edge of orgasm–or even bring them right to the edge but refuse to let them cum!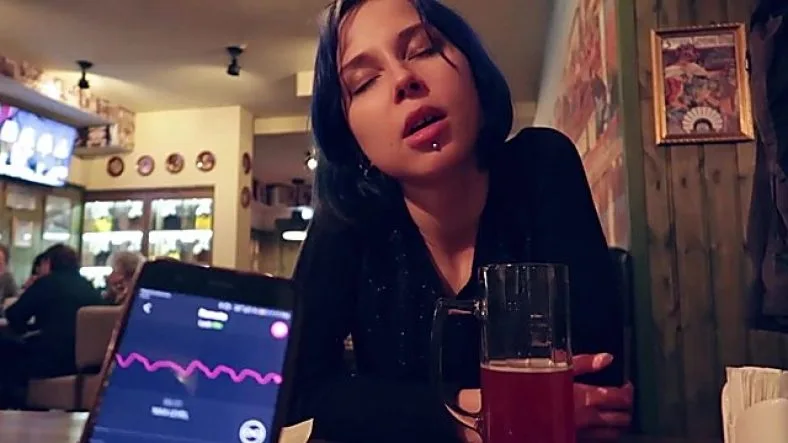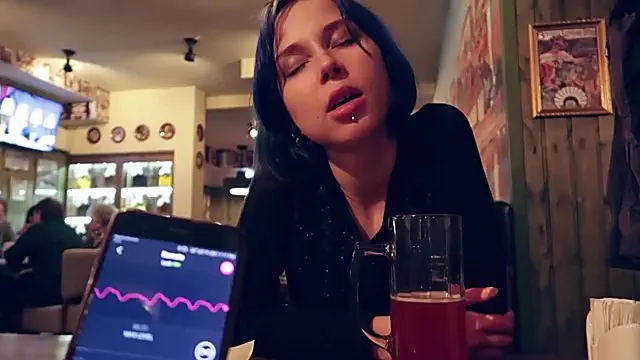 Don't worry if your partner doesn't get that close. Being in public might make it hard to let go.
Or the toy's vibrations might not work super well for your partner. Sometimes people simply need to do it themselves.
There might not be an explosive orgasm at the end, but you should try to enjoy the journey, anyway.
5. Try to Keep a Straight Face
If you're wearing the vibrator, especially if your partner is controlling it, you'll probably be surprised by how it feels. First, you don't know when the vibrations will turn on or change.
But it may feel like more of a tickle or tease that isn't strong enough to really feel good. If that's the case, your partner will be entertained by your antics.
But keep your expectations realistic. An orgasm might not be in the cards.
You could find the vibrations a little annoying instead of hot. Plus, the vibrator might not work very well because of tech issues, which can be frustrating.
Just knowing that you've got a secret between your legs that your partner controls can be fun, though! And trying something new with your lover can bring the two of you closer together.
If you're lucky, you'll both be turned on enough to fool around later, even if the reality of using a vibrator in public doesn't live up to the fantasy.
Remote-Controlled Vibrators to Consider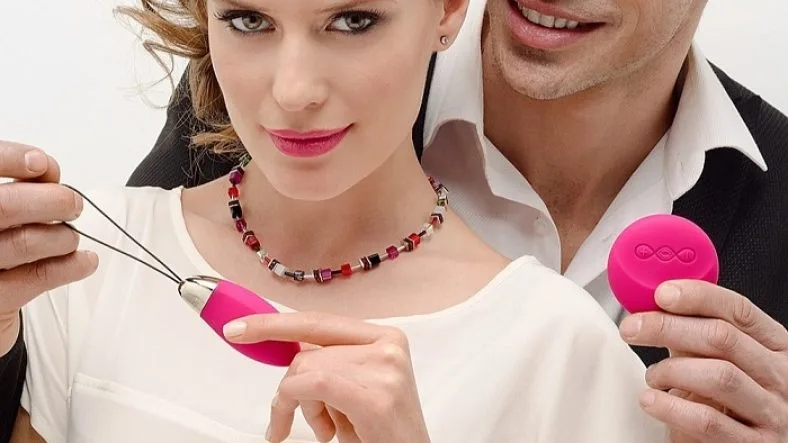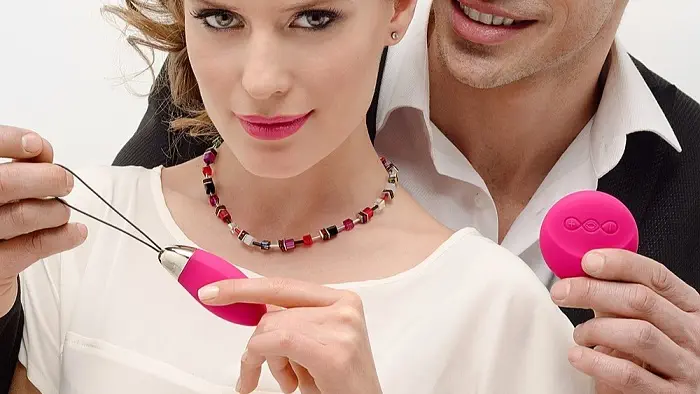 Remote-controlled vibes tend to fall into several categories: clitoral and panty vibrators (including eggs), prostate and anal toys, Kegel balls, cock rings, and G-spotters. Some toys even combine these functions.
For example, you can get a combination cock ring and prostate toy or a vibrating cock ring that feels good for both partners.
The leaders in remote-controlled toys are We-Vibe, Lovehoney (which also makes Fifty Shades toys), and Lovense, but many makers offer remote-controlled toy options.
We-Vibe Sync, a couple's vibrator that can also be used during penetration or as a dual-stimulator; Moxie, a wearable panty vibe; Vector, a remote-controlled vibrating prostate massager; and Bond, a vibrating cock ring with remote
Lelo Lyla 2, a clitoral vibrator that might work in your underwear
Lovense Lush 3, an internal vibrator with a long antenna to ensure the remote function works as well as possible, and Ferri, a standard panty vibrator
Fifty Shades Freed My Body Blooms, which includes the lace panty and rechargeable vibrator
Fifty Shades of Grey Relentless includes a wearable panty vibrator, insertable Kegel balls, or contoured love egg that works vaginally and anally
Hueman Black Hole, a combination vibrating butt plug and cock ring in gorgeous iridescent silicone
Lovehoney Desire's line of luxury toys includes a remote-controlled butt plug and prostate massager, both of which may be used in public
Satisfyer Sexy Secret Panty Vibe
Kiiroo Esca2, a clitoral vibrator with a long antenna similar to the Lovense Lush
If you find you like one of the toys on this list, you might want to add another (or more) to your toy box to have a broader range of experiences.
Etiquette for Remote-Controlled Vibrators
While I understand the thrill of using a remote-controlled toy in public, I don't think it's smart to do it just anywhere. It's best to avoid any place where kids might be or quiet places where others might hear the vibrator.
Bars, sports games, concerts, and busy restaurants can all hide the toy's noise and make it less likely that you'll be found out–and get in trouble.
On the other hand, a place too packed full of people might interfere with the Bluetooth connection.
Some people will tell you that you shouldn't use a vibrator in public because you're technically involving other people in your sex games without their consent.
You might only want to use remote-controlled toys in places where sexual content is expected or allowed. I'm thinking about swinging and other play parties, BDSM dungeons, and the like.
Consider a large park that's open, not too popular, or has a private area for your public vibrator play. Semi-public settings such as a private booth at a play or in the car at a drive-in movie could also be an option.
Be respectful of the people around you. If you do it right, they'll never discover your dirty little secret.
Using Remote-Controlled Toys Over the Internet
You don't have to use Bluetooth-enabled smart toys in public. As long as you and your partner have a connection, they can control your toy no matter where you two are.
You could both be comfortable or at home, or your partner could even use the app in public while you're hundreds or thousands of miles away in your own bedroom. This makes these toys a great way to connect with a long-distance lover!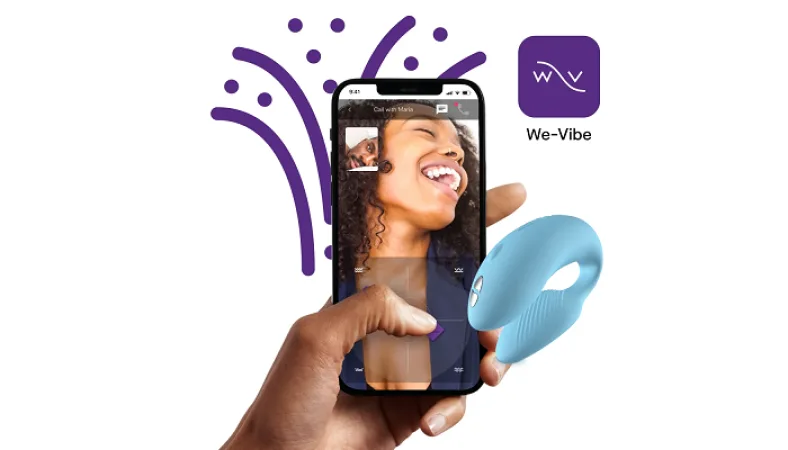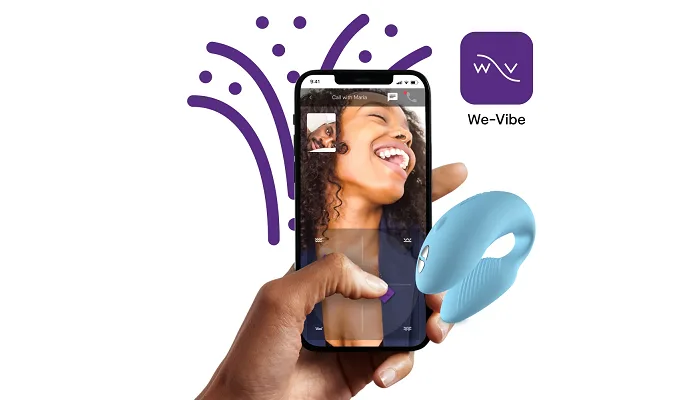 We-Vibe toys, for example, let you use the app while texting, talking, or using video chat. Some of these toys also respond to VR porn, which is super cool.
I especially like how Kiiroo's toys can be paired together and used over the Internet. You can combine a masturbator and vibrator (or two of each!), which your partner can control from afar.
But the feature that really sets these toys apart is the ability of them to respond to what's happening on the other end, which will bring you close to your partner despite the distance. Check out their toy pairs to find the perfect duo for you and your lover.
Of course, it's almost impossible to use a stroker discreetly in public, and even the clitoral stimulator, Cliona, is a bit bulky for use in public.
But the technology exists for companies to make a wearable vibrator that's small enough to use in public discreetly while getting feedback from your partner's toy over the internet.
Troubleshooting Your Remote Vibrator
If you cannot establish a connection, pair and turn on the app/remote and vibrator before putting it in place, instead of trying to pair it and turn it on after inserting the toy into your underwear or body.
An unresponsive or intermittently responsive vibrator might not have a direct Bluetooth connection to the remote. Wireless connections work better the closer the remote and vibrator are.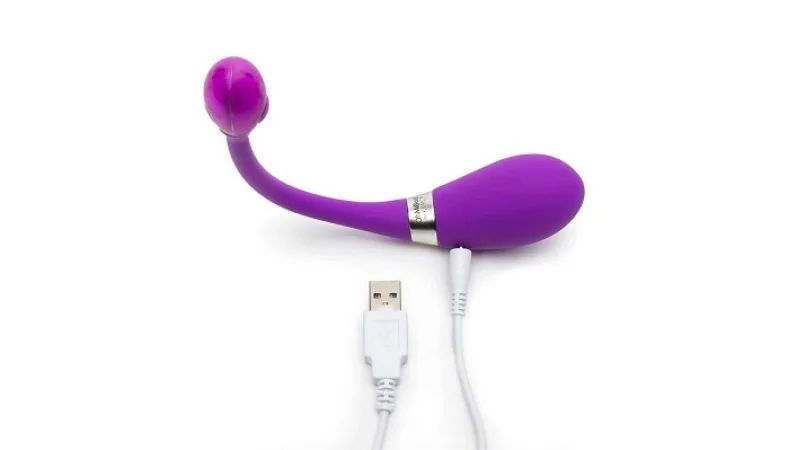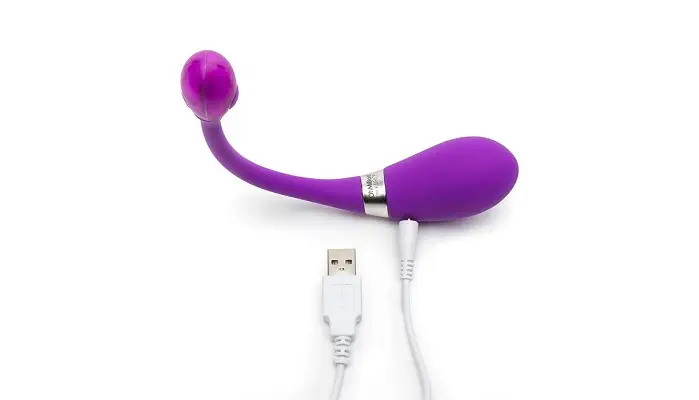 Sit close to your partner or the remote, and eliminate obstructions such as clothing and other objects. Slightly spreading your legs might help with connection issues.
Make sure your vibrator or other remote-controlled toy is fully charged.
The same goes for the remote, which may be rechargeable or require separate batteries. Otherwise, the toy might not respond to the remote, or the vibrations may weaken as the toy dies.
Unfortunately, many remote-controlled vibrators just don't work that well unless your legs are spread wide, you're completely naked, and the remote is practically next to your body.
Pairing and testing the vibrator and remote beforehand will give you an idea of the toy's limitations. Luckily, many people have left reviews for these toys, so you can see which ones work the best.
Some remote-controlled sex toys might have a travel lock feature, so make sure to turn that off before trying to use it. Otherwise, the toy won't turn on or respond, no matter what you try to fix it.
Like many smartphone apps, restarting your phone and reinstalling the app might fix issues that don't respond to other troubleshooting tips.
Fortunately, the companies that make these toys are also pretty responsive to support tickets if you follow all the directions in the manual or on their website and can't fix your issue.
➡️ Check the price of the best remote-controlled vibrator