One of the areas that people are starting to experiment on and explore is the prostate. Initially, there has been a stigma against men seeking such pleasures, but come on; we are in the 21st century.
Just as the G-spot is precious for the ladies, the P-spot is priceless for the gents. Today, remote-controlled prostate massagers are what many men are talking about.
Designed to offer ultimate pleasure, relaxation and satisfaction, remote-controlled prostate massagers are hitting the market with a bang. Yes, you can have fun just at the press of a button.
Whether you're into private or public play, these remote-directed gadgets will not disappoint.
Having tried some of these prostate massagers, some have stood out for me. Read one as we explore some of the best remote controlled prostate massagers in the market today.
Research and Ranking Methodology
We reviewed these gadgets based on customer reviews, and online research on the manufacturer and seller websites. The products were selected based on how they performed in different categories.
Read on to have a glimpse of some of the best products in the market.
1. Lovense Edge 2 – Better for Everyone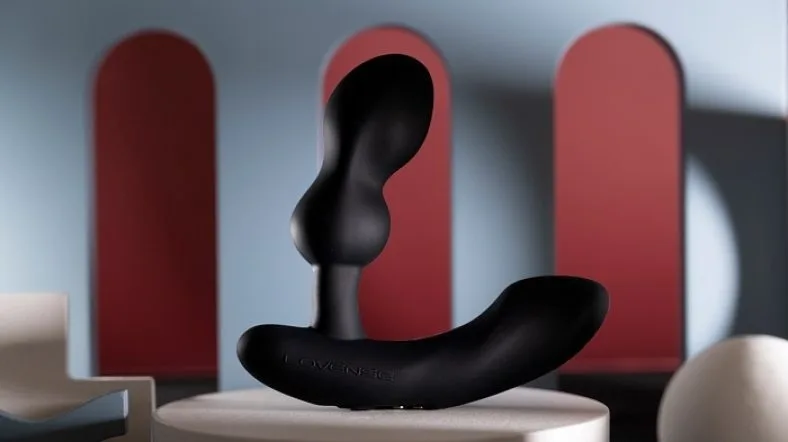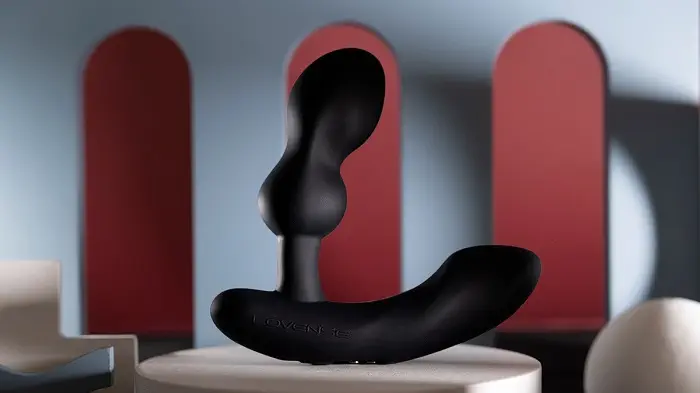 The Lovense Edge 2 is a significant improvement from the Lovense Edge 1, its first version. This second version has a better-improved fit, offers more prostate stimulation, and has a half-an-inch longer insert-able length.
The Lovense Edge 2 has quickly become a personal favorite since it has significantly strong vibrations of any prostate toy, resulting in some of the best orgasms.
Like any other toy, you'll have to spend some time with it to find your sweet spot. However, this toy's learning curve is significantly smaller and works for beginners and intermediates.
To find your sweet spot, adjust the prostate arm to find where it hits you right. You can also play around with the motor vibrations, which you can adjust separately to find the pattern that inches you closer.
You can also allow your partner to control it for you whether they are present physically or an ocean away. Finally, its exceptional battery life ensures you can keep going for as long as you want.
Unfortunately, it's not possible to direct the pressure as you'd like since it's a hands-free prostate massager.
Pros
Powerful prostate vibrations
Two motor controls – a perennial and a prostate motor
Adjustable prostate arm – allows you to adjust the arm to your best fit
App-controlled – can be controlled from anywhere in the world
In-app video chat – Play with a partner while they are on video
Comfortable but does not sacrifice the pressure and stimulation
Exceptional connectivity
Long battery life – At the maximum performance, it can last up to 1.7 hours
Cons
Too noisy to play with in public – though comfortably less noisy at the confines of your space
You cannot walk around with it. It tends to slip out.
Check the Price of the Edge 2 by Lovense
2. Lovense Hush 2 – The Silent Pleasure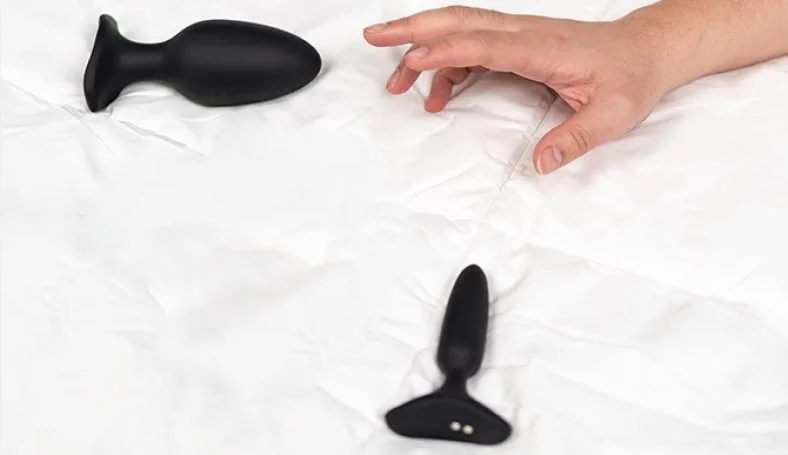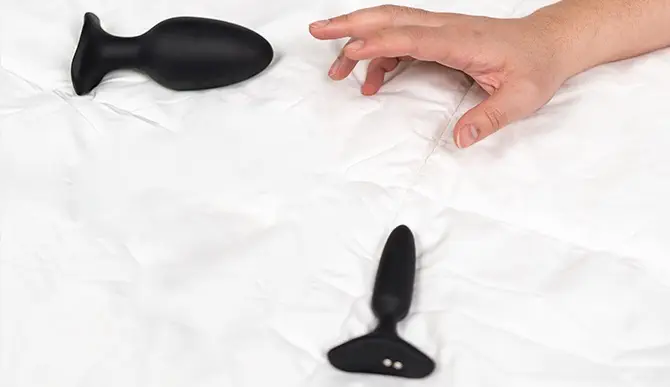 The Lovense Hush 2 lives up to its name, Hush. Like other toys from Lovense, the Hush is incredibly well designed and built.
But what stands out is how silent it is. This for sure makes for a lot of fun in public.
The silicone-made prostate massager delivers a breathtaking massage. The wide range of vibration patterns and strength allows you to take control of your orgasmic experience.
You can go fast or slow, hard or harder, and follow different patterns, especially if you are in an edging session.
In addition, the long battery life allows you to play for long hours, and you can push it as far as you want or have as many orgasms as you can.
In addition, for beginners, there is one with a girth of 1.5 inches, and for those who want something more, there is one for 1.75 inches. Furthermore, it is extremely comfortable and therefore wearable for long hours.
It also has a well-designed handle to help you remove it while at the same time preventing the toy from disappearing there; it saves you an uncomfortable ER conversation.
Once it is Bluetooth connected, your partner can control it while you are seated in the room or public. They can also connect via the internet, and you can have your erotic, romantic, kinky moments when they are miles away.
Other features that make the Lovense Hush 2 a must-have are:
Pros
It comes in two sizes – great for beginners and intermediates.
Wide range of vibration patterns and strengths
Corkscrew design – helps insert it and trap lube in the ridges
Wearable for extended periods
Long battery life – can last up to two hours
It is hushed
Ability to sync to music
It has voice-activated vibrations.
It also offers unlimited patterns.
Great solo play and partner play
Waterproof – making it easy to clean
Cons
The larger size is intimidating to beginners.
Some features are only accessible from the smartphone
It does not come with a carrying bag.
Some vibrations on the higher end might be a little uncomfortable.
➡️ Check the Current Price of the Lovense Hush 2
3. Ohmibod Lumen – The Stylish Orgasmic Massager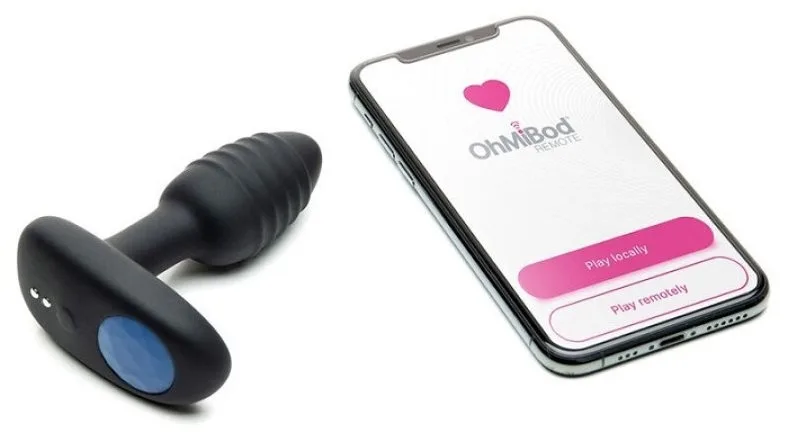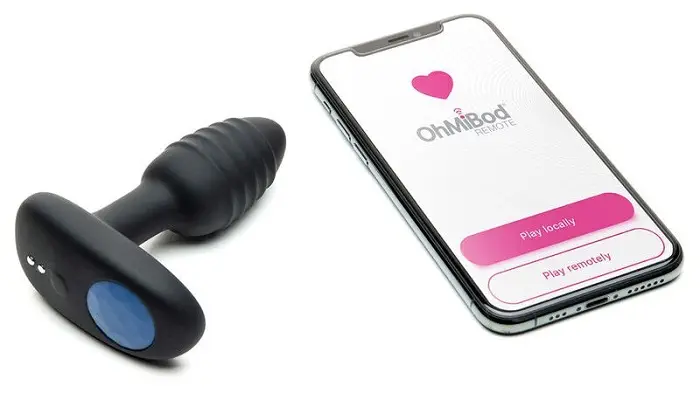 The Lumen is an exceptional vibrating butt plug created from the collaboration of two giants in the sex tech space, Kiiroo, and OhMiBod.
Since the two giants have had impressive success in previous products they have produced, getting one that they had collaborated on was a no-brainer.
This collaborator work of art is outstandingly designed, with ribbed patterns that add to the pleasure while inserting and while it's sitting inside the user.
In addition to the squishy tip, soft silicone, and tapered shape, the toy Lumen has a slim lined neck and a well-positioned base, making it comfortable while inserted and for long periods.
Furthermore, the Lumen stands out for its ability to connect to interactive adult content on different sites such as porn and cam sites (Pornhub interactive, FeelMe, and SexLikeReal).
In addition, when you are not playing with your partner, you can choose to use the plug with some other interactive content for an immersive experience.
Some of the areas where the Lumen is outstanding include:
Pros
The comfort of wear and insertion is unmatched
It uses silicone, which is a body-friendly material
The design is sleek, stylish, and sexy
It has a powerful motor that delivers
Cons
The connectivity can be reliable – especially since each collaborating manufacturer has an app for the same gadget
Its manual play is simple enough, but you must use the app to unlock its potential
➡️ Check the Current Price of the Ohmibod Lumen
4. Svakom Vick Neo – The Intimate Massager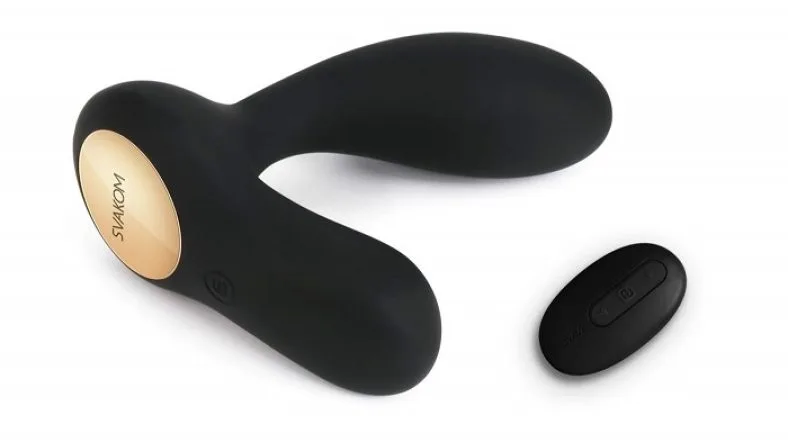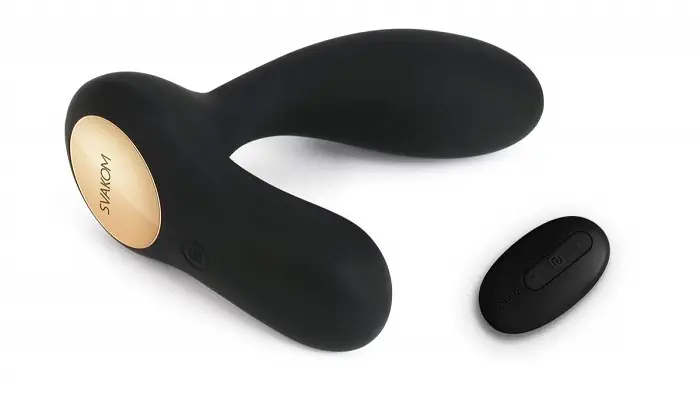 Svakom Vick Neo is a remote-controlled prostate massager that can double up as a G-spot and clitoral massager. The orgasms from a Vick Neo are nothing short of exhilarating.
With its two powerful motors and remote control ability, the prostate massager can stimulate you simultaneously at your preferred pace. It has seven vibration settings and five intensity levels you can switch through.
In addition, it also comes with an intelligent mode that might not work for everyone, especially if you seek a personalized experience, but it is worth a try.
Vick Neo also works well with a partner, and although it is unisex, I would not prefer to share the toy.
Instead, each partner should have their own toy, which would make an exciting experience playing with your partner with a toy you are familiar with.
Pros
Its vibrations are reliably strong.
It is silent
It uses silicone material, hence compatible with water-based lubes.
It is also waterproof and therefore easy to clean.
The shape of the toy is perfectly ergonomic.
It is effortless to insert and hold in place, allowing for a better hands-free experience.
You can easily switch between the manual and the remote control mode.
At full charge, it can last up to two hours.
Cons
It's quite small, which might not work for more experienced users seeking to explore their experience further.
➡️ Check the Current Price of the Svakom Vick Neo
5. We-Vibe Vector – Perfect Design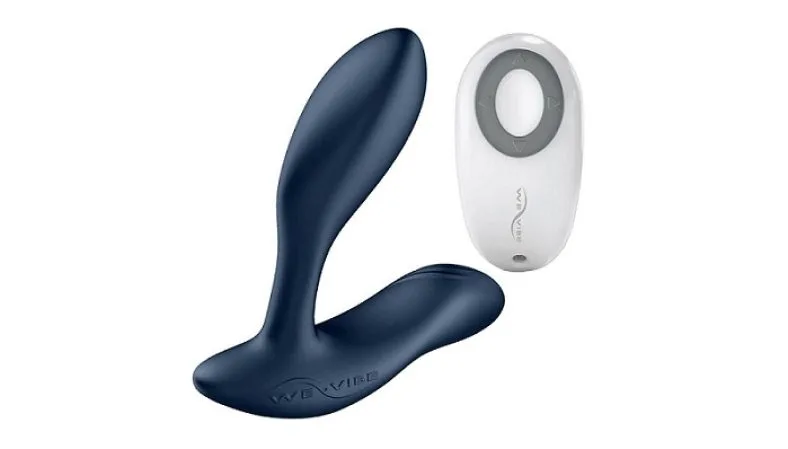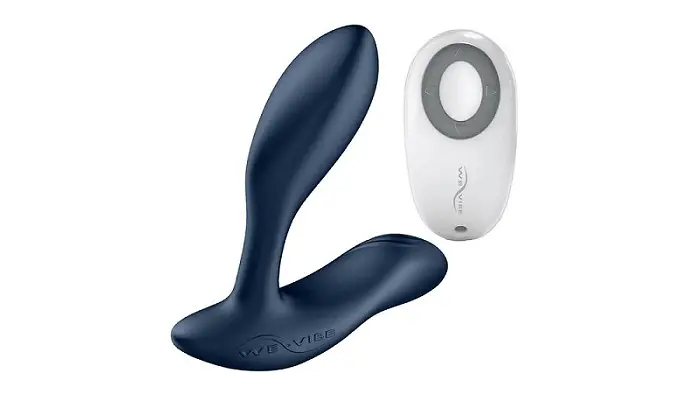 We-Vibe is another orgasmic prostate massager that is undoubtedly made to help you create sweet memories by yourself or even with a partner.
It stimulates both your prostate and your perineum. Its small size makes it easy to insert and works for beginners.
Additionally, it has a flexible and adjustable prostate massager that allows you to fiddle with it until you find your sweet spot.
Once you have your sweet spot in check, you can also experiment with the different vibration and control functions to discover what stroke works for you.
We-Vibe is perfectly designed to feel more romantic and sexy than mechanical and outright brash. The silicone used to make it makes it feel smooth and allows for its flexibility.
Moreover, it is not sticky or draggy. It stands out in the following areas:
Pros
It has a flexible design.
It has multiple control options and up to ten vibration options.
You can control it using the toy button, remote control, or the We-Connect app.
It is best for beginners – its intensity does not overwhelm users.
Small and easy to insert
Silent – Making it suitable for public play
It has a length of 4.13 inches and 1.18 inches in width
It is made of silicone.
It is waterproof.
Cons
The app is susceptible to disconnections and bugs, making it unreliable.
The intensity might be underwhelming for pros.
➡️ Check the Current Price of the We-Vibe Vector
6. Aneros Vice 2 – Ultimate Indulgence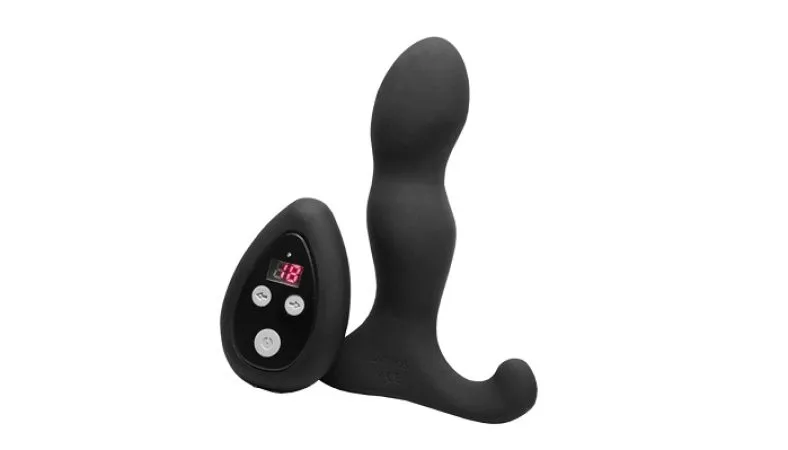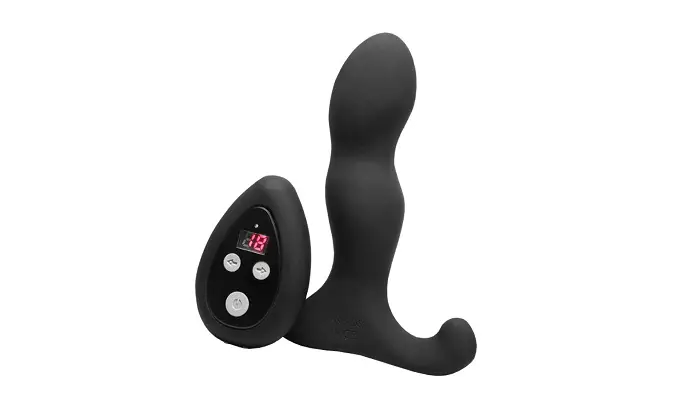 Aneros Vice 2 is perfect for those looking for an intense prostate massager. Aneros Vice 2 offers deeper and heavier sensations than its predecessor, Aneros Vice 1, or other models.
The Vice 2 has 6x more vibrational patterns than its predecessor, making it a personal favorite prostate massager. It also prides itself on how deep it penetrates, giving maximum user satisfaction.
The Aneros Vice 2 is a bit different from other models in the market because of its learning curve. You'll need to familiarize yourself with the various components of this remote-controlled prostate massager.
Pros
Use for experienced anal players
Delivers intense prostate massage experience
Hand-free device
It offers numerous patterns, intensities, and sensations.
Dual motor, each motor independently remote controlled
Cons
Not suitable for beginners
Can slip out mid-session
It's not all hands-free, as stated in the manual.
7. Club Vibe 3. Oh Hero – Climax on the Beat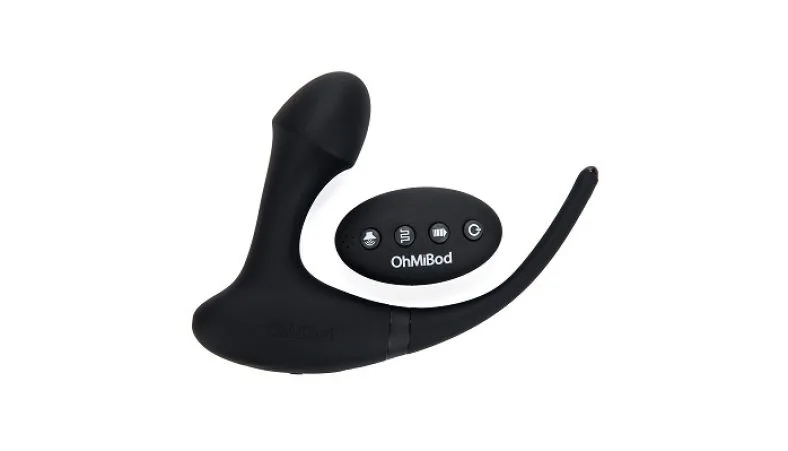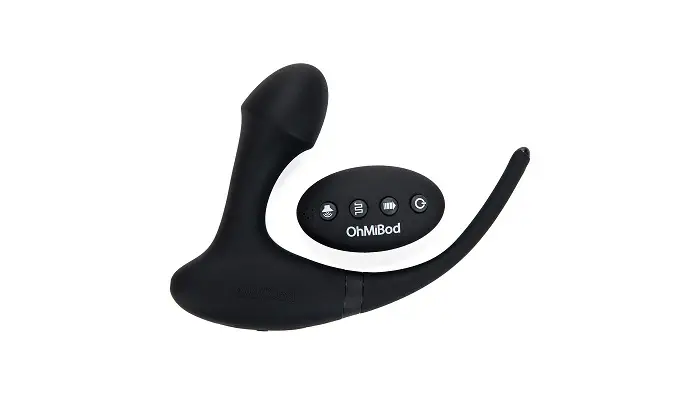 The Club Vibe 3. Oh Hero, in recent years, has increasingly gained momentum and placed itself among the most preferred prostate massagers worldwide.
It's from OhMiBod, a popular sex toy brand that prides itself in a vast and unique collection.
This prostate massage is a vibrating, wearable butt plug with a twist. It comes with both a club mode and a non-club mode, giving the user options.
The club mode has three settings that allow users to enjoy by pressing the buttons or just using the remote.
The club mode has an exceptional feature that allows the user to sync the butt plug with the music being played. This increases the vibrations and allows the user to experience massive stimulation.
Pros
Made from smooth silicone that is safe for the body
It has a long-lasting battery that ensures sessions will not be interrupted.
The toy offers powerful vibrations that will leave you breathless and reeling for more.
Smaller in size, making it very simple to insert
It stays in place longer – you can even walk in public with it.
Cons
It can be at the extreme end of the price spectrum.
This prostate massager will give you a long-lasting orgasm that will leave you insatiable and wanting more. The good thing is that it has various vibration patterns you can switch up and continue to enjoy the orgasms.
Check the Price of the Ohmibod Club Vibe 3 Panty Vibe
8. Lelo Hugo – The Bring the Intensity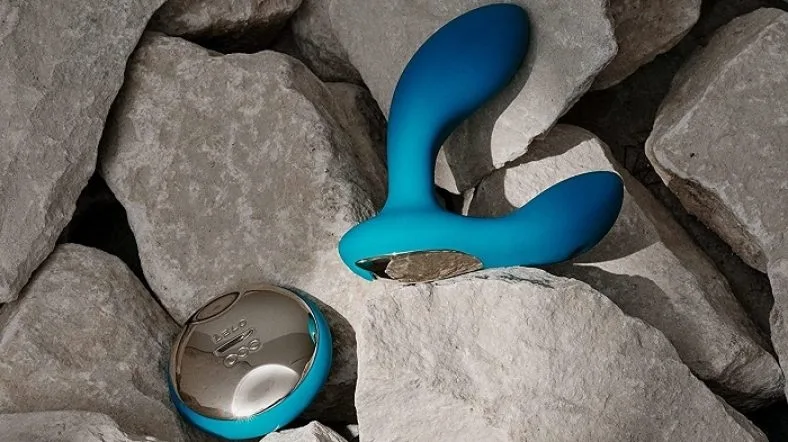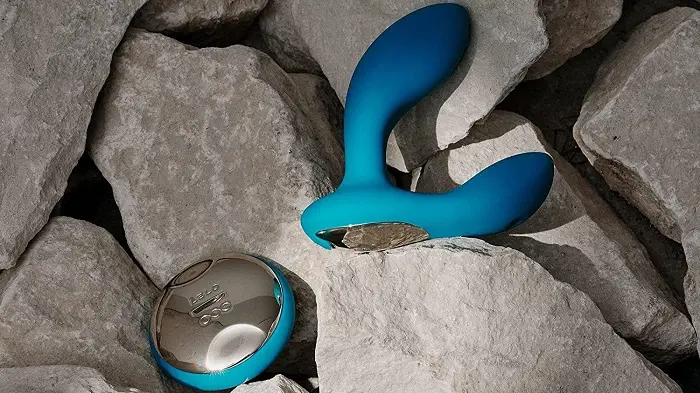 LELO Hugo is redefining the prostate massager world.
Its first main and unique characteristic is its shape, which makes it look like a thumb and a pointing finger, thus inserting it very easily. The bulbous upper is the one that acts as a massager.
It features a medium shape, making it ideal for beginners or those just a little bit familiar with these prostate massagers.
For advanced users, there is a larger size. Additionally, this toy is considered the best because of the six pre-programmed strengths and vibrations it features.
This massager still always exceeds expectations through powerful orgasms.
LELO Hugo comes with a wireless remote that works with just a tilt. When the remote is horizontal, LELO has a 10% intensity, and when vertical, it's at 100% intensity.
Once the user gets the grasp of using the remote, they will experience ultimate excitement by alternating speed and intensity.
Pros
It has a smooth and silky silicone that is safe for body use and is fitted with a gold plate at the base.
It charges very fast at an approximate time of 120 minutes, and one can use it for more than 2 hours without it dying on you.
The LELO Hugo has two powerful motors located in the shaft and perennial region. They increase stimulation.
It's completely waterproof and hence, very easy to keep clean.
Remote controlled
Cons
The vibrations start to weaken once the battery has lasted long. This minimizes pleasure.
Not ideal for advanced users who love bigger prostate massagers.
9. We-Vibe Ditto – Orgasmic Vibe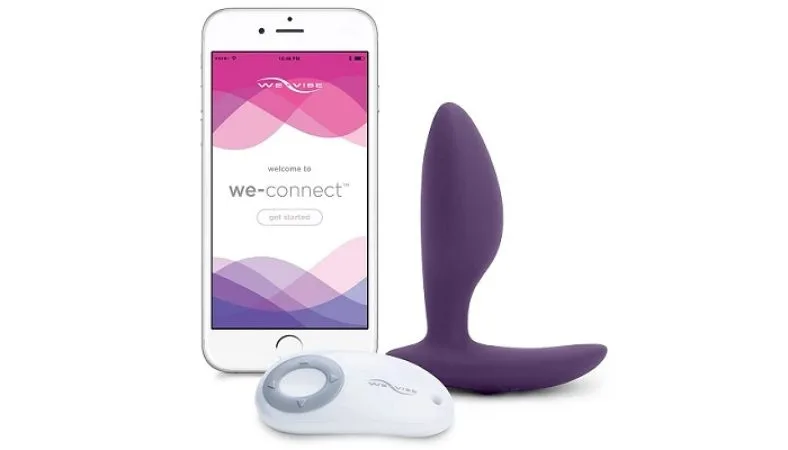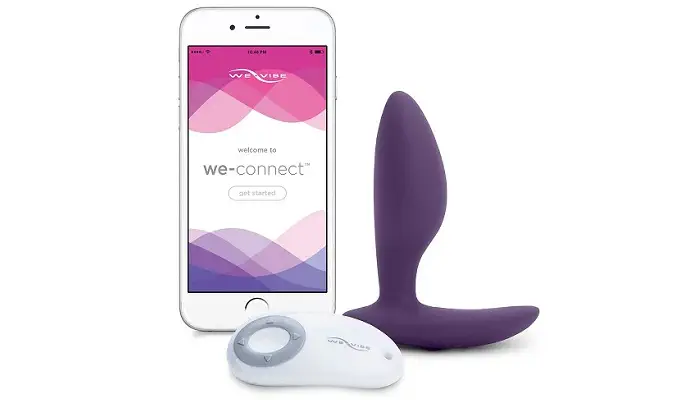 We-Vibe Ditto Is a luxurious pleasure toy that offers a great and intense prostate massage. It can be used for foreplay or during sex, as one deems fit for pleasure.
This prostate massager delivers deep and rumbly vibrations in 10 different patterns, ensuring maximum sex and orgasmic satisfaction. They are designed to be used by men seeking to pleasure themselves or their partners.
The Vibe Ditto is made with body-safe silicone and can be used with numerous lubricants without compromising its quality and life cycle.
Another exciting feature that is a personal favorite is its size. It is small, which means it can be worn almost anywhere, even for walking. Beginners can also wear them.
We-Vibe Ditto is definitely a must-have, especially for beginners. It delivers just the right amount of intensity to keep you buzzing until you get to orgasm land.
Pros
Rechargeable through a USB, and charging it fully for 2 hours will last the entire session.
The silicone used is smooth and squishy. This makes it very comfortable while in use.
Easy to insert – this is because it is slim and flexible at the base.
Remote controlled
Battery low alert
Waterproof
Cons
The device for advanced players is considered so small that you can hardly tell it's inside.
➡️ Check the Current Price of the We-Vibe Ditto
Tips to Pick the best Remote Controlled Prostate Massagers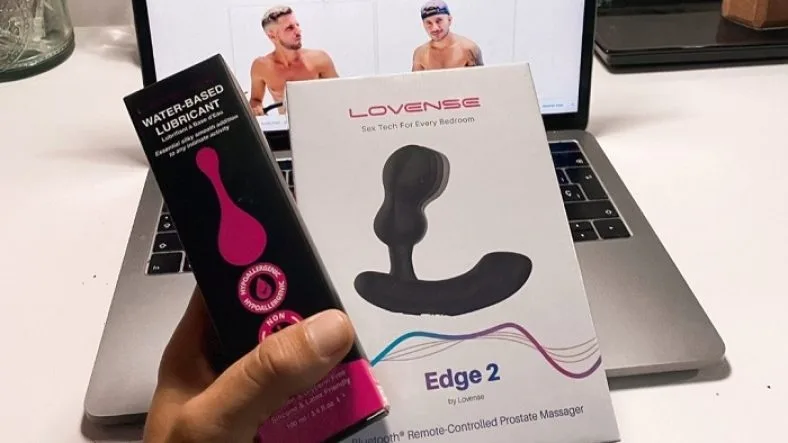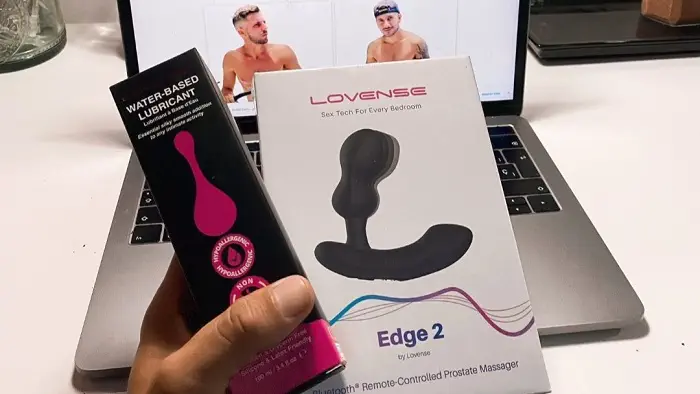 Below are some tips to guide you as you shop for a prostate massage.
Consider price
I don't mean you go cheap. No one wants to insert any cheap gadgets into their most intimate parts.
A modest price can give you a high-quality product. But of course, the higher the price, the more features you may get.
Shape, Thickness, and Length
Everyone has their desired extent of girth and penetration. Choose what is comfortable and brings you the most pleasure.
In terms of shape, choose depending on your posture during the prostate massage. If you prefer the fetal position or on your back with legs up, a curved one will work just right.
Power
As you may know, vibration power determines performance and eventual orgasm. For ultimate pleasure, choose a massager that offers multiple vibration modes to give you the flexibility of choosing your speed.
A double-headed massager will also come in handy if you need to massage both the prostate and perineum.
Usability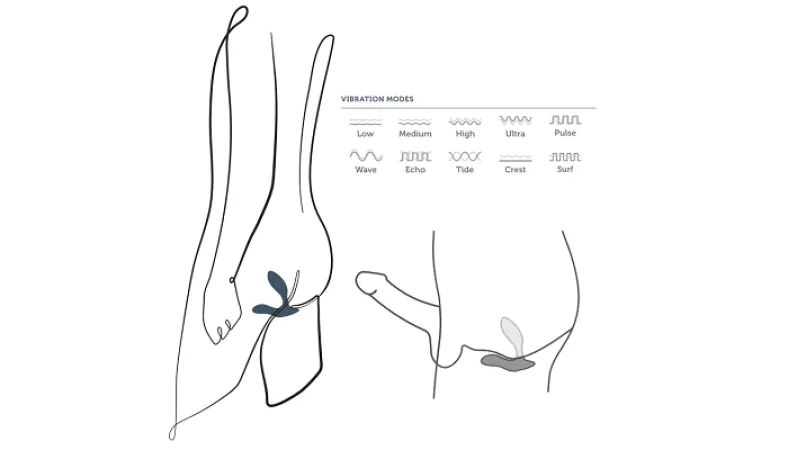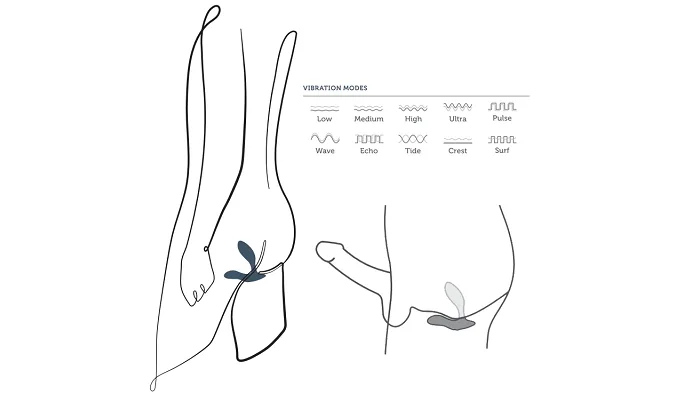 You don't want to start figuring out how your prostate massager works when you should be enjoying the moment.
Be sure that the massager you buy comes with a user guide. Also, ensure you buy from a good brand with contact information in case you have questions.
Battery Life
You may know how it feels when your massager goes "dead." If you don't, don't, it's nothing pleasant and should be illegal.
That's why it's important to confirm your massager can last the length of your orgasm journey.
If it's a rechargeable battery, it should have a quick recharge and slow drain. About 60 minutes is a good run time.
Frequently Asked Questions
Since prostate massagers are just gaining traction in the market, more and more people are buying into the experience, but many questions still make them a little apprehensive.
This is a normal phenomenon when one learns that you play with prostate massagers, and they launch into a stream of questions. If you are one of those, here are your answers.
How can a remote-controlled prostate massager spice things with my partner?
A remote-controlled massager allows your partner to take charge of the moment with ease. They can play with the different vibration speeds and power modes to create an unforgettable experience.
You can even take the play out of the house and into the public. Public play improves intimacy and makes it more adventurous.
A remote-controlled prostate massager gives you or your partner the power to tease you in the most unexpected places, creating exciting moments.
How is a remote-controlled prostate massager better than a hand-controlled prostate massager?
A hand-controlled prostate massager allows you to control the sensation, which can give you a wonderful time. But, unfortunately, you have to stay in particular positions to access and control that massager.
On the other hand, a remote-controlled prostate massager allows you the freedom to play, however, whenever and wherever, without the hustle of using your hands excessively.
Can a remote-controlled prostate massager be used as a clitoral or g-spot vibrator?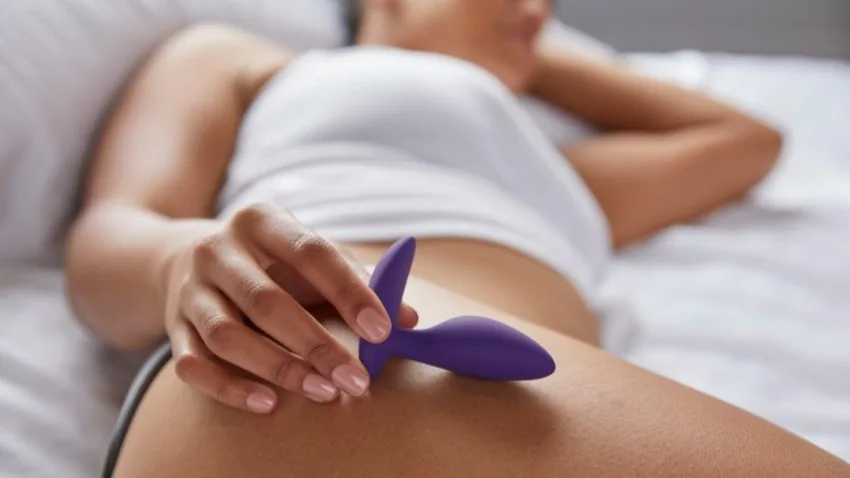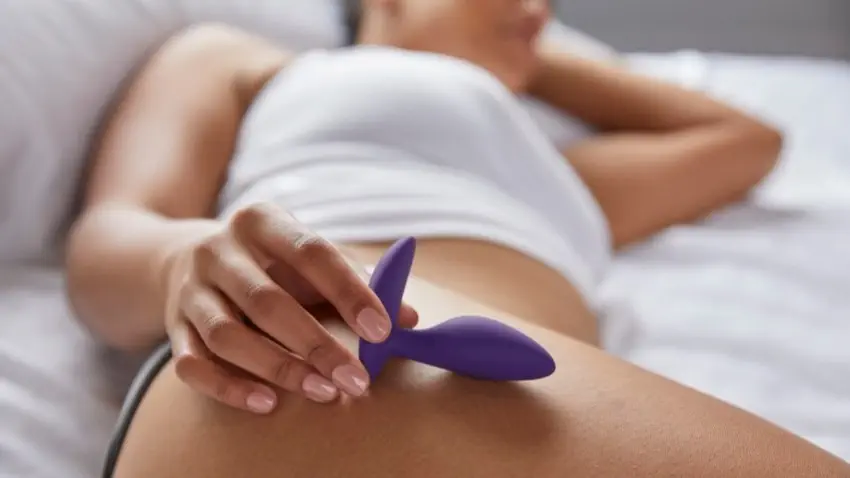 Remote-controlled prostate massagers and clitoral and g-spot stimulators are designed differently for maximum stimulation.
Despite them taking similar shapes in some designs, they are curated for specific pressure zones. Nevertheless, some people use them multi-purposely.
Is a remote-controlled prostate massager safe?
As much as playing with a prostate massager is pleasurable, you have to take care not to hurt yourself. To start with, ensure you have a lot of lube, to make the insertion and removal smooth.
If you are a beginner, make sure you start with a smaller size and increase gradually. Going all-in with a pro gadget can be tempting, but you don't want to make your initiation unpleasant.
Something else to pay attention to is the intensity of the vibrations. For beginners, little gentle vibrations go a long way.
Ensure you don't push yourself too far too fast. Before you graduate to the next level, ensure you can handle comparatively subtle vibrations to avoid hurting yourself.