Condoms boast a 98% success rate in preventing pregnancy and offer tons of protection against the transmission of STDs, including HIV. They can only do their job, however, when worn properly for every sexual encounter. Just one slip-up can result in the unthinkable, yet an improper fit often leaves people throwing them to the wayside.
To help solve that problem, Lovense rolled out their RealSize Condoms. Through their app, it's possible to find the right size of condoms the first time around. Then, all you have to do is order up however many you need for all the fun ahead.
Curious if their approach is working out? Here's what you need to know.
Check the Price of the Lovense RealSize Condoms
Lovense RealSize Condoms: Making Precise Sizing Possible
The Lovense brand got its start in 2009 when the founder sparked an interest in teledildonics while in a long-distance relationship. The company first focused on app-based sex toys before branching out to other products. Their RealSize Condoms are one of the newest products in their lineup.
Using their app creation knowledge, they built an effective penis-sizing application for mobile phones. With that measurement tool, it's much easier for men to find a condom that will let them enjoy the perfect fit.
Their condom sizes directly relate to the circumference of the penis and range from 49 to 60 millimeters. On top of that, they optimize the thickness for each condom size to balance comfort and safety.
Across all sizes, their condoms are made from premium quality natural latex and come covered in a specially-sourced silicone-based lubricant. Their cylindrical condom design features a reservoir end to prevent breakage and further improve the fit.
Before packaging up the orders, they use precise electronic testing methods to check each condom's integrity. They take your safety seriously, so you can trust their condoms to provide protection when you need it most.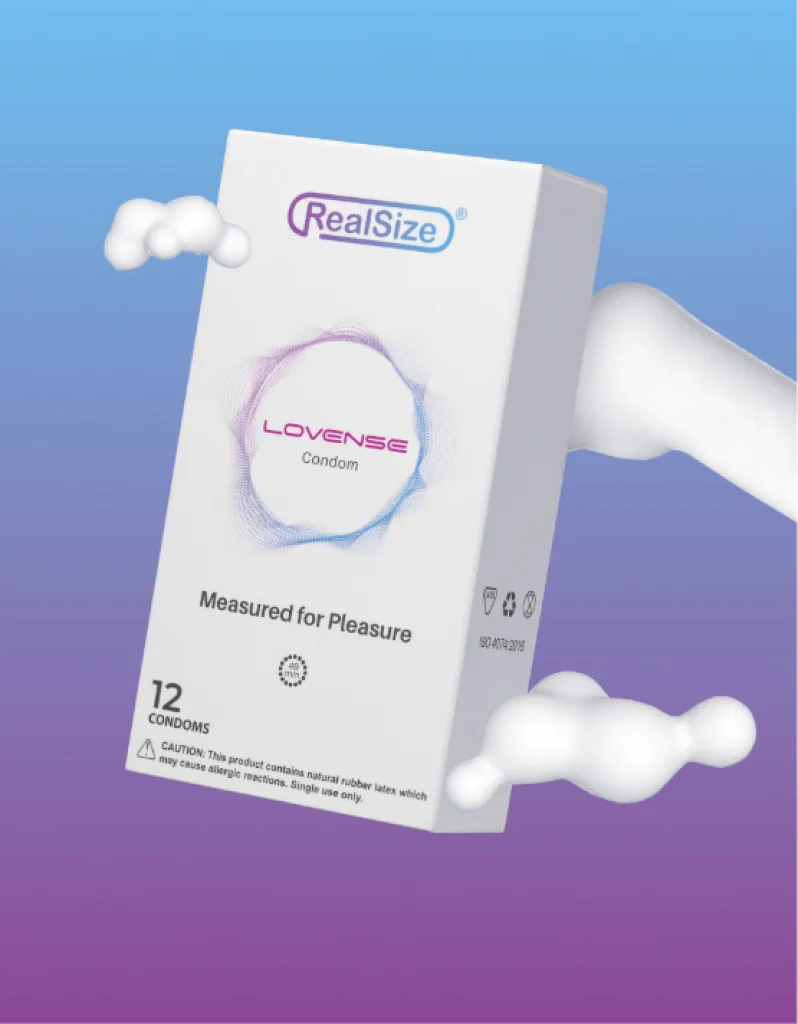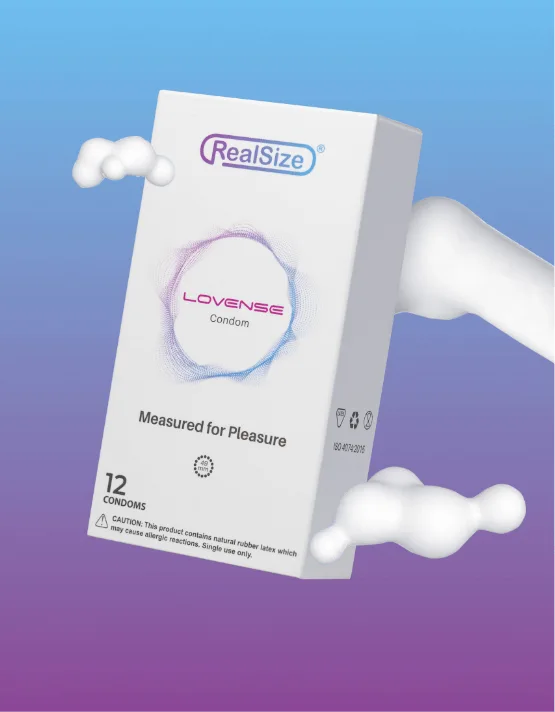 How Do Lovense RealSize Condoms Work?
You can buy Lovense RealSize Condoms as a one-time purchase or as a regular subscriber. Either way, you have to first find the right measurements, so you know which size to buy. Thankfully, they make it easy to get started. You just have to follow these steps.
Take Measurements
Accurately measuring the penis is the very first step in buying Lovense RealSize Condoms. You can do that either digitally or manually, depending on your preferences.
Digital
You will just need a smartphone for the digital sizing method. You can then go to their website to scan the QR code and download the app. The app will take a few minutes to install, and then start up once you tap the 'Open' button.
After the app opens, you'll have to take a couple of minutes to get your penis fully erect. You can then align your penis with the pink line to find its circumference. The app will automatically provide the sizing info to use while making your order.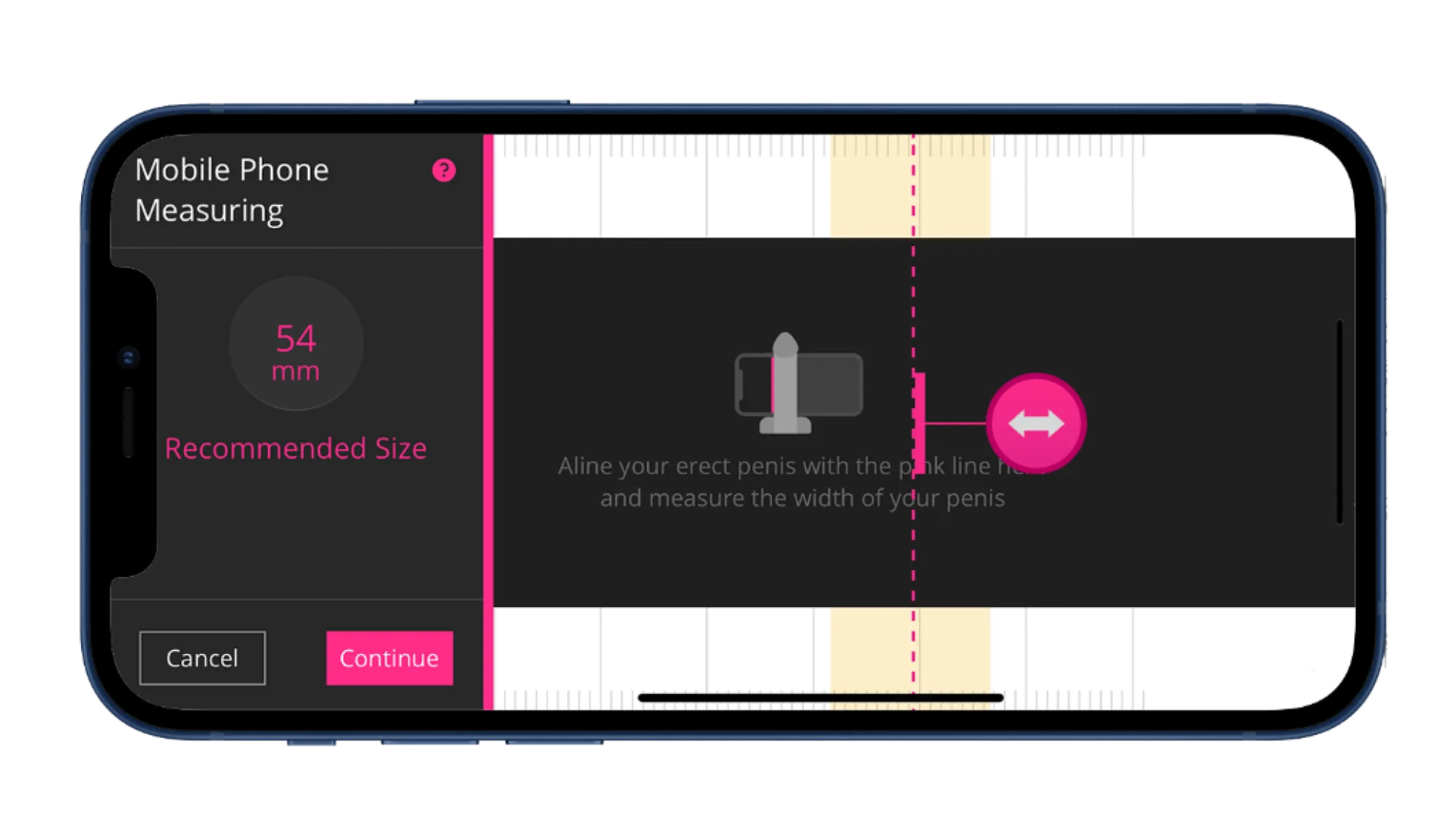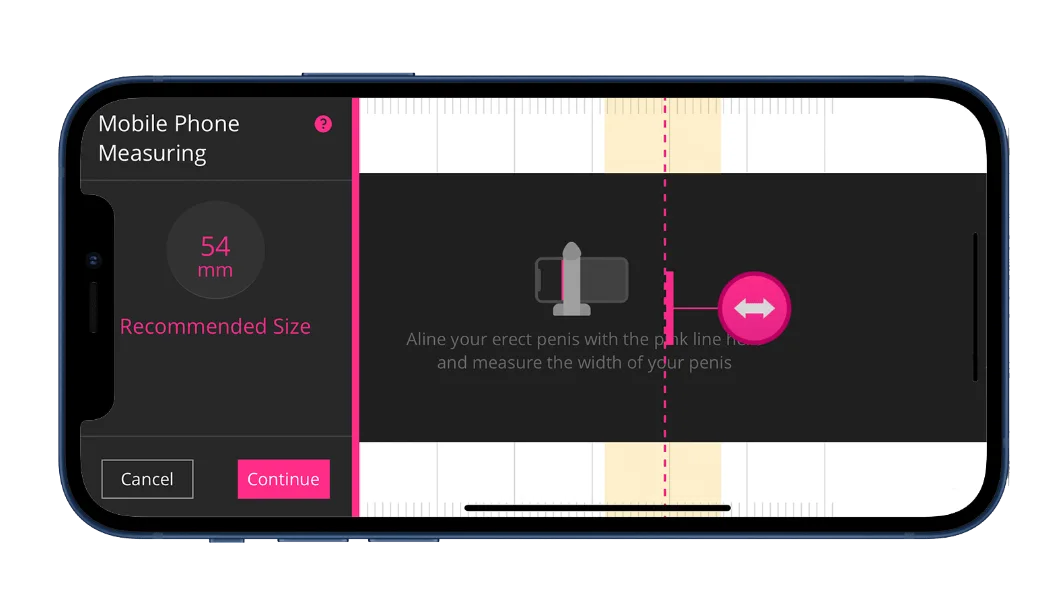 Manual
You can do your measurements manually if you do not have a smartphone available or simply prefer that method. Lovense provides a measuring tool you can download and print if you wish. Or you can just use a soft body tape measure instead. If you do not have that, use a string or strip of paper.
Wrap your measuring tool of choice around the thickest part of your erect penis to find its circumference. If using a string or strip of paper, mark the wraparound point and use a ruler to find the circumference number. Then, input the circumference in the calculator on the Lovense website to instantly get a size recommendation.
Although their system works for most men, sometimes it does take more than one try to get the right size due to variations in penis profiles. Thankfully, you can do the trial and error process at home instead of in public at the drug store.


Buy Condoms or Subscribe
With the sizing done, you can jot down the size recommendations, and then review the purchase options on the Lovense website. They allow you to buy their condoms outright in packs of 12, 24, and 36 if you just want to try them out. When ordering condoms through the one-time system, you have the option to add any of their sex toys to your order before checking out.
If you already know that they will work well, you can save even more money by signing up for their subscription program. They allow you to decide if you'd like 12, 24, or 36 condoms delivered on a one-, two-, or three-month basis. You can even have multiple packs of condoms sent your way at your preferred intervals.
The total amount of time it takes for your order to arrive on your doorstep depends on your region. Each region has its own shipping characteristics, so it's difficult to know when they'll arrive. For the best results, plan for your order to take at least one week to arrive once you hit submit.
After your order arrives, you can use the condoms just like any other brand. They are easy to put on your penis and stay on through all your sexual activities. Their fit should feel just right, too.
If it does not, just let them know and the customer service team will help you find a solution. Unopened boxes are returnable within 30 days, but you're stuck with the ones you've opened.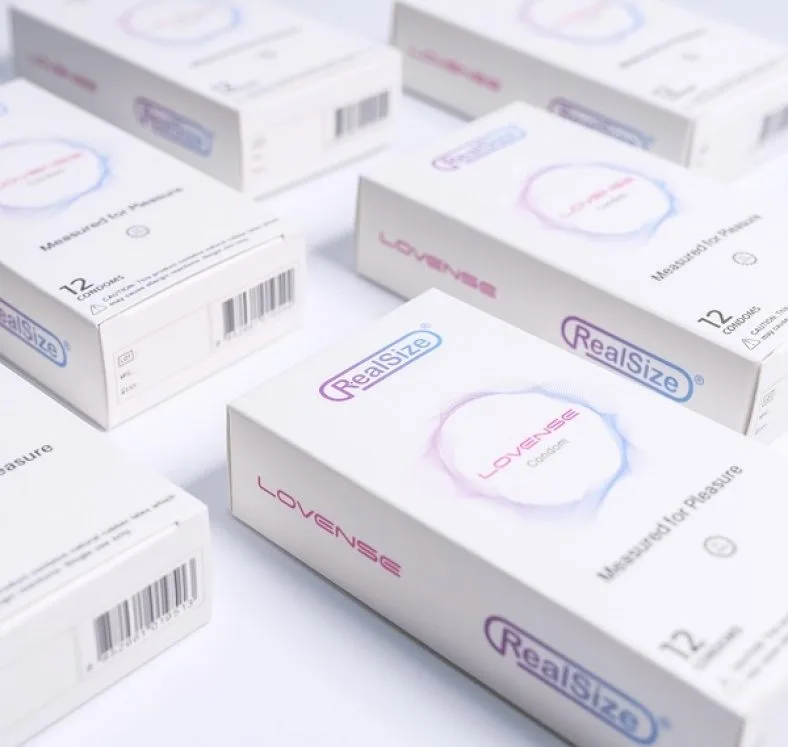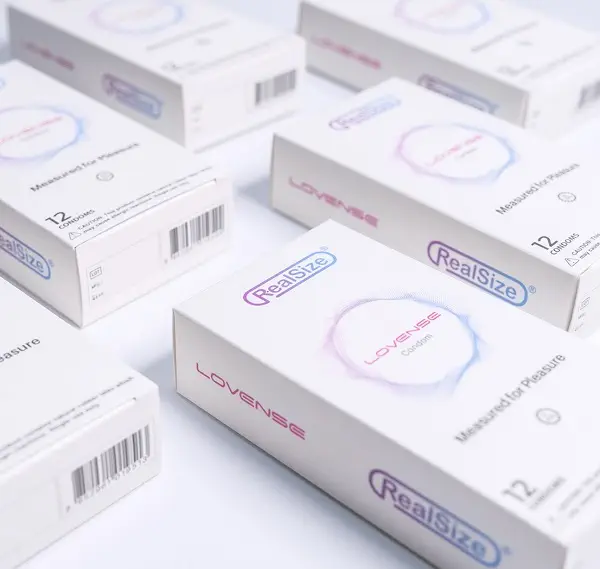 Overview of the Pros and Cons
To decide if Lovense RealSize Condoms are right for you, review the following pros and cons.
Pros
Their high-quality condom materials and design provide excellent protection
The sizing support allows you to skip the guesswork altogether
Their multiple condom sizes make it easy to find just the right fit
Customizable order options let you get all the condoms you need on demand
Subscription service ensures condoms auto-ship at your ideal intervals
They make it easy to cancel your subscription any time if you wish
The company accepts returns within 30 days if the box is unopened
All condoms go through rigorous testing to verify they meet ISO standards
Cons
Only available to customers in the United States at this time
Not all men get the perfect condom fit on the first try
They do not offer any latex material alternatives
Their condoms only come coated in a silicone lubricant
You have to buy condoms well ahead of time and have them shipped
They do not offer any special ribbing, lubricants, or other features
Since condom fit and feel is highly subjective, you must try them for yourself to see if they'll work well. You can easily do just that by completing the sizing process and doing a one-time order for just 12 condoms. Then, if you like their condoms, you can order a lot more or just sign up for a subscription and get regular deliveries.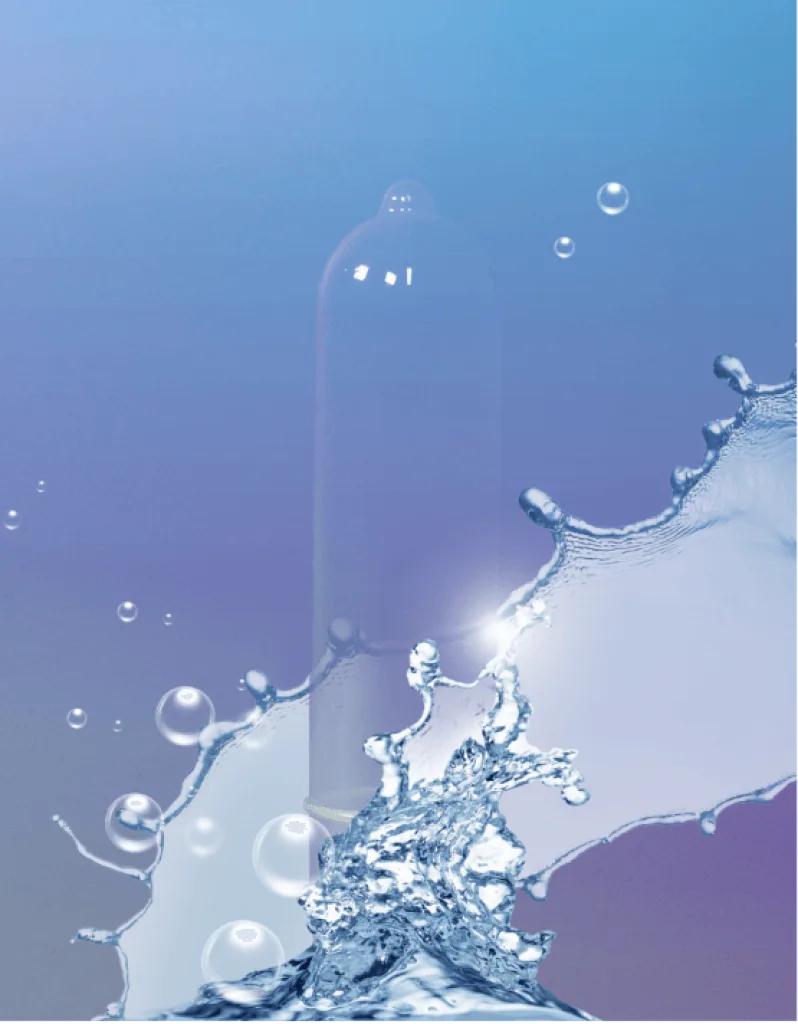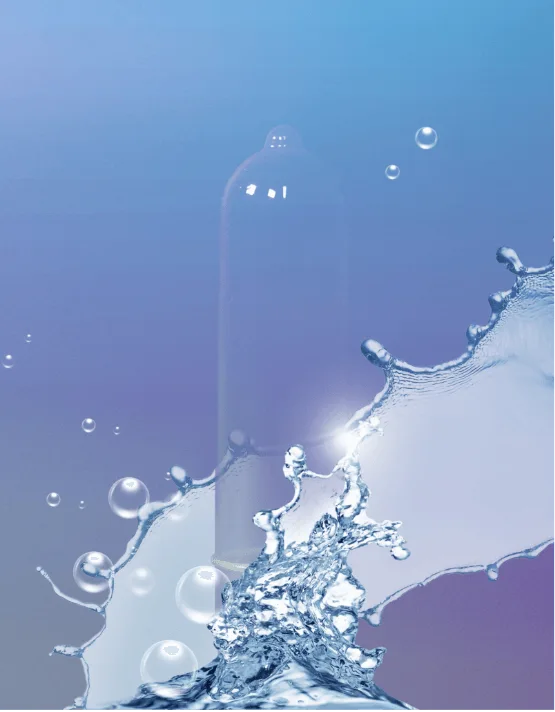 FAQs About Lovense RealSize Condoms
Before signing up for Lovense RealSize Condoms, you undoubtedly have a lot of questions. Fortunately, you can get all the answers right here in this FAQ.
What are the benefits of using Lovense condoms?
Condoms provide true peace of mind during all your sexual encounters. When used properly, they offer 98% protection against pregnancy. Even with imperfect use, their effectiveness rate lies in the 85% range. On top of that, they provide protection against STDs, like HIV, chlamydia, herpes, and syphilis. Unlike other forms of birth control, condoms are simple to use on the fly and easy to keep on hand for when you need them most.
Why does accurate Lovense condom sizing matter?
Above all else, condom size matters because if they don't fit right, most people won't use them. In addition, condoms that are too small run the risk of breaking during use. If they're too big, they could slip off. So, you should always try to find the perfect fit and stick with the condom brand that provides the best experience.
How long does it take for order processing through Lovense?
Order processing happens automatically every hour on the hour. You can expect an order confirmation to land in your email inbox right after you hit submit. If you don't, check your spam folder, and then contact customer service if you still don't see anything. The customer service team can confirm that your order went through and offer assistance if not.
Do the Lovense condoms arrive in discreet packaging?
As with all product orders, Lovense always send their RealSize Condoms in discreet packaging. They greatly respect your privacy and understand that you might not want your neighborhood knowing all of your business. You can trust that your order will arrive in a plain shipping box without logos or other marks that hint at its contents.
Is Lovense billing information kept discreet as well?
In addition to shipping out your order in discreet packaging, the Lovense system uses discreet billing practices as well. For most processors, you will see a random code alongside the total amount charged for your order. A few processors do require the website name as well, however, so there's a chance the Lovense name will land on your transaction statement as well.
Is it possible to return unopened Lovense products?
If you're not happy with your order, you're welcome to return all unopened products within 30 days. You'll need to reach out to the customer service team for return instructions. Otherwise, they may not issue your refund. You cannot simply ship the items back without contacting anyone. If you're unhappy with products already opened, let the customer service reps know and ask them if they have any solutions available to you.
How can I cancel my Lovense subscription once it starts?
When you want to cancel your subscription, just let the customer service team know and they'll take care of it for you. Since it could take a few days for the cancellation to go through, plan to do this well before your next order should ship out.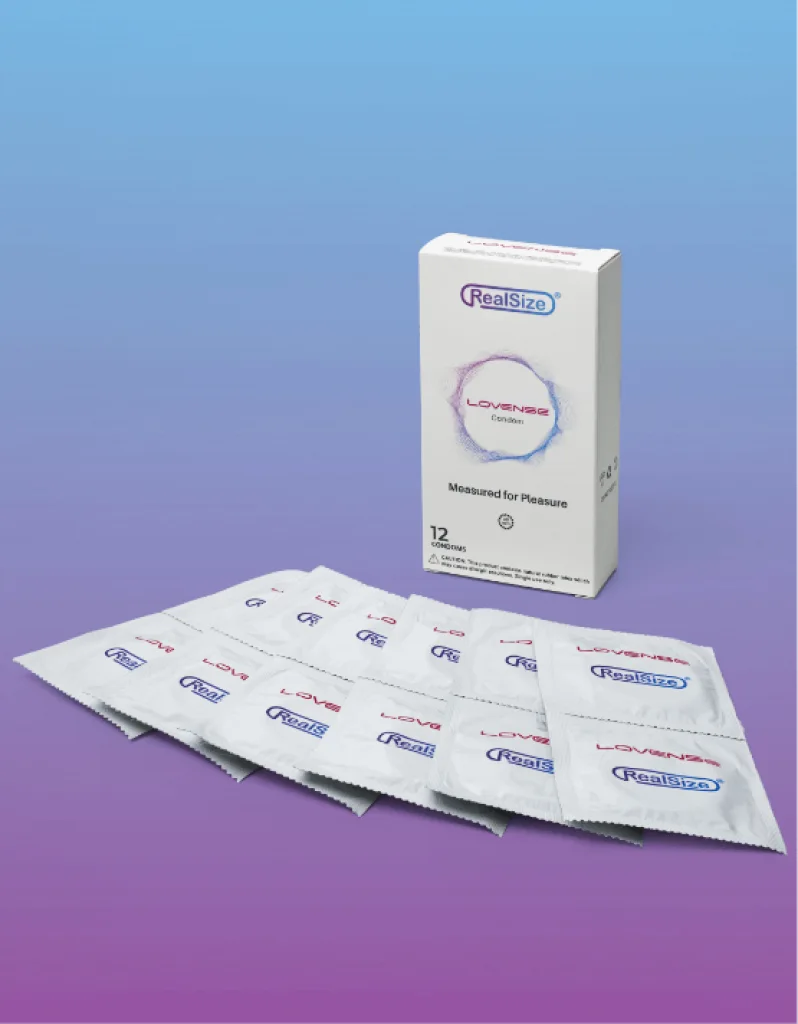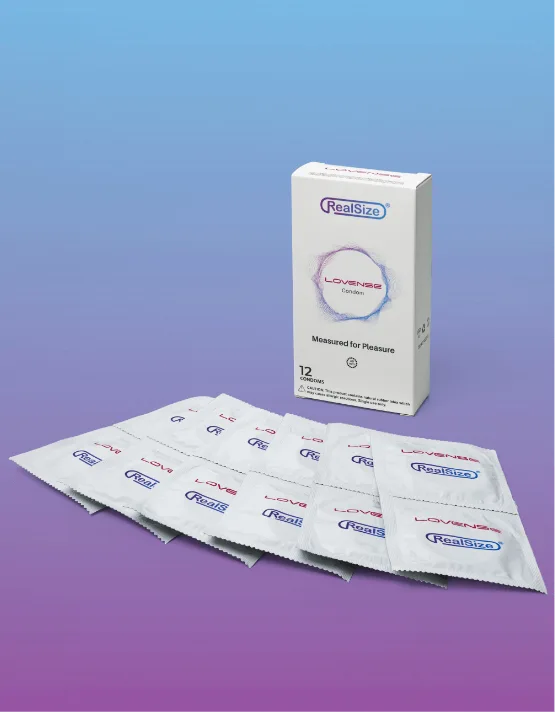 Verdict
Lovense RealSize Condoms have the potential to streamline the selection process and let you get straight to all the fun and excitement. You can avoid all the potentially awkward hemming and hawing over the condom options at the drug store as a result. Better yet, you won't have to waste any more money on the wrong condom sizes as you try to pinpoint the clear winners.
So, if you'd like to cut right to the chase, the Lovense system is definitely worth a try. Just be sure to plan ahead, so you get your condoms on your doorstep well before you need them. Otherwise, you might just be taking that impromptu trip to the store anyway while you wait for your order to arrive.
Check the Price of the Lovense RealSize Condoms