Maintaining a long distance relationship is hard.
What makes it even harder is the total absence of physical sex between the partners.
Now, if we were in the 19th century, I would have a lot more fuss about how the absence of sex affects the relationship; but since we are already in the digital age, I would just like to share with you something that might change your (sex) life.
Why, you ask? Because thanks to Lovense and its toys Nora and Max, people involved in long distance relationships can now enjoy 'almost real' sex.
>> Click here to learn more or to order your Lovense Nora now <<
What is the Lovense Nora?
Lovense Nora is a sex toy for her which can be used alone or with a partner. Interestingly, your partner does not need to be in the same room as you are, or as a matter of fact, not in the same country either.
It runs on a technology that lets your partner control your sex toy through their mobile device and make you cum and satisfy your sexual needs within a few taps.
If you don't know about it yet, the Lovense Nora vibrator is the female counterpart to the Max masturbator. You can read my review about both of them by clicking here.
The Lovense Nora is designed with a special silicone that is really comfortable and suitable for most female bodies.
The rotating head of the rabbit is specially made to stimulate the clitoris gently. The insertable length of the Nora is approximately 4.72 inches, which is sufficient for full-on G-spot stimulation.
These two features combine to provide your pleasure internally as well as externally. Simply amazing.
There are buttons on the bottom of the Nora for manual adjustment when you are alone, which can control the rotation, from gentle to intense.
There are three levels of vibration which help you to customize your personal experience according to your needs.
The gentle silicone design also allows for maximum comfort when thrusting, and it will stimulate all the right places for your maximum pleasure.
The Nora is waterproof and is easily rechargeable, the USB charger, and a user's manual will come in the package with your Nora.
No more having to buy your batteries in bulk just so you can play with your vibrator!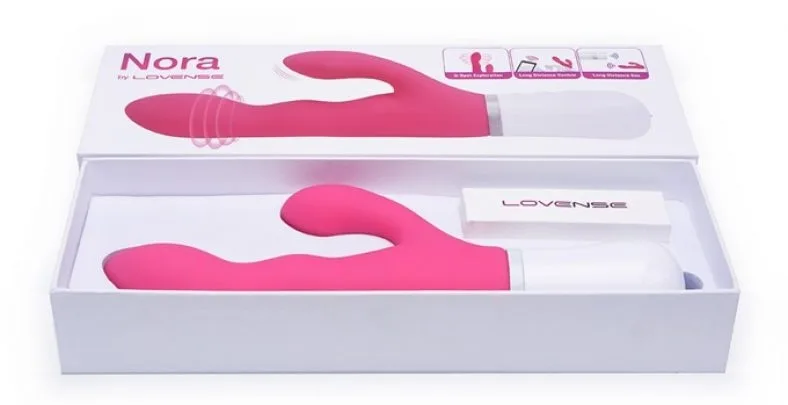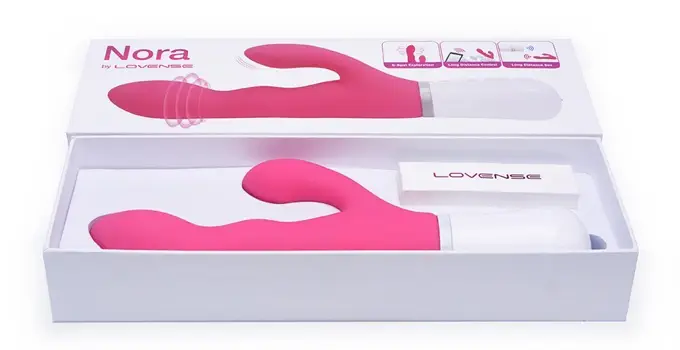 Full specs:
Materials: Silicone and ABS plastic (phthalates free)
Total length: 24.4 cm
Insertable length: 12.4 cm
Insertable diameter: 2.7 to 3.8 cm
External appendage length: 6.5 cm
External appendage diameter: 2.5 cm
Weight: 285 g
Power supply: Internal rechargeable battery (magnetic USB cable supplied)
Battery life: 1.5 to 2 hours
Charging time: 2 hours
Colour: Pink and white
Welcome to the future of Sex
While using my Nora, there are two things that will blow your mind.
First, the quality of the toy. It is made from top-notch silicon, and you can actually feel the richness of the material as soon as you start using it. It feels real, solid and soft – perfect.
Second, the pleasuring power of the toy. Every vibrator vibrates to produce sensations, but Lovense Nora vibrates as well as rotates.
This complete movement produces powerful sensations which leave you in amazement and joyful tears.
The vibrations can be controlled by the controls present on the base of the Nora. Or, by the controls on your smartphone!
Compared to your basic vibrator, the Lovense Nora has advanced technology, as it comes with a Bluetooth chip so that it can connect with your smartphone or computer for remote control or even LDR sex.
That means that you can connect to your phone and your lover's phone thanks to the Lovense Remote app that you can find here.
With this app you can, for example, tell your commands for what you want to your smartphone and then it will translate those commands to Nora.
You can create vibration patterns, increase vibrations, decrease vibrations, control rotations and do a lot more.
The toy will adjust to your command so this way you have total hands-free pleasure.
You can also connect to your partner's device, and he or she can control your level of pleasure when in another room to give you a little surprise or with you to watch the ecstasy that you are experiencing.
This can open up many experiences for those who are looking to add a little spice to their sex life.
Nora is also waterproof. So for those that enjoy water activities, it is perfectly safe to do so.
Also, the motor that produces the rotations in the Nora has been upgraded to a quieter version and is almost silent.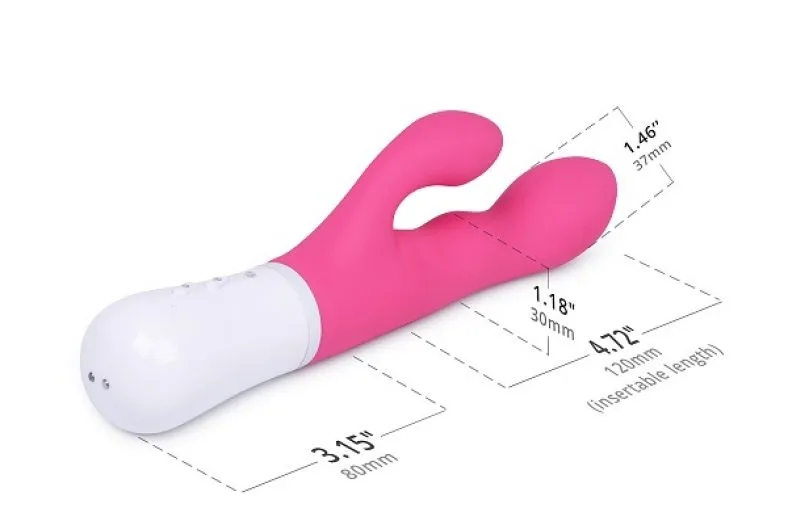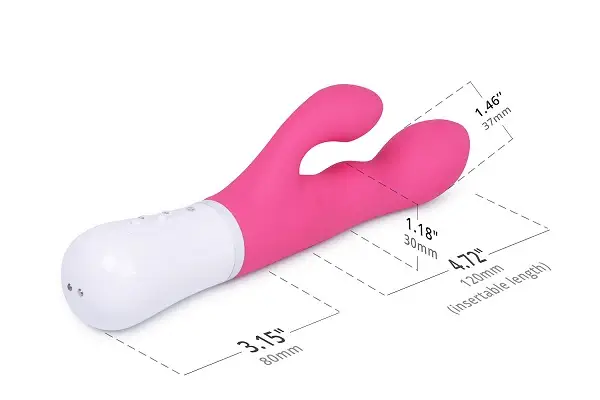 How is it for Long Distance Relationships?
In today's society, as long distance relationships become more prevalent, a couple's sex life can begin to suffer. This is no longer a problem. Nora brings a whole new hope for these relationships.
With the Lovense Remote app that comes with Nora, it is possible now to sync two devices together through the app which also offers video chat and messenger chat.
These chats are encrypted for total privacy, by the way. The couple involved will never have to worry about someone seeing their private activities!
The fun truly begins when the two toys are synced.
Both partners can control what the other partner is feeling in real time!
Another great thing is that the video chat allows for each partner to see the other and the pleasure they are experiencing which will in turn hopefully connect the partners on a deeper level than just plain sexting or whatever:
The harder the man thrusts into his toy, the faster the Nora will rotate and also vibrate
In turn to that, the faster she moves hers, the more suction and tightening he will experience
This makes for a wonderful experience for both parties to keep the intimacy alive in their relationships, no matter the distance.
If one partner doesn't have time to join in the other's fun, there is also an option where a solitary experience can be recorded and experienced by either party at a later time.
This works well for those who may be in a different time zone, with a difference of several hours.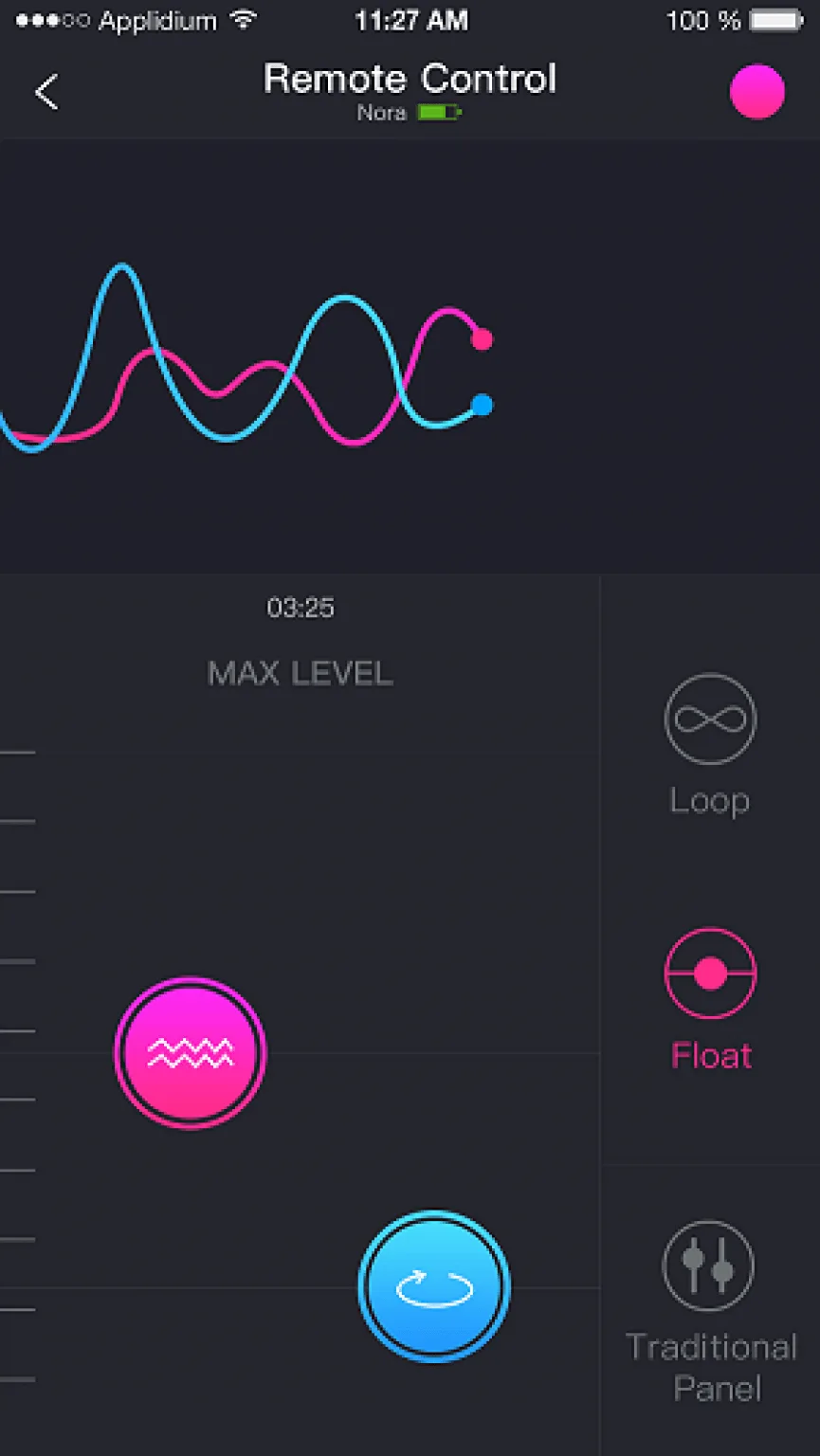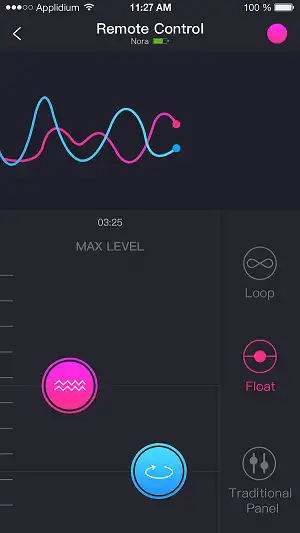 Should you buy the Lovense Nora?
In conclusion, the Lovense Nora is a top-notch pick if you're looking for an awesome G-spot vibrator.
The gentle silicone design works well for any body type and makes for excellent G-spot and clitoral stimulation.
The waterproof design is sure to make a relaxing bath a favorite experience for the user.
The fact that you can literally control your partner's sexual pleasure as you are watching from your smartphone is a testament to the fact that we are living in an age that literally, anything is possible.
While one may be able to look into their lover's eyes while they are being intimate does not compare to being able to see how their entire body responds to the commands you are sending (whether it be a gentle vibration or one so intense), it leads to instant orgasm.
The fact that you can download a dedicated app and have an actual semi-physical experience with your lover is a ray of hope for those that are separated by distance.
Whether it be a military couple or one who is simply having to work in another town or country, there is new hope for these relationships that have such a high failure rate and that strongly lack intimacy.


Conclusion
The Lovense Nora is a great purchase, especially with its male counterpart, the Lovense Max.
These are a relatively inexpensive and easy to use toys that will make adult playtime much more pleasurable.
These allow lovemaking to take on a whole new aspect. Each partner can control the other's level of pleasure from literally anywhere in the world.
For those who are struggling to stay close when they are so far away, this is heaven-sent.
However, if we put LDRs aside, the Lovense Nora by itself is still an amazing vibrator with high-tech features that will revolutionize your daily life.

With all sorts of methods of control available – on the device controls, through the app on your mobile phone and through the app on your boyfriend's/husband's mobile phone, the usage becomes exciting and fun.
Give it a try and you won't ever go back to basic vibrators!