There is something about internal vibrators that get me off every single time. Maybe it's the fact that it can locate that eluding G-Spot everyone is always talking about.
Or, maybe it's because they are more discreet than most of the vibrators out there.
No matter the case, I set out to test two of the most powerful internal vibrators in the market: the Lovense Lush and the OhMibod Esca.
The first one to go under the knife (well, my vagina to be specific) was the Lovense Lush.
To ensure you don't get counterfeit or defective products, NEVER purchase any sex toy from Amazon or Ebay. I strongly recommend that you order only from trusted and authorized dealers or official stores, like the ones mentioned in this post. Stay safe and have fun! 😀

1. My experience with the Lovense Lush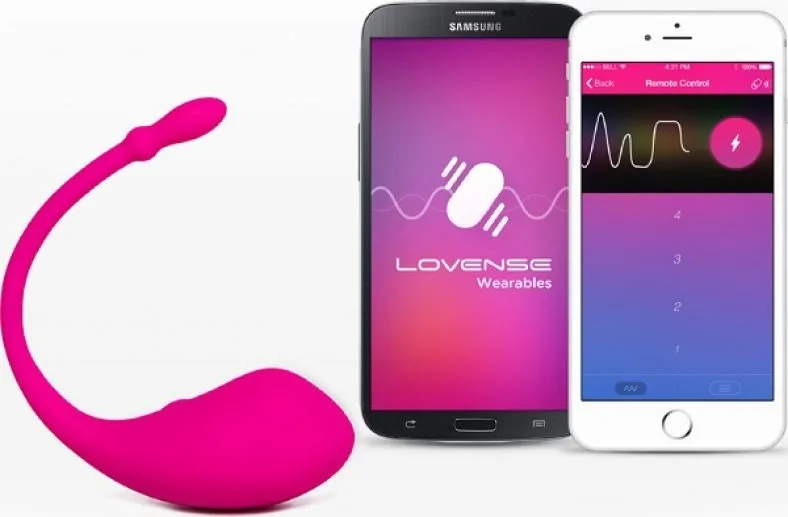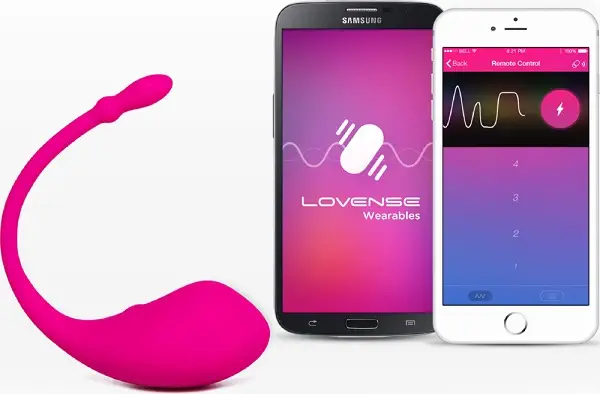 ➡️ Click here to check the price of the Lush
Features
Just like the Esca, the Lovense Lush vibrator is bendable.
It is made from a smooth and safe silicone material that is very comfortable and waterproof. When inserted, you can hardly hear any noise. This makes it ideal for people who love quiet vibrators.
It has powerful vibrations that can stimulate the whole body. When fully charged, the Lovense Lush lasts up to 2 hours.
How Does Lovense Lush Work?
You have to turn off the device before charging it. It takes approximately one and a half hours for it to be fully charged.
And for God sake, DON'T use the gadget while it's charging! I know it is tempting, but that can lead to serious repercussions.
You have to download the Lovense Remote app on your phone or tablet. The app is compatible with Android, Mac, Windows PC, iPhone and iPad devices.
The Lovense Lush vibrator uses its flexible Bluetooth antenna to receive controls from your phone or your partner's. Just turn on Bluetooth on your device in order to connect it to the vibrator!
When you want to use the vibrator, press and hold for 5 seconds. In case you want to use a lubricant, ensure that it is water-based. Don't use silicone-based lubes.
Once it's on and connected, you can change the vibration settings or customize vibration patterns. Your partner can also control the vibrations from wherever he is. If you want a solo session, then that's okay. Just select your preferred settings.
Good new for long distance lovers; the Lovense Lush has a platform that enables you to message your partner. This platform allows you to give him a heads up when you want to play, and he or she can control the vibrations.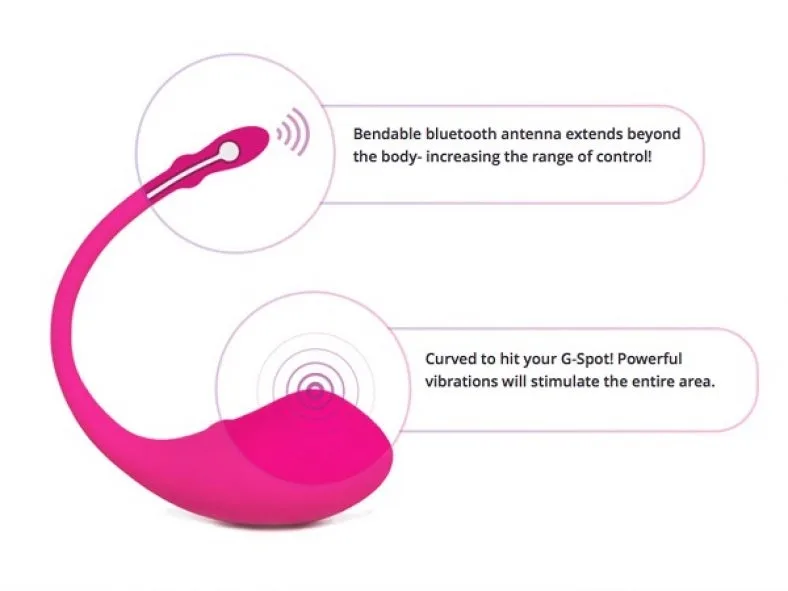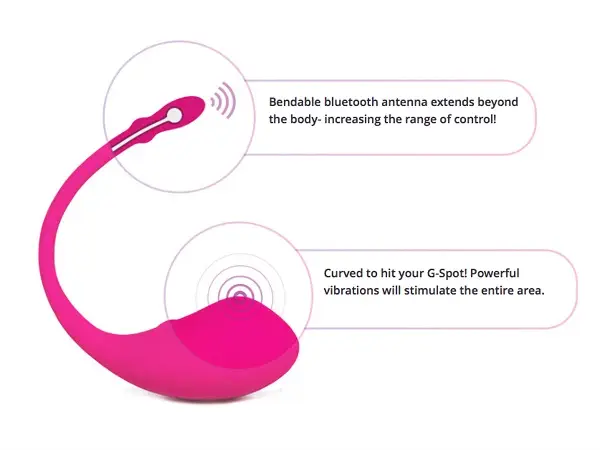 Content of the Lovense Lush Box:
Lovense Lush vibrator
Charging cable
Instruction manual
What Does the Lovense Lush Feel Like?
To be honest, it took some time for the vibrator to connect to my phone.
This was definitely a bad start. I am one of those people who gets frustrated when electronic devices take forever to load, so you can understand my frustration. Anyway, after a few minutes, it finally connected.
I loved the bendable feature of the vibrator. The curve perfectly hit my G-Spot. What's more, the vibrations were powerful enough to make me cum.
The best part was that it was quiet. So I didn't have to worry people knowing what my G-Spot and I were up to.
I tried to experiment with the antenna as an external clitoral stimulator. And well, I have to admit that it did not do anything for me. I felt a tinge of pleasure, but that was it. I believe the antenna here is mostly helping with the Bluetooth connection.
Indeed, the vibration at the external end was very weak. Whenever I wanted to cum via my clit, I had to use the main body of the Lush as a clitoris vibrator.
But we have different anatomies, so it is possible for some people to orgasm only from the G-spot vibe. As for me, that is not possible.
After I had done all sorts of experiments with the vibrator, I let my partner take control. I found out that I loved it, even more, when he was in control.
At least I didn't have to worry about the settings. I concentrated on the pleasure instead. Plus, the mere thought of him controlling the vibrations makes the whole thing even hotter.
Despite having such a great interactive app, what I hate most about this vibrator is the connectivity issues. The Lovense Lush would stop vibrating all of a sudden, that it ended up frustrating me.
It reached a point that I wasn't concentrating on the pleasure. I began to constantly get worried that the gadget will stop at any moment.
Pros of the Lush:
It is a powerful app-controlled G-spot vibrator
It is made from high-quality materials
The smooth surface makes it comfortable to wear
It is made of silicone material that is safe for the body
The vibrator app has so many settings you can choose from
Cons of the Lush:
It has frequent connectivity issues
The vibrations at the external clitoral stimulator are weak
The packaging is not so discrete (hot pink color)
It takes longer than necessary to connect the device to the vibrator.
2. My experience with Ohmibod Esca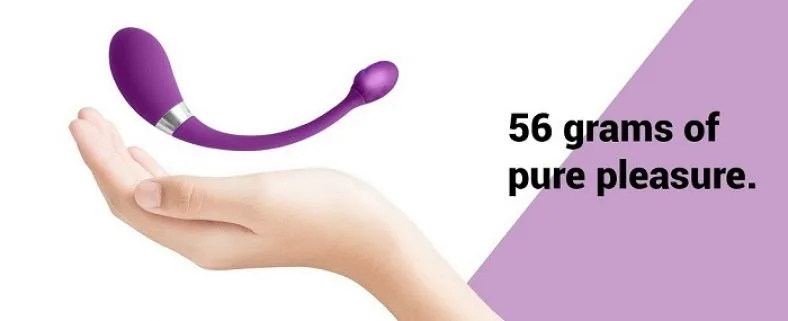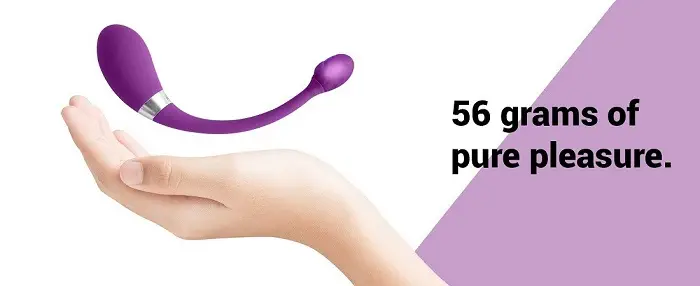 ➡️ Click here to check the price of the Ohmibod Esca
Features
OhMibod Esca is another wearable vibrator that is Bluetooth-enabled. Just like the Lovense Lush, the vibrator can be controlled from anywhere in the world through its app.
OhMiBod maximizes pleasure by continuously hitting the G-spot. You can get visual feedback via the LED display that is synced with the vibrations on the massager.
This app-controlled gadget enables lovers to have fun together from wherever they are.
How Does the OhMibod Esca Work?
Either you or your partner has to control the vibrations using the Bluetooth technology. You can connect to Bluetooth if your partner is nearby. However, if your partner is far, you can connect via WiFi.
There are LED lights that enable your partner to get some feedback on how you're doing. These feedbacks will enable them to know whether they should increase or reduce the intensity of the vibrations.
There is an OH!DOMETER feature that enables you to track your orgasms. Additionally, you can set a pleasure goal every week.
The OhMibod app also has a message platform that you can use to communicate with your partner. You can also send photos to each other.
The OhMibod Esca connects with the FeelConnect App (from Kiiroo) and the OhMiBod Remote App. The FeelConnect App enables you to connect with your partner's device, in case he or she is using a Fleshlight Launch, Ohmibod Fuse, Kiiroo Pearl 2, Kiiroo Onyx 2 or another Esca! You can then sync your toys.
When playing solo, the OhMiBod Remote App enables you to control your pleasure, or you can also let your partner take control. These apps are available on Android and IOS devices.
Content of the OhMibod Esca Box:
OhMibod Esca vibrator
Privacy pouch
Instruction manual
USB charger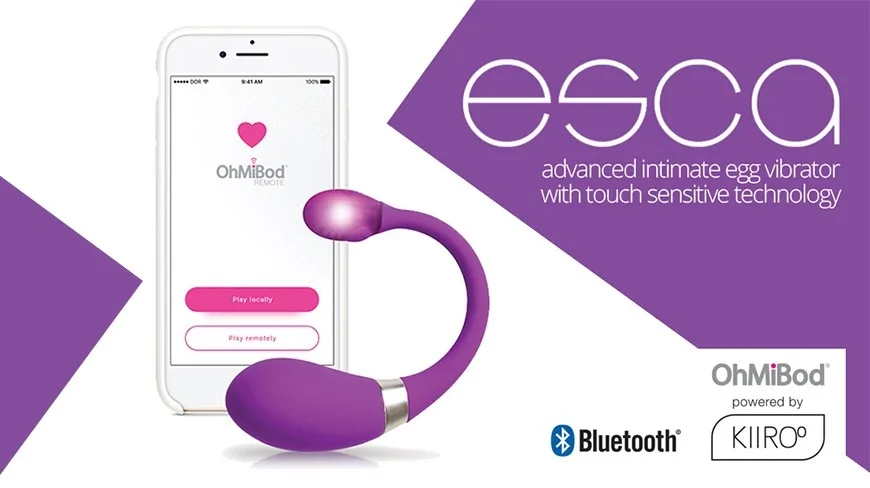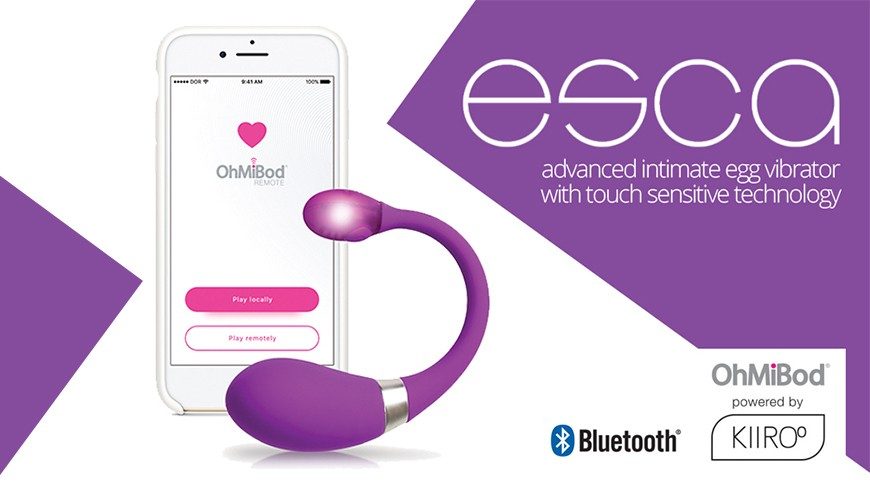 What Does OhMibod Esca Feel Like?
Now, this is one internal vibrator that I loved. The vibrations were more powerful for me than the ones I got from Lovense Lush. It hit the G-spot and made me cum over and over again.
Sadly, I hate that the toy is not waterproof. I would have loved to extend the exploration in the bathtub!
You can also keep the toy inside you and go ahead with your daily chores. I tested this by going out for a stroll and told my partner to make me cum in public.
I was joking, of course, but that did not stop him from opening his app and put the vibrations to the maximum. At first, it felt good inside. Then it felt great.
As the pleasure build, I was horrified. It felt as though everyone was looking at me. I don't know why. Maybe it's the sounds that I was making when the toy hit the right spot, or maybe it was my flushed face.
Well, one thing is for sure. I am never doing that again. I think I'm too experimental for my own good. Anyway, for all of you kinky women out there, you can try this. For the rest of us, let's stick to our bedrooms, okay? Okay.
The OhMiBod Remote App was another thing I loved about the Esca vibrator.
Even if it doesn't have as many features as the Lovense Remote app, unlike the Lovense Lush which took forever to connect, this app connected quickly to my phone and was stable. The app is also easy to navigate.
The Esca vibrator is not ideal for people who love silicone-based lubricant. Silicone lubricants degrade the silicone used in this gadget. If you don't like water-based lubricants, then you should look for another internal vibrator.
Pros of the Esca:
It has powerful vibrations
It can be synced with other Kiiroo and Ohmibod sex toys
It is lightweight. The vibrator weighs approximately 56 grams.
It offers full double stimulations with its antenna
Made from silicone, which is a non-toxic material, thus it is safe
It is easy to wear and connect with your phone
Cons of the Esca:
It only lasts for one hour, which seems like a small amount of pleasure time
It is not fully waterproof
Final Verdict
The Lovense Lush and the OhMibod Esca vibrators both have great features and great apps.
But the OhMibod Esca is the one that did wonders on my G-spot. The things that put me off with the Lovense Lush were the connectivity issues and the useless antenna.
I hated it when it could just stop all over a sudden.
But that does not mean it was all rosy with the OhMibod Esca. The Esca runs for a shorter period of time. If you take hours to get off, then this will leave you unsatisfied.
In the end, both are awesome remote-controlled egg vibrators, but the final decision depends on your own criterion.
Do you care that it is waterproof? That it offers long distance features? That it can be synced with your music?
These little things and differences between both products will make the decision obvious.
What is my all-time favorite though? Definitely the Lovense Lush 😉
Anyway, whatever you decide, don't miss these toys because they're currently the most loved female devices out there!