Are you tired of buying cock rings that just seem like rehashings of one another? Are you looking for a sex toy company that actually thinks about how you're going to use their products? Well your long search is finally over!
Introducing the Lovense Diamo cock ring, a brand new toy that really raises the bar for all other cock rings on the market! We've got the low down on this relative newcomer and are here to give you everything you need to know before you consider buying it.
➡️ Click here to check the current price of the Lovense Diamo!
About the Diamo Cock Ring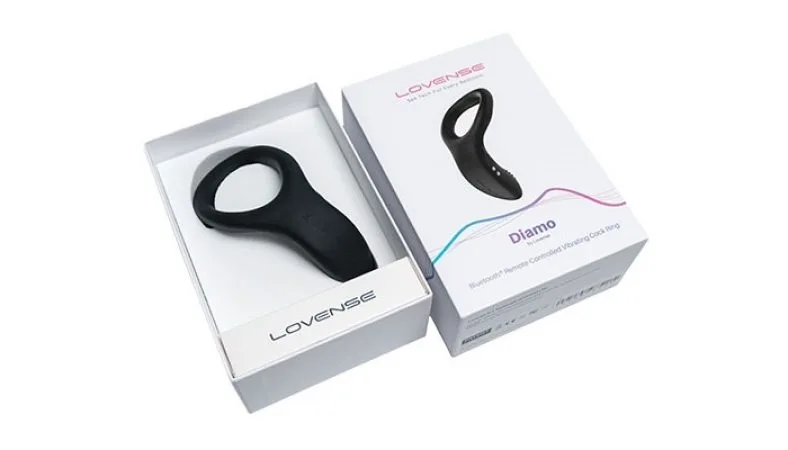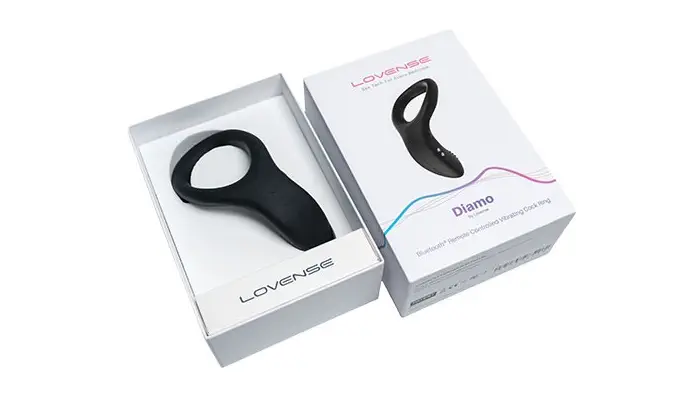 The Diamo is Lovense's first ever cock ring toy. This interesting little number was just released this year so if you've bought from Lovense before, there's a good chance you didn't come across it.
But does its relative new-ness mean they haven't worked out the kinks? Absolutely not.
Lovense really did their research so they could hit the ground running. The Diamo was designed to fit comfortably on a person's dick and stay there for a long time. With its Bluetooth compatibility, it can be worn in public (if that's your thing) without causing any pain or other undue burdens such as a lot of extra noise.
Targeted Vibrations
But where do the vibrations go? It's all well and good to have a vibrator that applies general stimulation, but that's not satisfying enough. Lovense knows that and has the Diamo target the magical little area between the base of the penis and the anus— the perineum for all the anatomy nerds out there.
Stimulating the shaft of someone with a penis is fine for some people, but providing a little attention to the areas oft ignored can provide a world of pleasure. It's really refreshing to see a company actually innovate rather than repeat the same tired design. Thanks, Lovense!
But let's talk more about that Bluetooth, shall we?
Bluetooth Connectivity
Lovense was actually the first company to create Bluetooth operated toys. This means that they've got this stuff down to a science. With their overflowing well of knowledge, they've developed toys that can be used anywhere around the world.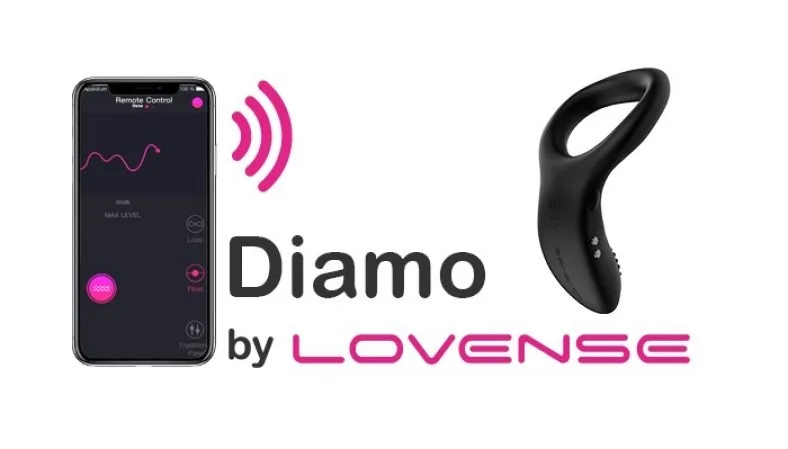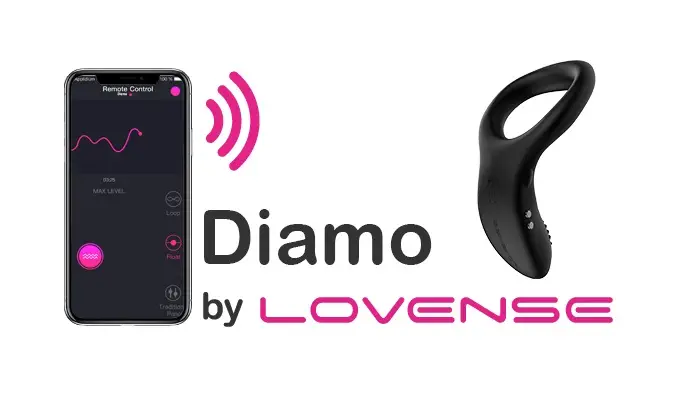 If you're currently in a long distance relationship, your ears probably perked up right there (as they should). It's super easy to pair the toy to the app so users can start having some fun. Couple this with the video chat feature that comes with the app and you've created a long distance sexy time that's almost the same as being together in person!
One of the more interesting features of the Diamo is that you can set it to vibrate along with music. Now you can really feel the allure of your favorite sex jam. Or maybe you want to vibe it out to ambient noises.
Whatever your prerogative, just sync your music with the toy and you're ready to go!
Now that we know a bit more about this interesting little cock ring, let's go ahead and open the box, shall we?
Inside the Box
When opening this toy up, you'll find:
The Diamo cock ring
A USB charging cable (this toy doesn't require batteries)
A manual
A setup guide
A storage bag (which is much appreciated)
First Impressions
Taking a quick look at the toy, you'll notice that the Diamo only has 1 button that does everything. Depending on your button amount preference, this might be a little annoying. Pressing this button allows you to both turn on the toy by holding it down for 3 seconds and adjust the vibration pattern and intensity level.
Material
Like all of Lovense's other toys, the Diamo is made of a soft silicone and comes with a nifty storage bag. The silicone is water-tight enough that you can use it while taking a bath or shower– but use it only while bathing. Going out into the ocean or using it in a pool or hot tub is going to damage the silicone and make the toy unusable, which no one wants.
Battery Life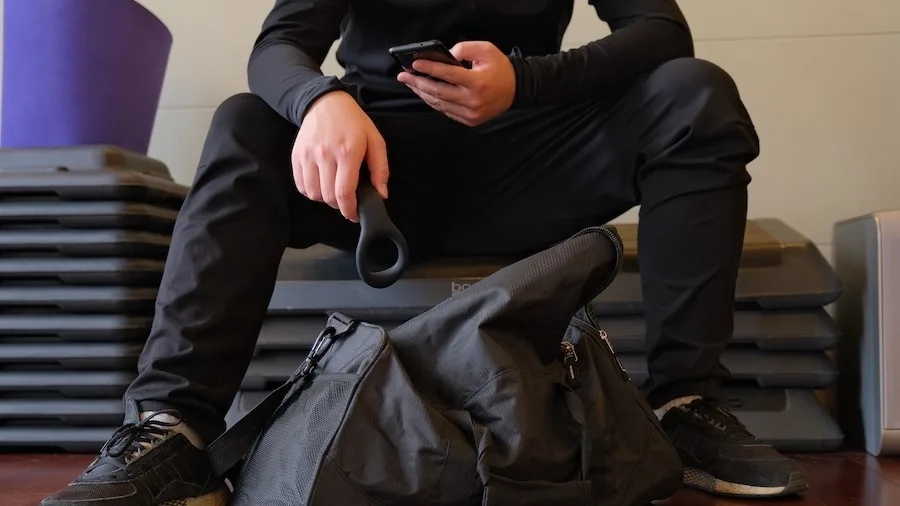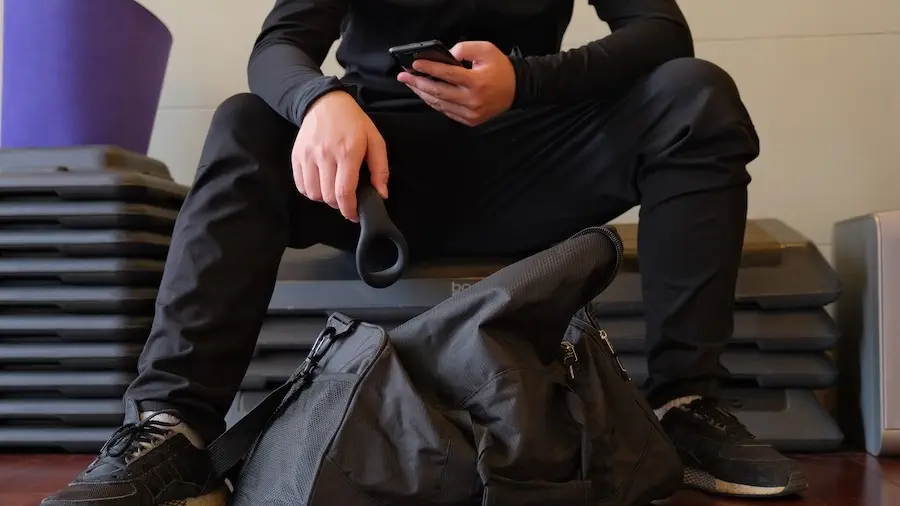 Looking at the battery life, it takes about an hour to charge and gives you 175 minutes of use— just 5 minutes shy of a whole 3 hours! The toy charges using a magnetic connection which on other toys can be finicky, but isn't much of a problem on the Diamo. You can just plug it in and you don't have to worry about the magnet coming undone.
Cleaning the Diamo Cock Ring
Washing it is pretty simple. All you need to do is get some dish-washing soap and run it under some water. Make sure you don't use hot water, though.
High temperatures can damage the silicone and greatly reduce the lifetime of your toy. Oh, and make sure you don't leave it in your car, either. It would be incredibly embarrassing if someone found it and it would be a shame if a rogue heat spell completely melted it.
Overall, the Diamo is really acing the preliminary inspection! It's definitely working hard to make itself worth the price tag.
But how does it actually feel? Something can be impressive right out of the box, but completely disappoint on actual use so which boat is the Diamo in?
Using the Diamo Cock Ring
Luckily, the Diamo is a thoroughly satisfying toy. Not only can you situate it so it's stimulating your perineum, but Lovense also provides several other orientations to allow you to play with tension or stimulate your shaft or balls if perineum stimulation isn't your cup of tea. There are also three different intensity levels you can set the Diamo to.
All of them are super satisfying and being able to switch between them is great if the default sensitivity that comes with other cock rings just isn't cutting it.
Connecting to the Lovense App
As previously mentioned, the Diamo only has one button and it is found on the side of the toy along with the LED indicators. If you're not too keen on the one-button-controls-all approach, you can also download the app and control the vibrations using Bluetooth. You'll need to switch to Bluetooth mode, though, so be aware of that.
If the included vibration patterns aren't doing it for you, the Lovense app also allows you to create your own custom patterns and even share them with others. Who doesn't love a little world-wide cooperation?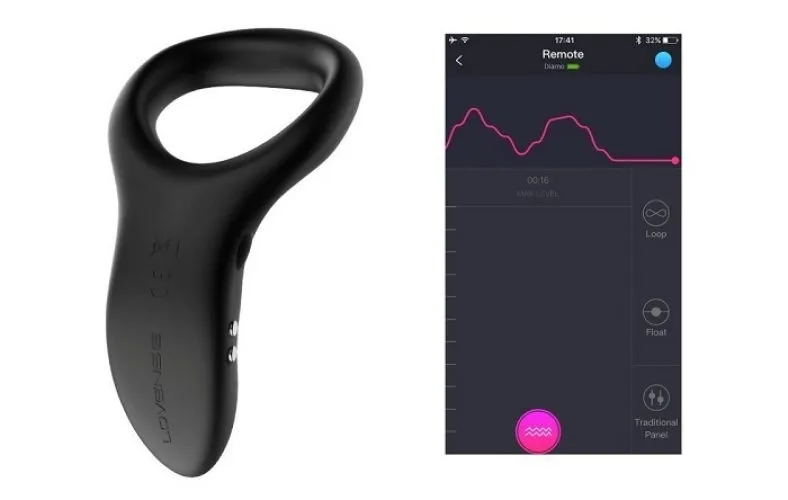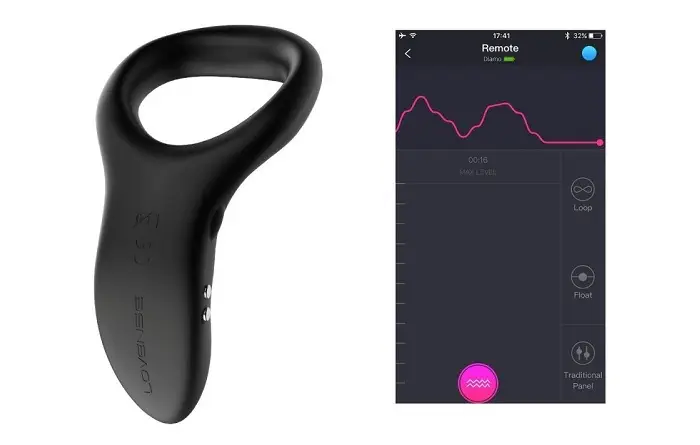 Using the long-distance mode is pretty easy as well. Both you and your partner download the app and make an account.
Then you just add each other and voila! You can now either relinquish control to your partner, or let them have their way with you.
The Fit and Feel
But how does the Diamo fit? Not every penis is the same so it's impossible for every single cock ring to fit every single person with a penis. Lovense knows that and provides the inner diameter of the ring: 1.7 inches.
Depending on the girth of your penis or how tight or loose you like your cock rings, that might not be enough. If you're not completely sure if the Diamo will fit you, it would be best to purchase some cock rings of different sizes to figure out what you like best.
Assuming the Diamo will fit you, the material itself is pretty soft and it's comfortable enough that you can wear it for long periods of time. Most cock rings aren't really made for this purpose, so if you've been looking for one you can wear out in public without a lot of pain or noise, this is a great choice.
And let's talk about how loud (or quiet) the Diamo is.
Noise Level
Lovense claims the loudest the Diamo can be is 46 decibels. For context, that's about halfway between a quiet library and moderate rainfall according to the American Academy of Audiology. If you were to use this toy out in public, that means you can go pretty much anywhere without having to worry about people hearing you.
Just make sure there's a moderate amount of ambient noise around before you turn it on.
Pros
Extremely quiet (great for public play)
Bluetooth works even with long distances
Can be used for about 3 hours on a full battery
Waterproof for those wet and wild moments
Cons
Cost prohibitive for some
Has a bit of a learning curve
Verdict
If you're tired of the same ol' cock ring design, the Diamo is for you! Stimulating both the perineum and your balls, this toy offers a unique sensation you're not guaranteed to find elsewhere. Its versatility allows for quite a few positions so really experiment to find out what works best for you!
Despite this, it should be mentioned that like all cock rings, it's only going to fit certain penises. This is why you should really get to know the kind of cock rings you prefer (or if you even like to use cock rings in the first place) before buying something with such a high price tag. It would be really sad to spend so much on something you don't even like.
But if you're a cock ring veteran (or you just know what you like) then you should definitely give this toy a try!
➡️ Click here to check the current price of the Lovense Diamo!