Of all the cool stuff that's been happening in the wild and wonderful world of sextoys, including the integration of smart technology granting us all kinds of erotic interactive entertainment systems as well as new long-distance sexual relationship options, is how outright futuristic many of these new products look.
Okay, that may just be my particular fetish, but, seriously, take a gander at the new Enigma dual-action sonic vibrator from the great minds over at Lelo and tell me if it doesn't conjure kinky images straight out of some 1970s era stylistically groovy science fiction romp?
Not only that, but its Lelo pedigree guarantees that below its futuristic looks lies ultra-sophisticated and expertly-crafted mechanics that'll blast your sexual arousal to the moon and back.
So strap on your jet pack, pop a food pill, and set your kinky imaginations to steamy and hang on as I get further into the sci-fi erotic wonderment that's Lelo's Enigma vibrator.
Check the Price of the Lelo Enigma
The look of tomorrow … today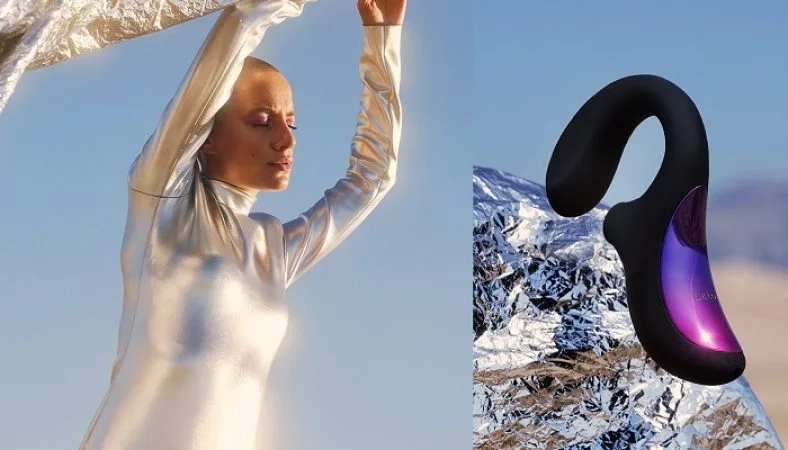 Looking at the Enigma as a kind of 2525 plaything that mysteriously dropped through a wibbly-wobbly time-hole to land in our 2012 laps is helped by Lelo's marketing, as their product page is alluringly splashed with silver lame models cavorting against an apparently alien landscape.
Even without them, the Enigma gives off a decidedly futuristic vibe. It also doesn't look at all like you'd expect a G-spot and clitoral vibrator to resemble. In fact, it took me a bit of time, plus consulting that same product page, to get even an inkling of how it's supposed to be used.
Not that this is a bad thing, as once you do understand how the Enigma operates, it's like opening your eyes to the reality that every other dual-type vibrator should employ the same design.
The Enigma resembles—and this is admittingly stretching my descriptive powers—something like a hook, with one end of it the insertable, G-spot stimulation part, and the other half-circles around to the small-ish knob that's its clitoral-pleasuring component.
The toy doesn't stop there, as its design also keeps going to form a curved handle that houses the Enigma's motors and electronics. This latter part is also ergonomically shaped to be comfortable to hold and whose iridescent deep rose color nicely offsets the rest of the toy's matt-black color.
Feeling the future with Lelo's Enigma
The World Of Tomorrow is also reflected in how the Enigma works. Instead of using the toy's motors to do that (yawn) old standby of creating vibrations, Lelo's engineers took a different approach by deciding to arouse their customers by using its motors to deliver pulsing sonic vibrations to the G-spot and the clit-stimulation parts of the toy.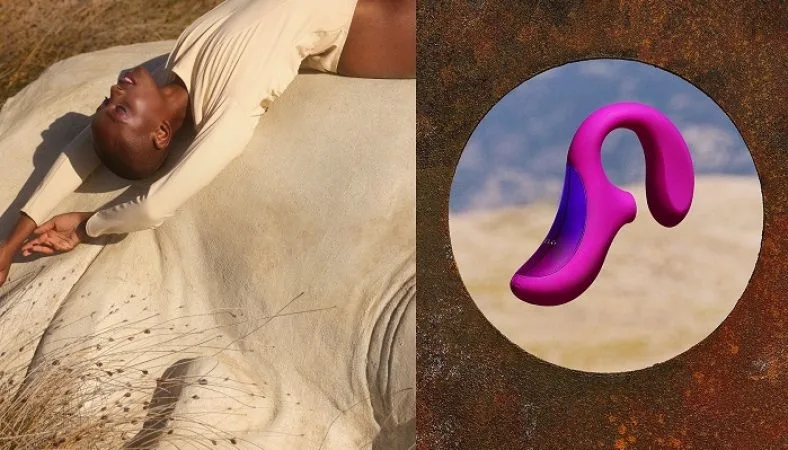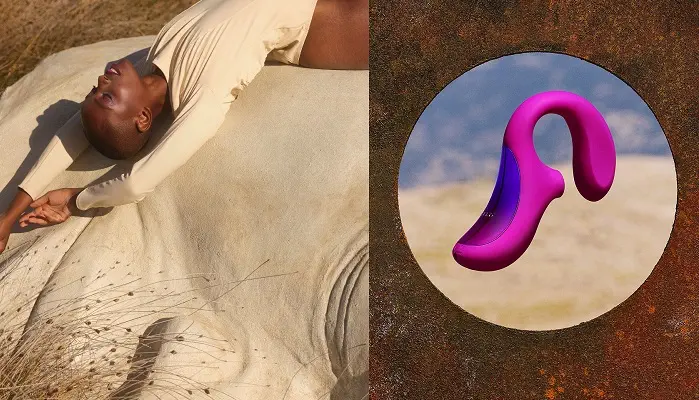 This way, the Enigma doesn't have that distinctly mechanical feel which often plagues other vibrators—a new system that also gives users a sense that they aren't using a device but rather something like an extension of themselves or another person.
On the Enigma G-spot arm, Lelo's brainiacs worked to make it as flexible as possible to allow their customers to position their toy where it will go the most and arousing, good.
Controlling the Enigma
Set on the Enigma's ergonomic handle is the toy's three-button control scheme. If you're familiar with any of Lelo's other products, their layout shouldn't come as a surprise.
Sandwiched between the intensity buttons—the first reducing and the last increasing—the mode select, in addition to powering down or turning off the toy, cycles through its eight pre-programmed vibration patterns.
Since the Enigma's not Bluetooth enabled, that's it when it comes to controlling the toy. As I've chatted about previously, this isn't a tick in the Enigma's con column, as it's far better for a company to leave smart technology out of a product than put it in poorly or when it's not necessary.
Measuring the Enigma—and what it's made of
Fairly respectable in size, so much so it may not be the best toy to try and stick in something like a tote or purse, the Enigma is 7.3 inches long, 3.9 wide, and 1.9 deep.
The Engima's constructed of body-safe silicone, where it's designed to make contact with or be put inside of a person, and ABS plastic for the handle.
And, at the risk of repeating myself here, it's a strikingly handsome gadget to have around. So much so that while I don't have the biological set-up to take advantage of its sonic vibrators and other sexual stimulating capabilities, I like having it around because it's so gosh-darned pretty!
Charging the Enigma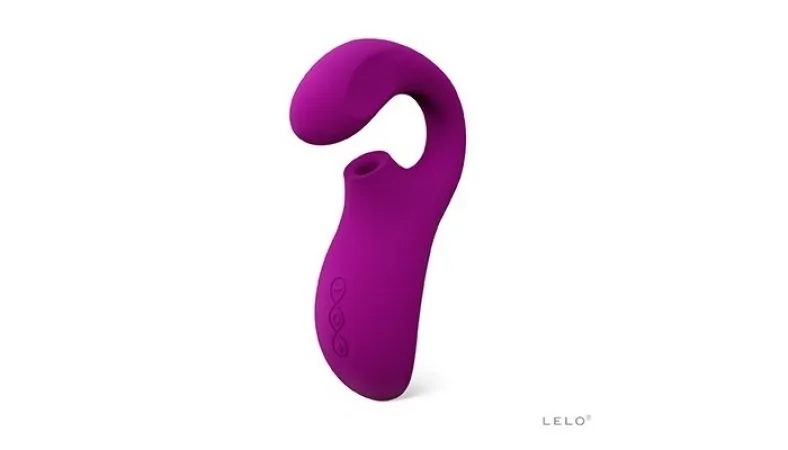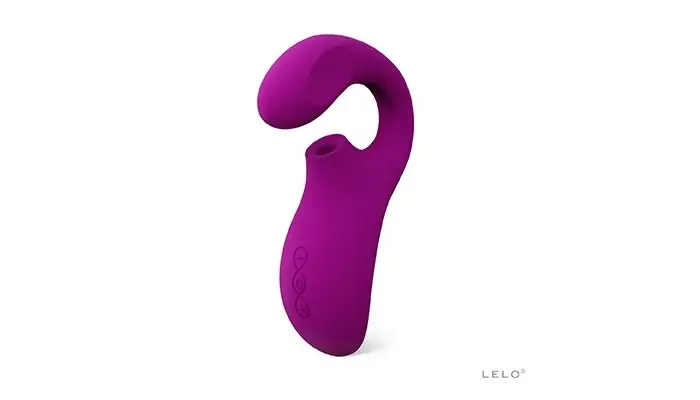 Rather than utilizing a magnetic-charging system, Lelo's opted for a tried-and-true plug for the Enigma. Again, this isn't anything close to an automatic mark in the con column as this kind of charging arrangement remains in widespread use for an excellent reason: it works very, very well.
Still, it would have been interesting to see something more aligned with the Enigma stylistic impressiveness. Perhaps an improvement we might see in the toy's next upgrade?
According to the Enigma's manual, charging the toy entirely takes about two hours for the same amount of enjoyment-time, which puts it solidly into the acceptable range compared with other sextoys.
It also has a nice feature that if it's left unattended for an hour, the Enigma automatically turns itself off to preserve battery life. That, by the way, shouldn't let you down anytime in the future as the Enigma boasts an impressive 90 days of standby time.
So users won't have to keep it plugged in or keep checking that it's fully charged: an absolute lifesaver as despite the fact it comes with a firmly-attachable plug, accidents can and will happen. So no matter if the cord somehow becomes unattached, if it's gotten its entire two hours of charge you can pick it up, turn it on, and turn yourself on as much as you want.
Keeping your Enigma clean
Like other toys silicone toys, the Enigma should be cleaned after use with a tiny amount of gentle dishwashing soap—or, preferably, a solution specifically designed for these types of sextoys—warm water and then drying with a lint-free cloth.
While the Enigma is advertised as 100% waterproof, this doesn't mean you can take it with you to the beach or your preferred hot tub establishment, as anything except for tap water will damage its silicone skin. This can also happen if the water used to clean it is excessively hot, so use warm but not boiling water, and you'll be fine.
What's included with the Enigma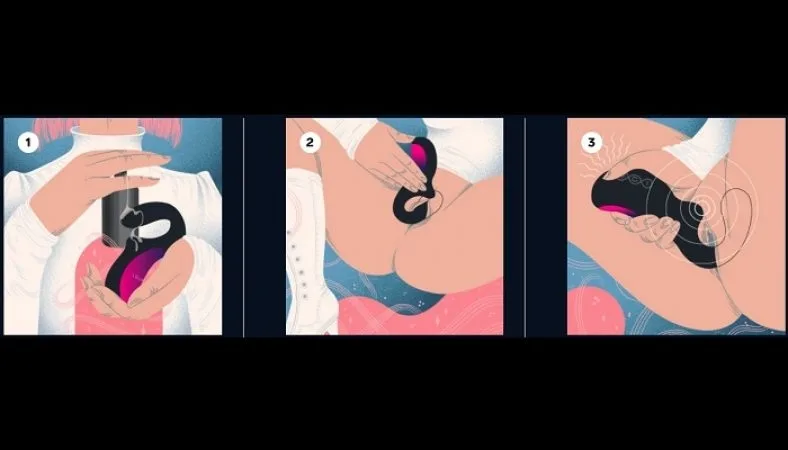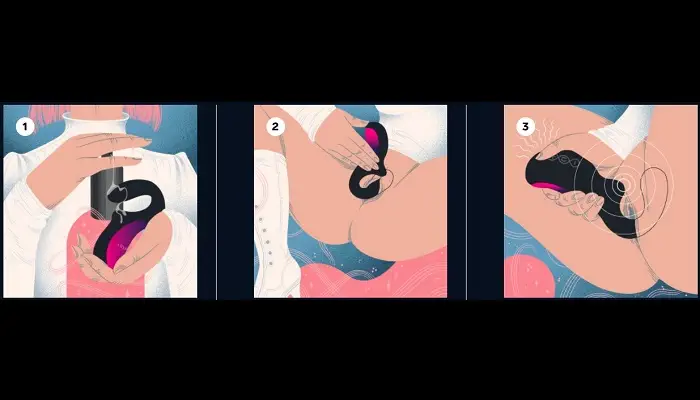 Here Lelo doesn't provide anything particularly special, though more than what some of their competitors include with their products.
So along with the Enigma, customers receive an instruction manual (that's also available as a PDF on the toy's product page), a charging cord, a satin pouch to keep the toy in, and a warranty card that's good for one year.
But I couldn't finish this part of my review without mentioning that in addition to being one of the most highly regarded sextoy manufacturers today, they are celebrated for not only their products but the boxes they put them in.
And they have the accolades to prove it, evidenced by Lelo taking home the gold in the Excellence in Product Packaging category at last year's XBIZ Europa Awards—and at this year's, they received the Luxury Brand of the Year, as well.
Preparing the Enigma for use
Lelo recommends that fresh-out-of-the-box users fully charge the toy, which takes around two hours before giving it a try.
They also suggest a liberal application of their branded Lelo Personal Moisturizer as well—which is something I give them hearty kudos for mentioning as no matter how much a person may produce on their own, silicone-type toys often tend to need far more than that to avoid chafing, or irritation.
True, you don't have to use what Lelo sells as there are many brands of lubricants on the market that are formulated for silicone-skinned products. Still, as Lelo knows their products like no one else, I can't think of a good reason why you shouldn't follow their advice and add a bottle or two of their Personal Moisturizer to your order.
Pros:
Lelo is a respected manufacturer of high-quality sextoys
Unique and stylish design
Extremely comfortable to use
Two hours charging for two hours of playtime
Sonic-vibration technology gives a very lifelike feel
Cons:
Not ideal if you don't like simultaneous clitoral and G-spot stimulation toys
Large when compared against other toys that providing the same sensations
Doesn't easily allow for rhythmic penetration play
The verdict
It shouldn't come as a surprise that after my rather embarrassing gushing over Lelo's Enigma that my final word is a positive one: that if you get off on having your G-spot and clit pleasured, then there's no reason why you shouldn't get one.
What I do want to be clear is that while I shame-facedly admit to having a rather serious thing for futuristic gadgets, notably when they're sexual, my thumbs up for the Enigma has nothing … well, okay, maybe a tiny amount, to with how it looks.
After all, what good is anything—including sexual partners—if all it or they do is look the role, but when it comes to performance, they merely lie there?
Sure, the Enigma is a gloriously stylish piece of hardware. But it's precisely because of its superb hardware and how Lelo designed it to give an awe-inspiringly pleasant sexual feel that's really behind my earnest recommendation you should give it a whirl.
And as you do, smile perhaps a bit more than your arousal usually makes you over the fact that that you and your Enigma will look exceedingly fine and futuristic as you do your pleasuring.