Right from the days of filling gourds with bees to create a very handy vibrator to the days of using dildos to cure female hysteria, women have been a great partaker of solo sexual intercourse.
The need to obtain sexual satisfaction has been one of the secondary needs of man and woman as well.
Pleasure outside sexual intercourse was an alternative to those who wanted to explore more sexual options. Masturbation was this alternative.
The need to get sexual pleasure through masturbation in women dates back to as long as medieval period. These times the different objects were used, these objects were obsolete and dangerous.
A very good example is the first vibrator in history that was said to be made by Cleopatra of ancient Egypt, this was only a hollow gourd filled with angry bees.
This only proves to what extent women were willing to go to get full sexual satisfaction.
When one looks back to such histories, we can only say thank goodness for sex toys. The arrival of sex toys was an evolution in the sexual lives of many women. No more absurd tools and methods to get pleasure.
To achieve orgasm and a great orgasm means great sexual pleasure. Some of these sex toys have been specially designed with features that could help stimulate the female G spot.
Here are the top 9 best G-spot vibrator available in the market today!
Kiiroo Pearl 2


Click here to read the full Kiiroo review
Kiiroo is an award-winning high-tech designer sex toy company that gives you the ability to feel someone else in a whole new way.
The Kiiroo Pearl 2 is a high-tech female vibrator with a special curved feature that helps to stimulate the G-spot.
The device makes use of touch-sensitive vibrations that listen to the movement of the body and syncs with any device it is connected to.
The vibrator is a teledildonic device and can be used for solo play, couples play from a distance and can also be connected to an interactive video.
The Kiiroo Pearl 2 is compatible with any Kiiroo devices such as the Kiiroo Onyx 2, the Fleshlight Launch as well as with content sites, videos, VR, 3D gaming and other device partners of Kiiroo.
It is made from ABS plastic and body safe silicone that is easy to clean up after use.
The Pearl 2 device pack comes with a USB charging cable, an authenticity Card and quick setup Manual.
Its battery is the Lithium-ion 540 MAH 3.7V battery that charges for 2 hours in order to give an hour of proper use. Its size is 200 x 39 x 36.5 mm and it weighs 139 grams for the device.
The device comes in both black and purple color.
Since the Kiiroo Pearl 2 is a teledildonic sex toy, it is controlled with the aid of an app either by one's self or by a partner via a Bluetooth or internet connection. This app needs to be downloaded to give access to another level of pleasure.
>> Click here to order the Pearl 2 from Kiiroo with -10% OFF thanks to the promo code "Fun10" (exclusive discount) <<
Ohmibod Fuse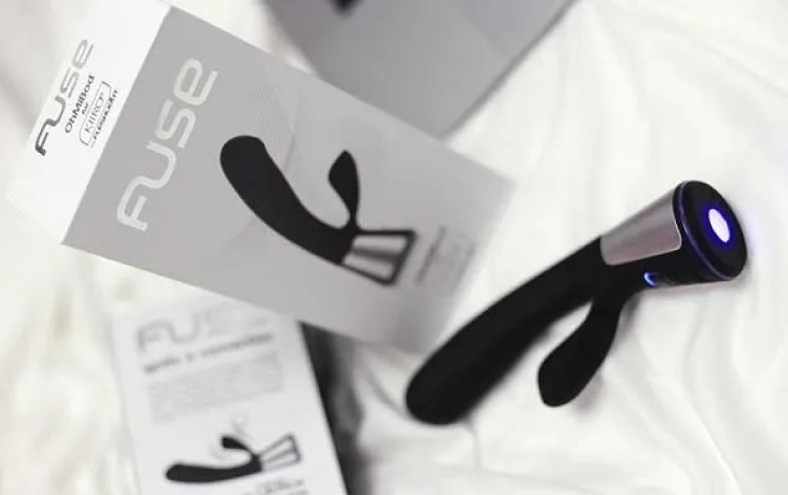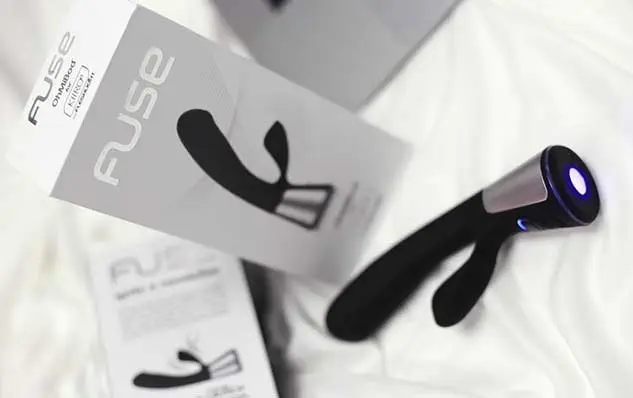 Click here to read the full Ohmibod Fuse review
The Ohmibod Fuse is a dual-stim massager that works with the aid of a Bluetooth connection. This connection enables a two-way communication between the user and her partner.
Pleasure can now be shared from any distance because of this device.
The Ohmibod Fuse sex toy has a built-in touch sensitive technology in the tickler that allows the user to control her partner's device at the touch of a finger.
The built-in sensor technology gives enables the bi-directional control of the connected devices where either of the partners can drive the action.
The device's touch-sensitive technology allows the toy to respond to the touch of the body of the user.
The deeper the vibe is taken, the more intense the sensations and when the device is slid out, soft tingly vibes teasing the senses are still felt.
This device also comes with an LED light that helps to provide the user with visual feedback.
This G-Spot vibrator is highly compatible with the Fleshlight launch which is one of the world's most renowned sex toys for men and all other kiiroo male masturbator products.
The Ohmibod Fuse is made from body safe silicone & PU coated ABS plastic that is easy to clean up after use.
It has a length of 180 mm and a diameter of 34 mm. It makes use of a Lithium-ion 3.7V with 540mAH battery that has a charging time of about 2 hours 30 minutes, thus can last the user for one hour 30 minutes.
>> Click here to order your Ohmibod Fuse (official store) with -10% OFF thanks to the promo code "Fun10" (exclusive discount) <<
Lovense Osci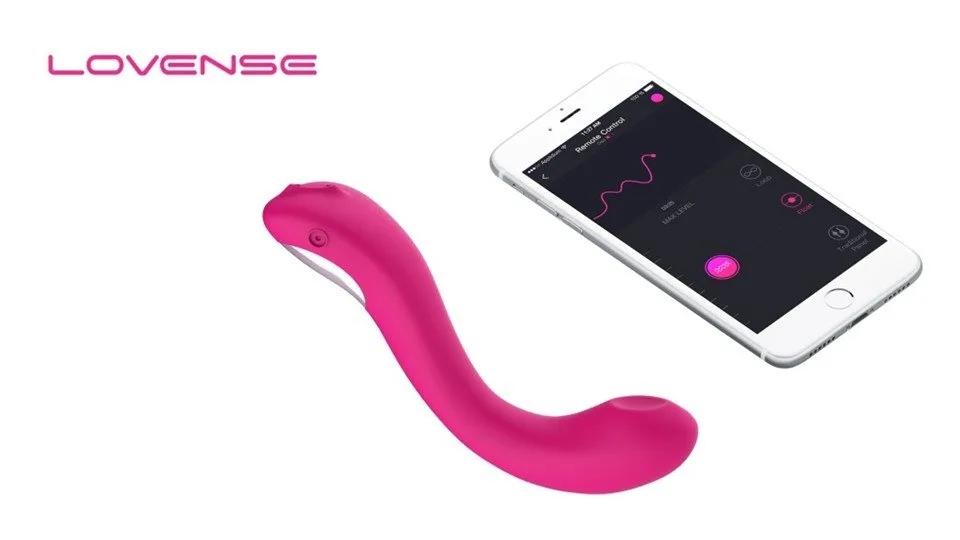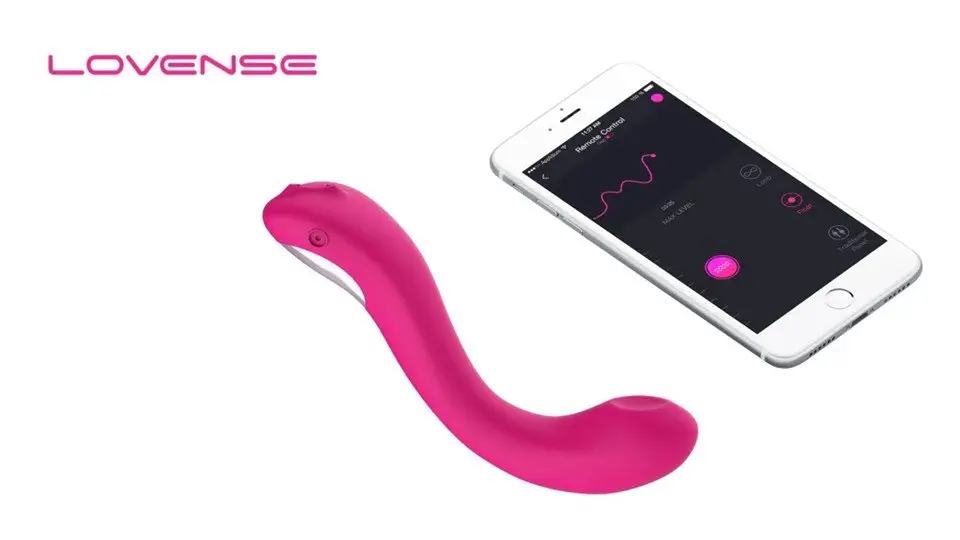 Click here to read the full Osci review
The Lovense Osci sex toy is the world's first oscillating G spot toy.
The device was designed in a way that instead of vibrating like other traditional sex toys, it moves in and out so as to give unique and powerful stimulations, especially to the G-spot. It gives access to both solos and partnered play.
Before using this pleasure device, an app must first be downloaded. The app can be gotten from the apple store or Google play store.
The Osci has features that allow the users to reset their toy's button cycle through the app, there are 3 different personalized vibration levels and up to 10 vibration patterns are available on the app.
This G spot vibrator has nice features that allow both close range and long-distance control, for each chosen vibration.
It has the ability to sync to music as well as activating its vibrations with sound. It is rechargeable and water resistant.
It is also made from body safe materials. The Lovesense Osci pack comes with a USB charging cable and a user guide.
The app is compatible with the iPhone, iPad Air, iPad Mini, iPod touch iOS 9.0, Android 4.3 that is Bluetooth 4.0 enabled, Mac that is Bluetooth 4.0 enabled and Windows PC but this needs a Lovense USB Bluetooth Adapter to connect.
Osci is a fully programmable oscillating vibrator which can be customized to a wide range of vibration levels.
The app allows the user to choose a convenient power level that matches the individual's needs.
>> Click here to order your Lovense Osci (official store) <<
Lelo Gigi 2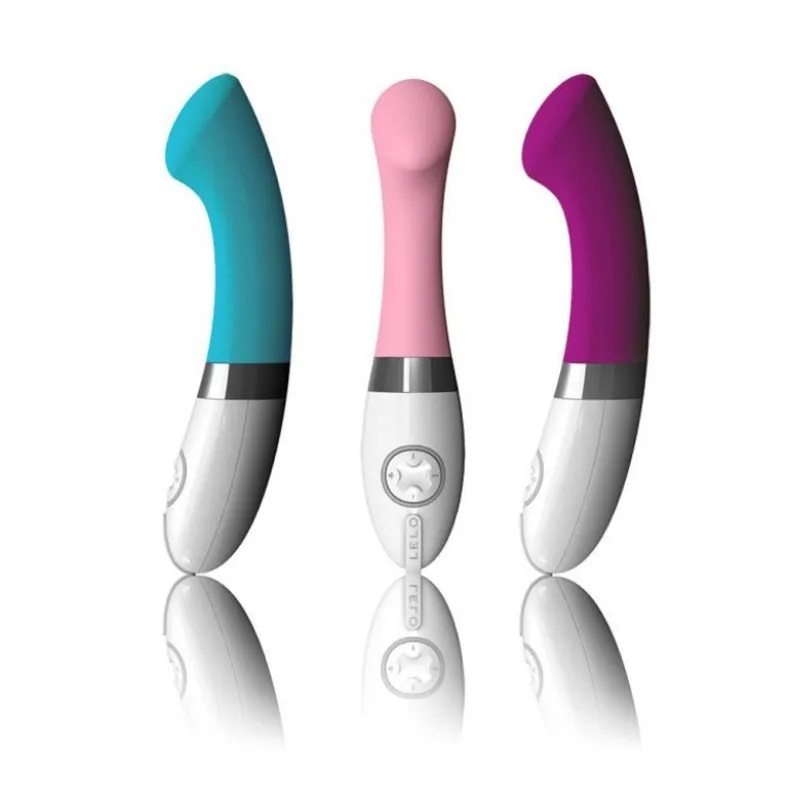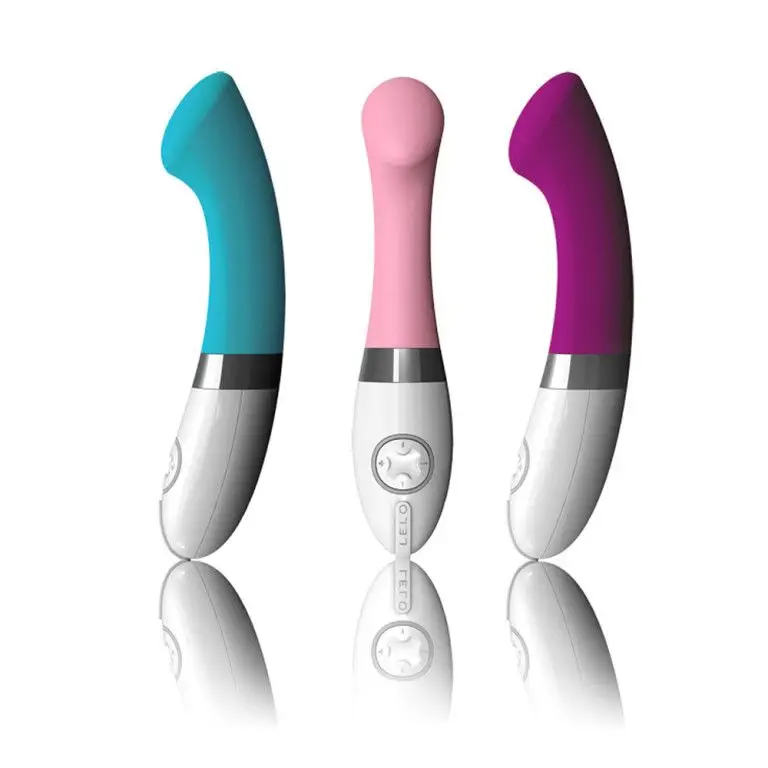 Click here to read the full Gigi 2 review
The Lelo Gigi 2 sex toy is a pleasure product with a curved and flat tip that aims at meeting the G-spot.
The device is designed in a way that allows it to be flipped over, this is because of its slender shape and this gives it access to the clitoris, which means the Gigi 2 can also serve as a clitoral massager.
The flattened tip is ideal for sending powerful and almost silent vibrations to the G-spot when massaging building up the highest height of climax, a great G spot massage equals to a great orgasm.
This tip can also be used to massage the clitoris as a warm-up before the real use. This pleasure device is fully rechargeable when it is fully charged there is a guarantee of a 2 hours play time.
The Lelo Gigi 2 comes with a storage pouch, charger, and a little sachet of lube.
It also has a very soft texture because of the silky silicone it is made with. It is fully waterproof, therefore a little play in the shower is enabled.
It is 6.5 inches long, which makes the device adequate, in order for it to get to the G-spot. The control is a small click-wheel with 8 pleasure settings.
The device also has a lock and unlock feature which makes traveling with it very possible.
After using the toy can be well rinsed in water since it is 100% waterproof and air drying before returning it to the case is also advised.
>> Click here to order or learn more about the Gigi 2 from Lelo <<
Satisfyer Pro G Spot Rabbit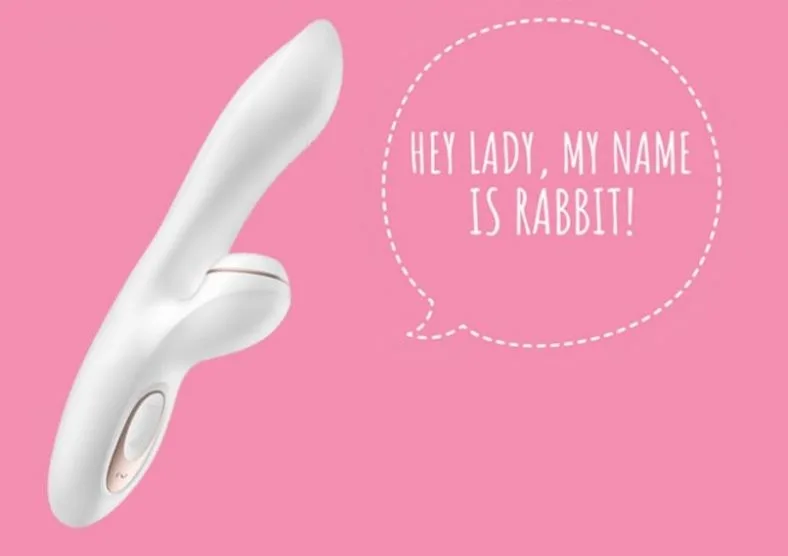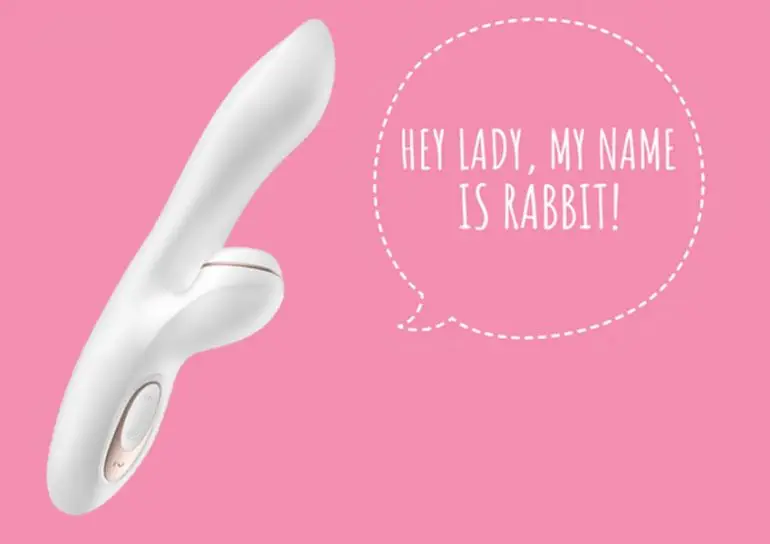 Click here to read the full G-Spot Rabbit review
The Satisfyer Pro G Spot Rabbit is a dual stimulator with the aim of stimulating both the G-spot and the clitoris at the same time. It is made with very soft white silicone.
It has a total length of 9 inches but only half of this length can be inserted into the body.
Attached in it is a short clit arm that is 2 inches in length and just on this arm is a rigid nozzle that is 1.5cm wide.
This gives the Satisfyer Air Pulse suction access to the clit. The control panel of the device can be found on the handle with 3 control buttons.
Two of the buttons are to increase and reduce while the third is for the vibration. The intensity of the vibration of this dual stimulator is controlled by using the increase or reduce button.
The device has 11 different intensity levels and this includes three steady speeds, 7 staccato and waving patterns.
The Satisfyer Pro G-Spot Rabbit has a reasonably discreet volume, it is more discreet than other Satisfiyer products.
Water-based lubes are highly advised to be used with this device because of its silicone surface as other kinds of lube such as a silicone or hybrid lube might harm the surface.
The Satisfiyer Pro G-Spot Rabbit is fully rechargeable, it comes with a magnetic USB charger that makes it very convenient to travel with. When charging, a flashing light will appear on the control panel to indicate that it is charging.
>> Click here to order or learn more about the G-Spot Rabbit from Satisfyer <<
Je Joue G-Kii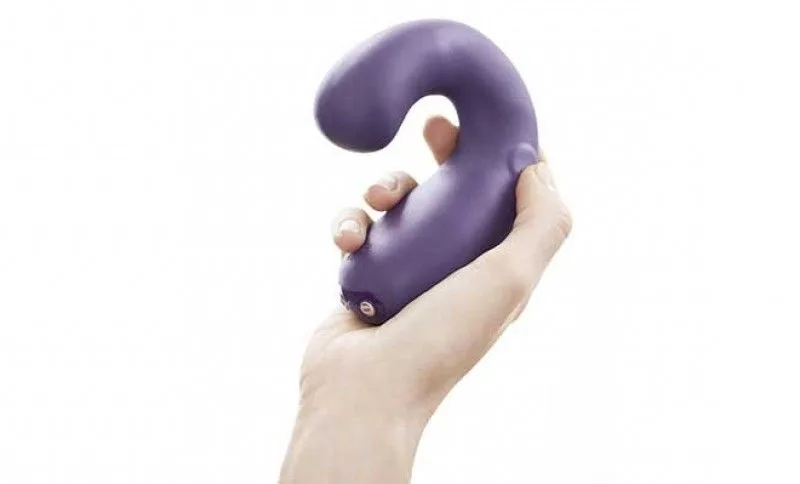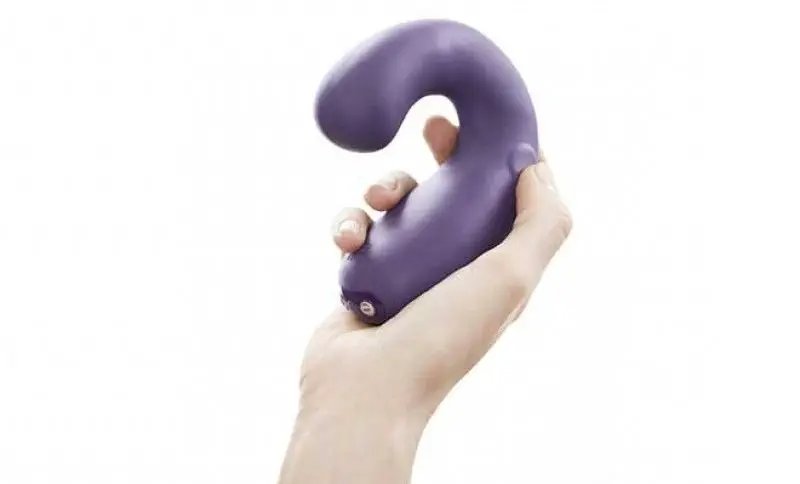 The Je joue G-Kii is a dual stimulator that is meant to stimulate the G-spot as well as the clitoris. It has adjustable G-spotting curve.
The tip of the device is to stimulate the G-spot while the curved end rests on the clitoris in order to stimulate it as well.
There are four buttons found on the device, one is to adjust the curve of the curve, two is to increase or decrease the level of intensity of the toy, the third is to change the vibration mode.
The toy has 6 different vibration mode with 5 different intensity level. The Je joue G-Kii is made with a very soft and silky silicone, in addition to a non-porous and body-safe plastic.
The G-Kii is fully rechargeable with a magnetic USB charger, it takes up to 2 hours to get fully charged and in return gives 2 hours of play.
A water-based lubricant is highly recommended to be used with this sex toy as any other type of lube may destroy the delicate silicone surface.
Though the device is waterproof, it shouldn't be immersed in water for too long. Cleaning of the toy can be done with soap and water or with a toy cleaner.
The G-Kii is 8.5 inches long when extended fully but only about 5 inches insertable. It comes in 4 colors which are black, fuchsia, purple and lavender.
We-Vibe Rave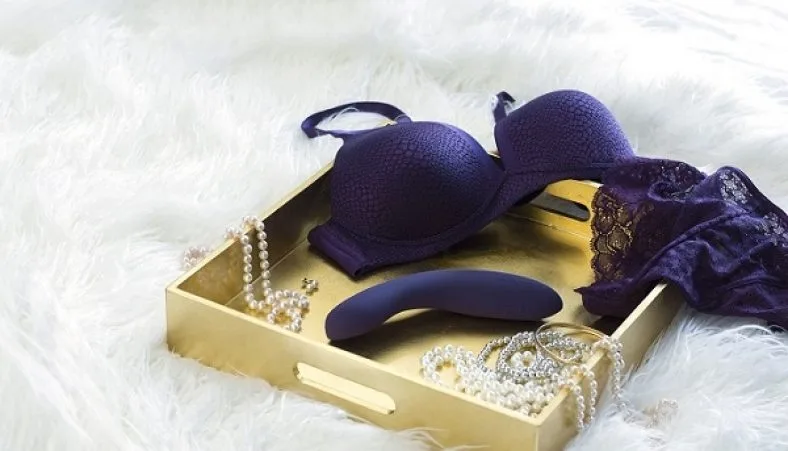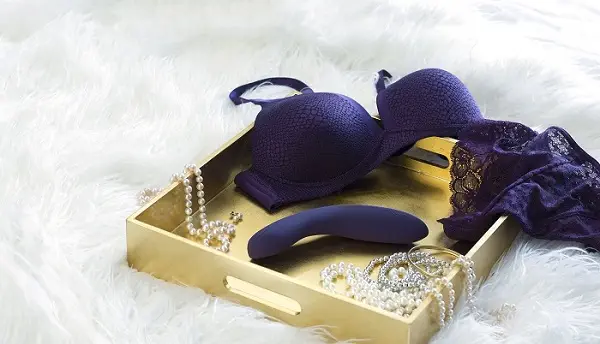 The We-Vibe Rave sex toy comes in a very unique shape and design that allows the stimulation of the G-spot. Its curved shape allows it to be easily held during use.
The device gives deep and strong vibrations that give unimaginable pleasure to the G-spot.
It also acts as a clitoral stimulator due to its asymmetric shape, its edges have pleasure features that give access to external stimulation.
It is made from made from body-safe silicone and it is free from phthalates and BPA and made without latex.
The device is as quiet as a mouse, this feature makes it very convenient to travel with. It comes with 10 different vibration pattern that satisfies individuals and their different needs.
These vibration modes include Vibrate, Pulse, Wave, Chacha, Tease, Ramp, Tempo, Massage, Step, and Heartbeat
It is fully rechargeable with a very eco-friendly battery. A full charge can give up to 2 hours of play.
It is easy to operate and reduces the cost of maintenance since there will be no need for costly and wasteful disposable batteries.
We-vibe rave is splashproof and cleaning with running water can be done after use.
This device can also be used with a We Connect app that gives access for the vibe to be connected with other devices.
This pleasure device comes in a sexy purple color, a storage pouch, a USB cable and a multi-language user manual.
Fun Factory Stronic G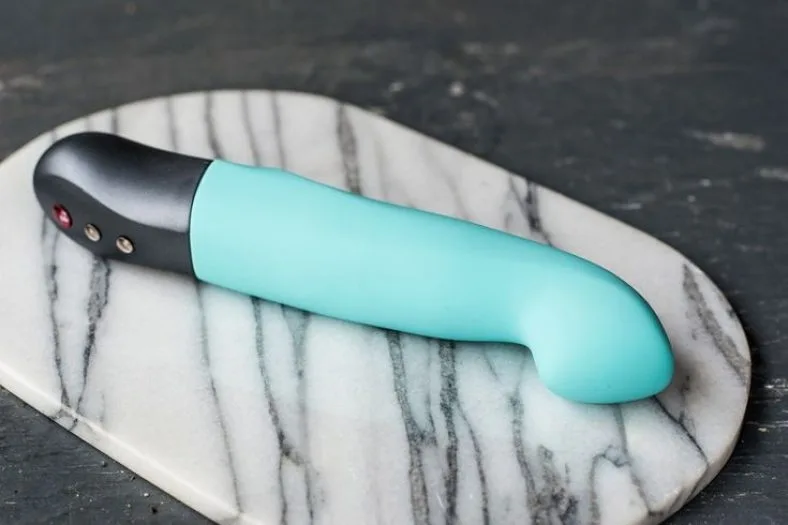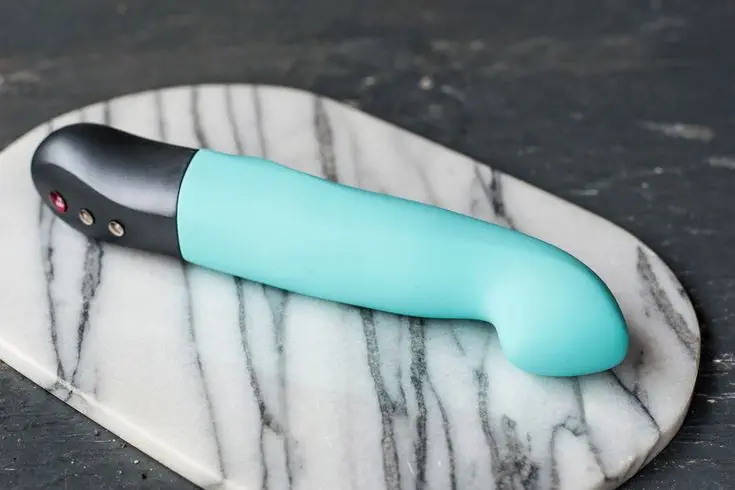 Click here to read the full Stronic G review
This Stronic G device comes in standard pink and purple color and its pack comes with a gold storage box which contains the toy, a charging cable, a user manual, a click-n-charge manual and a brief leaflet that has pictures that indicate how to use the travel lock.
This device is made from a body safe medical silicone. It has a very soft texture with a very nice matte finish. It is hypoallergenic and odorless.
Water-based lube is highly recommended with this toy and any other type of lube might damage the nice silicone surface of the toy. After use, it should be cleaned with warm soapy water.
The Stronic G is embellished with small buttons that are used to control the level of intensity of the vibration. The plus and minus button is used to increase and decrease vibrations.
It has a magnetic charging system. When connected to the charger, the fun button will flash than the others will flash and become steady until the charge is complete.
>> Click here to order or learn more about the Fun Factory Stronic G <<
Lelo Mona 2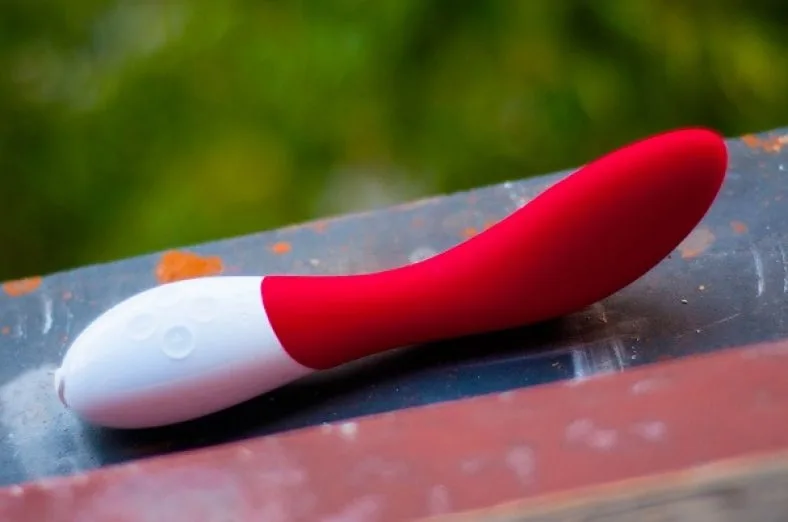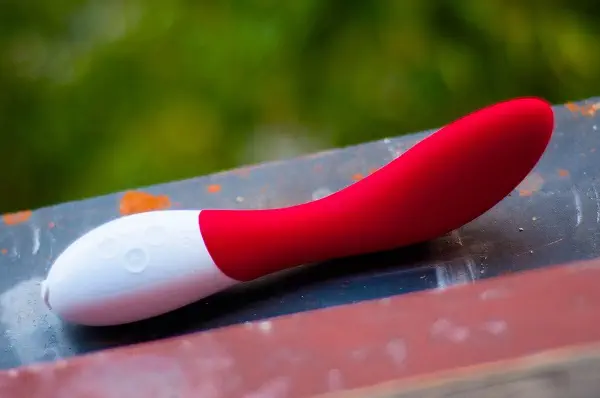 Click her to read the full Mona 2 review
The Mona 2 is made with a soft, silky, matte silicone finish. It is also made with ABS plastic handle.
It has sticky raised buttons on its body to prevent it from slipping out of the hands. It comes in a very portable size that can be accommodated by almost any body size or shape.
This sex toy comes in a red color and is completely waterproof with a very strong battery life. When fully charged it can give 2 hours time of play in return and can be on standby for 90 days.
The device is discreet to an extent as it is hard to hear outside the wall of the place where it is used. It comes with 6 pleasure settings that can be controlled with the aid of the buttons.
It can be increased with the plus button and reduced with the minus button.
One of the ways to get ultimate sexual satisfaction and a great orgasm is the massage of the G-spot as well as the clitoris. The Mona 2 is designed exactly for this. Its compact and discreet shapes allow easy access to these places.
The Lelo devices have helped to reduce the worry on how to get maximum satisfaction. Also, the body safe materials that they are made with help reduce the fear of health issues. A great option!
>> Click here to order or learn more about the Lelo Mona 2 <<