If you're debating over entering the fast-expanding world of online adult entertainment or someone who's done so for a considerable amount of time, and are female-identified, and are known for your body art—tattoos or any other modification, take your pick—then allow me to introduce you to a platform that might pique your interest.
One in the circle of sites that include many I've covered here already that include Ismygirl and Ismyguy, Inkedgirl is all about painted ladies—and, no, I'm not referring to the Victorian houses of San Francisco.
So what is Inkedgirl, how does it differ—or not—from those other sites, and is it worth considering if you're a decorated adult performer?
>> Click here to Join the #1 Adult Social Media Platform
How does Inkedgirl.com work?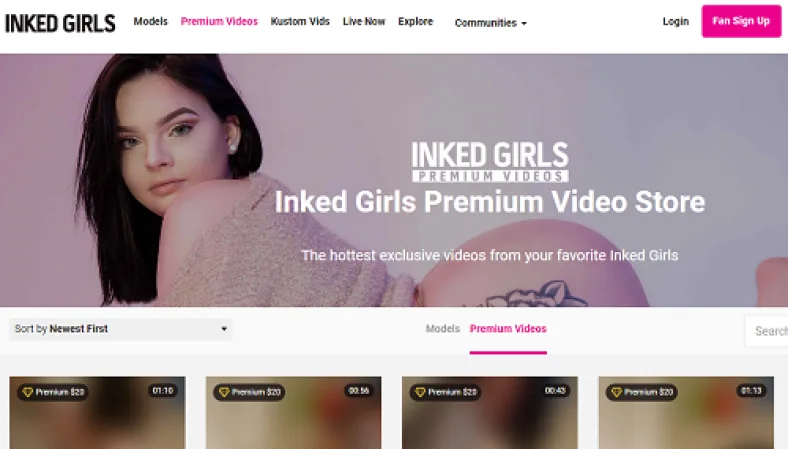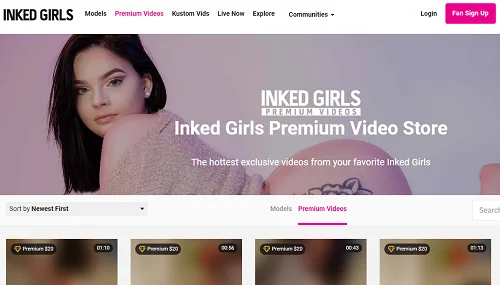 According to their well-put-together support page for all of their sites, the management is quite clear that behind the scenes and under the hood, Inkedgirl is 99.9% the same.
This is far from being a strike against them; as I noted in my previous reviews of them, each of these platforms is well-run, supportive of their performers, and offers ten different ways to monetize an eager fanbase.
And just like them, Inkedgirl pretty strongly suggests that to get the most out of all of this, a performer should have a sizable number of passionate Instagram followers, to begin with.
As they also say, Inkedgirl and its fellow platforms are all about partnering with performers to take what they already have, meaning a performer's fans, and transforming their interest into as many dollars as possible.
In case my reviews of Ismygirl and Ismyguy slipped under your radar, all these sites offer many more opportunities to do this than their competitors.
For instance, while they have old standbys like supporting the posting of various forms of content—to raise interest for non-subscribers as well as pleasing those who already have signed up, present fans with the ability to receive customized videos or other forms of media, paid-for messages, receive tips, and others that have monetarily slipped my mind, they bring additionally exciting treats to the table.
A rarity among this world of adult platforming, with Inkedgirl and its other sites, performers, for example, have the opportunity to put on cam shows and even livestream special events.
It doesn't stop there, as on top of all this Inkedgirl has the ability for a performer to set up their own shop where they can sell whatever they, and their eager fans, want.
All in all, this is a whistle-in-appreciative ten unique ways for a performer to put themselves and their content out there—and stimulate their fans to pay for it.
Starting with Inkedgirl.com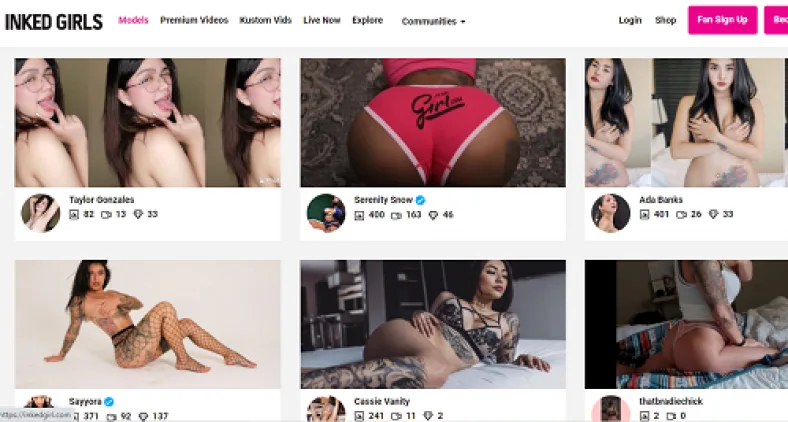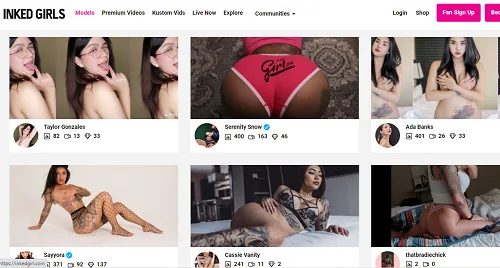 Here too, the process is like Ismygirl and Ismyguy and so forth. But, again, if you may not have read those other reviews, it goes like this;
Sign up with a preferred user-name and password.
After filling out more essential information, take a picture of yourself holding up a clearly-visible, valid government-issued ID document.
As they suggest you have already established yourself on Instagram—or whatever else social media accounts you have—add that information as well
After all this, in a short amount of time, you should receive an email explaining how to begin posting content
With a nice bonus of being automatically subscribed to their weekly newsletter with updates to the site and informative tips on how to use and maximize your revenue with Inkedgirl
Are there any fees to sign up with Inkedgirl.com?
As with its competition and in its network, there's no fee or charges to use Inkedgirl. Not to say, though, that the company behind it doesn't take their cut.
There's good news in this as although there are platforms asking for a lower percentage and so give more money to their performers, Inkedgirl still only slices 20% off of every dollar made—putting it squarely in the middle bracket in regards to adult platforms.
I recently learned that this is a little flexible; with that support page, I mentioned adding that 20% is for everything except livestreaming, where it goes up to 30%—and an additional processing 12.5% fee on top of it.
Can you make a lot of money with Inkedgirl.com?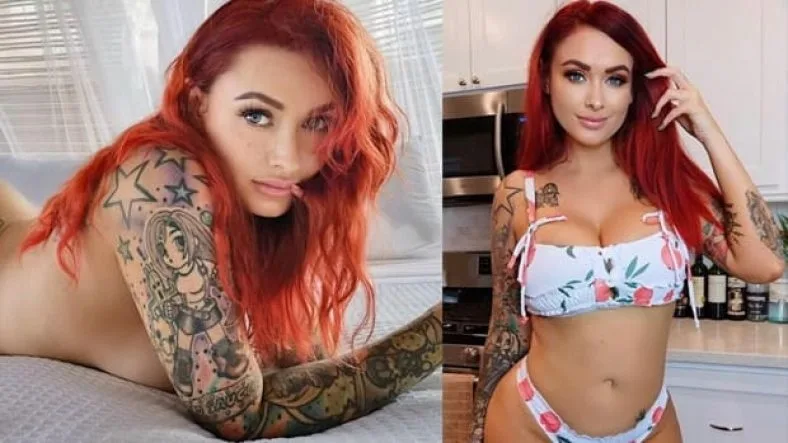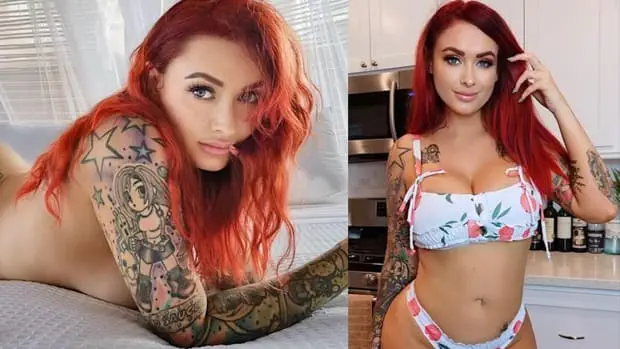 Yes, you can, and no, you can't: all dependant on many different things. To begin with, the more fans—particularly of the eager variety—you've previously built up can be invaluable.
Then there's the question of how much time and effort you're willing to put towards your Inkedgirl presence. Including what kind of stuff you post for subscribers or to try to drum up new ones; when and how much; being active on social media; trying out new marketing tactics; supporting your already paying fans, and most of all managing to stay as sane as possible while juggling all this.
A feather in their already-plumage festooned chapeau, Inkedgirl proudly makes it clear that they are willing, able, and enthusiastic about helping out with all this.
It may not sound like a particularly major thing, or simply what you might expect as a matter of course with platforms like it, but Inkedgirl does what other sites don't by providing a 24/7 support system—reachable by email or on-screen chat.
Getting paid from Inkedgirl.com
No shockers here, as with its family of sites, Inkedgirl performers get paid twice a month, with a $50 minimum, by either Bank transfer/ACH, paper check mailed out, or—if it's supported where you live—by picking it up in person.
Not to name names, when compared with platforms of a similar nature, there are somewhat limiting options. Okay, to name one, Frisk Chat, which I also took a look at, allows for a daily withdrawal—with its own set of unique hurdles to consider, however.
Putting this on one side and that on the other and eyeing the way the scale tips, it all comes down to weighing things like Inkedgirl's pluses, like all those possible revenue streams, against having to wait this long to get what you've earned.
Extras Inkedgirl.com provides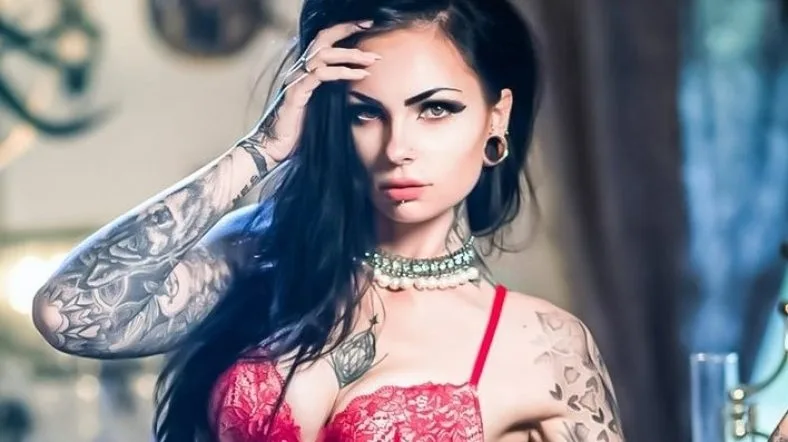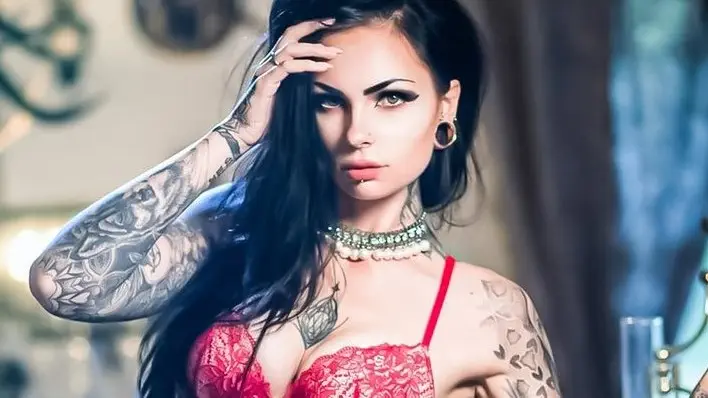 Please allow me to take a slight detour and talk about what sets Inkedgirl apart from those other platforms, including the ones it shares management with.
One of the colder/harsher realities of being an adult performer is that it's a booming—and more and more and more every day during the pandemic—industry.
Good, as this has fueled the development of practically shape, color, and style of platform trying to cash in. With an unpleasant side effect of it often getting confusing, to put it mildly, to try and sort out which platform might work the best for you and your fans, or—should things not work out—possibly set your career back.
Yes, that's the good side of all this, as the real bad is with all these new performers on all these new sites, it's becoming exponentially harder to merely get noticed, let alone get fans to pay for what you're offering.
So what performers need is an edge: something that'll help them stand out from all those other performers. The thing is, trying to develop uniqueness if, on a general-interest platform like OnlyFans, it's like being a minuscule grain of salt or a solitary bit of pepper in an ocean-sized tub of oatmeal.
Weird analogies aside, if you, a performer, are inked or have ornamented yourself in other ways, what you might need to boost your audience is to set yourself up in a place dedicated to precisely that.
There you'll still need to put in a great deal of effort to establish yourself, but at least you'll be doing it where there are already eager fans for who you are and what you do.
Pros:
Professionally-run site aimed at supporting adult performers
Ten different ways to monetize content
Percentage required on par with similar platforms
Responsive to questions through email or chat, and has a comprehensive support page
Cons:
Only pays out twice a month
Won't do much for performers who aren't female-identified and tattooed or body-modified
The verdict
Putting all this together, in my humble opinion, I'd say that Inkedgirl's strengths are also its weaknesses.
Allow me to explain: as it's exclusively dedicated to female-identified persons who, on top of this, are marked, pierced, and so forth, its audience is going to be somewhat limited when measured against more generalized platforms.
But as I tangent-ed on above, if you are female-identified, are painted and/or pierced, Inkedgirl—and it's eager-for-that-kind-of-thing fanbase—it's a must.
That's not the only reason for my recommendation, as though it's not perfect—though, in all fairness, none of these kinds of sites can be called that—the management behind it knows a lot about the industry and what its performers need from a platform.
If there's a reason not to sign up—if this is who you are and what your fans are looking for—it's that, as with its partner sites, Inkedgirl would very much like it if you come in with an impressive number of people already following you on social media.
Though if you don't, and as I went on about in other reviews about sites that suggest this very thing, it's still worth considering as Instagram and the social media industry as a whole have increased their blocking, banning, and canceling of adult performers.
The result is that sites like Inkedgirl are responding by putting less and less emphasis on insisting that their performers have a large, pre-existing presence on social media.
So, lots of followers or not, if you're female-identified, put yourself out there to your fans as a decorated performer, then Inkedgirl could be a lonely place to put yourself on display!
>> Click here to Join the #1 Adult Social Media Platform