Men that are beyond using blow-up dolls and large, uncomfortable masturbating devices which are rather inappropriate to add to the bedroom fun, will love the Fun Factory Manta.
It is an innovate and unique design from Fun Factory who after the brilliantly popular Cobra Libra II assured men that they plan to develop a toy that will surpass the excellence of any previously designed sex toys.
The Fun Factory Manta review that follows will tell you more about what to expect and how you can even use it with your partner in multiple ways.
What is It?
Fun Factory is a revolutionary vibrating stroker for men, but unlike the usual bulky masturbator, it comes with features and design that attracts serious attention from both genders.
It offers a unique compact design which aims at versatility.
When used as indicated in the instruction manual that also carries animated pictures to demonstrate easy usage, you will find it stimulates and vibrates more than your penis, but you can use it as a sex toy during intimacy or stimulate your partner's clitoris.
It is, in fact, a two-in-one sex toy in a discreet size and glorious settings to intensify orgasms. It could be described as a spice-up-your sex life device instead of a male stimulator.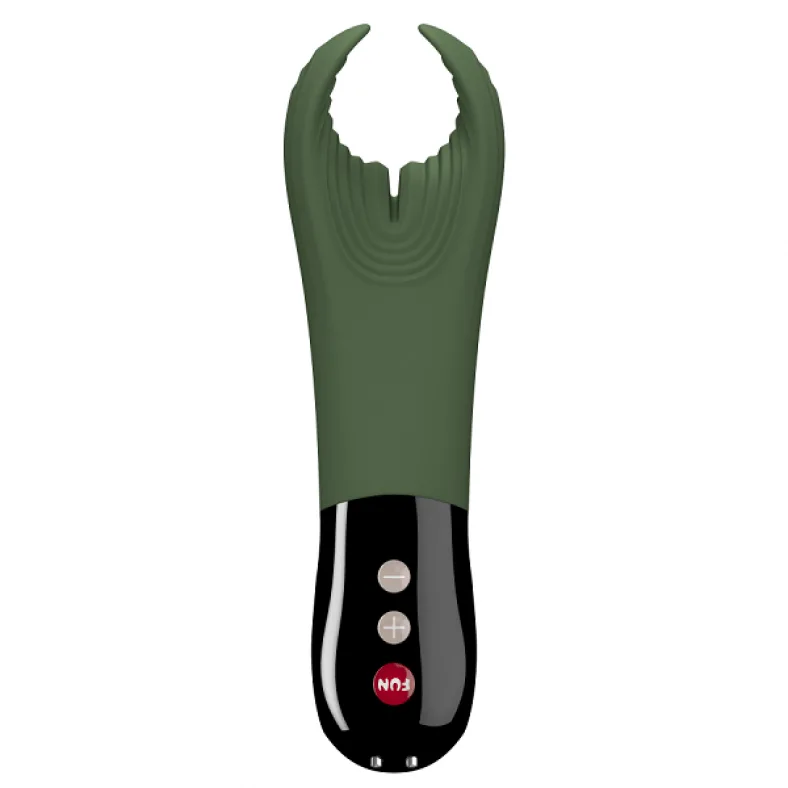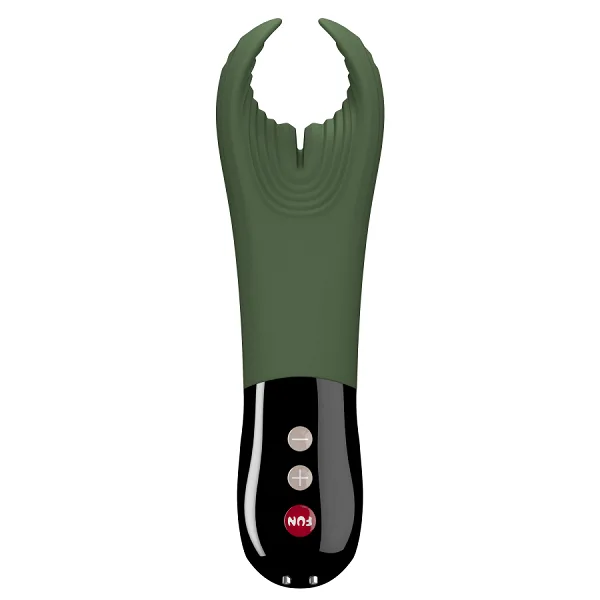 Key Features
The main feature is the industrial-strength motor that produces powerful vibrations.
The adaptability, however, is another prime feature since it is for single-male use and on your female partner too, and in different ways too.
Use it alone when you love precision stimulation with its compact hands-on stroking design.
The body is sleek, the handle is easy to grip while it features flexible yet firm prongs much like a fork to intensify vibrations when gripping your penis. In addition, it has little ridges along the prongs where you can have a smooth "ride" when using lubrication.
The same formed prong is where the significant difference lies when comparing the Manta with other male stimulators, you can use it for a clit massage. The other features are:
Intensify oral orgasms by using the Manta while enjoying a blow-job and you will think you are having a deep-throat when placing the toy against your penis's base
Turn your penis into a vibrator by using it at the base during penetration
Six distinct vibration types
Six different function speeds
Three built-in control buttons
Rechargeable battery
Whisper quiet and waterproof
A width of two inches
A length of 7.1 inches
What is in the Box?
Considering the innovative design and style of the toy you might have expected a fancy box; however, it contains the Fun Factory Manta and an instruction manual.
You also have a USB-A plug, magnetic plug and the Click'n'Charge charging cable.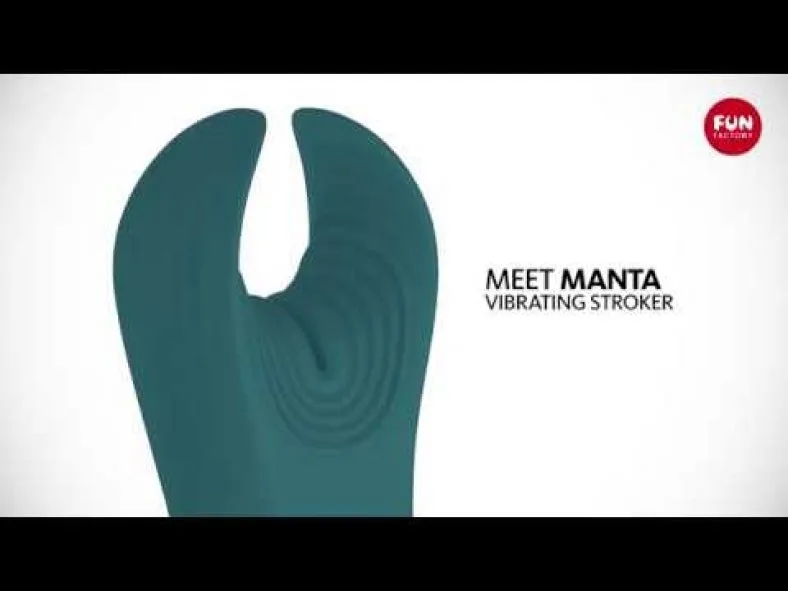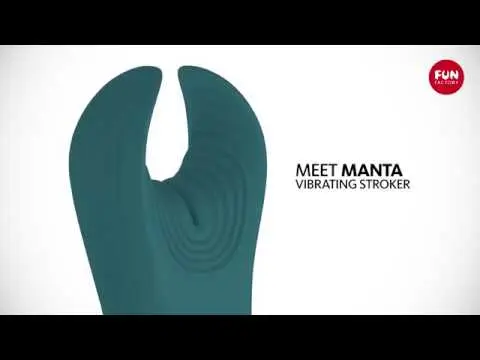 How Does It Work?
It is revolutionary in many ways including the way you charge the Manta.
No need for cables or cords since it is designed with an integrated rechargeable battery.
It operates with a brand patented magnetic charger which is a click and charge system that makes for simple maintenance and adding to its travel-friendly features.
It is unlike other men's vibrators even though it remains a penis vibrator, but with a big difference. The prongs or forks at the top of the toy which resembles a traditional vibrator looks like an open penis ring that holds your organ.
The grooves inside the forked prongs are more than excellent for keeping lube intact but additionally optimally stimulate your frenulum and glans. While it is aimed at men, it works magically for couples.
Use it at your penis base during sex and intensify the experience for both of you. Both of you will experience the vibrations as the Manta turns your member into a vibrating penis.
It could be described as having a sexual experience, unlike anything you have ever experienced. Talking from experience, we suggest you do not use too much lubrication though since it would speed up that final pleasurable moment and prolonged pleasure denied.
You will experience an unforgettable "deep-throat" blowjob when placing it at the base of your penis during a blowjob.
When you slip it between yourself and yourpartner during sex, she will have a vibrating penis inside her that intensifies her orgasms while you have the best of all worlds too.
The best position we have found for couples to use the toy is when your partner sits on top of you or alternatively when you are kneeling behind her.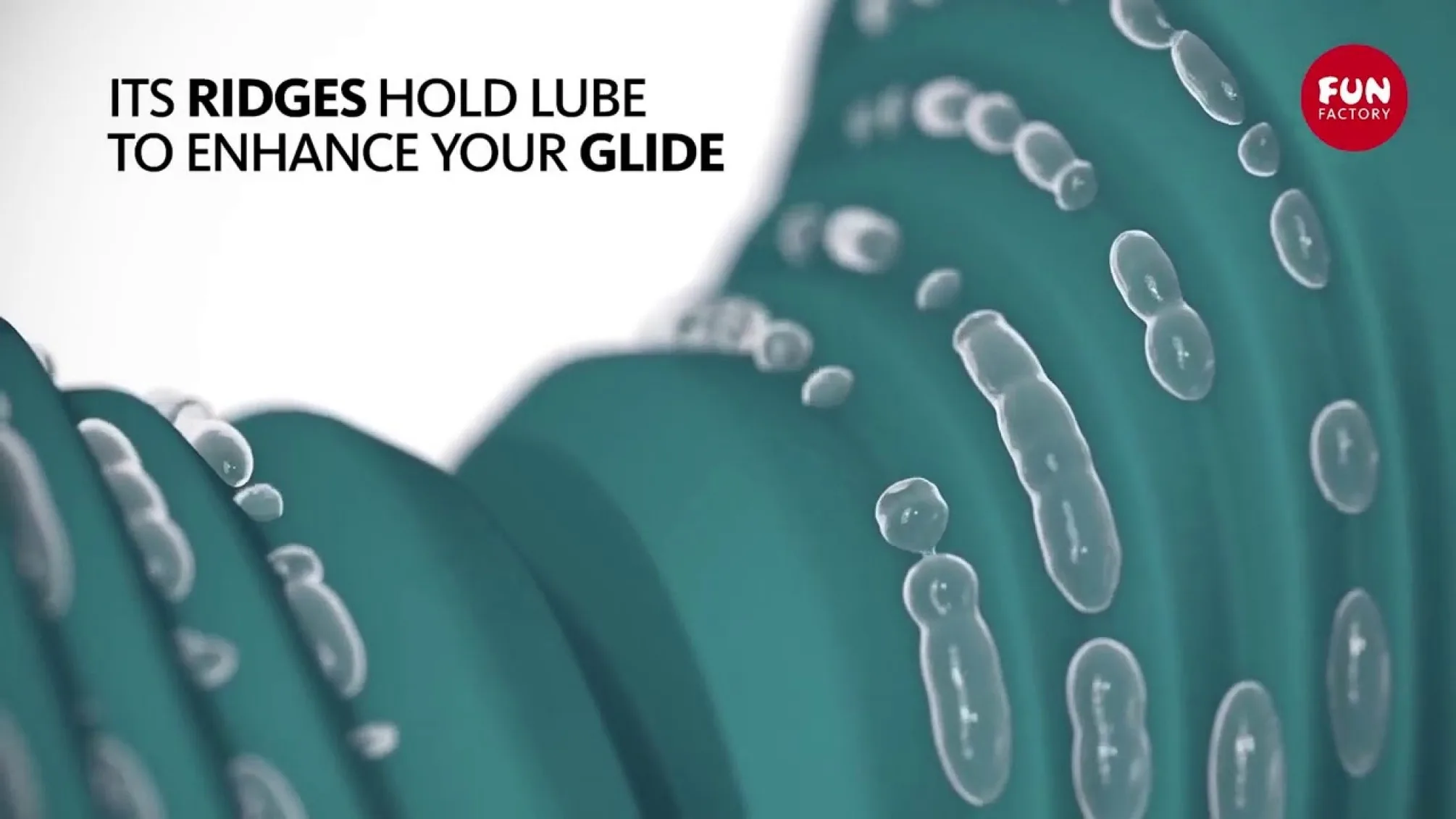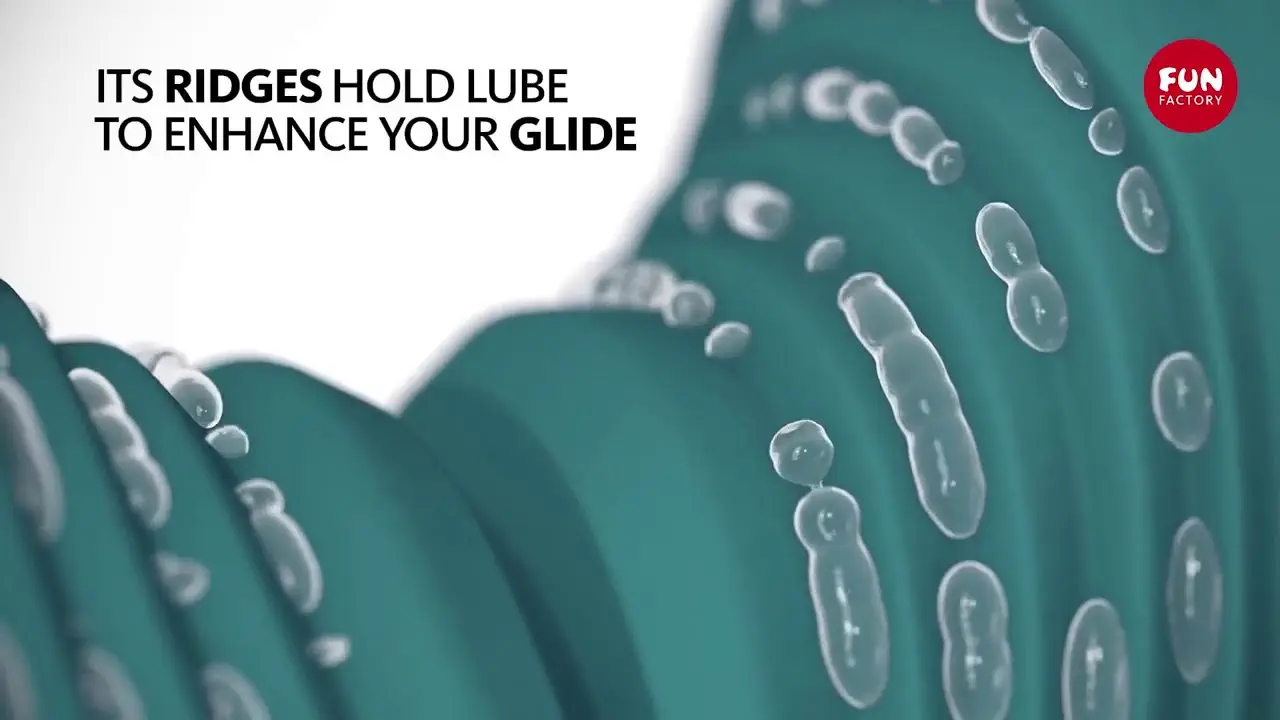 Pros & Cons
PROS of the Manta
Outstanding forked design
Pin-point accuracy allowing you to hold the toy pressed against the base of your penis, along the shaft or under the corona
Six vibration patterns
Six variable speeds
Rechargeable
Your partner will love it (using it on herself)
Improved oral sex and penetration
Discreet and whisper-quiet
Charge indicator light
Locking function making transport easy
Non-porous and phthalate-free
Easy cleaning and care with water and soap
CONS of the Manta
To use it for the first time, you need eight hours of continuous charging
It does not come with a pouch to keep it away from collecting dust
The surface touching your penis could have been broader, but then it would have been more difficult and too bulky to use between two bodies
Verdict
One of the main aspects you learned in this Fun Factory Manta review is that it is much more than a mere stimulator for men, but a two-in-one sex toy for couples.
While you have a vibrating masturbator to use solo, as sex toy you add immense pleasure to both yourself and partner.
The design of the Fun Factory Manta is uniquely-thought-out and slim for easy handling during intimate pleasures with a partner. Slip it between two bodies and give both of you an intensified orgasm. You make caresses more pleasurable with a lubricant with specially designed grooves that holds the lube in place.
When it is charged you have a full two-hours of play-time before another charge is needed. You will love the Fun Factory Manta and your partner would too and soon it could be playing a starring role in spicing up your sex life.